25 Spooky & Stylish Pieces of Halloween DIY Indoor Decor!
Halloween is just around the corner and for all the spook-lovers – it's time to start prepping for the celebration! FRom the mantle to the dining room there are tons of great ways to transform the house into your own festive adventure. Check out these 25 ways to DIY some of your own Halloween decor and create it along with the rest of the family!
1. Ghost Blinds
Martha Stewart always has great ideas and these ghost blinds are no exception. Hop on over and learn how to create them for yourself!
2. Poisonous Blinds
Create a witches' altar or a black window spookfest with a mantle or counter filled with DIY "poisonous bottles." Learn how over at HGTV.
3. Pumpkin Silhouette
This is just another way to sprinkle around a "haunted" house feeling inside (or even outside) your home in a classy, stylish way. This too is over at HGTV to learn how to make!
4. Window Silhouettes
Create a silhouette on a pumpkin like above or create some spooky ones in the windows for guests inside and outside to enjoy. DIY Network shows us how.
5. Skull String Art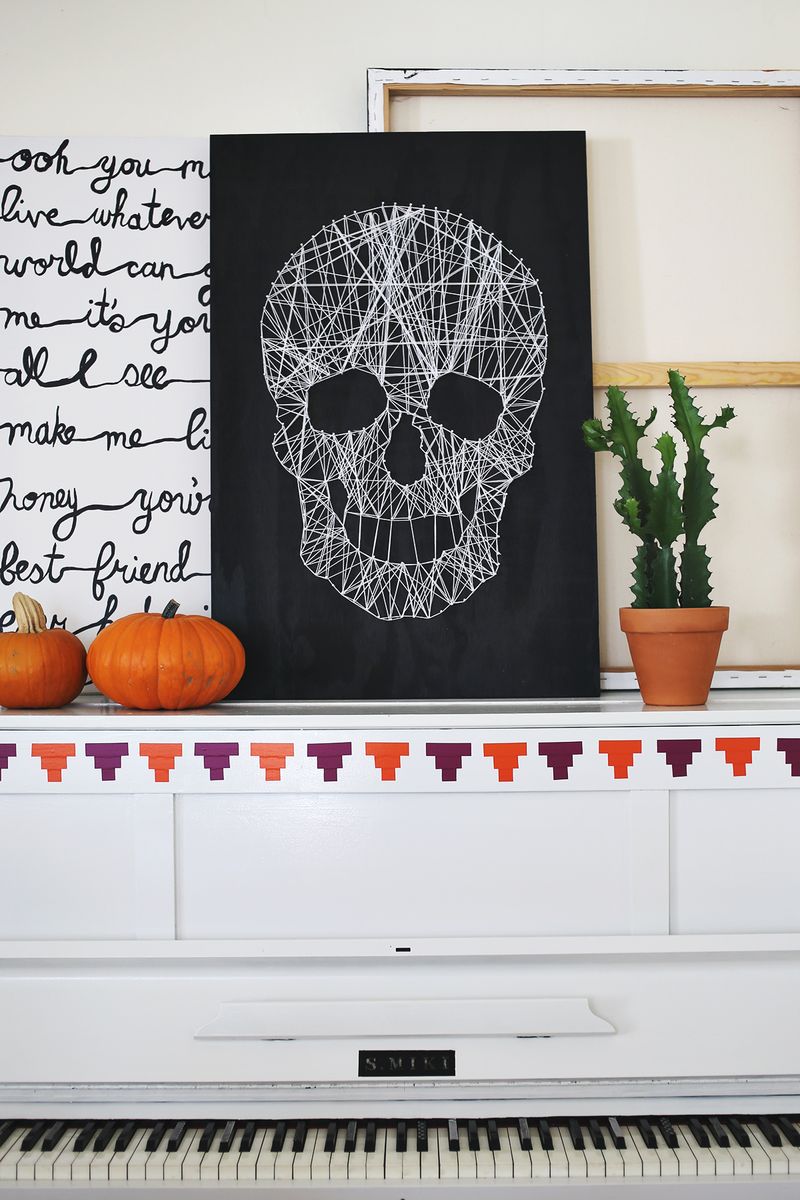 A Beautiful Mess made this gorgeous string art and shows us all how to recreate it. It's the perfect mantle piece for creating a Halloween-inspired space!
6. Spider Pinata
This spider pinata from Oh Happy Day not only acts as a great piece of indoor decor for Halloween but a great way for the kids to get involved in the fun too!
7. Vampire Pumpkins
Martha Stewart created these adorable mini vampire pumpkins that could be a great addition to the mantle or even in the kids' rooms to add some festivity.
8. Knitted Candy Corn
Over at The Purl Bee you can check out these adorable knitted candy corns and learn how to try and make them at home. How charming would these be sprinkled around the house throughout October?
9. Glowing Balloon Ghosts
Add some ghosts to the Halloween decor and make it glow to spook your guests. Check out these DIY over at Martha Stewart and add something special to the house.
10. Spider Magnets
Delia Creates used favor spider rings and turns them into magnets to decorate the kitchen with. It's inventive and it's super easy to recreate and get the kids involved.
11. Boo Hoop
This adorable "Boo" embroidery hoop is from Do All Things With Love. And we love the subtle festivity that it can create around the house for the holiday.
12. Newspaper Skull
Check out this newspaper skull from It's A Fabulous Life. Create a collection of these at the fireplace, on the mantle or even inside the dining room.
13. Black Wreath
This entire mantle is great inspiration and the wreath was such a quick and easy makeover that we had to showcase it. Find out what was done at My Sister's Suitcase.
14. Lacey Ghosts
A Beautiful Mess made these adorable, hanging ghosts to decorate some hallways with such ease and quirky style! We love how they utilize scrap pieces of lace for this project.
15. Halloween Plates
Over at Shelterness you can check out how to create these charming Halloween-inspired plates. From pumpkins to bats you can utilize lots of Halloween classics.
16. Candy Corn Trees
Little Free Radical made these adorably charming candy corn trees and it was hard not to fall in love with the family-friendly festivity. Have everyone help out in their creation!
17. Zero the Ghost Dog
Have you ever seen A Nightmare Before Christmas? If it's one of your favorite Halloween movies, inspire your holiday decor around it like Polish the Stars did!
18. Ribbon Bats
Cover doors or mantles with these DIY ribbon bats! Hop on over to The Happier Homemaker and learn how to whip of these cute piece of Halloween decor.
19. Witch's Hat
Over on YouTube you can find out how to create your very own witch' hat and use it at a centerpiece. It's the perfect way to round out the food table for your Halloween party!
20. Mice Silhouettes
And now we have yet another silhouette idea that creates a creepy, Halloween vibe but also a stylish way to use the festivity behind the holiday to create decor. Thanks Martha Stewart!
21. Hanging Bats
HGTV made it easy for crafters to learn how to create these easy bats that can jazz up the front yard and complete the transformation.
22. Trash Bag Spiderwebs
Here's another great way to create spiderwebs and this time it's with some classic trash bags. Cover doors, windows and the like after you visit How About Orange and learn how to create them.
23. Cross-Stitch Canvases
Decor Hacks shows us how to recreate these creative pieces of Halloween canvas art. From spiders to skulls, learn how to create some of the spookiest staples.
24. Doorway Spiderwebs
Check out these doorway spiderwebs from My So Called Crafty Life. And guess what they're made of. Doilies! They're quite easy to recreate, hop on over and find out!
25. Black Poison Apples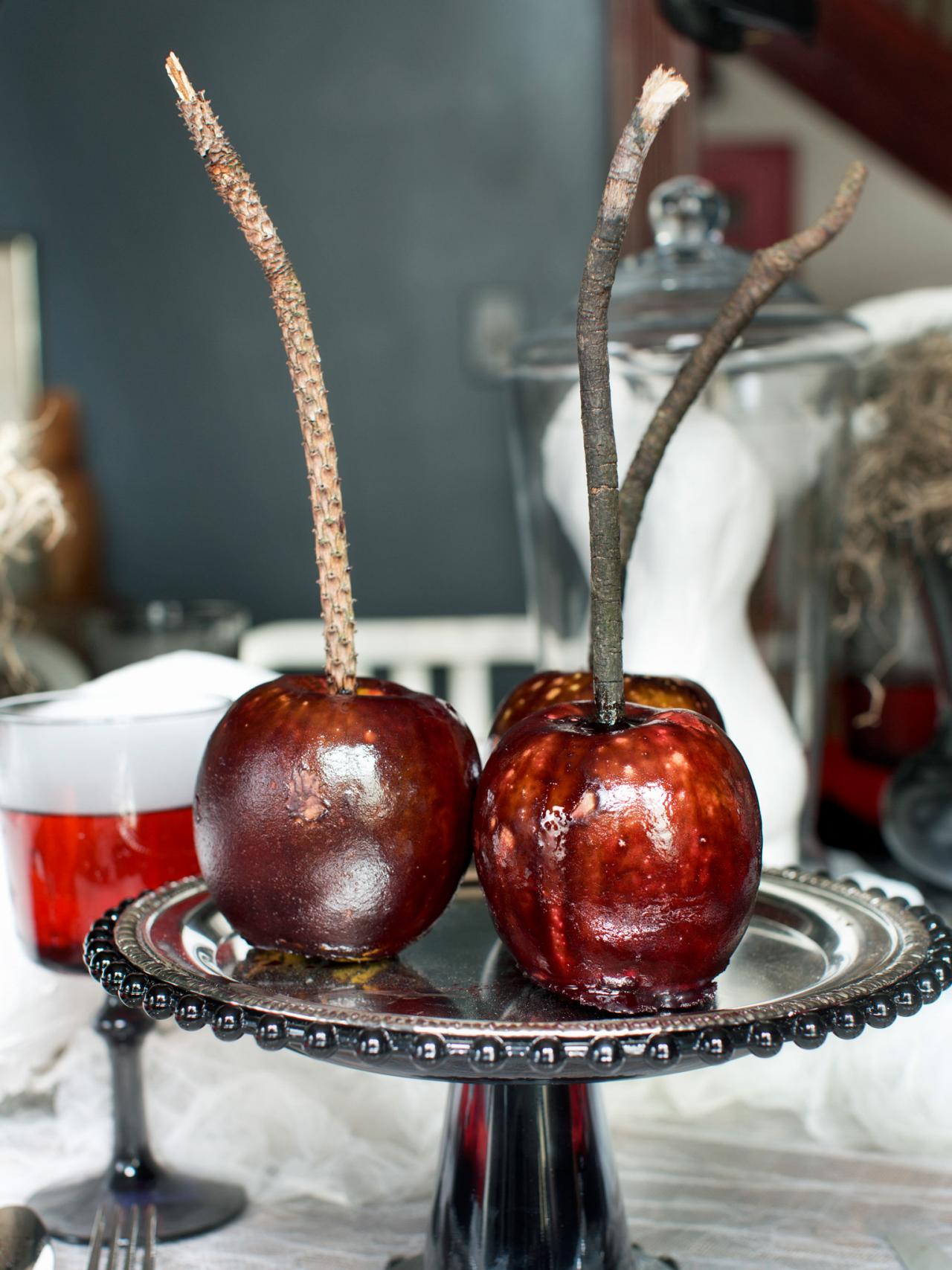 Over at HGTV you can learn how to recreate these sassy black poison apples to play on a witches' themed Halloween party. They're super easy to make a provide such a special detail.