40 Halloween Pumpkins: Cool Pumpkin Carving Ideas and Pumpkin Paintings
Pumpkins have been the unofficial mascots of Halloween for some years now, so it should come as no surprise to anyone if you're on the lookout for some Halloween pumpkin ideas, especially if you're interested in decorations.
Pumpkins can be painted or carved, and there's pretty much no limit as to what kind of designs you can create, especially if you have a wild imagination.
You can carve out intricate movie scenes, paint them in all kinds of vivid colors, or simply give them a spine-chilling grin and call them Jack-o-Lanterns.
However, if you're out of original Halloween pumpkin ideas, check out this extensive list where we've included 40 different pumpkin ideas for you to try out during Halloween of 2021.
Here Are the Best Pumpkin Carving Ideas for Halloween
As mentioned earlier, one of the most popular Halloween pumpkin-based decorations are the pumpkin carving ideas, as they've already become somewhat of a tradition.
All you need is a pumpkin, regardless of shape or size, and a very sharp knife to carve out the excess materials.
However, we recommend that you handle your cutting tools with care, since it's easy to cut yourself, and while staining a pumpkin with blood may sound like a good idea, it still hurts.
1. Pumpkin Carving with Horror Movie Scenes
If you're not outside trick-or-treating, chances are that you're either staying inside with your friends and family enjoying a good horror movie, but few realize that these too can be a great source of inspiration for a pumpkin carving design.
For example, Ian Fetterman's design showcase 2 iconic characters from the Halloween movies series: Michael Myers and Laurie Strode, and it's amazing how cutting the pumpkin to just the right thickness can create such a variety of colors and light effects.
Admittedly, this design isn't one of the simplest to replicate, and you'll most likely end up with a lot of rejected pumpkins until you manage to create one that's good enough.
However, if you're confident in your carving or sculpting skills, and you don't mind ending up with enough pumpkin pie filling to feed a family of 12, then we encourage you to try and create a similar pumpkin design.
2. Easy Pumpkin Carving – Mickey Mouse
While the previous entry was indeed very impressive from a visual standpoint, you will require some experience to get something similar.
So if you want to try out something some easy pumpkin carving, and create something cute while you're at it, why not try out this Mickey Mouse design?
Jordan Smashey did an amazing job recreating Mickey Mouse on the face of this pumpkin, and the way he made the cuts are very easy to mimic as well, making thise one of the easiest pumpkin carving designs on our list.
All he did was to the outlines using discontinuous cuts, and since the design itself has no shades, you don't have to worry about carving out the pumpkin to certain thicknesses either.
If you want to create something similar, one way to make sure that you'll get it right the first time (most of the time) is to first draw the outlines of the cuts on your pumpkin using a pencil, since it's easier to correct a pencil mark using an eraser than it is to repair a botched carving.
3. Scary Pumpkin Carving Ideas – Suspicious Female
While many associate pumpkin carving with creating intricate Jack-o-Lanterns, others results to switch from carving to downright sculping, and actually use the pumpkin's core as the base material.
Just take a look at Paul Dever's design and see how he completely stripped a pumpkin of its out layer and carved it into the core as if it were a piece of wood.
However, if you're a beginner when it comes to carving pumpkins, this isn't a very easy thing to do either, and you'll most likely use up a lot of pumpkins before you manage to make your first decent-looking sculpture.
You can go ahead and try out any other design you want, just as long as you make sure that you rub it with water and lemon so that you postpone the browning of the pumpkin's pulp as much as possible.
All in all, if you're looking for some very realistic but very scary pumpkin carving ideas, this design is definitely worth trying.
4. Cool Pumpkin Ideas – Sugar Skull
If you're mainly interested in original and cool pumpkin ideas, you may need to sometimes think outside the box in order to get fantastic results.
For example, instead of focusing on a single pumpkin in which you will carve out an intricate design, why not carve out an intricate design that only shows itself when you bring together several pumpkins?
John Loveyan did an amazing job creating this amazing Mexican-style sugar skull design by carving out symbols into individual pumpkins and then arranging them in such a way that they form the final image together.
All you need is to plan the design ahead, and drawing the cuts on the pumpkins beforehand with a pencil will be very helpful here.
Then all you need to do is to use some colored lights (Christmas lights will do) to give the mask a spec of color, and then maybe have a framework on which to place the pumpkins, since they will most likely have to be placed on top of each other in a certain pattern.
This is definitely an original design, and there's very little chance that anyone will have anything even remotely similar, so if originality is what you're looking for, the Halloween pumpkin sugar skull arrangement is what you need to go for.
5. Halloween Pumpkin Carving Ideas – Entrance Signs
You've probably realised that there's pretty much no limit when it comes to Halloween pumpkin carving ideas, just as long as you use your imagination a bit.
For example, if you can follow the same idea as teh sugar skull entry and use a pumpkin in an arrangement to create a Fall-themed entrance sign, just like Melissa and Michaela did in the picture above.
They basically took 23 pumpkins, carved out a letter or a number on each of them, and then put them on a metal wire framework so that is spells Fruit & Fall Festival 2021.
The idea is pretty awesome, and the best part is that carving out individual letters and numbers on a pumpkin is incredibly easy.
However, the biggest challenge is that, for the sake of aesthetics, you'll need to find a large number of pumpkins that are remotely the same size, shape, and color, and you'll also have to be careful while carving so that you get the same font on all all the pumpkins.
You can take this particular pumpkin carving idea and take it one step further by turning all the pumpkins into Jack-o-Lanterns so that you can have an entrance sign that will be easily visible at night as well.
Best Halloween Pumpkin Faces
Those of you that have carved pumpkins before, or have gone to expositions where you can see other arctic's carved pumpkins might have noticed that carving Halloween pumpkin faces has always been a Halloween favorite.
In fact, carving pumpkin faces is so iconic that these works of art even have their own name: jack-o-Lanterns (although you do have to place a light source inside of them so that they actually be considered lanterns).
Well, if you want to go ahead and make your very own Jack-o-Lantern, check out these 3 entries that are both beautiful and creepy.
6. Halloween Pumpkin Decoration – Angry Faces
Most people do their Halloween sculpting using regular orange pumpkins, but if you want yours to stand out, one way to start is to change the base material entirely by replacing the regular pumpkin with a different colored one.
For example, Tobias Wolfram did an amazing job sculpting a caricature angry face into the side of a pumpkin, but the real focus of the entire work is the green hues on the face's nose and cheeks that give the pumpkin's face a drunk look.
Sure enough, the details in the sculpture itself are amazing, but the contrast between the pumpkin's light yellow pulp and the dark green skin is what really makes it very noticeable.
If you want to try carving a face on something other than a traditional Halloween pumpkin, don't forget that there are plenty of types out there, and they come in a wide variety of colors, including white, red, and even a very dark shade of grey.
7. Halloween Pumpkin Decoration – Loki
Pop culture references are always a great way to start when you're thinking about decoration ideas, and those of you that are fans of the whole anti-hero trope will definitely want to have a Loki-themed Halloween pumpkin decoration.
Kevino808's carving is very photorealistic, and the fact that he even when ahead and works with the pumpkin's thickened to produce different light shades further enhanced the end result.
As far as creating something similar goes, you'll definitely need a lot of experience to achieve something even remotely similar, although with some pencil sketches and a bit of patience you might just be able to make it work.
However, if you're not very keen on having Loki's menacing look follow you around the house, you can go ahead and try a different character from the MCU, such as his brother Thor.
TIP: For best results in trying to make such complicated designs, we recommend that you work with larger pumpkins since it's easier to hide small mistakes in them.
8. Halloween Pumpkin Decoration – Puss in Boots
Another Halloween pumpkin decoration that falls under the pop-culture reference category is this Puss in Boots-themed pumpkin carving from Andrea Katherine.
As you can see, the character's most defining traits are well-defined, although most of the details can only be seen in the dark.
Just like with all the other carving's where you're designing pop-culture characters, it'd be good if you first make a sketch with a pencil before you begin cutting away, otherwise, your pumpkin will look nothing like what you intended.
However, if Puss in Boots is not your favorite Shrek character, you can go ahead and design someone else, such as Shrek himself, Donkey, or Fiona.
9. Talking Halloween Pumpkins
We already talked about thinking outside the box when it comes to creating original decorations, but we'll do it again just so that we can remind you that you can further enhance a decoration not just through visuals, but also through sounds.
For example, carving or painting a pumpkin will result in a decoration that is purely visual in nature, but if you add some sound effects to them, you'll obtain something completely different,
Take Lonnie Jones' design for example: she took a regular pumpkin and carved out a very creepy face on it while keeping the stem as the pumpkin face's nose.
Well, the design is pretty outstanding in itself, but if you were to add a speaker inside of it and playback some creepy sounds, you have a talking Halloween pumpkin that will surely creep out trick-or-treaters everywhere.
This idea works mostly if you make face carvings, but if you connect the interior speaker to a microphone, you can go ahead and turn your Jack-o-Lantern into a Jack-o-Speaker that you can spook out visitors with.
10. Easy Halloween Pumpkin Ideas – Belle's Rose
The simplest ideas are sometimes the most beautiful, and you can see how that is true by just looking at one of Dawn Turano's easy Halloween pumpkin ideas.
All she did was carve out a simple rose on the side of a regular pumpkin, and the results were nothing short of amazing, precisely because the number of elements wasn't too distracting.
You too can go ahead and try this out, maybe with different flowers, or by drawing the rose in a completely different style.
One great idea is to make a dozen of these flower pumpkins and then lay them together in batches on your front lawn during Halloween so that you can make your very own glow-in-the-dark rose patch.
Best Halloween Pumpkin Painting Designs
If you don't want to risk injuring yourself while handling a sharp carving knife, another way to incorporate the classical pumpkin into your decorations is via Halloween pumpkin painting.
All you need is some pumpkins, a pen to first draw out whatever outlines and rough designs you may think of painting, a brush, and several cans of paint in whatever colors you want to work with.
The great thing about Halloween pumpkin painting, as opposed to pumpkin carving, is that mistakes are easy to correct, especially if you do it while the paint is still wet, or if you have some paint remover at your disposal.
Not only that, but painted pumpkins will last a lot longer, so you can go ahead and make them halfway through October since they won't turn brown or rot by the time Halloween comes.
That being said, if we've convinced you to go for a painted pumpkin instead of a carved one, check out the next section of our article for some very cool Halloween pumpkin painting ideas.
11. Halloween Pumpkin Painting Ideas – Blast of Color
One of the biggest inspirations when it comes to the visual arts is randomness, and that's pretty much how we can describe the following entry.
Out of all the Halloween pumpkin painting ideas on our list, these colorful pumpkins from Stormie Lacey are arguably the most lighthearted and whimsical of them all.
The best thing about the design is that there's no actual tutorial needed in order to achieve this particular look, the only real requirement being that you use the most colorful paints that you can get your hands on.
Draw whatever pattern you see fit, from horizontal lines to checkerboard patterns, and you can even spray the entire pumpkin with droplets of paint to achieve that truly random feel.
The bottom line is that if you're tired of the whole Halloween needs to be dark and spooky trope, you can go right ahead and turn it into something akin to a bubblegum party.
12. Halloween Pumpkin Painting Ideas – The Nightmare before Christmas
The Nightmare Before Christmas is an iconic Halloween home movie, and while it's almost 30 years old, it's still a source of inspiration when it comes to decorations, costumes or in this case, Halloween pumpkin painting ideas.
Just take a look at what a splendid job Nancy Mines did with these two painted pumpkins, with one depicting Jack Skellignton and the other depicting Oogie Boogie.
Because of the character's design, painting them is fairly easy, even if you don't think of yourself as very talented at drawing, and as long as you use the right colors, you'll certainly end up with a painted pumpkin design that will make even Tim Burton proud.
If you have plenty of pumpkins lying around, and a lot of extra time on your hands, you can go ahead and make a pumpkin for each Nightmare Before Christmas character.
Not only that, but you can use the same basic idea to depict characters from other movies as well, such as those from The Corpse Bride, another Tim Burton animation.
TIP: If you want to add some extra spookiness to your pumpkin designs, you can do so by adding some glitter over the paint, or by painting all of the white elements using glow-in-the-dark paint.
13. Pumpkin Designs – Sceneries
Almost everyone has a painting of some sceneries inside their house, and those of you that don't surely know at least 2 or 3 people that do, and since sceneries are so popular in everyday paintings, why not make them the topic of pumpkin designs as well?
Leah Shurtleff certainly thought that was a good idea, and as you can see from the picture above, she managed to perfectly depict the beauty of the great outdoors on the surface of some very small pumpkins.
If you're not much of a woodland fan, you can swap this scenery for something else, such as a beach with golden sand, or a completely silver, white, and blue depiction of winter scenery, since those too are pretty popular as well.
Admittedly, the most beautiful part of these paintings isn't the designs themselves, but rather the vividness of the colors that were used, so if you too want to create something similar, make sure that you get some very good paint.
More so, you can make them last even longer if you let the paint dry and then apply a thin layer of lacquer to protect the pumpkins from rain, especially given how autumn is full of it.
14. Hogwarts-Themed Halloween Pumpkin
If you're not going to watch The Nightmare Before Christmas on Halloween, chances are that you'll be binge-watching the entire Harry Potter film series instead, during which you'll imagine yourself receiving your admission letter To Hogwarts School of Witchcraft and Wizardry.
If you and your entire family are made up of Potterheads, and you're not afraid to show it, you can go ahead and showcase your passion with this Hogwart's-themed Halloween pumpkin.
You can easily tell from the design above that Mushag is a big Harry Potter fan, and he did an amazing job at designing Hogwarts castle during the night on the surface of a very small Halloween pumpkin.
The design itself is easy to replicate since there are plenty of drawing tutorials online that you can follow, and you don't need to use a lot of colors either, since Mushag's design seems to use only 2 shades of blue, a bit of white, yellow, and some pink or orange for the sunset afterglow.
Of course, what we loved most about this particular design was that he even went ahead and colored the stem as well so that the dark blue Hogwarts sky would not be broken by the stem's natural green coloring.
15. Halloween Pumpkin Ideas – Custom Named Pumpkins
By now you may be under the impression that in order for your Halloween pumpkin ideas to be amazing, they need to be either original, or incredibly complex, but the truth is that it's actually the exact opposite.
Just take a look at Danny's pumpkin painting design, since all he did was draw a name on each of his pumpkins, basically customizing each of them.
These make for great Halloween gifts since you can go ahead and make one for your close ones, especially if you have lots of very small pumpkins lying around that you were planning on throwing away anyway.
You can go ahead and use whatever color you want, such as gold or silver paint, and you can also change up the font design according to your painting skill, although if you're very skilled in caligraphy the results will admittedly be very impressive.
Another way you can make use of these pumpkins is to make one for each member of your family, and then have them placed in your yard so that people know how many of you are home during Halloween.
If you prefer carving, you can also go ahead and make a carved version of these named pumpkins, although painting them is a lot easier.
More Halloween Pumpkin Carving Designs
If you want some extra inspiration, we have a bunch of extra pumpkin designs you can try this Halloween.
16. Halloween Pumpkin Decoration – Sequined Pumpkins
This glamorous metallic pumpkin is adorned with shiny sequins of various sizes, perfect for those who aren't fond of the traditional Jack-O-Lantern. Head over to Lacquer & Linen to find out more about Sarah'sstunning sequined pumpkin and to check out some other ideas.
17. Painted Pumpkin Vase
Pumpkins can be pretty and functional! The lovely Rachel of The Crafted Life created a colorful pumpkin vase by cutting the top off and painting the outside. She then put fresh cut fall flowers inside. Head over here to check out the full tutorial.
18. Halloween Pumpkin Painting – Cute Patterns
These patterned beauties will take a little longer to create than your typical pumpkin, but itwill beworth it when you see the looks on your visitors' faces! Alisa Burke shares a few different creative ways to paint pumpkins over on her blog.
19. Pumpkin Designs with Washi Tape
We've already touted the myriad ways to use Japanese washi tape, and here's another one; attach it vertically to pumpkins using a variety of types of tape. Kristyn of Lil' Luna shares more about this fun and unique way to decorate pumpkins here on her blog.
20. Cool Pumpkin Ideas – Paint Dots
Those of you who grew up in the '80's probably have a soft spot in your heart for the stuff – puffy fabric paint! Elsie and Emma from A Beautiful Mess have cleverly used it to add some pizzazz to a pumpkin. Make your way over to their blog to find out more about the project.
21. Halloween Pumpkin Designs – Messages
These pumpkins look super difficult to make, but they're definitely easier than one might expect. The words are actually traced on using chalk. This lovely idea came from the creative people over at Fairgoods… head over there for a full photo tutorial.
22. Halloween Pumpkin Candleholders
Pumpkins also make great candleholders! Just cut off the top of the pumpkin and attach twigs and leaves using a hot glue gun. Here it appears that they have used faux decorations, but you could also collect colorful leaves from your backyard to save a few bucks. Get the tutorial here.
23. Halloween Pumpkin Painting with Monogram
If you enjoy personalizing things, then this may be the project for you! This gorgeous monogrammed "nailhead" pumpkin was created by Amy of All In A Day using plain old thumbtacks. Find out how to create and transfer the letter to the pumpkin on her blog.
24. Cool Pumpkin Ideas – Tissue Paper Mini Pumpkins
Aren't these miniature pumpkins adorable? Brittni uses fake minipumpkins for this project, and then covers them with colored tissue paper and then decorates them with a metallic paint pen. Make your way over to her blog, Paper & Stitch, to find out how to make a few of your own.
25. Typographic Pumpkin Designs
If you're into typography then you'll love these! A relief technique is used here, painting over blue tape and then peeling it off to reveal the orange pumpkin underneath. Make your wayover to Curbly to find out how to custom create your letters out of blue tape.
26. Halloween Pumpkin Decoration
Glam up your pumpkins with a coat of paint and a pretty piece of black lace. Thisproject is definitely easy enough for even the novice crafter. Head over to Honestly WTF to check out the full tutorial. You'll want to make a whole bunch of them!
27. Paper Leaf Cool Pumpkin Idea
This leafy pumpkin is really quite stunning… and it's simple to recreate! All you'll need are a few materials from your local craft store and you'll be ready to go. Head over to Good Housekeeping to find out how to make your own colorful paper leaf pumpkin.
28. Mummy Halloween Pumpkin
If you like to be goofy on Halloween, then this might be the project for you. These DIY mummy pumpkins couldn't be any easier to make, and they're sure to make all your trick-or-treaters smile. Find out how to make a few of your own over on Mother's Niche.
29. Pumpkin Faces – Jack-O-Lantern Vase
This Jack-O-Lantern does double duty as both a decoration and a functional vase. Earlier we showed you how to make a pumpkin vase, and this one takes it a step further with a face carved right into the side.Learn more and get a free face stencil at Better Homes and Gardens.
30. Stocking Cool Pumpkin Idea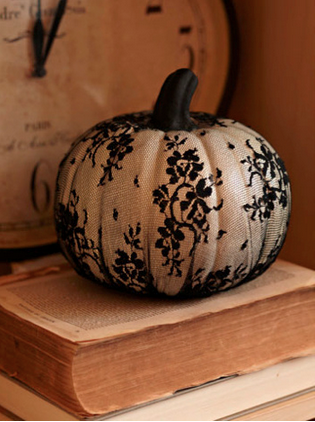 This no-carve project might be the easiest of them all…. a pair of black lace stockings or pantyhose are the one and only supply needed for this one. Found over at Lauren Conrad, where shealso shares lots of other creative Halloween pumpkin ideas.
31. Black Cat Pumpkin Designs
If you really want to get creative, try making one of these super unique black cat pumpkins. Those bright orange eyes give them a creepy feel that's perfect for Halloween. They will require some extra effort on your part, but the results are surely worth it. Head over to Sunset for the full tutorial.
32. Ginkgo Pumpkin Designs
If your Halloween decorations tend to err more on the fancy side, give this ginkgo carved pumpkin a try. Because these are not carved all the way through, they will last longer than your typical Jack-O-Lantern. Get the tutorial (and a few other ideas)at Lowes.com.
33. Pumpkin Carving Idea – Lace Pattern
These beauties might take a bit more time to create than some of the other pumpkin projects we've shared, but the stunning designs will make for a gorgeous display on your table or in your entryway. Martha Stewart shows you how to make your own here.
34. Easy Halloween Pumpkin Ideas – Spider Web
These creepy spider web pumpkins are sure to make your skin crawl! This simple Woman's Day tutorial shows you how to do thisspooky project. This one isn't messy and doesn't require many supplies, making it ideal for anyone with a busy schedule.
35. Decoupage Pumpkin Design
This one looks harder than it really is… all you need to do is grab some mod podge and the design templates, and then putyour crafting skills to good use! Make your way over to Confessions of a Plate Addict for the tutorial and to find out where to get the printable designs.
36. Halloween Pumpkin Carving – Carved Gourds
Perhaps you like the effect of a carved pumpkin, but would like to do something a bit more original… so try carving gourds instead! They still feel very autumnal, but in a different way than your typical orange pumpkin. Get the full tutorialat Better Homes and Gardens.
37. Pumpkin Carving Idea – Zombies
If you're a zombie fan, try your hand at making a few ofthese creepy guys. Martha Stewart will show you exactly how to recreate them over here. For maximum effect, be sure to arrange their eyeballs so they point in different directions!
38. Paint Drip Pumpkin Design
If you're feeling artsy, grab a few cans of leftover paint and make a couple of these interesting pumpkins. The colors are up to you, but stick with a black or white base to make them feel especially Halloween-ish. Get the tutorial for these paint dripped pumpkins on the Lowes blog.
39. Faux Bois Pumpkin Carving Idea
Faux bois, a fake wood grain pattern, looks quite lovely on a pumpkin too – especially if you'll be placing it outside amongst the trees. Country Living shows you how to make it here. It might look even cooler if you paint the outside before you carve into it!
40. Spider's Nest Pumpkin Carving Idea
We showed you how to make a basic spider's web pumpkin with string before – but how about a whole spider's nest? Pretty creepy, huh? Make your way over to the Family Chic blog to find out how to create your own. The arachnophobic trick-or-treaters are sure to scream!
Halloween Pumpkin Ideas: Closing Thoughts
This concludes our extensive list of the best Halloween pumpkin designs that you should definitely consider trying out on Halloween of 2021.
We included both pumpkin carvings as well as pumpkin paintings, and we tried mixing designs that are easy to create for beginners, as well as a few designs that you can definitely use to showcase your artistic prowess, as well as your skill with either a paint or a carving knife.
However, don't forget that you don't have to follow these designs to the letter, and they are merely here for inspirational purposes and that Halloween is all about having fun and being spooky, not being disappointed that your pumpkin carving is not Instagram perfect.
All things considered, we hope that you found this article to be useful and that now you know what kind of pumpkin-based decorations you'll create this year.
For more Halloween-themed articles, simply go ahead and browse our website, since we've already written plenty of useful guides.