Vibrant Pumpkin Place Card Setting
Instead of making the pumpkins only part of the holiday centerpiece, what about making them the focus of the place setting? There are so many place card ideas all over the internet, but consider DIYing one that puts your pumpkins on display. Let your kids create all kinds of fun, colorful designs for each setting and they'll surely be the talk of the party.
For this DIY, you'll need:
Miniature pumpkins, which can be found at your local grocery store
Gold spray paint
Cardstock
Pencil
Ruler
Craft glue
Scissors
Sharpie Pen
Toothpicks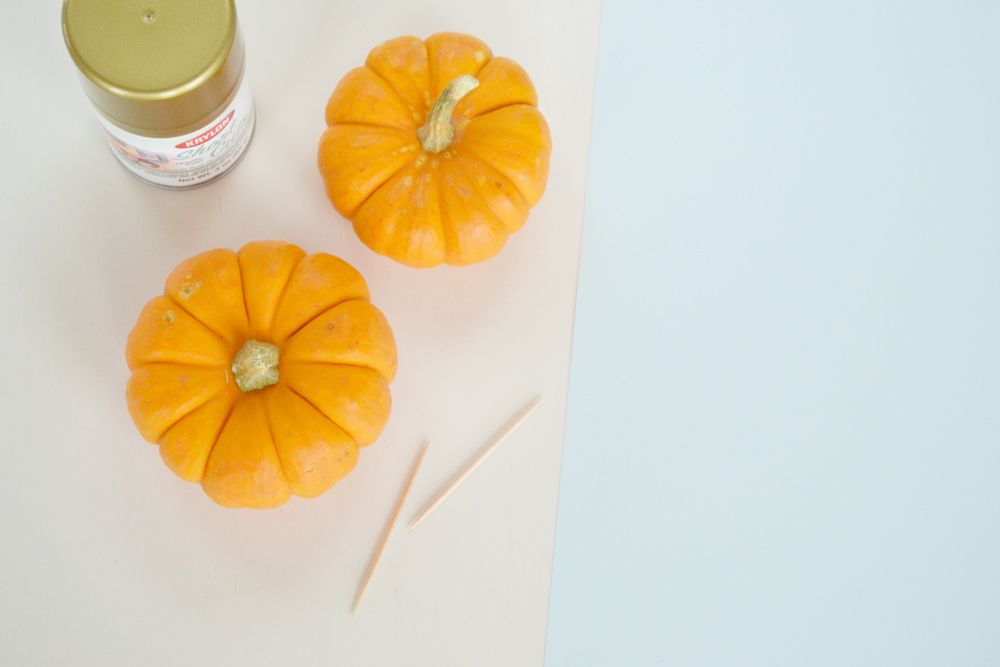 First, decide how you want to decorate your pumpkins. For a fun, women's party, try a bright bold pink color or this metallic gold paint.  You can also do this craft with small children using all different kinds of colors. Use a regular paintbrush or sponge brush to have them create their own designs.  If using spray paint, be sure to spray outside or in a well ventilated area.
The paint should dry in about an hour. While it is drying, create your name tags.
Create this mini flag by drawing a triangle with one side 1 inch long and the other two sides 2-3 inches. Before cutting, write the person's name in the triangle. It's harder to do this if the flag has already been cut out. Be sure to leave some space on the left end so you have some room to fold the end over the toothpick later. The length of the name should determine how large the flag is, though there's really no wrong way to complete this task. Cut out the triangle and fold its larger end over the toothpick. Secure the end in place with craft glue. You may have to hold it in place until the glue dries.
You can also use wire or a small wooden dowel as the base of your flag. I found that the toothpick was the easiest to insert inside the pumpkin. It was secure enough to where a person could pick it up and the flag would stay in place.
Finally, stick the end of the toothpick into the top-side of the pumpkin. It may be a little bit tough to push down, which is why it's important to ensure the pumpkin is completely dry first.
Spice up the setting with a sparkly silver charger and white plate and you now have the basic pieces a vibrant, modern place setting for your holiday parties. Let you guests take these home as a party favor!