55 Halloween Party Ideas: Fun DIY Halloween Party Decor & Food
When autumn comes, the world is divided into two main groups: those that await the harvest, and those that believe in Halloween.
This American-born holiday is a time when both children and adults can have a lot of fun, dress up as fictional characters, engage in eating inhuman amounts of candy, go trick-or-treating, and more.
Well, just like Christmas, a lot of people like taking the Halloween spirit to the next level, giving their house a complete and spooky makeover via decorations, lights, music, specific foods, and more.
Speaking of which, if you're thinking about your house this Halloween, but have no idea where to start, just take a look at this article, where we will be listing the best Halloween decoration ideas that you can try.
We won't just be including things that you can decorate your house with, we'll also be listing things that you can cook, as well as things that you can craft with minimal effort.
Halloween Party Ideas for Kids
The great thing about Halloween is that despite the fact that the overall theme is spookiness, there's a way that you can pull it off without actually making it scary, especially considering how kids are actually the ones that enjoy this holiday the most.
Because of that, here's a small list of Halloween party decoration ideas that will especially catch the eyes of your younger visitors.
1. Halloween Party Decoration Ideas – Spider Webs
Spiders are the things nightmares are made of for many people, so naturally, they make ideal inspirations when it comes to Halloween decoration ideas.
Thankfully enough, you can go ahead and try out this Halloween spider web decoration without worrying that you'll scare anyone since it's not only not scary, it's actually pretty cute.
As far as materials go, all you need is a glue stick, some white paint, a paintbrush, two googly eyes (or more, since we're talking about spiders), a black pipe cleaner, three popsicle sticks, a black crafting pom-pom, some white string, and a pair of scissors
Of course, this idea is very flexible, so you don't have to follow the instructions for the letter. You can go ahead and use more legs, make the spider a different color, make the web bigger, and pretty much any adjustment you can think of, all while using the video above as a starting point!
2. Halloween Party Decoration Ideas – Paper Cone Witch
Witches are a trademark of Halloween, just like vampires, mummies, ghosts, and ghouls, so it's only natural that many people decorate their entire house using witch-themed decorations.
Sure enough, there are plenty of things that you can try out, but if you want to keep things simple, and you also want to make something that's more cute than scary, then filling your house with paper cone witches is a great way to start.
You don't need to go out of your way in terms of buying crafting materials, since you only need some scissors, some construction paper, some orange yarn, black pipe cleaner, a couple of felt tip pens, and some glue (preferably a glue gun)
This particular decoration is very easy to create, and because of that many people opt to make a lot of them and hang them around the house like Christmas globes to make them look like they're flying.
For a complete guide on how to make this decoration a reality, check out this step-by-step article on how to make a paper cone witch for Halloween.
Halloween Party Favors
If you like keeping things simple and usually avoid big flashy holiday decorations, then maybe you're the type of person who opts for party favors instead.
If that's the case, here are a few examples of ingenious yet straightforward Halloween decorations that you can make using some of the most common household items available.
3. Halloween Party Decor DIY Candy Holder
Halloween is about candy, just like Christmas is about presents, and while you could simply just keep all of your candy inside bowls or the traditional Jack-o-Lantern, you can take things a step further by creating a candy holder shaped like a witch's boot.
All you need is some glue, an empty toilet paper roll, a pair of scissors, a pencil, some colored crepe paper, and some colored regular paper.
These DIY decorations are easy to put together, and while they are a bit too small to hold all of your candy, they are just the right size to hold single-servings.
In fact, if you really want to make a big impression on the neighborhood trick-or-treaters, you can make several dozen candy holders and give them away whenever someone knocks on your door.
Another great thing about these candy holders is that if you change the color scheme from the traditional orange, purple, or black to green, red, and white, you can go ahead and make these decorations for Christmas and call them elf boots instead!
4. Halloween Party Themes – Lollipop Spiders
Spiders can either make your skin crawl or you can perceive them as cute since a lot of them have a kind of fur covering their entire body.
Well, if this Halloween you want to showcase the cute side of these-8-legged critters, you can go ahead and make your very own lollipop spiders.
These can be made using materials that pretty much everyone has around the house, except maybe for the lollipop sticks, but then again we don't think you'll mind eating a couple of dozen of them for the sake of crafting.
All you need to make a single lollipop spider is some colored yarn, some crepe paper, 2 googly eyes (4, 6, or 8 will do just as well), a pair of scissors, some glue, black and grey pipe cleaners, a small black and grey crafting pom pom, and of course, a lollipop stick.
The end result will serve not only as a form of decoration, but kids can also play with the spiders since the eyes are very amusing, and they can also bend the legs as much as they want.
5. Halloween Party Decor – Lollipop Ghosts
If you suffer from a severe case of arachnophobia and not even googly-eyed spiders can make you think otherwise, you could always try making lollipop ghosts instead.
Ghosts are iconic during Halloween, and the best part about this particular Halloween party favor is that they are even easier to make than the spiders.
All you need is a lollipop, some white yarn or string, a black felt-tipped pen, a pair of scissors, and some white crepe paper, although if you really want your little ghosts to stand out you could always opt for some glow-in-the-dark paper instead.
The kids will love playing with them, and when they finally get tired, they can just rip open the ghostly packaging to enjoy a delicious lollipop.
6. DIY Mini Felt Halloween Trick or Treat Bags Tote
Many children will usually go for brown paper bags when trick-or-treating, while some may decide on using a Jack-o-Lantern-shaped bag instead.
If you're not very keen on spending any money and getting one for your kids, you could always opt to make your own mini felt Halloween trick-or-treat bag using nothing more than what you have around the house, as well as your imagination.
You only need some felt (preferably orange, black-with adhesive, and brown), a pair of sharp scissors, a metallic silver fabric paint pen, some black embroidery floss, and an embroidery needle.
While this particular party favor may seem a bit complicated to make, you don't have to worry about not being a very good tailor, since this is a very beginner-friendly thing to make.
Halloween Party Food
Every country has its own traditional Christmas dishes, be it a traditional turkey roast, a fruit cake, or anything else of the sort, and just by smelling that specific dish inside someone's house, you know that Christmas is here.
Well, Halloween doesn't have any particular Christmas dishes, but that doesn't mean that you can't use your culinary skills to really get into the Halloween spirit.
The great thing about Halloween dishes is that there are no specific norms that need to be followed, and the main focus of these dishes is how you decorate them.
That being said, here are the best Halloween-themed party foods that will really put the treat in trick-or-treating!
7. DIY Halloween Party Witch Finger Cookies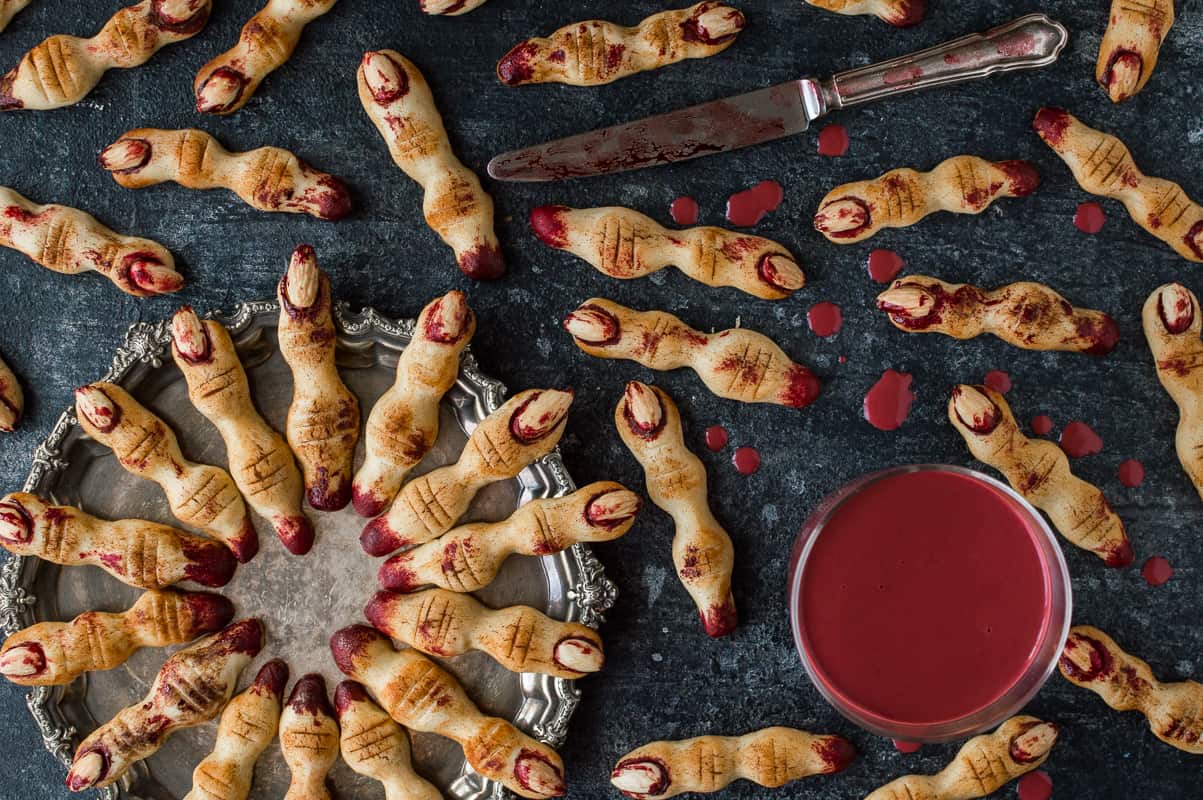 The first Halloween food item on our list is the witch finger cookies, and these are as delicious as they are creepy looking, so don't worry about whether or not your guests will like them.
You don't need any particular ingredients to make these cookies except maybe some halved almonds for the fingernails and the red food coloring that will give the cookies a bloody look.
Of course, you can make this recipe a step further and make the fingers look like something else entirely, such as dragon claws or bony skeleton fingers where you can use green coloring for a slimy look instead of red.
We've made an in-depth guide on how to make witch finger cookies, so go ahead and read it to find out how to make about 4 dozen of them.
However, keep in mind that, if baked properly, these cookies can be dangerously delicious, so make sure you don't eat them all before trick-or-treaters or visitors arrive.
8. Spider Web Cupcakes
When it comes to party foods, having small snacks that you can pick up with your hand and eat without a plate has always been a fan favorite, so it goes without saying that any type of cupcake recipe will work marvelously.
For example, cupcakes that have a spider web motif are guaranteed to be a hit, and the best part is that there's nothing special about the recipe except for the way you decorate the glazing.
All you need are some typical cupcake ingredients, some white and dark chocolate to make the icing, and a toothpick that you'll use to make the spider web pattern, and you're pretty much done.
If these mini-desserts caught your attention, follow this in-depth article on how to create the perfect Halloween spider web cupcakes, and you'll have everything you need to create around 16 cupcakes.
If you're planning on holding a big Halloween party, you'd better make several batches of these cupcakes, since chances are that they will be very popular!
9. Jack-O-Lantern Pumpkin Pies
If you're from the US, you know that the pumpkin is the unofficial food of Halloween (or autumn for that matter), so it goes without saying that a dish that showcases its flavor will be a natural hit with your guests.
Additionally, the pie has become a staple of any household, especially when family reunions and parties are involved, so the most Halloween-ish dish that you can come up with is a pumpkin pie, and if you can manage to decorate it accordingly, you'll really impress everyone.
That's precisely why we went ahead and wrote a complete guide on how to make Jack-o-Lantern-themed mini pies, where all you need is the typical ingredients for a regular pumpkin pie, but with a bit of extra imagination when it comes to decorating it.
10. Fluffy Marshmallow Monsters
While all of the previous recipes are solid choices for creating Halloween snacks, they all require baking and a bit of time put into them, so if you're looking for a faster alternative (primarily something that doesn't need any baking), you can't go wrong with some scarily delicious Halloween marshmallow monsters.
The list of ingredients is pretty short and straightforward: jumbo marshmallows, candy, chocolate icing, sprinkles, toothpicks, piping for icing, and whatever other candies or food elements that you'd prefer for decorating.
You can really let your imagination run wild with these monster marshmallows, and as long as you remind the kids that the toothpicks can be dangerous choking hazards, things should be fine.
However, keep in mind that marshmallows aren't very filling, even by candy standards, so make sure that these aren't the only foods you have lying around for your guests to try out.
11. Halloween Party themes – Witch's Brew Cocktail
So far we've only talked about Halloween-themed foods, so we think it's time we also added a Halloween-themed drink to our list, more specifically the witch's brew Halloween cocktail.
All you need is 2 ounces of bourbon whiskey, 1 ounce of Luxardo Maraschino Liqueur, 1 ounce of fresh lemon juice, half an ounce of maple syrup, a dash of molasses bitters, 2 sprigs of fresh rosemary, matches, and a candle.
These ingredients will be enough for 2 glasses, so if you're having a big party planned, make sure that you have enough of everything you need.
Sure enough, you don't have to follow the recipe to the letter, and you can even swap some of the ingredients for some alcohol-free alternatives for the kids to try out.
More so, you can even prep this cocktail beforehand, store them into vials and bottles, and create custom labels to further enhance their magical feel.
Exterior Halloween Party Decoration Ideas
If you've ever walked in a neighborhood at night during Halloween you may have noticed that there's always that one neighbor whom you could easily tell was really into Halloween just by looking at his house.
Regardless of whether his yard was filled with decorative graves and ghouls or his house was covered in fake spray-on cobwebs, you knew that they loved Halloween.
Well, if you want to be that neighbor this year, and you also want to put your crafting skills to the test, here are a few DIY Halloween decorations That you can keep outside your house for everyone to see.
12. Painted Pumpkins
Having carved pumpkins in your front yard has always been a go-to solution for anyone looking to decorate the outside of their house during Halloween, but if you're not very handy with a blade and don't want to risk injuring yourself, you could always try painting the pumpkins instead.
There are plenty of designs for you to choose from, but if you find that you lack inspiration, you can always check out this article where we listed 50 easy pumpkin painting ideas.
13.DIY Whimsical Halloween Wreath
The first thing people lay their eyes on when they come to visit is your door, so what better way to start off your exterior Halloween decorations than with a whimsical Halloween wreath that you can hang at the entrance?
All you need is some styrofoam circle wreath, some strips of fabric, a couple of pushpins, a pair of scissors, and whatever decorative Halloween elements you have in your house, like small skulls, spiders, ghosts, Jack-o-Lanterns, and more.
The great thing about this idea is that it is entirely customizable, and if you store it properly you can even use it year after year.
If you want to go for a more spooky feeling, you can opt to swap some of the materials and build a Halloween vine wreath instead, as this will surely attract the gazes of any Edgar Allan Poe fan.
14. Halloween Fireplace Mantel Decor
October can get pretty chilly in many parts of the world, so it's not uncommon for people to already have the fireplace working by October 31st.
Because of that, one way to enhance your living room is to decorate the fireplace mantel in the traditional Halloween spirit as you can see in the image above, and it's amazing what you can do with some feathers, a few pumpkins, and the right paint.
However, keep in mind that you are free to use whatever items you want as well as whatever colors you like most, just as long as you make sure that the materials are non-flammable, or at least place them in an area where the flames won't reach them since you don't want your Halloween decorations lighting up like it's New Year's Eve.
Interior Halloween Party Decoration Ideas
15. Patterned Pumpkin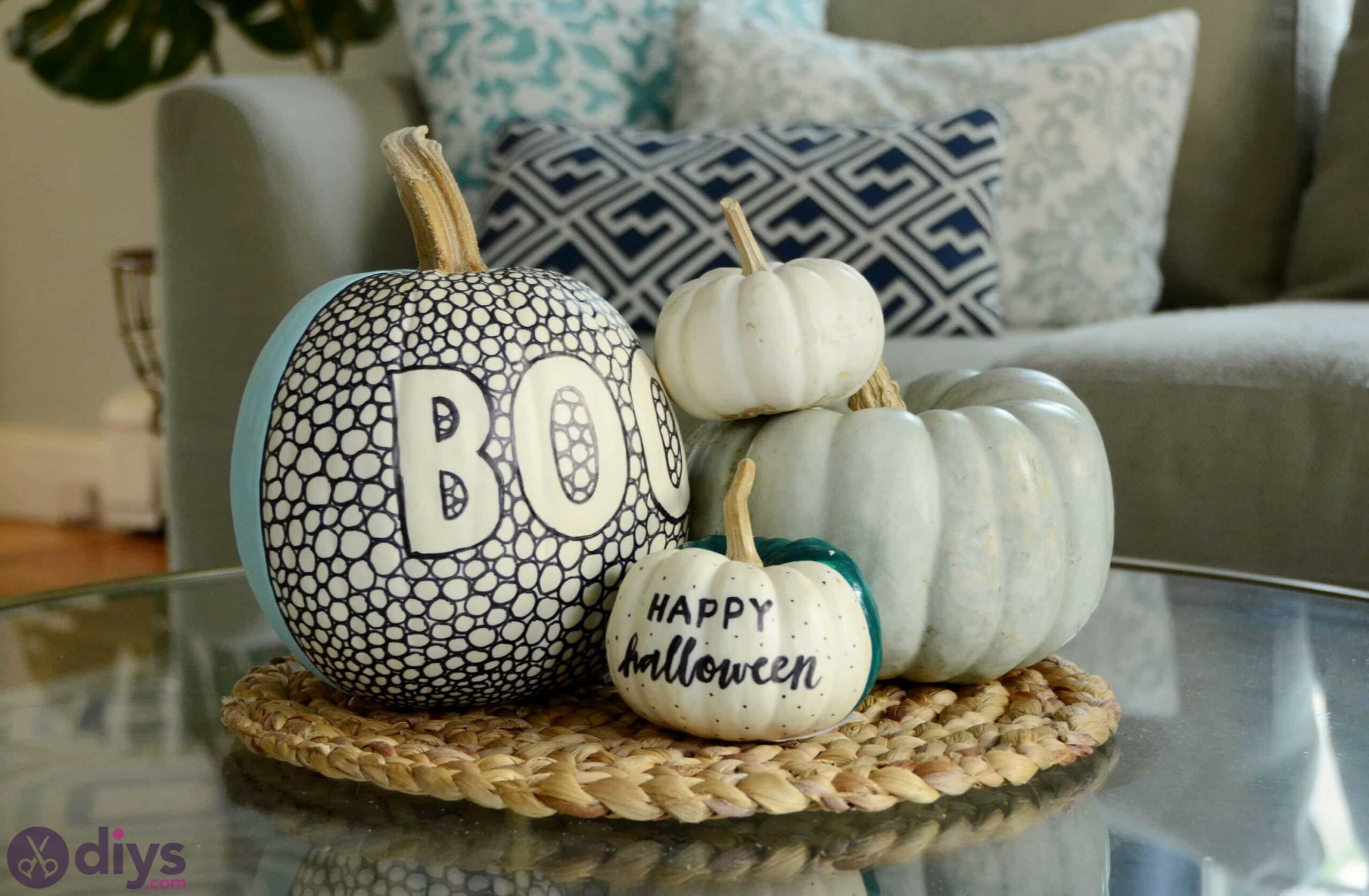 While many users settle for having small statuettes or trophies inside their house, Halloween is an excellent time of the year to showcase your love for pumpkins.
Of course, if you want to maintain a certain degree of elegance, or if you want your decorations to match your furniture colors, you can always try patterned pumpkins.
All you have to do is take some pumpkins and use your artistic skills to paint them with messages and patterns until your guests will wonder whether they are real or not.
Another similar idea that you can try is a splatter pumpkin decor where you can use the randomness of paint splatter to create unique pumpkins every single time.
16. DIY Paper Maché Pumpkin
Speaking of natural vs. fake pumpkins, if you want to decorate your house, but hate wasting actual pumpkins, you could always go for a paper mache pumpkin instead, which is especially a good idea if you happen to have recycled paper at your disposal.
In order to make a single paper mache pumpkin, you'll need some flour, a balloon, some jute twine, scotch tape, a pair of scissors, a foam brush, different colored acrylic paints, some newspaper, a bowl, and a fork.
It may be hard at first, especially if you're never made paper mache decorations before, but with a little bit of practice, you'll be able to make pumpkins that are so realistic your guests won't be able to tell they are fake unless they actually pick them up.
17. Simple Mini Pumpkin Fall Decorations
If you like to keep things small and simple, you could also try decorating your house with some simple Fall-themed mini pumpkin decorations.
Besides the actual mini pumpkins, all you'll need is some acrylic paint or some markers, and a little bit of imagination, and you'll be well on your way in creating some very subtle yet beautiful Fall decorations that work very well for Halloween.
Besides, you can even take these mini pumpkins and give them an extra purpose, such as turning them into pumpkin place card holders, making them the focus of the place setting.
18. DIY Embroidery Hoop for Halloween
Pretty much anything can become a Halloween decoration if you put your mind to it, and that's why with just a few modifications you can create your very own DIY embroidery hoop for Halloween.
This decoration goes well inside a house that's already filled with many DIY decorations, so if you're the crafty type, this will be an excellent addition to your entire Halloween ensemble.
Besides the embroidery hoop itself, you'll also need some thread, a pair of scissors, some colored glittery foam, and a needle to do the sewing.
Once you have everything you need, it's simply a matter of cutting the glittery foam in the shape of whatever decorative pieces you want, and then placing the embroidery hoop somewhere inside your house where everyone that comes to visit can easily see it.
19. Rosette Pumpkin Fall Garland
Your walls and windows can also use some Halloween decorations, and the most DIY type of decoration available is the iconic garland, this time with a Halloween twist.
As you can see in the image above, we've managed to create a rosette pumpkin Fall-themed garland with very few household materials, and the great thing about this piece of decoration is that it's so easy to make that you can easily make a different one each year using different design ideas.
The garland can then be used to decorate walls, windows, drapes, furniture, and pretty much every other part of your house.
20. Spooky Halloween Wall Art
Decorations don't need to have an actual purpose besides making a room look prettier, so if you're looking to create some simple Halloween decorations that serve purely decorative purposes, you might as well go for some spooky Halloween wall art like the one showcased in the video above.
It's a bit more complicated to make when compared to our other entries, but if you're willing to let your imagination run wild, you'll be able to create something that's truly unique.
If you feel more comfortable following written instructions rather than video tutorials, go ahead and read this step-by-step guide on how to create spooky Halloween wall art.
21. Spooky Halloween Key Holder
You may have noticed that sometimes the simplest of ideas are also sometimes the creepiest and, let's face it, people ever expect the keyholder that you have at the entrance to serve as a Halloween decoration, and this is precisely the thinking behind the creepy key holder!
Well, as you can see from the picture above, all you need to do is replace the traditional keyholder's hooks with toy baby hands, and you've amped the creepy factor tenfold.
Of course, you can take this idea and take it a step further by using other elements, such as monster fingers, tentacles, or anything else that looks creepy but can still hold a pair of keys.
22. Halloween Party Decoration Ideas – Halloween Table Centerpiece
If you're planning to host a Halloween party this year where you'll be serving your guests will all kinds of delicious foods, another way to enhance the dinner's level of spookiness is with a nice DIY Halloween-themed table centerpiece.
All you need is some twigs that are tied together, some smaller twigs from your garden, preferably with leaves, whatever wild flowers you can find nearby, and some colored spray paint (usually black, red, or orange).
Of course, you're free to add whatever other elements you'd like, just as long as the decoration is not too big as to not allow any space for the food you intend on serving.
23. DIY: Last Minute Halloween Coasters
While on the topic of table decorations, keep in mind that if you are planning on serving snacks and meals to your guests, you'll most likely have to serve them beverages as well, regardless of whether they are Halloween-themed or not.
If that's the case, you'll need to have some coasters at hand, but since this is Halloween that we're talking about, here's an idea on how to make some last-minute Halloween coasters.
You can make the designs yourself or download some free templates from the Internet, and then all you have to do is glue the designs on some blank wooden coasters that you can buy in bulk.
24. Halloween Party Decoration Ideas – Pumpkin Air Plant Holder
Those of you that love having greens around the house, Most probably have a couple of air plants hanging around as well.
If you do, know that they too can be turned into Halloween decorations. Just take a look at these pumpkin air plant holders made out of silicone and see for yourself.
Since these are basically silicone molds that you can shape in whatever form you like, you don't have to limit yourself to making them look just like pumpkins, since you can turn them into other Halloween symbols as well, such as zombie heads, coffins, and more.
25. Halloween Party Decoration Ideas – Halloween Pillow Casings
With a little bit of imagination and a pair of scissors pretty much anything in your house can be given a slight Halloween twist, and there's no better example of such an easy transformation than with these DIY cute burlap Halloween pillows.
Admittedly, you'll need more than just a pair of scissors, but the bottom line is that this particular decoration is easy to create, and you can shape it in whatever way you like it since it will still look amazing.
Besides, if you happen to have a kid, you can keep these pillow casings and keep them in his room, since he won't mind the company of these little cushioned monsters.
26. Spooky Halloween Decorations – Black Feather Chandelier
Black birds have always been very creepy, especially crows and ravens, and they especially go really nice with gothic-themed decorations, so if you're into that, you'll love this next decoration idea.
The black feather chandelier is very easy to create since all you really need is a chandelier and some bird feathers (hopefully found and not ripped from a live bird).
Depending on how you arrange the feathers and the shape of your chandelier, the end result can be both creepy and elegant, and for those of you that have a real pageant for the mystic arts, you can use colored feathers to make your chandelier look like a makeshift dreamcatcher.
27. DIY Halloween Decor – Jack-o-Lantern Wine Stopper
Since red wine has had a history of being compared to blood (and thus vampires as well), it's no wonder that it's a Halloween favorite when it comes to alcoholic drinks.
Because of the drink's popularity, we figured that some kind of bottle decoration would be an excellent fit, and that's how we came up with the Jack-o-Lantern Wine Stopper.
Since a wine stopper is used to close leftover wine bottles before refrigerating them, you'll most like need them around the house anyway, so why not give them a nice old Halloween twist?
28. DIY Halloween Decor – DIY Spooky Halloween Terrarium
Whenever you think of a terrarium, you think of a small glass container that acts as a small-scale ecosystem, and while many people love them for their ecological value, few realize that they can be made into Halloween decorations as well.
For example, depending on the plants and the moisture inside the terrarium, it can get pretty foggy inside, so if you add a small ghost or skeleton figurine, you've basically created a small-scall spooky forest.
That's precisely the thinking behind the DIY spooky Halloween terrarium, and we encourage you to try it out yourself since you'll like it so much you might even spend hours looking at it.
29. Spooky Halloween Decorations – Wall Clock
Custom items with pictures of your loved ones can be orders from pretty much anywhere, and one of the most popular customizable objects is wall clocks, more precisely their faces.
In keeping with the spirit of Halloween, you can go ahead and create your own DIY Halloween wall clock that you can decorate in whatever way you see fit.
Since the clock's face acts as a round canvas, you can put anything on it, just as long as the numbers are still visible, or at least the arms of the clock.
One great way to enhance your wall clock with a Halloween twist is to add many glow-in-the-dark elements so that it stands out, especially during Halloween night.
30. Halloween Party Decor DIY – Yarn Spider Web
Many users like to keep things simple, so if you lack the right materials, don't have the time for many complex arrangements, or simply suffer from a lack of inspiration, then you can go ahead and try out this simple yarn spider web wall decoration.
All you need is some black yarn, and enough skill to give it a spider web shape, and you're pretty much done.
However, you can spice things up by using a different colored yarn, or even glow-in-the-dark wire if you happen to have any.
Not only that, but this particular idea is very flexible since you can make it as big or as small as you like it.
25 More Halloween Party Ideas
If you haven't had enough, we have even more Halloween party ideas to inspire you!
31. Skull Vase Halloween Party Decor
Transform a foam skill into a fun vase to hold a bouquet of white flowers at your next Halloween party. Just carve out the center of the skull, pop in a glass and fill it with the flower of your choice. Head over to Persia Lou's blog to find out exactly how to recreate this fun vase.
32. Halloween Party Ideas Silly Ghost Balloons
Instead of opting for creepy or gory this Halloween, decorate your party with these super fun silly balloon faces. Simply attach some tissue paper and add the silliest faces you can think of using a black permanent marker. Get the full tutorial at Balloon Time.
33. Halloween Party Ideas – Bunting Flags
Decorate your walls with one of these fun Halloween bunting flag garlands. Just grab some construction paper, a pair of scissors and your creativity and get started. Make your way over to the ever-creative blog Popcorn and Chocolate to check out the full tutorial.
34. Halloween Party Decoration Idea – Super Cute Wreath
This fun Halloween-themed wreath is a great way to set the tone for your party right when the guests walk up to the door. This is made with fabric and Poly-Fil stuffing, and then each little pillow is connected to a wreath form. Check out the full tutorial at Bugaboo City.
35. Halloween Party Decor DIY Candy Garland
This candy wreath is a fun play on the typical Halloween-style garland, using Seattle Chocolates truffle candies instead of paper or another crafting material. Then you can eat the candies once you take the wreath down! Get the full how-to at The Sweetest Occasion.
36. DIY Halloween Party Decor – Black Lace Candles
If you're looking for halloween decor that is a bit less in-your-face than others, this might be the perfect project for you. These black lace candle holders have an understated vibe that will set the tone for your party in a subtle way. Get the how-to at The Sweetest Occasion.
37. Halloween Party Idea – Spider Web Glassware
These fun glasses are a great way to add some festive Halloween spirit without getting too crazy. And they're so easy to make! Just grab some thin black graphic tape and get to work. Check out the tutorial and the drink recipe too at Sarah Hearts.
38. Halloween Party Theme – Silhouette Decorative Plates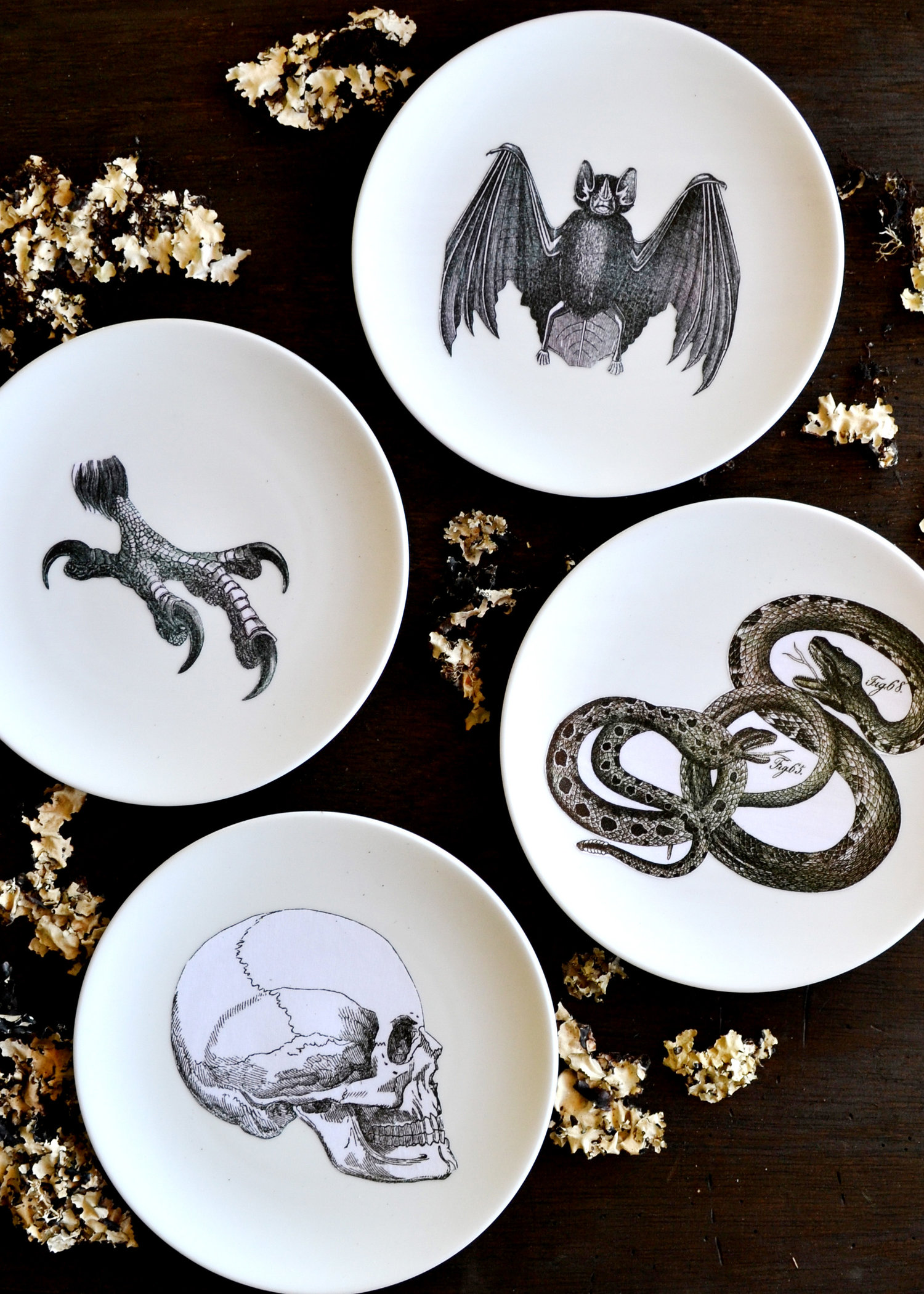 Black and white silhouettes of skulls and other creepy things are attached to plain white plates in this easy tutorial. Simply print out the freebies and glue them to plates with Mod Podge. Check out the full tutorial and get the free printables at Boxwood Avenue.
39. Bleeding Candles Halloween Party Decor
These "bleeding" candles are incredibly easy to make, and they will certainly make a big impact on your party guests. Just melt some red candle wax onto a white candle and voila! Make your way over to Revamperate to find out all the specifics about this project.
40. Halloween Party Theme – Ravens
Go a bit Edgar Allen Poe with this eerie Halloween decor idea… cut out ravens from black construction paper and tape them to the wall in a "flock" of sorts. Head on over to Jessica Andersdotter's blog to find out how to recreate your own ravens out of paper.
41. Halloween Party Decoration Idea – Embroidery Hoop Spider's Web
This fun spider's web is made using an embroidery hoop, the perfect item to hold and frame the web. Make a whole slew of them and hang them all around the house for a serious wow factor. Check out the full tutorial over at The Things She Makes.
42. Halloween Party Theme – Skull Banners
If you don't want to forgo color just because it's Halloween, then you might consider hanging up a few of these brightly patterned skull banners. And here's the best part – you can download them as free printable files… just head over to Dream A Little Bigger.
43. Gallery Wall Halloween Decor
Next up, we have a helpful tutorial that will walk you through the process of making a Halloween gallery wall for your home. Included are tips for how to create each piece and for assembling the wall itself. Check out all the details over at My Sister's Suitcase.
44. Banner Wreath Halloween Party Decor
Next we have another wreath, this time a spookier one filled with bats and a little "Happy Halloween" banner that spans across the middle. Make your way over to Whistle and Ivy to find out exactly how to make both the banner and the wreath itself.
45. Halloween Party Decor DIY Washi Tape Spider Web
This spider's web is made out of washi tape, making it super easy to put up at the beginning of the Halloween season and then remove after in November. Just make your way over to Zakka Life to find out how to put up your own wall-sized spider's web in your home.
46. Halloween Party Decor DIY Bottle Candle Holders
If you have lots of old clear glass bottles lying around, try using them as candle holders! When paired with a black tablecloth and tall white taper candles, they really look quite spooky. Make your way over to Style Me Pretty to find out more about this and other party ideas.
47. Halloween Party Decor Simple Buffet Styling
If you have a buffet that you are setting for a Halloween party, here is a great tutorial on how to create a simple buffet setup that is both elegant and a bit spooky. Head over to The White Buffalo Styling Co. to find out how to recreate this look in your own home.
48. Halloween Party Decor DIY Pumpkin Balloon Backdrop
If you're a fan of color, then this might be more your speed. This bright and cheery pumpkin made out of balloons makes the perfect backdrop for iPhone pictures or for a full photo booth. Make your way over to The House That Lars Built to find out how to doit.
49. Crow Centerpiece Halloween Party Idea
Step up your table game with this super fun crow centerpiece from Jennifer Ciani. Simply spray paint some branches white and then secure them in a base. Finish with a couple of scary black crows, and you're all set! Check out the tutorial over at Simply Ciani.
50. DIY Apothecary Bottles Halloween Party Decoration Idea
Create these super spooky apothecary bottles to add a unique look to your Halloween party. Just collect a handful of old bottles and jars, and then cut out the printable labels that Lia Griffith has designed for us. Download the free labels at World Label's blog.
51. Halloween Party Decoration Idea – Candelabras and Black Candles
When in doubt, opt for candelabras. There is something so creepy about them… perhaps it's their vintage vibe. Place two matching candelabras on an ornate table in your entryway, and it will set the tone for your Halloween party right away. Found here.
52. Halloween Party Ideas with Cobwebs
Spreading fake cobwebs all over your sofa (or any other surface) is a great way to give any space a spooky feel without spending very much money or time. This sofa looks like it has belongs in a haunted house, doesn't it? Read all about this home's Halloween decor here.
53. DIY Halloween Party – Black Snakes Wreath
Snakes are another great animal to use in your Halloween decor (fake ones, of course). Wrap them around a wreath form to create this oh-so-scary decor for your door. Make your way over to Martha Stewart's website to find out how to recreate this wreath.
54. Halloween Gold Party Decor
Foran especially glamorous take on the holiday, try decorating with all gold and neutral tones. It will be a memorable party for your guests,thanks to thesuper unique look. Head over to Thistlewood Farms to learn how KariAnne uses gold to decorate her home for Halloween.
55. Day of the Dead Halloween Decor
Day of the Dead, or Dia de Los Muertos, is a traditional Mexican holiday that is celebrated the day after Halloween… and it shares many decorative ideas in common with Halloween so it is a great way to add some color to your party. See lots more inspiration here.
Halloween Party Decor Ideas: Closing Thoughts
As you can see, when it comes to decorating your house for Halloween, there's pretty much no limit to what you can try, and as long as you put your mind to it, you'll be able to create some amazing decorative objects out of everyday items.
Sure enough, you don't have to follow any of our ideas precisely. In fact, we recommend that you look at our suggestions and think of your own ideas since we understand that everyone has a different perception of how their ideal Halloween should look like.
If you want to learn more about how you can use your crafting skills to create the ultimate Halloween experience, leave us your suggestions in the comments section below, and we'll be sure to write new and interesting articles in no time!