How to Make Lollipop Spiders for Halloween
I've never really had trouble convincing my kids to craft with me, which is something I'm very grateful for, but I never thought it would be quite as easy to do as it is when there's candy involved! Of course, I always teach my kids to enjoy things in moderation, but there's obviously a lot more candy around the house in October and around Halloween than there is any other time. That's why candy crafts are so popular in our house around this time of year. Recently, we made these funny spiders out of lollipops and I just found them too cute not to share with the readers who love to keep track of what we make and how we do it.
Check out these steps and photos of our lollipop spider process! Just in case you'd rather follow along with a video tutorial rather than written words and stills, I've included a full one at the end of this post.
For this project, you'll need:
Grey yarn
Black crepe paper
Red googly eyes (white will do if you don't have red)
Scissors
A glue stick
Four black and grey pipe cleaners
A small black and grey crafting pom pom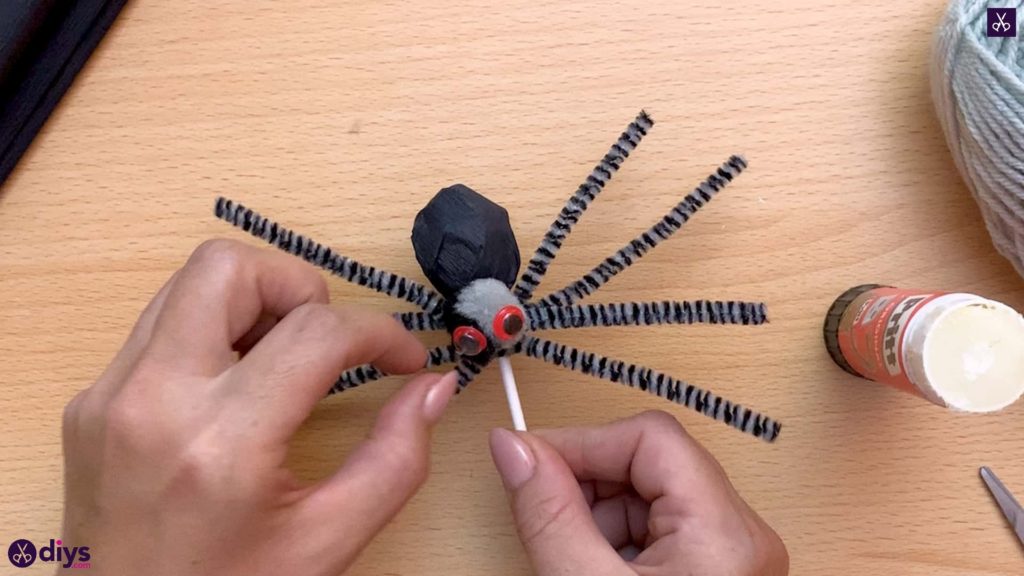 Step 1:
Gather your materials!

Step 2:
Cut a piece from your roll of black crepe paper. I cut a rectangular piece about three inches wide and about half the length of my roll.
Step 3:
Fold the piece of crepe paper you just cut in half and cut along the fold so you now have two piece of crepe paper that are exactly the same size.
Step 4:
Cut a piece of yarn about three inches long. Next, take your two pieces of black crepe paper, layered one on top of the other for opacity, and place the rounded top of the lollipop in the centre, wrapping the paper down and around the candy and pinching it inwards at the stick.