15 Fun Kids Crafts Made from Empty Toilet Paper Rolls
Sometimes when your kids go on huge crafting rolls it can be hard to keep up with the supplies they need to keep busy. You might find them running out of glue, complaining of dried markers and breaking all their crayons, asking you to replace all their crafting stuff so they can make more things. That's why it's a good idea to get thrifty with what you help them craft with every once in a while! Finding things around your home that they can reuse and make DIY projects from for free is a great way to keep crafting affordable. Empty toilet paper rolls are a prime example of affordable home crafting supplies!
Check out these 15 super fun crafts that you and your kids will have a total blast making out of empty toilet paper rolls!
1. Washi tape toilet paper roll napkin rings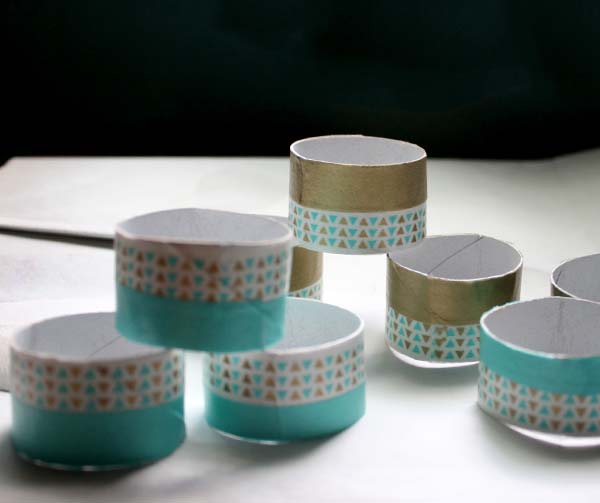 Are you trying to teach your kids about proper place settings and dining etiquette by helping them hair their own fancy doll dinners and tea parties? Then you might as well get as detailed as possible and show them how to set out napkins for their guests! You can even make them their own napkin rings from sections of empty toilet paper rolls covered in cute patterned washi tape, just like these ones from Crafting a Green World.
2. Toilet paper roll Frankenstein
It's the season for Halloween crafts and, like they are with most holiday themed projects, empty toilet paper rolls give kids endless possibilities when it comes to spooky projects. We love this coloured Frankenstein idea! No Time for Flash Cards suggests making vertical cuts from the top for hair and poking old golf tees through the sides for neck bolts.
3. Toilet paper roll hair clip holder
Do you need a very simple, very quick fix for constantly losing that one set of hair elastics and bobby pins that you always like to have sitting by the sink? Well, we think we've found the simplest solution there is! Check out how Real Simple created a quick hair accessory stand just by tipping a toilet paper roll on its end.
4. Easter bunny candy holder
Packaging up Easter candy for your friends or loved ones is a fun task, but it can get pricey if you have many people you want to give them to. Instead of going to a fancy wrapping and stationary store, try making your own cute, simple candy cases from empty toilet paper rolls! We love these rabbit themed ones by Crafting a Green World.
5. Toilet paper roll beads
Are your kids interested in making some flashy DIY jewelry, but they're still a little young to be weaving friendship bracelets or working with small beads? Help then make big cardboard "beads" from pieces of empty toilet paper roll instead! They'll be able to add marker and glitter to their hearts content and they'll have no trouble stringing the beads down a length of string or ribbon. Check the idea out in more detail on No Time for Flash Cards.
6. Embroidered napkin rings
Did you end up liking the washi tape napkin rings you made for your kids so much that now you'd like to make a fancier version for yourself? Instead of using tape, try decorating the "rings" with paint and string! The Crafty Swedes shows you how to create a cute little embroidered pattern in the side of each.
7. Toilet paper roll honeycomb
Did your kids just learn about bees and the honeycombs in their hives at school and now that's all they can talk about? That's always a great opportunity to incorporate crafting into their learning! Check out how Deceptively Educational used pieces of empty toilet paper roll to create an intricate looking little honeycomb of their own, complete with a fuzzy bumblebee on top!
8. Toilet roll castles
Do your kids love playing imaginary games involving castles full of princes, princesses, fairies, and knights? There are plenty of plastic toy castles you can buy them in stores, but they're expensive and not nearly as customizeable as something your kids made themselves! These toilet paper roll castle turrets by Crafty Morning let your kids make their castle look however they want! Pink and pretty, dark and spooky… they're in control.
9. Toilet paper roll bat
Are you running out of fancy Halloween craft ideas because your kids have just been so excited for the season that they've motored through all the other DIY projects you thought of? Then it's time for something cute, quick, and easy! These adorable little bats made from toilet paper rolls are a great thing to do because once your kids are finished with them, they make great toys or great decor. See them in more detail on Crafting a Greener World.
10. Toilet paper music notes
Revolutionaries Market guides you through the process of using your toilet paper rolls to make something a little fancier looking than just a tube shaped project with some googly eyes (as cute as those ideas are)! Instead, cut the roll into strips and use the cardboard, with its natural curl, to make a decorative music note that you can hang anywhere.
11. Hula girls and mermaids
Are you looking for the perfect craft for a little girls' slumber party or birthday? Check out these cute little hula girls and mermaids by Molly Moo Crafts! All you need besides the toilet paper roll, scissors, and glue is some construction paper, markers, and maybe a little glitter!
12. Toilet paper roll daisies
Did you like the idea of using pieces of the toilet roll in a way that takes advantage of how spring it is, but a music note isn't really your style? Check out these adorable little daisies instead! They're a cute alternative to having real flowers in water in your kids play room, but they still help you keep the place bright and happy. Get more details on Craft Ideas.
13. Toilet paper roll and egg carton flowers
What's better than upcycling one household recycling item? Upcycling two at once, of course! Check out these hilarious, cartoon looking flower pieces made from a toilet paper roll that's been cut and compressed and the bottom of the cups in an egg carton. Michele Made Me shows you how they're done.
14. Toilet paper roll airplane
Are your kids' favourite crafts always the ones with interactive parts, like pieces that spin or fold? Then they'll love these little toilet paper roll airplanes with propellers that actually turn! Check out how Pink Stripey Socks made these ones using a toilet paper roll, extra cardboard, and a brad pin for centre of the propeller fan.
15. Floral cut out wall art
Would you rather use affordable DIY supplies to make a crafting project for yourself? Empty toilet paper rolls are still a great option! If you're careful with where and how you make cuts, it's easy to use the rounded, bouncy shape of empty toilet paper rolls to create shapes like flowers and leaves. Take a look at how Kifli es Levendula created pretty flower shapes inside a frame to make some affordable DIY home decor.
Have you made other awesome DIY projects out of empty toilet paper rolls that you don't see here? Tell us about how you made them or link us to pictures of your work in the comments section!