15 Fun Kids Crafts Made from Empty Toilet Paper Rolls
Sometimes when your kids go on huge crafting rolls it can be hard to keep up with the supplies they need to keep busy. You might find them running out of glue, complaining of dried markers and breaking all their crayons, asking you to replace all their crafting stuff so they can make more things. That's why it's a good idea to get thrifty with what you help them craft with every once in a while! Finding things around your home that they can reuse and make DIY projects from for free is a great way to keep crafting affordable. Empty toilet paper rolls are a prime example of affordable home crafting supplies!
Check out these 15 super fun crafts that you and your kids will have a total blast making out of empty toilet paper rolls!
1. Washi tape toilet paper roll napkin rings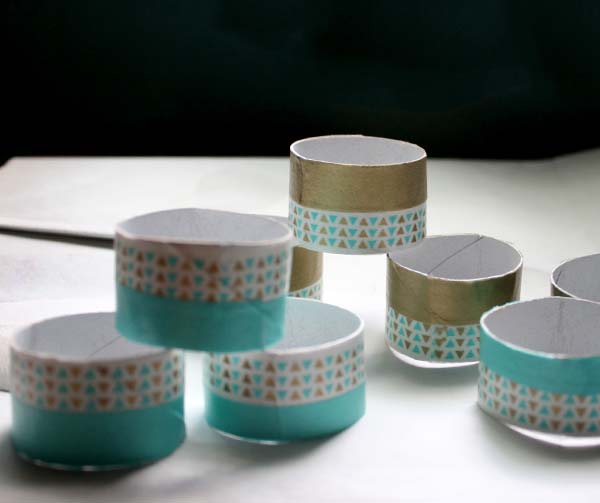 Are you trying to teach your kids about proper place settings and dining etiquette by helping them hair their own fancy doll dinners and tea parties? Then you might as well get as detailed as possible and show them how to set out napkins for their guests! You can even make them their own napkin rings from sections of empty toilet paper rolls covered in cute patterned washi tape, just like these ones from Crafting a Green World.
2. Toilet paper roll Frankenstein
It's the season for Halloween crafts and, like they are with most holiday themed projects, empty toilet paper rolls give kids endless possibilities when it comes to spooky projects. We love this coloured Frankenstein idea! No Time for Flash Cards suggests making vertical cuts from the top for hair and poking old golf tees through the sides for neck bolts.
3. Toilet paper roll hair clip holder
Do you need a very simple, very quick fix for constantly losing that one set of hair elastics and bobby pins that you always like to have sitting by the sink? Well, we think we've found the simplest solution there is! Check out how Real Simple created a quick hair accessory stand just by tipping a toilet paper roll on its end.
4. Easter bunny candy holder
Packaging up Easter candy for your friends or loved ones is a fun task, but it can get pricey if you have many people you want to give them to. Instead of going to a fancy wrapping and stationary store, try making your own cute, simple candy cases from empty toilet paper rolls! We love these rabbit themed ones by Crafting a Green World.