DIY Minnie Mouse Candy Holder
In my house, there's only really one thing my kids get way more excited about than crafting: Disney! They're completely and utterly in love with absolutely anything Disney related. That's why I'm always trying to brainstorm new ways that I can combine the thing they love the most and help them make some cute Disney themed DIY projects on our "crafternoons". Recently, my daughter decided that she wanted to have a Minnie Mouse themed birthday party, so I've been trying to come up with ideas for ways we can make little details that will add to the theme of the party. That's how we found ourselves making these fun little Minnie Mouse themed candy holders!
I've definitely found awesome party ideas from the DIY tutorials that other parents have written before, so I always like the feeling of being able to return the favour! I made several of these, so I made sure to document the whole process during one of them. Check out these step by step instructions complete with photos! If you'd rather follow along with a video tutorial instead of written words, scroll to the bottom of this post to find just what you're looking for.
For this project, you'll need:
Black cardstock

An open topped plastic dome (from the local craft store)

Candies (I chose marshmallows)

Scissors

Hot glue

Ribbon (polka dot red, black, and plain red)

A pencil

Large popsicle sticks
Step 1:
Gather your materials!

Step 2:
Place your plastic dome on your piece of black cardstock, leaving lots of space to work with around it. Use your pencil to trace the shape of a circle around it, leaving a consistent extra space between your pencil and the dome itself of about a half inch, like a border all the way around. Once you've completed that circle, draw two smaller circles near where you want the top to be, on either side of a central mark. Let your circles overlap a little; these will be your Minnie Mouse's ears. Cut the shape out and turn it over. You'll use the side that doesn't have pencil markings.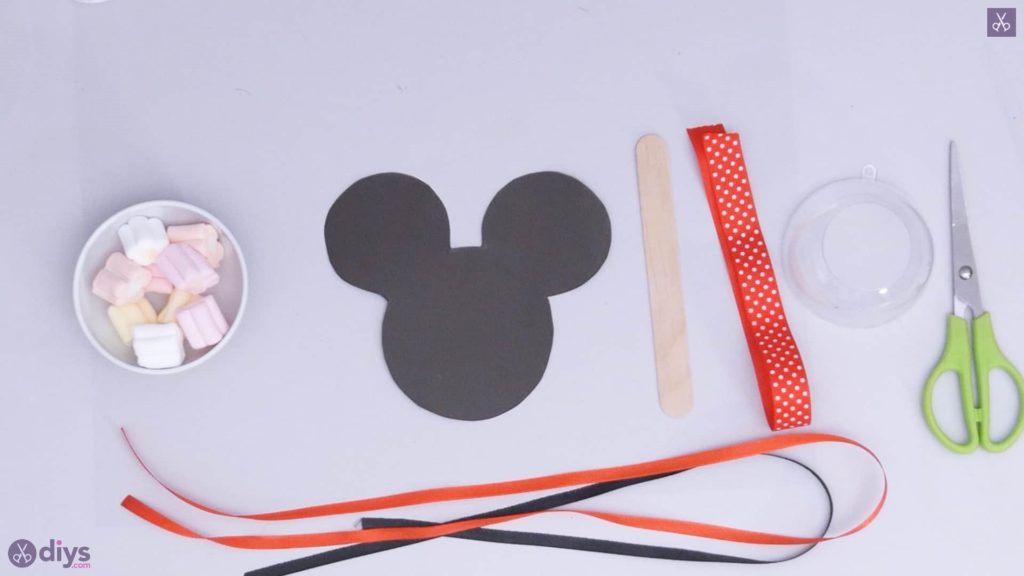 Step 3:
Get all of your ribbon elements ready! First, cut two pieces of read ribbon that are about six inches long each. Then cut two pieces the same length from your black ribbon. Next, make a bow using your red and white polka dotted ribbon. Do this by curling the end in from the side to make a loop and gluing it down where it crosses over the rest of the ribbon, leaving an inch or so of excess like ribbon ends. The curl the other side in a loop in the same way and glue it down in the centre as well where it crosses over the others. Trim the excess so the two ribbon ends are the same length, and then cut a little triangular notch in each one for detail and to stop them from fraying.