DIYs.com is an up-and-coming website that specializes in high-quality and on-trend DIY projects and tutorials in home design, fashion, and crafts. Recognizing the value of the do-it-yourself movement of the last several years, DIYs.com is inspired by unique yet replicable ideas. Because everyone's style is individual, Doing It Yourself results in customized pieces with a high-end look.
Each tutorial on DIYs.com features beautiful and useful photos and accompanying explanations, hints, and tips to aid readers in successfully completing your own DIY projects. DIYers of all experience levels will find value in the wide variety of creative projects featured on DIYs.com, from simple activities for the beginning DIYer to more complex and extensive projects for the experienced DIYer.
Our priority is to help each of our readers create pieces that are a perfect reflection of yourselves, so we offer DIY information and inspiration that is diverse and extensive. There truly is something for everyone at DIYs.com!
Home Design DIYs
Discover how to create beautiful pieces that enhance your home's style and showcase your personality. Photos will guide you along in all tutorials (simplex to complex and everywhere in between) to help you create items your home will love.
Fashion DIYs
Let your creativity be inspired (and your closet enhanced) by fashion-related DIYs. On-trend and creative, these tutorials will help you create the look you want to share with the world.
Crafts DIYs
Follow along with our craft DIY idea bank. Whether you're looking for DIY party ideas, seasonal crafts and décor, or simply everyday projects, you're sure to find something here.
---
Editorial Guidelines and Principles
Ethics
Media Highlights
DIYS.com work has been showcased in multiple publications:
---
Social Media
Follow us on Twitter, Facebook, Pinterest, YouTube, Linkedin, Flipboard, Crunchbase, About.me.
Contact
Feel free to reach us at: support@diys.com or by post at Bucuresti-Ploiesti 19-21, Etaj 6, Birou R23, Sector 1, București, România
Please note that we do not accept articles, guest-authored blogs, or posts.
---
TEAM
DIYs.com is made up of a team of creative, experienced individuals from around the world who have plenty of elbow grease to share. It's our goal, in every tutorial, to help our readers create and complete pieces they will love. Here's more about our team:
Alicia Powell
An avid DIYer, Alicia is an interior designer by profession and co-writer of the lifestyle blog, Spark & Chemistry. She loves to craft and upcycle things- particularly turning something old into something new again. She enjoys the challenge of creating affordable, yet beautiful projects. When not working, you can find her playing the guitar, shopping or hanging out at the beach with her husband.
Read all articles by Alicia.
Follow Alicia on:Twitter | Pinterest
---
Grace Lynne Fleming
With a knack for fashion and style, she also has the crafty gene passed downfrom her ultra artistic mother. A Nashville native and a graduate from the University of Tennessee at Chattanooga, Summa Cum laude; Grace has been professionally writing for the past few years but always finds time to create something beautiful for her home, a friend or dreams of new ideas for every event on her calendar.
---
Faith Towers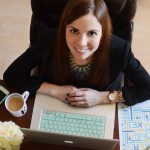 Faith Towers is a designer, writer and crafter with a passion for all things creative. She received her art degree from Skidmore College, and her work has been featured in many well-known publications such as Forbes and Yahoo. She has her own site called Design Fixation and spends her days blogging and designing promotional materials for small creative-minded companies. Much of her free time is spent exploring Boston with her rambunctious puggle Charlie.
Read all articles by Faith.
---
Meghan Quinones
Meghan has been an avid crafter pretty much her entire life. Her love of making and creating comes from her grandparents and mother. She has a passion for all things crafty and spends most of her days coming up with projects from DIY jewelry to home décor, DIY fashion, and more! She can also be found going through alleys looking for treasures that have been tossed out that she can bring new life to. Meghan was recently able to turn her passion for crafting into a career. She is the Inspiration Manger over at Blitsy.com, where she shows people how to take raw crafting supplies and turn them into quick and easy DIY projects.
Read all articles by Meghan.
---
Jennifer Paglinawan
Jenn is one who MUST create, its a endless passion of hers and has always been a huge part of her life. At the age of 13 she learned how to utilize a sewing machine and created her first bag, ever since she's been designing bags and clothes. Jenn is currently apart time hairstylist, juggling school and her side business selling art and accessories. Aside from all this Jenn enjoys photography and playing music with her hubby. You can find her photography, art, and adventures on her blog (panandtea.blogspot.com).
Read all articles by Jennifer.
---
Marwa Hayat
Marwa Hayat is a student and DIY blogger in her early 20's. Who has had more of an interest in her creative side from childhood. Blogging has provided her an opportunity to regularly bring life to her endless ideas, quite often enthralling ones. Her dexterity varying from jewelry,home & decor to fashion. She is also passionate about photography and gardening. When free she finds herself taking time to pamper her plants extensively and read a book or two. You can find her active at her site (Enthralling Gumption).
Read all articles by Marwa.
---
Nicky Corbishley
Nicky lives in Cheshire in the UK with her husband Chris and their two children Gracey and Lewis. She spends her days creating, photographing and writing recipes for her blog Kitchen Sanctuary.
Find Nicky at Kitchensanctuary.
---
Laurel Cornwell
Laurel Cornwell is a recipe developer, food photographer, and avid eater of her favorite food – dark chocolate. Her passion is to make healthy eating accessible for all and downright delicious. Her plant-based recipes have been seen on the Kitchn, Huffpost Taste, The Greatest, and more. When not crafting new recipes, Laurel can be found hiking outdoors, crafting, or exploring sunny San Diego.
---
Chiara Cavagion
Chiara Cavagion is Italian full time graphic designer by day and multitasking diy lady at night'n'day. With cofounder Irene, she "throws creativity around like confetti!" at her craft & lifestyle blog One O. Apart from going nuts for succulents and having a secret love (well, not so so secret!) for home decor, when she doesn't blog she dances tribal fusion bellydanceorwatches New Girl while sipping a giant soy cappuccino. Oh, let's not forget her extreme messyness! A creative mind, what can one say.
---
Hannah Hossack-Lodge
Hannah is a recipe developer and food photographer who spends her days cooking, photographing and writing about food (and making a mess of her kitchen) for her blog Domestic Gothess. When she's not in the kitchen you can find her out hiking with her Jack Russell Ringo, bouldering, drinking copious amounts of tea, complaining about the amount of washing-up she's created or daydreaming about what to bake next…