50 SPOOKtacular DIY Halloween Decorations For the House and the Party
Halloween is creeping up on us. Before we know it, we'll be stocking up on candy for the trick-or-treaters and sending out invites for the costume party. In the meantime, it's time to start grabbing some decor ideas. And we're here to help. Check out these 50 SPOOKtacular DIY Halloween decorations for both the house and the party!
1. Hoop Spiderwebs
The Things She Makes bring us this rad Halloween tutorial with so much ease! Create some hoop spiderwebs that are not only festive but stylish too.
2. Bleeding Candles
Check out these bleeding candles from Revamperate. They'll really help set the mood at your costume party or haunted house themes event!
3. Mummy Door
Honey & Fitz transformed their front door into a trick-or-treater friendly piece of decor. Learn how to turn yours into a mummy in no time.
4. Bat Wall
Over at Made Everyday, you'll find some bats to whip up and adorn the home with. Fill the dining room or the hallways with these little guys!
5. Floating Candles
Feel a bit like Harry Potter entering Hogwarts with this fun DIY. Line the staircases and the foyer with these floating candles!
6. Eyeball Wreath
Great every guests with a "look" or two with help from iLoveToCreate! The kiddos will love helping with this one too!
7. Window Silhouettes
Really turn your house into a haunted space with these DIY from Makezine. Every window can be filled up with some "spooky" silhouettes!
8. Glow-in-the-Dark Mason Jars
Line the windowsills with these fun jars. It'll really help to enhance the "spooky" or "haunted" theme you're envisioning for your party.
9. Pumpkin Bonfire
DIY Network brings us this fabulous – and stylish – Halloween-sinpired idea. Enjoy the outdoors with your friends and use this pumpkin bonfire as the centerpiece to it all!
10. Haunted Hotel Sign
You could always turn your house into a haunted hotel. And if you visit DIY Network again you can snag all the details for making it.
11. Bloody Table Runner
Brit + Co went all out with this snazzy Halloween DIY. They're right, this is exactly what Dexter would have hanging around his house.
12. Teal Vampire Pumpkins
Teal pumpkins are super trendy (and inspire those to be safe – happy – and healthy on this fun holiday!), and here's a DIY that includes one! A pop of color and a bit of vampire-inspiration too. (via)
13. Bloody Footprints
Cover your front porch and steps with some bloody footprints. Give all the trick-or-treaters a fun little fright – grab the details at DIY Network.
14. Spider Wreath
If you're feeling witchy or like to creep everyone out with your spider decor, this is the wreath for you to whip up. Hop on over to DIY Network just one more time to catch the tutorial.
15. Eyeball Balloons
Are these eyeball balloons from Studio DIY not that cutest? They're perfect for kid-focused parties, don't you think?
16. Zombie Barbies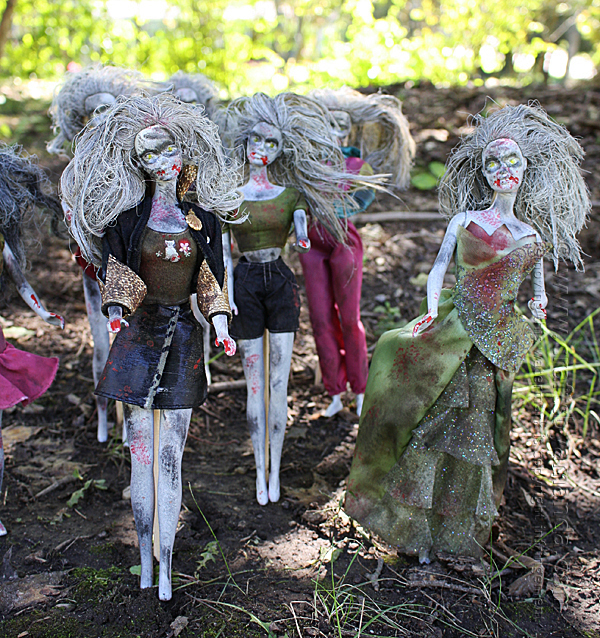 This project will give you a little giggle. Recreate these zombie Barbies with the help of Crafts by Amanda.
17. Candy Garland
Using toilet paper rolls you too can make this charming candy garland. The House that Lars Built made such a fun little scene or Halloween guests to enjoy.
18. Monster House
Transform your house into a monster face with help from Craftibilities. You can personalize this project any way you like too, which makes us love it more.
19. Glow-in-the-Dark Pumpkins
You can make your pumpkins glow in the dark too! Just hop on over and check out the video to learn how.
20. Garage Teeth
Give your garage some teeth with this fun DIY from Instructables. It's just another way to turn your house into something extra special for this spooky holiday – make it come to life!
21. Climbing Skeletons
Instructables showed off this innovative idea too. Again, make your house come to life and give your guests a bit of a giggle with your holiday decor.
22. Cheesecloth Spirits
You'll want to have these around the house if you have a haunted theme in mind. Martha Stewart has all the easy directions for you to follow.
23. Poison Apple
Let's Get Thrifty gives us some Disney-inspired Halloween decor to recreate. Hang some poison apples around the house, or around the yard!
24. Spider Sacks
Hang these creepy crawly bits around the house too! Modern Parents Messy Kids made these spider sacks that can really fill a void.
25. Googly Eye Pumpkins
Here's a fun way to decorate pumpkins this year. You don't have to carve, instead, do something a bit funkier and festive.
26. Halloween Bunting
The kiddos will love to help you create this one! Check out Popcorn and Chocolate to snag all the details on this charming Halloween bunting project.
27. Halloween Luminaries
Light the pathways or the foyer with some Halloween-inspired luminaries. BHG gives us the quick and easy tutorial.
28. Candy Corn Ombre Bottles
Create something stylish and sweet for the tables with this DIY from Brit + Co. You could even line your mantle with a pop of "candy corn" inspiration.
29. Mummy Mason Jars
These mummy mason jars can fill in some nooks and crannies around the house too. They'd also be great party favors if you fill them with treats! (via)
30. Hanging Spider Balloons
Studio DIY gives us another great Halloween-inspired balloon idea. They're stylish but they've got spiders – making them another fun addition to the costume party.
31. Paranormal Portraits
Country Living has all the details for this super creepy projects. Make your portraits come to life, and spook your guests too, with this tutorial.
32. Bat Lantern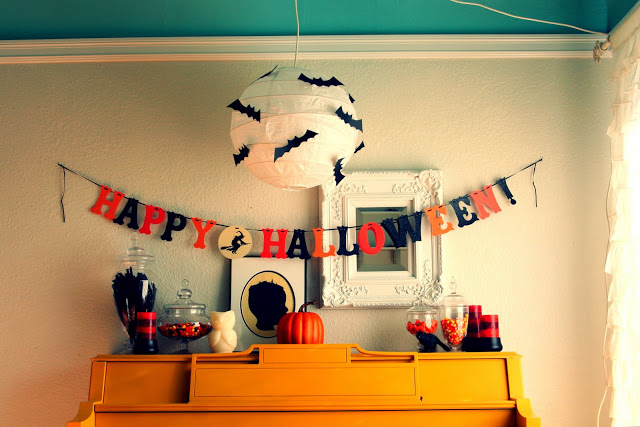 Turn a simple lantern into something October 31st ready! Just visit A Bit of Sunshine to Grab all the details and get to work by the weekend.
33. Cat Doormat
Grab an old doormat and upcycle it a bit. It's quite easy to give it a Halloween makeover – a black cat or two is all you need. (via)
34. Glowing Faces
Line the walls or even the front porch with some of these glowing faces. It'll definitely add an extra bit of "spookiness" to the night.
35. Magnetic Spiders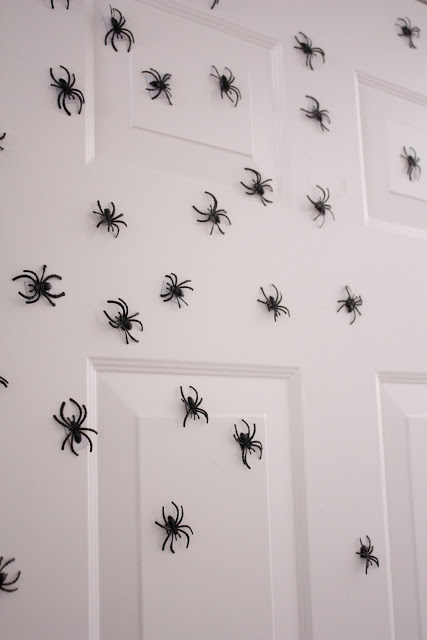 Cover nearly any surface you'd like with a swarm of spiders! Delia Creates is where you'll find the details behind these creepy crawlers.
36. Yard Ghost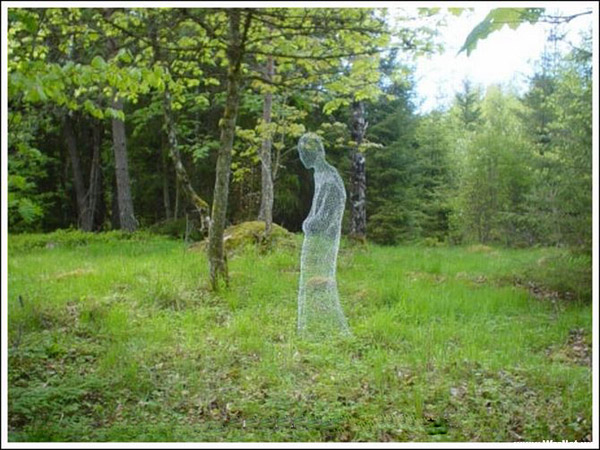 Set up some ghosts in your front yard to greet every trick-or-treater of the night. You may even get a few screams out of them! (via)
37. Spider Doormat
If you visit Country Living again you'll find another great project when it comes to your doormat. Turn an older one into a chic spiderweb.
38. Tin Can Luminaries
Jolly Mom made some cute luminaries too! But this time we start with tin cans and do some extra fun DIY stuff – perfect some skills with this one!
39. Witch Drink Bottles
Serve up some witchin' sips at the party with help from BHG. Easily turn simple bottles into ones with a bit more festivity!
40. Pumpkin Pinata
This serves as a piece of decor and an activity for the party too! Make several small ones and have everyone participate!
41. Lawn Skeletons
Helpful Homemade shows us how to create a quirky little scene using your skeletons – right on your front lawn! Catch the details now.
42. Pom Pom Spiders
Taking Care of Monkey Business has another kid-friendly Halloween project we're swooning for. Grab the tutorial over at the blog now!
43. Paper Mice
Martha Stewart makes some paper mice that could fill in some spots around the house. These are so fun to surprise your guests with!
44. Spiderwebs
Using trash bags, you can create these spiderwebs for your windows and walls too. Visit How About Orange and follow along!
45. Head in a Jar
This prank will get a lot of screams and giggles throughout the entire Halloween season. Catch the details at Instructables and start spooking now!
46. Frankenstein Door
Turn your front door into Frankenstein by visiting East Coast Creative. The kiddos will love helping you out with this one!
47. Halloween Tree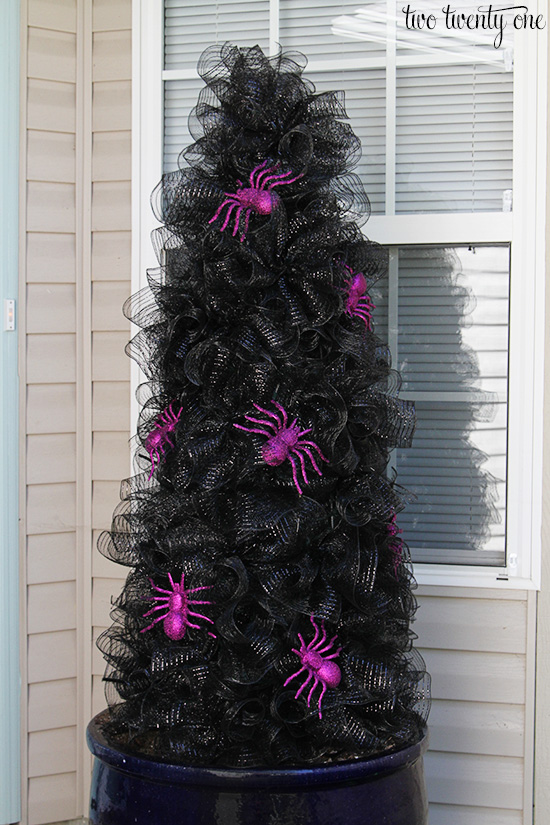 Here's a great DIY to dive into if you're looking for something to jazz up the front porch. Visit Two Twenty One to learn how now.
48. Skull Floral Arrangement
Popsugar made this chic skull floral arrangement and we're swooning for it. We love when Halloween decor is both festive and stylish!
49. Ghost Leaf Bags
Here's another fun way to jazz up the front yard. You can get the entire family involved in this little project as well. (via)
50. Ghost Emoji Balloons
For something light and fun, check out these ghost emoji balloons! This is perfect for a children's party. Grab the details at Aww, Sam.