80 SPOOKtacular DIY Halloween Decorations For the House and the Party
If you find yourself scrambling at the last minute to throw something together for your Halloween party, there's no need to panic. It's time for some easy-peasy spooky Halloween decorations!
We compiled a list of 85 scary Halloween decorations that you need to try this year, including some freaky food and drink ideas. Be sure to explore this entire list, and you might find the perfect idea for your upcoming party!
80 Best Spooktacular Halloween Decorations to Try in 2021
Without further ado, here are 80 of the scariest Halloween decoration ideas you should try this year!
1. Creepy Key Holder – Halloween House Decorations
A creepy key holder is an eerie Halloween house decoration that will send chills down everyone's spines. It is the perfect addition to any Halloween household decorations and looks like something straight out of a horror movie.
Plus, it's an easy project to do, and it will make your guests do a double-take. If you need some quick spooky Halloween decor this year, then this one's for you!
To work on this project, you will need doll hands, silver paint, a wooden pallet board, wooden spindles, E-6000 adhesive, wooden spindles, and a rust texture finish. The hands don't come apart, so you need to drill through them.
It's why we recommend using vinyl or plastic baby hands as opposed to cloth. When drilling a hole through the palms, make sure you're not too close to the fingertips. Otherwise, it will be harder for the hands to hold things later on.
You want the holes to be about 1 cm from where your palm meets your wrist. Also, make sure you're drilling holes in a straight line. It will make it easier to glue the pieces together. You may want to mark where the spots should be with a pencil beforehand so that you can keep everything nice and straight.
Check out the full tutorial we found on Homedit on how to easily make a creepy key holder for Halloween. The results look amazing!
2. Mummy Lanterns – Halloween Party Decorations
When it comes to Halloween party decorations, mummy lanterns are certainly among the easiest to make. They're great for any kind of party or gathering when you need some spooky decorations that won't take too much time or effort.
You will need standard glass jars, googly eyes, brown paint, paper towels, hot glue sticks, scissors, battery-powered string lights, and electrical tape to create this project.
The first step is painting the outside of your glass jars brown. It's a good idea to use a sponge brush for this part since it's easier. Be sure to let the paint dry before moving on to other steps to avoid any bumps. Once dry, cut thin strips of paper towel to use as mummy wrap. Try doing this in a zig-zag pattern so that it doesn't look too bulky.
Afterward, glue the paper towels onto the jar. Don't use too much glue because you want to ensure the light shines through. Then, use the electrical tape to do detailed work on your mummy jars and apply googly eyes.
After that, simply insert your string lights into your jars, and voila! You now have some fabulous DIY mummy lanterns for Halloween.
If you prefer a more straightforward guide on creating mummy lanterns for Halloween, don't hesitate to read a full tutorial on Homedit!
3. Black Feather Chandelier – Halloween Party Decoration Ideas
A black feather chandelier is an excellent decoration idea for your Halloween party. This project lets you create a multi-purpose piece that can also be used as part of your table setting, depending on the occasion. And the best part about it is that you can use it all year round, not just on Halloween night.
Before beginning, gather a chandelier base, a string to hang the chandelier, black spray paint, black masking tape, and feathers. The color of the feathers doesn't matter since you will be spraying them black anyway.
You can try to use real chicken and turkey feathers, but we recommend using faux ones instead. The reason is that the texture of the chandelier will be ruined if you choose to attach real feathers.
Be sure to wear a mask when spraying your black feathers. It's important not to spray too much paint on them at once since it might cause them to lose their natural shape. Use a brush instead of spray paint to decorate the feathers and create text for a rustic texture.
Then, cut a few strips of masking tape to wrap each feather around the chandelier. For the finishing touch, hang the chandelier over your table or any other desired place in your home.
Find out more about this spooky and straightforward project on Homedit!
4. Creepy Candles with Bloody Nails – Halloween House Decorations Ideas
The spookiest house decorations for Halloween can be easily created with simple DIY projects, such as candles with blood-stained nails. The best part is it doesn't require a lot of materials or time to carry out, and you can even customize it for your personal needs.
Get white or black candles, nails, red acrylic paint or nail polish, and a small paintbrush to get started. Begin by putting nails in the candles. Don't worry about using a hammer since you can push the nails into the wax.
Dip the paintbrush into the paint or nail polish and paint around the nails. Add enough color so that it drips on the candle, thus creating the effect of running blood. And that's it! What's left is to place the candles on your Halloween table or fireplace mantel and light them up.
Check out this excellent video tutorial we found on Homedit to visualize the whole project for this Halloween house decoration idea!
5. Birdcage Chandelier – Halloween Decorations
From chandeliers to candleholders, you can transform birdcages into so many exciting pieces for your home. But perhaps a unique project is to use a repurposed birdcage as part of your Halloween decorations.
A black or white birdcage makes for an excellent decoration idea for your Halloween party. You can create a multi-purpose piece for your table setting, depending on the occasion. Besides, it's the type of decoration fit for any event, not just Halloween.
If you have an old birdcage lying somewhere in the attic, it's perfect since you can easily repurpose it without spending a dime! Otherwise, you can buy a fake birdcage from Amazon or eBay. It's a better idea for those who lose their patience quickly since many small pieces are involved in this project.
For a quick and simple way to repurpose a birdcage, take a look at this tutorial we found on Homedit! You need a birdcage, sandpaper (optional), black paint, battery-operated tea lights, a wooden plank that fits the cage, and green botanical twigs.
The birdcage chandelier works well with other spooky Halloween decorations from this list. For instance, you can use it to place black candleholders inside.
6. Vine Wreath – Outdoor Halloween Decorations
Halloween decorations don't have to be cheesy and over the top, as long as you follow the latest trends. And if you're looking for a way to make your front door look spooky yet elegant, then this black and white vine wreath is just what you need for outdoor Halloween decorations.
It only requires a few supplies that are easy to find at your local craft store. First, purchase a grapevine wreath. If you want the vines to cover it completely, make sure you buy one that's big enough.
You also need a fake blackbird, a black ribbon, wire cutters, black and glossy spray paint, a hot glue gun with glue sticks, together with black and white feathers, flowers, and grass.
Feel free to consult our in-depth guide that shows every step of the way to help you effortlessly create a spooky yet stylish vine wreath for Halloween!
7. Plaster Skull Candlesticks – DIY Halloween Decorations
If you want to create an impressive centerpiece for your Halloween dinner table, this plaster skull candlestick is a great idea for DIY Halloween decorations. And the best part? You don't have to be a master craftsman or a sculptor to pull it off!
For this DIY project, you need plaster, a plastic or paper bowl, water, a plastic spoon, candlesticks, a skull mold, water, string, and spray paint. The spray paint can change the skull's color if you don't like the plaster's white. So make sure to pick a color that goes well with your Halloween party theme.
The color of the candlesticks is equally essential, but you can buy another spray paint color to change it if you don't like it. In this case, begin the project by spray painting the candlesticks in the desired color.
Next, mix the plaster with water in the bowl, pour it into the mold and wait for about an hour. When the mold has hardened, remove the front and backside of the skull, fit the head around a candlestick, and use more plaster to bind the sides. Use the string to keep the skull's parts in place while the binding plaster dries off.
Finally, you can spray paint the skulls around the candlestick. It's recommended since it's a simple trick to cover the imperfections of the binding plaster. You can also add more heads to the candlesticks if they are tall enough.
For more information on how to easily make plaster skull candlesticks for Halloween, be sure to read this in-depth tutorial we found on Homedit!
8. Black Candleholders – Indoor Halloween Decorations
Don't worry about a thing if you're looking for a way to successfully dress up your mantelpiece since this black candleholders project is easy enough, even for beginners. You can use it as an indoor Halloween decoration around the fireplace or the mantel.
For this project, you need three wooden furniture legs, black paint, brass hardware fittings, super glue, candles, and sandpaper (optional). Begin by painting the furniture legs black, and let them dry.
Afterward, attach the brass fittings to each leg with super glue and wait a few hours until the glue dries. Finally, insert candles into the brass fittings, which have now become your candleholders.
Find out all about this project in this detailed step-by-step guide found on Homedit!
Since you put together three candleholders, you now have a lovely little ensemble that goes well with other scary Halloween decorations. For example, you can place three black candleholders into a black birdcage instead of using the birdcage as a chandelier.
9. Spooky Wreath – Halloween Door Decorations
It's time to bring some Halloween spirit to your front door with this spooky and whimsical wreath project! It can certainly turn your home into a haunted house for trick-or-treaters who come knocking at your door on October 31st.
It focuses on typical Halloween decoration elements that make this day genuinely frightening, such as bats, skulls, ghosts, witches, monsters, or even scary messages like BOO!. Don't let that scare you, though, since the project is accessible to anyone!
For materials, you will need a circular wreath made from styrofoam, fabric to wrap the garland, push pins to seal the ends of the fabric, scissors, a hot glue gun, and decorative elements like the ones we already mentioned.
You can also wrap Halloween-themed paper around the wreath, but it's important to seal it with push pins so that the paper doesn't fall off after a few days. Begin by wrapping the wreath in the cloth to create an even surface, then use push pins to keep it in place. Then, arrange the decorative elements on the wreath and secure them with glue.
For more information on making this whimsical Halloween wreath, be sure to read our detailed tutorial with step-by-step instructions!
10. Evil Candles – Scary Halloween Decorations
If you're looking for a spooky decoration, an evil candle is something you should think about. These candles are copies of those used in black magic rituals, and they look downright scary.
Use this scary Halloween decoration to create a dark atmosphere in your living room or simply by your front door, and observe how people react! It can even escalate into an interesting Halloween party game! It's a great way to encourage the scaredy cats who come trick-or-treating at your door, too.
To make evil candles for Halloween, you will need black wax, black wick (which shouldn't be too thick), rubber bands or hair ties, and glass jars with lids or jars that can be sealed with hot glue.
Fill your jar about halfway with the black wax, and add the wick. Then, cover the jar entirely with melted wax, making sure to leave about 1 cm from the top. Then, hold down the wick with the rubber band (or hair ties) for about 10 minutes until it is soaked. You can make a few extra pieces to keep as a backup since they could break if you touch them too often.
Once your wicked candles are finished, place them on a table covered in black fabric and light them up! Watch how people react in awe in front of this spooky decoration, and have a laugh while you enjoy your Halloween!
11. A Zombie Warning Sign – Halloween Yard Decorations
Want to discourage passers-by from entering your property on Halloween night? Put a zombie warning sign in the yard! It will certainly send some shivers down people's spines when they see this truly scary Halloween yard decoration.
You can use this fence decoration to make a fun and spooky display in your yard. But be aware that it could cause some trouble if you live close to your neighbors. It would be a good idea to attach the sign far from where people usually pass through.
For this Halloween decoration, you will need a piece of wood or particleboard (about 1 x 1 m), a piece of fabric, a marker that can write on wood, screws or nails, and scissors.
Begin by measuring the width and height of your board, then add 2 cm to each side for the sign to be visible from about 5 m away. Next, draw the shape of your letters with dots to know where to place the screws.
Finally, write your warning in big letters with the marker and put it on top of your board or particleboard. Then, secure the fabric to the back using nails or screws, ensuring that all parts are flat against each other.
Now you can screw it into a fence for people to see when they pass by! It's a fun and straightforward way to decorate the yard for Halloween, and we're sure it will be appreciated by your neighbors – as long as they're not worried about becoming zombie snacks!
12. A Witch's Altar – Halloween Home Decor
Halloween is a great time to restore the magic and mystery of things we lost touch with, such as witchcraft. If you want to deepen this feeling in your home decor, create an altar dedicated to a witch!
For this Halloween home decor, you will need black paint or fabric for the tablecloth, depending on how small or large your table is. Add to the list a black plate, glass, candlestick, black figurines (like a cat and a skull), decorative stones or other small rocks, matches or a lighter, wax crayons or colors for candles, votive candles in appropriate colors, and jars of honey or other sweet things to decorate the altar with.
To start, ensure that the tablecloth completely covers your table. Then, place all objects on top of it. This Halloween decoration can also be done with a clear glass surface so you can see the symbols below.
Once everything is set, light up the votive candles and place them in front of the items to make them stand out. You can draw symbols around them to enhance the magic theme.
If you want, you can cover the entire surface of the table with white or black candles that will light up as the evening falls. Don't forget to make a circle around the witch's altar with big, thick candles! If you don't have those, use pieces of wood and paint them black.
Finally, make sure to take a photo and publish it online, so your friends can see your work of art! You will probably get many compliments for this spooky Halloween decoration.
13. Pumpkin Scarecrow – Outdoor Halloween Decoration Ideas
Pumpkin scarecrows are an easy way to decorate the yard for Halloween, and they also double as decorations for Thanksgiving! Don't wait until the last minute to start working on this outdoor Halloween decoration idea, as it can be a bit time-consuming.
If you have some basic carpentry skills, you can create an original pumpkin-headed scarecrow for Halloween.
You will need wood, black and white paint, fabric for the clothes, white and green foam sheets, a hot glue gun, colored thread, a black marker pen, straws, and twigs or wire for the hands and feet of your scarecrow.
Scarecrows are normally made out of straw, but you can improvise with twigs or other materials found in nature. Either way, it's important to make sure that your scarecrow is going to stand securely.
To make this Halloween decoration for the yard even scarier, use a hot glue gun to attach a variety of objects to your scarecrow: twigs and wire for the hands and feet, a Jack-O-Lantern with a candle inside, some fabric glued to the body of your scarecrow, and so on. Of course, you can add your own personal touch!
Once it's finished, place your awesome creation in your garden on Halloween night. You'll have a lot of fun watching your friends and family trying to get past it!
14. Spiderweb – DIY Outdoor Halloween Decorations
If you're looking for easy DIY outdoor Halloween decorations, try creating a spiderweb! It's simple and quick to create and can be made with things you find around the house. If you don't want spiders crawling out of your web, use plastic or silk fake ones.
For this outdoor Halloween decoration idea, grab black paint and a large brush. Paint a spiderweb on a wall, window, tree trunk, fence, or anywhere else you want. If you have fake spiders in your house already, place one or two of them inside the web to add to the spooky effect!
Another idea is to make this Halloween decoration for the outdoors more realistic by adding some cobwebs to your front door and porch to welcome your trick-or-treaters and party guests. It won't be easy for them to reach your front door, but the effect is worth it!
15. Halloween Haunted House Decorations
This is one of the most well-known Halloween decorations. The whole idea behind it is to make your house look like a haunted mansion or spooky castle.
To put together this decoration, start by drawing as many doors and windows as you want onto your front door, using chalk. Draw some tombstones in your yard and paint bats on them, or draw some gravestones.
For the inside of your haunted house, place plastic skeletons anywhere you want. You can buy or make Halloween decorations that look like zombies or vampires and put them around the house as well. Make sure to hang up plenty of spider webs!
Once it's all done, this Halloween decoration will certainly leave a lasting impression on everyone who saw it! Just be careful with trick-or-treaters who might actually be afraid of your spooky masterpiece!
Feel free to use the image above as inspiration, which features scary pumpkins, spider webs, blood, candles, and a large cloth with a bloody message that says Happy Halloween.
Don't forget to take photos so you can upload them online and share your beautiful creation with friends today! It will be the talk of the town for weeks to come.
16. Scary Witch – Outdoor Halloween Decoration Ideas
A great way to create a scary Halloween decoration is to build one that looks alive! If you seek an outdoor Halloween decoration idea that will truly spook your friends, try making a scary witch that looks just like you.
First, take measurements of your body, head, and arms. Cut out the necessary pieces from gray fabric for your clothes. Add black dots to the dress with a black marker pen so that it resembles a spider web. Make sure you make extra holes at the top so you can see through it easily once sewn together.
Cut two rings out of green foam sheeting and glue them onto either side of your head as eyes using hot glue or super glue for extra durability. Leave enough space in between each ring so they're not touching when worn.
After this, cover the entire area with a thin piece of white fabric that extends beyond your hairline. With black thread, use a needle to sew on long black hairs onto the back of the fabric for eyebrows.
In the following steps, cut two triangles out of gray foam sheeting, where one is smaller than the other. Place them between your eyes and glue them together so you won't see the sides when worn. For convenience purposes, it's best to reinforce these using hot glue or super glue.
For the nose, place two small strips of red cloth over either end of your mouth. Later, you can glue the strips into place with hot glue. For the mouth, place a piece of black fabric over your teeth and sew it in place with thick black thread for a more realistic effect. And voila, the project is complete!
17. Floating Ghost – Halloween House Decorations
Have you ever seen floating ghosts before? They're pretty standard during Halloween. And it's an excellent idea for Halloween house decorations to amaze your guests and trick-or-treaters!
The following steps show how to make a ghost that hovers in the air and looks like it's not connected to anything. Start by drawing a circle on white fabric using chalk, then cut it out with scissors.
Fold the circle into two parts and place glue all around its edge. Then unfold and let dry completely. You can also use hot glue or superglue as long as it quickly dries so that you won't have problems moving the ghost around.
Cut out a small hole from either side of your ghost where your hands will be inserted through later. This way, you will be able to lift it without getting stuck inside once it's sewn shut.
Attach two pieces of sewing wire to either side of your ghost, looping them around its edge, so they're not showing. Then use thick black thread to sew the ghost together on all sides, attaching it to the wires simultaneously for maximum strength.
18. A Petrifying Pumpkin Face – Halloween House Decorations
This Halloween, make a petrifying pumpkin face that will undoubtedly send chills down your spine. Not to mention that trick-or-treaters will have a hard time reaching your front door due to fear.
To start this cool Halloween house decoration project, cut the top off of a big pumpkin and carve two slits on either side about an inch long, making it look like eyes. Remove all the seeds and glue them back in place over where your eyes will be so you can still use the area to insert a candle or battery-powered lights later on.
Starting from behind each eye slit, draw two thin triangles with chalk, then cut them out using scissors. Attach green tissue paper onto these sections by gluing or painting them green with acrylic paint. Then, paint drool marks around the mouth which looks gross when dried.
For the last piece of the puzzle, attach two skeleton hands to each side of the pumpkin to make it look like it's coming alive, just like in the photo. Imagine facing this frightening entity when trying to take out the garbage in the middle of the night. We get goosebumps just thinking about it!
19. Mermaid Skeleton – Halloween House Decorations
Every year, Halloween decorators seem to find new ways to make skeletons look even more freaky. And this mermaid skeleton is one of the most incredible ideas out there for Halloween house decorations!
To start this project, paint a bunch of seashells all over with white acrylic paint, then let it dry completely. You can paint several coats for maximum effect or use spray paint instead.
Afterward, carve out holes on either side so you can attach the bones later. Cut off any sharp edges on the shells to avoid injuries during handling. Then, glue on some glitter and sequins for extra sparkle and color, which looks fantastic in daylight or lit by batteries or candles at night.
To create the skeleton part of your mermaid, glue long thin sticks to either side of a plastic ball using white glue. You can also use foam balls or paint it white with acrylic paint for an even simpler solution. Once the glue dries, insert the bones into the holes on your seashells, and you're done!
Alternatively, you can buy a mermaid skeleton from the Internet like the one shown in this photo. We love that it has long blue hair and a crown of blue flowers.
Mermaid skeleton decorations are perfect when placed indoors or outdoors during Halloween parties, especially if you live by the beach.
20. Ghosts Everywhere – Halloween House Decorations Ideas
Add a little spookiness to this year's Halloween with ghostly decorations that are sure to scare trick-or-treaters half to death! They're also perfect for indoor use, just if you want your kids or pets playing around with them.
To make the ghosts for this Halloween house decoration idea, use cheap white bedsheets and cut them into various sizes. Then, paint all of the ghost faces with acrylic paint in various designs like grins or solemn expressions.
You can also use coloring markers to create custom faces on your ghosts, depending on what you think looks best. Make sure to let all of your paint dry before moving on to the next step, so it doesn't smear.
Or, if you want to go with the example shown in this photo, cut black felt in the shape of eyes and mouths so that you can easily sew or glue them to the sheets. The trick is to make the ghosts stand upright.
For example, the ghost's head can be made out of an old fabric ball or just old and unused clothes wrapped in a ball. You can add wire or plastic tubes to create a stick body, just enough to hang the sheets.
21. A Witch Warning Sign – Halloween Yard Decorations
A witch warning sign is perfect for Halloween yard decorations if your party theme focuses on witches. Besides, it goes well with other ideas on this list, such as the scary witch, evil candles, or the witch's altar.
Truth be told, there are lots of witch warning signs that you can use for your Halloween decorating needs. But the one shown in this photo is definitely one of our favorites because it's so easy to make!
Start by drawing out a simple witch silhouette or a witch's hat on an old piece of plywood or corrugated board. Make sure to apply several coats of paint if you plan to attach the sign to trees or outdoor walls.
Then, you can paint a spooky Halloween message like The Witch Is In! as well as draw additional details on the left and right sides. Finally, attach hinges to one end of your witch warning sign and a handle at the other end using nails or screws.
Add small rings for hanging if necessary, then hang up near your front door as a warning sign to visitors that they're welcome only if they're invited!
22. Haunted Warning Sign – Halloween Haunted House Decorations
The Beware, Enter at Own Risk or Haunted, Come Right in warning sign idea is really cool for Halloween haunted house decorations because you can either make it yourself or buy a prefabricated piece. It's perfect not only for the outdoors but also for indoor use, especially if you're hosting a party in your home.
The do-it-yourself technique is identical to the one we described for the previous entry for a witch warning sign, so there's nothing else left to add. It's all about putting your imagination and creativity to the test since you can paint any spooky message that makes people think of a haunted house.
23. A Meeting of Horror's Notorious Villains – Halloween House Decorations
Add a touch of horror to your Halloween house decorations with this awesome idea of a meeting of horror's notorious villains. These include Freddy Krueger, Michael Myers, Jason Voorhees, Ghostface, and Chucky. Any true fan like @spookyvibes365 would definitely appreciate such an exciting display in their yard or house!
In addition to the element of macabre, we love that funny twist added to this meeting, which is emphasized by a bloody sheet that spells out Those teenagers deserved it. Change our minds!
It could be challenging to create each villain from the ground up, so don't hesitate to buy life-sized dolls from Amazon or eBay! You can then seat them around a table and place a bloody sheet with a spooky message on the table. The whole concept is equally scary and hilarious, and we just love it!
24. Frightened Skeleton – Outdoor Halloween Decoration Ideas
At first sight, this skeleton is not that scary since it's a typical Halloween trope. However, when you see a frightened skeleton, you can't help but wonder what it had seen to make it so afraid. It's all about imagination!
The concept for this outdoor Halloween decoration idea would also fit well for a kids' party or other festive occasions where you want to spice things up with spooky elements.
You need to buy one of those plastic skeletons from the nearest toy store. But make sure to get a product with flexible parts since you want to move individual pieces to make it look afraid. You could also drape part of the skeleton in a white sheet and add a few splashes of fake blood to emphasize the fear factor.
Another excellent idea that would work great at night or when lit with blacklights is to hang your frightened skeleton on a tree wrapped in a glow-in-the-dark cord. The whole thing could be illuminated with the help of smart LED rope lights. Plus, the skeleton would look like it's floating!
25. Chucky – Halloween House Decorations
If you somehow convinced your parents to let you watch Child's Play as a child, then you were probably cursed with endless nightmares like most of us. So we can certainly understand the appeal of breathing life into the infamous Chucky for Halloween house decorations. Since it's such an iconic figure, you can use your imagination and be as imaginative as you want.
A simple route is to buy a life-sized Chucky doll from the Internet and set it up somewhere in your home. We strongly advise against it if you have young children living with you. Trust us since we're talking from experience!
This photo showcases a creepy look of Chucky, where half his face is ripped off. We imagine that you could have tons of fun fooling around with your guests or your significant other by constantly changing Chucky's position in the house.
For example, you could wait until someone steps into the bathroom, place the doll in front of the bathroom door, wait for the person to come up, and watch them get scared out of their minds! This idea might be a bit sadistic for some people, though.
Scary Halloween Food and Drinks
Halloween has become a popular holiday worldwide, but it's much less fun if you don't enjoy any delicious treats during the spooky celebrations. Instead of repeating the same recipes, opt for scary food and drinks that will wow your guests with their disturbing looks!
26. Ghost Cupcakes – Halloween Party Decoration Ideas
You need to pay attention to your food presentation if you want a party to be a success for Halloween party decoration ideas. And we have just the right Halloween idea for you – cupcakes! But not just any cupcakes, ghost cupcakes that scream spooky and delicious all at once.
All you need is some white frosting, chocolate sprinkles or cocoa powder, black licorice laces, and black icing tubes. Use the black icing to create two eyes with uneven pupils as well as two dots above them. If necessary, use a toothpick, or a paper towel dipped in cocoa powder to make this step easier.
Last but not least, use the licorice lace tails as the ghost's arms by sticking their ends into the top of your cupcake. You can get creative with how you want your ghost to look since the possibilities are endless, and it's bound to be a hit at any Halloween party!
27. Red Cocktails – Halloween Party Decorations
Not everyone is into complicated recipes, and that's okay! If you are someone who wants their Halloween party guests to have a drink or two but doesn't want to spend too much time preparing them, then red cocktails are the perfect answer. They are not only Halloween party decorations but also edible.
All you need for this recipe is vodka, grenadine syrup, cranberry juice, ice cubes, and some plastic vampire fangs. Put all of the ingredients in a blender after pouring three parts of each one in there. You can play around with the ratios until you find something that tastes just right for your taste buds.
Use the fangs to garnish your drinks before serving them because it will look incredibly creepy while adding an extra spooky element at the same time! Or, a better idea is to make eyeballs out of lychee and blueberry, just like in the photo displayed. Yum!
28. Bloody Party Cocktails – Halloween Party Decoration Ideas
Bloody party cocktails are the perfect way to make your Halloween party stand out from all of the rest if you know how to choose one. The best part is that you can use your imagination and develop an array of different bloody cocktails for this Halloween party decoration idea.
For example, if you're not into the traditional Bloody Mary, then you can create a spooky version of it. You will need to use cranberry juice in place of tomato juice, add some grenadine syrup, and add a dash of lime juice. What you'll get is a very spooky Halloween cocktail that looks like the real thing but tastes far better.
That isn't all you can do with this idea because the possibilities are endless! For example, you could even use the same idea but with soda instead of cranberry juice. Then, you could add some grenadine syrup, dish soap, and red food coloring to create a genuinely perfect Halloween party decoration that won't go unnoticed.
Or, if you want to create a non-alcoholic beverage, you can make fruit punch out of cranberry or raspberry juice, pineapple juice, frozen lemonade, ginger ale, and ice cubes. For the garnish, you can attach bats to each glass!
29. Red Stuffed Peppers and Witches' Brooms – Halloween House Decorations
This next Halloween house decoration idea is not only spooky but also edible and easy to make! All you need are red bell peppers, unflavored gelatin, orange food coloring, and some chocolate or candy corn.
First of all, cut the top off of each pepper before scooping out its insides with a spoon. Then, in a separate bowl, mix one cup of water and three envelopes of unflavored gelatin until it forms into gooey strings.
In the following steps, add two tablespoons of sugar and one teaspoon of orange food coloring to create your orange mixture before adding it to your black mix while constantly stirring for at least five minutes, so it thickens up.
Next, pour this new mixture into your hollowed-out peppers. Make sure you fill them up an inch from the top, so they don't spill. Then, place the lids back onto your peppers before sticking a chocolate or candy corn into each one to create witches' broom decorations that will attract everyone's attention.
30. Cookie Monsters with Teeth – Halloween Party Decorations
We have a weird and creative way to make cookie monsters with teeth for the last Halloween party decoration idea on this list. You will need Oreo cookies, candy eyes or buttons, green icing gel, black food coloring, and a toothpick.
First of all, you should separate your Oreo cookies before taking out their cream centers. Then use a toothpick to draw pupils on each candy eye before adding green icing gel around it, so the two make one complete eye. Add some dark patches of black food coloring mixed with water before attaching the eyes to the cookie's face.
After that, make sure you place your finished product in the oven at 350 degrees Fahrenheit until they have completely dried. Finally, you can use these cookies as decorations by placing them at each place setting or on top of cakes and cupcakes.
50 More Halloween Decorations
Let's dive into some more Halloween decorations you can take a look at to draw inspiration this year.
31. Hoop Spiderwebs Halloween House Decorations
The Things She Makes bring us this rad Halloween tutorial with so much ease! Create some hoop spiderwebs that are not only festive but stylish too.
32. Bleeding Candles Halloween Party Decoration Ideas
Check out these bleeding candles from Revamperate. They'll really help set the mood at your costume party or haunted house themes event!
33. Mummy Door Halloween Decoration
Honey & Fitztransformed their front door into a trick-or-treater friendly piece of decor. Learn how to turn yours into a mummy in no time.
34. Bat Wall Halloween House Decorations
Over at Made Everyday, you'll find some bats to whip up and adorn the home with. Fill the dining room or the hallways with these little guys!
35. Floating Candles Halloween Party Decorations
Feel a bit like Harry Potter entering Hogwarts with this fun DIY. Line the staircases and the foyer with these floating candles!
36. Eyeball Wreath Halloween House Decorations
Great every guests with a "look" or two with help from iLoveToCreate! The kiddos will love helping with this one too!
37. Window Silhouettes DIY Halloween Decorations
Really turn your house into a haunted space with these DIY from Makezine. Every window can be filled up with some "spooky" silhouettes!
38. Glow-in-the-Dark Mason Jars – Party Halloween Decorations
Line the windowsills with these fun jars. It'll really help to enhance the "spooky" or "haunted" theme you're envisioning for your party.
39. Pumpkin Bonfire Halloween Yard Decorations
DIY Network brings us this fabulous – and stylish – Halloween-sinpired idea. Enjoy the outdoors with your friends and use this pumpkin bonfire as the centerpiece to it all!
40. Haunted Hotel Sign – Halloween House Decorations Ideas
You could always turn your house into a haunted hotel. And if you visit DIY Network again you can snag all the details for making it.
41. Bloody Table Runner – Scary Halloween Decorations
Brit + Cowent all out with this snazzy Halloween DIY. They're right, this is exactly what Dexter would have hanging around his house.
42. Teal Vampire Pumpkins Halloween Decorations
Teal pumpkins are super trendy (and inspire those to be safe – happy – and healthy on this fun holiday!), and here's a DIY that includes one! A pop of color and a bit of vampire-inspiration too. (via)
43. Bloody Footprints – Scary House Decorations
Cover your front porch and steps with some bloody footprints. Give all the trick-or-treaters a fun little fright – grab the details at DIY Network.
44. Spider Wreath Halloween Door Decorations
If you're feeling witchy or like to creep everyone out with your spider decor, this is the wreath for you to whip up. Hop on over to DIY Network just one more time to catch the tutorial.
45. Eyeball Balloons – Fun Halloween Decorations
Are these eyeball balloons from Studio DIY not that cutest? They're perfect for kid-focused parties, don't you think?
46. Zombie Barbies – Halloween Yard Decorations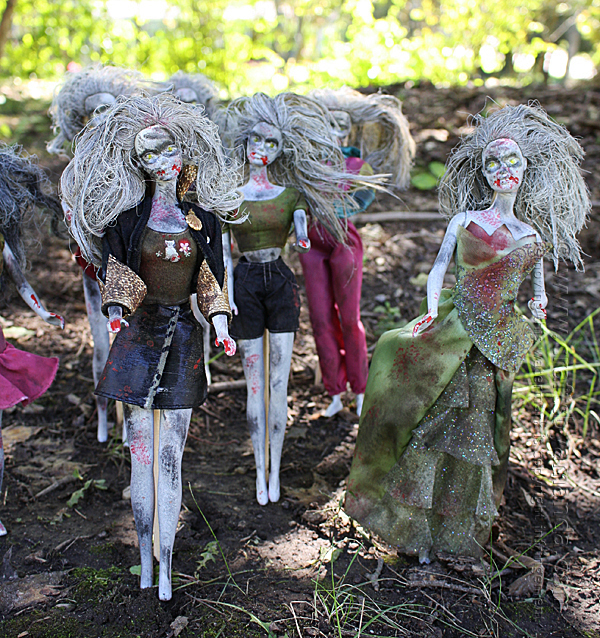 This project will give you a little giggle. Recreate these zombie Barbies with the help of Crafts by Amanda.
47. Candy Garland Halloween Party Decorations
Using toilet paper rolls you too can make this charming candy garland. The House that Lars Built made such a fun little scene or Halloween guests to enjoy.
48. Monster House – Scary Halloween Decorations
Transform your house into a monster face with help from Craftibilities. You can personalize this project any way you like too, which makes us love it more.
49. Glow-in-the-Dark Pumpkins Halloween Decorations
You can make your pumpkins glow in the dark too! Just hop on over and check out the video to learn how.
50. Garage Teeth Halloween House Decorations
Give your garage some teeth with this fun DIY from Instructables. It's just another way to turn your house into something extra special for this spooky holiday – make it come to life!
51. Climbing Skeletons Halloween Home Decor
Instructables showed off this innovative idea too. Again, make your house come to life and give your guests a bit of a giggle with your holiday decor.
52. Cheesecloth Spirits Halloween House Decorations
You'll want to have these around the house if you have a haunted theme in mind. Martha Stewart has all the easy directions for you to follow.
53. Poison Apple Halloween Yard Decorations
Let's Get Thrifty gives us some Disney-inspired Halloween decor to recreate. Hang some poison apples around the house, or around the yard!
54. Spider Sacks Halloween Decorations
Hang these creepy crawly bits around the house too! Modern Parents Messy Kids made these spider sacks that can really fill a void.
55. Googly Eye Pumpkins DIY Halloween Decorations
Here's a fun way to decorate pumpkins this year. You don't have to carve, instead, do something a bit funkier and festive.
56. Halloween Bunting – Halloween Party Decorations
The kiddos will love to help you create this one! Check out Popcorn and Chocolate to snag all the details on this charming Halloween bunting project.
57. Halloween Luminaries House Decorations
Light the pathways or the foyer with some Halloween-inspired luminaries. BHG gives us the quick and easy tutorial.
58. Candy Corn Ombre Bottles Halloween Party Decoration
Create something stylish and sweet for the tables with this DIY from Brit + Co. You could even line your mantle with a pop of "candy corn" inspiration.
59. Mummy Mason Jars Halloween Decorations
These mummy mason jars can fill in some nooks and crannies around the house too. They'd also be great party favors if you fill them with treats! (via)
60. Hanging Spider Balloons Halloween Party Decoration Ideas
Studio DIY gives us another great Halloween-inspired balloon idea. They're stylish but they've got spiders – making them another fun addition to the costume party.
61. Paranormal Portraits Halloween House Decoration Ideas
Country Living has all the details for this super creepy projects. Make your portraits come to life, and spook your guests too, with this tutorial.
62. Bat Lantern Halloween Party Decorations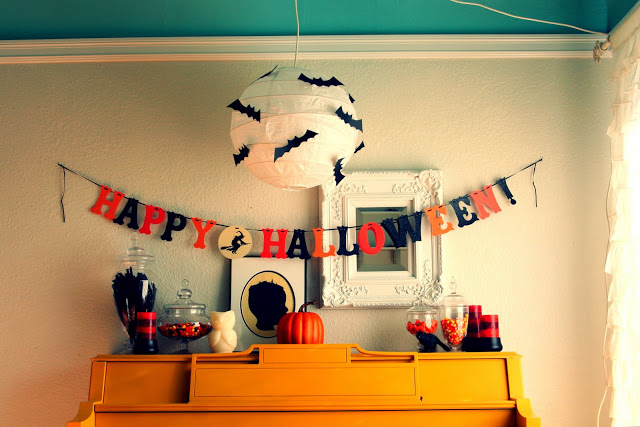 Turn a simple lantern into something October 31st ready! Just visit A Bit of Sunshine to Grab all the details and get to work by the weekend.
63. Cat Doormat Outdoor Halloween Decorations
Grab an old doormat and upcycle it a bit. It's quite easy to give it a Halloween makeover – a black cat or two is all you need. (via)
64. Glowing Faces Scary Halloween Decorations
Line the walls or even the front porch with some of these glowing faces. It'll definitely add an extra bit of "spookiness" to the night.
65. Magnetic Spiders Halloween Door Decorations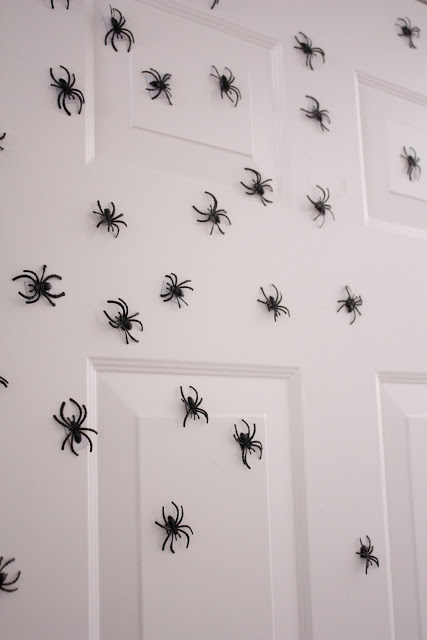 Cover nearly any surface you'd like with a swarm of spiders! Delia Creates is where you'll find the details behind these creepy crawlers.
66. Yard Ghost Outdoor Halloween Decoration Idea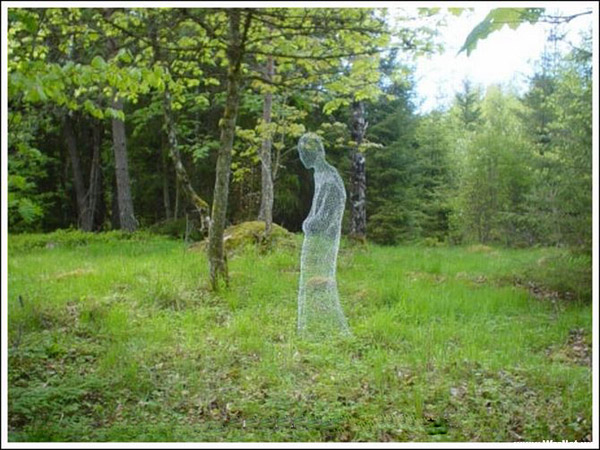 Set up some ghosts in your front yard to greet every trick-or-treater of the night. You may even get a few screams out of them! (via)
67. Spider Doormat Halloween House Decor
If you visit Country Living again you'll find another great project when it comes to your doormat. Turn an older one into a chic spiderweb.
68. Tin Can Luminaries Outdoor Halloween Decorations
Jolly Mom made some cute luminaries too! But this time we start with tin cans and do some extra fun DIY stuff – perfect some skills with this one!
69. Witch Drink Bottles Halloween Party Decorations
Serve up some witchin' sips at the party with help from BHG. Easily turn simple bottles into ones with a bit more festivity!
70. Pumpkin Pinata Halloween Party Decorations
This serves as a piece of decor and an activity for the party too! Make several small ones and have everyone participate!
71. Lawn Skeletons Halloween Yard Decorations
Helpful Homemade shows us how to create a quirky little scene using your skeletons – right on your front lawn! Catch the details now.
72. Pom Pom Spiders DIY Halloween Decorations
Taking Care of Monkey Business has another kid-friendly Halloween project we're swooning for. Grab the tutorial over at the blog now!
73. Paper Mice Halloween House Decoration Ideas
Martha Stewartmakes some paper mice that could fill in some spots around the house. These are so fun to surprise your guests with!
74. Spiderwebs Halloween House Decorations
Using trash bags, you can create these spiderwebs for your windows and walls too. Visit How About Orange and follow along!
75. Head in a Jar Scary Halloween Decorations
This prank will get a lot of screams and giggles throughout the entire Halloween season. Catch the details at Instructablesand start spooking now!
76. Frankenstein – Halloween Door Decor
Turn your front door into Frankenstein by visiting East Coast Creative. The kiddos will love helping you out with this one!
77. Halloween Tree House Decorations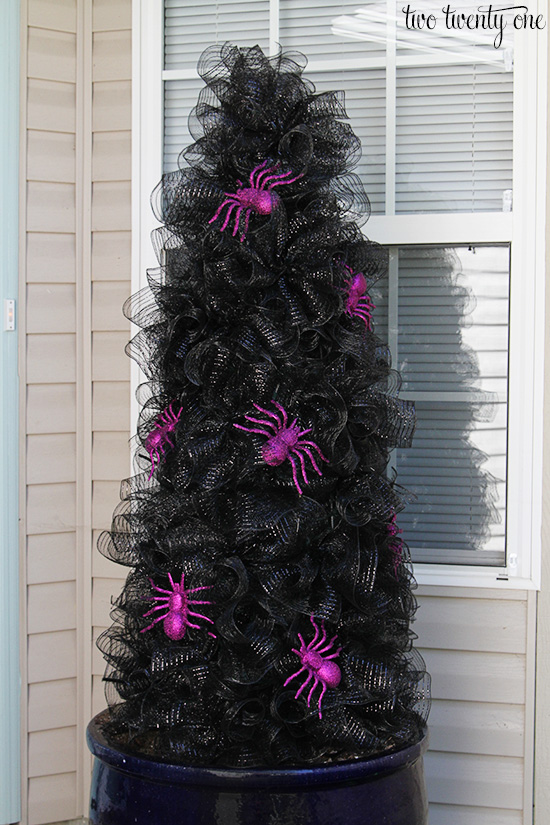 Here's a great DIY to dive into if you're looking for something to jazz up the front porch. Visit Two Twenty One to learn how now.
78. Skull Floral Arrangement – DIY Halloween Decorations
Popsugar made this chic skull floral arrangement and we're swooning for it. We love when Halloween decor is both festive and stylish!
79. Ghost Leaf Bags Halloween Yard Decorations
Here's another fun way to jazz up the front yard. You can get the entire family involved in this little project as well. (via)
80. Ghost Emoji Balloons – Indoor Halloween Decorations
For something light and fun, check out these ghost emoji balloons! This is perfect for a children's party. Grab the details at Aww, Sam.
Final Thoughts on Spooktacular Halloween Decorations
There are thousands of ways to find inspiration for Halloween decorations, from scary witches and frightening ghosts to clever cocktails and spooky cookie monsters. The only limit is your imagination because the possibilities indeed are endless!
So if you're looking for a new way to decorate this upcoming holiday, feel free to explore all items on this list until you find the right idea for you and your party. They will help you create a party filled with Halloween wonder and magic so that all your guests can enjoy themselves while celebrating this special occasion together!
If you have any comments or questions, please leave them down below. We also welcome any photos you may want to upload with your favorite spooktacular Halloween decorations. Until next time, keep on haunting!