50 Halloween Appetizers: Easy Halloween Party Food to Make
While holding a Halloween party is not mandatory, those of you that like to kick things up a notch can might as well try it, and one way to make sure everyone is feeling great is to give them something to nibble on, like some Halloween appetizers.
However, we are talking about Halloween here, the spookiest holiday of the year, so you can just host a spooky party in a creepily decorated house, and serve your guests plain old triangle sandwiches.
Well, if you're lacking in ideas but are still looking for ways to make a good impression with the guests, take a look at the list below where we will be showcasing some of the best Halloween appetizer ideas that you can try out.
The Internet was full of suggestions, but we only gathered the ones that were easy to make (in true DIY.com style), as well as recipes where the appetizers really looked like they belonged on the menu of a Halloween party.
More so, we believe in healthy eating, so we tried to avoid junk food as much as possible, as well as foods that contain heavily processed ingredients.
Which Are the Best Halloween Appetizers to Serve Your Guests?
Appetizers stay pretty much the same throughout the years, but with a holiday that is dictated by day-to-day trends like Halloween, recipes are bound to change, especially from a visual standpoint.
That being said, we went ahead and did some research regarding what everyone is looking to cook for Halloween 2021, and we've come up with the following 15 entries that seem to be the trendiest ones yet.
This doesn't mean that the following recipes are better than others since the article is not a ranking article, but rather that these are what most people are planning to make right now, or what they'd be expecting to see on the platter during Halloween.
1. Easy Halloween Food – Spider Web Cupcakes
Cupcakes are a guilty pleasure throughout the year, not just on Halloween, and thanks to how easy they are to grab and eat up, it's easy to go overboard and half a dozen when at first you only wanted to taste one.
Well, take the convenience of cupcakes, and add a decorative spider web pattern, and you have the recipe for some of the best sweet appetizers that you've ever laid eyes (and teeth) on, as well as some very easy Halloween food to prepare.
If you do decide on baking some spider web cupcakes, you're going to have to have several ingredients at your disposal, including ripen bananas, buttermilk, eggs, cold water, oil, sugar, sifted flour, and cocoa powder, bicarbonate soda, and a bit of salt.
However, these ingredients are only for making the cupcakes themselves, so if you want to make the frosting as well, you'll need some dark and some white chocolate which you will then melt and pour over the cupcakes and then use a toothpick to create the intricate spider web design.
Keep in mind that the only reason why we used dark and white chocolate was that the two colors contrasted with each other, but you can use other types of chocolate as well, or even use food dyes to make things even more interesting.
For, those of you that have very little time at your disposal, you can go ahead and use store-bought cupcakes and then add the frosting over them, but we have to say that the cupcakes made using our recipe are not only delicious, but they're also relatively more forgiving from a caloric point of view.
2. Halloween Party Food – Assorted Pumpkin Seeds
Pumpkin seeds are an amazing pre-meal nibble, almost as much as cheesy crackers or a bag of chips, so it's no wonder that they also make for great Halloween party food.
For starters, pumpkin seeds are dried out at first, so you don't have to worry about them getting spoiled by moisture, and this also allows you to store them for a very long time.
Besides, since they are so dry (either naturally dried or roasted), they can go very well with a nice beverage, which is something you will most likely have anyway.
From a nutrition standpoint, pumpkin seeds are also quite healthy, especially since they are rich in antioxidants, iron, zinc, magnesium, and many other nutrients, so they're not only tasty, but they are also one of the few Halloween appetizers on our list that we can actually label as 100% healthy.
As for the taste, roasted pumpkin seeds have the advantage of being available in pretty much any flavor, since you can roast them with some salt to make them like chips, or you can even cover them up with sugar and cinnamon if you want to make a dessert that works very well during the fall or winter.
All in all, pumpkin seeds make for great Halloween appetizers, and the only real drawback will be that you'll have to give everyone a plate or a paper cone so that they can dispose of the pumpkin seed peels, otherwise, things may tend to get a bit messy.
So, if you're planning on adding these to the menu, here's a list of 3 assorted pumpkin seed recipes that you should definitely try out this Halloween.
3. Halloween Food Ideas – Marshmallow Monsters
Halloween night and a spooky campfire with ghost stories go hand in hand like Christmas and the movie Home Alone, so it was only natural that we would include a marshmallow-based dish in our list as well.
Thus, if you're looking for some really spooky Halloween food ideas that are centered around those sugary fluff clouds, we present to you the Halloween marshmallow monsters, one of the simplest and yet most effective Halloween appetizers that you could come up with.
Normally, we'd try to convince you that it would be healthier to make the marshmallows themselves from scratch, but they are so cheap and have so few ingredients that it would actually be a waste of time and money to try and make your own.
So, all you need are some store-bought jumbo marshmallows (the bigger they are, the better), some candy, some sprinkles, and some chocolate icing, and for those of you that hate sticky fingers, we recommend that you use toothpicks (or kebab spikes for the really big marshmallows).
As you can see from the picture above, there's not much of a secret as to how to make these marshmallow monsters, since you basically take the marshmallows and cover them up and decorate them however you please, until they start resembling monsters.
Because of this, it's very easy to make each marshmallow unique, but at the same time, it's also easy to make an entire platter of marshmallow monsters that look the same.
Note: Marshmallows themselves aren't very satiating, and their fluffiness can be deceiving, so we recommend that you make a lot of them since your guests will be eating them like there's no tomorrow.
4. Halloween Food – Mini Pumpkin Pies
One neat trick to make food more appealing is to make it smaller in size, and that's precisely why almost every food out there has a mini version available.
This also applies to the traditional pumpkin pie, since it too can be miniaturized to create some very appealing Halloween food.
From an ingredient's point of view, there's no real difference between these mini pumpkin pies and a single large one, so the only real difference lies in the presentation and the fact that one is easier to eat by hand, as well as less messy than the other.
Thus, you'll need some almond meal, oat flour, maple syrup, and some melted coconut oil in order to make the pie crust.
The fact that we used almond meal and oat flour means that the pie crust has next-to-no gluten, making it an ideal choice for those of you that have this particular food intolerance.
As for the mini pies' filling, we used canned pumpkin, garbanzo beans, maple syrup, cane sugar, corn starch, vanilla, pumpkin pie spices, and salt.
Those of you that don't mind a few extra calories in exchange for some extra creaminess can also cover the mini pies with whipped coconut cream since its flavor and texture goes very well with the pumpkin.
In order to create a single batch of 12 mini pies, you'll need about an hour of both prepping and baking, so if you're planning to host a large party and you don't want to spend too much time in the kitchen, we recommend that you bake several trays at once.
5. Halloween Party Food Ideas – Pumpkin Spice Granola Bars
If you liked our recipe for assorted roasted pumpkins, then you'll positively adore our recipe for pumpkin spice granola bars, since it also falls under the category of the healthier Halloween party food ideas.
Granola itself is marketed as being a very healthy type of food, although it can easily turn into junk food if made with the wrong ingredients, that's definitely not the case with this recipe for pumpkin spice granola bars.
In order to make the granola bars, you'll need some baking pumpkin, oats, coconut flakes, egg whites, brown sugar, pumpkin pie spice, cinnamon, nutmeg, salt. Vanilla extract, maple syrup, and some vegetable oil.
Aside from the ingredients, there's nothing left that is really worth mentioning since the entire process of making the granola involves mixing everything together into a much larger bowl until everything is relatively even.
The next thing you'll want to do is portion the granola, put it inside some molds to give it a candy bar shape, wrap it up in something like paper, or aluminum foil, and then store it in the fridge so that it hardens.
The result is tasty, crunchy, quite healthy, and it's filled with all the flavors of the season, making this not only a good Halloween appetizer but a great healthy snack throughout the entire year (just as long as you can find fresh baking pumpkin).
6. Halloween Food Ideas for Adults – Witch Finger Cookies
Those of you that like to cook know how nice it is when you make something so delicious that you end up licking your own fingers right after touching it, so you'll probably fall in love with the following dish: Halloween witch finger cookies.
Admittedly, these are one of those Halloween food ideas for adults, since chances are that young kids might actually scream if they lay their eyes on these cookies, especially if you managed to make them really realistic.
Despite their creepy appearance, these cookies are pretty simple to make, since you only need some softened butter, sugar, eggs, vanilla and almond extracts, flour, salt, baking powder, some blanched almost to make the witches' fingernails, cinnamon, and some food dyes if needed.
In order to make the bloody velvet chocolate dip, you'll need some cream cheese, milk, cornstarch, chocolate, vanilla extract, sugar, salt, and some red food dye.
As far as preparing these cookies goes, you'll just have to mix up the ingredients together to make the cookie dough, shape it into long fingers (the thinner they are, the crunchier and more realistic they will be), and then add just one blanched almond at one end for the fingernail.
Once you're done making both the cookies and the dip, you can go ahead and serve them to your guests, although we recommend that you give each of them a plate, since the cookies can still leave crumbs, and drops of dips can also easily stain the floor.
Note: Because of the texture of these cookies, we also recommend that you have some glasses of warm milk ready for everyone, maybe even some cups of hot pumpkin spice lattes.
7. Creepy Halloween Food Ideas – Jack-O-Lantern Mini Pumpkin Pies
Mini pumpkin pies are great and all, but if you really want to impress your guest with your decoration skills, you could try to make the crust in the shape of a Jack-o-Lantern, or any other generic symbol of Halloween.
Because of their design, our recipe for Jack-o-Lantern mini pumpkin pies is one of the more creepy Halloween food ideas, although the level of creepiness is proportional to your cutting and baking skills.
Unlike the previous recipe for mini pumpkin pies, this particular recipe focuses more on being a bit less calorically dense, so you can get away with eating a few extra of these without feeling any guilt for your waistline.
For example, in order to make the crust, you only need some all-purpose flour, salt, powdered sugar, egg yolks, unsalted butter, ice water, and some heavy cream.
As for the mini pies' filling, you'll need to bring out the pumpkin puree, sugar (both regular and brown), eggs, cornstarch, salt, ground ginger, cinnamon, nutmeg, cloves, heavy cream, and some milk.
The ingredients for the filling will make the mini pies very spicy, but for those of you that really like to intensify the hotness, you can even add in a pinch of freshly ground pepper.
However, make sure that you don't overdo it, since this is still a dessert we're talking about, and maybe not everyone is a fan of such exotic flavors.
Baking the mini piers is done in typical pie fashion, and the core of the entire recipe is how you manage to cut the top crust, although things can be a lot easier if you have something to help you do it quickly, like a Jack-o-Lantern-shaped cookie cutter.
The resulting mini pies are small enough to be easily eaten by hand, but big enough to open one's appetite.
8. Buffet Halloween Party Food – Keto Pumpkin Cheese Muffins
Halloween is notorious for being one of those holidays that will really ravage your waistline, especially if you're the kind that likes to taste all the buffet Halloween party food, so for those of you that really care about their health, as well as that of their guests, we invite you to check out our recipe for keto pumpkin cheese muffins.
These cheesy delights hold all the goodness of a regular muffin, with only a fraction of the calories, and those of you that are on the no-carb keto diet can eat as many as they want without feeling the guilt of a cheat day.
All you need is some softened butter, some erythritol sweetener, eggs, pumpkin puree, vanilla extract, almond flour, coconut flour, baking powder, pumpkin spice, salt, and finally the cream cheese.
The thing that makes these appetizers especially healthy is that we used almond and coconut flour instead of regular wheat flour, so this recipe is not only extremely low in carbs, it's also gluten-free, so if you know you suffer from such intolerances, know that you have a free pass with these muffins.
Considering you follow the recipe by the book and you have the oven preheated properly, it should only take about 30 minutes to make a single batch of muffins, but since these are so fluffy and delicious, chances are that everyone will want to munch on more than just one, so our advice is that you prepare several batches at once.
Besides, the muffins can also be covered in whatever spices you want, but if you really want to accentuate the flavor of the pumpkin puree, we recommend that you use a pumpkin spice mix.
9. Halloween Appetizer Ideas – Pumpkin Dinner Rolls
A lot of you that went to a restaurant at some point know how the waiters sometimes bring the bread or dinner rolls first, and some of you are probably guilty of eating them all before he comes with the actual food (especially if they are freshly baked).
Well, that's precisely when one of our best Halloween appetizer ideas consists of including a type of dinner rolls to the table, namely pumpkin dinner rolls.
Well, unlike regular dinner rolls, these pumpkin rolls are not made using regular bread dough, instead, we used a very neat mix of pumpkin puree, flour, yeast, milk, sugar, eggs, salt, pumpkin spices, ginger, coriander, butter, and pecans.
For some added effect, we also shaped the resulting dough into the shape of a pumpkin, and we used the pecan to mimic the pumpkin's stalks.
The final result was a type of dinner roll that you've most likely never tasted before, but we guarantee that your guests will be very surprised just by the taste alone, although we do recommend that you serve them on the day they are made, since they tend to harden or get soggy, depending on how you store them.
The buns look absolutely amazing, and the color on the inside will make you want to sink your teeth into them until you feel like you can't eat another one anymore.
Unfortunately, making these buns from start to finish will require quite a lot of time (especially if you take into account how much you'll let the dough rise thanks to the yeast), so you'll need around 4 hours to make a single batch from A to Z.
As such, we recommend that you prepare a lot of dough beforehand, and then put a new back of buns in the oven as soon as the previous batch is done.
10. Halloween Themed Appetizers – Easy Witch's Brew
So far we've only presented Halloween themed appetizers that you can eat, but don't forget that you also need to serve your guests something to drink, and if the majority of your guests are adults, then you'll really delight them with this recipe for homemade witch's brew cocktail.
In order to make this bewitching cocktail, you'll need some bourbon whiskey, Luxardo Maraschino liqueur, some fresh lemon juice, maple syrup, molasses bitters, fresh rosemary, and some matches and a candle for presentation purposes.
Regarding the ingredients themselves, you can go ahead and try any brand to make your witch's brew, as long as you don't swap the Luxardo Maraschino liqueur, since it's the ingredient that gives the cocktail its iconic look.
The best way to serve this cocktail is in a large crystal glass next to a lit candle to give off a mystical vibe and garnished with some fresh rosemary to really bring out that magical aroma.
Mixing up the ingredients takes only about 5 minutes, so it will be easy for you to make some more cocktails as long as you have lots and lots of ice (at least 2-3 cubes per glass is needed).
Note: 2 of the cocktail's ingredients contain alcohol, so make sure you make some non-alcoholic punch to serve the kids that visit you or come trick-or-treating.
11. Halloween Party Treats – Monstrous Cookies
The great thing about baked goods is that they can come in a wide variety of shapes, sizes, and colors, and while we previously described how you can make some very creepy-looking witch finger cookies, it's time to present another type of cookie: the Halloween monster cookie.
At first glance, they have the same basic shape as a regular chocolate chip cookie, but the twist lies in the way you decorate them, using various colored M&Ms, and even candied eyes to make them look like some Kronenberg monsters.
In order to make a batch of these monstrous delights, you'll need some flour, cocoa powder, salt, brown sugar, unsalted butter, eggs, corn syrup, vanilla extract, chocolate, and peanut butter, while for the decorations you can use M&Ms, candy eyes, or you can even make your own candy eyes.
As for the color palette, the original recipe went for some traditional fall and Halloween colors: yellow and orange, although you're free to use whatever colored M&Ms you want.
More so, if you happen to find other Halloween candy decorations available at the candy store during this time of year, feel free to spice things up a bit if you think that just adding eyes seems too boring.
The cookies themselves are delicious just like regular chocolate chip cookies since the dough recipe is pretty standard, but also thanks to the M&M's chocolate filling, and as long as you serve them alongside a big glass of milk, chocolate milk, or pumpkin spice latte, your guests will be eating these Halloween party treats by the dozen.
Note: For the sake of appearances, try not to overbake the cookies otherwise the M&Ms will melt and your cookies will look more messy than monstrous.
12. Halloween Party Appetizers – Mummy Pumpkin Hand Pies
Visuals play a very important role in making a food item look more delicious, and even the average sandwich will look amazing if you give it a certain flair, and that's precisely the secret to why these mummy pumpkin hand pies look so delicious.
At first glance, they look like glorified pop tarts, but these little mummified snacks also taste amazing, especially if you're a fan of the whole pumpkin craze that takes hold of a lot of people during the fall.
The ingredients are pretty simple, as you only need some flour, sugar, salt, unsalted butter, cream cheese, canned pumpkin puree, one separated egg, some pumpkin spices, vanilla extract, and some candy eyes.
Mixing everything up and the baking should take less than one hour, and by following the original recipe you should end up with a batch of about 12 of these mini hand pies, but don't be fooled by the number since each individual hand pie is pretty big.
We recommend that you serve these on the day they are baked or, if possible, as soon as you take them out of the oven and let them cool off a bit alongside a big glass of milk.
The great thing about this particular recipe is that if you're not a big fan of pumpkins, you can go ahead and replace it with any other kind of fruit puree, although your hand pies will no longer feel so Halloweeny if you do.
More so, those of you that are conscious about their weight or have a gluten intolerance can replace the regular flour with almond, oat, and/or coconut flour, and they can also replace the sugar with some artificial sweetener, thus turning them into healthy Halloween party appetizers.
13. Easy Halloween Appetizers – Mummy Hot Dogs
When it comes to traditional street foods, few things are as American as the beloved hot dog, so we decided to see if we could find any hot dog-based foods that we could add to our lists, and we ended up with the mummy hot dogs.
As you can see from the image above, these are just typical hot dogs wrapped up in a crescent roll sheet and strips of cheese, to which they finally added eyes using mustard.
As far as what kinds of hotdogs were used, there's no precise specification, but for those of you that really want to bring out the flavor of the other ingredients, especially the cheese, we recommend that you try pork hot dogs.
As for the cheese, you can go ahead and use whatever you want, although we recommend that you go with cheddar because of the golden color that will go well with the baked crescent roll, or even mozzarella if you want your guests to really have some fun while stretching the mummies.
More so, if you want to give this recipe a more ghoulish twist, you can also add ketchup or barbecue sauce alongside the mustard to give your hotdogs a more gruesome look.
For those of you that want to make them even more fun-sized, you can try the exact same recipe but with mini hot dogs instead, although you should know that you will be spending a bit more time wrapping each individual hot dog in pastry and cheese strips.
Thus, if you're looking for some easy Halloween appetizers, there's no way you can get it wrong with these hot dog treats.
14. Halloween Party Snack Ideas – Poison Apples
Since a lot of people like to dress up as fairytale characters on Halloween, one of the best Halloween party snack ideas is to also include famous fairytale dishes into the menu, such as these very appetizing poisoned apples.
Of course, you don't have to worry about these apples, since they're not actually poisonous unless you eat them until you get a sugar overdose (yes, they're that good), and the best part is that making them couldn't be easier.
As you can probably tell from the picture above, these poisoned apples are basically candied apples, but the coating is cooked in such a way that it looks terrifying (but it still tastes delicious though).
All you need is some small apples (preferably the sweet kind), some sticks, granulated sugar, light corn syrup, water, and some purple and black food coloring.
You start off by brewing the poison, and it's pretty much the same process as making regular caramel, only that you then add the food dye at the end to give it its deadly look.
You then cover or dip the apples in the deadly sauce, and then attach the sticks to them so that you can easily eat the apples without your hands and fingers all sticky.
For those of you that are wondering what kind of stick will do, you can go ahead and use the popsicle stick from ice cream, or the sticks from when you eat cotton candy.
Once the candy coating has cooled off and becomes solid, your poisoned apples are ready to be served.
15.Halloween Appetizer Recipe – Ghostly Pizza
Pizza is a universal equalizer when it comes to foods, since everyone loves it, so a pizza-based Halloween appetizer recipe was bound to appear on this list at some point.
Thus, we present to you the ghostly pizza, an appetizer that many of your guests will understandably mistake for the main course, and leave nothing behind but the crumbs.
From a nutritional standpoint, this pizza contains nothing out of the ordinary, so the only thing that makes this dish a Halloween appetizer is how you arrange the toppings, and, as you can see from the picture above, the results are positively amazing.
If you intend on following the original recipe, all you'll need will be some pizza dough, pizza or marinara sauce, large pitted olives (the larger they are the easier it will be to cut them up), and deli slices of provolone or mozzarella.
The cheese looks like spooky ghosts, the olives are cut up in tiny little pieces that look like spiders, and the pizza crust and sauce are already in two colors that are very typical for autumn and Halloween: red and orange.
The base recipe is incredibly easy, but you're free to add whatever other ingredients you want on this pizza, and if you manage to arrange them in such a way as to further enhance the whole Halloween image, like adding prosciutto or salami cut up in the shapes of pumpkins, then go right ahead.
Because pizza is such a popular meal, we recommend that you bake several pizzas at once (if your oven allows it), since your guests are highly unlikely to stop at just one piece.
More Amazing Halloween Savory Snacks
The 15 entries mentioned above are the most popular ideas that people have been coming up with in preparations for 2021's Halloween, but if you want to try out some of the ideas that were very popular in previous years, you can continue checking out the following section.
The appetizer ideas mentioned here are by no means less good than the ones above, just that from a visual standpoint people may have already tried most of them already.
However, if you don't mind that and just want to make your appetizers look extra appetizing, go ahead and consider the following Halloween savory snacks.
16. Deviled Egg Eyeballs Halloween Appetizers
Kath's Kitchen Synccreated a fun spin on a classic deviled egg for all Halloween party goers to ooh and ahh over. Not only are they scrumptious, they're perfectly creepy for the holiday!
17. Pirate Kabobs Halloween Food Idea
For a kid-friendly party, try out these pirate pasta kabobs fromChew and Chat. They're adorable and could go great for a theme night!
18. Pumpkin Cheese Ball Halloween Party Food Idea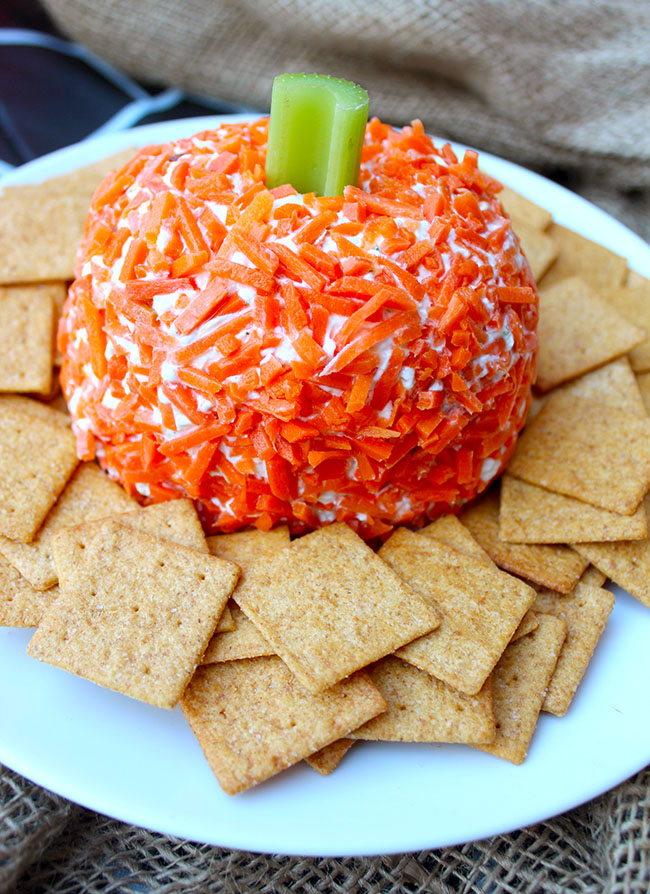 A great centerpiece to the party and a delight for all would be this pumpkin-styled cheese ball. Check it out over at the Popsicle Blog.
19. FrankenGuac – Halloween Food Ideas for Kids
Dine & Dashtook another party favorite and made a unique, Halloween spin on it. Guacamole in the shape of Frankenstein's face seems pretty genius for the festivities.
20. Hallow-peno Poppers – Halloween Party Snack Ideas
The Hopeless Housewife put together these adorable and delicious-looking appetizers. Not only are they a crowd pleaser, but they're perfect for festive menu!
21. Spiderweb Dip Halloween Food
Check out this lightly-themed spiderweb dip! Every party needs a great dip andVery Culinaryhas one you can spruce up in a Halloween fashion!
22. Cheesy Bones Halloween Appetizer Idea
What's a Halloween party without some bones tossed in? Head on over to Kraft Recipes and learn how to create these little cuties.
23. Pumpkin Pie Bites Halloween Appetizers
Bakerellamade a classic dish with an adorable twist! Pumpkin pie bites shaped as …. pumpkins! We're in love with these perfect piece of fall flavor.
24. Graveyard Taco Dip Halloween Food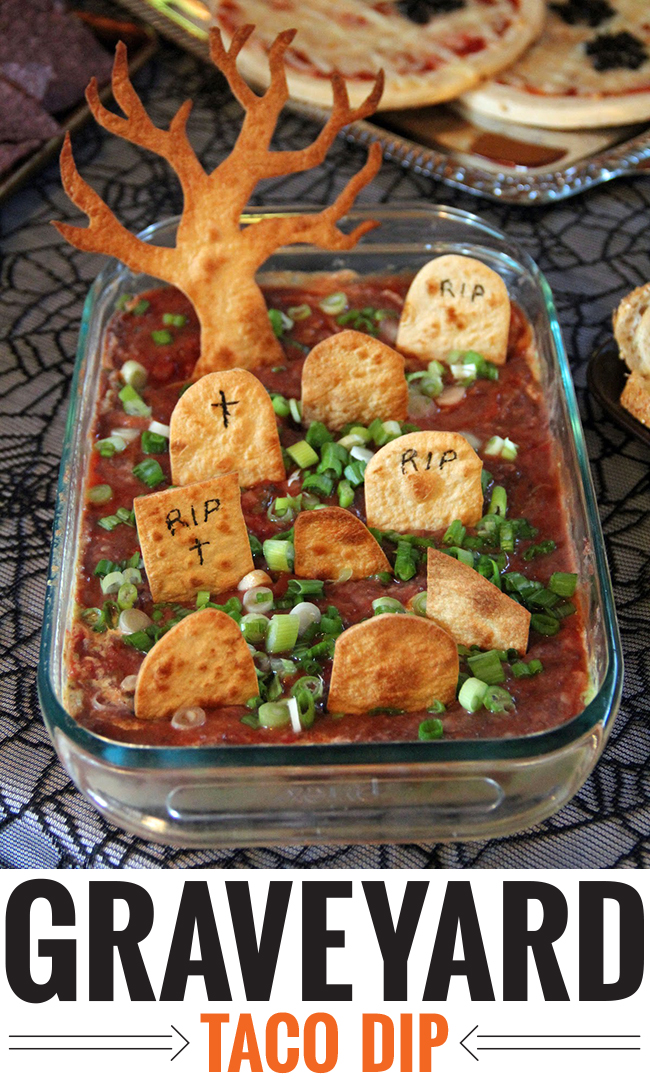 Chickabugalso made a dip that's essential to every party but turning into a graveyard makes it a great piece of Halloween fun!
25. Witches' Cheese Brooms – Easy Halloween Food
Make something for everyone at the party – including the kiddos – like these witches' cheese brooms fromCakes Cottage.
26. Mummy Baked Brie Halloween Food Idea
Babblemade a mummy baked brie that will have the entire party excited and salivating. Use walnuts for eyes and watch how easy it is to create!
27. Pumpkin Pie Dip – Halloween Party Food
Tis the season for pumpkin-flavored everything! AndEat Simply Live Healthycreated a dip to get that craving under control.
28. Skeleton Bone – Halloween Party Treats
There's only two ingredients inside this skeleton bone treat that all of your guests will gobble right up. Check it out at Get Creative Juice.
29. Bug Bites – Creepy Halloween Food Idea
These "bug bites" are super easy to create (and even pre-prep the day before the party) as well as delicious! A Spoonful of Flavor has the recipe!
30. Candy Corn Bark – Halloween Party Food
For a sweeter treat take a peek at this candy corn bark fromThis Gal Cooks. White chocolate with a variety of toppings make this one fun project!
31. Meatball Mummies – Buffet Halloween Party Food
Spend With Penniesmade meatball mummies and they're so easy to replicate even the most novice of chefs can make them!
32. Monster Munch Halloween Party Food
A bit of grab and go snacks are another must-have for any parties and this monster munch fromA Pumpkin and A Princessis sure to do the trick.
33. Black Bean Hummus – Halloween Party Food
Fat Free Vegan Girlcreated some black bean hummus with a Halloween-styled garnish. Check out the recipe and serve it up for your guests!
34. Bat Bites – Halloween Party Food
Hop on over toMy Recipesand learn how to recreate your very own bat bites for you and your guests to enjoy on Halloween night!
35. Caramel Apple Nachos – Halloween Party Food Idea
This may not be Halloween-themed but its fit for the season and there won't be a party-goer that let this tray of nachos from Butter With a Side of Bread go unfinished.
36. Eyeball Cheese Balls – Halloween Appetizers
Bubbly Nature Creations made these mini cheese balls … that resemble eyeballs. And we feel as though they're a great topper for a Halloween celebration!
37. Witches' Fingers Cookies – Halloween Appetizers
Here's another sweeter option fromMad In Crafts. Serve up some witches' fingers cookies for all of your guests, including the kiddos!
38. Cream Cheese Pumpkin Puffs – Halloween Party Food
Here's another seasonal classic to incorporate into your Halloween fare. Check out The Food Charlatan and learn how to make these pops of pumpkin!
39. Strawberry Ghosts – Easy Halloween Food
Miss Candiquikshared these strawberry ghosts and we instantly fell in love. Not only will everyone love a bite but they're so easy to make for the party!
40. Mini Monster Cheese Balls – Halloween Appetizers
Cheese balls are always a winner at the party. And over at Hungry Happenings you can see how she turned hers into mini monsters!
41. Bug Sandwiches – Creepy Halloween Food Ideas
Super Healthy Kidsgives us a great idea for a more family or kid-friendly treat. Create some mini, big sandwiches for everyone to enjoy!
42. Band-Aids – Easy Halloween Food
Here's another treat that's easy and the kids will get a kick out of. Check out these edible Band Aids created by Katherine Marie.
43. Soul Cakes – Easy Halloween Food
Learn all about these traditional Halloween soul cakes at Babble. These lightly sweet and spicybites would be a grea conversation starter.
44. Spinach Goblin Eyes
Thoughtfully Simplemade some delicious pastry treats and then styled them to fit the Halloween theme! Who wouldn't want a goblin eye?
45. Baby Mummies Halloween Appetizers
Serve up some baby mummies with the help of Costco Diva. Make sure to serve up some mustard and ketchup on the side!
46. Coffin Pizzas Halloween Appetizers
The Blonde Girl Blog made some coffin-shaped crescent roll pizzas and we think your guests are going to love them! And they're easy to make too!
47. Spider Crackers – Halloween Appetizers
Similar to the bug bites above, this recipe utilizes some classic crackers. Check out the how-to over at The TipToe Fairy.
48. Spicy Pumpkin Seeds – Easy Halloween Food
Don't let those pumpkin seeds end up in the trash after your night of carving, instead turn them into a party snack like these spicy ones from She Wears Many Hats.
49. Avocado Deviled Eggs – Easy Halloween Food
Here's another spin on deviled eggs that would be perfect for the party. This time made with avocado, check out the recipe at Cookin' Canuck.
50. Halloween appetizers – Eyeball Caprese Bites
When it comes to Halloween food, appetizers included, the creepier it is, the better it is, and few things can seem more visually appalling than munching down on eyeballs on a stick, even if they're just eyeball Caprese bites
They're very easy to put together, and the mix of ingredients is a very fresh one: cherry tomatoes, mozzarella cheese balls, and basil leaves.
You can go ahead and even make a dessert version of this by replacing the mozzarella with coconut balls, and the cherry tomatoes with actual cherries.
Another great idea if you want to incorporate these faux eyeballs into something bigger is to serve them alongside a Martini cocktail instead of pitted olives, since that will surely catch your guests by surprise.
The only real problem with these appetizers is that they are very small, so people will be eating plenty of them in order to get their fill, so be prepared to make plenty of them to keep the eyeball platters coming.
Best Halloween Appetizers of 2021: Closing Thoughts
This concludes our list of best Halloween party appetizers that you should be serving up in 2021, and we have to admit that we got pretty by the time we finished researching and writing this list.
We hope that you find our suggestions as fun and spooky as you want and that you have plenty of fun in the kitchen preparing them for your guests, and that you will get all the praise that you deserve when they see what you'll be serving up on the platter.
However, don't forget that an appetizer is meant to merely open someone's appetite, not fill their belly, so if you want to read about the best Halloween dishes that you can serve, go ahead and read our article about the best Halloween treats.
Aside from the food, we've written plenty of other articles where we showcased how you can enrich your Halloween experience, from costume ideas to house decorations, so make sure that you read those as well.
Speaking of which, if there's a Halloween-related topic that you'd like us to talk about that we haven't yet covered, go ahead and leave us your suggestions in the comments section below, and we'll get right onto it immediately.
Happy Halloween!