35 Deliciously Festive Halloween Party Appetizers
Are you busy prepping for your Halloween extravaganza for the entire neighborhood? The best part about celebrating Halloween are the treats, and of course, the fun theme behind each ghoulishly delicious creation! Below are 35 of our favorite festive, Halloween party appetizers. Grab some inspiration and start planning the menu!
1. Deviled Egg Eyeballs
Kath's Kitchen Sync created a fun spin on a classic deviled egg for all Halloween party goers to ooh and ahh over. Not only are they scrumptious, they're perfectly creepy for the holiday!
2. Pirate Kabobs
For a kid-friendly party, try out these pirate pasta kabobs from Chew and Chat. They're adorable and could go great for a theme night!
3. Pumpkin Cheese Ball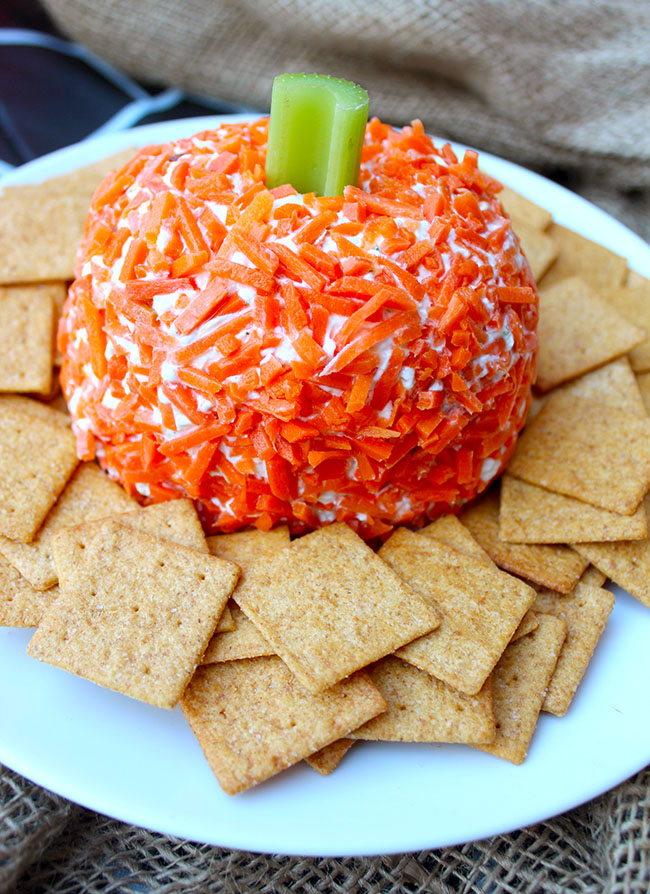 A great centerpiece to the party and a delight for all would be this pumpkin-styled cheese ball. Check it out over at the Popsicle Blog.
4. FrankenGuac
Dine & Dash took another party favorite and made a unique, Halloween spin on it. Guacamole in the shape of Frankenstein's face seems pretty genius for the festivities.
5. Hallow-peno Poppers
The Hopeless Housewife put together these adorable and delicious-looking appetizers. Not only are they a crowd pleaser, but they're perfect for festive menu!
6. Spiderweb Dip
Check out this lightly-themed spiderweb dip! Every party needs a great dip and Very Culinary has one you can spruce up in a Halloween fashion!
7. Cheesy Bones
What's a Halloween party without some bones tossed in? Head on over to Kraft Recipes and learn how to create these little cuties.
8. Pumpkin Pie Bites
Bakerella made a classic dish with an adorable twist! Pumpkin pie bites shaped as …. pumpkins! We're in love with these perfect piece of fall flavor.
9. Graveyard Taco Dip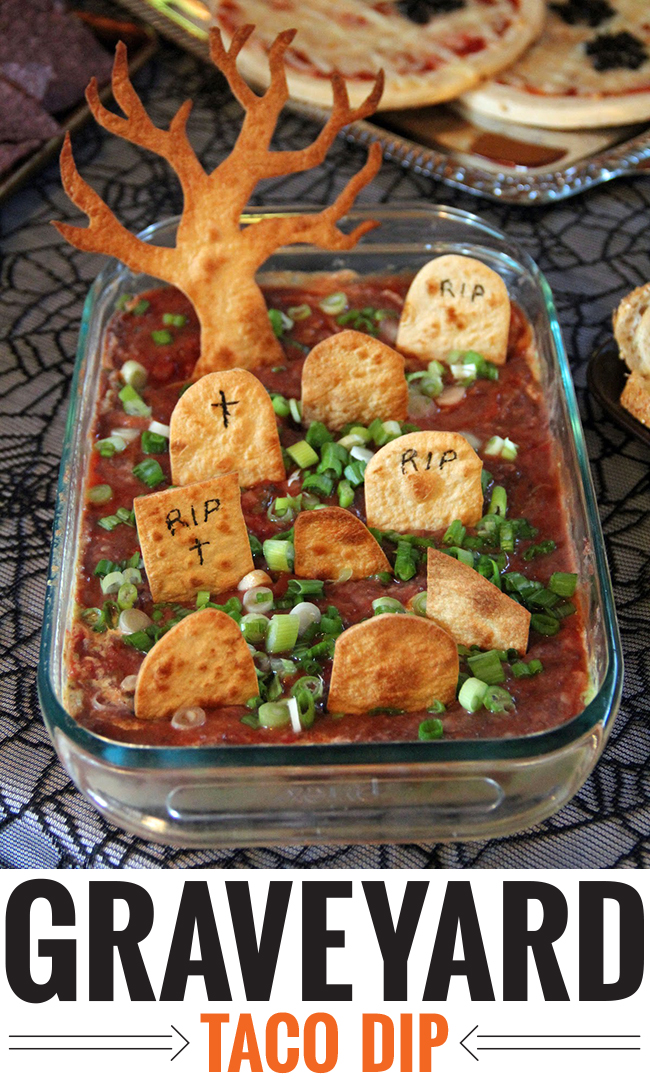 Chickabug also made a dip that's essential to every party but turning into a graveyard makes it a great piece of Halloween fun!
10. Witches' Cheese Brooms
Make something for everyone at the party – including the kiddos – like these witches' cheese brooms from Cakes Cottage.
11. Mummy Baked Brie
Babble made a mummy baked brie that will have the entire party excited and salivating. Use walnuts for eyes and watch how easy it is to create!
12. Pumpkin Pie Dip
Tis the season for pumpkin-flavored everything! And Eat Simply Live Healthy  created a dip to get that craving under control.
13. Skeleton Bone
There's only two ingredients inside this skeleton bone treat that all of your guests will gobble right up. Check it out at Get Creative Juice.
14. Bug Bites
These "bug bites" are super easy to create (and even pre-prep the day before the party) as well as delicious! A Spoonful of Flavor has the recipe!
15. Candy Corn Bark
For a sweeter treat take a peek at this candy corn bark from This Gal Cooks. White chocolate with a variety of toppings make this one fun project!
16. Meatball Mummies
Spend With Pennies made meatball mummies and they're so easy to replicate even the most novice of chefs can make them!
17. Monster Munch
A bit of grab and go snacks are another must-have for any parties and this monster munch from A Pumpkin and A Princess is sure to do the trick.
18. Black Bean Hummus
Fat Free Vegan Girl created some black bean hummus with a Halloween-styled garnish. Check out the recipe and serve it up for your guests!
19. Bat Bites
Hop on over to My Recipes and learn how to recreate your very own bat bites for you and your guests to enjoy on Halloween night!
20. Caramel Apple Nachos
This may not be Halloween-themed but its fit for the season and there won't be a party-goer that let this tray of nachos from Butter With a Side of Bread go unfinished.
21. Eyeball Cheese Balls
Bubbly Nature Creations made these mini cheese balls … that resemble eyeballs. And we feel as though they're a great topper for a Halloween celebration!
22. Witches' Fingers Cookies
Here's another sweeter option from Mad In Crafts. Serve up some witches' fingers cookies for all of your guests, including the kiddos!
23. Cream Cheese Pumpkin Puffs
Here's another seasonal classic to incorporate into your Halloween fare. Check out The Food Charlatan and learn how to make these pops of pumpkin!
24. Strawberry Ghosts
Miss Candiquik shared these strawberry ghosts and we instantly fell in love. Not only will everyone love a bite but they're so easy to make for the party!
25. Mini Monster Cheese Balls
Cheese balls are always a winner at the party. And over at Hungry Happenings you can see how she turned hers into mini monsters!
26. Bug Sandwiches
Super Healthy Kids gives us a great idea for a more family or kid-friendly treat. Create some mini, big sandwiches for everyone to enjoy!
27. Band Aids
Here's another treat that's easy and the kids will get a kick out of. Check out these edible Band Aids created by Katherine Marie.
28. Soul Cakes
Learn all about these traditional Halloween soul cakes at Babble. These lightly sweet and spicy bites would be a grea conversation starter.
30. Spinach Goblin Eyes
Thoughtfully Simple made some delicious pastry treats and then styled them to fit the Halloween theme! Who wouldn't want a goblin eye?
31. Baby Mummies
Serve up some baby mummies with the help of Costco Diva. Make sure to serve up some mustard and ketchup on the side!
32. Coffin Pizzas
The Blonde Girl Blog made some coffin-shaped crescent roll pizzas and we think your guests are going to love them! And they're easy to make too!
33. Spider Crackers
Similar to the bug bites above, this recipe utilizes some classic crackers. Check out the how-to over at The TipToe Fairy.
34. Spicy Pumpkin Seeds
Don't let those pumpkin seeds end up in the trash after your night of carving, instead turn them into a party snack like these spicy ones from She Wears Many Hats.
35. Avocado Deviled Eggs
Here's another spin on deviled eggs that would be perfect for the party. This time made with avocado, check out the recipe at Cookin' Canuck.