35 Halloween Cakes, Cookies And Cupcakes To Try And Make On Your Own!
One of the best parts about celebrating Halloween is all of the yummy treats. Fall is "baking season" so it's only natural that there are tons of us that get busy in the kitchen once the "ber" months come rolling around. And when it comes to this frightfully fun holiday, we add a bit of festivity to the autumnal flavors. From cakes to cookies to cupcakes, we're sharing 35 of the best recipes and designs that represent the holiday.
1. A Marbled Boo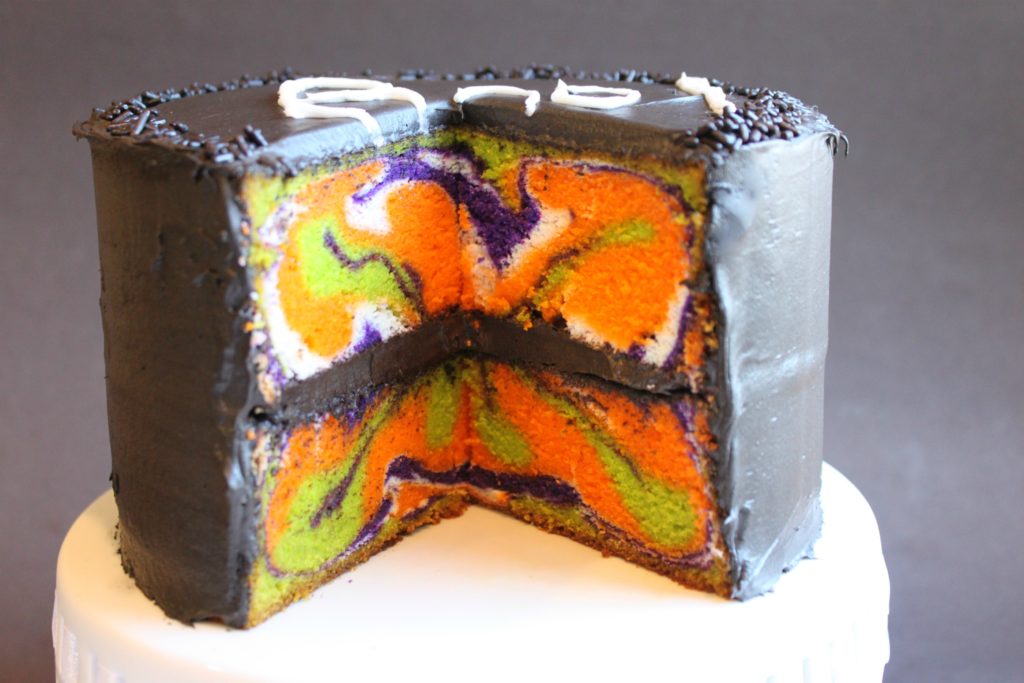 Created by Diane teaches us how to surprise all of our guests with this marble Halloween-styled cake. Simple with black frosting and a "Boo" this is a great dinnertime cake for the family to enjoy.
2. Ghost Meringues
How adorable are these ghost meringue cookies? Learn how to make them at home for yourself and your family at Secret Life of a Chef's Wife!
3. Jack Skellington
Preseley's Pantry  made these adorable Jack Skellington, from Disney's A Nightmare Before Christmas, cupcakes. And we're in love with them!
4. Frankenstein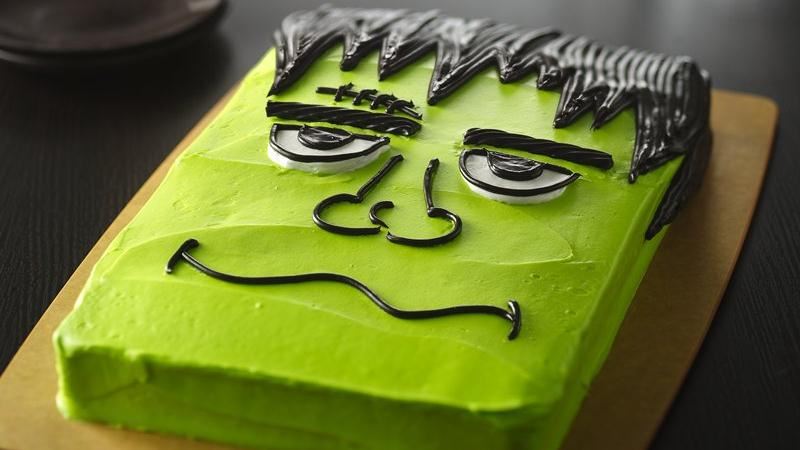 Learn how to recreate this adorable, Frankenstein-inspired Betty Crocker sheet cake! A bit of green goes a long way with this design and it could be a great centerpiece to your Halloween party!
5. Spiderwebs
Learn how to decorate some spiderweb cookies over at Sweetopia. They're beautiful and they'd be a perfect parting gift for your Halloween party!
6. Little Devils
These little devils have just the right amount of festivity for a sleek, Halloween celebration. Hop over to Ambrosia and learn how to create your own.
7.  A Bit of Bugs
Not only is this cake chic but it's perfectly "disgusting too." Topped with some golden bugs, here's a design that's easy to recreate and fashionable for your party too. Thanks Brit+Co!
8. Boo!
How can you not fall in love with these adorable "Boo!" cookies. They're great as favors or extra treats at a party. Check them out at Simply Sated.
9. Witches' Hats
Hostess with the Mostess featured these witches' hats and we're swooning over them. So much festivity and fun in one (or two) bites!
10. Black Velvet
Heather Christo makes a gorgeous black velvet cake full of Halloween spirit. The purple addition and sprinkles make this a beautiful and festive treat!
11. Simple Sugar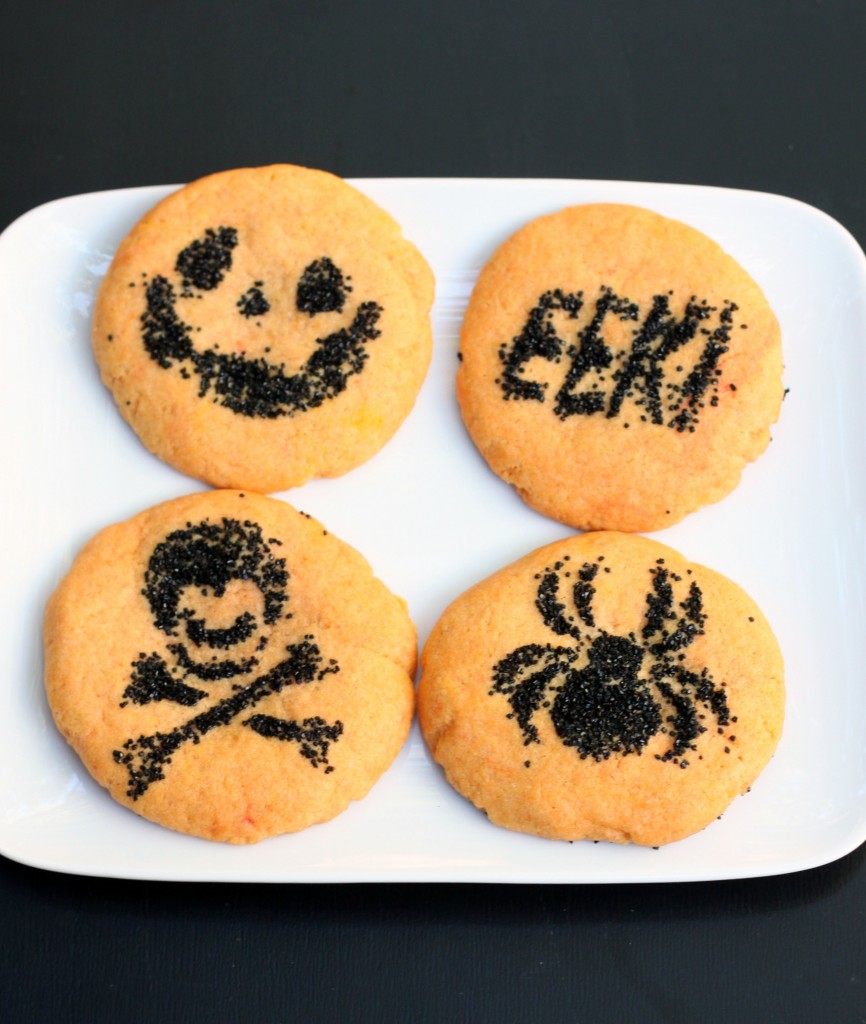 These simple sugar cookies make for a wonderful way to gather the family and create something together – with some Halloween thrown in the mix, of course. Check these out at 52 Kitchen Adventures.
12. Spider Clouds
These spider cloud cupcakes – or spiderweb cupcakes – are perfectly chic and festive. Learn how to recreate this look and design over at Pizzazzerie.
13. Vintage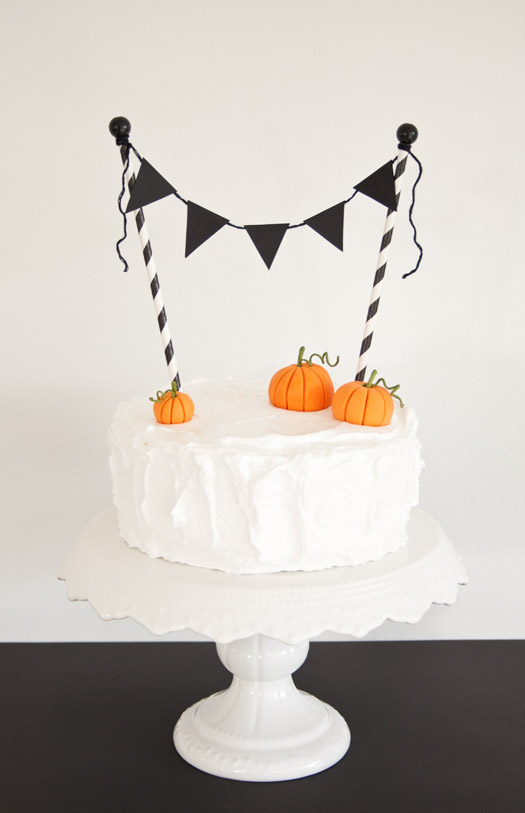 Over at Cake Journal we learn how to recreate this adorable and charming, vintage-inspired Halloween cake. It's perfect for celebrating!
14. Candy Corn Cookie
Life Love and Sugar makes this adorable and delicious "candy corn chocolate chip" cookie cake. This is great for the families and especially for the kiddos!
15. Scary Faces
Grab the kids and start having some Halloween-zoned fun with this Pillsbury idea. And we love the idea of adding the popsicle stick for easier, kid-friendly eating.
16. Reese's Franks
What happens when you combine Frankenstein with Reese's Cups? You get these cupcakes from Your Cup of Cake just in time for Halloween!
17. Red Velvet
Here's a red velvet cake topped with black rosettes. It's not only gorgeous and delicious but it sets the mood for a festive, subtle Halloween charm. Thank The Seaside Baker!
18. Mummies
Life Made Sweet made some delicious-looking cookies that not only scream fall but also scream Halloween! They're almost like mini pies with their pumpkin filling.
19. Googly Eyes
Bring that monster style these cookies! Full of color and fun, create some tiny monsters with the kiddos that are yummy too. Find out how at Lil' Luna.
20. Bloody Time
Say It With Cake made something really special – for Halloween – with this "bloody" cake. Vampire themes or horror-filled, this is a great party piece!
21. Poisonous Apples
Angelica Made Me featured these gorgeous, "poison" apple cookies and we're in love. Not only are they designer-chic but they're perfectly made for a Halloween-inspired celebration. Of course, they're fashioned after the apple from Snow White!
22. Pumpkin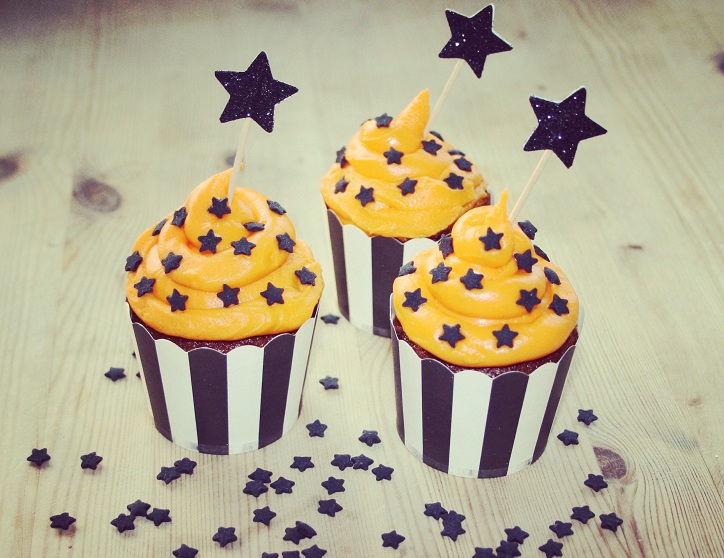 These are just some adorable, classic pumpkin cupcakes topped with the holiday's traditional style. Hop over for Alex and Alexa to learn how to make your own.
23. Candy Corn
Create a cake reminiscent of a piece of candy corn with this recipe from I Am Baker. It's a great way to try your hand at festive baking!
24. Blood Spatter
Go the extra mile with your Halloween-themed food and create these blood spatter cookies from Annie's Eats. We suggest these be used at parties for the older variety – we wouldn't want to scare the kiddos!
25. Monster Strawberry
Yummy Crumble made something quite special. Have you ever seen Little Shop of Horrors, because this sure does bring us some memories of that fun-loving and sometimes frightening movie!
26. Bundt
Easy Baked makes a Halloween-inspired bundt cake that makes for a great centerpiece but also a great way to celebrate the season with the family.
27. Reese's Pieces
These Reese's Pieces cookies not only look delicious but they evoke the spirit of the season without overdoing the theme. They're versatile and easy to use all season. Get the recipe at Averie Cooks.
28. Brains
Brains in a box may not sound delicious but they very well could be if you use the cupcake kit at World Market. We suspect the kids will love these!
29. Spooky Apples
Reminiscent of the poisonous apples given to Snow White, this cake from Half Baked Harvest is full of spooky charm and gorgeous style. It also looks quite delicious, which is a plus.
30. Butterfinger
These too have a delicious recipe topped with a Halloween style. Black and orange never looked so yummy then with these Butterfinger cookies from Inside Bru Crew Life.
31. Monster Claws
We know how to make monster faces but learn how to make a monster claw treat at Bakingdom. They're adorable but fit right into the theme too.
32. Monster Eyes
Here's an easy cake to recreate for your Halloween celebration from The Cake Blog. Cover it with "monster eyes" and use it as the centerpiece to your ghoulish spread.
33. Cinnamon Pumpkin Kiss
These cookies are pure fall and a great way to accent Halloweentime or even a party! Check out the recipe over at Baker Girl.
34. Werewolf Mark
How do you make these werewolf mark cupcakes? Go find out at Talking Trash & Wasting Time. They'd be a great addition to any themed party!
35. Orange Diamonds
Sugar Hero makes a gorgeous cake that encompasses the Halloween spirit with ease. Black texture and orange diamonds top this devil's food cake.