50 Halloween Cakes, Cookies And Cupcakes To Try And Make On Your Own!
With Halloween just around the corner, thrill-seekers everywhere start crafting scary costumes to engage their friendly neighbors into a popular round of 'trick or treat.'
Although Halloween has a deeper meaning than that, most of us have started to associate it with dressing up (nowadays, scary is not really a must anymore) and knocking at people's doors in the hope of scoring some candy.
Failing to deliver candy to the costume-wearing kids at your door translates into a bunch of eggs hurled at your door or getting your house bombarded with toilet paper.
However, not everyone's a fan of these harmless customs and traditions on Halloween, and most of us would rather plan a theme party instead. If you attend or host a Halloween party and want to impress other participants, one way you could achieve that is by baking thematic goods.
It's a well-known fact that everyone loves cake, and what other great way to showcase your mad chef skills is there other than baking a Halloween cake (or a bunch of them) for the party you're about to attend or host?
If you lack inspiration, or you just want to try something new this time, check out our list of creative, spooky, and not to mention delicious Halloween cakes, your guests will absolutely love.
Most Creative Halloween Cakes
It goes without saying that if you want to impress your guests, the cakes you're going to bake this Halloween should be not only incredibly tasty but they should also reflect the theme of the party you're all attending.
Although nobody expects you to bake realistic scary cakes that look like they could've been used as props in a horror movie (unless, you know, you're a black-belt baker), a little creativity can go a long way.
And it's not just about the cakes' taste and aspect, as you'll see right away; people usually love puns and clever wordplay, so you'll definitely have a lot of elbow room if you're down to impress your guests with your awesome Halloween sweets.
Last, but not least, you could extend your talents and seek different types of bakery goods such as cupcakes, cookies, and even hard candy if you know your way around honey and corn syrup.
With that in mind, let's take a look at some of the most creative (and, we bet, delicious) Halloween cakes, cupcakes, and cookies you could bake to make sure that your theme party won't be forgotten, too soon.
1. Halloween Spider Web Cupcakes
Spiders and their intricate webbings are paramount to Halloween parties, so it makes sense that the popular spiderweb pattern has started to make appearances in various places, whether it's on your window, in front of your door, on your clothing, and even in your Halloween-themed baked goods.
In fact, if you're hosting a Halloween party and you want a quick yet effective way to wow your peers, then the Halloween Spider Web Cupcakes are definitely something you won't want to miss this time.
These cupcakes are exactly what they sound like, except that you won't be having spiders weave their web all over your goodies; instead, you'll create a similar web-inspired pattern in the glaze on top of the cupcakes.
The best part about these cupcakes and the spiderweb pattern you can create on its glazing is that you can use any combination of colors you feel comfortable with. However, you should know that some of the most popular choices are either dark chocolate as a background and white chocolate for the spiderweb pattern or the other way around.
Another fan-favorite aspect of these cupcakes is that, unlike other baked goods, you won't need advanced kitchen tools such as stand mixers or electric whisks to make them. You just throw the wet ingredients into a bowl and mix them well, after which you'll have to do the same with the dry ones.
2. Scary Halloween Marshmallow Treats
Although marshmallow goodies are usually associated with other things, such as a night with your buddies camping in the woods, the soft squishy texture of the marshmallow makes it versatile enough to be used in a wide array of scenarios.
If you're a fan of finger foods (or, better yet, sweets), you can go for an assorted set of marshmallow goodies that you can spread on a plate and serve to your guests. If you go with these sweets, you'll also have a lot of fun painting each treat differently, so you can have an assortment of marshmallow goodies that will not only taste great, but they'll also steal the spotlight.
Some popular takes in this situation would be painting marshmallows like jack-o lanterns, Frankenstein's monsters, bats (you could also give them little chocolate-chip wings), vampires, or even leave them as they are and pretend they're scary little ghosts. Your imagination is your only limitation in this case, but if you're not exactly the crafty, creative type, don't worry! We're sure you'll find plenty of inspiration online to help you surprise your guests with your cooking/baking skills.
Once you're done with decorating your goods, you can just toss them on a platter and bring them to your friends and family, either as is, or you could stick toothpicks into them so they can be enjoyed without the unpleasantness of getting sticky fingers.
3. Halloween Jack-O-Lantern Pumpkin Pies
Jack-O-Lanterns are perhaps one of the most significant symbols of Halloween everywhere in the world, if not the absolute greatest one. Don't tell me you ever stumbled upon a Jack-O-Lantern, whether in real life or as a picture on your phone and didn't think about Halloween.
Considering that the hollowed, carved pumpkin with a candle inside ranks so high in the Halloween scene, we couldn't pass the opportunity to include it in our guide as a recipe that will surely make your peers stare in admiration.
Now here's the thing about carved pumpkins: they're somewhat similar to snowflakes, as in there are no two identical ones unless you're using an automated tool to carve them with incredible precision. With that in mind, you can apply this principle while you're baking these incredibly tasty and spooky goods.
You don't even have to go overboard with the spookiness; we've grown accustomed to carved pumpkins, as they've quickly grown into staple items we can all enjoy during the Halloween season. Thus, the spooky element can easily be replaced, or at least complemented, by cuteness or goofiness instead, but that's a matter of preference, and we'll leave that entirely up to you.
The principle behind these pies is quite simple (if you ever baked a pie before, that is): you just bake an apple or pumpkin pie and top it with a Jack-O-Lantern face that's made from pastry. The design of the pastry face is entirely up to you, as we've specified above, so you can unleash your creative skills on this one.
Alternatively, if you lack artistic skills, you could use a cookie cutter set that will put a grinning Jack-O-Lantern face on your pastry in no time. The only downside to this is that your pie will end up looking all the same if you're using the same cutter on all of them. But, if done right, the pastry-made Jack-O-Lantern on top of your pie shouldn't last for more than just a few minutes.
4. Scarecrow Apple Pie

Despite the fact that scarecrows have been originally designed to spook crows (it's so obvious that it's actually in the name), magpies, and other critters from ruining the harvest, they seem to be doing a pretty good job with humans, too, seeing as more and more adopt them as spooky props and plant them on their front lawns.
However, you don't have to own a house and a front lawn to bring the spooky magic of scarecrows into your life this year. Instead, you could opt for the more convenient version of baking an apple pie and take an artsy approach to decorate its top and make it look like the face of a scarecrow.
While the hollowed eyes and sewn-shut mouth is one of the most popular combinations at the time being, you can also improvise and use slices of apple as eyes, use various spices to decorate your scarecrow, and even use sauces of various colors to add a touch of realism to your baked goods.
Whether you're going for realism or just want to create a child-friendly nice-looking scarecrow apple pie to your menu this Halloween, you can't go wrong with this design. It's tasty, it looks great, and it will definitely keep crows away during your yearly Halloween feast. Just kidding, you might want to keep it inside just to be safe.
5. Oreo Bat Chocolate Halloween Muffins

Although bats are not usually dangerous, they are still deemed as creatures of the night, which makes them fit our Halloween party scenario like a glove. No, we won't encourage you to bring actual bats to the party, we're not famous rockstars.
However, what you could do is create bat-shaped sweets. In fact, we've got a terrific idea involving muffins, chocolate, and Oreo that will not only blow you away in terms of how cute and awesome the end result looks, but it will also taste incredibly good.
First of all, you'll have to bake the actual muffins and to preserve the overall aesthetic of bats and creatures of the night, we suggest you stick with dark chocolate (the darker, the better). Once you're done with the muffins, you're gonna want to whip some cream on top of them, and again, I'd stick to darker shades of chocolate if I were you (you know, for the sake of keeping things dark and somewhat spooky).
Now comes the fun part: you can use berries or tiny candies for the eyes of the bats. Although the picture above used googly eyes, we wouldn't go that far. Remember that these muffins emulate creatures of the night, so they're best served in a dark, dim environment, which increases the chance of your guest not seeing the googly eyes and eating them by mistake.
Last, but not least, break Oreo cookies into halves, place them curved-side-up in the chocolate cream you used to decorate your muffins, and you're ready to serve these critter-shaped delicious sweets to your guests.
6. Meringue Ghost Halloween Chocolate Cake
Ghosts: they come in all shapes and colors, but Halloween is one event that can bring them all together in one great bunch, whether as lawn decorations, stickers, sheets with eye holes carefully cut, cocktail drinks, and, why not, even baked goods.
There are a few things that Halloween enthusiasts all share, and that's their love for spooky stuff such as ghosts, werewolves, zombies, scarecrows, headless knights, vampires, mummies, or bats. However, the ethereal charm of ghosts can't be emulated by just about anything, which is why so many people are terrified and equally fascinated by them.
While traditional ghosts have more of a… let's say a spiritual thing about them, the ones we're about to talk about are pretty much harmless. If you're hosting a Halloween party and want to impress your guests with your mad baker skills, then whipping up this chocolate cake with meringue ghosts may prove to be a terrific idea.
However, baking a cake is no easy business, so you'll have to be well-versed in the ways of using a whisk, heating an oven, and mixing stuff in a bowl unless you want to be fronting an empty platter to your peers at the end of the night.
The centerpiece of this spooky treat is not the cake itself but the little meringue ghosts you'll be strategically placing all over it, so you can easily replace the cake with something else if you'd very much prefer that. For instance, you could bake a pie, or make a cupcake, if you want to, but we can ensure you that the result won't be nearly as spectacular.
If you have no idea where to start with the meringue ghosts, we already have a recipe in our guide that you should totally check out.
7. Brain Halloween Cake
This may not be fit for just about anyone, especially if they're squeamish, but if you have a tight squad that enjoys the occasional thrill of a zombie horror flick, you should definitely go with the brain cake. Although it looks pretty much like the real deal, we can ensure you that it's made out of sweets and sugary stuff.
Furthermore, it's quite obvious that you'll need to be an incredibly talented baker or have a brain cake mold readily available to prepare this treat for your peers. Alternatively, you could look up a bakery and see if you can convince them to bake it for you, although for this level of realism, you should expect nothing short of paying quite a lot for just one cake.
Long story short, this cake looks like something that could've been used in a late-night zombie flick as a prop and will surely be the star of your evening if you're hosting or attending a Halloween party. It (hopefully) won't have your peers going braaains, braaains, but they'll surely tweet about it or remember it for a long time.
8. Witch Legs Green Halloween Cupcakes
We already had a series of cupcakes resembling witches' hats, so if you want to pair them up really nice with something else on your Halloween table, then the witch legs green cupcakes are definitely worth checking out.
If you're going for spooky, you may want to sit this one out, but come on, you (supposedly) already have witch-hat-shaped cupcakes on the table, so what's one more goofy thing to add to the mix, right?
These cupcakes look like your friendly neighborhood witch has just tripped and fell into a cauldron with bubbling green sludge in it, and in a Wizard-of-Oz-style, her legs were the only things that somehow managed to survive.
Now, depending on your talent as a baker, you could go for plain colors, but you could also add a bit of goofiness to the whole shebang by going for striped stockings and ridiculously oversized witch shoes. We guarantee you that your guess (or other partygoers, if you're not the host) will absolutely love these cupcakes.
9. Mummy Halloween Cupcakes
Despite the fact that we briefly mentioned mummies as being some of the most popular symbols of Halloween (although mummies didn't usually live in the USA), this guide had no mummy-themed treat to back up that claim. Until now, that is.
If you remember watching late-night movies about creatures wrapped in bandages with only bits and parts of their bodies visible, dragging their feet around and vocalizing displeased groans every now and then, you're surely going to love the mummy cupcakes this Halloween.
They're not incredibly difficult to make, either, just as long as you have a basic cupcake to begin with and lots and lots of patience. Each of the straps that decorate the cupcake needs to be cut by hand, and considering the already reduced size of cupcakes, you'll need to cut little strips to serve as bandages.
On the other hand, if you're going with the frosting approach (it makes more sense), you'll have to carefully pipe the frosting bit by bit so that it won't all blend together in a big blob but look as if it were multiple strands of mummy-wrap, instead.
Just make sure to use a dark base for your cupcakes, and don't forget to leave an oval shape in the frosting so that your mummy's eyes could be visible. You can also use frosting for the eyes, but at this point, it's really your choice, so you could also go with berries, chocolate chips, or whatever else floats your boat.
10. Bloody Eyeball Halloween Cupcakes
Ever seen what goes inside a witch's cauldron? If you've been watching scary cartoons as a kid, you're probably able to name at least three things you've seen floating atop the bubbling sludge inside a witch's cauldron from the top of your head.
These things would be a bone (preferably human), some personal belonging (such as a boot), and probably the most popular one, the eye. Yes, you've probably seen that disturbing sight so many times as a kid that you've grown accustomed to it, so using eyeballs in your food doesn't seem so crazy anymore.
It should go without saying that, like the eyeballs used in cartoons, the ones we're talking about aren't actually the real thing, so don't get any wild ideas in there. It is Halloween, but we still have to be responsible, right?
So, as you'd expect, the most difficult part in this scenario is actually making the cupcake. If you don't feel like baking, we're sure you could find some 'blank' cupcakes you could decorate afterward with the eyes and the red syrup.
The next thing would be sourcing the eyeballs, but the greatest part about this is that you can find them literally anywhere during the Halloween season. If not, we're positively sure you could find some online places that sell these gummy/jello eyeballs you could place atop your spooky Halloween cupcakes.
Last, but not least, don't forget to squirt a bit of red syrup on top of your cupcakes before planting the eyeballs. You wouldn't want to lose big on spooky realism points, now, wouldn't you?
11. Zombie Teeth Halloween Cupcakes
Who just told you that zombies are a staple item for any Halloween party? We did. So let's get back to the important thing, which is creating a spooky, yet delicious experience for your Halloween party, whether you're hosting it or you're attending one as a guest.
If your peers like cheesy Halloween decorations, such as green stuff, spiders, witch hats, and ghosts, that's alright. However, you may want to skip this one (and several others from our guide), seeing as the realism of these treats may be quite off-putting for them.
However, if your Halloween aficionado buddies are a bunch of thrill-seekers, they will definitely enjoy biting out of a cupcake that resembles the bloody mouth of a zombie. Well, maybe not at first, considering that the whole thing sounds a bit disgusting, but once they take a bite, they'll definitely come back for seconds.
It goes without saying that you'll have to be quite experienced in the ways of baking, seeing as this product looks so real. You'll need a basic cupcake that you'll use as a base to build the rest of the zombie's mouth on. For the gums, teeth, and skin tissue, you'll have to use colored fondant, and the blood is pretty obviously red-colored corn syrup.
Once you've assembled the mouths, you should set them aside and allow them to cool for a while, and then you can sink your teeth into them. Don't worry, they won't bite back! Or will they?
12. Witch's Fingers Halloween Cookies
You know what? Some people know exactly where to draw the line, and for me, these finger cookies have done it. I mean, sure, they might smell nice and all, but that doesn't mean I wouldn't sample them while covering my eyes with the other hand since they look so terrifyingly real!
If you want to put a spell on your guests (a scary one, that is), then the witch's fingers Halloween cookies will definitely prove to be a staple asset in your pantry. You could either do the whole thing out of dough or use peanut halves as nails if you want to add a bit more realism to the table.
The best thing about these witch fingers is that you could have them both sweet and savory, depending on your guests' palates. If you go with savory, you'll have to make sure that the fake blood isn't strawberry jam or anything else that's sweet. Instead, you could replace it with ketchup, chili sauce, or whatever else you find fit.
If you're truly diabolical, we figured you could find a way to slip something crunchy inside the fingers. However, we'd suggest you proceed with caution and not use hard candy (such as candy canes, for instance) unless you're ready to pay up for your peers' dental makeover.
13. Spooky Skeleton Halloween Cookies
Skeletons are definitely one of the most popular choices when it comes to decorating your house during Halloween. Whether it's the carton cutout skeleton that you plant flat on your door or the one that's dangling menacingly at the top of your door frame, you know you can't go wrong with a bunch of anatomically correctly placed bones.
Well, if that works so well on your front lawn, why wouldn't it render the same results if you were to bring it in your kitchen? No, we're not talking about moving your skeletal decorations from your front lawn into your kitchen, we actually meant creating decorations out of food that would resemble skeletons.
And probably the best part about these decorations would be that you could eat them all up, like the skeleton cookies you can check out in the picture above. If you're here, chances are that you already know your way around an oven, and you're no stranger to cookie dough. If so, half the battle is already won.
What you need to do rest is either buy cookie icing (be careful not to go with frosting or glazing) or prepare it yourself and carefully decorate your cookies with bone-resembling shapes to create a skeleton. The objective here is not exactly realism, so you could go ahead and draw a smiling skull or something skeleton-esque.
14. Broom Witch Halloween Snacks
Although the whole point of Halloween (for some) is scoring candy from strangers' houses, usually kids are advised not to accept home-baked goods and only go for wrapped candies, so the only reason you'd want to get creative during Halloween is if you're expecting guests or going at a party.
Furthermore, you can't throw a proper party if all you've got on the table is sweet and sugary stuff, so a wise thing to do in this situation is go for savory things (non-sweet), as well. It just so happens that we've got the perfect idea for you if you're interested in a non-sweet snack that would still not stray away from the spirit of Halloween: witch broomsticks.
These broomsticks that you can also see above can be easily whipped up from bread straw or salty sticks and cheese. The secret is to cut a long and relatively wide strip of cheese, then fray it wide-wise so that it resembles the frizzy part of a broom. The width of the strip would actually be the length of the bottom part of the broom, so it's best to keep that in mind.
Once you have that, wrap it around the bread straw, and tie it with something edible, such as parsley, a leaf of green onion, or something similar, so that your guests can enjoy the whole thing instead of spending time unwrapping the inedible parts. Bon Appetit!
15. Graveyard Bones Cookie Halloween Platter
Bones have been a part of Halloween traditions for a long time, as they actually make up another symbol of this event (skeletons, obviously). However, that's not to say that bones on their own aren't scary or couldn't be used in a clever way to set a spooky atmosphere for your Halloween party.
Case in point: take a look at the picture above and tell us it doesn't give you the chills. Well, maybe it doesn't, but with the right lighting and appropriate scary sounds, they completely would, we're sure of that.
The graveyard bones platter above consists of meringue, Oreo, and a bunch of miscellaneous Halloween decorations such as spiders, skulls, and a spider web pattern table cloth. The plate underneath doesn't count since it's not spooky at all.
In case you didn't figure out by now, you can make the bones yourself from meringue and place them on a platter full of crushed Oreos. The crushed Oreos would resemble the dirt from the graveyard, which further adds to the spooky effect. You might want to remove the cream from the Oreos before crushing them, though, unless you want to end up with chunks of white in your graveyard 'dirt.'
35 Other Halloween Cakes and Cookies You Can Make
Just how inspiring were these cakes and cookies, right?! They're not only adorable to look at, but they'll be delicious to eat, so let's get baking! However, we're not done yet! We know that it takes a while to make up our minds, so we've gone ahead and added a bunch of other ideas.
16. Marbled Halloween Cake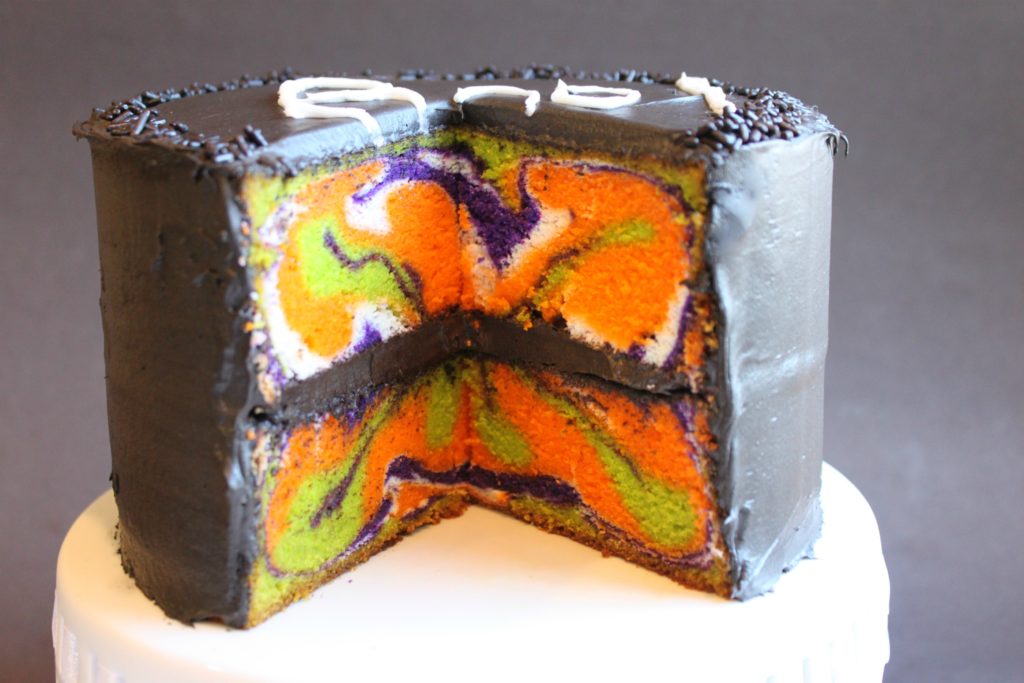 Created by Diane teaches us how to surprise all of our guests with this marble Halloween-styled cake. Simple with black frosting and a "Boo," this is a great dinnertime cake for the family to enjoy.
17. Scary Ghost Meringue Cakes
How adorable are these ghost meringue cookies? Learn how to make them at home for yourself and your family at Secret Life of a Chef's Wife!
18. Jack Skellington – Halloween Cakes
Preseley's Pantrymade these adorable Jack Skellington, from Disney's A Nightmare Before Christmascupcakes. And we're in love with them!
19. Frankenstein Scary Halloween Cake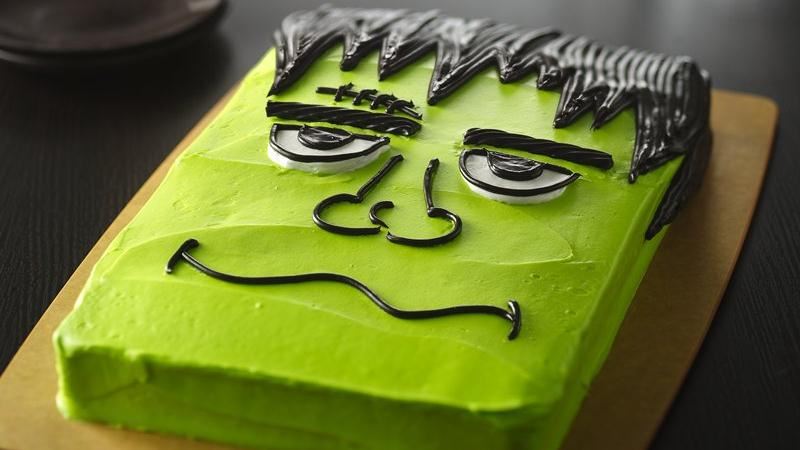 Learn how to recreate this adorable, Frankenstein-inspiredBetty Crockersheet cake! A bit of green goes a long way with this design, and it could be a great centerpiece for your Halloween party!
20. Easy Spiderweb Halloween Cookies
Learn how to decorate some spiderweb cookies over at Sweetopia. They're beautiful, and they'd be a perfect parting gift for your Halloween party!
21. Halloween Themed Cakes – Little Devils
These little devils have just the right amount of festivity for a sleek Halloween celebration. Hop over to Ambrosia and learn how to create your own.
22. Halloween Cake – Bugs Galore
Not only is this cake chic, but it's perfectly "disgusting too." Topped with some golden bugs, here's a design that's easy to recreate and fashionable for your party too. Thanks, Brit+Co!
23. Halloween Cookies – Boo!
How can you not fall in love with these adorable "Boo!" cookies. They're great as favors or extra treats at a party. Check them out at Simply Sated.
24. Halloween Cakes – Witches' Hats
Hostess with the Mostess featured these witches' hats, and we're swooning over them. So much festivity and fun in one (or two) bites!
25. Black Velvet Halloween Cake
Heather Christomakes a gorgeous black velvet cake full of Halloween spirit. The purple addition and sprinkles make this a beautiful and festive treat!
26. Easy Halloween Sugar Cookies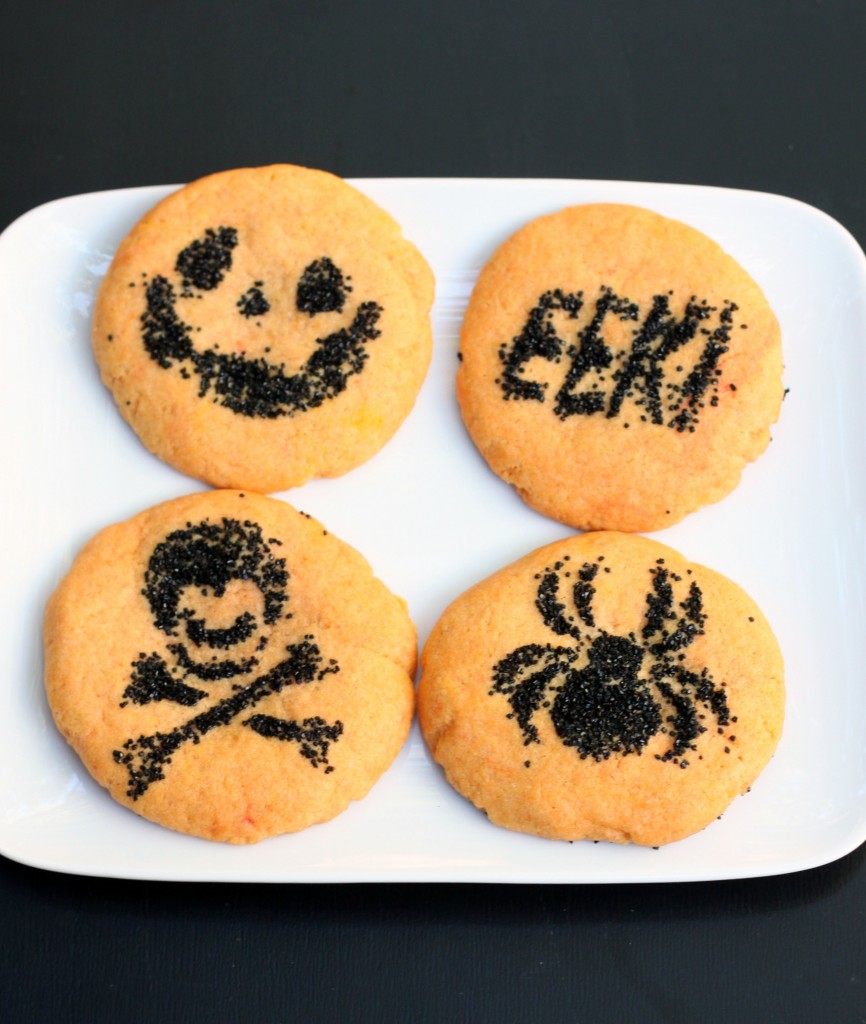 These simple sugar cookies make for a wonderful way to gather the family and create something together – with some Halloween thrown in the mix, of course. Check these out at 52 Kitchen Adventures.
27. Halloween Cakes with Spider Clouds
These spider cloud cupcakes – or spiderweb cupcakes – are perfectly chic and festive. Learn how to recreate this look and design over at Pizzazzerie.
28. Vintage Halloween Cake Idea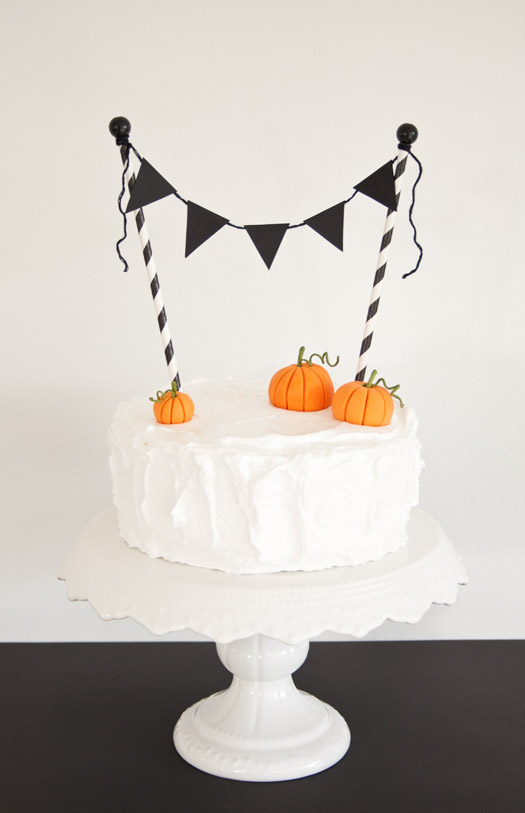 Over at Cake Journal, we learn how to recreate this adorable and charming, vintage-inspired Halloween cake. It's perfect for celebrating!
29. Halloween Cake with Candy Corn
Life Love and Sugar makes this adorable and delicious "candy corn chocolate chip" cookie cake. This is great for the families and especially for the kiddos!
30. Scary Halloween Cookies
Grab the kids and start having some Halloween-zoned fun with this Pillsbury idea. And we love the idea of adding the popsicle stick for easier, kid-friendly eating.
31. Reese's Frankenstein Halloween Cake
What happens when you combine Frankenstein with Reese's Cups? You get these cupcakes from Your Cup of Cake just in time for Halloween!
32. Red Velvet Halloween Cake
Here's a red velvet cake topped with black rosettes. It's not only gorgeous and delicious, but it sets the mood for a festive, subtle Halloween charm. Thank The Seaside Baker!
33. Mummies Halloween Themed Cakes
Life Made Sweet made some delicious-looking cookies that not only scream fall but also scream Halloween! They're almost like mini pies with their pumpkin filling.
34. Googly Eyes Halloween Cookies
Bring that monster style these cookies! Full of color and fun, create some tiny monsters with the kiddos that are yummy too. Find out how at Lil' Luna.
35. Halloween Cake Idea – Bloody Time
Say It With Cakemade something really special – for Halloween – with this "bloody" cake. Vampire themes or horror-filled, this is a great party piece!
36. Halloween Cookies – Poisonous Apples
Angelica Made Me featured these gorgeous "poison" apple cookies, and we're in love. Not only are they designer-chic, but they're perfectly made for a Halloween-inspired celebration. Of course, they're fashioned after the apple from Snow White!
37. Pumpkin Halloween Cakes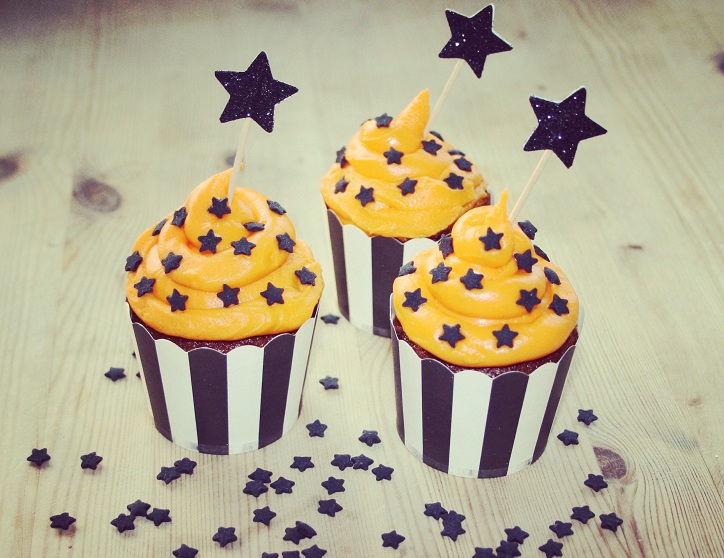 These are just some adorable, classic pumpkin cupcakes topped with the holiday's traditional style. Hop over for Alex and Alexa to learn how to make your own.
38. Candy Corn Halloween Cake
Create a cake reminiscent of a piece of candy corn with this recipe from I Am Baker. It's a great way to try your hand at festive baking!
39. Scary Halloween Cake with Blood Spatter
Go the extra mile with your Halloween-themed food and create these blood spatter cookies from Annie's Eats. We suggest these be used at parties for the older variety – we wouldn't want to scare the kiddos!
40. Monster Strawberry Halloween Cake
Yummy Crumble made something quite special. Have you ever seen Little Shop of Horrors? Becausethis sure does bring us some memories of that fun-loving and sometimes frightening movie!
41. Bundt Halloween Cake
Easy Baked makes a Halloween-inspired bundt cake that makes for a great centerpiece but also a great way to celebrate the season with the family.
42. Reese's Pieces Halloween Themed Cake
These Reese's Pieces cookies not only look delicious, but they evoke the spirit of the season without overdoing the theme. They're versatile and easy to use all season. Get the recipe at Averie Cooks.
43. Scary Halloween Cake Idea – Brains
Brains in a box may not sound delicious, but they very well could be if you use the cupcake kit at World Market. We suspect the kids will love these!
44. Spooky Apples Halloween Cake
Reminiscent of the poisonous apples given to Snow White, this cake from Half Baked Harvest is full of spooky charm and gorgeous style. It also looks quite delicious, which is a plus.
45. Butterfinger Halloween Cake
These too have a delicious recipe topped with a Halloween style. Black and orange never looked so yummy then with these Butterfinger cookies from Inside Bru Crew Life.
46. Monster Claws Halloween Cakes
We know how to make monster faces but learn how to make a monster claw treat at Bakingdom. They're adorable but fit right into the theme too.
47. Monster Eyes Halloween Cake
Here's an easy cake to recreate for your Halloween celebration from The Cake Blog. Cover it with "monster eyes" and use it as the centerpiece to your ghoulish spread.
48. Cinnamon Pumpkin Kiss Halloween Cookies
These cookies are pure fall and a great way to accent Halloweentime or even a party! Check out the recipe over at Baker Girl.
49. Werewolf Mark Halloween Cakes
How do you make these werewolf mark cupcakes? Go find out at Talking Trash & Wasting Time. They'd be a great addition to any themed party!
50. Orange Diamonds Halloween Cake
Sugar Heromakes a gorgeous cake that encompasses the Halloween spirit with ease. Black texture and orange diamonds top this devil's food cake.
Final Words on Halloween Cakes
All things considered, if you want your next Halloween party to be a blast, whether you're hosting or simply attending one, make sure you don't forget these creepy, yet tasty treats for your peers.
Not only will these cakes, cupcakes, cookies, and snacks catch everyone's eye (well, depending on your talent as a chef/baker), but they'll also taste amazing and make you the star of the evening, if not a legendary host altogether.
Seeing as some of the treats in our guide are pretty realistic, you might want to make sure that they won't bother your guests too much before you set them on the table. As we've previously mentioned, some are ok with treats that look like they're props from an R-rated horror movie, but others prefer a more innocent, goofy approach when it comes to Halloween.