40 DIY Valentine's Day Gifts for Coworkers that Show Your Softer Side
Whether a small token of appreciation or something more meaningful, DIY Valentine's Day gifts are a fantastic way to show your colleagues how much you value them. Read on to discover some of the best handmade gift ideas for coworkers on February 14th.
Everyone loves a thoughtful gesture, especially in the form of a handmade gift. From homemade chocolates and cookies to personalized mugs and crafty cards, there are countless DIY Valentine's Day gift ideas for coworkers to make them smile with joy. Here is a list of the handmade gifts described in this article:
Monogrammed clay keychain
Twig monogram
Ribbon heart
Melting heart slime
Heart cushion
Rainbow sock hearts
Heart snow globe
Painted heart coasters
Felt flower wall art
Rustic twig wall art
Pinecone flower wall art
Pebble heart wall decor
Chalkboard heart frames
Wooden photo frame
String art photo holder
Mason jar flower vase
Macrame-wrapped mason jar
Twine-wrapped bottle
Rolled muslin roses
Heart-shaped pebble pot holder
Roped-up cozy
Felt laptop case
Concrete heart candle holder
Romantic candle
Face scrub
Coffee body scrub
Bath bombs
Love potion bath set
Felt heart bookmark
Heart tote canvas bag
My heart beats tic-tock for you Tic Tacs
Party poppers
Treat bags
Candy tackle box
Candy bouquet
Bacon roses
Cherry coke cupcakes
Strawberry cheesecake fat bombs
Love letter cookies
Persian love cake
Keep reading to discover more info about each DIY Valentine's Day gift for coworkers, including tutorial sources.
1. Monogrammed clay keychain
Monogrammed clay keychain is a cute, small DIY Valentine's Day since you can engrave your coworker's initials in clay. This project is customizable since you can use different keychain colors and cut the keychains in various shapes. Read our guide to learn how to make a clay keychain.
2. Twig monogram
A twig monogram is a nice DIY Valentine's Day gift idea for your coworkers since you can craft their initials. Twigs, felt flowers, and a bit of ribbon and twine help you make a rustic monogram that your colleagues can use as home or office decor. Check out our twig monogram guide to learn more.
3. Ribbon heart
Simplicity makes this ribbon heart a cute and lovely DIY Valentine's Day gift for your coworkers. This project is easy to make and requires colored paper, ribbon, and scissors. Read our in-depth guide to learn how to make a beautiful ribbon heart.
4. Melting heart slime
Romantic coworkers with a sense of humor will love receiving melting heart slime as a Valentine's Day gift. Make it with common materials, like starch, glitter, glue, and confetti. For a romantic fragrance, use essential oil and pack the slime it in heart-shaped boxes. Visit Growing a Jeweled Rose to learn about crafting this sweet-smelling heart-shaped slime.
5. Heart cushion
A DIY heart-shaped cushion is a great Valentine's Day gift idea for coworkers, especially if they love having fluffy things around the office or home. The crafting supplies necessary to make this gift are incredibly affordable, and you won't have to spend much time crafting. All you need to do is know how to cut and sew some fabric. Check out our guide on how to craft the DIY heart cushion.
6. Rainbow sock hearts
Rainbow sock hearts are a cute and cheap DIY Valentine's Day gift idea for coworkers. Make them using colorful socks, a cardboard template, and minimal sewing skills. Visit Sas Does to learn more.
7. Heart snow globe
Since Valentine's Day is a winter holiday, gifting heart snow globes to your coworkers is an excellent idea. Use a big round jar like a globe and various Valentine's Day decorations, like hearts and flowers. Fill the jar with faux snow to complete the whole wintery feel. For an authentic feel, consider filling the globe with viscous liquid to make the snowflakes float instead of sticking to the bottom. Find out more at Whipperberry.
8. Painted heart coasters
A set of heart coasters is a simple and lovely DIY Valentine's Day gift for your colleagues to use at their desks. The idea is to paint wood slices, an easy craft accessible to everyone with a bit of imagination. The hardest part is coming up with the design idea, such as a couple of hearts or text like Happy Valentine's Day. Apply a sealer to make the coasters durable. Check out A Bubbly Life for the complete guide on how to paint heart coasters.
9. Felt flower wall art
Felt flower wall art is a lovely DIY Valentine's Day gift idea for coworkers to hang up in their homes or offices. The secret is combining the right colors and shapes. Make this artwork as simple or intricate as you want since you can arrange the flowers in various ways. Find out how to craft felt flower wall art from our guide.
10. Rustic twig wall art
Coworkers with a soft spot for rustic decor will love this DIY rustic twig wall art for Valentine's Day. Twigs, burlap ribbons, and cotton flowers create a unique and beautiful piece of art. Keep the colors simple and combine textures for an optimal effect. Read our guide on crafting this rustic twig wall art to learn more.
11. Pinecone flower wall art
Pinecones inspired us to craft this DIY flower wall art, and it's the perfect DIY Valentine's Day present for coworkers who crave spending more time in nature. Brighten your colleagues' day with a unique wall decoration made with simple supplies like paint, paper, and glitter glue. Check out our step-by-step guide to make pinecone flower wall art.
12. Pebble heart wall decor
DIY pebble heart wall art is another type of decoration to gift your coworkers for Valentine's Day. It has a professional finish, so it looks like something bought from the local handmade shop. You must know your way around a glue gun and wood stain. Other than that, the project is straightforward. Read the full tutorial about crafting pebble heart wall decor.
13. Chalkboard heart frames
Create delightful chalkboard heart frames as a Valentine's Day gift for an artistic coworker. A chalkboard heart frame is a regular heart-shaped photo frame coated with black chalkboard paint. The chalkboard paint is awesome for drawing or writing erasable messages. For example, your coworker's kids can use these frames for doodling. Go to Crafts by Courtney to get the crafting instructions.
14. Wooden photo frame
A Valentine's Day-themed wooden photo frame is an excellent gift for coworkers to showcase their precious pictures. Thin wood slices, dry plants, and moss help to decorate an otherwise basic cardboard photo frame. Check out our guide on how to make this Valentine's Day wooden photo frame.
15. String art photo holder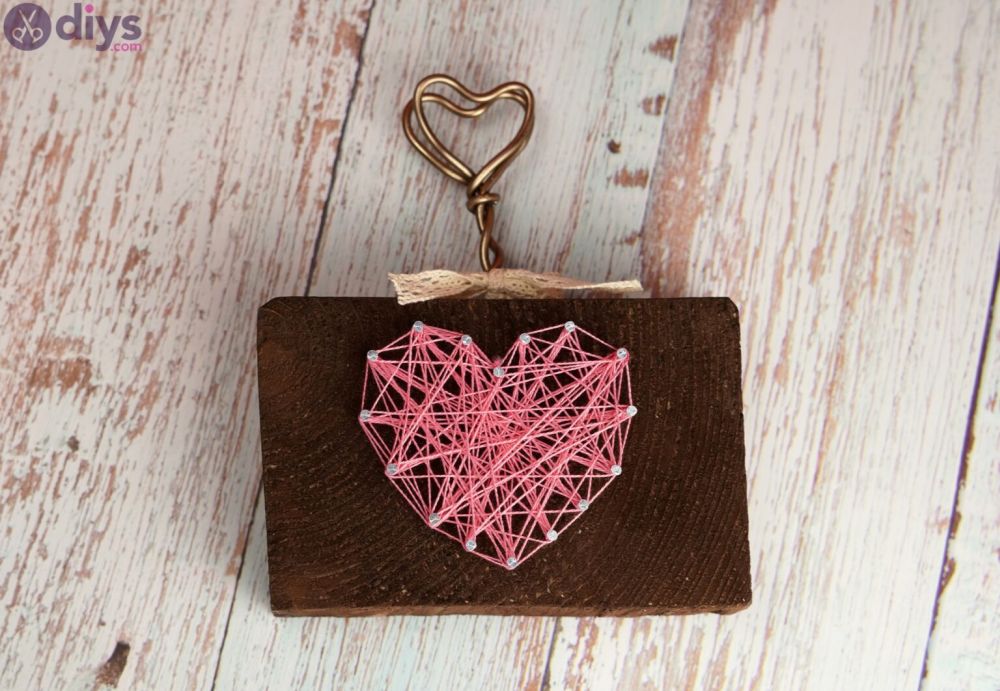 A string heart photo holder is nice DIY Valentine's Day gift for a coworker to display their favorite photo on their desk. String art is a simple craft for creating beautiful designs using nails and yarn. Customize the design to suit each colleague's preferences by changing the art design or yarn color. Learn all about this string art project in our tutorial.
16. Mason jar flower vase
A mason jar vase is a perfect Valentine's Day gift for a coworker to keep the flowers they receive. It's simple, elegant, and easy to make. You need mason jars, ribbons, twine, and about 30 minutes of your time. Here's our guide for crafting this DIY mason jar flower vase.
17. Macrame-wrapped mason jar
A macrame-wrapped mason jar would make a lovely DIY Valentine's Day gift for a coworker who likes lighting candles to create a romantic atmosphere. It also serves as a vase. To craft it, you need cotton rope, glue, a mason jar, and basic knowledge of tying knots. Read our complete guideto learn how to make this great DIY decorated mason jar.
18. Twine-wrapped bottle
A twine-wrapped bottle is a Valentine's Day that combines craftsmanship with practicality, ideal for your coworkers. Get a bottle of your colleague's favorite wine and wrap it in beautiful twine with a special message like Enjoy this Valentine's wine from your favorite colleague. Learn more about how to craft this Valentine's Day twine-wrapped bottle from our article.
19. Rolled muslin roses
DIY rolled muslin roses put a nice twist to the classical rose bouquet as a Valentine's Day gift for a coworker. Add small felt leaves to complete the look, and wrap the rose around a mason's jar lid. Take this opportunity to fill the jar with candy. Check Shaken Together Life for the complete crafting instructions.
20. Heart-shaped pebble pot holder
A heart-shaped pebble pot holder is a stylish and practical Valentine's Day gift for a coworker who loves to cook. Get your hands on corkboard, pebbles, and glue to start crafting. Check out our guide on how to make the heart-shaped pebble pot holder. Or make it in a smaller size as a coffee coaster.
21. Roped-up cozy
Help your coworkers start Valentine's Day right by gifting them DIY roped-up coffee cozies. This project is quick since it takes less than 10 minutes. It results in a rustic-themed coiled cup cozy for protecting hands while drinking hot coffee or tea. Read all about crafting a roped-up cozy from our tutorial.
22. Felt laptop case
A homemade felt laptop case is a useful Valentine's Day gift for a coworker to protect their computer from damage. It's easy to make using extra-thick felt, and there are many customization options. For example, sew a heart applique. Learn more about our felt laptop case DIY project.
23. Concrete heart candle holder
A concrete heart-shaped candle holder will help make your coworker's Valentine's Day extra special. You need cement, a heart-shaped silicone mold, and glitter. The design displayed above is big enough to hold three candles and durable to last for years. Read our full instructions on how to make a concrete heart candle holder.
24. Romantic candle
With enough imagination, even a simple candle can become a great Valentine's Day gift for coworkers. Wrap a simple white candle in red and white yarn, and add a small felt heart as a finishing touch. It takes less than 10 minutes to put together, so it's a lovely last-minute option. Visit our step-by-step tutorial to make your own Valentine's Day candle.
25. Face scrub
A jar of homemade face scrub is a thoughtful Valentine's Day gift for a coworker who loves handmade artisanal products. It's 100% natural, easy to make, and perfectly balances abrasion and nourishment. Use classic ingredients like sugar, coconut oil, and essential oils to create the perfect scrub. View our guide on how to make a jar of DIY face scrub.
26. Coffee body scrub
For those coworkers who love pampering themselves after work hours, a DIY body scrub is the perfect Valentine's Day gift. This coffee scrub combines caffeine, coconut oil, and shea butter to help rejuvenate the skin. You just need coffee grounds, which you can take from your coffee filter instead of throwing them away. Learn more about this DIY coffee scrub from our dedicated article.
27. Bath bombs
Make your coworkers feel loved and pampered this Valentine's Day by gifting them these festive DIY bath bombs. You need citric acid, baking soda, cornstarch, shea butter or coconut butter, red food coloring, a Witch Hazel spray bottle, and essential oil with your coworker's favorite scent. Visit Art Crafts and Family for the crafting instructions.
28. Love potion bath set
A love potion bath set is a creative DIY Valentine's Day gift for workers since it's a customized apothecary bottle filled with bath salts or bubble baths. Use colorful glitter to make the apothecary bottle look magical and add festive decorations like hearts. Visit Sugar and Cloth for the complete instructions.
29. Felt heart bookmark
A felt heart bookmark for a reading-loving coworker proves that the smallest Valentine's Day gift counts. You need felt, a heart-shaped template, and basic sewing skills. It's practical, looks great, and you might see your colleague using it while they're enjoying a book during coffee break. Read more about how to make a felt heart bookmark from our article.
30. Heart tote canvas bag
A heart tote canvas bag is a simple and practical DIY Valentine's Day gift for a coworker. Crafting it is simple since you must paint a pre-existent blank tote bag with a heart shape. The complete article features all the instructions and materials you need to make this great Valentine-themed tote bag.
31. My heart beats tic-tock for you Tic Tacs
Get a box of Tic Tacs and wrap it with a custom label that says My heart beats tic-tock for you to create a simple DIY Valentine's Day gift for your coworkers. We suggest using the Strawberry Fields Tic Tac flavor since it has two shades of pink that perfectly pairs with February 14th. Visit The Idea Room for the free printable template.
32. Party poppers
Make a few Valentine's Day party poppers for your coworkers to liven up the office atmosphere and bring a smile to everyone's face. Use toilet paper rolls, wrapping paper, and curly ribbon to make the poppers. Then fill them with small candies, cutesy office supplies, and confetti. Check out the complete guide at At the Picket Fence.
33. Treat bags
Crafting treat bags is a simple and excellent last-minute solution for Valentine's Day gifts for coworkers. You need notebook paper, a glue stick, and heart-shaped stickers. Read all about this project on White Gunpowder.
34. Candy tackle box
A candy tackle box is a creative DIY Valentine's Day gift for a coworker who loves fishing. Fill a tackle box with fish-themed gummies and sweets, such as gummy worms, jawbreakers to serve as fishing weights, and gummy sharks to mimic fishing lures. For more ideas on what to put inside, head to Shaken Together Life.
35. Candy bouquet
A DIY candy bouquet is a lovely twist to the classical candy or flowers gifts for a coworker on Valentine's Day. Make it with gummy bears, chocolates, lollipops, and other candies your colleague might like. Use a heavy vase or container to prevent the bouquet from tipping over. Learn more about crafting a DIY candy bouquet from our in-depth guide.
36. Bacon roses
A bouquet of rose-wrapped bacon is a novel gift idea for Valentine's Day, and it will make your coworkers laugh out loud. You need thick bacon, sharp kitchen shears, toothpicks, and artificial flower stems and leaves. It takes about an hour to prepare a single bouquet. Get the assembly instructions at Jess Pryles.
37. Cherry coke cupcakes
Making a batch of cherry coke cupcakes is a delightful Valentine's Day gift idea for all your coworkers since they can serve themselves. The key ingredient in this recipe is Cherry Coke, which you use in both the batter and frosting. Combine Cherry Coke with Maraschino cherries and Maraschino cherry juice to obtain delicious cupakes. Get the recipe from Lemons for Lulu.
38. Strawberry cheesecake fat bombs
These strawberry cheesecake fat bombs are some of the healthiest Valentine's Day desserts to gift your coworkers. They contain almost no carbs, taste like cheesecake and have the creaminess of a full-fat dessert. The recipe requires few ingredients and no baking; just mix, whip, and freeze the batter. Check out the ingredients and cooking directions at Green and Keto.
39. Love letter cookies
Love letter cookies are innovative edibles to bake for Valentine's Day for coworkers since you combine two symbols of the holiday: love letters and delicious cookies. The cookie batter recipe is nothing out of the ordinary, so you can quickly whip it up. The charm lies in the frosting. And you need solid decoration skills. Check out Life Family Fun for more details.
40. Persian love cake
Valentine's Day is a great opportunity to impress your coworkers with your baking skills by bringing a Persian love cake to the office kitchen. The cake includes surprising ingredients, such as pistachios, rose water, almonds, and nutmeg. Check out our recipe for this Persian love cake.
Conclusion
To review, DIY gifts are a fantastic way to express your appreciation to coworkers on Valentine's Day. Whether something quick and simple like a batch of freshly baked cookies or something more elaborate like knitted hearts, presenting your colleagues with thoughtful, handmade tokens of gratitude will brighten their day. If you're running out of time, make a Valentine's Day card with a meaninful message.