How to Make a Heart Cushion
Want a cute and simple craft idea to try with your kids? Or maybe you're just looking for something easy for yourself to start with. Either way, this adorable DIY on how to make a heart cushion is the best place to start!
They actually loved the project so much the first time that we've made several more since then. The cushions make great pillows for their dolls. They even made a couple extra to give away to loved ones as gifts! Naturally, I made an extra as well so I could outlined the whole process for other crafters to see. Now I'm using it as a pin cushion! Check out these step by step instructions complete with photos. If you'd rather follow along with a video tutorial instead of written words, scroll to the bottom of this post to find just what you're looking for.
For this project, you'll need:
Red fabric
Pillow fluff
Scissors
A sewing needle
Red thread
White paper
A pencil
Step 1: check your list
Gather your materials!

Step 2: make a stencil
Use your pencil to draw a heart in the center of your piece of white paper. I turned the page horizontally or landscape. I made the heart essentially the whole height of the page and almost as wide, keeping it proportioned. Cut the heart shape out when you're done drawing it. Set the piece aside for just a moment.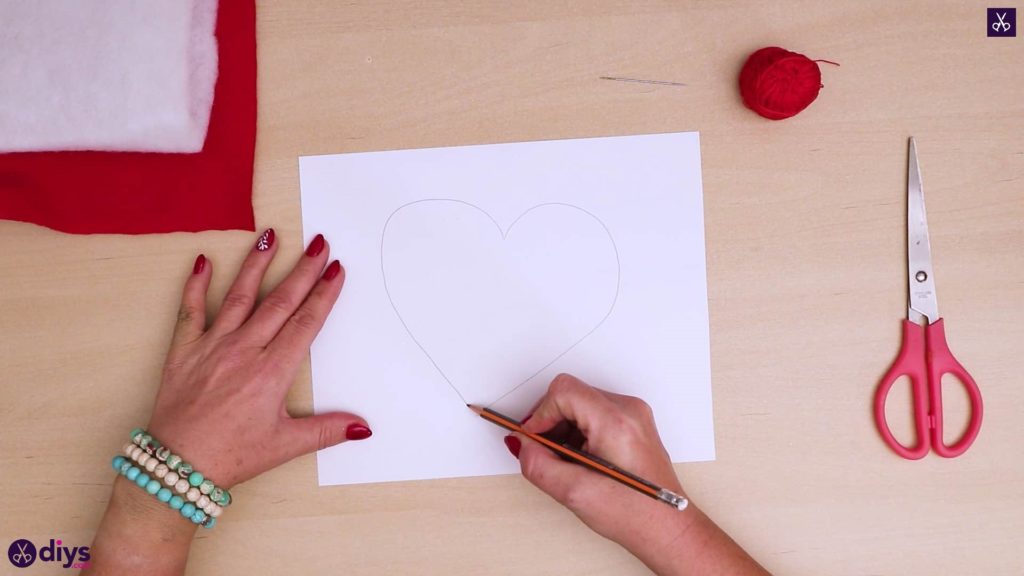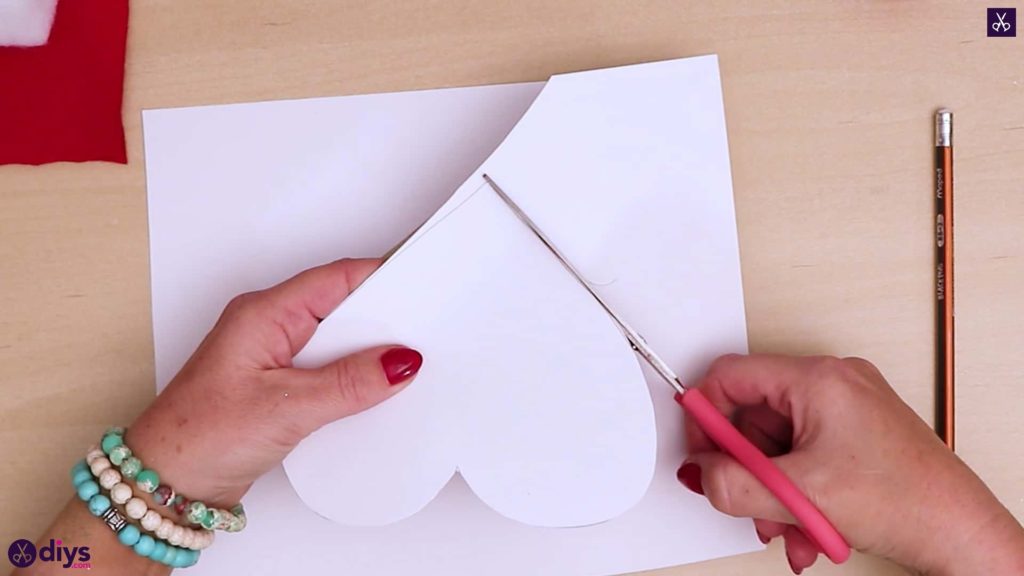 Step 3: get your needle ready
Thread your needle! Carefully put the end of the thread through the loop in the needle's blunt end. Pull the thread through a few inches to keep it in the needle as you work. Give yourself several inches of thread slack at the other end to work with in your stitching, without leaving so much that you get it tangled and knotted as you work. Cut the thread loose and tie knots in the end so it will anchor in the fabric when you start rather than pulling all the way through.
Step 4: cut the fabric heart
Fold or double layer your red fabric so you have two sides to work with. Place your paper heart, which will be your template, in the center and use your pencil (or whatever will make successful but light marks on your fabric) to trace around the shape so that you now have a heart on your top layer of fabric. Set the template aside and cut a circle at least an inch wide around the outside of the heart shape you left on your fabric. You want to leave a border of fabric around the lines you'll sew along in order to create a neat edging effect later. Keep your two layers of fabric together through this whole process so you end up with two pieces the same shape and size, one on each side with the pencil heart on the front or top layer.
Step 5: start stitching
Start stitching at the base of your heart's bottom point. I started by putting my needle in the back and up through the front so the knot in the other end of my thread was on the back side. Continue stitching around the outline of your heart shape in whichever direction your prefer, keeping your stitches nice and even in size; I chose to make mine about half an inch long each on each side of the heart (meaning the spaces between stitches on the front along your line are also half an inch apart from each other). Try not to put your thread too hard while you work so that it slides through the holes your needle made and bunches the fabric; this will ruin your heart shape. Make sure that your needle and thread are passing throughboth pieces of fabric with each stitch. Stitchalmost all the way around the heart until you are about two inches from the pointed end where you started. Stop here for the moment, leaving a hole.
Step 6: prep your stuffing
Cut your sheet of pillow fluff into strips about an inch wide and then cut those strips into smaller pieces. I kept my pieces large enough to stay fluffy but small enough to fit easily through the whole in my heart's border. Stuff your fluff into the heart through the hole until it's got enough volume to be nice and squishy, without being so overly filled that you can't easily make the two edges of the hole meet back up again to finish the heart.
Step 7: cut and trim
Close your heart entirely, stitching across the hole you left just like before until you meet back up with your starting place at the heart's bottom point. Tie solid knots here (on the same side as your first knot) to keep your thread from unravelling and reopening the heart. You now have the shape of a soft raised heart in the center of a fabric circle. Cut the thread and trim your knots' ends.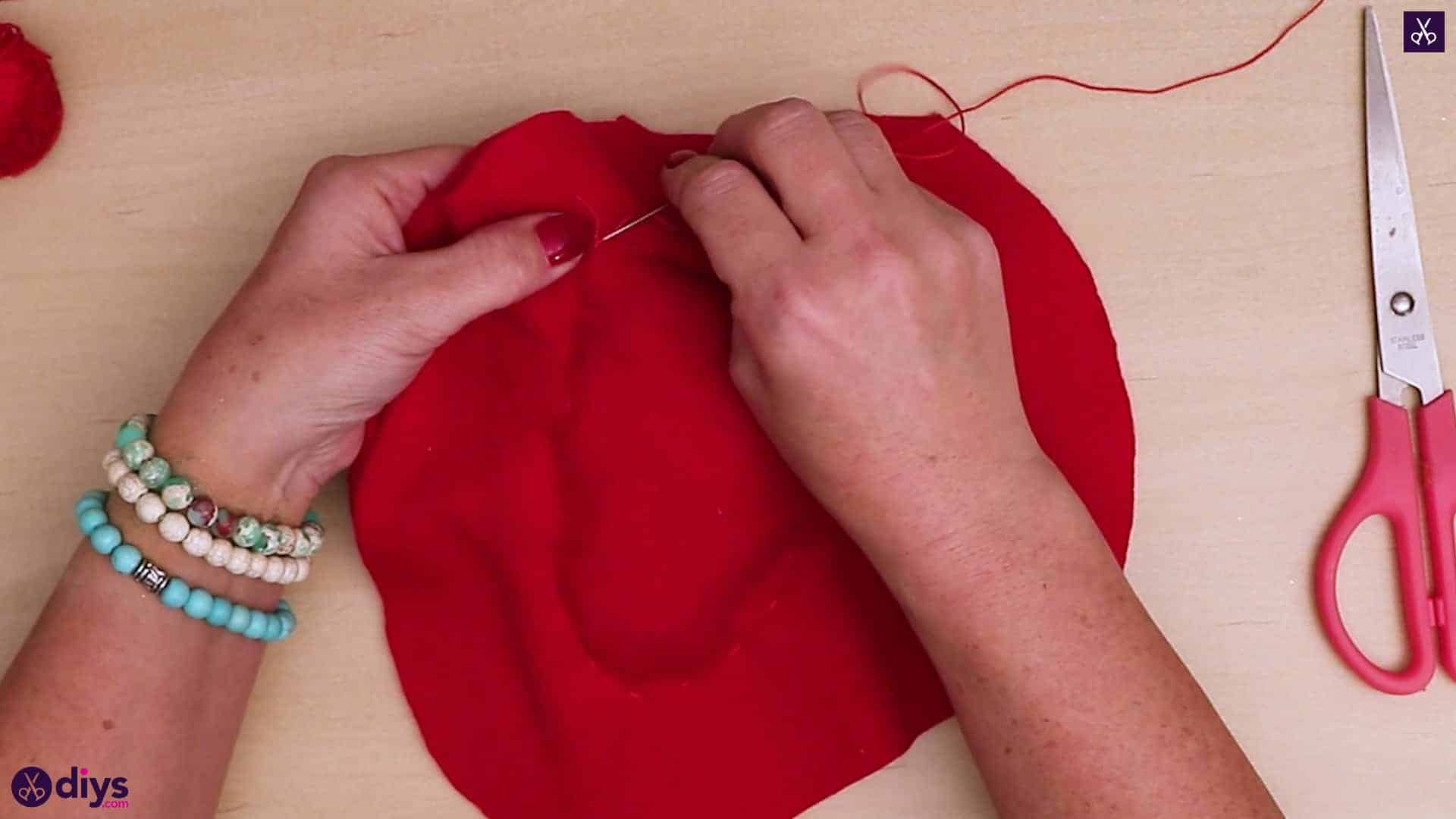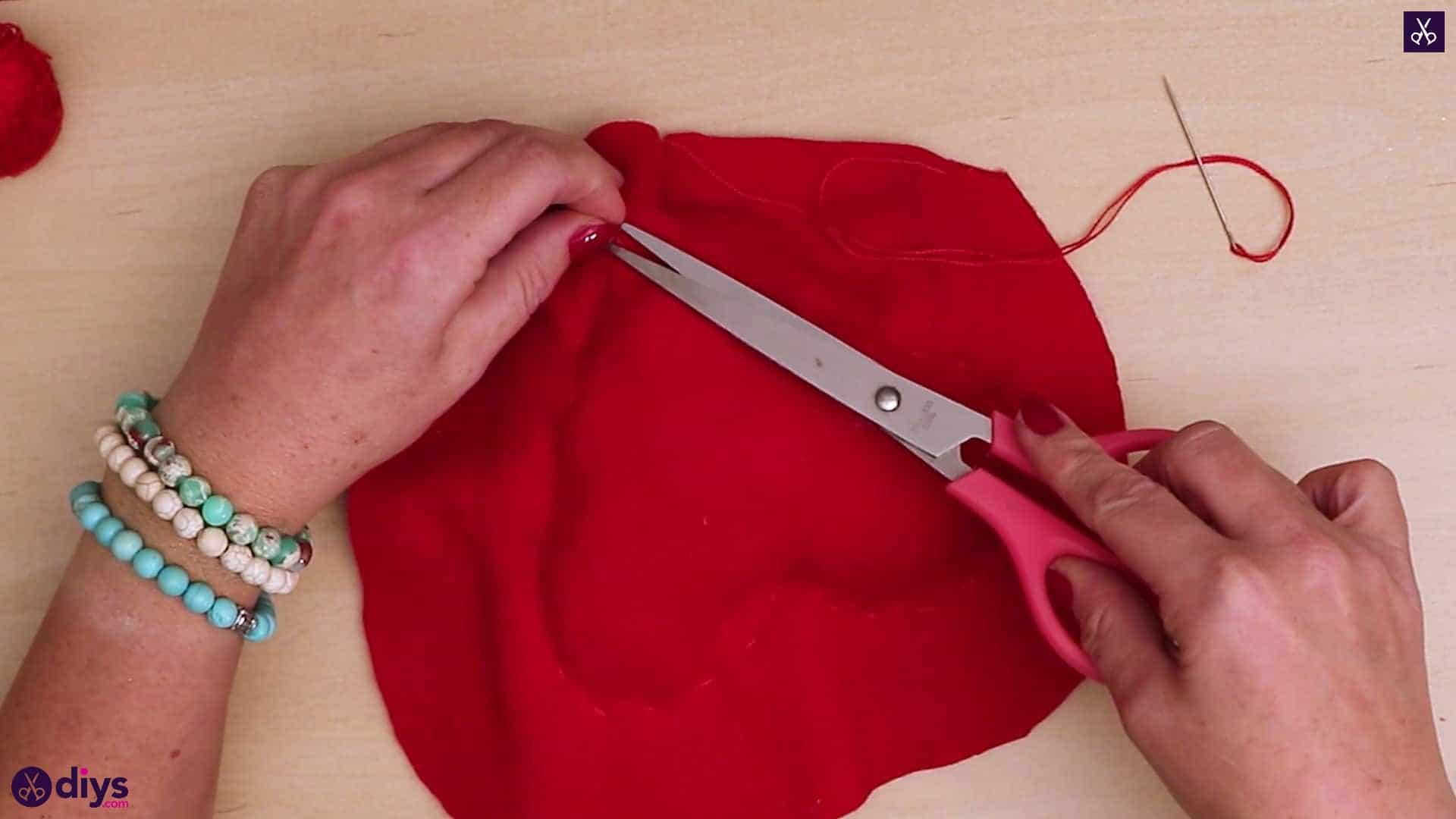 Step 8: create the fringe
Angling your scissors straight and inwards from the edge of the spare fabric around the circle towards the stitched heart shape you just finished, begin cutting strips all the way around the heart, stopping your scissors just before you get to your thread (you don't want to actually cut into the heart and let your stuffing escape). Cut the strips all the way around the whole outside edge of your heart until you have a fun looking fringed border!
That's really all there is to it! We chose red fabric because it's such a classic colour for hearts, but you can use any colour or print you please. Just in case you'd like to try this project out for yourself, here's a fantastic tutorial video to help you!