How to make a heart cushion
Whether it your or your kids who have been interested in learning the basics of sewing, have you been on the hunt for good starter projects lately? Well, I have too, but I didn't find anything that seemed quite doable for my little ones as a first-time hand stitching project; at least, not with the resources I already had at home, which I was determined to use since I'm trying to craft on a budget and with what's already in the craft room rather than splurging on new supplies every time I have an idea. That's how I came up with this simple heart shaped cushion idea! I grabbed some leftover red fleece fabric and fluffy stuffing from a previous project, rustled up some matching thread and a needle, and helped the kids make their very first careful sewing project, teaching them how to keep their stitches nice and even.
They actually loved the project so much the first time that we've made several more since then. The cushions make great pillows for their dolls. They even made a couple extra to give away to loved ones as gifts! Naturally, I made an extra as well so I could outlined the whole process for other crafters to see. Now I'm using it as a pin cushion! Check out these step by step instructions complete with photos. If you'd rather follow along with a video tutorial instead of written words, scroll to the bottom of this post to find just what you're looking for.
For this project, you'll need:
Red fabric
Pillow fluff
Scissors
A sewing needle
Red thread
White paper
A pencil
Step 1:
Gather your materials!

Step 2:
Use your pencil to draw a heart in the centre of your piece of white paper. I turned the page horizontally or landscape. I made the heart essentially the whole height of the page and almost as wide, keeping it proportioned. Cut the heart shape out when you're done drawing it. Set the piece aside for just a moment.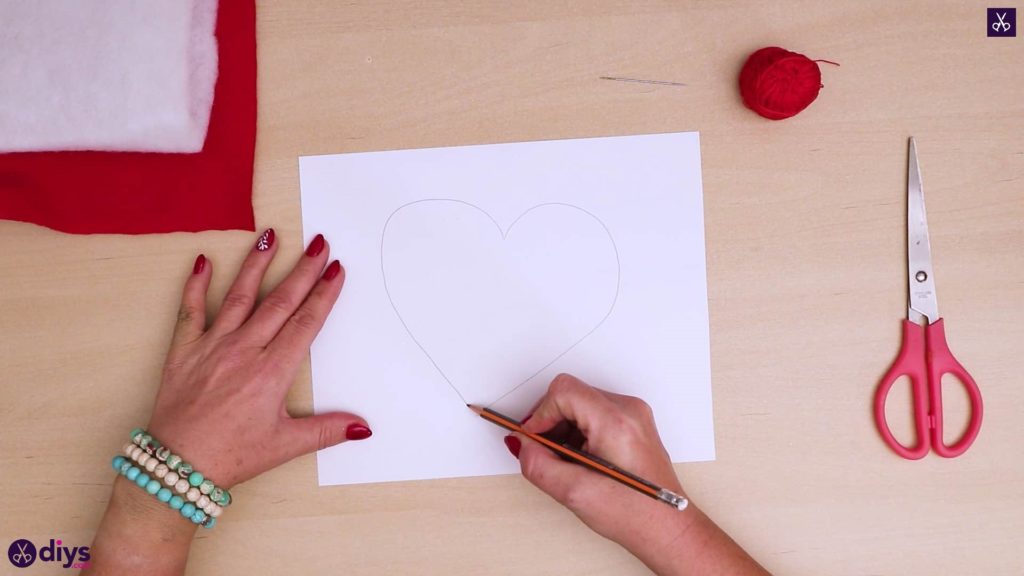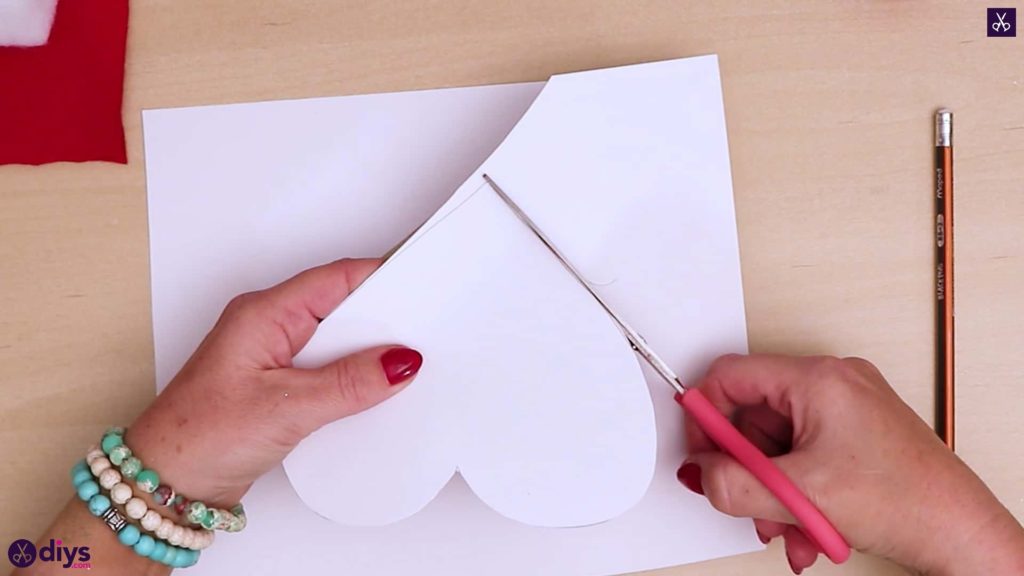 Step 3:
Thread your needle! Carefully put the end of the thread through the loop in the needle's blunt end. Pull the thread through a few inches to keep it in the needle as you work. Give yourself several inches of thread slack at the other end to work with in your stitching, without leaving so much that you get it tangled and knotted as you work. Cut the thread loose and tie knots in the end so it will anchor in the fabric when you start rather than pulling all the way through.