60 Easy DIY Valentine's Gifts To Whip Up Last Minute
If Valentine's Day has caught you by surprise this year and you haven't had the time to prepare anything, but you don't want to cheat either by simply buying something from the store, then an easy DIY Valentine's Day gift is what you're probably thinking of.
Sure enough, DIY gifts are always better, but the problem is that you need to invest quite a bit of time into making them, and if you're reading this article, then time isn't exactly something that you have to spare.
That being said, we decided to make it easier for you to figure out what you can make by providing you with a list of 60 different gifts ideas that you could whip up at the last minute.
---
Why Homemade Valentine's Day Gifts are Better
DIY Valentine's Day gifts are always better because they are much more personal and original than the ones you buy from a store.
Even if you can't make something by yourself, such as any of the 60 DIY Valentine's Day gifts we prepared for you, then at least you can go together with your partner and find something that suits both of your tastes.
Here's what makes homemade Valentine's Day gifts better:
They're cheaper– even if you decide to spend a ton on materials and tools, it still won't cost nearly as much as paying for an already made product from the department store.
They take less time to prepare– All of these 60 ideas should only take ten minutes or so before they look like what you want them to look like after being finished.
They're more meaningful– you can pick something that represents both their personalities and the relationship between the two of you, whereas bought gifts won't be nearly as personal.
---
Best DIY Valentine's Day Gifts for You to Try
When we started making this list, we wanted to make sure that each of our 60 entries more or less followed a certain list of criteria, which included:
Being effortless to make
Having a short list of required supplies and tools
Being different from the usual chocolate gifts everyone gives during this holiday.
Satisfying all of the characteristics listed above, not just some of them.
With that in mind, here are our 60 ideas for easy DIY Valentine's Day gifts:
1. Easy Ribbon Heart – DIY Valentine's Day Gift
When it comes to easy DIY projects, nothing is easier than working with paper and glue, unless, of course, what you're planning to do requires advanced origami skills and a lot of patience.
As such, the first entry on our list is something that you can whip up in just a few minutes, and you can even do it with everyday office supplies, so there's no need to buy anything in particular.
If you don't believe us, here's a complete list of everything you need:
Scissors
A glue stick
Colored paper
Colored ribbon
To make a ribbon heart like the one displayed above, we used the typical Valentine's Day colors (red, pink, and orange) for the paper, and as for the ribbon, we used the brightest red that we could find.
We won't go into details about how you can make this fantastic and cute little decoration because we already havea dedicated article filled with step-by-step instructions and photos!
Not only that but if watching a video tutorial is easier for you than watching pictures and following written instructions, there's one of those at the end of the guide as well!
Suffice it to say that you'll be done making these hearts in mere minutes, especially after getting the hang of it, and with a bit of practice, you can make over a dozen of them within an hour!
Valentine's Day is all about showcasing your love for those around you, but if you also want to show that you love Mother Nature as well, you can go ahead and make a DIY gift using things you can find while wandering in the woods.
That being said, an amazing DIY Valentine's Day gift can be this pinecone floral wall art; you can whip it up in just a few minutes (excluding drying time), and with the right placing and combination of colors, it can look amazing.
To make this pinecone-based decoration, you'll need (besides the pinecones): a wood board, some acrylic paint, some branches, a pair of scissors, a paintbrush, a glue gun, some silk ribbon, and a pair of garden pruners.
Without going into details, the main idea is that you'll be turning the pinecones and the branches into flowers, and you'll be sticking them to your wooden board so that it looks like a 3D painting of a flower bouquet.
For more details about how you can turn twigs and pinecones into amazing floral art, check outthis dedicated guide on how to make your own pinecone floral wall art.
Once you're done making this simple decoration piece, you can gift it to the person you love so that they can hang it somewhere to always have something to remember you by when you're not next to them.
This article is all about DIY gifts that you can make in very little time, so we found it fitting to include an entry that involves the immortalization of your best moments together: a DIY photo frame.
Of course, we're not talking about those generic photo frames made from 4 pieces of wood to form a rectangle. We're talking about a photo frame that looks like something that was taken out of a fantasy forest!
To make this amazing little photo frame, you'll need the following materials: a cardboard picture frame, some dry plants (forest flowers would be ideal), moss, wood slices, and some colored acrylic paint.
As for the tools you'll need, make sure you have a paintbrush, a pencil, and a glue gun prepared.
Long-story-short, the process of making this wooden frame involves taking the regular cardboard picture frame and then enriching it with all of the other decorative elements until you obtain something similar to the illustration above.
Sure enough, if you love this idea but want some more details regarding the crafting process, head over to thewooden photo frame's dedicated guidesince you have everything there, including instructions, illustrations, and a video tutorial.
Your loved one will appreciate this gift, and if you happen to have any picture of the two of you out while exploring the great outdoors, then we suggest that you use it since it will go well with the theme of the frame.
If you liked the idea of gifting a homemade photo frame but aren't exactly a fan of rustic aesthetics, you can take the design and lean more into thehomemadefeel by replacing the flowers, moss, and wooden slices with buttons.
Sure enough, we all worked with buttons during arts and crafts classes back when we were little, but that doesn't mean that things decorated with buttons are childish at all.
Just take a look at how our button picture frame turned out, and see for yourself that it looks good enough to gift to someone even on holiday like Valentine's Day.
Whichever the case, if you like how this photo frame looks, make sure that you have all of your supplies ready:
Colored acrylic paint
A pair of scissors
Some lace ribbon
A paintbrush
Photo frame
A glue gun
Buttons
As far as the colors go, we used both yellow buttons and yellow acrylic paint, but you can go ahead and use whatever other colors you want. However, we recommend that you stick to Valentine's Day-specific colors, like pink, red, or purple.
More so, unless you know your way around matching colors or are specifically aiming to recreate a certain pattern, we suggest that you stick to the same colors for both the acrylic paint and the buttons since it's safer that way.
Besides hearts and flowers, Valentine's Day is also one of those days where candles become popular, but we all know that candles are a whole lot better when you pair them with a good candle holder.
Well, since we're talking about DIY crafts here, regular storebought candle holders are out of the question; our next entry will teach how to make your very own candle-cute-looking candle holder using a typical mason jar as a base.
As you can probably tell from the picture above, there's not a lot of effort that needs to be put into making this candle holder, and you don't need a lot of supplies either.
Besides the mason jar, you'll also need some white vellum, colored paper, white liquid glue, and some red ribbon, and you'll have to work using scissors and a brush.
We went ahead and made one of these candle holders ourselves, and we detailed the entire crafting process inthis step-by-step tutorial; of course, we wanted it to be as comprehensive as possible, so we also included illustrations and even a video.
All in all, it will be a romantic gift that will make your significant other fall head over heels for you, and if you also manage to pair it together with a good scented candle, then you have yourself the making of a perfect Valentine's Day gift!
If that special somebody of yours has a playful side to them, then this next entry is definitely up their alley because it's something that can be easily be used as a toy when needed: a Valentine's Day pom pom monster.
As you can see from our illustrations, thesemonstersare actually cuter than they are monstrous, and making them is not only easy, it's also a lot of fun.
To make just one of these adorable fuzz nuggets, you'll need the following supplies and tools at your disposal:
A pair of googly eyes
A pair of scissors
Some hot glue
Pipe cleaner – Red or pink
A pencil
Yarn – Red or pink
Felt – Red or pink
Sure enough, these little monsters can be made during any part of the year, and all you need to do to make them in keeping with whatever holiday it is now is to change up the colors and change the shape of the pipe cleaner antennae.
For example, you can make some St. Patrick's Day monsters by using green felt, yarn, and pipe cleaner and changing the antennae to look like four-leaf clovers.
On the other hand, if you want to make some Christmas monsters, use white, green, and red for the yarn, pipe cleaner, and felt, and shape the antennae into stars or Christmas trees.
If you like to make a few dozen of these cuddly critters, then go ahead and follow our full tutorial since it has all the required steps, pictures of the entire crafting process, and even a video tutorial.
Since we're talking about creating DIY Valentine's Day gifts that take very little time to make, another neat entry that we decided to include here is one that, despite being made in under an hour, will last for decades (if cared for properly).
That being said, we'd like to showcase the concrete heart and star necklace, a piece of jewelry that you can easily make at home that will last just as much as the love between the two of you.
Those of you that are used to baking desserts might giggle when they see the list of required supplies and tools because, at first glance, it looks more like a recipe for pudding rather than a tutorial for homemade jewelry.
That being said, you'll need to have some water, a bit of DIY fine-particle cement, some metallic paint, a hairpin, and some thin ribbon.
As for what tools you'll need, make sure you have a silicone mold, a plate, a spoon, and a paintbrush (we told you it sounds like a pudding recipe).
Sure enough, the biggest challenge with this particular craft will be making sure that you get the cement mixture just right, so don't be discouraged if you make it too watery or too brittle on your first try, since practice makes perfect!
We love this gift idea because there's plenty of wiggle room in terms of how you can tweak and change it, such as using a variety of silicone molds to obtain different shapes or using different colors of acrylic paint to make the finer details.
All in all, if you know your significant other's taste in jewelry, then it will be easy for you to take this idea andmold itinto something that will be just perfect for them.
Some things are beautiful precisely because they are delicate and don't last long, so if the concrete necklace sounds too everlasting for your taste, then you can choose to make a Valentine's Day gift that's consumable, such as a decorated candle.
This fabulous little candle is extremely easy to make, and you can pretty much tell for yourself what are steps need to be taken to make one.
However, if you want a complete list of required supplies, here they are:
Candle
Rhinestones
Silk ribbon
Sheer ribbon
A pair of scissors
A glue gun
The colors of your supplies are completely up to you; however, we recommend that you stick to warmer colors since we are talking about a gift that supposedly inspires warmth.
We went ahead and made a dedicated article specifically for making this neat DIY gift, so if you want detailed instructions, pictures of every single step, and even a small video tutorial, go ahead and read it righthere.
Another useful tip would be to try using a scented candle because if the person receiving it does decide to light it up, they'll not only have something beautiful to look at, but it will also make the room smell amazing.
Unfortunately, the biggest downside of this gift idea is that it needs to be stored in a place where temperatures never get too high, or else the candle may end up getting soft, and all the rhinestones and ribbons will start falling off.
Sometimes we just don't have time to do any DIY crafts, even if they're like the ones listed so far, so the go-to solution is this one: the Valentine's Day flower wall art.
At first glance, the entire piece looks like someone just taped spring flowers on the wall in the shape of a heart, and let's be honest about it, that's pretty much what it is.
Well, if this idea seems like the perfect one for you, then you'll need to prepare some supplies if you want to make your own.
That being said, make sure that you have a lot of flowers (the more colorful they are, the better), some berries, and even some greens.
Of course, natural flowers wither away pretty fast, and you don't have any means of keeping them fresh (e.g., a vase) either, so we suggest that you go for artificial ones instead, such as silk flowers.
You'll also need a pair of scissors, some painter's tape, some decorative washi tape, and even some measuring tape, although this is completely optional.
While this project seems simple at first, there are a few things we need to point out for you to remember:
Use painter's tape and not regular scotch tape because you don't want to damage the walls
Use flowers that share a similar color palette, so don't mix roses and violets and yellow tulips
Try using washi tape that's the same color as the flowers (pink tape for the pink flowers, orange tape for the orange flowers, etc.)
All in all, it's a great gift that you can present to someone, especially if the two of you are living together and they come home finding an otherwise plain old white wall looking like the heart of Spring.
We're firm believers that if you have the chance to make a gift that's not only fun and decorative but also practical, then you should go right to it, and that's precisely why we included thisbasket that has heart string art attached to it.
Everyone needs a basket in their house, and if you manage to make a Valentine's Day-themed one that will help them day by day, they'll not only see how much you care about them, they'll also see it for themselves while using it.
To make this useful little token of gratitude, you'll need a woven basket, some thick colored yarn to make the heart string art (in red, pink, or purple), a plastic yarn needle, a piece of scrap paper, a pair of sewing scissors, and a pair of paper scissors.
You don't have to bother with making the woven basket by yourself since there are plenty of stores out there that sell them in all shapes, sizes, and materials.
Speaking of which, if you don't want to make something big like a basket, you can instead go ahead and buy one of those small woven wicker bowls and sew the heart string art on that instead, resulting in a lovely-looking fruit bowl.
Of course, the basket/ wicker bowl that you choose will pretty much dictate how the heart string art will turn out, so we recommend that you look for baskets that are woven tightly.
This is because you need the spaces in between the weaving to be as close to each other as possible to make a realistic-looking heart.
Another neat last-minute Valentine's Day gift that you can make that's also practical (and one that you can hold close to your heart) is the farmhouse text throw pillow.
At first glance, it's nothing more than a regular couch pillow dressed in a custom-made pillowcase with a sweet Valentine's Day message, and truth be told, that's what it is.
To make one of these personalized pillows, you'll need a black fine-tipped fabric marker, a stencil, a large piece of prewashed fabric that will be the base of your pillow cover, and a pillow form.
Since we're dealing with a gift that you'll probably be hugging, laying on the couch or bed, or just simply touching with your head, we recommend you use a high-quality fine line pen, especially one that doesn't bleed.
For a detailed guide on making this amazing little gift, just check out the fulldedicated article from Homeditsince they have all the information you need right there.
As for what message or words you should write on the pillowcase, you can try some generic Valentine's Day messages like:
I love you
You + Me 4 Ever
Will you be my Valentine?
Whichever the case, the person receiving this gift will be in for a pleasant surprise.
Other Cute Valentine's Day Gifts That You Could Try
Valentine's Day is one of those holidays where the gifts you give are the subject of trends, with some objects and themes being more popular than others with each passing year.
That being said, the previous 11 entries were the most popular ones that we found that people were talking about right now,
However, if none of them are to your taste, you can go ahead and forgo being trendy for being practical, and check out the rest of our 49 entries:
12. Matchbox Valentine's Day Gift
Brit + Comade some tiny matchbox Valentines that work perfectly for friends! Add candy, cute Bobby pins or even some paper clips for them desk inside.
13. His + Her Pillow Cases – Valentine's Day DIY Gift
A Beautiful Messshows off how to make some adorable "his + hers" pillows that could be a perfect friend gift or couple's gift for the holiday. They're quite charming, don't you think?
14. Hanky Pillow – Valentine's Day Gift
Or you could make some hanky covers for some pillows with some help fromElsie Marley. It's such a functional and adorable way to say, "Hey, I love you," to friends or family.
15. Red Velvet Crinkle Cookies – Valentine's Day DIY Gift
You could always go the edible route. Whip up some yummy red velvet crinkle cookies. Grab the recipe atCooking Classy.
16. Chalkboard Heart Frames – Valentine's Day Gift
Create a funky little chalkboard framed for one of your favorites. It's so simple! Just visitCrafts by Courtneyfor all the details.
17. Love Slime – Easy Valentine's Day Gift
Growing A Jeweled Rosegave us a super creative gift that the kiddos will really enjoy. "My heart melts for you," has never been so literal.
18. Best Friend Art – Valentine's Day Gift
Have you got a best friend you need to whip something up for? Check out this easy project over atA Beautiful Mess.
19. Pucker Up Jar – Valentine's Day DIY Gift
Shaken Togetheradded some lemon drops to a jar and make this sweet (and sour) Valentine's Day present. It's such a sweet way to say … "kiss me!"
20. Tick-Tock Mints – Valentine's Day Gift
Who doesn't love mints? This too is super fast and simple, and you can make multiples with some help fromIdea Room.
21. Notebook Paper Treat Bag – Valentine's Day Craft
White Gunpowderturned regular notebook paper into the perfect Valentine's Day craft. Fill these little bags with candy and pass them around to all your loved ones. 5
22. Glitter Nail Polish – Valentine's Day Craft
VisitDelighted Mommaand learn how to whip up some glitter nail polish in about 5 minutes flat. These are the perfect gifts for neighbors or your best friends!
23. Love Bugs – Valentine's Day Gift
The kiddos will love these too – and they may even want to help you make them. With some golden paint and help fromStudio DIYpass around some love bugs this Valentine's Day.
24. Love Wheel – Valentine's Day Craft
We're smitten with this "love wheel" over atBrit + Co. Make one of these – and personalize it – for a bit of fun with your beau.
25. Wine Carrier – Valentine's Day Craft
BHGshowed us how to make a wine carrier with a bit of Cupid's style. Who doesn't want a bit of red this holiday?
26. Pom Pom Bouquet – Valentine's Day Gift for Her
Camille Stylesmade a charming pom pom bouquet that will last forever! Instead of giving petals that will die, do something a bit more survivable.
27. Marshmallow Pops Valentine's Day Craft
We're swooning for these marshmallow pops found over at The Decorated Cookie. These will be so fun to decorate with the kids and pass around to loved ones!
28. Love Vase – Valentine's Day Gift
Give some beautiful roses but personalize a vase to go along with the bunch. Check out this easy idea atThe Pretty Bee.
29. Dark Chocolate Truffles – Valentine's Day Recipe
PopSugarshared a recipe for classic, dark chocolate truffles and we drooled a little. They're the perfect Valentine's Day gift and would make anyone happy!
30. Heart-Eating Dino – Valentine's Day Craft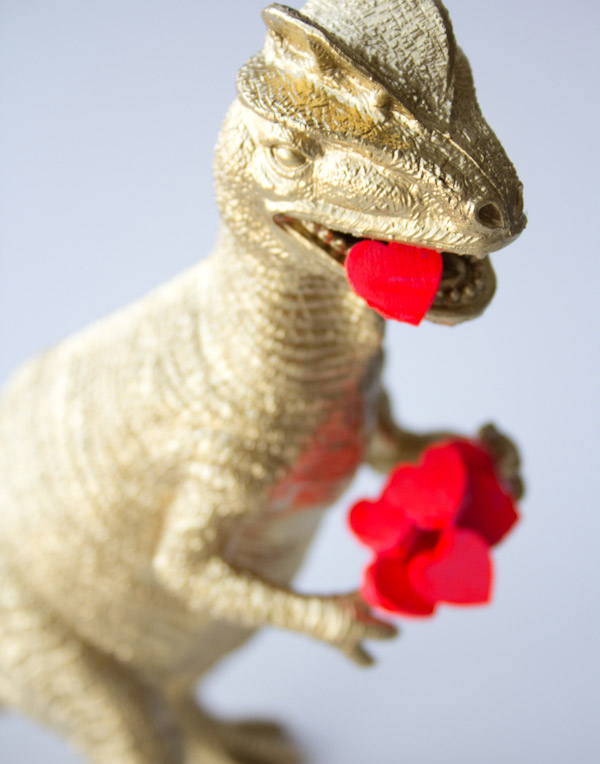 Here's another great idea for the kids to help out with or for you to make for your little ones.Lovely Indeedshared this creative idea.
31. Strawberry Sugar Scrub – Easy Valentine's Day Craft
We're drooling for this strawberry sugar scrub and you should too. Who wouldn't want to get pampered a bit with a pot of this!? (via)
32. Chocolate Chip Cookies – Valentine's Day Recipe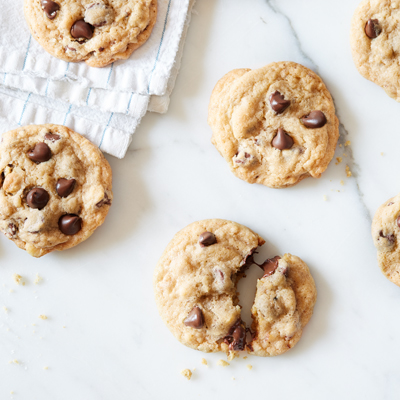 Very Best Baking gives us a classic chocolate chip recipe (from Nestle) to follow. It's truly the perfect gift to say, "I love you."
33. Custom Chocolate Wrappers – Valentine's Day Craft
Gift some chocolate in personalized candy wrappers. You'll have fun with this one and get creative with the designs. (via)
34. Candy Bags – Easy Valentine's Day Craft
Urban Comfort shows us a bunch of examples when it comes to hand-making some candy bags. We especially loved these stamped muslin pieces.
35. Pink Red Velvet Hot Chocolate – Valentine's Day Recipe
A Beautiful Messgave us a sparkling recipe for red velvet hot chocolate. A cup of this in the evening would be a great topper on the days events for your bae don't you think?
36. Bee Mine Honey Jars – Valentine's Day Craft
Earnest Home Co.knows how to gift honey in a
37. Pop Up Cards – Valentine's Day Card
Lia Griffith gave us a great idea and printable for popup cards! Make them fun, personalized and interactive to really show how much you appreciate the one receiving it.
38. Crayon Heart Boxes – Valentine's Day Craft
Pass around a new set of crayons and coloring books for the littles ones. And do it with style – boxes that say Valentine's Day all over them. (via)
39. Pie Poptarts – Valentine's Day Recipe
A Beautiful Messmakes three different pie poptarts that we're drooling over. Start the day off right with a filled tummy and an "I love you."
40. Sprinkle-Dipped Chocolate Hearts – Valentine's Day Recipe
Brit + Coalso made some sprinkle-dipped chocolate hearts that you can box up and pass around. Something yummy for the tummy is always a solid choice, especially when you make it yourself.
41. Love Rocks – Valentine's Day Craft for Kids
Playing off the "pet rock" trend, these love rocks can become wonderful keepsakes. Follow the easy tutorial over atGrow Creative.
42. Etched Glasses – Valentine's Day Gift
Thistle wood Farmsshows us how to etch some glasses. This is one of the more impressive gifts of the bunch but a lot easier to make than you may think at first glance.
43. Cup Cozy – Valentine's Day Crafts
How are you with a bit of yarn? Dive into this charming project over atSetting for Fourand make coffee dates and tea time a little sweeter.
44. Letter Blocks – Valentine's Day Craft
Stories by Memade a set of photo blocks that could become a fun part of your home. On the mantle or a side table, showcase your love in a DIY way.
45. Date Night Jar – Valentine's Day Crafts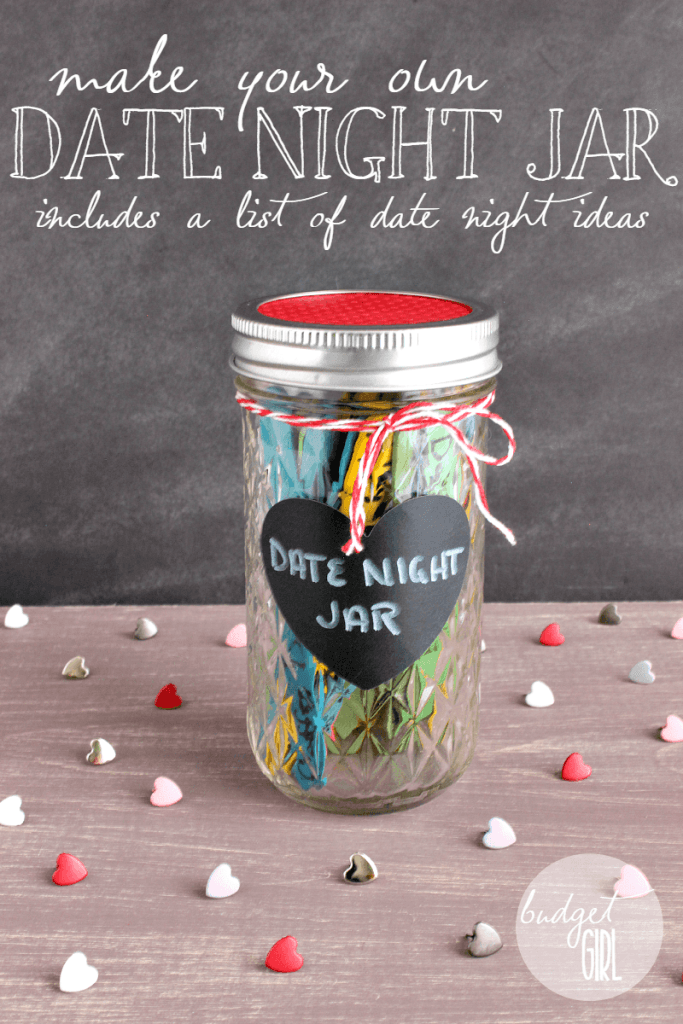 Budget Girlmade a thoughtful gift but one that itself was on a budget. It won't take much to whip this adorable idea up in a pinch.
46. Rose Marshmallows – Valentine's Day Recipe
How about a bag of rose marshmallows to hit your sweet tooth just right or for your best friend to drop in her hot chocolate.PopSugarhas all the details.
47. Love Potion Bath Salt – Valentine's Day DIY Gifts
We're swooning for this adorable DIY fromSugar & Clothtoo. Give some love potion bath salts away to your friends maybe it'll be good luck and Cupid will come.
48. Hot Cocoa – Valentine's Day Gift Ideas
Poppy talkmade an adorable hot cocoa DIY gift and we love it too. It's such a versatile idea that works for anyone – from teachers to neighbors.
49. Heart Hand Warmers – Valentine's Day Crafts
If it's winter in your neck of the woods, think about making some hand warmers.Hello Glowhas all the details for us.
50. Heart Dominos – Valentine's Day Crafts for Kids
Warm Hot Chocolatemade dominos from scratch! You'll get a fun game to play with the family and one that's festive too.
51. Fruit & Nut Bars – Valentine's Day Crafts
These fruit and nut bars fromPopSugarnot only look delicious but act as the perfect kind of edible DIY gift. You can even get creative with the wrapping.
52. Sock Hearts – Valentine's Day DIY Gifts
These little socks hearts would make a nice little addition to a treat bag of sorts. All you need are some old (or new) socks. (via)
53. Heart Magnets – Easy Valentin's Day Gift
idle wifewhipped up these heart magnets to decorate the fridge a bit with. Gift them to Grandma, Mom or even your sister!
54. Ombre Pencils – DIY Valentine's Day Craft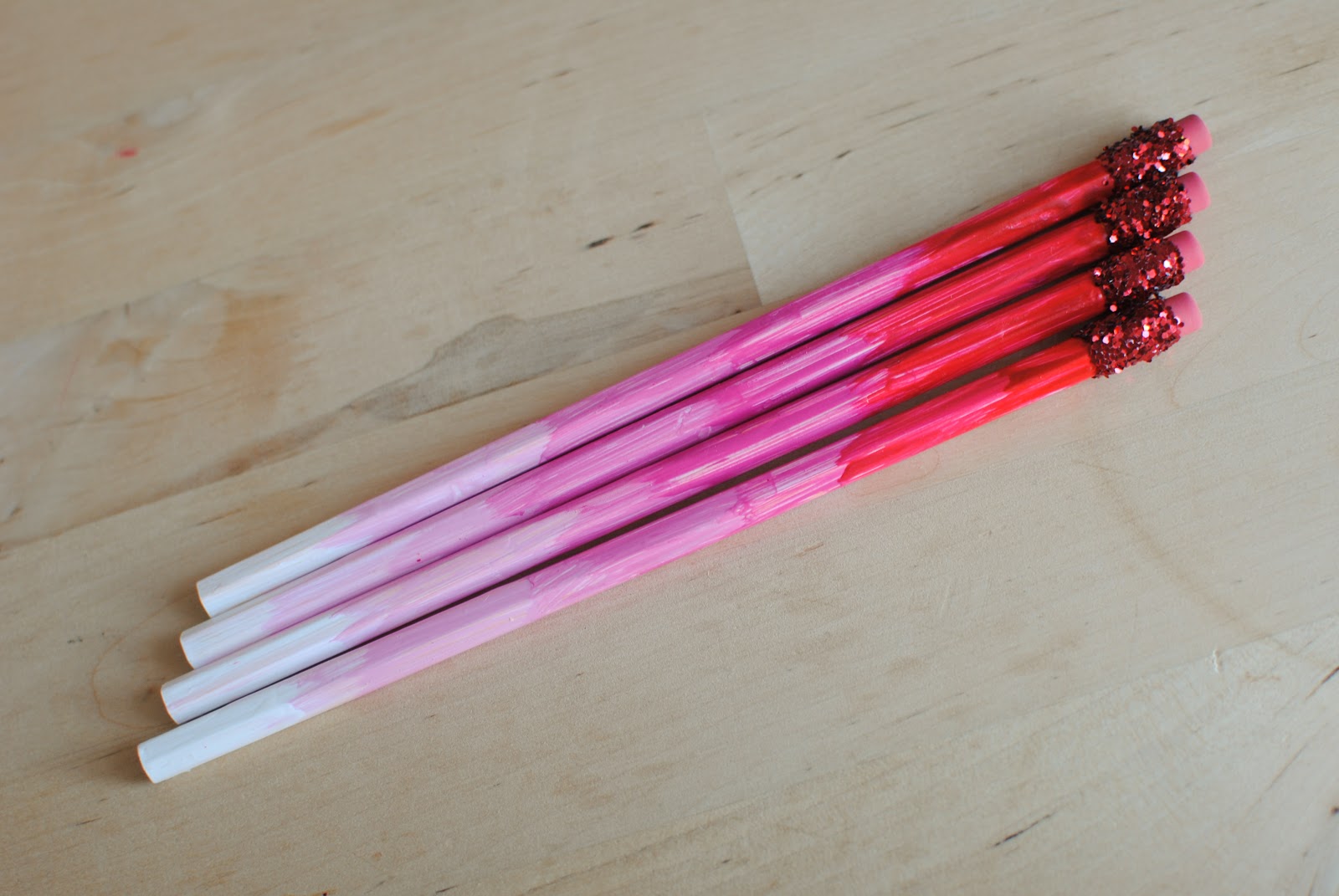 Big City Little Joysshowed us how to turn regular old pencils into ones with style. This is a great project for the kids, don't you think?
55. Glitter Heart Boxes – Valentine's Day Gift
Give your gifts with a bit of glitter.Design Improvisedshows us how to pass around chocolate in a box full of handmade beauty and pizzazz.
56. Beaded Heart Beanie – Valentine's Day Craft
Check out this beaded heart beanies. Put in a little extra work and check out the tutorial atI Love To Create.
57. Bath Bombs – Valentine's Day Craft
Bath bombs are always a seamless way to go. Everyone loves them and you're giving the gift of pamper time. (via)
58. I Love You Towels – Valentine's Day Craft
Handmaker of Thingswhipped up some adorable kitchen towels. Learn how to add some personalized flavor to an unsuspected spot!
59. Pink Ricotta Pancakes – Valentine's Day Recipe
Your gift could be breakfast in bed. And the perfect way to wake up your partner would be with these pink pancakes from A Beautiful Mess.
60. Sweetheart Chocolate Bark – Valentine's Day Candy
And finally,Brit + Cogives us a super simple recipe for some Valentine's Day inspired chocolate bark. This gift works for everyone too – especially those with a sweet tooth.
Best DIY Valentine's Gifts: Closing Thoughts
The list was long, but we're sure that it was worth the read and that at least a handful of our 60 entries managed to catch your attention, so don't be afraid to try them out.
We sought to include ideas that were as creative and various as possible, but if you have any brand new ideas of your own that could help a lot of people at the same time, then feel free to share them with us by leaving a comment!
For more guides on how to make your Valentine's Day feel even more magical, or if you simply have no idea what to get your loved one this year, check out our other Valentine's Day articles; we have plenty of them written just for you.
That being said, don't waste any more time since the clock is ticking; Happy Valentine's Day, and may your DIY projects look better than ours!