49 Easy DIY Valentine's Gifts To Whip Up Last Minute
Cupid's arrow may hit late or you may just want to make up some extra gifts for some extra-special people in your life. Whatever the case, we've got you covered, for him, for her or even the little ones that are around – these 50 easy DIY Valentine's Day gifts are simple enough to whip up last minute!
1. Matchbox Valentine's
Brit + Co made some tiny matchbox Valentines that work perfectly for friends! Add candy, cute Bobby pins or even some paper clips for them desk inside.
2. His + Her Pillow Cases
A Beautiful Mess shows off how to make some adorable "his + hers" pillows that could be a perfect friend gift or couple's gift for the holiday. They're quite charming, don't you think?
3. Hanky Pillow
Or you could make some hanky covers for some pillows with some help from Elsie Marley. It's such a functional and adorable way to say, "Hey, I love you," to friends or family.
4. Red Velvet Crinkle Cookies
You could always go the edible route. Whip up some yummy red velvet crinkle cookies. Grab the recipe at Cooking Classy.
5. Chalkboard Heart Frames
Create a funky little chalkboard framed for one of your favorites. It's so simple! Just visit Crafts by Courtney for all the details.
6. Love Slime
Growing A Jeweled Rose gave us a super creative gift that the kiddos will really enjoy. "My heart melts for you," has never been so literal.
7. Best Friend Art
Have you got a best friend you need to whip something up for? Check out this easy project over at A Beautiful Mess.
8. Pucker Up Jar
Shaken Together added some lemon drops to a jar and make this sweet (and sour) Valentine's Day present. It's such a sweet way to say … "kiss me!"
9. Tick-Tock Mints
Who doesn't love mints? This too is super fast and simple, and you can make multiples with some help from Idea Room.
10. Notebook Paper Treat Bag
White Gunpowder turned regular notebook paper into the perfect Valentine's Day craft. Fill these little bags with candy and pass them around to all your loved ones. 5
11. Glitter Nail Polish
Visit Delighted Momma and learn how to whip up some glitter nail polish in about 5 minutes flat. These are the perfect gifts for neighbors or your best friends!
12. Love Bugs
The kiddos will love these too – and they may even want to help you make them. With some golden paint and help from Studio DIY pass around some love bugs this Valentine's Day.
13. Love Wheel
We're smitten with this "love wheel" over at Brit + Co. Make one of these – and personalize it – for a bit of fun with your beau.
14. Wine Carrier
BHG showed us how to make a wine carrier with a bit of Cupid's style. Who doesn't want a bit of red this holiday?
15. Pom Pom Bouquet
Camille Styles made a charming pom pom bouquet that will last forever! Instead of giving petals that will die, do something a bit more survivable.
16. Marshmallow Pops
We're swooning for these marshmallow pops found over at The Decorated Cookie. These will be so fun to decorate with the kids and pass around to loved ones!
17. Love Vase
Give some beautiful roses but personalize a vase to go along with the bunch. Check out this easy idea at The Pretty Bee.
18. Dark Chocolate Truffles
PopSugar shared a recipe for classic, dark chocolate truffles and we drooled a little. They're the perfect Valentine's Day gift and would make anyone happy!
19. Heart-Eating Dino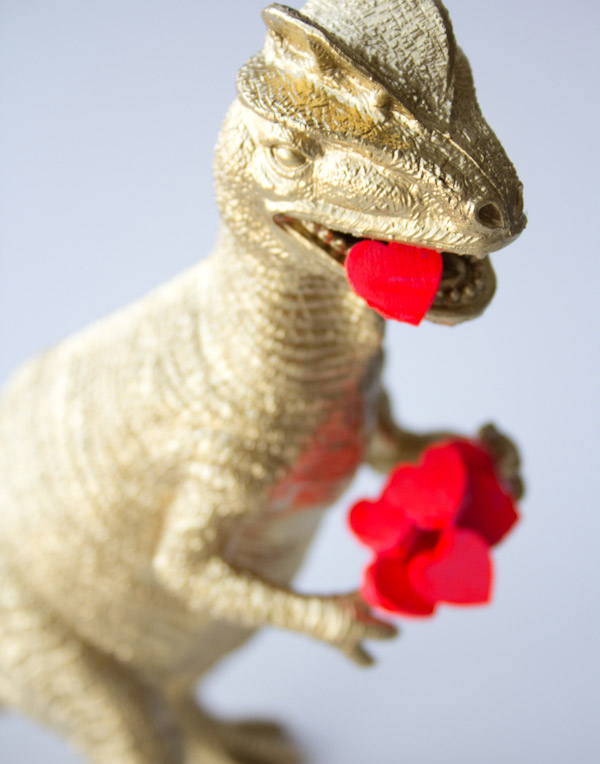 Here's another great idea for the kids to help out with or for you to make for your little ones. Lovely Indeed shared this creative idea.
20. Strawberry Sugar Scrub
We're drooling for this strawberry sugar scrub and you should too. Who wouldn't want to get pampered a bit with a pot of this!? (via)
21. Chocolate Chip Cookies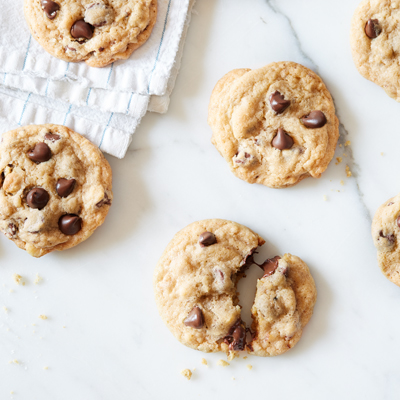 Very Best Baking gives us a classic chocolate chip recipe (from Nestle) to follow. It's truly the perfect gift to say, "I love you."
22. Custom Chocolate Wrappers
Gift some chocolate in personalized candy wrappers. You'll have fun with this one and getting creative with the designs. (via)
23. Candy Bags
Urban Comfort shows us a bunch of examples when it comes to hand making some candy bags. We especially loved these stamped muslin pieces.
24. Pink Red Velvet Hot Chocolate
A Beautiful Mess gave us a sparkling recipe for red velvet hot chocolate. A cup of this in the evening would be a great topper on the days events for your bae don't you think?
25. Bee Mine Honey Jars
Earnest Home Co. knows how to gift honey in a
26. Pop Up Cards
Lia Griffith gave us a great idea and printable for popup cards! Make them fun, personalized and interactive to really show how much you appreciate the love one receiving it.
27. Crayon Heart Boxes
Pass around a new set of crayons and coloring books for the littles ones. And do it with style – boxes that say Valentine's Day all over them. (via)
28. Pie Poptarts
A Beautiful Mess makes three different pie poptarts that we're drooling over. Start the day off right with a filled tummy and an "I love you."
29. Sprinkle-Dipped Chocolate Hearts
Brit + Co also made some sprinkle-dipped chocolate hearts that you can box up and pass around. Something yummy for the tummy is always a solid choice, especially when you make it yourself.
30. Love Rocks
Playing off the "pet rock" trend, these love rocks can become wonderful keepsakes. Follow the easy tutorial over at Grow Creative.
31. Etched Glasses
Thistle wood Farms shows us how to etch some glasses. This is one of the more impressive gifts of the bunch but a lot easier to make than you may think at first glance.
32. Cup Cozy
How are you with a bit of yarn? Dive into this charming project over at Setting for Four and make coffee dates and tea time a little sweeter.
33. Letter Blocks
Stories by Me made a set of photo blocks that could become a fun part of your home. On the mantle or a side table, showcase your love in a DIY way.
34. Date Night Jar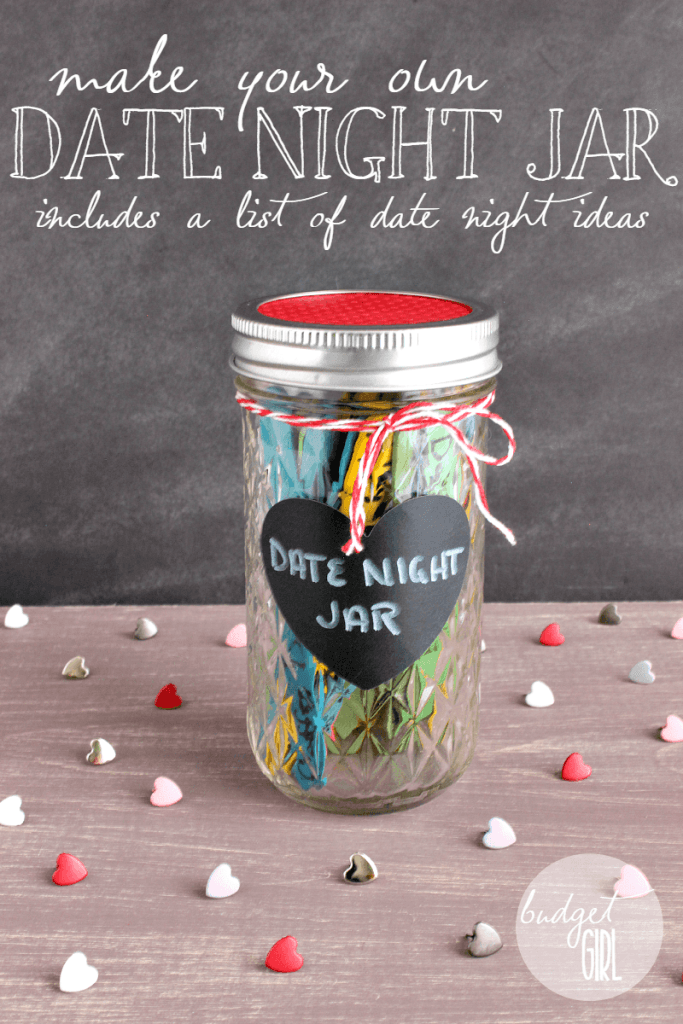 Budget Girl made a thoughtful gift but one that itself was on a budget. It won't take much to whip this adorable idea up in a pinch.
35. Rose Marshmallows
How about a bag of rose marshmallows to hit your sweet tooth just right or for your best friend to drop in her hot chocolate. PopSugar has all the details.
36. Love Potion Bath Salt
We're swooning for this adorable DIY from Sugar & Cloth too. Give some love potion bath salts away to your friends maybe it'll be good luck and Cupid will come.
37. Hot Cocoa
Poppy talk made an adorable hot cocoa DIY gift and we love it too. It's such a versatile idea that works for anyone – from teachers to neighbors.
38. Heart Hand Warmers
If it's winter in your neck of the woods, think about making some hand warmers. Hello Glow has all the details for us.
39. Heart Dominos
Warm Hot Chocolate made dominos from scratch! You'll get a fun game to play with the family and one that's festive too.
40. Fruit & Nut Bars
These fruit and nut bars from PopSugar not only look delicious but act as the perfect kind of edible DIY gift. You can even get creative with the wrapping.
41. Sock Hearts
These little socks hearts would make a nice little addition to a treat bag of sorts. All you need are some old (or new) socks. (via)
42. Heart Magnets
idle wife whipped up these heart magnets to decorate the fridge a bit with. Gift them to Grandma, Mom or even your sister!
43. Ombre Pencils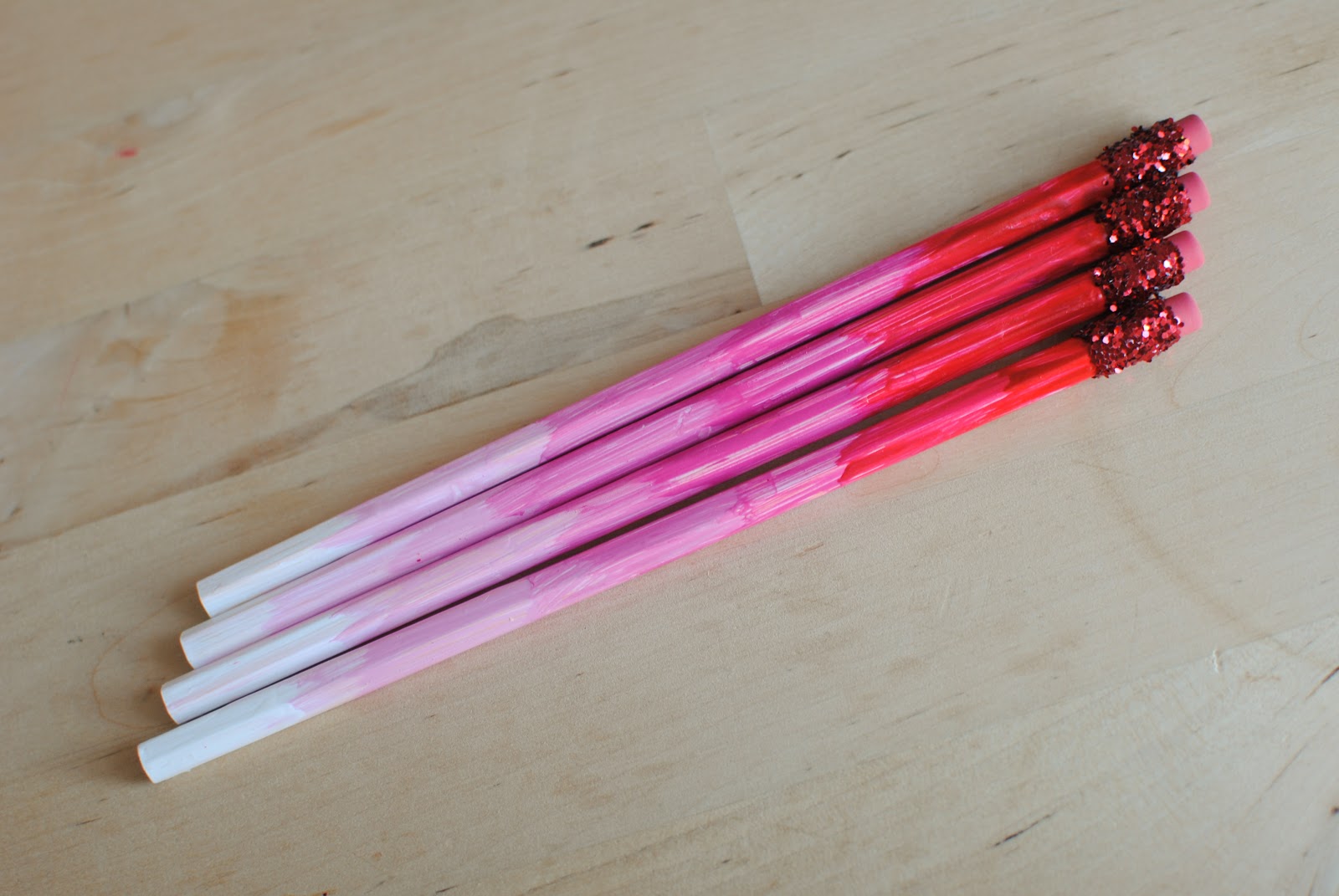 Big City Little Joys showed us how to turn regular old pencils into ones with style. This is a great project for the kids, don't you think?
44. Glitter Heart Boxes
Give your gifts with a bit of glitter. Design Improvised shows us how to pass around chocolate in a box full of handmade beauty and pizzazz.
45. Beaded Heart Beanie
Check out this beaded heart beanies. Put in a little extra work and check out the tutorial at I Love To Create.
46. Bath Bombs
Bath bombs are always a seamless way to go. Everyone loves them and you're giving the gift of pamper time. (via)
47. I Love You Towels
Handmaker of Things whipped up some adorable kitchen towels. Learn how to add some personalized flavor to an unsuspected spot!
48. Pink Ricotta Pancakes
You're gift could be breakfast in bed. And the perfect way to wake up your partner would be with these pink pancakes from A Beautiful Mess.
49. Sweetheart Chocolate Bark
And finally, Brit + Co gives us a super simple recipe for some Valentine's Day inspired chocolate bark. This gift works for everyone too – especially those with a sweet tooth.