25 DIY Valentine's Day Cards That Store-Bought Cards Can't Match
Handmade cards are simple and honest for expressing your love and appreciation on Valentine's Day. Keep reading to discover the best ideas for DIY cards for February 14th.
Handmade cards are more personal than store-bought cards and give you the opportunity to get creative. Whether for your significant other, family member, friend, or coworker, a DIY card adds a level of personalization that store-bought cards just can't match, especially when paired with a romantic message. Plus, it's surprisingly easy and cost-effective, ideal for those on a budget. When it comes to Valentine's Day, there are endless ways to design cards, from traditional designs like hearts and cupids to unique ideas like two puzzle pieces that fit.
Here is a list of the DIY Valentine's Day cards described in this article:
DIY confetti heart card
DIY lollipop heart card
DIY 3D heart pop-up card
DIY pop-up pixel heart card
DIY heart flower bouquet card
DIY tissue paper heart card
DIY button heart card
DIY salt shaker card with pouring hearts
DIY card with raining hearts
DIY shaker heart card
DIY gold glitter heart card
DIY sealed kiss card
DIY kissing pop-up card
DIY glitter handprint card
DIY pressed flower card
DIY doily mice card
DIY owl card
DIY turtle card
DIY accordion envelope card
DIY folded envelope card with photo
DIY word-and-vine card
DIY maze card
DIY We just fit card with puzzle pieces
DIY card with playing cards
DIY tic tac toe card
Read on to discover more info about each DIY Valentine's Day card, including tutorial sources.
1. DIY confetti heart card
A DIY confetti heart card is a great way to start off Valentine's Day since it shows that special someone that being with them feels like a party. The most important crafting tool this project needs is a heart-shaped hole punch to make the heart confetti from scratch. From there, it's just a matter of choosing a card design and writing a special message. Go to Design Improvised for the complete tutorial.
2. DIY lollipop heart card
Lollipop heart flowers are ideal for putting on a Valentine's Day card and giving the card to someone with a sweet tooth. You must make a sandwich out of a flat lollipop and two large paper hearts. Attach a green leaf beneath the hearts for a more realistic-looking flower and write a romantic message on the back of the card. Check out the step-by-step guide from One Little Project.
3. DIY 3D heart pop-up card
Pop-up cards are popular for Valentine's Day, and this DIY project looks so good you'd swear it's store-bought. When you open the card, you're greeted by two 3D hot air balloons and a letter garland hanging between them. The visual effects are impressive, and you still have plenty of space left for your personal message. Go to Lia Griffith's website for instructions.
4. DIY pop-up pixel heart card
The pixelated heart inside this pop-up Valentine's day card looks like it's about to jump right out simply because of how clever the original design is. Unless you look at the heart from the side, you won't even notice it's actually from the same piece of cardboard the rest of the card is made of. The pixelated design further helps this optical illusion and makes the card look unique. Make sure to head to Minieco for a step-by-step tutorial on creating this pixelated pop-up heart.
5. DIY heart flower bouquet card
This Valentine's Day heart bouquet card falls somewhere between a regular card and a pop-up card. The hearts you glue to the front of the card pop out a bit, and the bouquet looks like it is floating on the card. Your sweetheart will appreciate how much effort you put into it. Visit Stampin' Mom of Four for the full guide.
6. DIY tissue paper heart card
A 3D tissue paper heart makes for an extravagant, dramatic Valentine's Day card. Cut small tissue paper squares, scrunch them against the flat end of a pen or a pencil, and then glue them next to each other on the outside of the card; it creates a 3D heart with an almost fuzzy texture. Use sturdy cardstock as the base of the card to use the 3D tissue paper heart for home decor. The Joy of Sharing has a great tutorial, so be sure to check it out.
7. DIY button heart card
Making a heart out of buttons is a charming way to create a Valentine's Day card, and it's a fun craft for kids of all ages. Gather a handful of buttons of different shapes and sizes, and glue them on the front of your card to form a heart. It's best to use buttons in different red or pink shades to keep the romantic theme and add depth to the heart. Visit Kids Craft Room for more details.
8. DIY salt shaker card with pouring hearts
Draw a plain salt shaker on a Valentine's Day card and attach pouring hearts made from paper to create a cute way of saying you are falling in love. For this DIY project, you need cardstock, sharpie makers, watercolor paint or ink marks, an alphabet stamp set, and die-cut hearts. Check out Lawn Fawn's blog to see how they did it.
9. DIY card with raining hearts
Let your crush know how much they mean to you by creating a Valentine's Day car with a pink and umbrella and raining hearts. The design is easy to create, and there are several ways to craft it. For example, use stamps to create the hearts, draw them by hand, or make colored heart-shaped cutouts. Find out exactly how to put this card together at HLK Downstairs Designs.
10. DIY shaker heart card
Valentine's Day shaker cards combine art with craft to create an interactive way for expressing your feelings. The idea is to sandwich things like sequins, glitter, or confetti between a back layer and a transparent layer that acts like a window. Whenever you shake the card, all the pieces inside the container will come to life and start bouncing around. Check out Paper Crafty's Creations for more details.
11. DIY gold glitter heart card
Make an elegant Valentine's Day card by attaching a glittered heart. It's a professional-looking card that seems designed by the Hallmark company. Combine glittery gold paper with pink cardstock to create a lovely contrast. Visit May Holic Craft to see how it's done.
12. DIY sealed kiss card
Kisses are common motifs for Valentine's Day cards, and this DIY project uses pipe cleaners to recreate them. Cutred or pink pipe cleaners and bend them to look like puckered lips. Glue the lips to the front of the card. Read the full instructions at Martha Stewart for more info about making these pipe cleaner smooches.
13. DIY kissing pop-up card
Valentine's Day is about giving your heart to your significant other, and this kissing hand pop-up card takes it to the next level. It's made from two paper hands joined at the base, holding a pop-up heart between them. It's an elementary project for kids to craft Valentine cards for their moms.. Check out Buggy and Buddy's instructions.
14. DIY glitter handprint card
Nothing says personal touch like a DIY Valentine's day card with your handprint. The only drawback is that this project is unsuitable for smaller cards; large paper is best for fitting a handprint and leaving room on the margins. The Craft at Home Family has the entire tutorial, so take a look and get creative with it.
15. DIY pressed flower card
Incorporating pressed flowers into your Valentine's Day cards is a great way to showcase your love for nature's beauty. They're elegant and sophisticated for greeting cards, regardless of the occasion. For February 14th, choose themed colors like red, pink, or purple flowers. Spray the card with your Valentine's favorite perfume. Alternatively, add a couple of drops of essential oil to match the fragrance of the flowers. Bouq's website has a great tutorial on how to make these pressed flower cards, so be sure to take a look.
16. DIY doily mice card
Typical Valentine's day cards are either overly romantic or innocently cute, and these doily mice cards lean towards the latter. You need simple crafting supplies, like doilies and googly eyes, to make these adorable mice. Glued to My Crafts has the full tutorial, so hop over there and have fun crafting these cards.
17. DIY owl card
Owl-shaped Valentine's Day cards are adorable and give you the opportunity to use owl puns. For example, write You're a hoot or Love you owlways. You need colored cardstock, stick glue, scissors, and markers. Consider using extra-large googly eyes to make the owl's eyes pop, adding to the cute factor. Visit Hello Wonderful to download the free template and check out the step-by-step instructions.
18. DIY turtle card
A turtle-shaped Valentine's Day card is great for kids to express their love and appreciation for their friends. Write the a cute message like You really bring me out of my shell. Check out HGTV for more details.
19. DIY accordion envelope card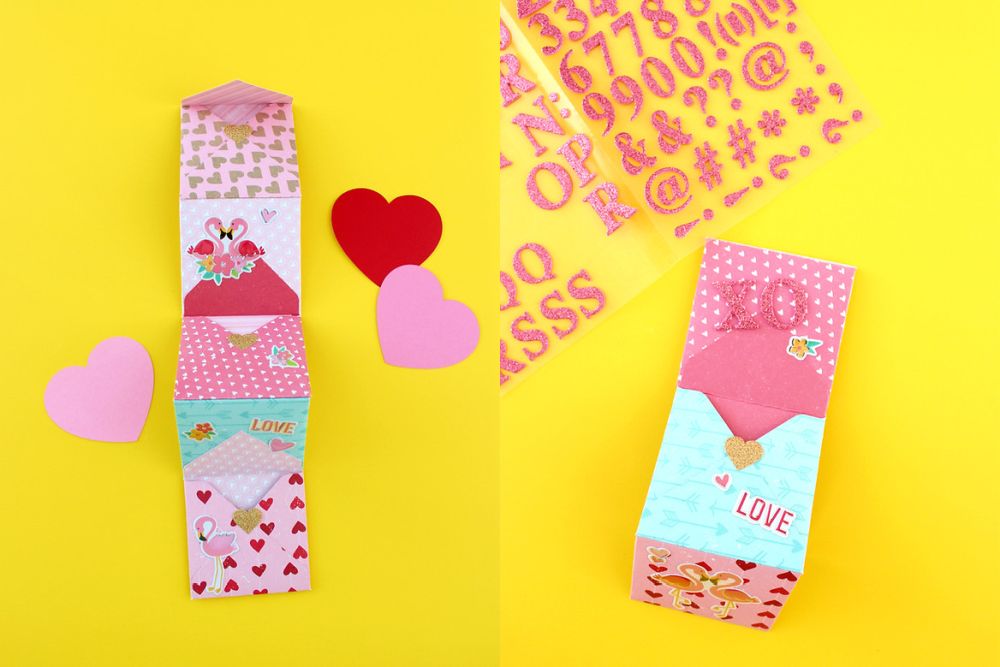 This accordion envelope card is full of surprises, an ideal fit for Valentine's Day. The secret is making a long continuous greeting card and folding it like an accordion to fit inside a standard envelope. It's certainly creative, and your Valentine will never expect a huge card from such a small envelope. Visit White House Crafts to learn more about this project.
20. DIY folded envelope card with photo
Nothing adds a more personal touch better than a DIY Valentine's day card with pictures of your loved ones. This project requires printing photos on glossy paper and gluing them inside giant paper hearts folded like envelopes. Check out the full tutorial at Making Lemonade.
21. DIY word-and-vine card
Valentine's Day is when love blooms, and this words and vines card perfectly expresses that. Creating this card is relatively simple since it involves more drawing than crafting. Visit The Postman's Knock to see the full tutorial.
22. DIY maze card
A maze-themed Valentine's Day card is fantastic for puzzle-solving fans. It's a simple project to finish quickly, especially when working with a printing machine. The card is interactive since it comes with a pencil or crayon for solving the puzzle. Draw a small heart at the end of the puzzle to make it a goal of completing the game to obtain a reward: your heart. Read more about this craft on Kara Creates.
23. DIY We just fit card with puzzle pieces
Make your Valentine's Day card creative by attaching two puzzle pieces and writing We just fit. It's a great reminder of how good you two are together. It's one of the easiest DIY projects on this list since you must glue two cardstock-shaped puzzle pieces to the front of the card and write the message with a sharpie marker. Check out That's What Che Said for more info.
24. DIY card with playing cards
Turn regular playing cards into Valentine's Day cards to show off your creativity on February 14th. Make a simple Valentine card, stick one or two playing cards to the front, and write a witty message. For example, the King or Queen of hearts pairs well with you conquered my heart. Since a standard deck contains 52 cards, you have plenty of opportunities to get creative. Follow this tutorial from Thrifty Jinxy to learn how to make these unique Valentine's day cards.
25. DIY tic tac toe card
Create a game of tic tac toe on a Valentine's Day card using Tic Tacs. It's a fantastic idea for those who love plays on words, and it will cause a few laughs. A tic tac toe Valentine card is easy to craft, especially when using a printable template. Head over to Jen Woodhouse to download the free template, print it on cardstock, create the card, and stick a Tic Tac box to the side of the card. The Strawberry fields variety works best for February 14th since those Tic Tacs are pink.
Conclusion
Crafting Valentine's Day cards requires minimal supplies and effort but still packs a punch of love and thoughtfulness. With the ideas outlined in this article in mind, you will create a memorable Valentine's Day card that expresses your love and appreciation for the people in your life. Besides, a homemade card is one of the best last-minute Valentine's Day gifts.