DIY Pinecone Flowers Wall Art – The Perfect Valentine's Day Gift!
Flowers are always beautiful, but they sadly wilt away. When you gift someone pinecone flowers, however, they will live forever. Bonus points as they'll always think of you when seeing them, knowing that you made this cute bouquet with your own two hands. With Valentine's Day approaching, as well as Mother's Day, it will be a beautiful gift.
This design will take a while to complete, but the result is certainly worth the effort and the time put into it.
Materials for pinecone flowers
pinecones
wood board
acrylic paint – yellow, green, light pink, dark pink, peach, light brown
branch
scissors
paintbrush
glue gun
silk ribbon
garden pruners
How to make pinecone flowers
We do hope that you gathered all your supplies so you don't have to go running around for something you forgot. We know this seems like a lot, but you'll see that it's not going to be a difficult project.
Step 1: Paint the wood board
You're going to want to start by painting the wood board. The board will act as a backdrop for your pinecone flowers, so you want it to look pretty. Open up thepeach acrylic paint and get yourpaintbrush and start layering up the color. We used a wide brush for the project, as there's not a lot of detail required here.
Leave the board aside to dry for a few minutes. Acrylic paint dries up fast, as long as you don't add it on too thick. Then, paint another layer of color over it.
Make sure you also paint over the edges of the board, so it has a cleaner look.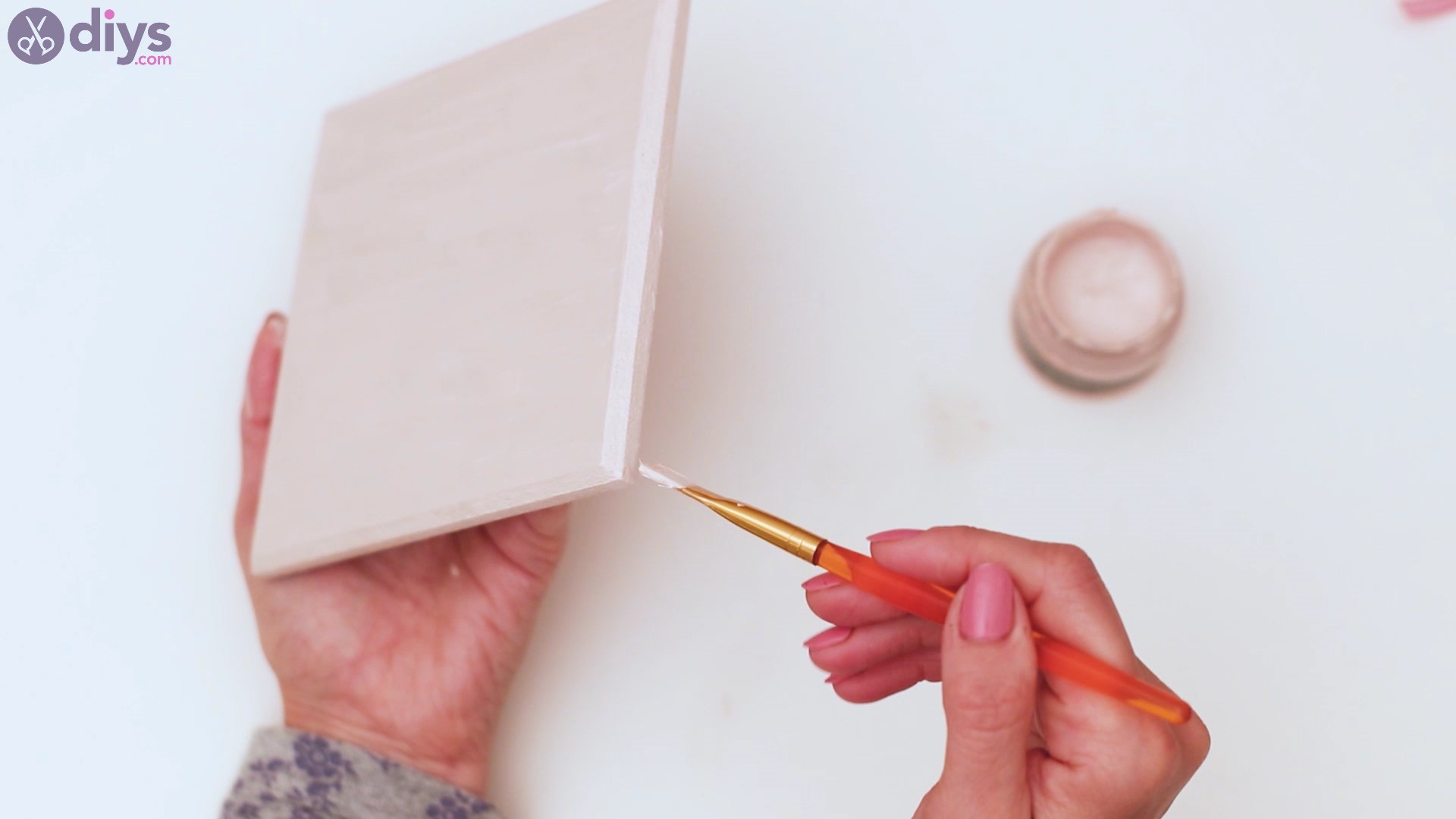 Step 2: Paint the branches
If you've already broken the branch into multiple pieces, you can proceed to paint them. If you haven't, go ahead and break down the branch – or cut it if you'd rather. You want the pieces to be about finger-length, but it does depend on how big your board is how large you need the flowers to be.
Get thegreen acrylic paintand your paintbrush and start painting the branches on all sides. You'll want to have a piece of paper on hand so you can lay them on top of it to dry.
If you want to protect your fingers from the green paint, you can leave off enough of the branches to hold onto them. Then, once you lay them down, you can doubled down and color in the leftover area.
Step 3: Cut the pinecones
We have about seven pinecones on hand, all in different sizes. Take thegarden pruners and the pinecones and start cutting them up.
Be mindful that pinecones are pretty hard to cut, so you may need to add extra pressure to the pruners in order to cut them. Try to place the blades between the scales of the pinecone so you don't ruin the whole thing.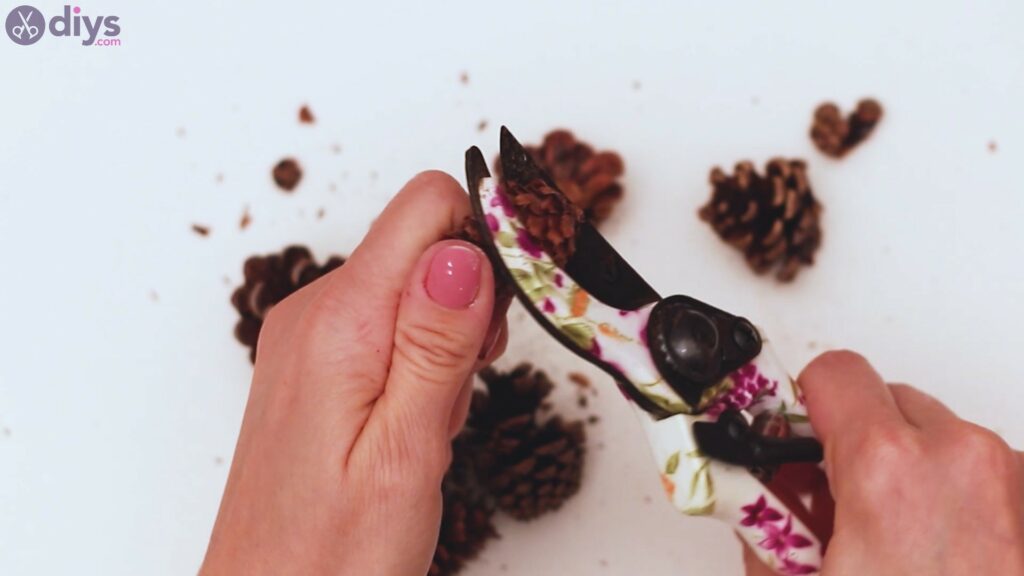 Cut smaller and larger pieces and make sure you also clear out any debris that may be left over after you cut it.
There you have it. As you can see the cut pinecones look like flower petals and the bottom of the cones look like zinnias (and probably a dozen other flowers).
Step 4: Paint the pinecones
Now that the pinecones have been cut, you can go ahead and paint them up. We started with the yellow acrylicpaintwhich we used to mark the middle of the cones. This will indicate the middle of the flower.
Once you've marked all the pinecones with yellow, get thelight pink acrylic paint and start coloring some of the pinecones, making sure to not go over the yellow.
Turn the piece of pinecone on all sides and color in everywhere, even on the sides of the scales and underneath. Since the flowers have dimension, they'll be visible from different angles and you don't want them to look unfinished.
Now, get the dark pink acrylic paint and start painting some of the pinecones in that shade too. You want a bit of variety in shades here, so make as many as you can.
You can also use the peach acrylic paint to add color to a few of the pieces. We don't have a definitive number of pinecones we want to color, so judge things on your own. It all depends on how many pieces you have and how big is the board.
Step 5: Add the 'stems'
Now that everything is painted, we can start assembling the pinecone flower design. Place thesilk ribbonover the wood board and bring in the painted branches. Place the branches together, so it looks like they come from a bunch of flowers.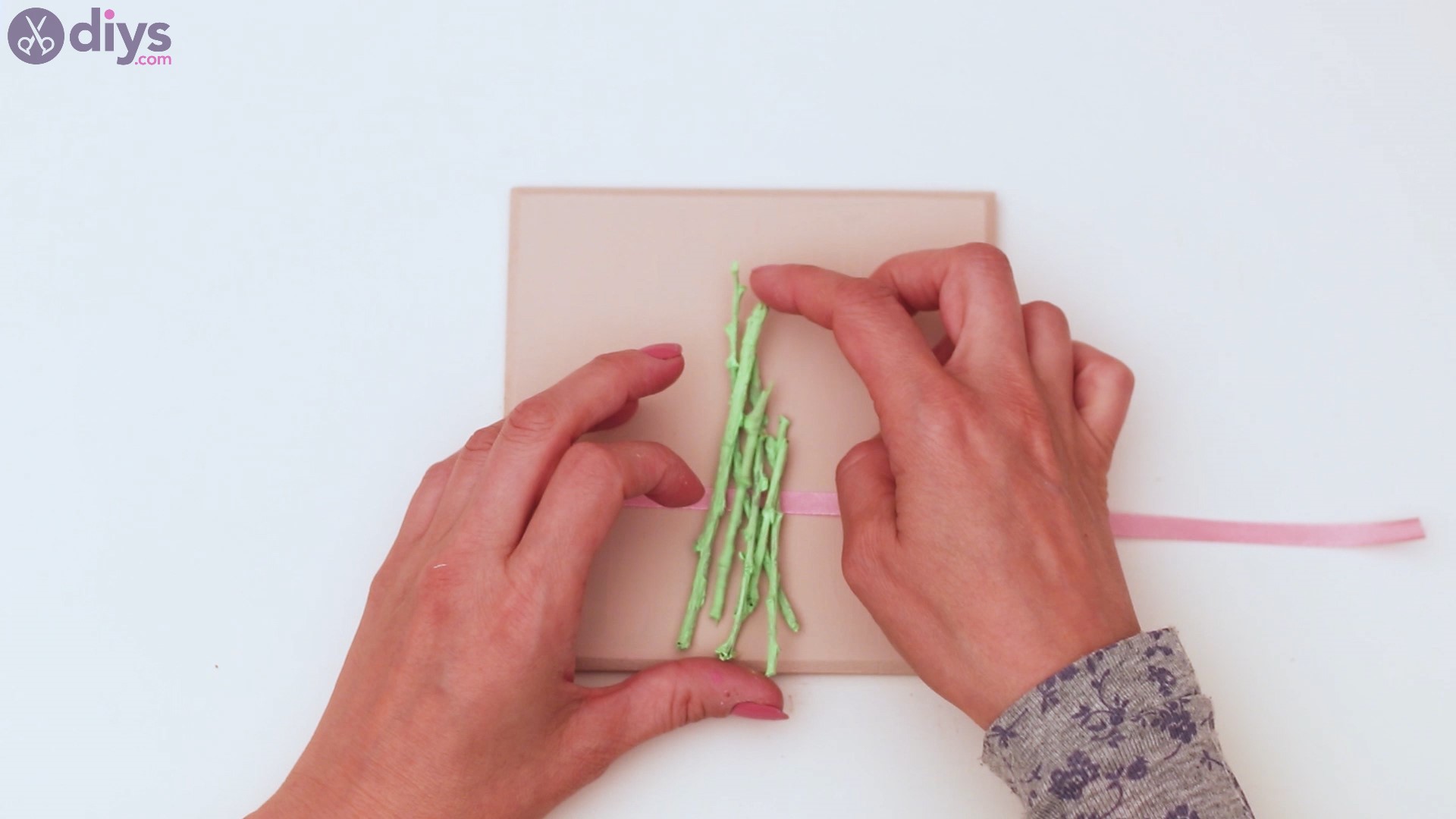 Tie the silk ribbon around the branches and tie a pretty bow.
Then, get the glue gun and add hot glue over the back of the branches. You'll want to add quite a bit of hot glue over the entire length and then place it over the wood board.
Make sure you hold the branches steady for a few seconds so the glue sets. Arrange the branches some more and make sure the bow looks nice.
Step 6: Add the flowers
Next, you need to arrange the pinecone flowers to the board. We suggest you place all of them on the board and try to see how they'd look best. Switch them around however you see fit.
Mix in smaller flowers with the bigger ones, make sure to fit in the ones that look like buds too.
Once everything is roughly in the spot you want them to be in, you can get theglue gunonce more, pick the flowers one by one and add a bunch of glue to their backs.
Quickly place them on the wood board and hold them pressed for a few seconds.
Repeat the process with all the pinecone flowers as you go.
Even the smallest flowers need hot glue! Make sure you add more glue to these ones since their base is smaller. You want to make sure the flowers aren't going to leave anywhere.
Now that all the flowers are in their place, you can get yourscissorsand cut the tails of the bow. You want to leave enough length that the bow looks nice, but there's no need for a lot of it.
Ta-da! Here it is! This is our pinecone flower creation and we're sure yours looks just as beautiful. You can add hanging elements to the back if you want to put it on a wall. You can go with one of those metal elements, or choose a sturdy ribbon to hot glue to the back, but that one may not hold the weight of the wood panel. Otherwise, you can always place it somewhere that is easily visible so you see it frequently.
Share pictures of your creations with us so we can admire them too!