28 DIY Christmas Crafts For Kids!
It's time to start singing Christmas carols and pulling out the construction paper for tons of Christmas arts and crafts with the kids! From classic, chain links to help countdown until Santa's arrival to snowglobes made right in the kitchen, there are so many ways to get involved and get creative for the season. Below you'll find 28 of our absolute favorites that you'll want to dive right into by the weekend!
1. Melted Crayon Ornaments
Meet the Dubiens teaches us how to make these gorgeous melted crayon ornaments with the kids. Just think of the fun they'll have picking out and mixing their colors.
2. Snowman Mason Jar
Check out this adorable snowman luminary from Chica Circle. The kids will love creating their own character that can then be shown off around the house!
3. Peppermint Ornaments
The kids will love learning how to make these peppermint ornaments from Hello Homebody. And they'll love watching the peppermints melt in the oven!
4. Reindeer Thumbprint Ornaments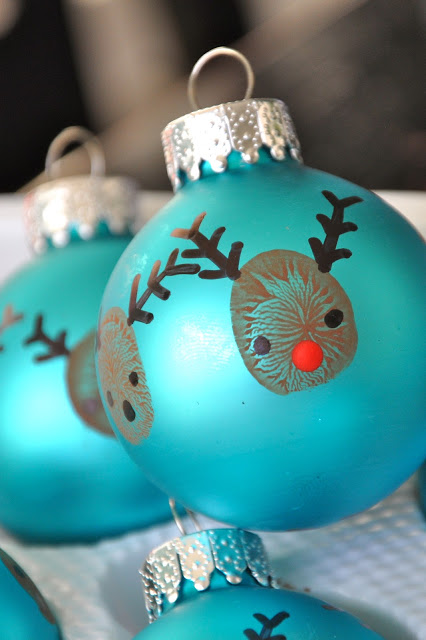 Have the kids get messy with some paint! Use their little fingers to create reindeer faces and have it as a memory for years to come. Check out the details at Little Bit Funky.
5. Cupcake Liner Garland
One Perfect Day shows us how to put some of those cute Christmastime cupcake liners to use – for more than just baking. This kid-friendly project not only gets the kids using their hands but also makes a charming mantle decoration too.
6. Fingerprint Elves
These craft is super easy, super inexpensive and super fun for the kids to make! Grab those little fingers and start creating some elves like these cuties from Crafty Morning.
7. Bow Tie Wreaths
Perfect to use as a greeting card or just as a fun decorating made by the ones you love dearly. Grab some bow tie noodles and get to work with this crafty idea from Crafty Morning.
8. Ninja Turtle Ornaments
What kid doesn't love the Ninja Turtles? Bring them into the holiday season with this easy idea from Crafting Chicks and have your son or daughter create them with you.
9. Mini Mittens Garland
These tiny little mittens can be made by tiny little hands. And Etsy has all the details on how to create this garland for your mantle or banisters.
10. Santa Beards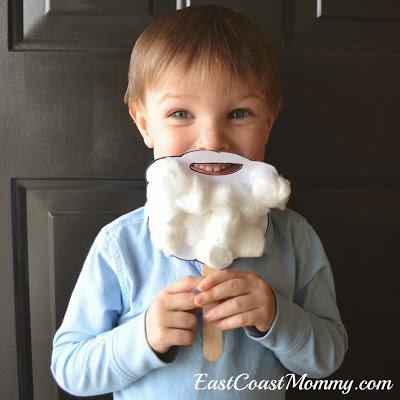 Every little guy and gal too will love flaunting off their beard once they've completed them! Add some glitter, make them extra fluffy and learn how at East Coast Mommy.
11. Santa Slime
Not only is this project fun to create but it'll be fun to play with long after the making is over. Hop on over to Growing A Jeweled Rose and check out the tutorial.
12. Memory Chain
The Pink Samurai gives us a new spin on the classic, Christmas paper chain link. Use as garland or count down the days until Santa comes by reading off a family memory at the same time.
13. Colored Candles
All you need to keep the kids busy with this idea is grab some plain candles and markers! Check out the essentials at Red Ted Art. These would be great as grandparent gifts!
14. Pom-Pom Painted Trees
Make the kids their very own paintbrushes with some clothespins and pom-poms. Then grab some paint and have them "decorate" their tree – details at Fantastic Fun and Learning.
15. Popsicle Santa
Craftionary made these adorable Santa faces out of Popsicles, a perfect craft for little ones to get creative with and design their own St. Nick!
16. Snowman Garland
Pure Heart gives us a super simple and inexpensive idea but one that your kids will love to dive right into. Especially because they'll be able to make a favorite of different snowman faces.
17. Painted Candy Canes
Rust & Sunshine gives everyone a craft that not only gets your child's wheels turning but teaches them great motor skills too. Use the plastic balls as "paintbrushes" and have them go at it!
18. Paper Plate Christmas Tree
Your little ones will have so much fun making these Christmas trees out of paper plates and pom-poms. They get to be creative and learn some new skillls. Thanks for the idea Creative Family Fun!
19. Fingerprint Reindeer & Santa Art
Crafty Morning gives us another great DIY to complete with the little ones of the house. They can make entire Christmas scene with those tiny fingers!
20. Paper Cup Angel Luminaries
Molly Moo gives us another great project for the holiday season. These luminaries will help bring a bout of warm coziness to the home but also get your little ones imagining and creating too!
21. Gold Clay Star Ornaments
Get dirty with some glitter – or gold leafing! Gathering Beauty made these pretty gold clay stars and we thought they'd work for a great family craft around the holidays.
22. Felt Tree Ornament
Are these felt Christmas trees not the cutest? Create them from scratch with easy materials and directions from Buddly Crafts.
23. Toilet Paper Roll Santas
CBC Parents shows us how to create these adorable Santas with materials you already have around the house! Toilet paper rolls, red cups and cotton lay the foundation!
24. Pom Pom Ornament
Personally, I'm in love with this fun and festive DIY ornament. And it's so easy for the kids to get involved with! Visit NorthStory for the tutorial.
25. Christmas Soldiers
Are these Popsicle Christmas soldiers not adorable? Hop on over to Remodelando la Casa to get the details and then allow the kiddos to dive it and design their own.
26. Reindeer Clothespins
Scissors and Spoons made these adorable reindeer clothespins and we think they'd be the perfect afternoon project to get your children inspired and ready for Christmastime!
27. Chalkboard Ornament
Chalkboard projects are always so versatile, especially when kids are involved. Visit A Night Owl to learn how to make these cuties and allow the little ones to design them to their liking.
28. Sprinkle-Filled Ornament
We fell instantly in love with these sprinkled ornaments from Little Gray Fox. And we're fairly certain that your little ones are gonna love creating these with you.