25 Thoughtful and Fun DIY Valentine's Day Gifts For Him
If you're worried about what to get that special man in your life for Valentine's Day, have no fear. We've got you covered with some easy, handmade ideas! Whether it's your boyfriend, brother or your husband-to-be, there's something for everyone. Check out these 25 thoughtful and fun DIY Valentine's Day for him to enjoy.
1. Beer Box
Brit + Co shows us how to make this fantastic beer box with ease. Not only will your man be impressed, he'll love how innovative and functional it is!
2. Chalkboard Mug
Hop on over to A Beautiful Mess and learn how to turn some simple mugs into personalized fun! They're great for the man in your life who loves tea and coffee.
3. Nuts About You
We're still giggling over this clever gift from Lil' Luna. Just fill a jar up with his favorite nuts – peanuts or cashews even – and top it with a note!
4. Beard Oil
For your dad or even your bro, whoever has a beard will love to have some of this beard oil on hand. Check out the details at Retro Housewife Goes Green.
5. Carved Candle
Carve out a candle for him. Give it a bit of a masculine edge and a warm message. Check it out at Hello Glow.
6. Message in a Bottle
You could laws create a fun little message in the bottle for him. Attach it to a keychain and follow the tutorial at Shrimp Salad Circus.
7. Love Map Frame
Peanut Butter Fingers gave us a super romantic idea to whip up for our beaus. Map out your love and frame it!
8. You + Me On A Tree
Three Scoops of Love puts our carving skills to the test, yet again. Add a bit of rugged love to your boyfriend's man cave.
9. Custom Puzzle
We love this sweet idea from Country Living . And he'll love how clever and silly it is too. Make a puzzle and watch him put it together with a smile on his face.
10. Bacon Bouquet
What man doesn't love some yummy bacon? Over at PopSugar you'll learn how to turn it into a bouquet perfect for Valentine's Day.
11. 10 Things I Love About You
Creme de la Craft took a jar and filled it up with some love too. And this time it was in the form of "10 things I love about you." Anyone would love to receive this for V-day!
12. Mini Notebooks
If you have a man in your life that loves to write or sketch a bit, whip up some of these mini notebooks that he can carry around. Learn over at See Kate Sew.
13. Booze Bouquets
A Fish Who Likes Flowers made a booze bouquet that everyone from your dad to your husband will get a kick out of. It's so simple to recreate too!
14. Faux Slate Coasters
How about some faux slate coasters to add a bit of extra style to his apartment. Grab the tutorial at Build Basic.
15. Toiletries Bag
Visit The Crafty Gentleman and learn how to sew up one of these travel bags. Make his packing so much easier!
16. No-Bake Bourbon Balls
Brit + Co made some scrumptious bourbon balls that we think act as the most perfect, edible Valentine's Day treat. Top them with your favorites – sprinkles or even coconut.
17. Shoelace Bracelets
You could always make him a bracelet. With some shoelaces or cords Mama Is Dreaming shows us how to make a trendy, masculine accessory for him.
18. Mini Pool Table Tin
He'll love having this one his desk. Have him blow off some steam with a mini pool table! (via)
19. Geo Wall Hearts
Vintage Revivals made some geo wall hearts that can work on any kind of apartment. You'll be giving him a feminine touch that he'll remember you by.
20. Love Bulb
Created by Jess made a "love bulb" that we think works well inside your loved one's place as well. Every glance it gets will be a wink towards you.
21. Dollar Hearts
Money is always a fun gift to give. But it's even better when you wrap it festively like this. (via)
22. Earflap Hat
Gina Michele made a fun winter hat for men to dawn throughout the wintery months. And it's complete with an earflap!
23. Hostess Cupcakes
Learn how to recreate his favorite school time treat with the help of PopSugar. He'll love to be rewarded with a batch of these on Valentine's Day!
24. Paper Airplane Love Notes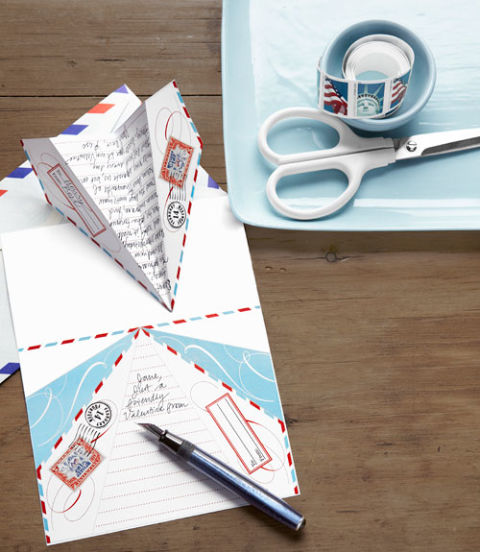 Send a love note in a whole new way and a way that he'll adore. Paper airplanes were never sweeter than they are at Country Living.
25. Pop-Up Photo Box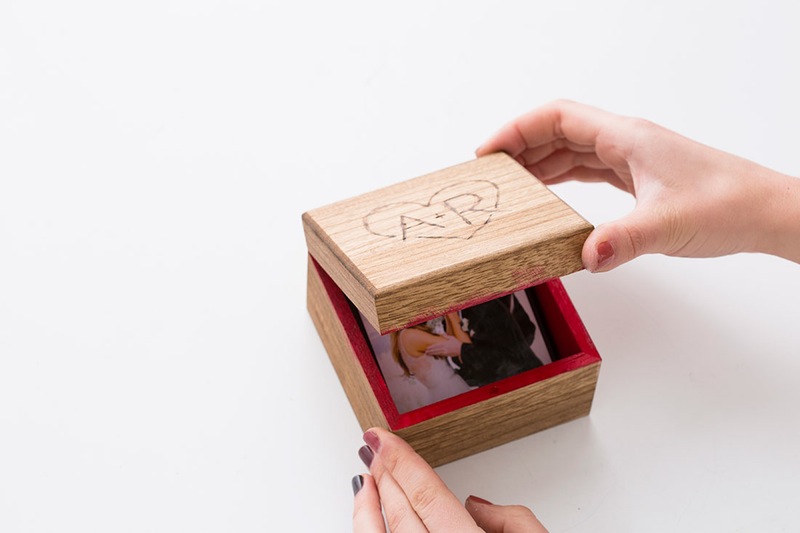 Brit + Co teaches up how to make a picture pop-up box that can sit around and be used as a fun reminder. If he needs a smile, all he'll have to do is pull it out.