25 DIY Halloween Costumes For Little Boys
Halloween costumes can become quite the fun adventures. Girls and boys everywhere want to dress as their favorite characters while moms and dads have to figure out how to make it happen. Instead of searching high and low or spending an arm and a leg, create a fabulous costume at home! Check out these 25 DIY Halloween costumes for little boys and see if he likes one of these for his trick-or-treating adventure this year!
1. Blue Chicken
This no-sew costume is just too adorable. A blue chicken for your baby boy – and one that you don't have to sew is a hit to us. Check out Fun At Home With Kids for the instructions!
2. Buzz Lightyear
And here's another no-sew project from Fun At Home With Kids we are in love with! To infinity … and beyond … with Buzz Lightyear!
3. Owls
This Heart Of Mine made these adorable owl costumes and we're swooning over how beautiful they are. Wouldn't you love to be able to make these on your own?
4. Thomas the Engine
If you're little boy loves Thomas then this project form Am I A Funny Girl may be a great fit. Learn how to create this show-stopper costume now!
5. Scuba Diver
Oh Happy Day shows us how to turn your little one into a tiny scuba diver! Check out all the tips and trick right after the jump.
6. Toy Story Army Man
Here's another character from Toy Story that your little one will love. Wild Ink gives us the scoop on what she used to create it!
7. Rocket Man
Check out this rocket man costume from Real Simple. We love its simplicity and originality, and the fact that you can make it at home is a huge plus.
8. Sock Monkey
Grosgrain Fabulous shows us that with the right pajama pattern and fabric you can make your very own little sock monkey outfit!
9. Cowboy
Complete with his own horse, check out this cowboy costume from Made For Mums. Any novice crafter could pull this one off!
10. Mummy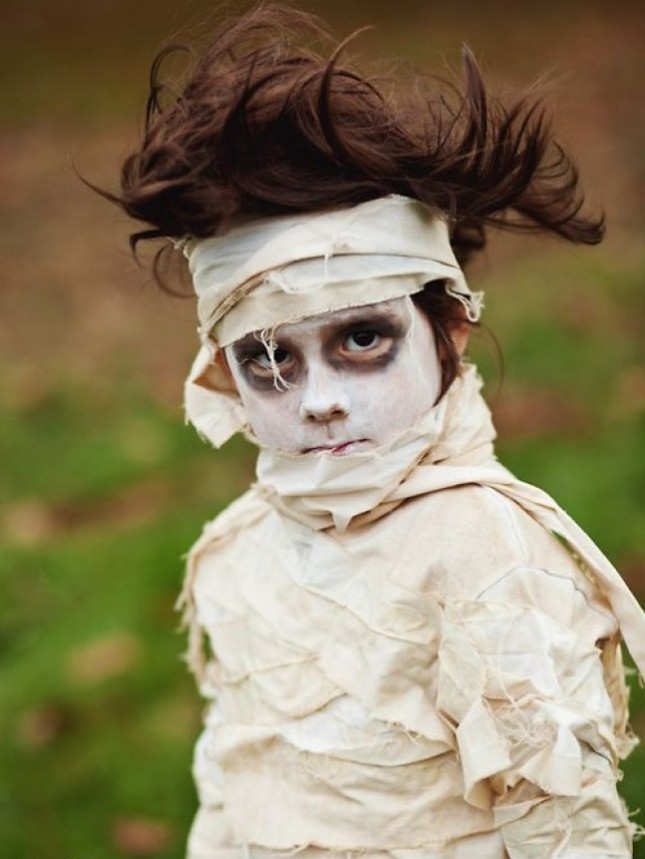 This is the perfect last minute costume for when time gets away and your kiddo hasn't been able to make a decision. Check out the DIY at Kelly Gorney.
11. Big Lebowski
How about dressing up your tiny man as Lebowski? It's easy, it's adorable and you can see it done here at Skirt As Top.
12. Shark
Create a comfy shark costume like the one you see here for when Halloween acts as a chillier time of the year. Check out the DIY at Make It Love It.
13. Up!
This is a costume that they whole family can participate in. And we couldn't help but fall in love with this creation from More Than Words Can Describe.
14. ET
Here's another costume inspired by a movie! ET couldn't be any cuter than with this DIY costume from Bicycle Store Paris.
15. Curious George
Everyone's favorite monkey could be another great inspiration for a made-at-home costume. Curious George is a DIY favorite at Haute Apple Pie.
16. Van Gogh
How does turning your little guy into the one and only Vincent Van Gogh sound. Hop over to Lovelyish to see how!
17. Lego
Maybe the tiny man of the house loves Lego-time and wouldn't mind being one for Hallowen. Check out this DIY from Wine & Glue to learn how to complete it at home.
18. Classic Hipster
Oh Happy Day really does have some incredible ideas and if you're stretched for time and want something trendy. A classic hipster "costume" could be a big hit.
19. Andy Warhol
You can always go back to Lovelyish and do another one of their amazing idea. Dress your dude up at Andy Warhol!
20. Peter Pan's Shadow
Tikkido made this genius costume and it's so easy to recreate! Check out the instruction with the link provided.
21. Hot Air Balloon
Style Me Pretty gives us this gorgeous and show-stopping costume where you can turn your kiddo into a hot air balloon flight!
22. Robot
Paging Fun Mums made this incredible robot costume and we can't get over how awesome it is! Is that a slinky we see utilized in such a fun way?
23. Lumberjack
Eight year olds can't grow beards but if he wants to be a lumberjack he'll need to figure out how! You have to see this adorable DIY costume from Make It Love It!
24. Mr. Fox
Mom Inc Daily made a gorgeous Mr. Fox costume for a special little man. Check out the details after the jump!
25. Dino Tail
Add a tail to your little boy's get up and have him transform into a dinosaur. Hop on our to Tater Tots and Jello to find out how!