Easy Halloween Cupcake Ideas With Spider Web Chocolate
Halloween is fast approaching. How on earth did we get to September already! In the interest of planning ahead, we wanted to get these deliciously spooky chocolate banana cupcakes to you early. If you're anything like us, you might want to 'taste test' them 2 or 3 times before the actual day (they're so good we've eaten several already, and will no doubt be having them again before halloween!).
The cupcakes are so moist, light and fluffy. A lot of the moisture comes from the banana – which can also sometimes make cakes quite dense. The secret to getting the fluffy texture in these cupcakes is buttermilk and baking soda. The alkaline baking soda reacts with the acidity of the buttermilk to give a lovely, light texture.
We're also using oil in these cupcakes – instead of butter – which helps to ensure they're light and moist.
No need for stand mixers or electric whisks, the cupcakes themselves don't even require more than one bowl. Simply mix the wet ingredients first, then add in the dry ingredients.
The only messy part comes with the decorating – but that's the fun part right?
Covered in dark (you can use semi-sweet if you prefer) or white chocolate, then swirled with a simple spider-web pattern, these cakes are sure to go down a treat on your Halloween table.
You can eat them cold if you'd like the chocolate to set (meaning the cupcakes are portable), or serve them slightly warm with the chocolate still melty and gooey on top.
Here's what you'll need for these Halloween cupcakes:
Makes 16 cupcakes
3 small, ripe, bananas, peeled
¾ cup buttermilk
3 large eggs
1 cup cold water
¾ cup vegetable oil
1 ¾ cups granulated or superfine sugar
2 cups all-purpose flour, sifted
¾ cup cocoa powder, sifted
2 tsp bicarbonate of soda
¼ tsp salt
Topping:
7oz dark chocolate
7oz white chocolate
Directions to make delicious Halloween cupcakes:
Step 1: Preheat the oven
Preheat the oven to 350c. Line 2 cupcake trays with cupcake cases – you'll need 16 cases. Place the bananas in a large bowl and mush them up with a fork. Add in the buttermilk, eggs, water and oil. Mix together with a hand whisk until combined. Whisk in the sugar, then add in the flour, cocoa powder, bicarbonate of soda and salt. Fold together until just combined (be sure to check there are no pockets of flour). The mixture will be wet and runny.
Step 2: divide mixture
Divide the mixture between the cupcake cases and place in the oven to bake for 20 minutes (until a skewer inserted into one of the cakes comes out clean). Once cooked, take the cupcakes out of the oven. Leave to cool for 5 minutes in the trays and then place onto cooling racks to cool completely.
Step 3: Decorate
When you're ready to decorate, melted the chocolate in separate bowls – either in a bain marie, or by melting in the microwave in 30-second bursts (stir in between each burst). Spoon three tbsp of the melted dark chocolate into a piping bag with a very fine tip. Spoon three tablespoons of the melted white chocolate into a piping bag with a very fine tip.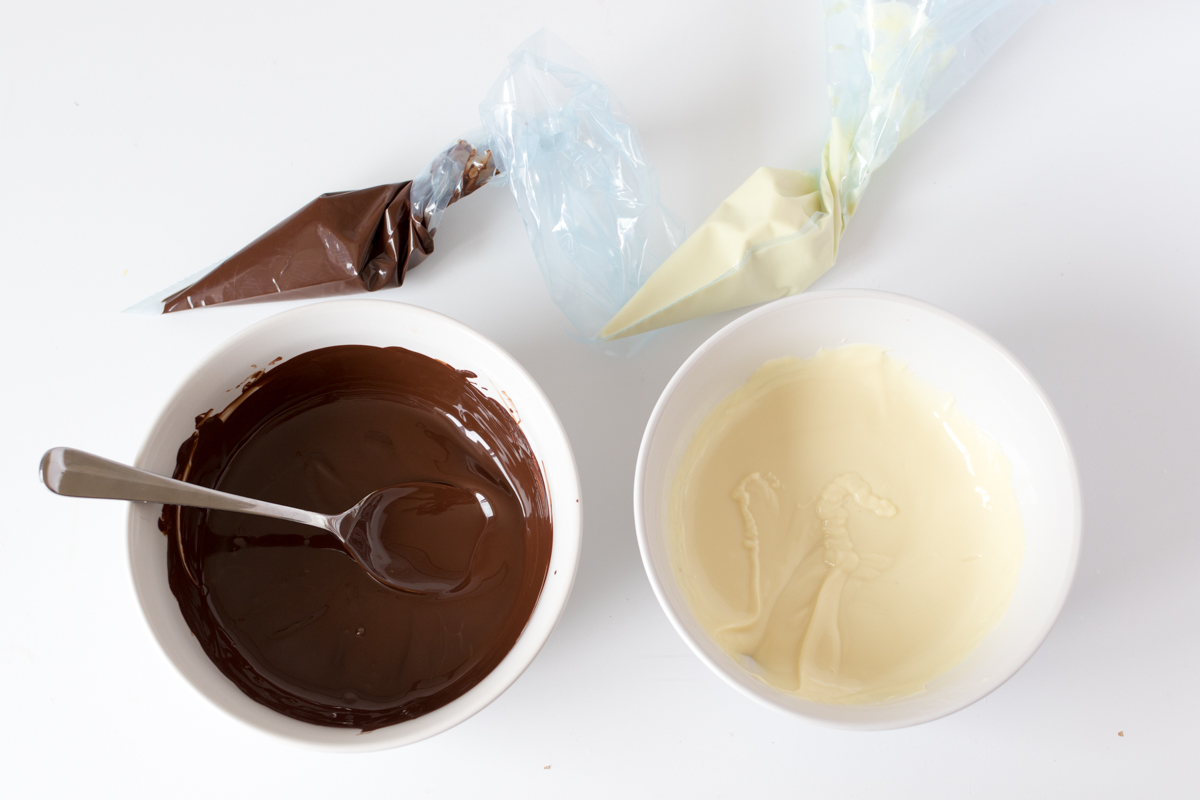 Step 4: Melt chocolate decoration
Take one of the cakes and spoon on a tablespoon of melted white chocolate – so it covers the top. Now pipe three concentric circles on top, using the dark chocolate. Finish with a dot of the dark chocolate in the middle. Use a toothpick to drag lines from the centre to the outside of the cake to look like a spider's web. Six or seven lines will be fine.
Step 5: Create a pattern and repeat
Repeat with the remaining cupcakes – alternating between a white chocolate base and a dark chocolate base.
Conclusion
Serve immediately with the chocolate still warm, or leave to set before eating.