Crafts Made with Old Bottle Caps
We love the idea of crafting with items and objects that you wouldn't normally thing to use. Upcycling also helps you reduce your carbon footprint and makes for extra unique decor and projects!
Check out these 15 innovative ways to upcycle bottle caps into neat art and fun projects that will totally satisfy your green DIY craving!
1. Bottle cap table
My So Called Crafty Life guides you through the process of creating a table top dotted with every kind of bottle cap you can find! If you're building the table yourself it will be a bigger project, or you can follow the steps for just the table top on a pre-made table.
2. Bottle cap wreath
We love the idea of creating welcome wreaths for all kinds of events! Game day is a great excuse for a crafty wreath, particularly one that upcycles. In this case, that upcycling is right on theme! Grab a rounded foam wreath ring from your local craft store and cover it in bottle caps using strong glue!
3. Bottle cap wind chimes
Any light metal object will make pretty chiming sounds when it clinks together with others. That's why bottle caps make such great wind chimes! Check out this idea from BottleCapCrafts8.
4. Bottle cap tree wall art
This adorable bottle cap tree art idea by SindysCraftsnThings is a great way to contrast pop culture and trash with nature and natural materials. All you need  are cedar wood, bottle caps, foil, and steel wire.
5. Bottle cap tray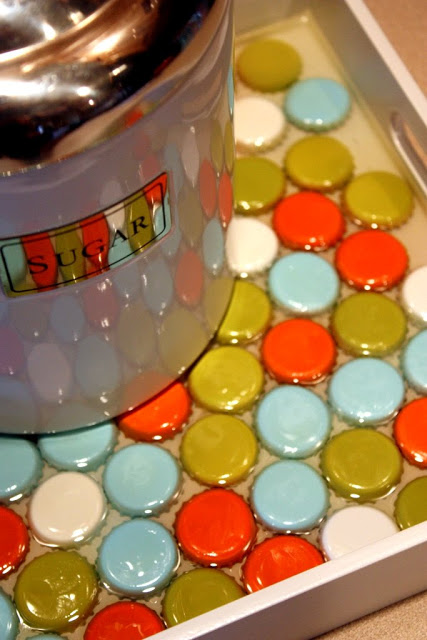 Sometimes it's nice to make yourself something with a little novelty flair! This bottle cap tray by Sweet Something Designs is like doing a decoupage craft but with 3D materials and supplies! This tutorial walks you through each step.
6. Bottle cap sequinned charm necklace
This idea from Crafts Unleashed turns something that usually ends up in the trash into something delicate and pretty. All you need are some sequins, some Mod Podge, and a necklace chain! Make a sparkly little scene on the inside of the cap and seal it.
7. Easter chick napkin rings
BHG shows you each step for turning a bottle cap into a completely adorable little chick with a fluffy tail feather. Attach the "chick" to a painted strip of burlap to make a cute napkin ring for Easter dinner.
8. Bottle cap state art
Show a little bit of pride for your home state by recreating its border shape on a wooden base. It'll look like a piece of pop art and display your DIY skills without look too kitschy. Check out how Beneath My Heart made this one.
9. Bottle cap magnets
Your fridge makes a great place for a little bit of novelty decor because you'll see it often but it doesn't interfere with your central decor. You can incorporate bottle caps into you kitchen by turning them into little fridge magnets! BHG shows you how to do it in just a few very simple steps.
10. Chalk letter garland
Bottle caps are versatile tools for simple, little decor details at parties and special events. Use them to label foods and drinks or even place settings! Simply paint the top of each cap with chalkboard paint and glue them along a piece of string or ribbon. Draw the letters on just like Sei Lifestyle did here!
11. DIY bottle cap picnic checkers
A square of painted or stenciled canvas and some bottle caps with coordinate colours made the perfect homemade check game for traveling or playing a round on the go. Check out the steps for making your own on Martha Stewart.
12. Bottle cap coasters
P&G Everyday shows you how to cut a base shape from thin cork and glue painted bottle caps on in your chosen shape to make sturdy, liquid resistant coasters. Besides protecting your tabletops very well, they'll look totally adorable and you can customize them to match any decor colour scheme.
13. Bottle cap clock
Plastic bottle caps or lids are great for DIY projects too! They often come in bright, solid colours already so you don't have to paint them like most metal caps with logos on them. We love how this clock by Owen Clockpop hearkens back to the pop art style of the 60s for a bit of kitschy flair.
14. Bottle cap candles
Craftaholics Anonymous shows you how to create your own tiny tea light candles out of crayons and bottle caps! The crayons give you an awesome array of coloured wax options and the caps make tiny candle holders.
15. Mini fridge magnet flowers
Positively Splendid walks you through the process of placing little cut out pictures inside painted bottle caps so the edges stick out like flower petals. Glue a bit of magnetic strip to the back of each one and create a stem and leaves from crafting wire. Voila!
Do you know someone who loves upcycling and creating green crafts? Share this post with them for a little bit of inspiration!