Fun Crafts Made From Tissue Paper
Besides being useful for beautiful gift wrapping, tissue paper is a useful and diverse DIY tool elsewhere as well. Kids especially love working with it because it crumples easily, tears with ease, and it comes in all kinds of fun colours! This makes it an awesome kids DIY supply with all kinds of crafty possibilities!
Check out these 15 awesomely colourful and super fun tissue paper craft ideas that your kids will absolutely love making with you.
1. Jam jar and tissue paper luminaries
Kids won't necessarily be part of the candle lighting process when this project is finally finished, but they'll absolutely love the process of gluing tissue paper, sequins, and rhinestones all over a cleaned out mason jar, and seeing all the pretty colours that the candle glows onto the walls when it's all done! Take a look at The Imagination Tree to see each of the steps for doing this craft with your kids.
2. Eric Carle style tissue paper art
Do you like a little bit of abstract art in your life every once in a while? We can sure guarantee that your kids will love the concept of creating abstract visuals, that's for sure! We love how The Imagination Tree
chose the works of an established artist to inspire not just their own art, but their children's art projects as well. The craft automatically become a learning experience!
3. Eric Carle style framed initials
Did you love the abstract art concept so much that you'd like to take the idea a little further the next time you craft with your kids? Use the same tissue paper and glue techniques, but this time paste them across a paper letter. Next, find a frame that the jumbo abstract letter will fit in. Your kids will feel like real artists when they see their masterpiece framed like a professional work! Thanks goes to The Imagination Tree once more for this idea.
4. Bunched tissue paper butterfly
Crafts by Amanda suggests using tissue paper's awesome crumpling abilities to do a little bit of textured crafting. We absolutely adore this cute butterfly art with different colours in its wings, but you could really create a crumpled textured picture of anything you like. If you're anything like us, you'll have just about as much fun making this one as your kids will!
5. Tissue paper "painting"
Free Kids Crafts guides you through the process of soaking pieces of stripped or cut up tissue paper onto a blank white canvas in order to transfer the colour. We love how much the finished product looks like a water colour painting, but this is a much less messy process for crafting with kids.
6. Round petal tissue paper flower
Did you know that tissue paper also folds easily and holds its shape very well once you've twisted it? Follow in Homicraft's footsteps and show your kids how to use a golf ball as a template for pretty 3D flower that can be used as a craft in itself or added to another project, like a hair piece or some textured canvas art.
7. Tissue paper birthday number
Did you love the crumpled tissue art technique so much that you just can't wait to make another one like it? Crumple bigger pieces this time and use the bunches of tissue paper to cover a large number made of poster board for a kid's birthday party! Check out how it's done on It's Mommy's Choice.
8. Tissue paper flower pom poms
You've probably seen big, gorgeous tissue paper flowers at parties and events before, but they're often the store bought kind. Making your own tissue flowers is a lot more fun though, and you have control over the colours and sizes! It might take younger kids a while to practice the technique, but they'll love seeing and touching the finished flowers even if they only watch you fold them. Get the full instructions on Two Twenty One.
9. Tissue paper votive holder
Have you ever seen little flower-shaped tissue paper confetti? It comes in a bag by the hundreds and each bag has just about every colour you can imagine. This craft might be better for older kids because it involves separating each piece of tissue confetti and pasting it carefully and individually onto a candle votive, but it's still a great kids craft nonetheless! Everyone will love how the candle glows through the coloured tissue when it's finished. There's a full tutorial for you to follow on Makezine.
10. "Stained glass" tissue paper window hangers
Glen and Katie remind you that, because tissue paper is so thin, it's the perfect thing to use for faux stained glass crafts. These circular sun catchers are quite easy to make, but you'll be shocked at how effectively the sun shines through each colour once you've hung your masterpieces up. Kids will be exited to see how much their designs glow in the sun just like a real stained glass window.
11. Tissue paper Christmas wreath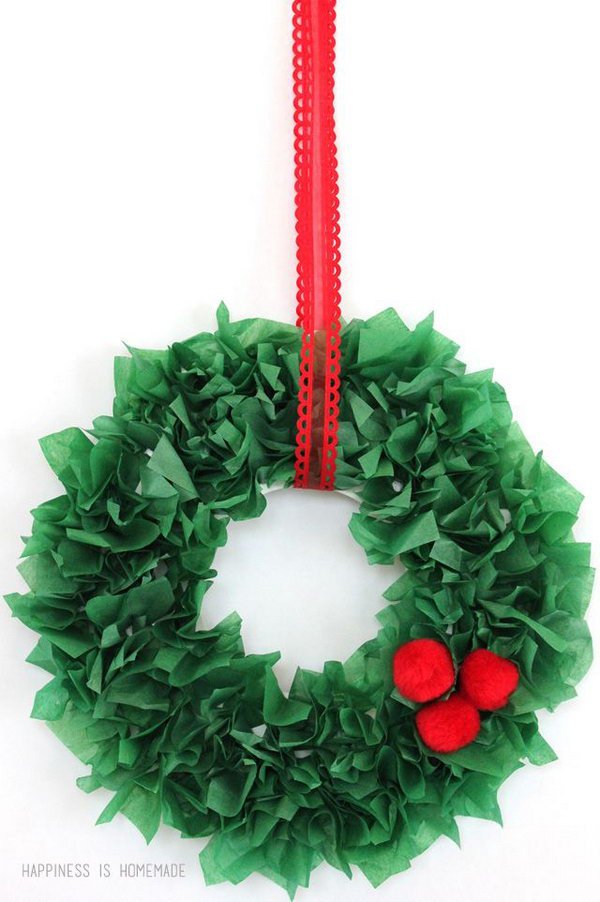 Remember that scrunching technique that we loved so much before? Well, it's time to get scrunching again. This faux wreath made of bunched up up tissue paper, red ribbon, and red pom pom "berries" is a great alternative to an more expensive branch wreath, particularly if someone in your home has plant allergies. Check out the whole tutorial on Happiness is Homemade.
12. Tissue paper balloon bowls
If you've ever done papier mache then you already know how this one works! Did you know, though, that it's even more fun to make a papier mache bowl out of strips of brightly coloured paper than it is to do it from newspaper? Your kids will absolutely adore the pile of colours they get to work with and the sticky mess they get to make pasting the strips onto a blown up balloon. They'll also be giddy about the prospect of popping the balloon to get the bowl off once everything has dried! Meri Cherry gives you the low down on this awesome craft in more detail.
13. DIY tissue wisteria mobile
Isn't it amazing how the same crafting supply that looks silly and fun in one project can look so elegant and almost realistic in another? With some help, kids can make this beautiful hanging wisteria mobile, or they can simply enjoy the finished product after you hang it in their room like an enchanted flower garden. Head on over to Honest to Nod to learn how they're made.
14. Paint and tissue paper spring branches
This tissue paper craft idea is an awesome parent-toddler collaboration! Take some paper and draw or paint some branches on for them (older kids can do this part themselves too). Let your child scrunch small pieces of tissue paper and glue them across the branches to look like little blossoms. Check out Arts to Crafts to learn more about the idea!
15. Tissue paper corsages
Are your kids playing prom or going to a school dance and they want to have a coursage or boutineer just like the big high school kids? Real flowers can be expensive, so help them make their own rosettes out of pretty coloured tissue paper and green ribbons instead! PBS
shares the proper folding, twisting, and gluing techniques with you.
Do you know someone whose kids love coloured crafts and hands on projects? Share this post with them to give them a few fun, kid-friendly DIY ideas!