Best Group Halloween Costumes: 30 Easy Group Costumes to DIY
Halloween is a holiday that many of us start preparing for as soon as we see the first leaves falling during autumn, and it's a time for celebration, as well as a time to bring out our inner spookiness and love for candy.
Of course, seeing as Halloween is a holiday, this means that it's also a great opportunity to spend some extra time with friends and family, and one of the best ways to do so during a holiday that's all about dress-up is to get themed costumes for everyone.
That's precisely the topic of today's article, as we will be covering some of the best DIY group Halloween costumes that you can wear together with your friends and family.
We will be choosing costumes that are great for men, women, very large groups, groups made of 3 or 4 people, and more, all so that you have as many costume ideas to choose from as possible.
Here Are the Best Group Halloween Costumes of 2021
1. DIY Costumes – Halloween Monsters
If you're a part of a much larger group of people and you're planning on spending Halloween together, but have no way of getting matching costumes, the safest bet is to simply have each member of the group dress up as a different monster and hang out together.
Halloween has many iconic faces to choose from, like vampires, mummies, zombies, and witches, and the best part is that many of these costumes are easy to pull off, even if you plan on making them yourself.
In fact, depending on what character you're choosing, you can get away with just some simple makeup or by dressing up in clothes you already happen to have.
More so, this is arguably the best costume option for any large group of friends, since each of them can design their character in whatever way and style they want, just as long as your group doesn't end up with two monsters of the same kind.
2. Group Costume Ideas – The Cast of Harry Potter
Harry Potter and the Wizarding World have been a global phenomenon ever since J. K. Rowling first conceived them, and the cast of characters is a go-to choice for groups of friends that want to showcase their love for magic.
One of the best things about this particular costume choice is that the Wizarding World is filled with recognizable characters. The most iconic is the trio made up of Harry, Ron, and Hermione.
Robes are easy to make at home, and wands are also easy to improvise using twigs or cotton candy sticks, and as far as the physical traits go, you can mimic them easily.
For example, if you plan on being the Harry potter of the group, all you need is to draw a scar on your forehead and wear round reading glasses, while those of you that want to mimic Ronald Weasley simply have to wear a ginger wig.
Finally, you can complete the costumes by carrying around some old-fashion brooms since a wizard without a broom is basically a Muggle.
3. Group Halloween Costume Ideas – Cosplay
One of the easiest group costume ideas that you can try is to simply go in full cosplay as characters from the same fictional universe.
Since cosplaying basically means dressing as your favorite comic book, manga, or video game character, there are plenty of universes to draw inspiration from.
Thus, if your entire group of friends happens to play the same MMO or read the same comics, dressing up as characters from that franchise will be an excellent choice.
Admittedly, cosplay does have a reputation for very intricate costume designs, but with a little bit of ingenuity, you don't actually have to spend several hours just to create your perfect costume.
Besides, as long as you're spending Halloween with close friends that share common interests, the fact that your costume may not be all that accurate won't even matter anymore.
4. Girl Group Costumes – Matching Mimes
When it comes to Halloween costumes, one of the best ways to showcase your bond with your group is to dress up in the same way, or at least in very similar ways.
Admittedly, this may not sound like a great idea if you're planning on joining a Best costume contest, but if you're not the type that's interested in any of that, then matching costumes are perfect for you.
In the example above, we've showcased two girls that are wearing the exact same costume, and in all honesty, you have to admit that they make it work and that they are very cute.
5. Group of 4 Halloween Costumes – The Flintstones
Back in the '60s and all the way to the present day the Flintstones have been one of the most popular fictional families on TV, so naturally, they make for a great source of inspiration when it comes to group Halloween costume designs.
There are plenty of characters to choose from, and since they are so iconic, it's easy to recreate their costumes and be recognizable, even if you don't follow the design precisely.
Take a look at the DIY costume design tutorial from Redbird Projects and see for yourself just how easy it is to recreate the look of Fred and Wilma Flintstone using just some colored fabric and felt.
Of course, you can follow the same steps to recreate costumes for Barney, Betty, Pebbles, Bam-Bam, and you can even go as far as creating a giant Dino costume for your pet.
6. Group Costumes for 4 – A Troup of Mariachis
Mariachis always roam in groups of 3 or 4, and they wear bright costumes that really stand out, making them a great inspiration for when you're looking for a costume idea for a group of 4.
Besides, Mariachis are very popular around Cinco de Mayo, which is basically the Mexican version of Halloween, so if you want to showcase your love for all things Mexican, there's no way you can go wrong with a set of Mariachi costumes.
Speaking of which, you can further enhance the costume by wearing skeleton makeup in order to bring out that Cinco de Mayo feel.
More so, if you and your gangs can sing well enough, you can even go ahead and start singing as well, just as long s you don't annoy your neighbors.
7. Group of 3 Halloween Costumes – The 3 Musketeers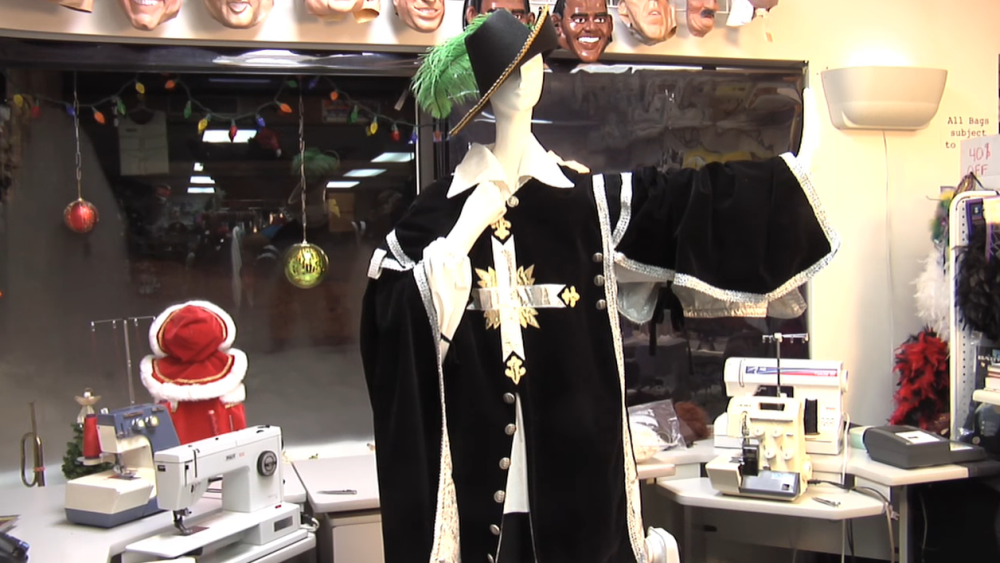 One of the most iconic trios in literature is the 3 musketeers, and while many would argue that Alexander Dumas actually intended to have 4 of them, many consider that D'Artagnan doesn't count.
French literature aside, these characters are instantly recognizable, especially if you have the cape, the gloves, the hat, together with a mustache and fake beard that you can simply draw using a non-permanent marker.
If you need some extra guidance as to how you can make the clothing, simply watch the video above from eHowArtsandCrafts, and you'll be on your way to becoming an authentic French royal guard.
Finishing off the costume is fairly easy, since all you need is a fake sword, and a few minutes to rehearse their most famous words: All for one, and one for all!
8. Cute Group Halloween Costumes – The Teletubbies
You can't get any cuter than the Teletubbies, and as long as your group does not exceed 5 people, they make for an excellent group costume choice.
Sure enough, the costume may seem difficult to create at first because the characters in the shop are actors wearing large full-body suits, but if you're interested in a quick DIY version of the costumes, go ahead and follow the video tutorial above from Jennie Sofie where she will teach you how to make Teletubbies-themed headbands.
You can then complete the costume by wearing clothes of matching colors, and you, along with your entire squad, will be ready to go trick-or-treating without feeling as if you overdressed.
Hint: If your group is made up of family members, or if one of your friends happens to have a baby, you can complete the group costume by dressing the little one as the Sun, just like in the show.
9. Funny Group Halloween Costumes – Traditional Costumes
If you and your friends share a love for both Halloween as well as your country's old ways, one great idea for a group costume idea is to simply dress in your country's traditional clothing.
Everyone in your neighborhood will know what you're dressed as, and if you happen to be in another country during Halloween, it will be the perfect excuse to let others know about your culture.
While the costumes themselves may be a bit harder to make by yourself, chances are that if you go rummaging in your parent's or grandparent's attic, you may find a suit that you can use.
10. Group Costumes for 3 – Super Mario Characters
Super Mario is one of the most recognizable videogame characters, both in terms of name and design, and they've always been a Halloween favorite, probably because all you need to do is dress up like an Italian plumber.
The Super Mario franchise is filled with fun characters, and if your group is made up of 2 boys and one girl, then you can easily pull off a Super Mario-themed group costume featuring Mario, Luigi, and Princess Peach.
While her pink dress may indeed require a few extra hours put into it, the boys will have it much easier since all they need are the classic blue overalls, the hat, and a red or green blouse.
11. Scary Group Halloween Costumes – The Addams Family
The Addams family are probably the most Halloween-themed characters on our list, so it's only natural that they were mentioned at one point or another as a costume suggestion.
The franchise has many recognizable characters, and as you can see from Palmetto Goodwill's video above, if you already happen to have plenty of black, gothic, or elegant clothes at hand, you won't have to do much shopping to finish the costume.
With characters like Gomez, Morticia, Pugsley, Wednesday, or Uncle Fester to choose from, there's pretty much no limit as to how everyone in the group can dress up.
Not only that, if your group also has that tall friend that always has a hard time choosing costumes, he can just go ahead and wear an older suit, put on some makeshift Frankenstein makeup, and you have an instant Lurch costume!
12. Best Group Halloween Costumes – The Smurfs
When it comes to exceptionally large groups of friends, family, or coworkers, the costume choices are pretty limited, but you can always rely on the Smurfs to be a source of inspiration since, except for a handful, they are pretty much all the same.
All you need are some blue and white clothes (red if you plan on being Papa Smurf), some blue face paint, and your costume is pretty much complete.
To finish the entire costume ensemble, you can also go ahead and learn the Smurf's theme song and sing it from time to time, since you'll most likely get a good laugh out of it.
13. Team Halloween Costumes – Power Rangers
The Power Rangers are like the Teletubbies we mentioned earlier, since they are limited to groups of 5 or 6, and they are all of different colors, the only real difference being that Teletubbies don't do any punching, kicking, or acrobatics.
Spandex can be used for the bodysuit, and you can use cardboard to make the helmets or even mache paper mache helmets if you really want the rounded corners.
Just like regular group cosplay, the Power Rangers are very popular when it comes to taking pictures. Because of that, once you're all done creating your respective costumes, one great idea is to exercise a couple of poses, since chances are people will want a few pictures with their favorite Saturday morning kid's show idols.
14. Women's Halloween Costumes – Charlie's Angels
The true heart of any DIY costume design is to use as many household materials as possible without having to buy anything extra, and as far as women's costumes go, it can't get any easier than with Charlie's Angels costumes since there are pretty much no guidelines to follow.
You see, throughout the existence of this crime-fighting trio, there were never any definitive costume designs, and as you can see from RIYA's video, as long as you wear clothes that make you look cool and capable of throwing a few kicks, you're pretty much there.
In fact, the entire heart of the costume is the attitude and your ability to mimic their signature group pose.
15. Funny Costumes – The Rainbow
Just like the Charlie's Angels group costume mentioned earlier, this next costume idea focuses on using clothes that most likely everyone already has at home, while also allowing your entire group to dress up as one of the most spectacular natural phenomena: a rainbow.
All you and your friends need to do is dress up as one color of the rainbow, and whenever you're going trick-or-treating or taking a group photo, simply sit in the order of your color, and your group's costume choice will be easily recognizable.
The great thing about this particular idea is that you don't even need to dress entirely in that one color since a simple top will suffice, making it one of our lists' most cost-effective choices.
Here Are More Group Halloween Costumes
16. Minions Group Halloween Costumes
Who doesn't love minions? Check out the details for this fun group costume idea over at Brit + Co! Men and women alike can get in on the fun here!
17. Disney Princess Group Costume for 4
We're loving this inspiration from Party Delights! Gather your group of gals and transform yourselves into your favorite princess. From Tiana to Merida, from Cinderella to Belle, pick your favorites and create an ensemble around their likeness.
18. Spice Girls Girl Group Costume
Bring back a classic! A pack of 5 is all you need to turn yourselves into one of the best girl groups of all time. We found this idea onPinterest and had to feature the perfect outfits that signify each of the "spices!"
19. Boys Group Costume – Dominos
Dominos could be a fun way to go. And it's so easy because all you need are some black t-shirts to get yourself started. Hop on over to The Merrythought and grab the rest of the details tonight.
20. Funny Halloween Troll Costumes
Trolls are so popular right now thanks to the hit movie! And if you peek at Watch Out For the Woestmans, you'll find some inspiration on how to bring them to life. A great family costume idea, it's one that will have the neighbors giggling and taking pics!
21. Team Halloween Costumes – Ninja Turtles
Whether it's a group of guys, a group of girls, or a little bit of everyone, the Ninja Turtles are the perfect team to inspire your group costume idea. Just check out this fun and feminine take on the heroes from Lizz Aubrey! Tutus and tees make it an easy way to dress up this year!
22. Game of Thrones Group Halloween Costumes
If you haven't heard of Game of Thrones, you should probably get out from the rock you're living under and turn on the TV. Get with your buds and figure out who's gonna be who in the cast. And find some inspiration concerning the costumes over at Brit + Co.
23. Powerpuff Girls Group Costumes
It's been a while since we've seen this trip but it's such a charming way to go in terms of costumes with the ladies. Check out the how-to over at Instructables. And then start prepping your ensembles, hairdo, and makeup ideas!
24. Toy Story Cute Group Halloween Costumes
Another great family costume, everyone in the group can get their pick of favorite characters. We're loving this mix from Cara Loren. Woody, Buzz, T-rex and Barbie all came out for a night of trick-or-treating.
25. Fruit Salad Group Halloween Costumes
These fruit salad dresses/costumes from Studio DIY have us swooning! It's such great inspiration for DIYing your own outfits. Pick your favorite fruit and start the prep work.
26. Peter Pan Group Halloween Costume
You'll be off to Neverland with the gang if you choose to go with a Peter Pan theme. We're loving the getups seen in this Crazy Kingdom idea. From Tinkerbell to Tiger Lily, it's perfect for a big group!
27. My Little Pony Cute Halloween Costumes
My Little Pony is making a comeback! Check out Have You Nerd for some inspiration concerning costume ideas. From Pinkie Pie to Applejack, there's certainly enough characters for the entire gang to have a great pick.
28. Stranger Things Group Costume Idea
Homemade Mimi went with one of the most popular Netflix shows as their costume inspiration. Have you seen Stranger Things yet? If not, do yourself a favor and start the show tonight. In the meantime, follow the jump and grab some ideas for your costume this year.
29. Russian Nesting Dolls Funny Group Costumes
We couldn't help but crack a smile with this Russian nesting doll idea from That's Quite Nice. Perfect for a group of best friends or sisters, we love the creativities behind it all! And it's a great way to go if you'd like to DIY your own outfits!
30. Girl Group Costume Idea – Mean Girls
Brit + Co leaves us off with a favorite movie and the costumes that were inspired from it. Grab the girls and transform yourselves into the main ladies. Caty and The Plastics would be quite the fun ones to take on this Halloween.
Best Group Halloween Costumes
This concludes our list of best group Halloween costumes, and we hope that our suggestions inspired you more than enough to figure out what you and your friends or family will dress up as this year.
The costumes are easy to create, and they will definitely make it look like you all belong together, and for those of you that like hanging out together, that's pretty much all that matters.
All in all, if you're looking for more articles that can inspire you on how to celebrate this year's Halloween to the fullest, leave us your suggestions in the comments section below, and we'll be sure to compile a list just like we did with the one above.