15 Seriously Delicious Christmas Desserts To Serve Up This Season
The holidays are upon us and menus are being prepped. If you want to whip up something extra sweet this year, you've come to the right spot. Below you'll find 15 seriously delicous Christmas desserts perfect for serving up this season and topping off any meal throughout the season. From chocolately pieces of heaven to festively-infused creations, we've got a bit of every kind of flavor profile represented in this satisfying compliation.
1. Rum-Spiked Eggnog Crème Brûlée Recipe
The Cozy Apron shows us how to take a classic creme brulee and level it up a bit for the holidays. Eggnog flavoring and some spiked, rum addition too, it will be the best part of the meal. You get to utilize that butane torch!
2. Chocolate Candy Bundt Cake
Chocolate bundt cakes are devine. But, when you top them with some sweet peppermint it becomes an instant Christmas classic. Grab the recipe at Crumb Kitchen.
3. Plum Cake
We all know that fruit cake is a holiday staple. But Go Cook creates something a bit more delicious in this plum cake. You can even use this in the evenings with a warm cup of tea.
4. Toasted Coconut Cream Rum and Chocolate Crepe Cake
Half Baked Harvest went all out with this crepe cake. It's layered with the most delicious of flavors: chocolate, creme, rum, and toasted coconut. It's a delicate bite packed with so much to swoon for!
5. Black Forest Dome Cake
Sprinkle Bakes went the black forest route. But, the artistic measures it took to create this dome was one that made the flavor turn into something even more special. This is definitely holiday dinner worth.
6. Rockin' Reindeer Ravioli
For something a bit more unique, check out these dessert-style raviolis. Food Network will tell you how to create this gingerbread dough and stuff it with the right kind of chocolate. The kiddos will love them – just make sure to leave a few for Santa.
7. Christmas Macarons
Create some Christmas macarons while you're in the kitchen too. They'll definitely test your kitchen skills. Add some sticks to turn them into pops and the perfect DIY present. Details at Las Recetas de la Felicidad.
8. White Christmas Crackles
Here's a recipe you'll want to grab the kids for. They will love to play around in the kitchen with some rice krispies! Head on over to Delicieux and learn how to whip up these crunchy sweets.
9. Hot Chocolate Truffles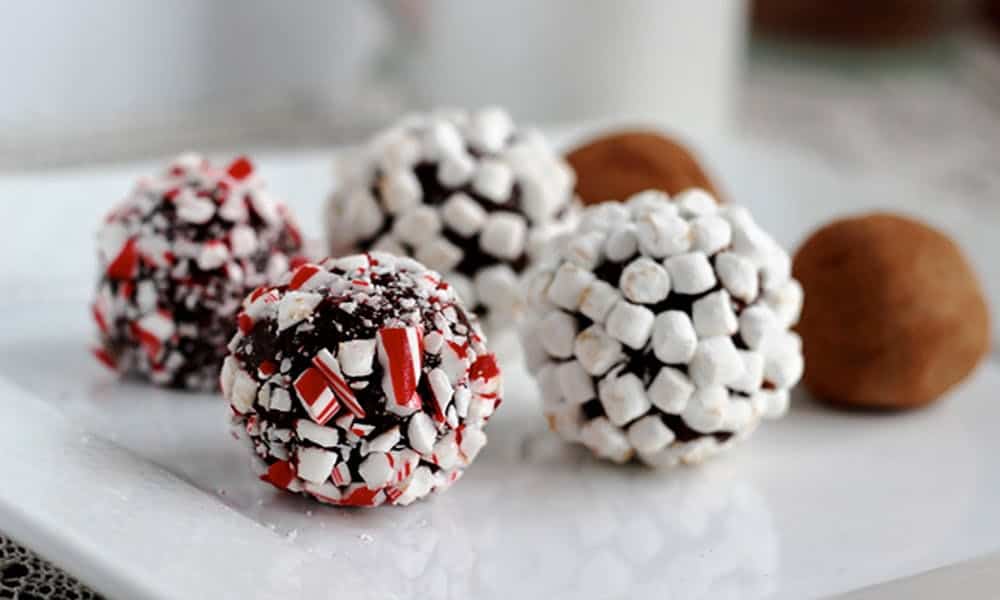 Your Cup of Cake will walk you through these delicious truffle bites. Each with their own additions on top, these are great gifts for the family as well. Make it a fun night of time in the kitchen while you crank up the holiday music in the background!
10. Cookie Butter Pumpkin Bites
Cookie butter and some pumpkin filling going really nice together. Just check out Keep It Sweet Desserts for all the details. You could even add some holiday sprinkles or powdered sugar if you'd like.
11. Earl Grey and Chocolate Cream Puffs
Earl grey is a bit hint among macaron flavors, but it also pairs nicely with chocolate. Try that theory out by checking out this recipe at Hint of Vanilla. Cream puffs are delicious, but even more so with flavors so unique.
12. Cranberry Orange Cheesecake
Gimme Some Oven went with a lighter, fruitier flavoring. Their cheesecake is filled with tartness and creaminess. Orange and cranberry is a wonderful holiday pairing.
13. Gingerbread Whoopie Pies
Simply Stacie has a really good time making whooie pies. But, we happen to think these gingerbread ones are great as a new holiday tradition with the fam. Baked them. Fill them. And then send them off to family and friends.
14. Christmas Swirl Cheesecake
If you're looking for an extra bought of festivity, you'll want to check out OMG Chocolate Desserts. Cheesecake is yummy, sure. But when you add some holiday flair to the recipe, it becomes even more special.
15. Eggnog Cheesecake Brownies
And we leave you off with this fun combination. A Cookie Named Desire took brownies and the wonderful flavor behind the classic eggnog to turn it into a dessert no one will forget.