15 Thanksgiving Desserts You've Gotta Leave Room For
We all love a slice of pumpkin pie with some fresh whipped cream on top, sure. But what about jazzing up the holiday sweets this year? Below we've found 15 Thanksgiving desserts you've gotta leave room for. Grab your elastic waist pants and prepare yourself for a slice of this, a scoop of that, or a bite of the best. All of these are inspired by the season and the holiday, and we're equally as sure that the entire family will enjoy.
1. Pumpkin Churros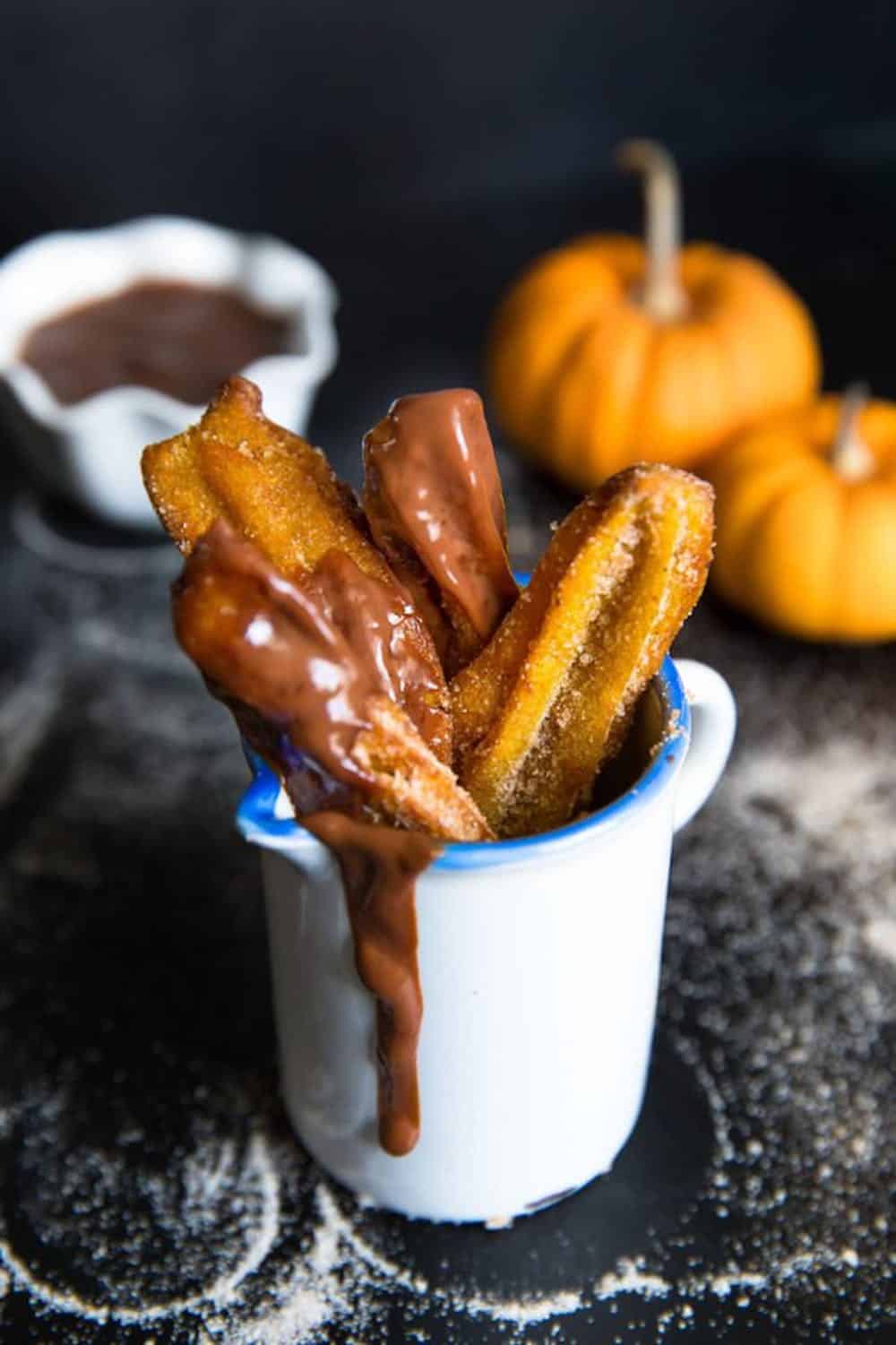 Yes, you can make churros with a hint of pumpkin flavor. Check out Broma Bakery for all of the details behind their creation. And please, don't forget to serve them up with some chocolate dipping sauce.
2. Chocolate Dipped Pears with Almond Crunch
Is your mouth watering yet? These Bakers Royale pears have so many layers of deliciousness to bite into. Chocolate, almond, and the juicy fruit itself, you'll want seconds of these.
3. Chocolate Turtle Apple Slices
These are actually really fun to whip up and super easy too. Grab the kiddos and have them help make these for everyone to take a bite of this holiday. Find the recipe at Mom Loves Baking.
4. Honey Pear Tart
Sally's Baking Addiction makes a honey pear tart that's obviously to die for. This evokes the flavors of the season but in less obvious ways than what we're all used to. There's a sprinkle of almonds on top that will finish off the tastes quite nicely.
5. Pumpkin Creme Brulee
Baking A Moment took a classic dessert and infused a bit of autumn into it. How does a sweet and smooth pumpkin creme brulee sounds to round out Thanksgiving dinner? You can even make them individually into little jars for some rustic style.
6. Pumpkin Spice Truffles
We've made these pumpkin spice truffles ourselves and they're delicious, we promise. Grab the recipe at Sally's Baking Addiction and whip these up before dinnertime comes to call in November. Make sure to make more than just one for each of your guests.
7. Pumpkin Roll
Gimme Some Oven gives us a more traditional recipe to bite into on Thanksgiving night. These pumpkin rolls are fun to make – and will help fine tune some skills – but they're also comforting and delicious.
8. Chocolate Ginger Molasses Cookies
Chocolate ginger molasses cookies have a plethora of satisfying flavors included and each one is highlighted inside of this recipe from Well Plated. Ooey, gooey and so good you can't have just one, make sure you whip up a batch that's extra-large for the family.
9. Bloomin' Baked Apples
To really stop the show, serve up this warm dish of "bloomin' apples" after turkey is over. The Gunny Sack will walk you through their creation. But most importantly, don't forget a scoop of vanilla bean to top it all off.
10. Pumpin Pie Nicecream
Feasting On Fruit made some pumpkin pie ice cream that's out of this world. The kiddos will dive right in and it makes a great foundation for fall-inspired sundae. Cover with hot fudge or chocolate chips, sprinkles or almond slivers!
11. Pumpkin Cannolis
If you're already a lover of cannolis, how about creating a cream that has a hint of pumpkin spice? Roxana's Home Baking is where we got this fun idea and we've put it on the list to try immediately. It's a great way to bring some outside-the-box thinking to the Thanksgiving table.
12. Cranberry Chocolate Chunk Blondies
The Recipe Rebel gives us these cranberry chocolate bars. They're so rich and they'll easily satisfy a sweet tooth. The tartness of the fruit contrasts nicely with the smooth chocolate.
13. Slow Cooker Pumpkin Spice Lava Cake
Grab the slow cooker and have dessert ready right on time this holiday. Love Bakes Good Cakes featured this pumpkin spice lava cake on their site. You could even add a few chocolate chips to the recipe for extra oomph.
14. French Pumpkin Cheesecake
Turn your love for pumpkin flavor into something magical with this French pumpkin cheesecake. Mon Petit Four will give you everything you need to know in making this special treat for the family this year.
15. Salted Apple Snickers Cake
Half-Baked Harvest leaves us off with the most beautiful fall-inspired cake. From the topping to the frosting, there's so much that went into this beauty and there's so much deliciousness to love about it. Grab the details after the jump.