50 Thanksgiving Day Desserts Everyone Will Want Seconds Of!
Apple, pumpkin and cranberry too, they're all frequent flavors of Thanksgiving day and they go great with dessert. From classic pies to cakes that you've never even heard of before, these 50 Thanksgiving day desserts will have everyone coming back for seconds. Take a peek!
1. Pumpkin Flan
Mounty Cooking takes a classic flan to an entirely new level with this recipe. Check it out and injure your dessert with a bit of pumpkin!
2. Pumpkin Seed Candy Peanut Butter Cups
Half Baked Harvest shows us how to whip up some homemade candies for the big day. Follow the recipe and delight all your fall taste buds.
3. Pumpkin Tiramisu
Combine your favorite Italian treat with your favorite autumn flavor. This pumpkin tiramisu will wow everyone. Grab it at Dessert First.
4. Pumpkin Mousse Icebox Cake
Diet hood makes a pumpkin mousse icebox cake that's super simple to whip up! It's cold and sweet; the perfect ending to the night's meal.
5. Salted Caramel Apple Snickers Cake
Half Baked Harvest not only make a stunning masterpiece to look at but you'll want to gobble the entire thing up in one sitting! Learn how to make one yourself after the jump.
6. Chocolate Dipped Pears with Almond Crunch
Bakers Royale took some delicious pears and dipped them in chocolate. These are also beautiful to look at but even better to bite into.
7. Chocolate Turtle Apple Slices
Mom Loves Baking shows us a dessert recipe that you can get the entire family in on helping! Slice those apples and create your own toppings!
8. Cranberry Chocolate Chunk Blondies
Cranberries and chocolate are a sure way to satisfy all the tummies at the table. Check out this recipe over at The Recipe Rebel.
9. French Pumpkin Cheescake
Mom Petit Four made a French pumpkin cheesecake that will make you smile too. It's light, it's pretty and it's full of the season's favorite flavor: Pumpkin!
10. Slow Cooker Pumpkin Spice Lava Cake
Utilize your slow cooker on the day that the oven is constantly in use. Love Bakes Good Cakes gives you a recipe for a pumpkin spice lava cake you can slowly bake all day long.
11. Pumpkin Spice Cake
Good Housekeeping has a great recipe for a classic pumpkin spice cake as well. Keep things simple with this sweet and delicious treat.
12. Harvest Pear Blackberry Pie
Visit Good Housekeeping again for this fruity pie recipe. Pears and blackberries come together to create quite the refreshing bite.
13. Skillet Pumpkin Chocolate Chip Cookie
Oh goodness, this one looks good enough to dive right into through the computer screen. A pumpkin skillet cookie – with chocolate chips too – can be whipped up quickly and shared with the entire family. You may just need to make two or three! (via)
14. Granola Pecan Pie
Good Housekeeping makes a pecan pie that fits right into the day's courses as well. But this one has a hint of maple.
15. Pumpkin Spice Truffles
Sally's Baking Addiction shows us how to make truffles! Have a bite after the leftovers are put away or send them home with the family.
16. Pumpkin Cannoli
You can even turn a cannoli into a Thanksgiving Day delight. Check out this fabulous find over at Treat's Affair.
17. Pumpkin Chocolate Cream Horns
Place of My Taste shows us how to become a pastry chef in an afternoon. Check out these chocolate-pumpkin cream horns!
18. Pumpkin Pecan Cobbler
Lauren's Latest makes a pumpkin pecan cobbler that you'll be swooning for. And don't forget the vanilla bean ice cream on top!
19. Pecan Bars
Instead of making a simple pecan pie, do something a bit more unique with the classic bite. Just A Taste shows us how to make bars!
20. Cherry Cheesecake Dip
I Heart Eating makes a family style cherry cheesecake dip that is just so addicting! Serve it up with vanilla wafers and graham crackers.
21. Salted Caramel Chocolate Chip Cheesecakes
Sally's Baking Addiction makes some mini cheesecakes that you may have to make several per person for! Salted caramel chocolate chip … it's a mouthful of deliciousness!
22. Turtle Brownie Cheesecake
Visit Life Love and Sugar to lear how to make this indulgent turtle brownie cheesecake. It's so pretty too!
23. Apple Pie Bread Pudding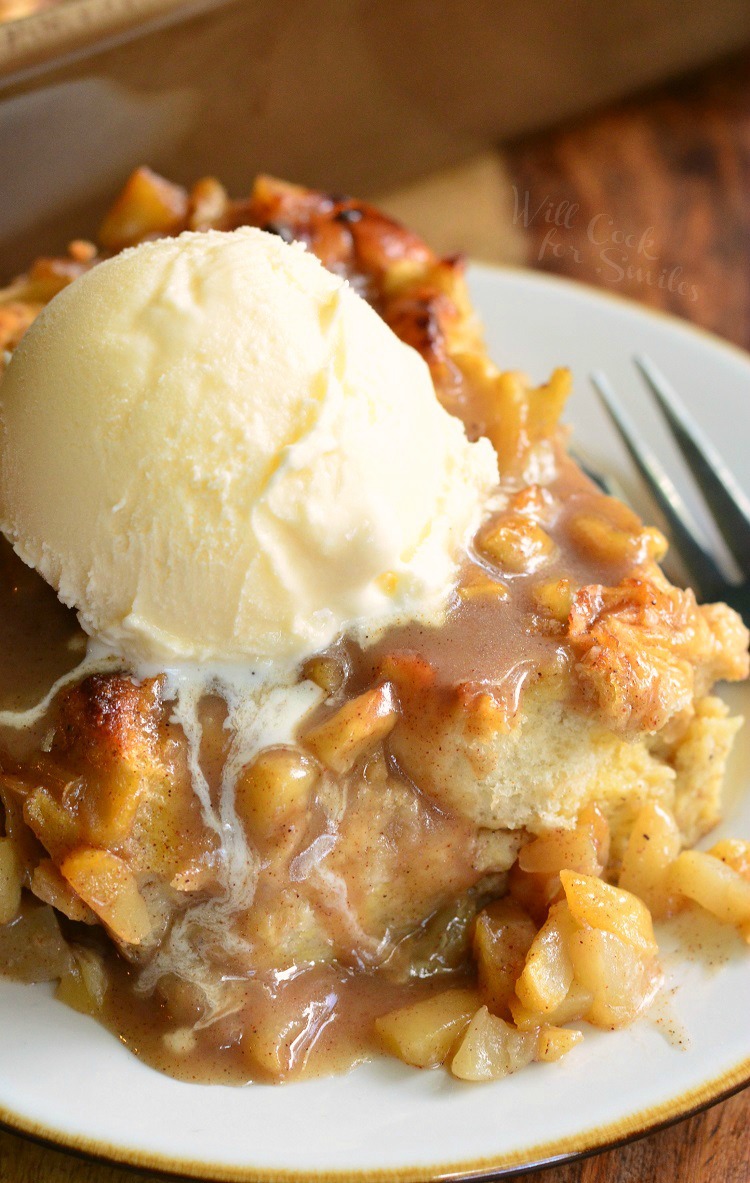 Will Cook For Smiles knows the way to our hearts. And that's with a bit of warm, gooey delicious apples with ice cream on top.
24. Caramel Apple Cream Cheese Crescent Ring
Cinco Shopper makes another family-style treat that won't go wasted. Everyone will want to grab a bit of this tart ring!
25. Cranberry Apple Shortbread Bards
Cranberry apple shortbread bars can be quite addictive as well. Grab the recipe for this one over at Keep It Sweet Desserts.
26. Chocolate-Covered Roasted Pumpkin Seed Clusters
Here's another candy-like treat that can be gobbled up after the turkey is put away or send along with family as they leave in the evening. Snag it at Half Baked Harvest.
27. Chocolate Swirl Pumpkin Bars
Dear Crissy puts our two favorite flavors together and turns them into something magical. You can never go wrong with a bout of chocolate and pumpkin!
28. Mini Apple Pies
Take your apple pie baking to the next level with this idea from It Doesn't Tastes Like Chicken. Bake your dessert right into the apple itself!
29. Mini Pumpkin Pie Pops
One Little Project gives us a kid-friendly recipe to try out too. Don't forget the drizzle on top of the pops though!
30. Pumpkin Cream Cheese Bunt Cake
A pumpkin cream cheese bundt cake will keep the family happy too. They may even want a slice in the afternoon with some coffee. (via)
31. Pumpkin Angel Food Cake with Harvest Cream Cheese Frosting
Catz in the Kitchen makes a light and fluffy pumpkin angel food cake that you'll love to dive into as well. Especially with the scrumptious icing attached.
32. Autumn Spice Cake with Cream Cheese Frosting
Cooking Classy makes another classic cake the family will love. And this time you can decorate it a bit with sprinkles!
33. Soft Ginger Molasses Cookies with Pumpkin Butter Buttercream
Saving Dessert gives us a batch of cookies to drool over. These soft molasses ginger cookies will go a long way with everyone at the table.
34. Caramel Apple Cream Puffs
Here's a wow dessert to test your pastry skills with. Caramel apple cream puffs from Baking A Moment are pretty and delicious.
35. Vanilla Cake with Cranberry Ginger
Vanilla cake topped with cranberry ginger will ignite all of those taste buds too. We love the mixing of sweet and tart flavors. (via)
36. Goetzes Caramel Cream Brownies
Head on over to Goetze's Candy and learn how to utilize those caramel treats. You can bake them right into a brownie!
37. Twit Pound Cake
Who loves Twix? Well, if you're already a fan, you'll be even more a fan with this pound cake recipe from I Wash You Dry.
38. Apple Toffee Crunch Cake
This apple toffee crunch cake from Style Sweet CA is quite the stunner. Now we can't promise that yours will turn out at pretty but if you follow the recipe, it'll be just as scrumptious.
39. Pumpkin Mousse
If you want something lighter and that you can serve in small plates, check out this mousse! Grab the recipe over at Dinner Now Dessert Later.
40. Pumpkin Meringue Pie
Dinner At The Zoo makes a pumpkin merge pie you'll love as well. It's hard to get through Thanksgiving without a pumpkin treat. And you shouldn't have to!
41. Salted Pumpkin Creme Brûlée
If you want to be really adventurous, grab the torch. You'll ignite the kitchen and your taste buds with this creme brulee from Food 52.
42. Caramel Apple Cookie Dough Bars
Everyone loves the guilty pleasure of biting into a spoonful of cookie dough. Take that feeling to the next level with this recipe from Belle Vie.
43. Pumpkin Buttermilk Bundt Cake
Here we have another bundt cake that would do well sitting out for all to enjoy. Serve it up with some hot tea or coffee in the evening. (via)
44. Caramel Apple Trifles
Life Love and Sugar makes a personalized dessert as well. Everyone will get there own cups of yummy with this trifle recipe.
45. Fluffy Cranberry Pie
And over at White On Rice Couple you'll get this light and sweet treat. Try whipping up your own cranberry fluff for the celebration.
46. Caramel Apple Cheesecake Trifle
We have a similar trifle recipe to try from Shared Appetite. Both are yummy and both can be made into personalized servings.
47. Paleo Pecan Pie
Bakerita has a recipe for those that follow a paleo diet or want something a bit healthier on the biggest eating day of the year. Grab it after the jump!
48. Pumpkin Pie Parfait with Coconut Whipped Cream
The coconut whipped cream involved with this pumpkin parfait will really set your mouth on fire – in the best way possible. Check it out at Natural Girl Modern World.
49. Bourbon Pecan Pie
Good Housekeeping hands over a recipe for a bourbon pecan pie that will truly be the life of the party. Visit now for the details.
50. Chocolate Toffee Pumpkin Whoopie Pies
Yummy Crumble has one of the cutest and most unique bites of the bunch. Why not serve up some crunchy and sweet whoopee pies for the family?