Decorate The Tables With These 50 DIY Christmas Centerpieces
It's time for family dinners, neighborhood get-togethers and friends festively brunching throughout the season. And it's time to get those tables placed and styled for all the fun and jolly spirit of this winter. With these 50 DIY Christmas centerpieces, the dining room will be ready and decorated for the holidays!
1. Modern Striped Trees
HGTV made some modern striped Christmas tress that you can gather and sprinkle on the tables. This is great for longer tables with a lot of seating!
2. Tiny Trees
Of course you could also do something with tiny trees like you see here over at HGTV. You can even make it a bit more rustic or feminine depending on your styling.
3. Tree Votives
A Beautiful Mess makes these tree votives that would look great at the center of the table as well. Add a bit of magic and romance to the scene!
4. Simple Pine Cones
Some simple pine cones are truly all you need to spruce up the dining room. Check out this tutorial and inspiration at eBay!
5. Hanging Ornaments
Shanty 2 Chic goes big with this fun, hanging ornament project. This is so fun and festive! All of your guests will be wowed over the finished product.
6. Wintery Candles
We found some extra special wintery inspiration in this candle design. Some white candles, rustic additions and a bit of green make this a soft and beautiful centerpiece for the holiday season. (via)
7. Hershey Kisses
Smart School House put Hershey Kisses to good use with this chocolate-inspired idea. Add some pops of color and kid-friendly fun to the table!
8. Birch Log Fire Light
Make+Haus shows us how to make this birch log fire light centerpiece and we're in love. It adds a touch of romance and winter charm to the tablescape.
9. Cookie Jars
Check out how to use some cookie jars on the table over at Good Housekeeping. It's sweet, it's simple and so versatile too!
10. Ornament Tree
We're loving this DIY ornament tree. It's festive and it's a lot easier than you may think to put together. Go with neutrals or brighter tones – you can't go wrong with this one! (via)
11. Star Tealight
Monstercircus makes some stunning star tea lights that can add that bit of whimsy romance we love about this season. But it also adds the right kind of festivity to pay homage.
12. Geo Paper Tablecloth
MayDae teaches us how to make a super snazzy paper tablecloth. Covered in a geo print, you can get extra funky and festive with this one.
13. Ombre Ornaments
Head back over to HGTV and learn how to make some ombre ornaments. They can catch a spot at the center of the table too!
14. Wooden Tabletop Tree
You could always catch one of these modern, wooden Christmas tree DIYs and use it as the focal point. With or without ornaments it looks great! (via)
15. Light Holidays
French Larkspur gives us some beautiful inspiration for creating a light and feminine holiday-inspired table. Some pine cones, warm candlelight and fresh sprigs can really ignite the mood.
16. Rows of Jars
Check out Country Living and learn how to recreate this row of fun, holiday-filled mason jars. Some cranberries and some candles are all you need to get started.
17. Oh Deer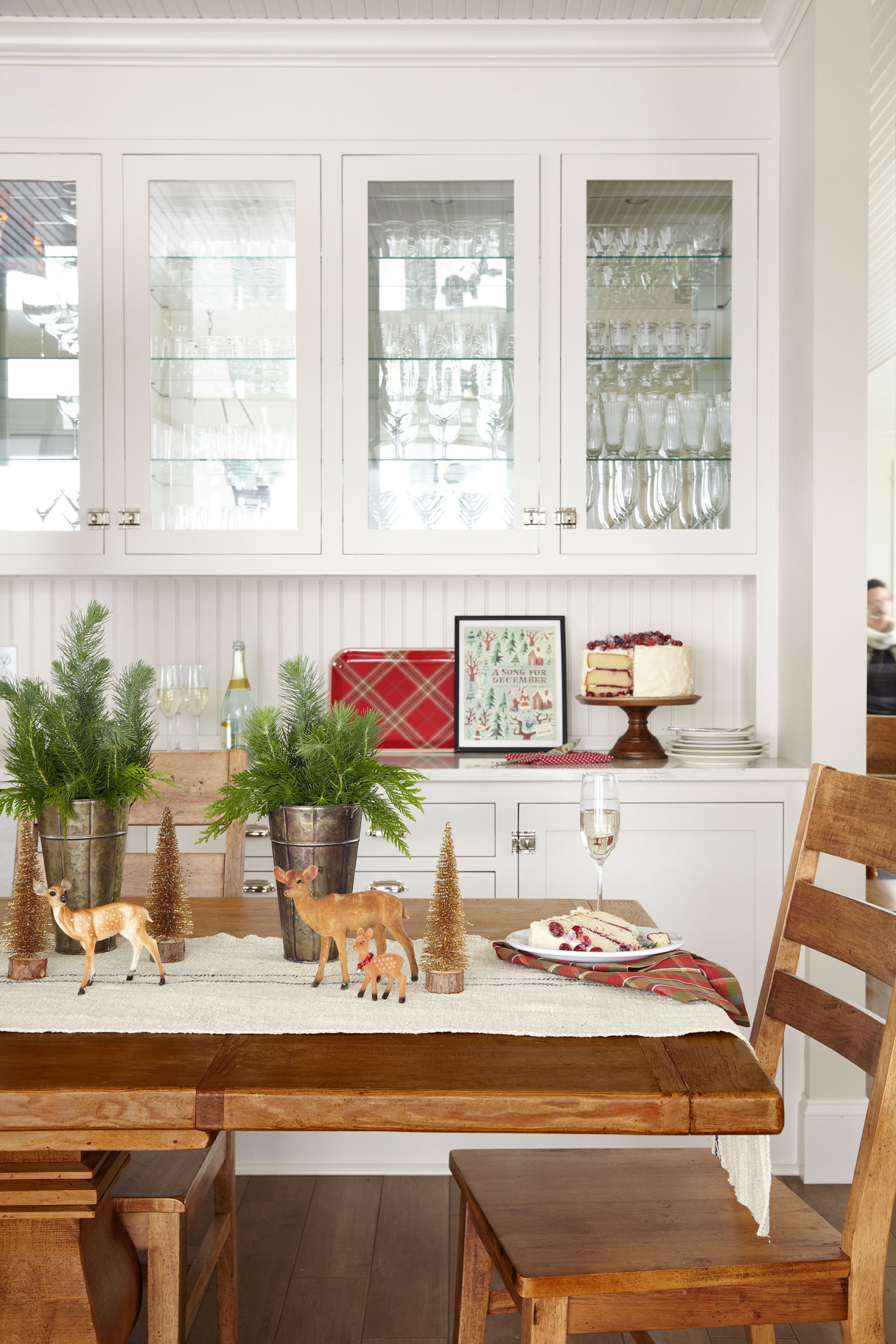 Country Living has this fun project up their sleeve as well. Add a bit of charming, deer-sprinkled style to your table!
18. Clementines
And we will make you stop over at Country Living one more time and check out this easy clementine idea. Add some cloves to the mix too!
19. Peppermint Stick Candlesticks
Simply Kierste made these adorable peppermint stick candlesticks. Easy and kid-friendly too, it's all about what you want the end vision to be!
20. Mini Evergreen
A mini evergreen could take up space on the table too. Visit The Golden Sycamore to check out the original inspiration.
21. Just $5
Don't spend an arm and a leg on your DIY centerpiece. Instead, check out Cleverly Simple and spend just $5 on a beautiful project.
22. Wooden Box
All you need is a wooden box to get started with this one. It's subtle but The Idea Room hits the nail on the head with style and ease.
23. Red & Green
Southern Hospitality makes a classic red and green centerpiece we're loving too. Just start with a tree!
24. Cranberry Layers
Rosyscription layered up some cranberry textures and tones for this centerpiece idea. Grab the details after the jump!
25. Filled Wood Box
Here's another box idea that we're loving. Over at Fynes Designs they took a birch wood box and filled it up with some festivity!
26. Christmas Song Runner
You could always liven up your holiday centerpiece with a bit of music. View from the Fridge has this great DIY for a table runner with bouts of lyrics painted right on!
27. Party Poppers
You Are My Fave uses party poppers in their design. It's hard not to love the youthfulness and easy appeal of this one.
28. Wooden Candles
This wooden candle centerpiece is so versatile because you can essentially use it all year long. Just dress it up for the holidays! (via)
29. Ornaments in Wine Glasses
How simple and sweet is this creation. We found the easy idea over at Organic Authority and fell in love with the simplicity!
30. Snowflake Table Runner
Check out HGTV for all the details behind this snowflake table runner and how to make it! Of course, we love it's toppings as well.
31. Wreath-Covered Candles
Home Depot has this festive idea up their sleeve too. Add some candles, add a wreath and love how it envelopes your dining room.
32. Magazine Christmas Trees
Tara Dennis took a magazine and turned it into a Christmas tree. This is a great way to use up those scrap papers!
33. Rustic Trifle
Use your trifle dish and fill it up with some rustic style. Grab the inspiration from Good Housekeeping.
34. Powdered Blues
This powered blue and silver creation is quite pretty too. Grab the original inspiration over at Two Twenty One.
35. Cranberries & Greens
Visit Organic Authority if you want to take a peek into the makings of this cranberries and greenery combination. We love the vase, we love the vibe and we love the ease of it all!
36. Glitter & Gold
The 36th Avenue mixes glitter and gold in all the right ways. If you're looking for something with a more glam appeal, this one is for you!
37. Winter Wonderland
Or maybe you want a bit of a wintery wonderland feel. If so, you'll want to head on over to Pop of Pretty and grab some fun ideas.
38. Hershey Kiss Trees
It All Started With Paint used Hershey Kisses to their advantage too. And the best part here is your dinner guests can leave with a party favor.
39. Ornament Bowl
A bowl and some ornaments can make for quite the stylish centerpiece too. Just hop on over to Take Time For Style and check it out!
40. Woodland Combo
JST Design makes this gorgeous woodland scene. And Although it was made for a coffee table we can't help but think how perfect it would be for smaller dining room table.
41. Fruit & Greens
Yes, even fruit can be used around the holidays because they're not all made for the summer. Check out this gorgeous, organic design from Julie Blanner.
42. Mason Jar Luminaries
House of Hawthornes whipped up some mason jar luminaries that can add a bit romance to the table. This soft lighting – that's festive too – helps transform the vibe of the room.
43. Birch Pillars
Fruetcake utilized some birch too! Make some pillars and turn your rustic vision into reality right on your table.
44. Wooden Scene
Here's another wooden scene that we found at The Sweet Escape and it may be our favorite. Some glitter and birch really know how to work well together.
45. Bauble Container
Good Housekeeping filled up a container with classic, Christmas baubles and it worked as a centerpiece too. Grab the details for this one after the jump too!
46. Treat Tower
Good Housekeeping also made this treat tower that was just too fun not to include on the list! This one the kids will want to dive right into!
47. Cranberry Luminaries
And here we have some more luminaries that we're loving and swooning over the festive romance they bring. Run over to Thirty Handmade Days for the tutorial.
48. Snow-Covered Pine Cones
Ella Claire dipped her pine cones into some "snow." A bit of glitter never hurt either, and sometimes the simplest of additions make the best and biggest impact.
49. Mossy Gift Boxes
HGTV gave us this traditional, yet unique, DIY idea. Follow along and learn how to make these mossy gifts for your Christmas dinner table.
50. Baby's Breath
HGTV also made a centerpiece that hangs from the ceiling! With a bit of baby's breath you can bring a lightness and feminine quality to Christmas dinner.