55 DIY Christmas Centerpieces to Decorate Your Holiday Table
People love decorating their house during Christmas, but don't forget that it's not just the walls and windows that can be decorated, but also the Christmas table, and the best way to do so is with a great and festive Christmas table centerpiece.
Besides, it's even better when you want to make it yourself, because there's a certain something to DIY Christmas decorations that somehow makes them look better than the storebought versions.
Of course, having the will and the materials necessary to craft your table centerpiece is pretty much useless if you have no idea where to start with your design, and that's where this article can come in handy since we've listed an astonishing 55 different DIY Christmas table centerpieces that you can try out this Christmas.
If you're curious what we prepare and want to jump straight to the center of it all, tap on the links:
Christmas Centerpiece Ideas?
A table centerpiece can increase the attractiveness of any table setting by giving an attractive focal point. However, the main improvement is it can help to draw the attention of your guests towards the center table and increase possibilities of conversation between them.
It also helps you in organizing formal dinner parties by helping guests to feel comfortable while staying at one place for a longer period of time. It is possible that every guest will get bored during this time if their place settings are not arranged properly on the table in front of them.
You can easily create your own centerpiece ideas with simple things which you already have in your house or ask help from local stores where you purchase food items. Moreover, there are many inexpensive options available that work well in creating a stand-out centerpiece design for your dining tables.
You can choose a centerpiece that's rather elegant, and simple, or go all out and build something that's over the top, features both baubles and candles, and tinsel. It's all up to you.
Christmas Centerpiece
Whenever we create a list like this one, the first step we take is to do some extensive research over the Internet, either by visiting blogs or social media platforms and checking out what decorations people are talking about.
Once we have our list of entries, we start sorting them out so that we can include on our list only the ones that actually look good, are more or less original, and most importantly, are easy to make at home.
DIY Christmas Centerpieces
While DIY Christmas Centerpieces may look very complicated at first, the truth of the matter is that they are actually pretty simple to pull off, especially if you follow the right tutorial.
Besides, a lot of the materials are readily available in nature, so you don't actually have to spend any money to make a nice-looking table decor.
1. Modern Striped Trees – Christmas Table Centerpiece
HGTV made some modern striped Christmas trees that you can gather and sprinkle on the tables. This is great for longer tables with a lot of seating!
2. Simple Pine Cones Christmas Centerpiece Idea
Some simple pine cones are truly all you need to spruce up the dining room. Check out this tutorial and inspiration ateBay!
3. Hanging Ornaments Christmas Dining Table Centerpiece
Shanty 2 Chicgoes big with this fun, hanging ornament project. This is so fun and festive! All of your guests will be wowed over the finished product.
4. Snow-Covered Pine Cones – Christmas Table Decor DIY
Ella Clairedipped her pine cones into some "snow." A bit of glitter never hurt either, and sometimes the simplest of additions make the best and biggest impact.
5. Mossy Gift Boxes – Christmas Centerpiece Idea
HGTVgave us this traditional, yet unique, DIY idea. Follow along and learn how to make these mossy gifts for your Christmas dinner table.
6. Bauble Container Christmas Table Decor DIY
Good Housekeepingfilled up a container with classic, Christmas baubles and it worked as a centerpiece too. Grab the details for this one after the jump too!
7. Treat Tower – Christmas Coffee Table Decor
Good Housekeepingalso made this treat tower that was just too fun not to include on the list! This one the kids will want to dive right into!
8. Hershey Kisses – Christmas Table Decor
Smart School Houseput Hershey Kisses to good use with this chocolate-inspiredidea. Add some pops of color and kid-friendly fun to the table!
9. Cookie Jars – Christmas Table Centerpiece
Check out how to use some cookie jars on the table over atGood Housekeeping. It's sweet, it's simple and so versatile too!
10. Ornament Tree – Christmas Coffee Table Decor
We're loving this DIY ornament tree. It's festive and it's a lot easier than you may think to put together. Go with neutrals or brighter tones – you can't go wrong with this one! (via)
11. Geo Paper Tablecloth – Christmas Table Centerpiece
MayDaeteaches us how to make a super snazzy paper tablecloth. Covered in a geo print, you can get extra funky and festive with this one.
12. Party Poppers – Christmas Centerpiece Ideas
You Are My Faveuses party poppers in their design. It's hard not to love the youthfulness and easy appeal of this one.
13. Ombre Ornaments – Christmas Centerpiece Ideas
Head back over toHGTVand learn how to make some ombre ornaments. They can catch a spot at the center of the table too!
14. Glitter & Gold Christmas Centerpiece Idea
The 36th Avenuemixes glitter and gold in all the right ways. If you're looking for something with a more glam appeal, this one is for you!
15. Winter Wonderland Christmas Table Centerpiece
Or maybe you want a bit of a wintery wonderland feel. If so, you'll want to head on over toPop of Prettyand grab some fun ideas.
16. Hershey Kiss Trees – Christmas Coffee Table Decor
It All Started With Paintused Hershey Kisses to their advantage too. And the best part here is your dinner guests can leave with a party favor.
17. Ornament Bowl – Christmas Table Centerpiece
A bowl and some ornaments can make for quite the stylish centerpiece too. Just hop on over toTake Time For Styleand check it out!
18. Wooden Tabletop Tree – DIY Christmas Centerpiece
You could always catch one of these modern, wooden Christmas tree DIYs and use it as the focal point. With or without ornaments it looks great! (via)
19. Easy Christmas Table Centerpiece
Don't spend an arm and a leg on your DIY centerpiece. Instead, check out Cleverly Simple and spend just $5 on a beautiful project.
20. Ornaments in Wine Glasses – Christmas Table Centerpiece
How simple and sweet is this creation. We found the easy idea over at Organic Authority and fell in love with the simplicity!
21. Snowflake Table Runner – DIY Christmas Centerpiece
Check out HGTV for all the details behind this snowflake table runner and how to make it! Of course, we love its toppings as well.
22. Magazine Christmas Trees – Christmas Table Decor DIY
Tara Dennistook a magazine and turned it into a Christmas tree. This is a great way to use up those scrap papers!
23. Rustic Trifle Christmas Table Centerpiece
Use your trifle dish and fill it up with some rustic style. Grab the inspiration fromGood Housekeeping.
24. Powdered Blues Christmas Table Centerpiece
This powered blue and silver creation is quite pretty too. Grab the original inspiration over at Two Twenty One.
Christmas Candle Centerpiece
Another popular trend when it comes to table centerpieces is adding candles right in the middle of them so that they can also serve a practical purpose of lighting up the room.
It doesn't matter if the candles are scented or not, just as long as their colors go well with the rest of the table decor.
25. Christmas Coffee Table Decor – Rustic Centerpiece

Christmas is one of those holidays where decorations are either rustic, or ultra-modern, and if you're partial to old-fashion decorations, then you'll definitely love making this rustic table centerpiece.
To make one for yourself, you'll need a slice of wood, or a slab of stone, some candied or dried orange slices, wicker, pinecones, cinnamon, and some white candles (preferably pine or cinnamon scented).
Start off by arranging some pinecones on your wooden board, then add the orange slices, and finally place the white candles in-between everything else.
What's great about this particular centerpiece is that about half of the materials are naturally scented, and they'll make the Christmas dinner table smell really nice, especially if you're the type that gets nostalgic from simple things like smells.
More so, all the materials used are easy to find, so you don't have to worry about throwing the centerpiece away after Christmas since you can always make a new and better one next year anyway!
26. DIY Christmas Centerpieces – Red and Green
If the previous entry seemed a bit too faded in terms of color palette, and you're the type that loves eye-catching DIY Christmas centerpieces, then you could try something that's similar to this red and green table centerpiece.
In the Illustration above, the centerpiece is made using a regular pine branch wreath, red roses, and a bright-red candle (probably scented), but you're free to improvise with other decorative elements, just as long as they fit into the same color scheme.
Of course, you can add other colors as well, such as white, silver, or gold, since these are pretty much the only colors that have always been associated with Christmas.
One great idea that you should consider is using real roses and a rose-scented candle if you want your table centerpiece to make the entire room smell wonderful, or you can use silk flowers and a scented candle if you want to be able to store the centerpiece and use it next year again.
All in all, it's a great table centerpiece idea that we recommend you try, especially if all the other table elements are colored in the same way (table cloth, plates, napkins, etc).
27. Christmas Table Decor DIY – Evergreen Centerpiece with Berries
This Christmas table centerpiece is a variation of the previous entry whereas the heavy emphasis is put on the use of the colors green and red, only this time the source of these colors are a bit more on the rustic side.
That being said, you'll only need some pine branches or a pine branch wreath, bright-red berries, and a candle of your choice, although we do recommend that you stick to candles that have warmer colors, the only exception being if you choose green candles.
If you prefer gold or yellow over red, you can go ahead and put in mistletoes instead of berries, since they look pretty much the same, and you can even play around with them and ask the person you love for a kiss by picking up a bit of it and hanging it above both of your heads.
If you love the idea but hate making the centerpiece over and over again every year, you can go and make a completely artificial version, since fake pine branches and fake berries are common items in most Christmas decoration shops.
When choosing the berries, use just enough of them so they can create a beautiful pattern around the candle's flame, and if possible add a few darker red ones, or even brown ones whose color has been darkened for that rustic feel.
28. Christmas Dining Table Centerpiece – Wreath Centerpiece
Whenever you think of wreaths, you always imagine them nailed and hanging on your front door ready to greet your guests and open up the Christmas atmosphere, but these traditional table decorations can also make for some excellent table centerpieces as well.
For example, if you take a look at the illustration above, you'll see that it's very easy to make a basic centerpiece using nothing more than a wreath and two candles, but you're free to include other things as well, like placing the candles on a candleholder first.
Of course, you'll need to have a wreath that has an inside ring that's big enough to fit in your candles, and you'll also need to make sure that the wreath doesn't get burned or somehow catch fire from the candles' flames.
However, if you manage to take care of these two potential issues, then you're well on your way to having a perfectly decorated Christmas without having to think too much about supplies or design.
Tip:If you'll be using this wreath table centerpiece, we suggest that you make or buy one that's the same as the ones you have hanging on your doors so that they match.
29. Christmas Table Centerpiece Ideas – Lantern and Wreath
If you loved the wreath table centerpiece, but are looking for something with a more XVIII century feel to it, you could go ahead and make this lantern and wreath centerpiece instead, whereas the candles or candleholder was replaced with one of those vintage lanterns.
The two designs are essentially the same, except for the fact that the lantern protects the wreath from potentially getting singed from the open flame.
More so, the lantern itself is a nice decorative touch, and you can use several other similar lanterns to light up the dining room since their flickering flame will really make Christmas dinner seem like a scene right out of a Christmas Carol.
Unfortunately, this is one of those table centerpieces that you can't exactly create from scratch because, unless you know your way around forging metal, you'll have to go buy the lanterns from a store.
However, don't worry about prices, since stores have started selling plastic lanterns as well, and they only cost a couple of dollars, so even if you decide to light up the entire room with lanterns, you won't be spending too much.
30. Tree Votives Christmas Coffee Table Decor
A Beautiful Messmakes these tree votives that would look great at the center of the table as well. Add a bit of magic and romance to the scene!
31. Wintery Candles Christmas Centerpiece Idea
We found some extra special wintery inspiration in this candle design. Some white candles, rustic additions and a bit of green make this a soft and beautiful centerpiece for the holiday season. (via)
32. Birch Log Fire Light Christmas Coffee Table Decor
Make+Hausshows us how to make this birch log fire light centerpiece and we're in love. It adds a touch of romance and winter charm to the tablescape.
33. Star Tealight Christmas Centerpiece
Monstercircusmakes some stunning star tea lights that can add that bit of whimsy romance we love about this season. But it also adds the right kind of festivity to pay homage.
34. White Candle Christmas Table Centerpiece
French Larkspurgives us some beautiful inspiration for creating a light and feminine holiday-inspired table. Some pine cones, warm candlelight and fresh sprigs can really ignite the mood.
35. Rows of Jars – Christmas Table Centerpiece
Check outCountry Livingand learn how to recreate this row of fun, holiday-filled mason jars. Some cranberries and some candles are all you need to get started.
36. Clementines & Candles Christmas Table Centerpiece
And we will make you stop over atCountry Livingone more time and check out this easy clementine idea. Add some cloves to the mix too!
37. Peppermint Stick Candlesticks – Christmas Centerpiece Idea
Simply Kierstemade these adorable peppermint stick candlesticks. Easy and kid-friendly too, it's all about what you want the end vision to be!
38. Wooden Box Christmas Table Centerpiece
All you need is a wooden box to get started with this one. It's subtle but The Idea Room hits the nail on the head with style and ease.
39. Wooden Candles Christmas Table Centerpiece Idea
This wooden candle centerpiece is so versatile because you can essentially use it all year long. Just dress it up for the holidays! (via)
40. Wreath-Covered Candles Christmas Centerpiece
Home Depot has this festive idea up their sleeve too. Add some candles, add a wreath, and love how it envelopes your dining room.
41. Mason Jar Luminaries Christmas Centerpiece Idea
House of Hawthorneswhipped up some mason jar luminaries that can add a bit romance to the table. This soft lighting – that's festive too – helps transform the vibe of the room.
42. Birch Pillars Christmas Centerpiece Idea
Fruetcakeutilized some birch too! Make some pillars and turn your rustic vision into reality right on your table.
43. Wooden Scene Christmas Centerpiece
Here's another wooden scene that we found atThe Sweet Escapeand it may be our favorite. Some glitter and birch really know how to work well together.
44. Cranberry Luminaries Christmas Table Centerpiece
And here we have some more luminaries that we're loving and swooning over the festive romance they bring. Run over toThirty Handmade Daysfor the tutorial.
Christmas Floral Centerpiece
Another popular table centerpiece trend is to have a floral centerpiece, and while this may seem difficult at first given that it's Christmas we're talking about and fresh flowers are harder to come by, you could always look at plastic or silk versions.
The bright side with artificial floral centerpieces is that they can be used for several years in a row, unlike their natural counterparts that wither away in just a few days.
45. Tiny Trees Christmas Table Centerpiece
Of course, you could also do something with tiny trees like you see here over at HGTV. You can even make it a bit more rustic or feminine depending on your styling.
46. Deer & Greens DIY Christmas Table Centerpiece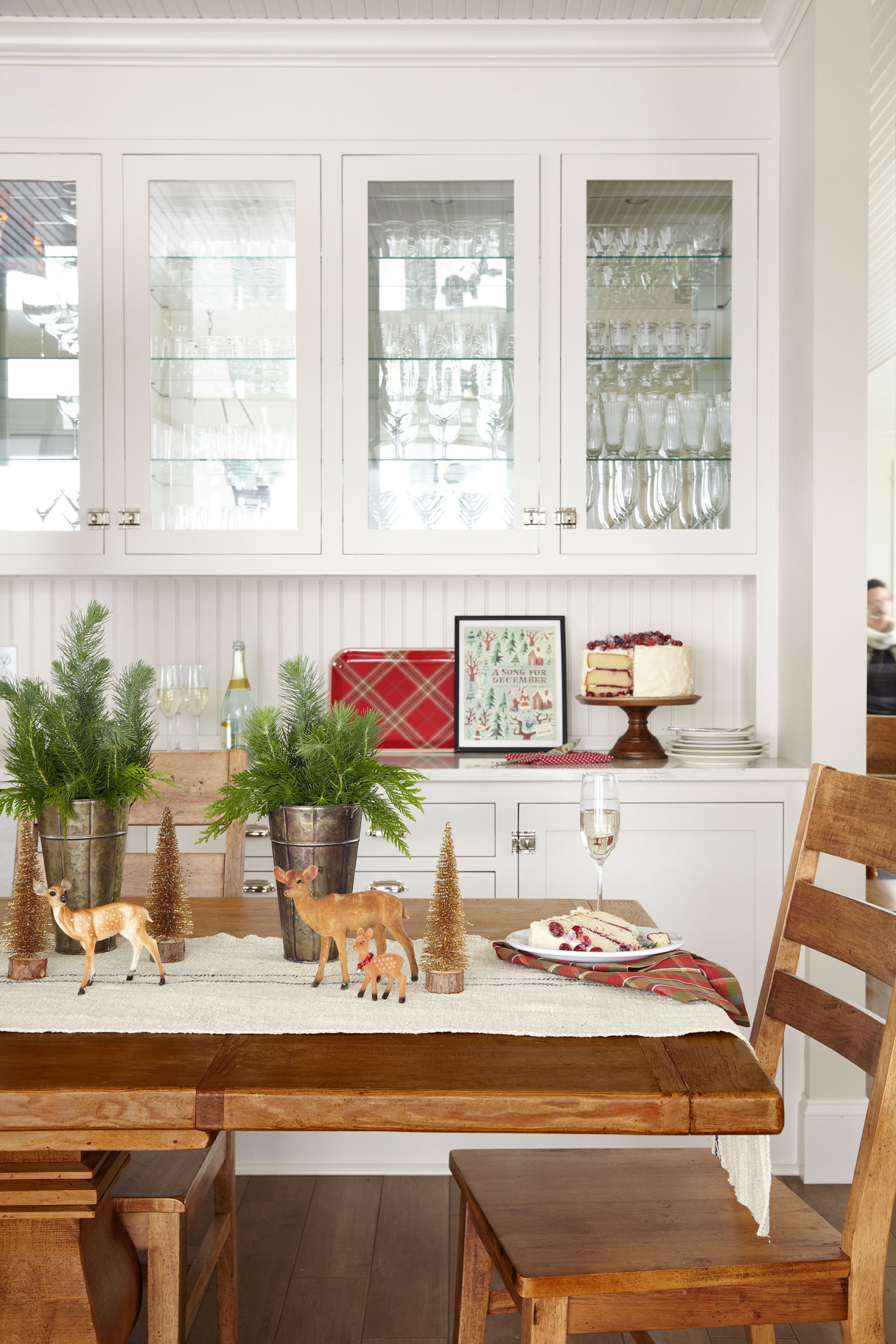 Country Livinghas this fun project up their sleeve as well. Add a bit of charming, deer-sprinkled style to your table!
47. Mini Evergreen Christmas Coffee Table Decor
A mini evergreen could take up space on the table too. VisitThe Golden Sycamoreto check out the original inspiration.
48. Red & Green DIY Christmas Centerpiece
Southern Hospitality makes a classic red and green centerpiece we're loving too. Just start with a tree!
49. Cranberry Layers Christmas Table Centerpiece
Rosyscriptionlayered up some cranberry textures and tones for this centerpiece idea. Grab the details after the jump!
50. Filled Wood Box – Christmas Coffee Table Decor
Here's another box idea that we're loving. Over atFynes Designsthey took a birch wood box and filled it up with some festivity!
51. Christmas Table Centerpiece with Song Lyrics
You could always liven up your holiday centerpiece with a bit of music.View from the Fridgehas this great DIY for a table runner with bouts of lyrics painted right on!
52. Cranberries & Greens Christmas Table Centerpiece
Visit Organic Authority if you want to take a peek into the makings of this cranberries and greenery combination. We love the vase, we love the vibe and we love the ease of it all!
53. Woodland Combo Christmas Table DIY Centerpiece
JST Design makes this gorgeous woodland scene. And Although it was made for a coffee table we can't help but think how perfect it would be for a smaller dining room table.
54. Fruit & Greens Easy Christmas Centerpiece
Yes, even fruit can be used around the holidays because they're not all made for the summer. Check out this gorgeous, organic design fromJulie Blanner.
55. Baby's Breath Hanging Christmas Table Centerpiece
HGTValso made a centerpiece that hangs from the ceiling! With a bit of baby's breath you can bring a lightness and feminine quality to Christmas dinner.
Best Christmas Table Centerpieces: Closing Thoughts
Sadly, our article has come to an end, but we do hope that it served its purpose in inspiring you as to how you'll make your next Christmas table centerpiece.
Of course, don't forget that a table centerpiece is nothing more than an enhancement, which means that it needs to be complemented by flawless Christmas decorations around the room.
Still, there's no denying that a centerpiece can make or break the whole look of the house, which is why you should think carefully about what kind of design you want to go for this year.
However, since it's Christmas, focus more on spending time with your loved ones, because bonding is the main purpose of this holiday, not admiring table centerpieces made out of cones and candles.
All in all, we hope that you've enjoyed our article on DIY Christmas Centerpieces. If you liked it, then make sure to share the link with your friends and family so that they can enjoy a great time during this holiday as well!
More so, help us make this list even better by leaving your feedback in the comments section below, or you can also leave us more ideas for table centerpieces, and we'll update the article as soon as possible!
Happy decorating, and Merry Christmas!