15 Edible Valentine's Day Gifts For Everyone You Love
It could be your mom, your teacher, your boyfriend, your coach, your wife, or your best friend. Valentine's Day will sneak up on us this year and instead of emptying your wallet, why not create something from the heart? Not only our these presents handmade but they're delicious too. Check out these 15 edible Valentine's Gifts below, there's something for everyone you love on the list!
1. Chocolate Ring Pops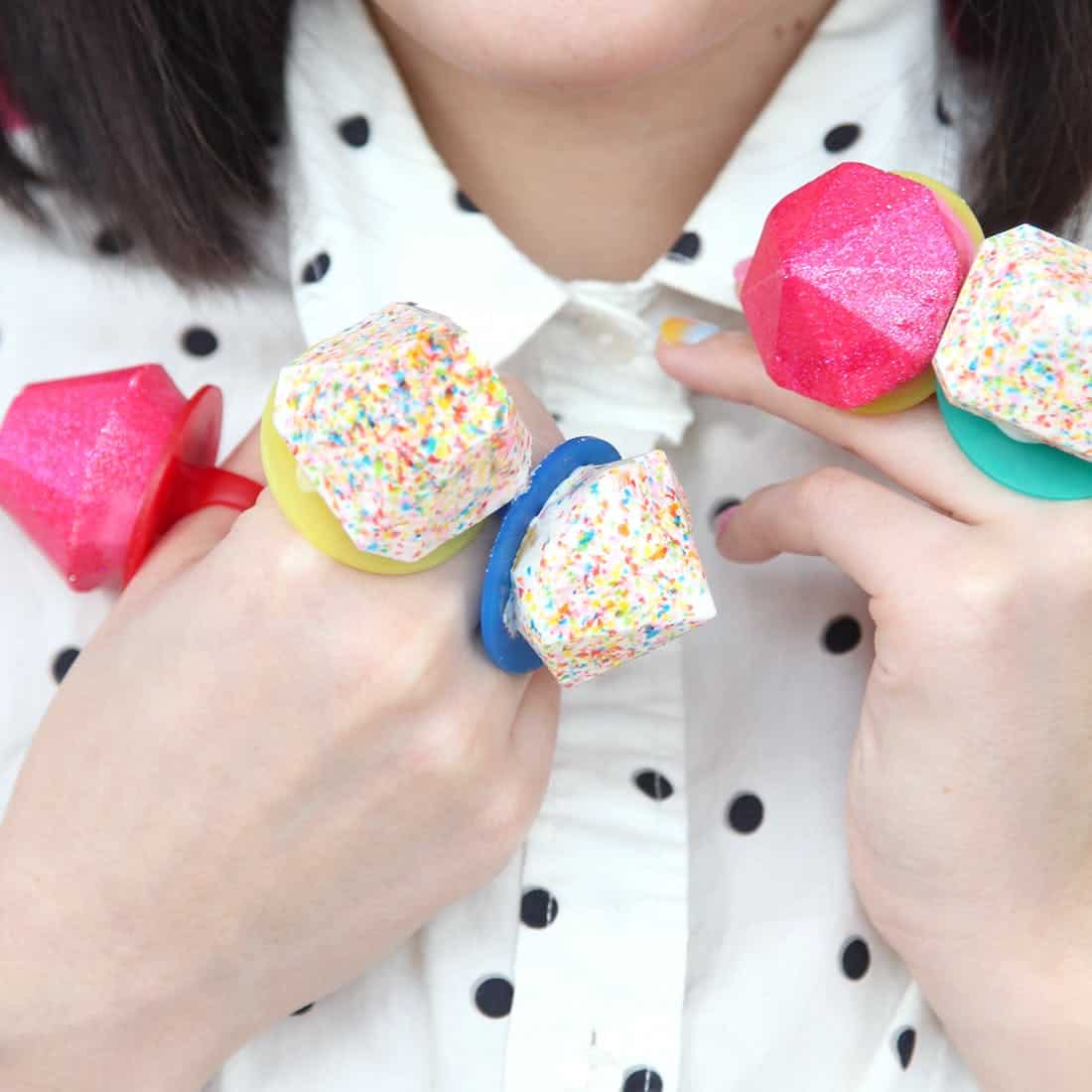 Brit + Co made some gorgeous chocolate ring pops just in time for our Valentine's Day brainstorming. These will not only be so much fun to make and personalize but they're the best gift for your gal pals. Show them you care with a new edible rock to flaunt.
2. Spicy Chocolate Bark
Foodie Crush went with a beautiful chocolate bark recipe. But this one has a bout of spice intact, which is perfect for the Valentine's Day spirit. Whether it's for your beau or your best pal, this one is a winner. You can even add sprinkles if you want to nix the nuts!
3. Airhead Confetti
You can make a pouch of edible confetti to celebrate the day with! How you ask? Well, grab yourself some Airhead candies and then hop on over to Proper to catch all of the details.
4. Nutty Chocolate Toffee Bark
Bon Appetit went with something that an even larger variety of people will love. This nutty chocolate toffee is a beautiful gift for teachers, coaches, boyfriends, bosses, and more. Great as a thank you or a side gift to your babe's big surprise, it's a delicious treat!
5. Rose Marshmallows
Why not whip up some rose marshmallows for Cupid's big day? Highlight your coffee or hot chocolate with a few. Or let the kids indulge a bit with them. Check out the recipe over at PopSugar.
6. Mango Passion Jam
Love and Olive Oil went with a jam that would be a great gift for any and all as well. Mango "passion" jam really fits the bill for the holiday and you'll have fun testing your kitchen skills while making it too. Delicious on scones, toast, and more, it'll be a hit both as a gift and at the table.
7. Heart S'more Cookies
Who doesn't love a good s'more anyway? These cookies combine the spirit of the holiday and all of the flavors we love from he indulgent treat. Visit The Cake Blog and sniff our all of the details surrounding its how-to.
8. Chocolate Rose Truffle Spoons
A Spicy Perspective really whipped up one of the most perfect V-day DIY gifts on the list. These dipping spoons can be wrapped up easily and adorably for the holiday. But most importantly they're delicious and unique too!
9. Chocolate-Covered Strawberries
These are a classic. Whipping up a batch of chocolate-covered strawberries for anyone you love is always a good idea. PopSugar has a great tutorial on how to get a batch made in no time.
10. Red Velvet Chocolate Chip Cookies
Sally's Baking Addiction knew that red velvet is a popular flavor to run to for Valentine's Day – because of the color, of course. So, a batch of these chocolate chip red velvet cookies seem like a natural way to celebrate. Check out the details and gift these to your loved ones this year.
11. Popcorn Snack Mix
Creating a batch of snack mix could be a good idea as well. Bag it up for multiple friends and family members to show off your love. You can get the scoop behind this pretty masterpiece over at Julie's Eats & Treats.
12. Conversation Heart Brownies

A good batch of brownies will make everyone happy too. Of course creating little conversation hearts out of them would be a good idea too. Check out this fun recipe and how-to over at Good Housekeeping.
13. Cake Ball
Eating on a Dime went with cake balls for their edible gift idea. Again, a batch of these can easily be divided and wrapped up nicely for various friends and family. And those sprinkles, for extra festivity, are a must.
14. Raspberry Rose Jam
Here's another jam that works great as a DIY gift and we found it over at Bon Appetit. Raspberry rose seems like a delicious and unique flavor pairing that everyone will want to try out at brunch this weekend. Again, on scones, toast, and more; scrumptious.
15. M&M Fudge
Finally, over at Creme de la Crumb you'll find a recipe for this Valentine's Day inspired M&M fudge. Sweet, festive, and a real treat for the holiday, give a box of this to your parents, sister, or best friends. Yes, you can even make a chocolate version, don't worry.