45 DIY Christmas Stockings Ideas – How to Make Christmas Stockings
Making your own Christmas stockings is a great way to add a personal touch to your holiday decorations. You can choose fabric and design with any color, pattern, or theme you want.
If you're interested in a festive look, consider using fabric that has holiday designs on it, such as reindeer or snowflakes. You might also want to use specific colors that match your décor. For example, if red and green are your primary colors this year, try using red and green plaid fabric for your stockings.
There are numerous ideas from which you can choose. And, if you're looking for inspiration, you have come to the right place. We created a list with the most beautiful DIY Christmas stockings to try this year, so feel free to explore it and pick the idea that resonates with you the most.
Want to jump right in and check out the Christmas stockings we have in here? Be our guest:
Christmas Stocking Ideas
When it comes to Christmas stockings, we just love how diverse they can be. In fact, you make these in a million different ways, depending on what materials you have on hand. Here are some options:
knit some stockings!
transform some large socks into festive stockings
sew some from felt
Best DIY Christmas Stocking Ideas for 2021
Without keeping you on your toes any longer, here are the top DIY Christmas stocking ideas worth exploring this year.
Personalized Christmas Stockings
Let's see how some of these adorable personalized Christmas stocking ideas look so you can pick one for this year!
1. Paws – Personalized Christmas Stockings
We love these personalized Christmas stockings, and they are perfect for animal lovers! If you have a friend or family member who can't get enough of their pets, these paws are the perfect stocking design for them.
When it comes to materials, you need white felt, black thread, a sewing needle, fabric scissors, and a printer. It's also necessary to find a paw template you like on the Internet, download it, and print it. With its help, you can effortlessly cut out two identical paw shapes from your white felt.
In the following step, sew the paws together using black thread, leaving a small opening at the top of each one. Turn them right side out and press flat. You can also sew the name of a friend or family member.
Then, fill each stocking with treats or toys for your furry friends, then sew up the opening to close them up completely. All that's left is hanging the socks on your mantel or wherever you'd like to display them!
We found this excellent idea on Pinterest, thanks to Deb L! So be sure to check it out if you need more inspiration on designing personalized Christmas stockings in the shape of animal paws.
2. Dog Bone – Dog Christmas Stocking
Everyone designs stockings for each family member, but that doesn't mean we should overlook our furry friends. If your four-legged sidekick is canine, consider making a dog Christmas stocking shaped like a dog bone. It's a simple sewing project that happens to be absolutely adorable.
Firstly, you have to find and decide on a great piece of fabric, whether it follows a doggy theme or not. Then you can pick up the ribbons and notions. Next, draw the dog bone on a piece of paper and use it as a template when cutting out the fabric. Sew it all together and add finishing touches.
For example, you can use a small piece of burlap to wrap the dog bone and sew your dog's name on it. This is particularly useful if you have several dogs and wish to dedicate a stocking to each one.
For more inspiration, check out the stunning tutorial on Wear Wag Repeat for making a dog bone!
3. Faux Fur Trim – White Christmas Stockings
An elegant Christmas party works best with white Christmas stockings. If you're looking for a way to add some extra warmth and luxury to your Christmas stockings, we suggest adding some faux fur trim! This is a really easy process that can be completed in just a few minutes.
All you need for this project is a pair of stockings, some white faux fur fabric, and a hot glue gun. The first step is to cut the fur fabric into long strips that are wide enough to cover the top of the stocking.
Then, all you have to do is glue the fur fabric in place, making sure to smooth it out as you go. You might need to hold it in place for a few seconds until the glue sets.
However, if you want to make the white Christmas stockings as classy as possible, go to Sew That Alicia and check out the full guide! It involves fur trim like camel, knit sweater fabric, wonder clips, unbleached muslin, pins, a stocking pattern, and coordinating thread.
4. Pink Christmas Stockings
Adding a pop of color to your Christmas stockings is a great way to customize them. If you're tired of red and green, you can go with pink Christmas stockings. It's a favorite color of girls, so you should consider making this type of stockings if you have kids.
While most people are used to seeing red and green stockings during the holiday season, you can create a different look with pink. In just a few steps, you can add some pink to your Christmas stockings. All you need is felt, trim, yarn, a pom-pom maker, and a hot glue gun.
The first step is to cut out two identical pieces of felt for each stocking. You can use different-colored felt or even a fun pattern. Then, you'll need to cut out a strip of trim that will go around the top of the stocking. This can be any color or pattern that you like.
Once you have the trim cut out, it's time to start stitching it on. You can use a simple running stitch or a zigzag stitch. If you're using a zigzag stitch, make sure that you place the trim between the two pieces of felt.
After your trim is stitched on, it's time to make a pom-pom for the top. You can buy a pom-pom maker from most craft stores, or you can use a safety pin and some yarn to make one. Once the pom-pom is ready, you need to attach it to the top of your stocking using some glue.
Visit Rebecca Probes' website for more inspiration!
5. Ice Cream Cone DIY Stockings
Christmas is the time of year when you can go all-out with fun and festive decor. One of our favorite things about stockings is that they are totally customizable.
You can choose to put candy canes, small toys, or other fun things inside of them. You can even make them yourself! If you're looking for a fun and easy project, we suggest making these ice cream cone DIY stockings.
All you need are pattern templates, craft felt (wool or synthetic), red craft pom-poms, felt scraps cut into rectangles, a pair of scissors, sticky tape, and a sewing machine and taupe thread.
It's also a good idea to use quick-dry craft glue, cotton bud, general sewing supplies, tailor's chalk, and a quilting ruler. You can also use a sewing machine quilting guide if you want.
Be sure to follow the complete instructions provided by My Poppet to learn how you can make your own ice cream cone stockings!
6. Colorful Quilted Christmas Stockings
If you're looking for a way to add something extra to your Christmas celebrations, you can try quilting colorful Christmas stockings. We found an excellent project for beginners, and it's a lot of fun to make. Plus, you can use the stockings to store small presents for your friends and family.
This quilting project requires you to make a Christmas stocking template. You can find this template on Diary of a Quilter, so feel free to download it so that you can start working on your new stockings right away.
In addition to the pattern, you need lining, backing, assorted fabric strips to use on the front side, together with batting scrap. Start by cutting out the template and then use it as a guide to cut the fabric. After that, quilt as desired and add a loop for hanging.
Follow the complete instructions provided by Diary of a Quilter's tutorial to effortlessly make colorful quilted Christmas stockings to hang on the fireplace mantel!
7. Denim Jeans – Personalized Christmas Stockings
Since you can use any type of fabric to create personalized Christmas stockings, using an old pair of denim jeans is an excellent idea worth pursuing! You can even recycle old jeans that have holes or rips in them, so there's no reason to go out and buy any new fabric.
The great thing about this project is that there's no need for a pattern. You simply need to cut a piece of denim that is about 18 inches by 24 inches. Then, use a serger or a sewing machine to stitch a seam around three sides of the rectangle you just cut out.
Once that's done, fold your fabric in half and then sew up the fourth side with a sewing machine or by hand. Finally, topstitch on the front of the stocking!
Visit Nebraska Views for more inspiration on making denim jeans!
8. Snowman Crochet Christmas Stockings
If you're into crocheting, we think you will love designing an adorable 8-bit snowman on stockings! It's a wonderful idea if you have kids who spend all day playing video games. Plus, this project is a great way to use up any odds and ends of yarn you might have lying around.
You can find the free crochet pattern at I Love Yarn Forever, so make sure to download the PDF file and start working on these Christmas stockings right away! In addition to a snowman, you can crochet Santa Claus or a Christmas tree in the same 8-bit pattern. We think that three stockings with these different designs would be a blast at your Christmas party!
9. Baby Christmas Stockings with Holly Leaves
If you're looking for a really easy stocking project to celebrate your child's first Christmas, here are some cute felt stockings with holly leaves! Besides, you don't have to invest too much time here since the project can be completed in a short amount of time.
For example, you can use felt or fabric, as well as stamp the holly leaves with fabric paint. However, if you prefer to use burlap for the baby Christmas stockings, then check out this Instagram post by Martha Stewart Living for more inspiration!
10. Mistleholly Felt Christmas Stockings
Here's another beautiful project that involves felt: mistleholly Christmas stockings. They have a modern design and are also easy to sew! In addition, they don't require much time or effort from you, so you can finish them in just one afternoon.
Besides, you can experiment with various colors and patterns to create bright stockings that your family will absolutely adore! It's a great project to do with your kids, too.
Visit the MMM Crafts blog to get the pattern for 15-inch felt Christmas stockings! It includes designs for mistletoe and the holly appliqué. We think that these mistleholly felt stockings would be a perfect gift for Christmas if you are visiting family.
11. LEGO DIY Christmas Stockings
Think outside the box and stay on top of your game when it comes to festive decorations by making DIY Christmas stockings out of something unexpected: LEGO pieces! After all, nobody said that it's mandatory to use fabric.
Unless you already have LEGO at home, you have to buy the parts required for this project. We suggest visiting Frugal Fun 4 Boys to discover the exact pieces you need here. The good news is that you can use any colors you want.
And, once the stockings are complete, wrap a piece of twine or a string around the top so that you can easily hang them on the fireplace mantel. That's right – the LEGO stockings are not only but also functional. You can't use them to hide small gifts, though.
12. Swans Christmas Stockings
If you have a cutting machine at home, it would be a shame not to use it for your Christmas stocking projects. We found an adorable stocking design with swans, which we think that your family will adore.
It's entirely made out of felt. And, if you can get a cutting machine involved, creating a couple of stockings this way will be a walk in the park.
In addition to the cutting machine and necessary tools, you will need wool felt for the stockings, acrylic felt for the stocking details, fabric or felt glue, a hand sewing needle, and embroidery floss in coordinating colors.
Visit Silhouette 101 to get the pattern for these beautiful swan Christmas stockings, together with the full instructions!
Monogrammed Christmas Stockings
We're also considering some monogrammed Christmas stockings so you'll know exactly who they belong to.
13. Baby Christmas Stockings with Felt Appliqués and Fun Embellishments
A baby's first Christmas is crucial in the parents' life! If you want to celebrate it appropriately, you can design baby Christmas stockings using felt appliqué and other fun embellishments. Besides, the project is fully customizable, so feel free to create it in any way you like!
When it comes to materials, you need wool-blended felt, poly felt, embroidery floss, baker's twine, yarn, and trims such as pom-poms and rick-rack. Embellishments can be anything from sequins and beads to buttons.
It's also a good idea to use white glue for the yarn-wrapped letters, chalk to help you sketch designs on the stockings, a pair of scissors, a ruler, a craft knife, and sewing needles. Or, you can use a sewing machine. Liquid Stitch makes for an excellent backup if you don't feel like sewing anymore.
Most parents think they should use pink for girls and blue for boys. But we don't really buy it, so be sure to use any fun colors you prefer! It would be better if the colors were as bright as possible. And you can also sew the name or initials of your baby on your stockings before hanging them on the mantel.
We discovered this excellent idea for making baby Christmas stockings with felt appliqués and fun embellishments on Think Make Share's blog, so be sure to check out the full tutorial!
14. Felt Monogrammed Christmas Stockings
Adding a monogrammed detail to your Christmas stockings is a simple way to make them unique and special. In just a few simple steps, you can create a beautiful stocking that will be cherished for years to come. So, if you're interested in monogrammed Christmas stockings, you can choose a simple project that focuses on felt.
All you need for this project is some felt fabric, embroidery floss, scissors, and a needle. The first step is to cut out two identical letters from the felt fabric. You can choose any letter you like or even a fun holiday motif!
Once you have the letters cut out, it's time to start stitching them together. Although it can be done using any type of stitch, we suggest using a backstitch or a running stitch.
Once the letters are stitched together, it's time to add the finishing touches. You can use a simple blanket stitch to finish the edge of the stocking, or you can add some fun trimming. We love this project because it's so simple, but it still looks elegant and special.
Visit Lia Griffith's website to learn more about monogrammed Christmas stockings!
15. DIY Boho Christmas Stockings
If you're spending Christmas at a beach house, you can always go with the boho theme for your holiday decorations. And this means stockings, too. These DIY boho Christmas stockings are really easy to make, perfect for anyone who wants a unique look for their mantle.
The required supplies include felt, scissors, a ruler, embroidery floss in various colors, a needle, and stuffing.
Start by tracing the stocking pattern onto the felt using a ruler and scissors. Then, cut out two pieces of felt for each stocking. Next, use the embroidery floss to stitch a simple design on each stocking. You can choose any design you like!
Finally, use a needle and thread to sew the two pieces of felt together, leaving the top open. Then, fill with stuffing and close up the opening by sewing it closed. Ta-da! Now you have the perfect stocking for your boho Christmas decor!
You can also check out House on Longwood Lane for more ideas about DIY boho Christmas stockings.
16. No-Sew Plaid Monogrammed Christmas Stockings
We love these monogrammed Christmas stockings! They're such a festive and unique idea for your home decor! You can use burlap, felt or fleece to craft them, which is perfect because you don't need any sewing skills. These plaid stockings come with clear instructions that we're sure you'll find instrumental.
Start by cutting two rectangles of fabric: the first one should measure 14 inches wide and 8 inches tall, and the second one should measure 9 inches wide by 9 inches tall.
Then, sew three sides of the bottom rectangle together, leaving one side open. And if your fabric isn't pre-printed with lines, draw diagonal lines on it as a guide for stitching.
Next, cut a piece of felt that's about 1 inch wider and taller than the opening of the stocking, then sew it to the opening. Now, fold the top rectangle in half so that the short ends meet, and then sew along the three open sides. This will create your cuff. Last but not least, use a fabric marker or tailor's chalk to monogram your stocking!
For more inspiration, head over to Polished Habitat!
17. Yarn Pom Pom and Embroidery Christmas Stockings
Perhaps you've actually mastered machine sewing but now you're intent on trying out a few projects the old-fashioned way in order to practice your hand stitching technique? In that case, we think this concept from A New Bloomhas just about everything you're looking for.
Besides stitching the edges together, they also show you how to make and attach yarn pom poms and tassels, as well as how to embroider letters so you can customize the stockings with family names.
18. Patchwork Monogrammed Christmas Stockings
Are you actually the kind of sewing enthusiast who can usually be found doing some kind of patchwork or quilting project and, even though you're making something a little different now, you can't help but be so inclined even here?
In that case, we have a feeling you'rereally going to love the wayLaura Radniecki made these lovely striped patchwork Christmas stockings from their scraps pile!
19. Pom Pom Christmas Stockings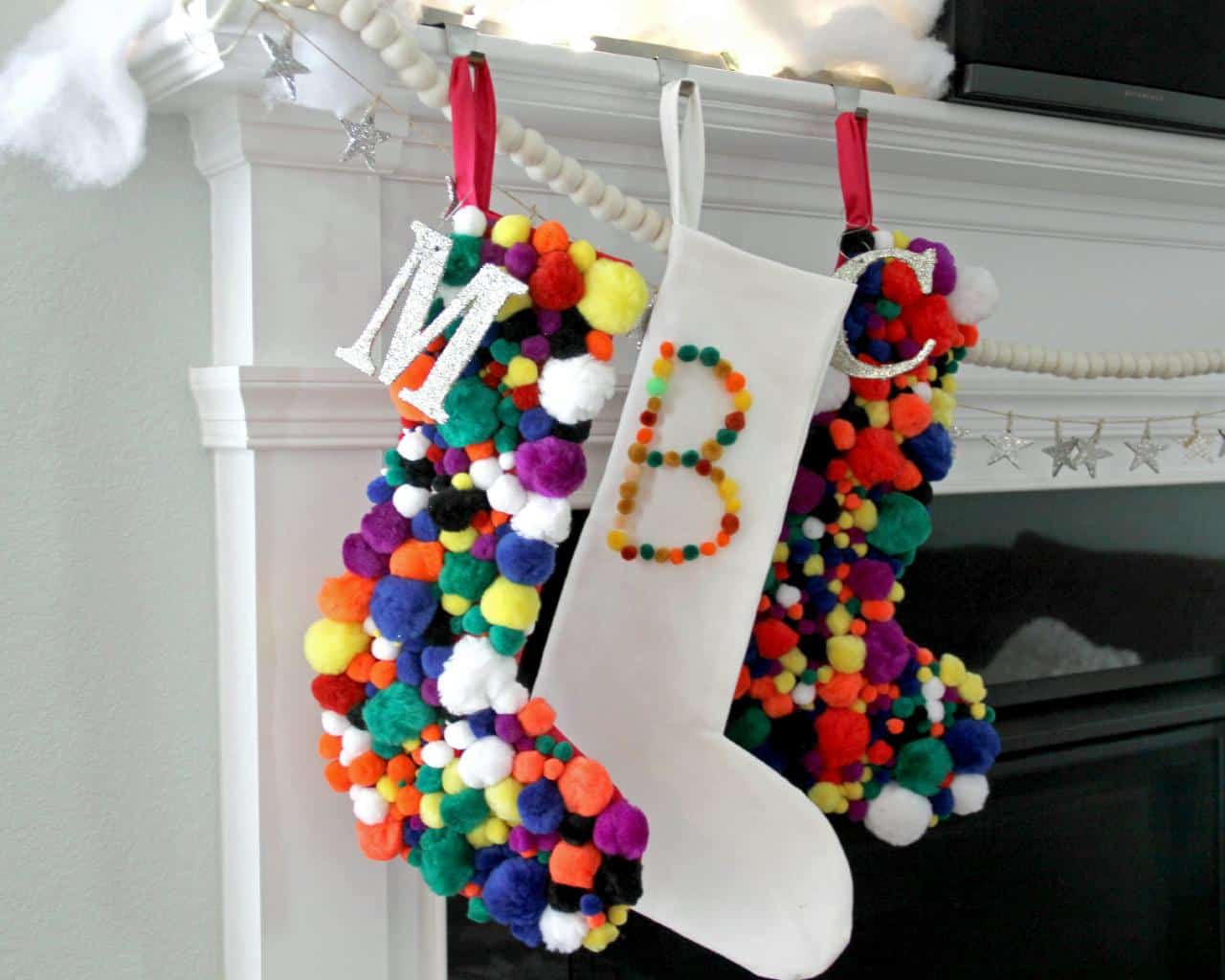 Perhaps you've already bought or made a rather plain-looking base Christmas stocking and now you're wondering how you should customize it?
Well, DIY Network has a suggestion that's a total blast for the whole family and we'd definitely suggest starting there! We love the way there covered all or part of their stockings in miniature crafting pom-poms of all different colors.
DIY Stockings
Let's take a look at even more cool DIY stockings ready for Christmas morning!
20. Quilted Christmas Stocking Decorating Ideas
If you're looking for a way to make your Christmas stockings even more special, you can try decorating them with quilting. This is a perfect idea for DIY Christmas stockings.
You can use any quilting method you like for this Christmas stocking decorating idea, including straight line quilting and free-motion quilting. You can also use any design you like or even create your own design.
If you're new to quilting, however, we recommend checking out the instructions provided by Suzy Quilts. This website offers a free quilted Christmas stocking pattern that you can use to get started.
Be sure to follow all instructions so that you can make beautiful and festive quilted Christmas stockings!
21. Whoville Christmas Stockings
If How the Grinch Stole Christmas is one of your children's all-time favorite Christmas movies, you can't miss the opportunity to design Christmas stockings inspired by Whoville. It's elementary to make, and we bet you will score bonus parenting points from your kids!
As far as materials are concerned, it would help if you had white, green, and red felt, white pom-poms, and white ribbons. You start by sewing the stockings. Afterward, you can attach the polka dots, white strips, and pom-poms.
The sewing project is pretty elementary since you have to deal with felt and pom-poms. We think this is a perfect stocking design for absolute beginners.
Head over to Mama Moose to view the complete tutorial for designing Whoville Christmas stockings! You can thank us later.
22. Penguins – Needlepoint Christmas Stockings
Needlepoint Christmas stockings are a festive, classic, and timeless way to celebrate the holiday season. They add a touch of elegance and tradition to any Christmas decorations. So, if you're looking for a great stocking idea that involves knitting, try your hand at penguins! They are adorable.
You can use any colors you like, but we think a classic black and white penguin design is always a hit. As for the materials, you'll need wool yarn, a needle, and scissors. It's also a good idea to use thimble and blocking wires, although these are optional.
The first step is to knit the cuff of the stocking. You can do this in any color you like, but black works best if you want your penguins to really pop against the white background. Next, you'll need to knit the body and head of the penguin. These are both worked in white wool yarn.
Once you've finished knitting all of the pieces, it's time to assemble them! This is where the blocking wires come in handy since they'll help keep everything in place while stitching.
Learn more about knitting penguins on Christmas stockings by following Kristen Rettig's excellent tutorial!
23. Easy Knit Christmas Stockings
Knitting is usually associated with grandmothers, but we think that's ageist! Especially when it's such a fun activity that can be enjoyed by anyone, regardless of age.
If you're interested in knitting Christmas stockings this year, you can go with a simple project that's sure to grab the attention of everyone in the room: simple and colorful socks.
You can use any colors you like, but we recommend bright shades for the best results. And you'll need to choose a simple stitch pattern that will work well with those colors.
The materials you'll need for this project include wool yarn, a set of four or five double-pointed knitting needles, and a tapestry needle. While it might seem intimidating at first, knitting is actually pretty easy.
And if you're planning to occupy your family members during the holidays with a fun activity that involves everyone, this is definitely a great choice!
We can't get over how easy these colorful stockings are to knit. They're perfect for Christmas! To learn more about knitting them yourself, just check out Gina Michele's short tutorial!
24. Easy Cat Christmas Stockings
Earlier, we talked about including dogs in your Christmas stockings, but we can't forget about cats either. If you're a cat person, we know it can be hard to come up with holiday decor that includes your feline friend.
Luckily, this project is super easy! All you need is are fabric, fur trim, edging trim, iron-on letters, and thread. The first step is to cut out two pieces of cloth of the same size. One piece will be the stocking body, and the other will be the cuff.
Then, you'll need to iron on letters to the front of the stocking body. We assume that you're going to spell out your cat's name. Once the letters are in place, it's time to start stitching! You need to sew around the edges of the stocking, leaving an opening at the back.
If you want, you can use a sewing machine for this project instead of doing it by hand. You can also add felt paw pads to the bottom of your cat's Christmas stocking. Whatever design you choose, we're sure that it will look awesome!
To find out more about making cat Christmas stockings, head over to Design by D9!
25. Gift Boxes – DIY Christmas Stockings
One of the best things about Christmas is all of the gift-giving! If you're looking for a way to add a little bit of extra magic to the holiday season, you can try making your own DIY Christmas stockings and stitch little gift boxes on them.
You can put whatever you want in the stockings, and they make a great place to store actual gifts. Plus, they're a lot of fun to make!
The most important part of this project is the pattern, which you can freely download from Apple Green Cottage.
You will also need quilting fabric, accent or solid fabric, fusible fleece, a sewing machine or a needle with pins and sewing clips, an iron, as well as scissors or a rotary cutter with a cutting mat.
Be sure to follow all instructions provided by the website so that you can make beautiful Christmas stockings with a pattern of gift boxes!
26. Crochet Handmade Christmas Stockings
If you're looking for a unique and special way to decorate your home for Christmas, you can try crochet handmade Christmas stockings.
This is a great project for beginner crocheters, and there are a number of different patterns that you can choose from. However, if you don't know where to begin, we recommend checking out the pattern provided by Passionate Crafter.
It features an alpine design that is perfect for the winter season. It's also a quick project, so you can finish it in no time!
27. Red and White Knit Christmas Stockings
If you love to knit by hand or have a knitting machine, you can try your hand at easy knitting Christmas stockings in a classic color combination: red and white. They are quick and simple to make, as long as you have the proper equipment.
Follow the straightforward tutorial created by So Happy To Be Here to quickly knit these adorable stockings! We love the white and red stripes, but you can make multicolored versions with scrap yarn in all sorts of colors.
28. Crochet Cow – Handmade Christmas Stockings
If you're in the mood for a little bit of humor, crochet a cow Christmas stocking! It's definitely not your traditional Christmas stocking design, but it will certainly make everyone smile.
The free crochet pattern can be found at Grace and Yarn, so be sure to check out the blog post and get started on crocheting your new stocking today! The pattern is easy to follow, even if you're a beginner.
And, you can use any type of yarn that you like. We think black yarn with white highlights would look really cool for this project if you want your cow to have traditional colors.
29. Crochet Gingerbread Christmas Stockings
If you're a crochet lover, then you will adore these gingerbread Christmas stockings! They are super festive and will make your fireplace look amazing.
Besides, you can get your kids involved in the process of making these stockings. They are sturdy enough to hold small gifts and toys and will keep your family warm during the winter holidays.
The gingerbread Christmas stockings crochet pattern is available at Golden Lucy Crafts. Compared to other crochet patterns we've seen so far on this list, this one requires an intermediate skill level. It means that you must know how to crochet bobbles, front and back post double crochet.
If you closely follow the instructions available on the website, you will create a 14-inch gingerbread stocking. You will need white and brown yarn, crochet hooks, a sewing needle and thread, beads, a tapestry needle, and snowflake buttons. The results are amazing!
30. Faux Leather – Handmade Christmas Stockings
You wouldn't expect someone to use faux leather as the main fabric of handmade Christmas stockings. It would go well with a cowboy party theme, for example. If this piques your interest, we found the perfect project for you!
Visit Weaver Leather Supply to freely download all the required patterns: stocking, cuff, and stocking tab. Then, follow the straightforward instructions to mark and cut out the stocking, tab, and cuff.
Next, you can stitch the main body together, sew the cuff, and sew the cuff and tab to your stocking. Finish the project by turning your stocking right side out.
31. Quilted Christmas Stockings
Instead of using felt or crochet to craft your Christmas stockings, you can try quilting them. It's an entirely different sensation that we think you're going to love. It's worth noting that quilted Christmas stockings are highly practical. Not only are they absolutely beautiful, but they are also super thick and warm due to all the layers of batting and fabric.
As far as materials are concerned, you need cotton quilting fabric, muslin for baking, an iron and ironing board, batting, a sewing machine, thread, fabric scissors, a cutting mat, and a rotary cutter. Although not mandatory, it would also be useful to use triangle trimmers.
The Paper and Stitch blog has all the instructions that you need to make these stunning quilted Christmas stockings. So be sure to read the tutorial and start working on these quilted Christmas stockings right away!
32. Pop Art – Faux Fur Christmas Stockings
If you're looking for a unique and eye-catching stocking design, then we suggest that you go for pop art. It's perfect for those who want to inject a little bit of personality into their Christmas decor. And you can use faux fur for this unlined project.
Before getting started, prepare the following materials: a furry pattern fabric or any other fabric you'd like, a pair of scissors, a sewing machine, velvet scraps, and tailor's chalk or marker.
Cut out two stocking pieces following the pattern, then draw and cut out the cuff. Sew the side and bottom seams of the stocking, then turn it right side out. Cut a piece of fur that's about 2 inches wider and 2 inches longer than the stocking, then fold it in half and sew around the perimeter.
Cut a velvet cuff and sew it to the top of the stocking, then line up fur edges and pin them in place. Sew them together and then hand- or machine-sew buttons to the cuff as eyes for your pop art Christmas stocking!
For more inspiration, visit Paper and Stitch!
33. Knit Christmas Stockings from Old Sweaters
This knitted Christmas stocking is genuinely one of a kind! Not only is it handmade, but it's also made from old recycled sweaters that you probably have lying around your house. This project will take some time. But in the end, you'll be rewarded with a beautiful and unique stocking.
Plus, this is a great way to make use of all of those seasonal sweaters you've accumulated over the years! They're too good to throw away or store in storage in some dusty box in the basement when they could be put to good use.
First, you'll need to gather some supplies: an old sweater, scissors, a ruler, a pen or pencil, and yarn in the color of your choice.
Then, you'll need to cut the sweater into four pieces: cuff, body, heel flap, and toe. In the following step, use the pen or pencil to draw a line down the center of each piece of fabric. This will serve as a guide for later stages.
Learn more by visiting Confessions of a Serial DIYer to view the complete instructions!
34. Pretty Cut-out Christmas Stockings
Besides showing you how to pattern out and sew the basic shapes of these fantastic red and cream christmas stockings, this helpful tutorial fromMartha Stewartalso shows you how to create a cut-out and overlay effect that's nothing short of stunning! We like this pattern because it's actually quite simple for how impressive it looks.
35. Burlap Christmas Stockings
Does your home actually have more of a rustic chic kind of feel and you've been scrolling through our list so far hoping to find something that will fit in with that aesthetic?
In that case, we have a feeling these simple but lovely-looking burlap stockings outlined step by step on Taryn Whiteakermight be right up your alley!
36. Knitted Mohair Christmas Stockings
Just in case your favorite kind of stocking is the knitted kind but you're not actually good enough at knitting yet to make your whole family stockings that have been fully knitted by hand, here's an alternative method that will still get you the look you want!
Martha Stewartshows you in detail how to make lovely knitted mohair stockings out of old sweaters.
37. Shaggy Christmas Stocking
Here's a fantastic idea for texture lovers that's actually a lot easier to make than it looks! This tutorial from Apartment Therapymakes fabric suggestions and shows you how to work with such a high maintenance material but, other than that, all you really need to do is cut your shape and seam it.
38. Recycled Paper Bag Christmas Stockings
We've actually made stockings like this in miniature before with our kids because we wanted to introduce them to hand stitching and lacing techniques and we love upcycling paper products, but we'd never thought of making them in full size until we saw this tutorial fromRock, Scissor, Paper!
Their guide shows you how to make large paper stockings repurposed from paper shopping bags.
39. Vintage Silhouette Christmas Stockings
Were you actually a pretty big fan of the burlap stockings idea we showed you earlier on our list but you're just not sure you like them quite so plain?
Well, if vintage aesthetics might fit in with your home decor as well, we'ddefinitelysuggest taking a look at how Celebrationscreated silhouette outlines of each family member and attached those to the side of each stocking. It all has a rather impressive Victorian style!
40. Sweater Christmas Stockings
Were you intrigued by the knitted mohair stockings but you'd rather not work with such a furry fabric and you'd prefer a dual-color design?
Then we have a feeling you might get along better with something like this lined upcycled sweater design fromMade Everydayinstead! We love the added bonus of felt "pom poms".
41.Classical Christmas Stockings with Snowflakes
If you're looking for a really easy stocking project to celebrate Christmas with your family, here are some traditional felt stockings with snowflakes, which are red and white! Besides, you don't have to invest too much time here since the project can be completed in a short amount of time.
For example, you can use another type of fabric instead of felt, as well as stamp the snowflakes with fabric paint if you don't feel like sewing them.
42. DIY Felt Christmas Stockings
Have we actuallyreally caught your attention now that w've mentioned crafts made with felt because you've been very interested in that recently, but it's really needle felting that you've taken a strong liking to?
Then we think you'll really appreciate the waySay Yesoutlines some very simple shapes and techniques in their tutorial, as well as how to attach those details to a base stocking in really cute ways.
43. Vintage Fringe and Pom Pom Trim Christmas Stockings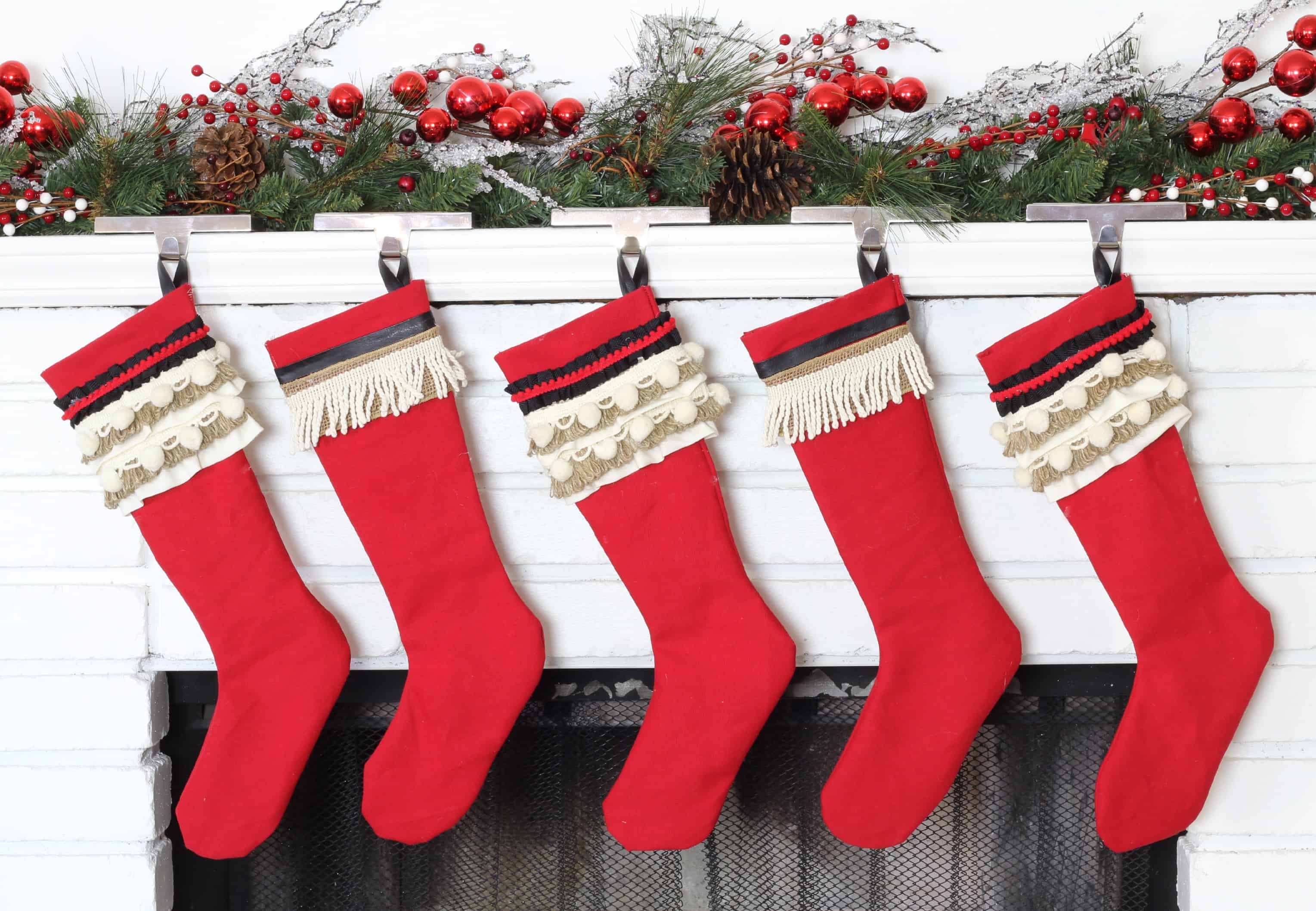 This next idea fromClassy Clutterhas a little bit of everything, making it just about all you could ask for in a tutorial!
They show you how to embellish a base stocking using frills, burlap, fringe, pom pom trim, and ribbon, letting you create a layered design that's customizable depending on what each family member likes best!
44. No-Sew Christmas Stocking with Buttons
What if you're still thinking about how much you'd love to make fabric stockings from scratch because you've found a printed material you'd really like to use, but you're just not confident enough with your sewing skills yet to make a fully sewn DIY stocking happen?
In that case, we have a feeling you'll get alongmuch better with this fantastic no-sew stocking tutorial outlined step by step onThe Honeycomb Home.
45. Lace and Ornaments Christmas Stockings
What if your idea of the perfect stocking is a little more delicate and feminine than a lot of what you've seen so far? Well, we're actuallyhuge fans of that idea because we've never believed that Christmas decor has to be traditionally Christmas colored in order to make the house feel like the holidays.
Check out how A DIY Projects embellished their base stockings with lace, tulle, glitter charms, and pink Christmas baubles.
Final Thoughts on DIY Christmas Stockings
DIY Christmas stockings are becoming increasingly popular because they are so versatile in their uses and last for several years, making them fantastic investments when it comes to home decorating. Making them yourself gives free rein over the design and material used. This is why many people are using Christmas stockings as their go-to for new DIY projects.
There are plenty of options for DIY Christmas stockings that you can use to give your holiday decor a unique touch. And the best part is that they're all reasonably easy to make. However, there's no reason why you can't get more than one type of stocking if you want!
Which are your favorite DIY Christmas stockings? Feel free to share your ideas with us in the comment section below!