Beautiful DIY Christmas Stockings Ideas – How to Make Christmas Stockings
We love Christmas. We love everything about it! We could go on forever listing the things we like most, but right now we're finding ourselves strangely fixated on our love for stockings after digging ours out from the basement storage last week. They're cute, but we can't help wondering whether we might be able to make even nicer ones ourselves, since we come from a household of such avid crafters!
Just in case you love the idea of making DIY Christmas stockings just as much as we do, if not more, here are 15 of the nicest homemade designs, ideas, and tutorials that we found in our search for inspiration.
15 Easy Ideas to Make Adorable Stockings for Christmas Holiday
1. Pretty cut-out Christmas stockings
Besides showing you how to pattern out and sew the basic shapes of these fantastic red and cream christmas stockings, this helpful tutorial from Martha Stewart also shows you how to create a cut-out and overlay effect that's nothing short of stunning! We like this pattern because it's actually quite simple for how impressive it looks.
2. Patchwork stockings
Are you actually the kind of sewing enthusiast who can usually be found doing some kind of patchwork or quilting project and, even though you're making something a little different now, you can't help but be so inclined even here? In that case, we have a feeling you're really going to love the way Laura Radniecki made these lovely striped patchwork christmas stockings from their scraps pile!
3. Pom pom Christmas stockings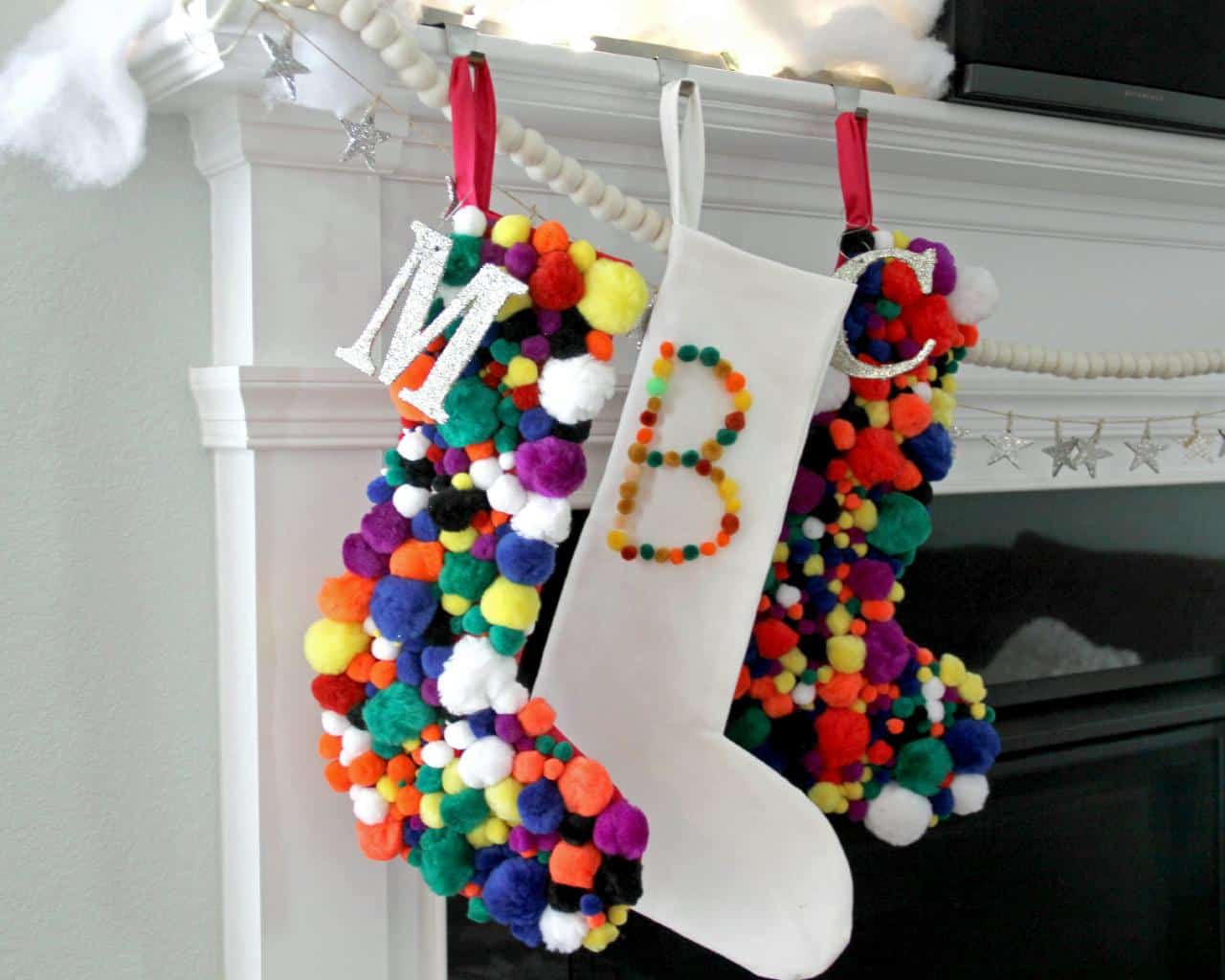 Perhaps you've already bought or made a rather plain looking base christmas stocking and now you're wondering how you should customize it? Well, DIY Network has a suggestion that's a total blast for the whole family and we'd definitely suggest starting there! We love they way there covered all or part of their stockings in miniature crafting pom poms of all different colours.
4. Yarn pom pom and embroidery stockings
Perhaps you've actually mastered machine sewing but now you're intent on trying out a few projects the old fashioned way in order to practice your hand stitching technique? In that case, we think this concept from A New Bloom has just about everything you're looking for. Besides stitching the edges together, they also show you how to make and attach yarn pom poms and tassels, as well as how to embroider letters so you can customize the stockings with family names.
5. Burlap stockings
Does your home actually have more of a rustic chic kind of feel and you've been scrolling through our list so far hoping to find something that will fit in with that aesthetic? In that case, we have a feeling these simple but lovely looking burlap stockings outlined step by step on Taryn Whiteaker might be right up your alley!
6. Knitted mohair stockings
Just in case your favourite kind of stocking is the knitted kind but you're not actually good enough at knitting yet to make your whole family stockings that have been fully knitted by hand, here's an alternative method that will still get you the look you want! Martha Stewart shows you in detail how to make lovely knitted mohair stockings out of old sweaters.
7. Shaggy Christmas stocking
Here's a fantastic idea for texture lovers that's actually a lot more easy to make that it looks! This tutorial from Apartment Therapy makes fabric suggestions and shows you how to work with such a high maintenance material but, other than that, all you really need to do is cut your shape and seam it.
8. Recycled paper bag stockings
We've actually made stockings like this in miniature before with our kids because we wanted to introduce them to hand stitching and lacing techniques and we love upcycling paper products, but we'd never thought of making them in full size until we saw this tutorial from Rock, Scissor, Paper! Their guide shows you how to make large paper stockings repurposed from paper shopping bags.
9. Vintage silhouette stockings
Were you actually a pretty big fan of the burlap stockings idea we showed you earlier on our list but you're just not sure you like them quite so plain? Well, if vintage aesthetics might fit in with your home decor as well, we'd definitely suggest taking a look at how . Celebrations created silhouette outlines of each family member and attached those to the side of each stocking. It all has a rather impressive Victorian style!
10. Sweater stockings
Were you intrigued by the knitted mohair stockings but you'd rather not work with such a furry fabric and you'd prefer a dual colour design? Then we have a feeling you might get along better with something like this lined upcycled sweater design from Made Everyday instead! We love the added bonus of felt "pom poms".
11. Handmade felt holly stockings
Just in case you're still in the market for cute holiday embellishment ideas that you can use to transform a plain base stocking you already have, here's an adorable design from Martha Stewart! They show you how to cut out felt holly leaves and twirl thing strips of felt into round berries, or to layer crinkled strips into a pine cone shape, in order to cover your stockings cheer.
12. DIY felted stockings
Have we actually really caught your attention now that w've mentioned crafts made with felt because you've been very interested in that recently, but it's really needle felting that you've taken a strong liking to? Then we think you'll really appreciate the way Say Yes outlines some very simple shapes and techniques in their tutorial, as well as how to attach those details to a base stocking in really cute ways.
13. Vintage inspired fringe and pom pom trim stockings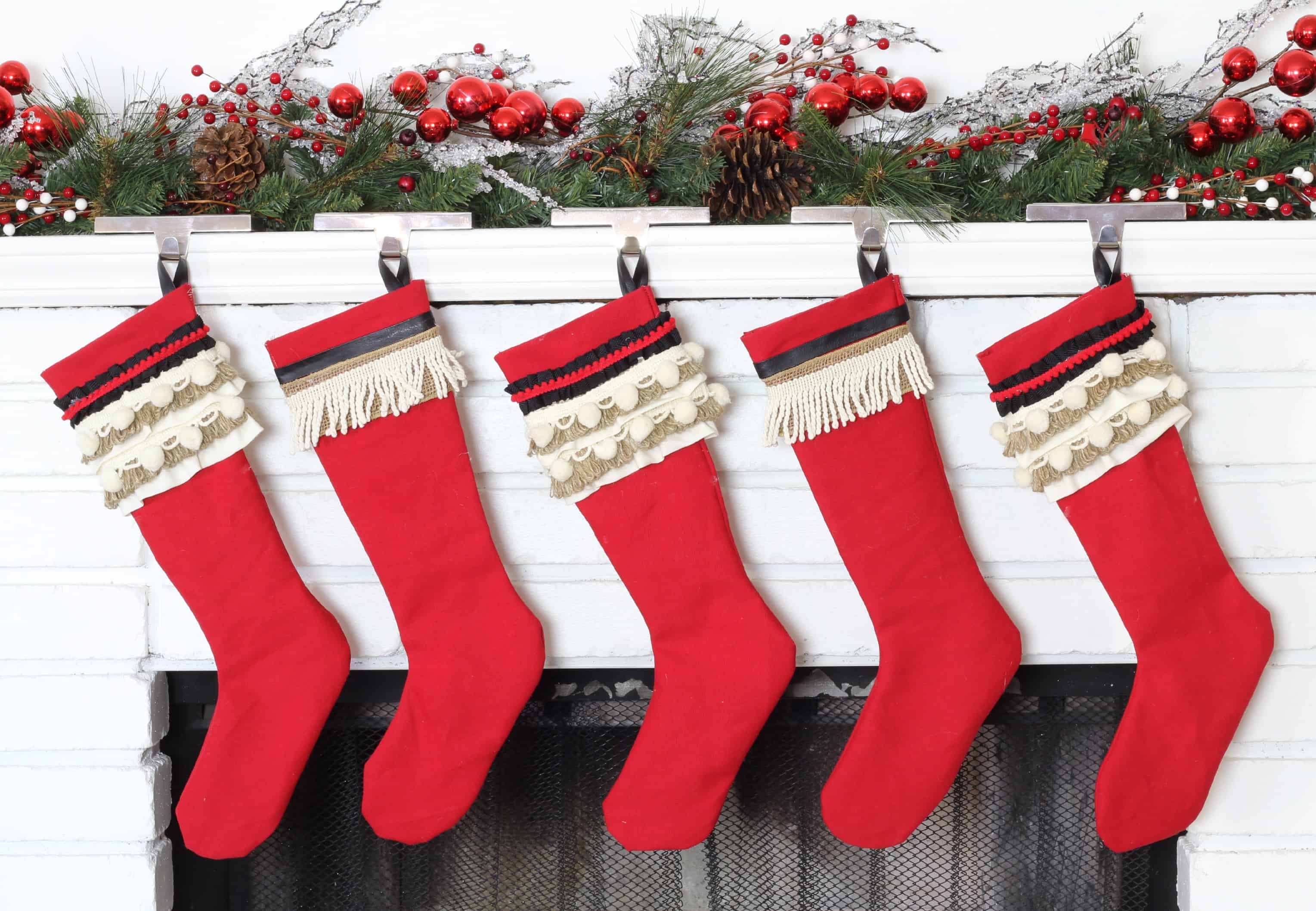 This next idea from Classy Clutter has a little bit of everything, making it just about all you could ask for in a tutorial! They show you how to embellish a base stocking using frills, burlap, fringe, pom pom trim, and ribbon, letting you create a layered design that's customizable depending on what each family member likes best!
14. No-sew stocking with buttons
What if you're still thinking about how much you'd love to make fabric stockings from scratch because you've found a printed material you'd really like to use, but you're just not confident enough with your sewing skills yet to make a fully sewn DIY stocking happen? In that case, we have a feeling you'll get along much better with this fantastic no-sew stocking tutorial outlined step by step on The Honeycomb Home.
15. Lace and ornament stockings
What if your idea of the perfect stocking is a little more delicate and feminine than a lot of what you've seen so far? Well, we're actually huge fans of that idea because we've never believe that Christmas decor has to be traditionally Christmas coloured in order to make the house feel like the holidays. Check out how A DIY Projects embellished their base stockings with lace, tulle, glitter charms, and pink Christmas baubles.
Have you made other kinds of homemade stockings that were a huge hit in your house but that you don't see here on our list? Tell us all about how you did it or link us to photos of your finished work in the comments section!