Beautiful DIY Christmas Stockings
We love Christmas. We love everything about it! We could go on forever listing the things we like most, but right now we're finding ourselves strangely fixated on our love for stockings after digging ours out from the basement storage last week. They're cute, but we can't help wondering whether we might be able to make even nicer ones ourselves, since we come from a household of such avid crafters!
Just in case you love the idea of making DIY Christmas stockings just as much as we do, if not more, here are 15 of the nicest homemade designs, ideas, and tutorials that we found in our search for inspiration.
1. Pretty cut-out Christmas stockings
Besides showing you how to pattern out and sew the basic shapes of these fantastic red and cream stockings, this helpful tutorial from Martha Stewart also shows you how to create a cut-out and overlay effect that's nothing short of stunning! We like this pattern because it's actually quite simple for how impressive it looks.
2. Patchwork stockings
Are you actually the kind of sewing enthusiast who can usually be found doing some kind of patchwork or quilting project and, even though you're making something a little different now, you can't help but be so inclined even here? In that case, we have a feeling you're really going to love the way Laura Radniecki made these lovely striped patchwork stockings from their scraps pile!
3. Pom pom Christmas stockings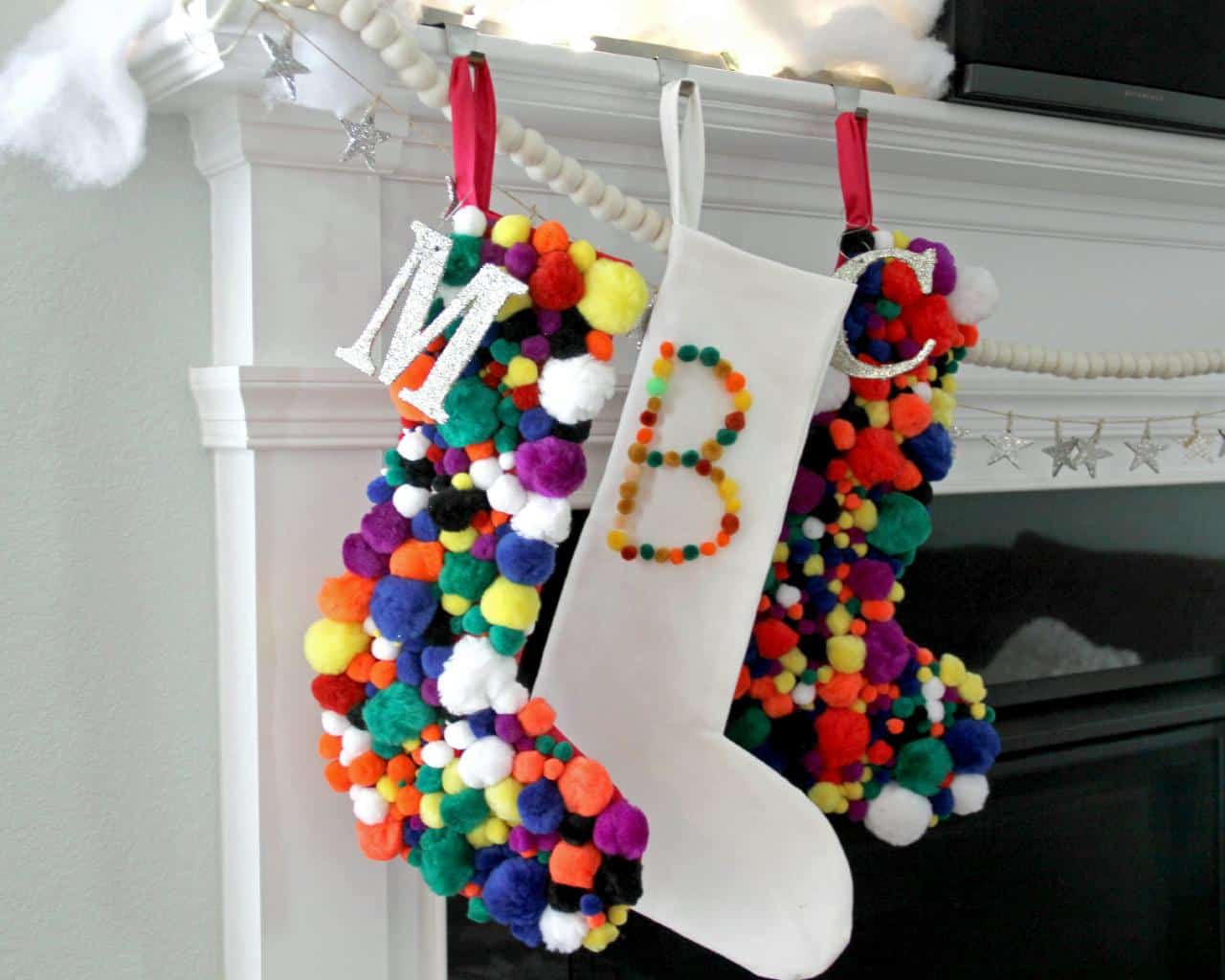 Perhaps you've already bought or made a rather plain looking base stocking and now you're wondering how you should customize it? Well, DIY Network has a suggestion that's a total blast for the whole family and we'd definitely suggest starting there! We love they way there covered all or part of their stockings in miniature crafting pom poms of all different colours.
4. Yarn pom pom and embroidery stockings
Perhaps you've actually mastered machine sewing but now you're intent on trying out a few projects the old fashioned way in order to practice your hand stitching technique? In that case, we think this concept from A New Bloom has just about everything you're looking for. Besides stitching the edges together, they also show you how to make and attach yarn pom poms and tassels, as well as how to embroider letters so you can customize the stockings with family names.