30 Christmas Gifts Perfect for Her: DIY Gift Ideas to Take Note Of
Christmas is one of those holidays that everyone is excited about all year round, especially the part where they receive gifts from their loved ones, so If you're now reading this article because you're looking for some Christmas gifts for her, now is your chance to really make a good impression.
If your loved one is a lady then you can be sure that there are some really nice and creative DIY Christmas gifts for her.
Why DIY Christmas Gifts?
The best thing about DIY Christmas gifts for her is that it's not just something you can pick up at any store, but it will be an extremely personalized gift that means much more to the person receiving it.
Also, homemade Christmas gifts are almost always better received than store-bought ones, just because they are so special in their own way. So go on and get started planning for this year's perfect gift!
If you want to give your loved one a really nice Christmas gift, you will need to put in some effort and this article will show you how to do exactly that, through several different homemade Christmas gift ideas.
One of the things that makes these gifts personalizable is that they are all made out of easily found items or materials around the house.
Best Christmas Gifts for Her to Consider in 2021
If all you're looking for is some inspiration to get you started, then take a look at the 30 different Christmas gifts for her that will really send a message, since we've made this list after carefully examining the Internet to see precisely what people are looking for.
The article will be divided into two sections:
The first 15 entries are the hottest and most sought-after gift ideas of 2021
The next 15 entries are gift ideas that were very popular last year, and the year before
Sure enough, not much has changed regarding the style of the gifts, but for those of you that are particularly interested in being as trendy as possible, we figured that it would help to mention why the entries were divided the way they are.
1. Easy DIY Christmas Gifts for Her – Table Ornament
Christmas dinner is a bit like Thanksgiving dinner since it's one of the few times of the year when you can expect the entire family to get together and spend some quality time talking and reminiscing about the good old days.
Well, since Christmas dinner is so special, you can't have your table looking like in every other day, instead, you have to decorate and make it as festive as possible, and if you pitch in with some creativity and use of your hands, she will love it.
For example, you could make your very own Christmas table decoration, and the best part is that it's made mostly with things found in nature.
To make one decoration, you'll need a pinecone, a pine branch, some white paint, a paintbrush, a folding utility knife, ribbon (white and jute), hot glue, a pair of secateurs, a length of wire, a dry oasis form or planters foam, a tin can, and a length of malleable gardening wire.
First, you'll have to cut the gardening foam so that it can fill in the tin can, and then you'll need to use the wire to make a pattern for your decorations, and you can do it because this is completely random.
After that, you can paint the pinecone and gardening foam white, and then let them dry.
After that, take your secateurs and start cutting small pieces from the branches until you have everything ready for assembly.
Finally, just glue the elements together using hot glue in order to complete your unique Christmas table ornaments. In this way, You can decorate each one any way you like!
2. Christmas Presents for Girlfriend – DIY Organic Soap
Women pay very close attention to how they look, so a very obvious choice would be a skincare product or anything else that will make her smell better, be healthier, cleaner, or all of the above.
Thankfully enough, one way you can cover all three of these criteria is by presenting her with some DIY organic soap, especially since these are much easier to make than they may sound at first.
Of course, if you do decide on making and gifting her some soap, there are a few things that you'll need to take notice of:
Do some research and find out what type of skin she has
Find out whether she has any kind of allergies
Figure out what her favorite fragrance is
Find out whether she's vegan or not
Once you've done you're researching, you can go ahead and follow some of the many online tutorials where you can see other people making artisanal soap in their home using organic ingredients, without the use of any special machinery.
The best thing about gifting an organic soap is that it's one of those Christmas presents for your girlfriend where you benefit as well since you can make soap that has your favorite fragrance.
3. Things to Get Your Girlfriend for Christmas – Self Care Package
While we're on the topic of beauty, hygiene, and general self-care, if you think you could do more than just a simple DIY organic soap and want to go full package, one of the things to get your girlfriend for Christmas is a complete DIY self-care package.
The great thing about this particular gift idea is that it's very flexible in terms of what you can put inside of it, but if you're still struggling with ideas, we'd like to suggest that you try the following:
Spices
Candied fruits
An organic soap
Some DIY organic body butter
2-3 bottles of organic essential oils, and more
By doing this, not only are you killing 5 birds with one stone, but you'll also be able to gift her a gift that she can use all year round because you're essentially giving her an entire batch of high-quality beauty products.
The best part about making your own self-care package is that you're not only going to learn some cool DIY skills, but you're also going to impress her and make her feel like she's your very own DIY queen.
All in all, the main idea is to pick and choose items and ingredients that you think she will like, and in this case, we recommend going with organic versions of everything.
4. Christmas Gift Ideas for Women – Homemade Perfume
Let's say that the lady you're interested in gifting this year likes perfume but is not into making her own self-care package which includes homemade soap or body butter.
In this case, one of the best Christmas gifts for her might be a little different than what we've discussed so far: A brand new and personalized fragrance made by you especially for her.
While it might sound trivial, if you really want to surprise her, one of the best things that you can do is use some of her favorite ingredients in your homemade perfume.
Now, as far as ingredients go, you'll need some essential oils and some base notes.
If you're looking for a complete list of all the essential oils and their respective bases, we strongly recommend that you check the various online resources where you can see which oils match up with which base notes.
Once everything is ready, it's time to bottle it up in a nice little sprayer and we're good to go, and if you want to add an extra touch, we recommend that you make a custom label to put on the perfume bottle with a message that's very special for her, or the two of you.
At the end of the day, if you really want to impress her with your DIY skills, one way that you can do just that is by keeping track of every single ingredient that goes into making your perfume from scratch.
What's even better is that this type of Christmas present will not only be very special to her but will also cost less than what she would normally pay for a bottle of perfume at stores.
5. Christmas Gifts for Wife – Bar Set
If you don't know what to get her, then one thing is certain: she'll always appreciate something that brings more joy into her life, like a beautiful bar set.
The best part about buying a bar set for your girlfriend is that you can get her not just one thing, but two.
The reason is that the set itself is composed out of several different bottles of alcohol, but if you're thinking about getting her more than just a standard box with bottles of alcohol inside, then the sky's the limit.
For example, you can also get her some cute drinking glasses of different shapes and sizes so she could have more options when it comes to serving guests.
Besides, alcohol itself is pretty easy to make, and the only tricky part about the whole thing will be snooping around to see what's her favorite kind, so you can fill the bar set with it.
When it came down to Christmas gifts for women, this was one of the most popular entries on our list year after year, and we don't see why it shouldn't be this time around as well.
This means that there are thousands upon thousands of women from all over the world who would be more than happy to get this as a present from their boyfriend or husband.
6. Christmas Gifts for Women – DIY Christmas Gift Basket
The previous two entries talked about gifting entire sets of items, but when it comes to giving several presents as one, nothing beats the all-popular gift basket, especially since it's been a go-to gift choice for many for several years now.
The great thing about gift baskets is that you can make them around a certain theme, such as beauty products, alcohol, fine foods, etc.
More so, you can even mix things up and theme everything based on the color, such as putting things that are entirely or predominantly red, green, blue, etc.
Another example would be putting things that have a specific smell, such as perfumes, candles, etc., but the bottom line is that it all comes down to your imagination and creativity so you can come up with something that will really impress her.
Whichever the case, the secret to making a great gift basket is not necessarily what's inside the basket, but actually the basket itself, since half of the charm of gifting a present is how you do it.
That being the case, if you already have all of the products that you plan on putting inside the box, follow a few online tutorials so that you can exercise your wicker weaving skills because you'll want that gift basket to look like something a lady would love.
7. Christmas Gifts for Mom – Gingerbread Desserts
For many people around the world, their mom is the epitome of what it means to be a master of the kitchen, so what better way to give back some love than to show her that you've picked up a thing or two while you were fake-helping her when she was baking?
More so, since it's Christmas we're talking about, one very easy dessert that you can make for her is pretty much anything that's made out of gingerbread, although if you really want to touch her, we recommend that you bake something and write something like "I love you Mom " using nothing more than icing.
Another thing made out of gingerbread that you could try is a gingerbread house, and once you're done baking the house, you can use icing to write something on the roof, like "Home is where mom is!".
The best thing about baking gingerbread is that it's a fairly easy task to do right, so even if you're a complete novice in the kitchen, this is a great way to build your confidence and hone your skills.
Besides, one advantage of making a gingerbread dessert for your mom is that even if you make it extremely delicious, she won't be able to eat it all, and she'll most likely share it with you, so it's a win-win.
8. Christmas Gifts for Girls – Knitted Toys
One thing that a lot of girls will agree on is that they all have a soft spot for cute toys, no matter how young or old they are, and the ones that say that they don't are probably lying.
So, if you're looking for one of those Christmas gifts for girls that will surely make their way to their hearts is to make them a handmade plush toy.
As for how you'll make the toy, there are plenty of solutions, such as knitting, crocheting, sewing, and pretty much any other endeavor where you create masterpieces out of needles and threads.
The only real challenge with making her a DIY toy is finding out what she likes so you know exactly what you should create, things like:
Her favorite animal or cartoon character
Whether she likes big or small plushies
If she has any fabric allergies
Her favorite color, etc
Once you've discovered all of the above, you can go ahead and make a plushie that she'll absolutely enjoy, and it can even be your very first time making one if you're not the craftiest person around, but don't worry because there are plenty of tutorials that can help you get started.
9. Creative Christmas Gifts for Women – DIY Globes
If you're looking for a gift idea to give to a woman with whom you'll be spending Christmas, you can turn this gift into the perfect occasion to do a lot of Christmas-themed things together, such as decorating the Christmas tree.
Not only does this make for some great bonding time, but it's also the perfect chance to show her the homemade gift you've prepared: DIY Christmas globes!
As you can see from the picture above, globes that are made by hand look just as good (maybe even better) than the flashy store-bought ones you'd regularly use.
Besides, globes that you made yourself will be the perfect way to show her that you care, and with so many available tutorials that you could follow, it won't be a time-consuming or headache-inducing task either.
It's amazing what you can do with some felt, twine, sticks, acorns, and other such supplies that you may already have around the house, or maybe even in your backyard.
Of course, you don't have to limit yourself to making just globes, since you can go ahead and make pretty much everything else that goes on the tree as well, like the garlands, candy, the topper that goes on the very top of the tree, etc.
10. DIY Gifts for Girlfriend – Cinnamon Candles
Whenever you hear people say "I smell Christmas in the air", they're most likely referring to the smell of mulled wine, cinnamon, gingerbread, and oranges, and truth be told that's pretty much how all houses smell like during the winter holiday.
So, if you really want to set a festive mood for that special lady in your life, one of the best DIY gifts for your girlfriend is a cinnamon candle like the one displayed above.
You can either buy the cinnamon-scented candle from your local store (they have full stocks of them this time of the year), or you can make your own candles (which she'll appreciate more).
Once you're done creating the candle using nothing more than cinnamon, oils, wax, and pure love, you can go ahead and wrap the entire thing in cinnamon sticks and make it look like a miniature log.
The idea is pretty original, and the candle will smell amazing before you even light it up, but you need to be careful how you wrap it and then handle it afterward because cinnamon sticks can be pretty brittle and it would be a shame to break the gift before she even sees it.
11. DIY Christmas Gifts for Mom – Christmas Cards
Even the best writers in the world would have a hard time trying to explain in words what a mother's love is truly like, and this is absolutely true.
However, this doesn't mean that you should be discouraged, so go ahead and let her know how much you love her and appreciate her by making a homemade Christmas card where you will put down all the reasons that you're grateful for having her.
Sure enough, this is something you'd probably be doing on Mother's Day, but if you're the type of person that does this kind of gesture only on Mother's Day, a heartfelt Christmas card will come as a very pleasant surprise.
As far as design goes, you can use all of the typical ingredients you'd normally use in a homemade card:
Colored paper
Cardboard
Glitter
Glue
However, you need to understand that this is a DIY gift for mom where what you put inside is 10 times more important than how the card itself looks on the outside.
So don't bother with overcomplicated designs that may make you feel like giving up rather than carrying on, and focus more on explaining to her how important she is to you and why you love her.
As for what kind of text you should choose, you can write it as either a poem or a letter, and there are plenty of websites out there where you can read other people's poems and get inspired by them.
12. Unique Christmas Gifts for Her – DIY Jewels
Diamonds last forever, but so will your debt if you actually try to buy one, and since Christmas is all about showing your appreciation, and not your negative account balance, you could try your hand at some DIY jewelry.
Just think about the color and shape of this DIY jewel:
It can be either round or square-shaped
It must be shiny (it doesn't have to look like a diamond per se, but the shine is important)
There should be something cold on it (like an ice cube or snowflake)
Once you find your creative spark and get into the groove, all that's left for you to do is search for charms that don't cost too much money, which shouldn't be hard to do if you actually know how to pick.
Just leave it to your special lady to find the best outfits that will go with the jewels you just made, and don't worry if they're not perfect.
She'll definitely love them no matter what, but just in case she doesn't realize how much time you actually spent on making them for her, feel free to send us a photo of them so we can make sure she knows exactly what's up.
And while you're at it, try to make one that's more suitable for wintertime since there are very few unique Christmas gifts for her that are better at saying "I love you" than with an ice-inspired charm necklace.
13. DIY Christmas Presents for Her – A Beautiful Wreath
Wreaths are like the mini-Christmas trees that await you in front of the door before you even step into the house, but while buying one can be very easy since they're pretty much anywhere, you could make things more interesting by simply making your own.
Besides, if you really want to impress your better half, you could make a wreath using elements that she loves most, like ribbons and bow ties and ribbons in her favorite color, or by using her favorite flowers as the main decoration.
As for the base of the ribbon, you can make it out of wicker or grapevine, whatever you like most, but a must-have element is definitely the tree branches since those give off a very fresh smell that will really make your guests feel welcome when they arrive.
However, if you want to make a gift that will last, you could always make an artificial wreath using the branches from a broken down artificial tree that you were planning on throwing away anyway, and you can use plastic or silk flowers as well.
As for the smell, you could always just get some oils that have a natural pine scent to counter the possible smell of plastic.
14. DIY Christmas Gift Ideas – Anything in Homemade Wrapping
Sometimes it's the thought that counts, and if you really can't think of anything to make her, or you pretty much lack the crafting skills to create even the simplest gifts, then you could always simply buy her a regular gift, but at least wrap it up in a very unique way yourself.
Brown paper looks much better than white if you want to get that authentic DIY feel, and the best part is that you can space things up by wrapping the gift box in a completely unique way by following the many neat tutorials that you can find on YouTube.
All you need to do is buy a nice box and some time, and if by any chance your wife should ask how much the total cost of this DIY project was, just tell her that after everything's said and done it came out as zero because you had fun doing it.
Once the box is wrapped in paper, you can then add a little flair to the whole design by adding a big red ribbon (or whatever color she loves most).
This idea is amazing because even if you couldn't manage to make her a DIY gift, you could make the packaging and the whole unwrapping process seem more interesting than it actually is.
15. Christmas Gifts for Girlfriend – Heart-Shaped Box
This design is somewhat similar to the gift-basket idea in that the contents don't really matter, just as long as they are handmade to her liking, and the box looks like a giant pink heart to show your girlfriend just how much you love her this Christmas (and every other day of the year, of course).
Sure enough, a box that's shaped like a heart is a lot harder to make than a regular rectangular box, but because it's a very popular topic (especially around Valentine's Day), the Internet is filled with tutorials that will teach you how to make your very own heart-shaped box that looks even better than what you would buy from a gift shop.
Once that's done, you can go ahead and fill the box with things you'll know she loves, like bonbons, artisanal jams, handmade soaps, jars of honey from your own beehives, etc.
The best part about making this gift is that you can do it all by yourself without any assistance (if you know what you're doing, of course), which is the perfect solution if there's only a small budget.
All in all, it's one of those Christmas gifts for your girlfriend that says "I don't just love you on Valentine's Day, I love you every single day of the year!".
More Amazing Christmas Gifts for Women
Now that we're done listing the gift ideas that are the trendiest of 2021, it's time we take a look at some gift ideas that were also very popular back in 2020 and 2019.
That being said, when it comes to deciding what presents you should buy someone, lady or otherwise, it's not about what's trending and more about personal taste, so if the lady you're trying to find a gift for is a bit more old-fashion, she might actually appreciate the entries in the second part of the article.
16. Mint Sugar Scrub Christmas Gifts for Her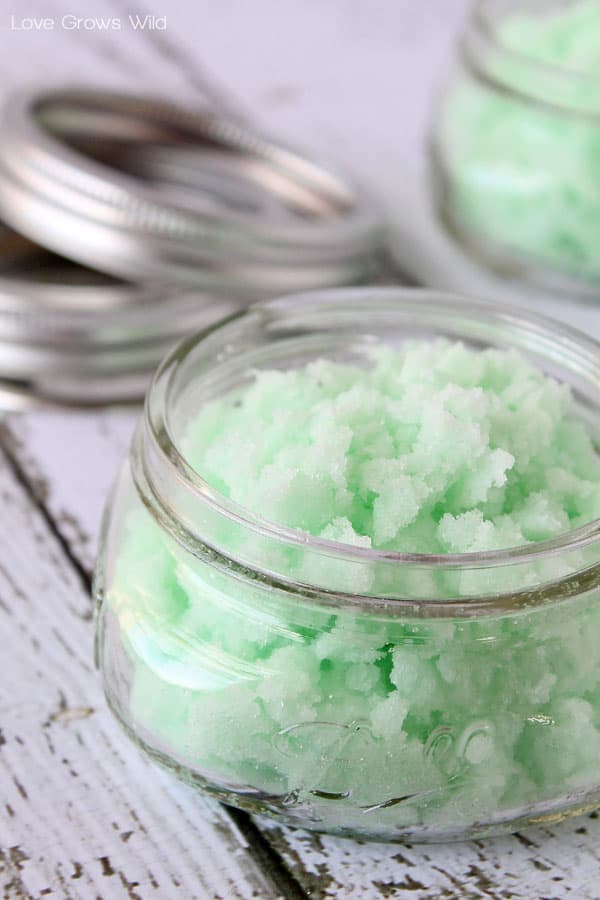 Love Grows Wildstarts of our gift ideas with one of the easiest to pull off. This mint sugar scrub will not only be appreciated but it'll be used! And she'll love it so much that she'll ask you for the recipe once it's all used up.
17. Marbled Ring Dish – Christmas Presents for Girlfriend
A Beautiful Messbrings us this stunning marbled jewelry dish. She can keep her favorite pieces nearby and add some extra pizzazz to her dresser. Take the leap now and check out how to make this right at home.
18. Ombre Tote Bag – DIY Christmas Gifts
A tote bag is always a great gift too. And with this piece, you get something that's on-trend and functional as well. Grab all of the dying details over at Hi, Sugarplum.
19. Cell Phone Case – Christmas Presents for Girlfriend
Chronicle Books went with an iPhone case design that we're swooning for as well. A herringbone pattern that's filled with girlish charm, it's so easy to recreate. All you need is a bit of washi tape to get yourself started in on this one.
20. Things to Get Your Girlfriend for Christmas – Heart-Shaped Glasses
Why not gift her a set of juice glasses (that she can also use for some fancy cocktails with the girls)? Sarah Hearts will give you everything you need to make these at all. They're simple, they're sweet, and they're thoughtful too.
21. Light-Up Desk Marquee – Creative Christmas Gifts for Her
Does she have her own office? If so, A Joyful Riothas exactly what she needs to take the energy in there to a new level. Whip her up her very own marquee – and do whatever phrase you'd like – fun, girl boss, love, inspire, create, dream … the possibilities are endless.
22. Laptop Case – Christmas Gifts for Women
Does she need a case for her laptop? Melissa Ting has all the details you need on how to make her one. Go with a classic black and white print, or maybe add some color if that seems to fit her personality more.
23. Dip-Dyed Candles – DIY Christmas Gifts
Martha Stewartgrabbed some simple candles and turned them into something special. Why not whip up your special lady some dip-dyed beauties that she can use around the house. We love this cluster in particles, on dressers, in the guest bath or even on the mantle.
24. Beanbag Poufs – Christmas Gifts for Her
If you want to do something bigger and create something that you may not necessarily think to hand-make, then why not check out these fun poufs fromBHG! And she'll be so surprised when she unwraps one of these stylish cuties that you made it yourself!
25. Fluffy Key Chains – Christmas Gift for Her
Fluffy keychains are so on trend right now so why not add this gift to her bundle this year? A Bubbly Lifewill show you how to make them every step of the way – and they're so easy! Combine pretty colors, go with pastels, or stick with monochromatic schemes.
26. Bike Basket – DIY Christmas Gifts
If she's a bike rider, why not create an extra-special basket for her to add to her evening ride? Anna Mariawill give your some great inspiration and tips on how to make it happen! Faux flowers, initials with gemstones, you could even add some ribbons!
27. Citrus Coin Purse – Unique Christmas Gifts for Her
Delia Createsknows how to make adorable, unique gifts and this is one of them. These citrus coin purses are so fun and charming. Check out the tutorial after the jump!
28. Agate Coasters – Things to Get Your Girlfriend for Christmas
Right on trend, Making Lemonadecreated some agate coasters. Trimmed in gold leaf, these are beautiful additions to any home and make stunning gifts as well. If she loves organic beauty and contemporary style this is definitely the way to go.
29. Salted Caramel Toffee – Easy DIY Christmas Gifts
If she's got a sweet tooth and you want to go with an edible gift, then this salted cracker toffee is perfect! The Girl Who Ate Everythinghas the recipe to get you started. Just get creative with how you wrap it up for her!
30. Fleece Blanket – Christmas Presents for Wife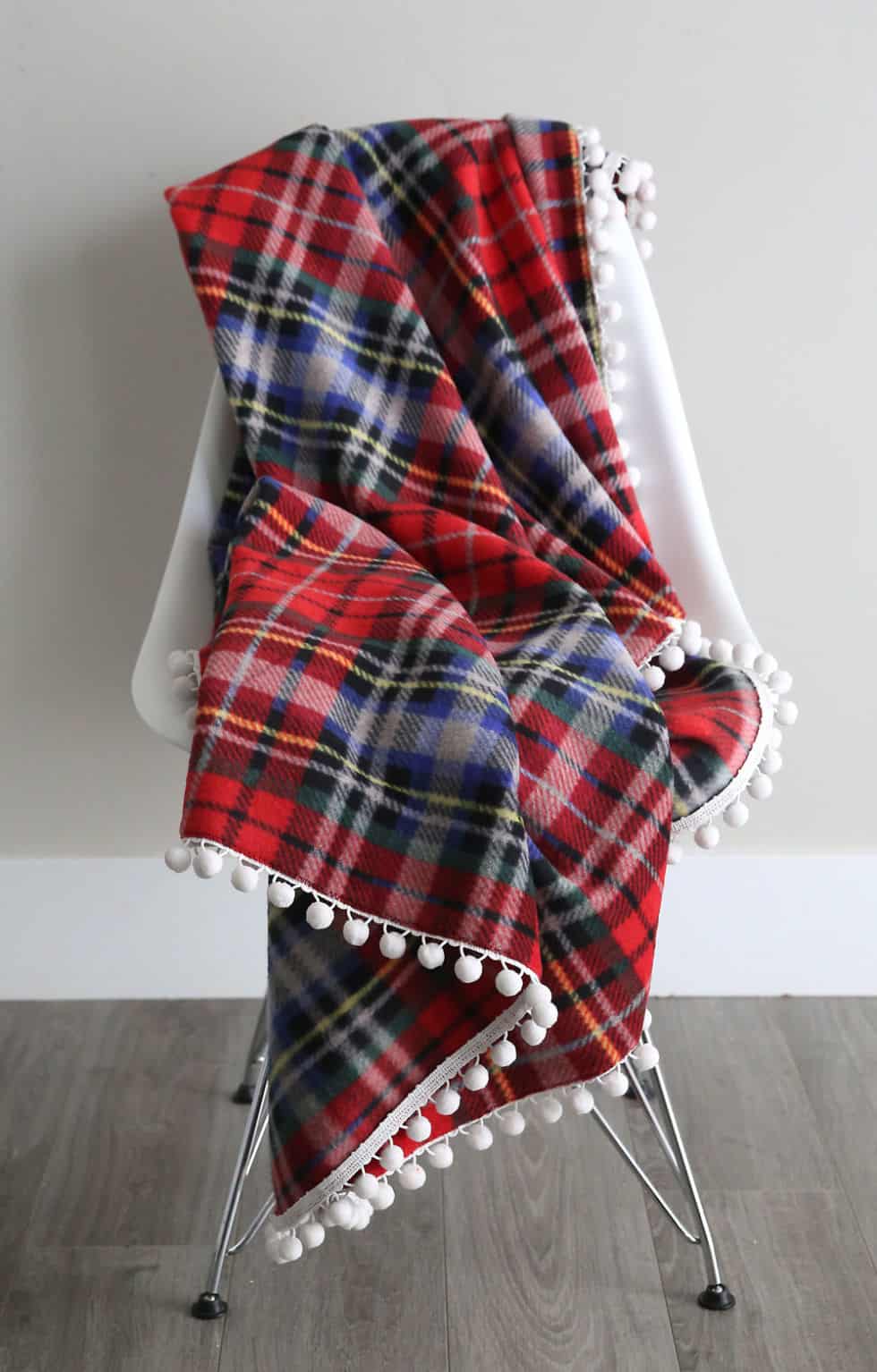 And finally, It's Always Autumn will show you how make a comfy, cozy fleece blanket for her to wrap up with on the weekends. With this gift, you'll be making her movie nights just a bit more relaxing. And check out these pom pom trim! don't forget to add that.
Best Christmas Gifts for Her: Conclusion
After you've gone through our 30 different gift ideas, you may now have somewhat of an idea as to what present to make for that special lady in your life.
Don't forget that this article was written with all ladies in mind (wives, girlfriends, mothers, sisters, etc), so regardless of who you're planning to surprise this Christmas, we've got you covered.
So we hope we helped you figure out what present to make for her and we wish you endless fun during your Christmas preparations!
Don't forget to tell us what you think of the article in the comment section below and share it with your friends so that they can also find some inspiration from it as well.
Also, if there's anything special you'd like to add or have a question about something, feel free to leave your thoughts in the comments section as well!