17 Homemade and Delicious DIY Lip Balm Recipes
Instead of scouring the beauty and department stores for the perfect bit of balm that will nourish chapped lips, taste great and maybe even add a bit of tint too, why not try making your own right at home? With these 18 homemade and delicious DIY lip balm recipes you'll be able to get creative with your at-home beauty and whip up some tins of love for yourself and your friends and family!
1. Coconut Rose
My Baking Addiction made a beautiful coconut rose lip balm that works and will feel as luxurious as an expensive store-bought product. Give these as gifts or indulge a bit for yourself!
2. Mint Chocolate
How does a mint chocolate lip balm sound to you? Good enough to eat maybe? Well, if you visit Food + Words you'll learn how to make this delicious and satisfying pot of mouth nourishment in no time.
3. A Variety
If you're looking for a variety of easy DIY recipes for some homemade lip balm then check out this feature from The Girl Inspired. You'll learn some different methods and how to infuse your gloss with something extra too.
4. Organic
Are you interested in making organic products to go along with your daily usage? Lia Griffith has a super simple recipe for making organic lip balm without too many ingredients or steps!
5. Pink
Delia Creates shows us how to add a pop of color to our balm. Hop on over and check out what you need to do to create some tinted pink pots of goodness for your lips!
6. Crystal Light
Learn how to use Crystal Light as a helpful ingredient in your next batch of homemade lip balm. Visit Love U Madly to gather all of the easy details.
7. Stain
Treasures and Travel takes lip making to new heights! Made with beets and used to stain not only your lips but your cheeks too, this may be our favorite on the list!
8. Red Hots
Who loves Red Hots at the movies or during Halloween candy season? Take that fiery flavor and add them to your lip balm with the help from Hello Glow!
9. Birthday Cake
Soap Deli News shows us how to make some birthday cake lip gloss! Make it for yourself if you love the flavor or for a friends celebrating her next big day!
10. Hemp & Honey
If you want another natural recipe to try your hand out, then check out this hemp and honey idea over at Garden Therapy. Remember, you can easily make pots too!
11. Swirled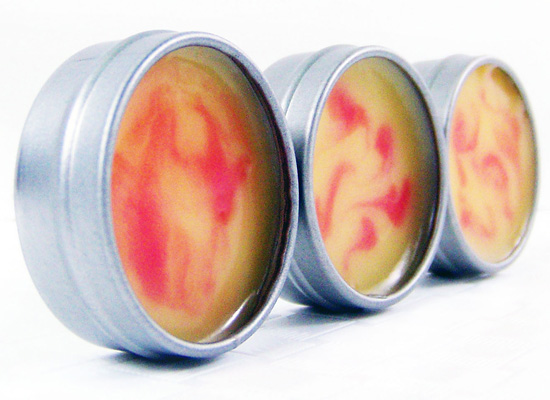 Rustic Essentials takes design of your homemade lip balm to a new level with this swirling technique. Find out how to do this at home now!
12. Wedding Favors
Are you looking to make a simple and memorable DIY wedding favor for your big celebration? Something Turquoise has everything you need to make it happen!
13. All Natural
Free People gives us yet another all-natural recipe that you'll absolutely love making considering how easy it is to do! Check it out now and get started this weekend.
14. Pumpkin Spice
How does pumpkin spice lip balm sound? This flavor is trending, it's a fan-favorite and it's outright delicious so visit Hello Glow and grab the 4-1-1.
15. For Kids
Herbal Academy gives us three amazing recipes for lip balm that the kids will love to carry around and use. Keep those little chapped lips at bay with this fun project.
16. Kool Aid
With a bit of Kool Aid Style Me Pretty gives us another super simple DIY lip balm recipe to try. We love the idea of adding a hint of color to the pods!
17. Peppermint
Over at Beautylish you'll find a great recipe for lip balm to use in the winter. Nourish, refresh and add a hint of that minty coolness we all love to those smackers!