65+ Best Gift Ideas for Women That She'll Actually Want
Finding the right gifts for women is challenging since they are notoriously difficult to shop for. This article highlights the best present ideas for the special lady in your life.
When looking for a gift for a woman, be smart about it. Do a little research to discover her interests, figure out her style, and choose a unique and special present while keeping within your budget boundaries. It is harder than it sounds. But we hope this collection of ideas will lighten the matter, so read on to discover a gift that clicks. Here is a list of the popular store-bought gifts for women described in this article:
Makeup brush set
Manicure set
Cloud slippers
Bathrobe
Natural soap
Shower steamers
Scented candle
Quality hand cream
Sleep mask
Satin pillowcase
Weighted blanket
Aromatherapy diffuser
Cool mist humidifier
White noise machine
Echo Dot
Cellphone stand
Electronic organizer
Tile Slim
Leather wallet with RFID
Adult coloring book set
Crosswords
Atomic Habits book
The Big Book of Serial Killers
Verity best-selling psychological thriller
Salt, Fat, Acid, Heat: Mastering the Elements of Good Cooking cookbook
Cat socks
Pink wireless keyboard and mouse
Lap desk
Smart mug warmer
Lumbar support pillow
Heating pad for neck and shoulders
Neck and shoulder relaxer
Adjustable footrest
Keurig K-Mini coffee maker
Tea mug with infuser and lid
Electric kettle
Electric wine opener
Fleece throw blanket
Oversized fuzzy fleece sweatshirt
Cashmere shawl
Portable steamer for clothes
LED beanie hat
Smart water bottle
Sports band
Mini zen garden
Keepsake box
Heart locket necklace with a custom picture
Personalized gold-plated bracelet
Personalized ID tags for cats and dogs
Nintendo Switch Lite
Polaroid I-Type Instant Camera
Car trash can
Succulents
Gardening tools
Scrapbooking kit
Macrame kit
Indoor herb starter kit
Bonsai starter kit
Plant terrarium with wooden stand
Sketchbook
Foodie Dice
Digital meat thermometer
Vegetable chopper
Magic Bullet Blender
Digital kitchen scale
Pink survival kit with camping and hiking essentials
Pink electric screwdriver set

Read on to discover more about these present ideas for ladies and where to purchase them.
A makeup brush set is a good gift idea for women who prefer doing their own makeup with ease. This makeup brush set includes all essentials for a pro-level, featuring five big kabuki brushes, eleven precision brushes, and brushes for foundation, eye shadow, concealer, and powder. The brushes are made of synthetic fibers and have a nonslip handle for a comfortable hold. They are soft on the skin and provide maximum precision.
View price on Amazon
A manicure set is a thoughtful gift idea for women who like to take care of their nails using high-quality, professional tools, just like in a beauty salon. This set has twelve rose gold stainless steel manicure tools, including clippers, scissors, and files. Everything is housed in a stylish pink leather bag with a zipper that's easy to transport and store. This manicure set will make any woman feel beautiful and pampered.
View price on Amazon
Cloud slippers are the perfect gift for a woman who loves feeling cozy and comfortable at home. This model is made from soft, fluffy fabric that will keep the feet warm. It has a thick, rebound sole and single strap hugs for a snug fit, making these cloud slippers ideal for relieving foot pain and wearing in the bathroom or around the house. Choose from a wide range of colors and sizes when purchasing these cloud slippers, which are also suited for men.
View price on Amazon
A bathrobe is a classical gift for a woman who wants to keep warm and lounge after a relaxing bath. This fleece model features a shawl collar design that gives it a luxurious look and feel, an adjustable waist belt for a secure fit, and two front pockets to conveniently store small items. Pick from various colors and sizes when buying this bathrobe.
View price on Amazon
Natural soap is a simple but thoughtful gift for women looking for a more natural and environmentally-friendly approach to skincare. This collection contains six different natural bar soaps for the face, body, or hands, each with a unique trait: rosemary and mint for energizing the skin, oatmeal and coffee for exfoliation, coconut and shea butter for moisturizing, jojoba and tea tree for cleansing, argan and lavender for soothing, and agave nectar and soy milk for sensitive skin. The soap bars are triple-milled, which means that they are long-lasting, gentle, and will not irritate the skin. The soap also contains essential oils, which are known for their therapeutic properties.
View price on Amazon
Shower steamers are a great gift for women because they help relax and rejuvenate the skin. They are easy to use since all you have to do is add them to a hot shower. The steam will release the essential oils to create a fragrant mist to improve your mood, invigorate the senses, relieve stress, and enjoy the benefits of aromatherapy. This pack includes six different shower steamers, each with a special feature: lavender for relaxation, menthol and eucalyptus for easy breathing, vanilla and orange for boosting the mood, watermelon for a refreshing and calming effect, grapefruit for lifting the spirits, and peppermint for a cooling and invigorating effect. All these shower steamers are long-lasting, hypoallergenic, vegan, and animal-test-free.
View price on Amazon
A scented candle is a practical gift for women who need to de-stress and unwind by making a room smell nicer. This candle is a natural soy wax blend scented with a mix of balsam and cedarwood, reminiscent of a fresh, snowy forest. It creates a refreshing, woodsy aroma, ideal for making a home feel warm and cozy during fall or wintertime. The candle comes in a classic, large tumbler design and features two wicks that burn for over 75 hours to enjoy the lovely aroma for a long time.
View price on Amazon
Quality hand cream is a thoughtful present idea for women with dry skin, no matter how cold or dry the weather is, as it helps to keep the hands moisturized, soft, and smooth. So there's no mistake in purchasing a top-notch hand cream for the special lady in your life, such as this excellent one from L'Occitane. It's a colorless shea butter hand cream with a subtle shea scent. The cream gets absorbed by the skin quickly and doesn't feel oily, providing a soothing, refreshing, breathable effect.
View price on Amazon
A sleep mask is a great gift for any woman who needs a good night's sleep but gets easily disturbed by light. It helps block out light and noise and prevent distractions, allowing her to relax and drift off to sleep. Plus, it's a great way to add a touch of luxury to her bedtime routine. This night mask is made of soft cotton and features a comfortable design that doesn't put pressure on the ideas. The mask has a bent cartilage design to also block light from the nose area. A pouch for easy storage is included, ideal for travel or shift work.
View price on Amazon
A satin pillowcase is a cheap yet luxurious gift for women to help keep their hair and skin healthy while sleeping. It's soft to the touch, and the satin fabric helps prevent wrinkles and reduce frizz, a particular issue for women with curly hair. Plus, the pillowcase helps to keep moisture in, leading to fewer wrinkles and dry skin. This pack includes two satin pillowcases with an envelope closure. It's easy to wash and comes in various colors and sizes.
View price on Amazon
A weighted blanket is a thoughtful gift for women, especially those who suffer from anxiety or insomnia. The extra weight provides a sense of calm and relaxation, which improves sleep quality. Plus, it's a stylish addition to any home décor. In addition to sleeping, a weighted blanket is useful for relaxing, reading, and meditating. This weighted blanket is ideal for all seasons. It's made from soft, breathable microfiber, perfect for cooling in the summer. Meanwhile, glass beads help to evenly distribute the weight, providing warmth in the colder months. There are multiple colors and sizes available for this model.
View price on Amazon
An aromatherapy diffuser is a fantastic gift for a woman who needs to unwind after a long day. The diffuser releases a soothing aroma that makes her feel more relaxed and calm. It also smells wonderful and may improve the air quality in her home. This aromatherapy diffuser comes with ten essential oils: tea tree, peppermint, orange, lavender, rosemary, vanilla, eucalyptus, lemon, lemongrass, and clove. Furthermore, the small device has many different settings, including four timers, two mist levels, and a LED light ring with seven colors for creating an ambiance. The diffuser emits minimal noise, so it won't disturb anyone's sleep. It has a large water capacity of 400 ml and automatically turns off when the water evaporates, so there's no risk of overheating.
View price on Amazon
A cool mist humidifier is a terrific gift for women since it improves sleep quality and soothes the skin, especially in winter when the air is dry and itchy. It also helps with snoring, congestion, and other respiratory problems. This cool mist humidifier is quiet, easy to operate, and has several practical settings. For example, it has an auto-shutdown feature that ensures the humidifier will turn off when it runs out of water. There's also an adjustable 360 rotation puzzle that allows the user to direct the mist wherever necessary. The humidifier has an extra-large water tank of 2.2 liters, so it runs continuously for more than 24 hours. If the capacity isn't big enough, switch to the 6-liter model.
View price on Amazon
A white noise machine is a great present idea for ladies since it's an essential buddy for those who struggle with sleeping, helping to drown out the surrounding noise. This white noise machine has six different relaxing sounds playable with the push of a button, including rain, thunder, white noise, the ocean, a summer night, and the brook. It also has a volume knob and an auto-turnoff timer with three settings for 15, 30, or 60 minutes. The machine is compact and portable, making it easy to use on the go. Choose from three colors when purchasing this model.
View price on Amazon
The Echo Dot would make a great gift for a woman who wants to get started with voice control and smart home devices. It's a small smart speaker with a built-in microphone and connects to the Internet using Wi-Fi or Bluetooth. Echo Dot has Alexa built-in, so it answers questions, accesses music streaming devices, controls smart home devices like lights and thermostats, makes voice calls to other Echo Dots or mobile phones, sends messages, provides information about the weather and traffic, and more. The speaker has an integrated clock, making it suitable for any room in the house. Connect the speaker to external speakers for improved sound quality.
View price on Amazon
A cellphone stand is a functional gift for women glued to their mobile phones since it helps keep the device upright while working or watching television. This model is stylish, comes in multiple colors, and has a sturdy build for securely holding any phone. It's compatible with all popular smartphones and provides a comfortable viewing angle, ideal for relieving cervical spine fatigue. The stand's angle is adjustable and features rubber pads and feet to prevent scratches and sliding.
View price on Amazon
An electronic organizer is a practical gift for women looking to neatly store their electronic accessories while on the go, such as cables, cords, chargers, phones, and earphones. This electronic organizer is portable, waterproof, features two layers for all-in-one storage, and comes in multiple colors to match any outfit or style. It has a comfortable hand strap for easy carrying and a durable zipper for keeping all belongings in place.
View price on Amazon
Tile Slim is an excellent gift for a woman who often misplaces her keys, wallet, smartphone, or luggage. It's a thin, water-resistant device that gets attached to objects to easily find them via Bluetooth by using a free app compatible with Android and iOS. It has a range of up to 250 feet (76 meters); if the object isn't in range, it shows its last known location on a map. There's a community feature available that allows anyone with a Tile Slim to scan the QR code of your lost object and learn your contact information to reach you.
View price on Amazon
A leather wallet with RFID would make an excellent gift for any woman since it keeps her personal information safe from thieves. This model has a large capacity of 24 card slots, two ID windows, four receipt slots, two cash compartments, and one zipper pocket. It's sleek and stylish, made from genuine leather, and comes in a wide range of eye-pleasing colors to match any style. It also has a wrist wrap for easy carrying.
View price on Amazon
An adult coloring book set is a thoughtful gift for women who must take their minds off things by drawing intricate designs and patterns. It is a great way to relax and de-stress after a long day. This set contains ten coloring books for adults and teens, featuring relaxing mandalas, creative animals, doodling, optical illusions, and more.
View price on Amazon
Crosswords are another gift idea for relaxing and unwinding. Furthermore, crosswords help improve your problem-solving skills, practice your vocabulary, and do something fun and challenging. This spiral-bound book features more than 350 easy-to-intermediate-level brain teasers and their solutions.
View price on Amazon
Atomic Habits by James Clear is an excellent gift for women interested in self-improvement. The book is all about creating good habits and breaking bad ones. Backed by science, it explains how habits are formed and emphasizes the importance of tiny changes that become impactful. Atomic Habits offers strategies for making lasting behavior changes, overcoming obstacles, and keeping track of progress. The book also includes case studies of people who have successfully transformed their lives using the principles outlined here.
View price on Amazon
The Big Book of Serial Killers seems like an odd gift for a woman, but it's popular among moms who like to de-stress in the evening by watching a movie or reading a book about serial killers. This book s a comprehensive guide to the world's 150 most notorious murderers. It includes biographical information, the mode of operation in each case, trials and punishments, and even some chilling quotes from the killers.
View price on Amazon
A best-selling psychological thriller like Verity by Colleen Hoover is a great gift for a woman who loves curling up with a good book while enjoying a cup of tea or coffee. Verity Hoover tells the story of a struggling writer named Lowen Ashleigh, who gets hired by Jeremy Crawford to finish writing the books of Verity Crawford, his injured wife. This book is a New York Times bestseller with raving reviews.
View price on Amazon
A cookbook like Salt, Fat, Acid, Heat: Mastering the Elements of Good Cooking is an excellent present idea for women, particularly foodies learning about new recipes and cooking techniques. This cookbook has easy-to-follow instructions that make learning about salt, fat, acid, and heat fun and approachable. It also includes various recipes that allow cooks of all levels to experiment and find their own culinary style.
View price on Amazon
Cat socks are an excellent gift for a woman who loves cats and stylish accessories. This pack contains five pairs of soft and comfortable cat-themed socks in various colors, all with a fun paw pattern and a cute cat face. The socks are made of stretchy fabric, making them a great choice for all women's sizes. Plus, they are machine-washable, so they are easy to care for.
View price on Amazon
A wireless keyboard and mouse make a fantastic gift for women who love stylish, colorful computer accessories while working or gaming. This keyboard has a sleek design that is perfect for any workspace, and the mouse is contoured to fit comfortably in your hand. It has retro round keycaps that make it stand out from the crowd, and the mouse is equipped with a high-resolution optical sensor for accurate tracking. Other features include twelve multimedia hotkeys and a silent mouse with long battery life.
View price on Amazon
A lap desk is a gift that any work-from-home woman would appreciate since it allows her to use her laptop from a comfortable position, such as a couch, recliner, or even the bed. Plus, a lap desk improves her posture, keeping her from slouching. The item is multifunctional since it is also practical for eating, working on crafts, doing manicures, etc. This lap desk provides a work surface for up to 14.8-inch laptops, a pencil slot for jotting down ideas in a notebook, and a reinforced carrying handle that makes it easy to transport from one place to another.
View price on Amazon
A smart mug warmer is a cool gift for a woman to keep her coffee or tea warm, especially if she often gets distracted by her kids when trying to start her day. This smart mug warmer is a great addition to any coffee lover's kitchen, home, or office, thanks to its sleek design and intelligent features. It has three different temperature settings – 104℉ (40℃), 131℉ (55℃), and 149℉ (65℃) – so choose the most comfortable one for your drink. It's also easy to use since it has touch buttons. The smart mug warmer is silent and features an auto shut-off function that stops the device after four hours to save energy. The mug is not included with the package, but you can use your favorite mug, regardless of its material: ceramic, metal, enamel, high-temperature plastic, or something else. For best performance, it's best to use a much with a thin wall and flat bottom.
View price on Amazon
A lumbar support pillow is a thoughtful gift for women who often complain about back pain resulting from driving or working on the computer.
This lumbar support pillow is a memory foam back cushion with a 3D mesh cover for breathability and reducing sweat and moisture. It has a zipper for easily removing and washing the mesh cover whenever necessary, two adjustable straps for securing the pillow to the chair, and a side pocket for keeping your smartphone.
View price on Amazon
A heating pad for the neck and shoulders is a great present idea for women to relax and relieve pain by loosening up knots and tension in the muscles, especially during the cold season. It also improves circulation. This heating pad model is weighted to easily adapt to the body and to distribute heat evenly. It's wrapped in a super soft micro plush to provide maximum comfort and prevent skin irritations, which is removable and machine-washable. The device has six level temperature settings, ranging from 104℉ (40℃) to 140℉ (60℃), as well as four timers for automatically turning off the device after 30, 60, 90, or 120 minutes. Operate these settings from a corded remote.
View price on Amazon
The neck and shoulder relaxer is yet another gift idea for women who need calm and pain relief. The chiropractic device helps alleviate neck and shoulder pain, align the cervical spine, and relieve headaches. The relaxer has a soft foam pillow that must be placed around the neck. A strap is then used to secure the pillow in place. Use the relaxer while sitting or standing.
View price on Amazon
An adjustable footrest is a good gift idea for ladies since it ensures foot comfort and improves circulation by elevating the feet to the correct position. This adjustable footstool is made of stiff foam, consists of two parts, and can be raised up to 6 in (15.24 cm). It's possible to detach the two pieces and use them individually, each resting a non-slip ball to prevent your feet from sliding on the floor. Use the footrest as an under-knee support, keeping the knees in a neutral position to reduce inflammation. This device is helpful for people with arthritis or other conditions that affect the knee. The adjustable footrest is wrapped in a breathable cover with a zipper, which is removable and machine washable.
View price on Amazon
The Keurig K-Mini coffee maker is an excellent gift for the coffee addict who wants to enjoy delicious, freshly brewed coffee within minutes. This device has a small, compact design, ideal for small spaces. It features a removable water reservoir that holds up to 10 oz (1 1/4 cups) of water, and it's capable of brewing ground coffee in under two minutes with the touch of a button. The K-Mini has a removable drip tray for travel mugs up to 7 in (17.78 cm) tall. It has an energy-efficient auto-off feature that stops the coffee maker 90 seconds after the last brew. When purchasing this coffee maker, choose black or pick a fun, lively color like dusty rose or evergreen.
View price on Amazon
A tea mug with an infuser and lid is a thoughtful gift for women to enjoy loose-leaf tea while on the go. The mug is made from porcelain to keep tea hot for longer, has a capacity of 16 oz (2 cups), and comes with a built-in stainless steel infuser that allows you to steep tea directly in the mug. In addition to the mug, the pack has a stylish bamboo coaster to protect any surface from high temperatures. When purchasing this tea mug with an infuser and lid, choose from several fun colors, such as pink, mint green, and turquoise.
View price on Amazon
An electric kettle is a good gift for a woman who wants to enjoy a hot cup of tea, pour-over coffee, or cereal without going to the kitchen. This sleek electric kettle is durable, thanks to its stainless steel filter, inner lid, and heating plate. It boils up to 1.7 liters (7 cups) of water in up to 7 minutes. Babysitting the kettle isn't necessary since it turns off on its own 30 seconds after boiling. The device has a LED indicator to easily tell across from a dark room when water is boiled. It has a boil-dry protection system that refuses to activate the kettle when it runs out of water, with a wide opening so that it is easy to clean.
View price on Amazon
An electric wine opener is a cool gift for a woman that likes to enjoy a glass of fine wine after a long day. Compared to the traditional manual opener, the electric version presents a number of benefits: faster, easier to use, and less likely to break the cork, spill the wine, and create a mess. This electric wine opener runs on batteries and works on up to 30 bottles before recharging (up to 8 hours of continuous use). It's easy to operate since you have to push a button. The device has power lights that let you enough if it has power, and it features an ergonomic, soft-grip handle for a comfortable hold. And it comes with a separate foil cutter that removes cork seals effortlessly.
View price on Amazon
A fleece throw blanket is a great gift for a woman to keep warm on a cold night and get cozy while enjoying a movie on the couch. This fleece throw blanket is soft and lightweight, making it a great choice for travel. It's made of a plush, fuzzy fabric that will keep you cozy all winter long. The blanket has a 50×60-inch size, providing ample coverage for snuggling up on the couch or bed with a loved one. Choose from numerous colors when purchasing this fleece throw blanket, including gold, emerald green, purple, and coral pink.
View price on Amazon
An oversized fuzzy fleece sweatshirt is a decent gift for a woman since it's soft, cozy, and perfect for a chilly day. It will keep her warm and comfortable all day long, so it's a must-have item for winter. This oversized fuzzy fleece sweatshirt has ribbed finishes, a zipper in the front, two side pockets, and drawstrings. It's available in plus sizes (up to 3XL) and comes in many nice colors and patterns, such as burgundy, fuchsia, and plaid.
View price on Amazon
A cashmere shawl is a luxurious example of a gift for a woman to warm up on a cold day. It's ideal for wrapping around her shoulders to keep her cozy while looking her absolute best. This cashmere shawl is lightweight, made from 30% cashmere and 70% cotton, and big enough to cover the shoulders. It feels incredibly soft and smooth to the touch. The shawl folds compactly to take it with you wherever you go. There are multiple color options, such as mustard yellow, blush, purple, and navy blue.
View price on Amazon
A portable steamer for clothes is a great gift idea for a busy woman who likes to stay on top of her fashion game. It is small and easy to pack for trips, quickly refreshing clothes stored in a closet without using an iron or a dryer. This portable clothes steamer is lightweight and has a 9-foot (2.74-meter) power cord, making it easy to operate remotely and the ideal travel companion. The device has a water capacity of 240 ml (1 cup) that allows it to run continuously for up to 15 minutes. Thanks to the gentle steam, it can be safely used on various fabrics, from silk and chiffon to cotton and wool.
View price on Amazon
A LED beanie hat is a cool gift for runners and cyclists since it keeps them warm and lights their way in the evening. This LED beanie hat is a warm, hands-free headlamp. It has four integrated LED lights that last up to 20 hours and run on two small lithium batteries. The hat lights up to 30 feet (9.14 meters) away and features three brightness modes. It's a one-size-fits-all, elastic, unisex design that is easy to wash after removing the LED lights. The hat comes in various colors for both men and women, including pink, dark green, orange, and rose red.
View price on Amazon
A smart water bottle is a cool gift idea for women who need to track their water intake. It can be programmed to remind the user to drink water regularly and track how much water has been consumed. This tool is practical for people trying to stay hydrated because it easily tracks how much water they have had throughout the day. This smart water bottle is made of stainless steel and vacuum-insulated, which prevents sweating and keeps drinks cold for up to 24 hours. It has a LED sensor that syncs to a free app, monitors your water intake, and gives reminders to take a sip regularly. The bottle comes with a rechargeable battery and a fast-charging cable. It's possible to customize the water bottle by picking from two size and lid options and five bottle color options. Plus, the LED glow color and light pattern can be easily changed using the app.
View price on Amazon
A sports band is a great gift for any woman who loves staying active. This band is designed to keep track of a person's physical activity, whether running, cycling, or working out at the gym. It's a perfect present for someone who is always on the go and wants to be able to monitor their progress. This pack includes six sports bands in different colors. All devices are identical as far as functionality goes. They are soft silicone straps compatible with the Apple Watch. The bands are durable, lightweight, waterproof, and have a double buckle design to prevent them from falling off wrists.
View price on Amazon
A mini zen garden is a nice gift for a woman to focus her mind, relieve stress, achieve a sense of calm, and improve concentration and creativity. It's a small-scale replica of a traditional Japanese zen garden, typically used for relaxation and meditation, which can be placed on the desk. This mini zen garden has everything you need to start, including white sand, Buddha figures, a bridge figure, and river rocks. The black rectangle base provides a sturdy foundation, while the included rake helps create the perfect zen garden landscape.
View price on Amazon
A keepsake box is a thoughtful gift for a woman to store special items. For example, store mementos from a special event, such as a wedding or graduation, or objects of personal significance, such as the first-prize trophy from a childhood sporting event. This keepsake box is hand-carved of mango wood, includes a velvet lining, and comes with a distressed finish that gives it a vintage appearance. It has a Tree of Life design, representing the connection between earth and heaven. Choose from four colors when purchasing this product: natural, white, green, or purple.
View price on Amazon
This heart locket necklace with a custom picture would be a perfect gift for a woman to keep a picture of her loved one close to their heart. The necklace would have a small, heart-shaped locket on a chain that the recipient could use to keep a picture of their loved one close to their heart. The locket is heart-shaped and has a Forever in my heart engraving on the front side. It will hold one or two high-resolution laser-print color photos, depending on your preferences. It's also possible to write custom text on the back side, such as a dedication. The necklace is 18-in (45.72-cm) long, waterproof, and scratch-resistant. Meanwhile, the pendant is ¾ x ¾ inch (1.905×1.905 cm). When purchasing this product, choose between sterling silver and yellow gold for the plating.
View price on Amazon
A personalized gold-plated bracelet is a unique gift for a woman who loves wearing jewelry since it's tailored to fit the individual. This bracelet is a delicate gold-plated piece with a custom ID tag, perfect for engraving a person's name or initials. The bracelet has an extender chain to adjust the length to fit anyone's wrist. When buying this product, choose from three color options: silver, gold-plated, and rose gold-plated. And since you'll be giving this bracelet to a special lady as a present, take advantage of the gift package, message card, and handwritten message services.
View price on Amazon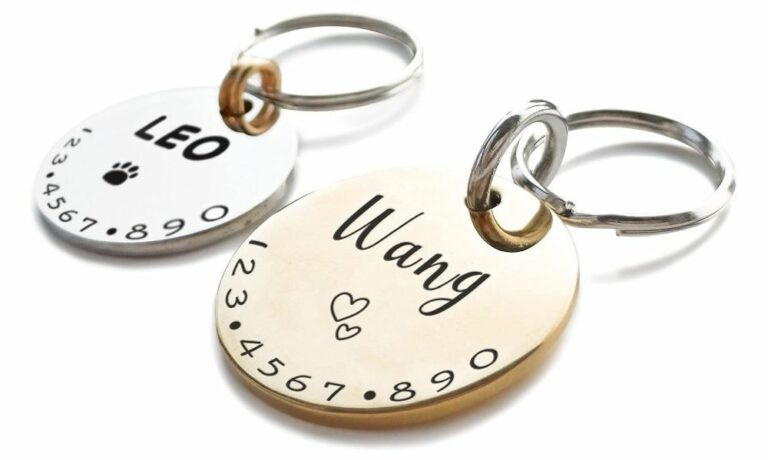 Personalized ID tags for cats and dogs make an excellent gift for a dog or cat lover since they ensure the pets always have contact information on them in case they get lost. Plus, they make for stylish pet accessories. This product is a custom-engraved pet ID tag with cute, handmade symbols. Personalize it with any information, such as the pet's name and owner's phone number, which are laser-engraved and hand-polished. The tags are made of stainless steel and come in four color styles: brass, industrial steel, shiny brass, and shiny steel. Four sizes are available: extra small, small, medium, and large.
View price on Amazon
Nintendo Switch Lite is an awesome gift for a gamer girl who needs to kick off her shoes and recharge after a long work week. It's designed for gamers who want to play Nintendo Switch games on the go, such as Animal Crossing or Mario. The console is handheld only and has a 5.5-inch LCD display and touch screen. It's a little smaller than the original Nintendo Switch and doesn't have a dock or detachable Joy-Con controllers. On the bright side, the Lite is cheaper, has a longer battery life, and comes in beautiful colors like coral, turquoise, and yellow.
View price on Amazon
The Polaroid I-Type Instant Camera is a wonderful gift for a woman who loves taking pictures on the fly. It's a simple point-and-shoot camera that produces high-quality instant prints. The device has a built-in flash, automatic exposure control to help capture the perfect photo every time, and space for 10 shots of film at a time. Additionally, it has a USB rechargeable battery to carry it around everywhere.
View price on Amazon
A car trash can is a cheap, decent gift that helps a driver collect trash and debris accumulated during traveling or long commutes. This car trash can is durable and has a leak-proof inner lining to protect against spills. It features a lid and storage pockets for cups, toys, or other small items. An adjustable strap allows the car trash can to be attached to both front and back headrests and the center console. Furthermore, it has a collapsible design to safely put away when unused. Multiple colors are available for purchase, depending on the car's interior, such as black, brown, pink, and sparkle.
View price on Amazon
Succulents are an awesome gift for a busy woman who loves the idea of growing plants indoors but doesn't want anything complicated. These tiny plants are easy to care for, come in various shapes and sizes, and add a touch of nature to any room. Most importantly, succulents are drought-tolerant, so there's a low chance of these plants dying out due to insufficient water. This product is a set of four succulents in 2-in (5.08-cm) pots. They are hand-selected based on season, size, health, and readiness. The seller provides complete growing instructions for these plants.
View price on Amazon
Gardening tools are a great gift for a woman who enjoys caring for a flower bed or vegetable garden. This kit features ten essential gardening tools, including a weeder, hand fork, hand rake, transplanter, trowel, pruner, hand sprayer, gardening gloves, and carrying tote. They are relatively small and lightweight, making them easy to transport and store. All accessories are made of durable materials and are perfect for both indoor and outdoor use. They are practical for digging, lifting, moving soil around, and keeping the plants healthy and hydrated.
View price on Amazon
A scrapbooking kit is a cool gift for women of all ages, not just teens since it provides a fun way to tell stories and document their lives. For example, a scrapbook preserves the memories of a special event, such as a baby's first steps or a once-in-a-lifetime family vacation. Scrapbooking is ideal for crafting a one-of-a-kind, rewarding keepsake instead of settling for a boring photo album. This scrapbooking kit comes with an A6 grid notebook for taking notes, jotting ideas, and finding inspiration. It contains a variety of stickers, papers, and other goodies to help create beautiful pages. There are also paper photo frames and calendar stickers to keep track of cherished memories. Choose from four color styles when purchasing this product: vintage, moonlight, sunset, and sweetheart.
View price on Amazon
A macrame kit is a lovely gift for a crafter who's been thinking about starting with macrame but never got around it. With a macrame kit, add some handmade charm to your home by creating beautiful, one-of-a-kind wall hangings, plant hangers, or other decorations. This kit includes all the materials needed to start knotting and weaving, including natural cotton macrame cord, wooden beads, wooden rings, wooden sticks, and S hooks. There are also step-by-step instructions to guide the macrame trainee in creating professional-looking results.
View price on Amazon
An indoor herb starter kit is a good gift for a woman looking to add a little flavor to her cooking by growing her own herbs. Normally, keeping herbs alive is tricky if you don't have a green thumb. Still, the starter kit fixes this problem by providing all the necessary tools and exact instructions for successfully growing potted spices. This indoor herb starter kit contains nine packets of premium seeds for growing thyme, dill, chives, basil, mustard, oregano, sage, parsley, and cilantro. Plant these seeds in nine reusable pots and water them to expand their size significantly. Bamboo markers are practical for identifying herbs as they grow. A complete instruction guide is included in the package.
View price on Amazon
A bonsai starter kit is a cool gift for a woman interested in growing her own bonsai trees to add a splash of greenery to her home or office. This sleek box comes with everything you need to grow your own bonsai trees, including four different types of seeds (Rocky Mountain Bristlecone Pine, Black Poui, Norway Spruce, Flame Tree), four burlap growing pots, an expanding-soil disc, four bamboo plant markers, and a comprehensive instruction booklet. The best part is that no green thumb is needed – follow the easy step-by-step instructions, and you're good to go.
View price on Amazon
This plant terrarium with a wooden stand is an interesting gift for a woman since it gives her a unique way to display her favorite plants. It's an eye-catching piece with a retro tabletop design, elevating any room in the home or office. The terrarium is made of high-quality glass and features a metal swivel holder. The wooden stand adds a rustic charm and provides a sturdy base for three bulb vases, which is ideal for hydroponics.
View price on Amazon
A sketchbook is a thoughtful gift for an artist who needs space to experiment and develop their own creative style. This sketchbook has heavy-duty paper that withstands tearing and a black poly cover and back that's durable and easy to transport the sketches without damage. It features 75 sheets, which is ample space for creating masterpieces. Plus, the sketchbook is supported by spiral binding, which ensures that perforated sketches stay together and can be easily removed for framing and showcasing.
View price on Amazon
Foodie Dice is a creative gift for a woman who wants to easily mix up her cooking routine by letting Lady Luck decide what to eat. This unique set of wooden dice helps to find new ways of preparing easy, seasonal meals based on the ingredients you roll. It's a fun game that encourages people to play with their food, featuring more than 186,000 possible meal combinations, so you're sure to find something to your taste. And you'll never have to ask your spouse again what they want to eat for dinner to get the classic "whatever you want" reply. The dice are divided into nine categories, each with six options (one for each face of the dice): cooking methods, protein (including vegetarian options), grains, herbs, bonus ingredients, and spring, summer, fall, and winter veggies.
View price on Amazon
A digital meat thermometer is indispensable for anyone who wants to ensure their food is cooked each time perfectly, making it an excellent gift for women. This digital meat thermometer measures the temperature in only three seconds. It's incredibly versatile since it's practical for everything from grilling and baking to candy making and deep frying. The device features a large LED display that makes it easy to read in low-light conditions. It has a waterproof design, so use it to grill outdoors without worrying about weather damage. Three color options are available for purchase: black and white, red and black, or red and white.
View price on Amazon
A vegetable chopper is an essential kitchen gadget for a woman looking to simplify manual labor and spend more time with her family, so it would be a practical gift. Although it's less efficient than a food processor, a vegetable chopper is easier to use for a few items and quicker to clean. This vegetable chopper features four interchangeable, stainless steel blades for cutting veggies in four ways: a small dice blade for soft fruits and veggies, a large dice blade for harder fruits and veggies, a spiral blade for making noodles from various veggies like zucchini, potatoes and beets, and a ribbon blade for making salads or sandwiches. The kitchen tool has an integrated chop lid for slicing food directly into the collection tray.
View price on Amazon
The Magic Bullet Blender is a handy kitchen appliance for blending smoothies, sauces, salsa, cocktails, ground coffee, or grated cheese, so it would be a good gift for women. This small, handheld, affordable blender is perfect for single servings since it efficiently mixes small quantities of food, thanks to a powerful motor and a sharp blade. The blender comes with a tall cup, a short cup, a party mug, resealable lids, a to-do list, and a simple recipe book.
View price on Amazon
A digital kitchen scale is indispensable in any cook's kitchen, whether talking about a professional chef or just starting to explore the culinary world, so it would be a great present for women. This digital kitchen scale is reliable and accurate since it weighs ingredients precisely, allowing you to follow recipes to the letter. It has a large weight capacity of up to 11 lbs (5 kg), so use it for everything from measuring out small amounts of spices to weighing large pots of soup or stew. The kitchen appliance is made of stainless steel, lasting for years. It has many practical features that any cook needs, such as unit conversion, a tare function, and a backlist LCD display.
View price on Amazon
The pink survival kit with camping and hiking essentials is a mini emergency kit specifically tailored for women, making it the ideal gift for outdoorsy ladies. It comes equipped with all the camping and hiking tools needed to stay safe in the wilderness when camping, hiking, or traveling. The pack has a total of 40 pieces, including a first-aid kit, wire saw, tactical flashlight, survival knife, fishing tool set, saber card, folding shovel, parachute rope, and a survival whistle. Plus, the non-slip gloves, raincoat, emergency blanket, and molle pouches come in handy in any weather or terrain.
View price on Amazon
This pink electric screwdriver set is a cool gift for a woman who loves handling DIY projects around the house. The set is stylish and functional, ideal for anyone who wants a convenient, all-in-one solution for their household repair needs. It features a rechargeable, cordless screwdriver, a swivel head, and a flexible drive attachment to reach even the hardest-to-reach screws. Plus, the included carry case makes it easy to take your tools with you on the go.
View price on Amazon
Conclusion
If you are ever lost on what gift to give your loved ones, consider these thoughtful and unique gifts for the special women in your life. Finding a present does not have to be difficult, and with this list, it won't be. You will make any woman happy with one of these amazing presents. And don't forget that the best presents are the ones that come from the heart. A handwritten card or a heartfelt message goes a long way. Check out these gift ideas for men, too.
What are your favorite gift ideas for women? Share your thoughts below!