15 Beautiful Scented Homemade Soap Bars
If we're being honest, we've always been huge fans of scented bath products no matter the time of year, and we're particularly fond of the ones that smell like flowers, fruit, and things that remind us of summer. It'll come as no surprise to you, then, that our love for scented things only intensifies when summer itself actually arrives! Of course, there are plenty of fun, summer scented things that you can buy in stores but, as avid crafters, we prefer to make things for ourselves whenever we can. That's why we've been looking up different ways to make DIY summer scented soaps!
Just in case you're as interested in the idea of making awesome smelling soaps all by yourself as we were, if not more, here are 15 of the best kinds, scents, and tutorials we've come across in our search so far.
1. Orange zest lemon soap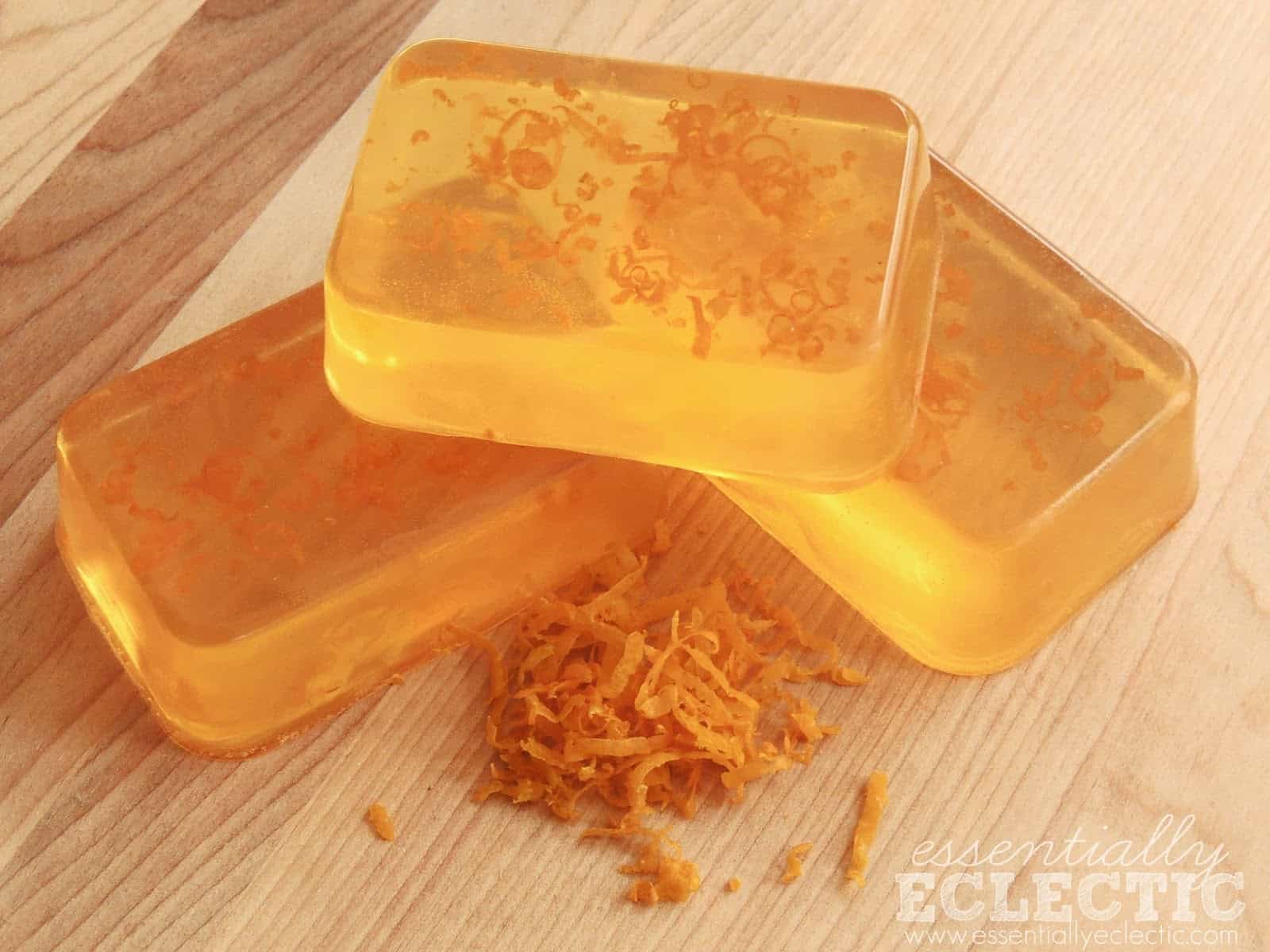 When we say "fruit scented", does your brain automatically recall the stunning citrus scent of oranges because that's your favourite fruit? In that case, we just might have found the perfect recipe for you right off the bat! Check out how Mom Makes Joy makes an all natural soap bar that not only smells like oranges, but actually also contains the zest of the oranges you use inside it.
2. Easy melt-and-pour fall scented soap
Okay, we know we said that we were hoping to concentrate on summer scented soaps in this post, but we just couldn't resist including this particular fall scented bar on our list anyways! This is because we like hosting an autumn party for our friends and coworkers every year and we're the kind of crafty hosts who love to send our guests home with favours, so we've made this particular fall soap recipe several times and completely loved it. Happy Deal, Happy Day guides you through the process of blending a range of fall spices with some cinnamon in a simple melt and pour recipe.
3. Grapefruit mint poppyseed soap
Are you absolutely set on making a fruit scented soap but you also think perhaps you'd really like a version that combines the fruit with something even more refreshing as well? In that case, we'd absolutely suggest taking a look at how A Beautiful Mess made these fantastic grapefruit mint poppyseed soap bars from scratch! The grapefruit smells delicious and summery, the mint will clear your sinuses and contains antibacterial properties, and the poppyseed acts as an all natural exfoliant.
4. Honey walnut milk soap
Are you the kind of person who loves everything about nuts so much that you wish you could include them in just about anything you make, eat, or do? Then we're not sure you'll have to look much further than this fantastically lathering, subtly fragrant honey and walnut milk soap recipe featured on Offbeat + Inspired! This one might not seem specifically summer scented at first glance, but summertime is when the most fresh honey is available in our area and we love to buy local for food and DIY projects whenever we can.
5. Mocha soap
Like us, are you the kind of person who has always believed that there's nothing wrong with continuing to enjoy your favourite hot beverage in the summer, even though the weather is also warm? Then perhaps the smell of a good mocha is actually a year round scent for you, just like it is for us. That's why we couldn't help including this fantastic mocha soap outlined step by step on Soap Recipes 101 on our list. This idea makes a great gift as well!
6. Lavender lemon soap
Maybe when you started thinking of different scents that remind you of summer, you actually felt more like a floral based smell would be the best idea for you? Well, there are plenty of flower inspired soap recipes out there for you to try, but we've made countless different kinds and our very favourite one ever actually still had a little bit of a fruity element to it. Take a look at how A Pumpkin and A Princess made this fantastic lavender lemon soap if you're curious to see what we mean!
7. Coffee mint soap bars
Well, so far we've talked about mint soap bars and we've talked about coffee soap bars… but what if you can't decide between the two? In that case, we'd like to take this opportunity to remind you that making things yourself means that you don't actually have to choose! Instead, take a look at how Horses and Heels created a custom soap bar that smells deliciously of both things.
8. DIY macaron soap
Are you mostly looking to make different kinds of DIY soaps this summer because the warm holidays are the only time of year you really have to master new skills and practice new DIY techniques, so you're looking for some super unique recipes to try out and learn on right now? Then here's one that's so cute we could make it over and over again and never get tired of it! Poppytalk guides you step by step through the process of making adorable little soaps that look and smell like sweet French macarons. Just make sure that everyone knows these are soaps and not snacks if you gift them!
9. Homemade vanilla latte soap
Just in case you're still on that delicious coffee scented kick because summertime is when you like to treat yourself on vacation, here's another coffee based but differently accented soap scent for you to try your hand at making! A Pumpkin and A Princess guides you step by step through the process of making custom soap bars that literally smell so much like vanilla lattes that people in the elevator at work will thing you picked one up on your way in.
10. Chocolate hazelnut soap
Speaking of treating yourself, what if your idea of the perfect DIY summer soap smells a little more like your favourite ice cream treat or kind of dessert, rather than a drink of a fresh fruit? If that sounds like a great idea to you, we'd like to direct your attention to this awesomely sweet smelling chocolate hazelnut soap recipe outlined in full, clear detail on Offbeat + Inspired!
11. Orange creamsicle soap
Did we almost have your attention when we started talking about orange scented soap at the very beginning of our list but for some reason you just weren't quite convinced, and now the same thing has happened since we mentioned ice cream? Well, if you're open to combining other ideas that you've seen on the list so far, then we think we've already found the perfect solution for you! Take a look at how Simply Stacie combined sweetness and citrus by making soaps that smell just like an orange creamsicle.
12. Melt-and-pour candy cane soap
Okay, we'll fully admit that we know we said we'd specifically list summertime scented soaps for you, but once we put the fall smelling recipe on the list, all we could think about was how much we loved collecting ideas in advance, just to make sure our DIY tutorials arsenal is well prepared by the time we get to that season a few months down the line! That's why we're giving you this simple melt and pour candy cane scented tutorial from Gluesticks now, even though you won't see candy canes in stores for many weeks. You can also use mint scented soap now to clear your nose during those pesky summer colds, so this technically still counts towards our theme, right?
13. Coconut lime soap
If you're going to make a summertime smelling soap, would you actually prefer to make one that's a little bit more tropical in its fruit inclusion and theme, but still decently subtle, since you live with friends or family members who are smell sensitive? In that case, we're convinced that this absolutely beautiful smelling coconut lime soap might be the perfect recipe for you. Offbeat + Inspired shows you precisely how to make it. We think it smells like a fancy cocktail!
14. Rose scented DIY soap petals
Was the thing we've mentioned that caught your eye the most so far definitely the whole concept of floral scented soap bars, but you've also been wondering whether you might try your hand at a shape or presentation style that's a little more advanced than just a simple, squared off bar? We like that idea a lot, particularly if you're making something that has quite a simple scent. That's why we thought these stunning floral scented "rose petal" soaps outlined step by step on Tamara Jewelry were such a good idea! Put them out for guests with enough petals for each person present to wash their hands two or three times throughout the night.
15. DIY tea soap
We've talked a lot so far about how many people still enjoy a good coffee in the summer, making coffee, latte, and mocha scented soaps the perfect summer afternoon project, but what about the people out there who actually prefer tea no matter the time of year? Don't worry, we haven't forgotten you! Thirsty for Tea agrees with your tastes entirely and is here to show you how they made these fantastically mild smelling tea soaps that give off the aroma of a perfect warm cup as the sun comes up.
Have you made other kinds of stunningly scented soaps that you were very pleased with and use all the time but that you don't see here? Tell us all about how you made it or link us to photos of your finished bars.