Adorable Winter Hats For Anyone Who Works With Yarn
There are so many different skills, techniques, and crafting methods that involve yarn! As avid knitters and crochet enthusiasts, we're always happy when we meet other people who work with yarn, no matter which kind of work they're doing. In the winter, we love swapping patterns and ideas for warm garments that are either knitted or crocheted; we're not picky about which!
Check out these 15 awesome and adorable hat patterns that are made in all types of ways, but definitely made of great yarn!
This adorable hat pattern lets you practice your colour work and create a cute little winter wonderland scene at the same time. It's not the simplest technique, but the resulting pattern is definitely worth the time you'll spend switching strands and counting stitches as you go. We're also always fans of a good pom pom!
2. Garter Ear Flap Hat by Purl Soho
We love a pattern that offers you a range of sizes! This particular design gives you enough sizing options that you could make a cute garter hat for every member of the family. It's a simple look, but the subtle lines, the pointed top, and the mini pom are all cute enough to give it character. Imagine how sweet a matching set of these hats would look on each of your kids!
Are you a big fan of styles that look a little more vintage than a lot of the patterns you're finding in your quick online searches? Then we think this hat might be a little more up your alley! It reminds us of something you might see on a character on Downton Abbey or in a scene in a 1930s era movie. It'll keep your ears very warm as well thanks to how low down the style comes on the sides.
Is your favourite type of design one that is simple in its stitch pattern but stylish in its shape? Then this adorable slouch toque was practically made for you. It's an easy garter stitch that you can do in front of the television, but it's constructed in a way that slouches back on the wearers head, making it totally trendy right now. We've seen hats just like this one in stores, actually, but isn't always more fun to make your own?
This yarn hat has so much going for it! Besides being a super warm warm style that hugs close to your ears, it's also a cute design that definitely shows off your love for the winter season. Finally, we're pretty pleased to see that it can be made in reverse colours, meaning you can very easily make a set (but one that isn't too matchy-matchy).
6. Classic Cuffed Hat by Purl Soho
Are you looking for a super simple hat design that's classic no matter who you give it to or what they wear it with? Then this design is the one for you! It's a very simple stitch with an easy decrease at the top. The thick cuff keeps your ears extra warm and the pom pom; well, those are for just plain fun!
Have you been looking for a hat that's simple in it's construction in terms of things like decreases, but that still has some detail? Then we definitely suggest trying an overlapped cable pattern like this one! We also love that the texture on this hat makes it a little bit bulky and soft so that it's extra cozy to wear.
Perhaps you like the design you saw above but you're not so sure how you feel about the idea of pom poms? Then perhaps this simple slouchy design is the best alternative for you! It's similar in technique and shape but, because it's a little more plain in its design, it's better for very colour or variegated yarns that will steal the spotlight away from details like pom poms.
9. Big Goose Winter Hat by Ramona French
Have you always been a big fan of angular design sand geometric patterns? Then this simple beanie with triangular colour working detail is perfect for you! It's also the ideal design for people who prefer a more fitted hat style to the slouchy designs that are so trendy right now. We also like the contrasting ridges for a little bit of textured detailing!
10. Snowy Days Winter Hat by Rachael Hunt
Did you really like what we said above about letting variegated yarns take the spotlight because they're your favourite, but you don't completely agree that they're at their best when they're made with very, very simple stitches? Then perhaps a little flair won't hurt! This pattern gives you a sort of basket weave design that lets both the stitch pattern and the yarn variegation shine.
11. Moss Winter Hat by Alena Ruman
Maybe deep, rich solid colours are your favourite ones to use when you knit but you're concerned that all of your projects will look boring? Well, that doesn't have to be the case if you try a pattern like this! We love the texture of this hat and the contrast created between the main pattern and the ribbed edging band.
12. Rachel Zigzag Winter Hat by Grace Rose
Perhaps you liked the textured look of the cabled hat we showed you above but you're not quite ready for cabling yet? Maybe you've tried cabling and you just weren't into the process? Then try something like this knit and yarn over detailed instead! We love how intricate it looks without actually making things too complicated in you.
13. Hourglass Winter Hat by Cecilie Clark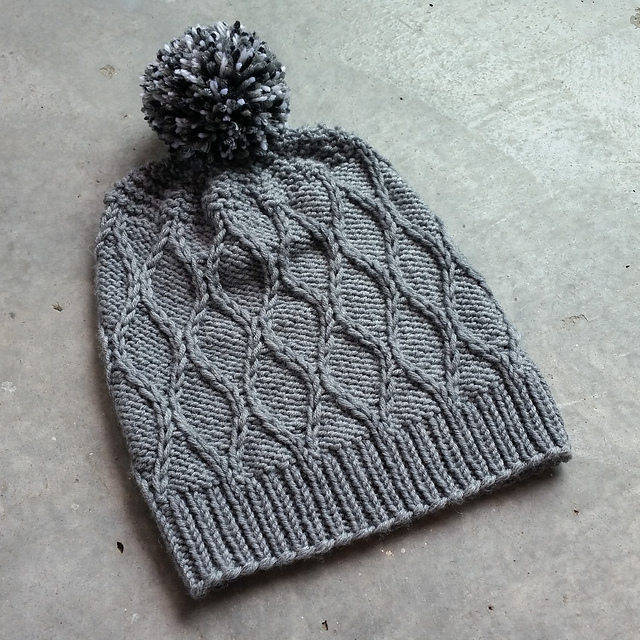 This hat is just another gorgeous example of how you can create texture without cabling (just in case that's not your favourite technique) and make visually appealing designs in projects that you feel like only using one colour for. This detailing looks complicated, but it really is just a matter of simple knitting and purling in the right place!
14. Bohemian Winter Hat by Sheri Weber
Sometimes it's fun to combine all kinds of different details and techniques in one place! This particular example of the hat we're talking about uses a solid coloured yarn, but you could feasibly do it in a variegated yarn as well. In either case, the stitching pattern, the pom pom, and the button are all enough to catch anyone's eye and give the piece a Bohemian style!
15. Riding the Rails Ribbed Winter Hat by Brooke Cassell
This hat is another perfect example of how you can create interesting visuals in a hat without getting extremely complicated in your stitches. We also love the way the name corresponds to the actual pattern you see most prominently when you look at the hat! Each yarn over section does, in fact, look like a set of rails!
Do you have friends who both knit and crochet and just adore making hats for everyone they know? Share this post with them to give them a few new ideas!