35 Christmas Gifts For Your Husband: DIY Projects He'll Love
Christmas is knocking at your doorsteps, and you've run out of ideas as far as gifts for your husband are concerned, but there's nothing to be ashamed of.
In fact, we're here to give you a helping hand by providing you with 35 different Christmas present ideas that you should definitely try out if you want to really surprise your husband.
Of course, it would be incredibly easy to just go to a mall, enter a gift shop, and just buy something that's already there, but today we will be focusing on presents that you can make yourself.
Why a DIY Present Is Better
The thing about DIY presents is that they show your husband how much effort and consideration you put into making it.
Meanwhile, a store-bought present shows the opposite: that the only thing that mattered to you was getting something as quickly as possible and spending as little money on it as possible.
The Best Gifts for Your Husband to Get In 2021
After doing some extensive research trying to figure out what unique ideas everyone is thinking of trying out this year, we've ended up with a total of 25 different gift ideas, all of which will surely make your man feel special.
Of course, there are literally thousands of gift ideas online, but we also tried focusing on entries that are actually easy to make in a common household, while also including a few entries that are possible with a minimum of tools and supplies.
Without going into any further details, here are the best gifts that you could get your husband this Christmas:
1. Delicious Christmas Present for Husband – Meaty Snacks
Men love to snack, no matter if what activity they're undergoing, and even when they're just sitting around watching movies and TV shows, but if you'd like him to put aside the potato chips for once, why not gift him an entire gift basket filled with meaty delights?
It's easy to figure out what he likes most because you see what they eat every single day, and even if you're looking to get them something fancier, you can just ask them.
The best part about this gift idea is that you have complete creative freedom when it comes to what actually goes into the gift basket, but if you're completely out of ideas, here's what you can start filling it with:
Italian sausages
Dried salami
Prosciutto
Pepperoni
Beef jerky
Bacon
There are plenty of things you can add besides that, and if you really want to finish off the basket in style, you can also throw in a bottle of red wine, since that goes well with all of those meaty goods.
Sure enough, keep in mind that if your husband is a vegetarian, or has a medical condition that prevents him from eating too much meat, you could always check out the soy-based substitutes.
2. Present for Husband – Homemade Sweets
If your husband isn't so crazy about meat, but you've noticed that he definitely has a sweet tooth, then the most obvious present for him would be a gift basket filled with DIY versions of his favorite sweets.
Now, this is an idea that will depend largely on what you actually know how to do, but if you're struggling with ideas, here are a few suggestions for you:
Candied fruits
Homemade protein bars
Homemade chocolate bars
Homemade jams and marmalades of his favorite fruits
Gingerbread desserts with funny messages made with icing
Admittedly, these aren't the ideal present if your husband is on a diet, but then again, Christmas is only once a year, and a handful of sweets made with love and care never killed anyone.
Besides, the point of these presents isn't just giving your husband an amazing gift, it's also about showing him that you took some time out of your schedule to make something special.
Of course, chocolate goes really well with coffee, so if he has a favorite flavor or even brand of coffee beans, why not try adding them? He'll appreciate the effort even more.
3. Christmas Gifts for Husband – Stone Serving Slate
While we're on the topic of food, another amazing Christmas gift for your husband is a minimalist-looking stone slate that you can use as a serving dish, and if you manage to find the right kind of rock to chisel, such as one that is black or another appealing color, even better.
To make the stone slate, you'll need just three things:
A black or other color stone that you can chisel into a round shape
A 3mm drill bit for drilling holes in the rock
A chisel
The great thing about this idea is the fact that it's also incredibly easy to make, although you could always buy these slates if you want to save yourself some time.
Admittedly, not everyone has the tools to go ahead and chisel rocks, so if you like the idea, but have no means of actually pulling it off, you could also opt for a burned clay serving tray instead.
Not only is it a lot easier, but there are plenty of clays that will look excellent when burned properly, like the red kind that's used for making bricks.
Besides, a lot of rustic restaurants out there actually use burned clay serving trays, so you're husband will really like eating his food off of something that looks both fancy and rugged at the same time.
4. Christmas Gift Ideas for Husband – Coffee Cozy
Regardless of whether your husband is working from the office or something that's more physically demanding, there's nothing that can boost him in the morning like a hot cup of coffee, and there's nothing that can ruin his morning more than a cold cup of coffee.
That being said, you could opt to buy him a thermos or a smart cup that can keep his coffee warm for hours at a time, but since we're looking at DIY options, you could always knit him a coffee mug cozy.
They're practical, they're easy to make, and the best part is that since you're knitting them from start to finish, you can design them to fit your husband's favorite coffee mug perfectly, and you can make them look in a lot of different ways.
For example, you could gift him a cozy that looks like it's dressed like a Santa outfit, but you can also knit a cute message for him, including things like:
I love you
#1 husband
Don't touch my mug
Hard worker right here
I have the best wife ever
All in all, there are limitless possibilities as to how you can knit the cozy, and the only thing you should remember is that you should make it easy to clean since there's a high probability that it will get coffee stains very often.
5. Best Christmas Gift for Husband – Natural Self Care Package
Men have their own grooming habits just like women, and if yours is particularly fond of taking care of how he looks, then the best Christmas gift for your husband is an all-natural self-care basket.
Just like with some of the previous entries, gifting a package of smaller gifts has the advantage of giving you the possibility of actually getting it right with some of the included products.
More so, if you manage to make the products yourself, you'll definitely let your husband know just how much he means to you.
If you're wondering what you should put inside the package, here are a few pointers:
Homemade shaving cream
Artisanal facial scrub
Homemade soap
Scented candles
Massage oils
Apart from the fact that these gifts are super affordable, you'll also put in much more time and effort into making them.
The best part is that this isn't a gift package that will be used up within a week or two, but a package that's expected to last for many months or even years, so all the effort will be worth it in the end.
6. Unique Gifts for Husbands – Homemade Liquor with Custom label
If your husband is an alcohol connoisseur, then Christmas is an excellent opportunity for you to showcase your brewing skills and surprise his taste buds with some homemade liquor.
Liquor isn't hard to make, and you don't need any kind of expensive distillation equipment either, since you can mix in regular grain alcohol with fruits and herbs to make the liquor from scratch.
One great example of homemade liquor is sloe gin, which is a liquor made from sloes (the seed-bearing fruit of the blackthorn) and sugar.
Gathering the sloes isn't hard, and you can follow recipes online to make your own flavored liquor.
All you have to do is add these ingredients into a clear glass bottle with a custom label that says something nice about your husband, and just like that, it's a homemade Christmas gift for him.
You might even want to give him a few flasks or sealed jugs as gifts to keep them safe during transport.
7. Good Gifts for Husband – Tobacco Pipe
If your husband smokes on occasion (not compulsively), and you want him to try something a bit more stylish, we recommend that this Christmas you make him a homemade tobacco pipe.
They're far better than cigarettes since they only use natural tobacco, with no added chemicals, they look great, and your husband will definitely appreciate this addition to his collection of manly accessories.
Making a DIY tobacco pipe isn't all that difficult, and the only real challenge is choosing the design beforehand since it dictates the type and shape of wood you'll need to sculpt.
For example, if you want a tobacco pipe that looks very good, you could try making one using mahogany wood, which is a type of wood with rich brown color and straight grain.
The good news is that you don't need any professional tools to get started, just a few hand tools and a drill that you can use to hollow out the insides of the pipe, but if you need any help, check out the many video tutorials that you can find online.
If you want to give your husband an innovative gift this Christmas, then definitely try making him a homemade tobacco pipe with your own two hands.
8. Gifts for My Husband – Man Cave Sign
Men like their privacy, and if you want to gift him something that he'll really appreciate, you could make him a custom man cave sign that he can hang on the door of his room, or the place where he spends most of his time, like his man cave, the garage, tool shed, or the basement.
To make a man cave sign, you only need a handful of supplies:
Some black paint
A piece of plywood
Some printed out white letters (you could also paint them)
A length of twine to hang the sign
Start by painting the plywood black, and letting it dry, and when you have a good coat of paint on the wood, print out the letters using a stencil or just freehand them with a pencil.
If you're wondering what to write on the sign, here are a few examples:
Man Cave
Danger up ahead
Do not enter without food
Trespassers beware (except my wife)
Cut out all the letters from the sheet once they're ready, and trace them onto the prepared surface.
Finally, paint in all of your letters with white paint to complete your man cave sign Christmas gift for him that he'll love to hang in his very own "man room".
9. What to Get Your Husband for Christmas – Engraved Plaque
If you like the man cave sign idea but are looking for something that's a bit more classy, you could try making a DIY plaque for him to hang on the wall so that he can always be reminded of how special he is to you.
Plaques are very versatile because you can make them out of anything, such as wood, metal, stone, marble, or a combination of them, and as far as what's written on the plaque is concerned, you should try anything that is of great significance for him, or for the two of you.
For example, here's what you can write on the plaque:
The day you first met/ your wedding date
A simple text like "Forever together"
A quote from a poem he loves
Making the plaque will indeed be tricky, especially the text engraving, but it'll be easier if you have the right tools, such as a chisel, a mallet, marker pens, or even laser engraving tools.
Regardless of what text you pick and how you choose to engrave it onto the surface, this Christmas gift idea will definitely be treasured by your husband for years to come.
10. Christmas Ideas for Husband – Hunting Trophy
If your husband just started hunting, he's bound to want to showcase his catches with a trophy or two, and since Christmas is just around the corner, why not beat him to it and make him the trophy yourself?
To make something similar to the trophy above, you'll only need 3 things:
A deer skull (you can use the ones your husband brought home)
A piece of wood or a stone slab
Nails (screws if you're using a stone slab)
Start off by sculpting the slab of wood and stone until it has a good-looking shape, and then mark the places where you're going to drive in the nails.
After you've marked the places where you're going to drive in the nails, put your deer skull on top of them and make sure it sits well; if everything looks good, then start hammering those nails into the slab.
Once that's done, your husband's trophy is ready to be hung up as a Christmas decoration for his man cave, garage, or hunting camp!
Sure enough, this particular gift idea is a bit gruesome, and if you don't feel comfortable handling animal skulls or taxidermied critters, you should consider some of our other entries.
What to Get My Husband for Christmas: More Neat Suggestions
If you're still wondering what you could get your husband this Christmas, and are not fully satisfied with the previous 10 entries, then here are 25 extra DIY gift ideas that were very popular back in 2020, 2019, etc.
They are just as easy to make and are by no means inferior in any way to the ones described above, so go ahead and take your time browsing them, since you'll surely find something you'll like!
11. Star Wars Lego Clock Gift for Husband
Instructables presents everyone with an amazing idea for Star Wars fans everywhere! Create this for your husband – with the best part being that the figures are interchangeable.
12. Jack Daniels Hand Soap Dispenser – Christmas Gift for Husband
Are you not swooning over this DIY from Curly Birds? Turn an old whiskey bottle into a soap dispenser for his side of the bathroom – or even the bathroom down in the basement for his "man cave!"
13. Hand-Printed Mouse Pad Gift for Husband
You could even hand-print a mousepad for him to keep in his office or at home in the computer room. Visit Design Sponge for the details and get creative with this idea!
14. Firewood Tote Christmas Gifts for Husband
Whipup has a great idea for a more practical gift, especially if you're a family who loves using the home's fireplace! Learn how to create one of these firewood totes making trips in and out of the house so much easier.
15. Monogram Mug – Best Christmas Gift for Husband
Something simple could be exactly what your husband needs. Although easy, this gift is something that he can use every morning for coffee and every evening for tea, check it out at Design Mom.
16. American Travel Map – Gifts for Your Husband
For those that love to travel, you need to take a good look at this project from Design Sponge. It's easier than it looks and it'll be such a great surprise for your loved one.
17. Golf Club Covers – Best Christmas Gift for Husband
Is your husband an avid golfer? If so, you may want to follow Positively Splendid and create something special for those weekends he's out on the course.
18. Comic Book Coasters – Gift for Husband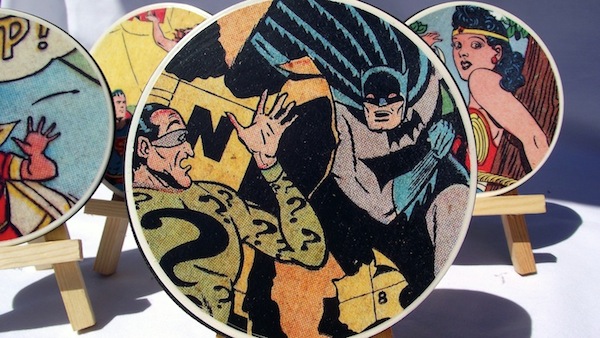 Personally, I love these comic book coasters and feel like they'd be a wonderful addition to my own husband's "man cave" or even inside the bonus room! Mod Podge Rocks shows us how to create these in no time!
19. Paracord Watchband Gift for Husband
Instructables has another great idea and it involved paracord. Learn how to create a bracelet or watchband out of it for a sports-like, trendy and useful present – especially for "survivor" fanatics.
20. BBQ Hanging Towels – Christmas Gift Ideas for Husband
Does your beau love to BBQ? With the help of Silly Pearl you can create these adorable accents for the grill that will also come in handy when he revs the hot dogs and hamburgers.
21. Mini BBQ Grill – Unique Gifts for Husbands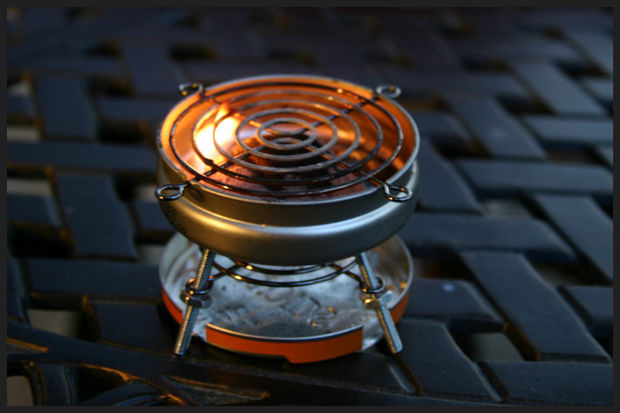 Using an Altoids can you can create one of these miniature grills that your husband will have a ball with! Check out the details on Instructables.
22. Gold Beer Glasses – Christmas Present for Husband
A Little Nutmeg takes simple, glass beer glasses and gives them a bit of style and panache with some paint. Use this idea to create something especially for your husband.
23. Coffee Ground Soap – Unique Gifts for Husbands
Stuff his stocking with unique, useful items! For example, create some coffee grounds soap that he'd love to try out with the help from PopSugar!
24. Tie Bookmarks – Christmas Gifts for Your Husband
For big readers this tie bookmark will be right up their alley. Learn how to make these charming pieces over at Martha Stewart, and get the kids involved in this one too!
25. Rustic Pencil Holder – Unique Gifts for Husbands
If our husband is an artist or just needs an extra special something at his work desk, hop on over to Strawberry Chic and teach yourself to make one of these rustic pencil holders.
26. Rum Spice Aftershave Gift for Husband
Yes, this rum spice aftershave that you can make yourself thanks to PopSugar! Give him something a bit outside-the-box and special without breaking the bank at beauty stores.
27. Instagram Canvas – Christmas Present for Your Husband
Take one of his favorite Instagram photos and learn how to make it into a canvas print over at PopSugar! Then he can use it anywhere that needs a bit of sprucing and personalization.
28. Coffee Syrup – What to Get Your Husband for Christmas
Here's a unique gift that will seem a bit luxurious when done right. Check out A Beautiful Mess and learn how to create your man's favorite flavor coffee syrup!
29. Rosemary Mint Shaving Cream – Gift for My Husband
Check out The DIY Network to learn how to create this luxury shaving cream for your husband. Rosemary and mint always go well together and this will keep his skin nice and moisturized!
30. License Plate Key Hanger – Unique Gifts for Husbands
Kojodesigns made this super unique license plate key hanger and we think it's a great surprise for your husband. Grab one of his old plates and turn it into a useful piece for the house!
31. Chalkboard Mug – Best Christmas Gift for Husband
Wit & Whistle provides us with another great mug DIY that husbands all around would love. Have the kids decorate the chalkboard area or just write his name on it!
32. Vinyl Record Bowl – DIY Christmas Gift for Husband
Instructables does it again in providing us with a great DIY project that husbands would love! Add a bit of his musical love into his gift while making these vinyl record bowls to decorate his office or movie room.
33. Baseball Applique Pillow – Christmas Present for Husband
Again, for the man cave or even inside his home office on the couch, this baseball applique pillow is easy to make with the help of BHG and perfect for baseball fans.
34. Monogram Cufflinks – Unique Gifts for Husbands
For the businessman in your life, Purl Soho has a personalized project that he'll love to receive from you. These monogram cufflinks are a great present for the kids to get involved with too!
35. Wallet – Gifts for Your Husband
Yes, you can even make him his very own wallet. With help from Noodlehead you can learn how to create one of these trendy, functional pieces!
What to Get Your Husband for Christmas: Conclusion
Regardless of whether your husband likes fishing, hunting, woodworking, gardening, or anything else, in particular, we hope that this article taught you a little bit about how important it is to always show him your eternal love and appreciation.
If you're still not sure what to get and make for Christmas, then we encourage you to read all of our articles and suggestions about DIY Christmas presents, since we've written plenty of them as well.
If however, he has some other hobbies and interests which aren't covered by our list above (and we're pretty sure they won't be), feel free to tell us in the comment section below.
We'd also like to know if this article helped give you some gift ideas for your husband, so don't hesitate to let us know!