25 DIY Christmas Gifts For Your Husband!
Are you having trouble deciding what to get your husband this year for Christmas? Wives and the like grab a chair and scroll all of these wonderful ideas that you can gather and create with your own two hands. Check out these 25 Christmas gifts for your husband – that we're sure he'll enjoy, appreciate and remember (that you took a bit of extra time of him)!
1. Star Wars Lego Clock
Instructables presents everyone with an amazing idea for Star Wars fans everywhere! Create this for your husband – with the best part being that the figures are interchangeable.
2. Jack Daniels Hand Soap Dispenser
Are you not swooning over this DIY from Curly Birds? Turn an old whiskey bottle into a soap dispenser for his side of the bathroom – or even the bathroom down in the basement for his "man cave!"
3. Hand-Printed Mouse Pad
You could even hand-print a mousepad for him to keep in his office or at home in the computer room. Visit Design Sponge for the details and get creative with this idea!
4. Firewood Tote
Whipup has a great idea for a more practical gift, especially if you're a family who loves using the home's fireplace! Learn how to create one of these firewood totes making trips in and out of the house so much easier.
5. Monogram Mug
Something simple could be exactly what your husband needs. Although easy, this gift is something that he can use every morning for coffee and every evening for tea, check it out at Design Mom.
6. American Travel Map
For those that love to travel, you need to take a good look at this project from Design Sponge. It's easier than it looks and it'll be such a great surprise for your loved one.
7. Golf Club Covers
Is your husband an avid golfer? If so, you may want to follow Positively Splendid and create something special for those weekends he's out on the course.
8. Comic Book Coasters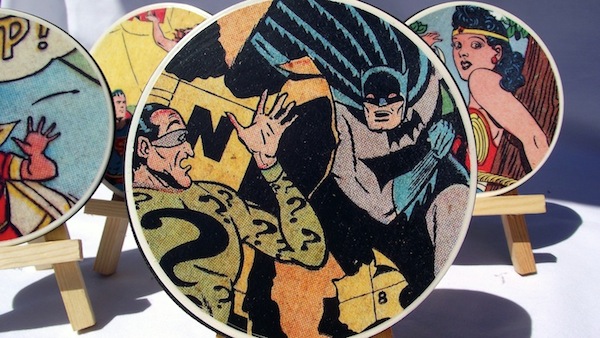 Personally, I love these comic book coasters and feel like they'd be a wonderful addition to my own husband's "man cave" or even inside the bonus room! Mod Podge Rocks shows us how to create these in no time!
9. Paracord Watchband
Instructables has another great idea and it involved paracord. Learn how to create a bracelet or watchband out of it for a sports-like, trendy and useful present – especially for "survivor" fanatics.
10. BBQ Hanging Towels
Does your beau love to BBQ? With the help of Silly Pearl you can create these adorable accents for the grill that will also come in handy when he revs the hot dogs and hamburgers.
11. Mini BBQ Grill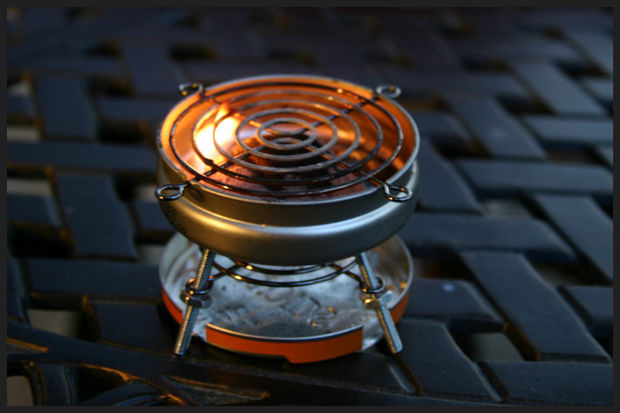 Using an Altoids can you can create one of these miniature grills that your husband will have a ball with! Check out the details on Instructables.
12. Gold Beer Glasses
A Little Nutmeg takes simple, glass beer glasses and gives them a bit of style and panache with some paint. Use this idea to create something especially for your husband.
13. Coffee Ground Soap
Stuff his stocking with unique, useful items! For example, create some coffee grounds soap that he'd love to try out with the help from PopSugar!
14. Tie Bookmarks
For big readers this tie bookmark will be right up their alley. Learn how to make these charming pieces over at Martha Stewart, and get the kids involved in this one too!
15. Rustic Pencil Holder
If our husband is an artist or just needs an extra special something at his work desk, hop on over to Strawberry Chic and teach yourself to make one of these rustic pencil holders.
16. Rum Spice Aftershave
Yes, this rum spice aftershave that you can make yourself thanks to PopSugar! Give him something a bit outside-the-box and special without breaking the bank at beauty stores.
17. Instagram Canvas
Take one of his favorite Instagram photos and learn how to make it into a canvas print over at PopSugar! Then he can use it anywhere that needs a bit of sprucing and personalization.
18. Coffee Syrup
Here's a unique gift that will seem a bit luxurious when done right. Check out A Beautiful Mess and learn how to create your man's favorite flavor coffee syrup!
19. Rosemary Mint Shaving Cream
Check out The DIY Network to learn how to create this luxury shaving cream for your husband. Rosemary and mint always go well together and this will keep his skin nice and moisturized!
20. License Plate Key Hanger
Kojodesigns made this super unique license plate key hanger and we think it's a great surprise for your husband. Grab one of his old plates and turn it into a useful piece for the house!
21. Chalkboard Mug
Wit & Whistle provides us with another great mug DIY that husbands all around would love. Have the kids decorate the chalkboard area or just write his name on it!
22.Vinyl Record Bowl
Instructables does it again in providing us with a great DIY project that husbands would love! Add a bit of his musical love into his gift while making these vinyl record bowls to decorate his office or movie room.
23. Baseball Applique Pillow
Again, for the man cave or even inside his home office on the couch, this baseball applique pillow is easy to make with the help of BHG and perfect for baseball fans.
24. Monogram Cufflinks
For the businessman in your life, Purl Soho has a personalized project that he'll love to receive from you. These monogram cufflinks are a great present for the kids to get involved with too!
25. Wallet
Yes, you can even make him his very own wallet. With help from Noodlehead you can learn how to create one of these trendy, functional pieces!