35 Christmas Gift Wrapping Ideas to Make the Holidays More Festive
Half of the impact that a gift has on the receiver comes from how you present it to them, so some very neat Christmas gift wrapping ideas can make the average present seem like a whole lot more.
Sure enough, when it comes to gift wrapping, most people think of simply taking the box, wrapping it up in glossy colored paper, and adding a bow and calling it a day, but with a little bit of ingenuity, it can be much more than that.
Sure enough, we all have our moments when we don't feel all that inspired, and if you're in such a moment and could use a bit of inspiration, just take a look at the 35 different Christmas gift wrapping ideas that we've prepared here for you.
How to Wrap a Christmas Present: The Basics
Before we get started with all of our creative gift wrapping ideas, we thought it would be best if we first started with a basic tutorial on how to wrap a Christmas in the simplest way possible, since not everyone has the time to go for more elaborate wrapping techniques, especially when there are plenty of presents and very little time to spare.
So, in order to wrap your very first Christmas present, you'll need a piece of wrapping paper that compliments the gift itself, and then all you'll have to do is follow these steps:
1. Start out by removing and collecting all of the wrapping paper components (the color, pattern, and quality) and determining the best one to use.
Once you've found it, fold it lengthwise so that you can get a general idea of how wide your strips need to be, based on the present you want to wrap.
2. Cut off strips that are 1/2 to 2/3 the length of your gift, or in other words, long enough to cover it entirely once folded over.
Just make sure that they're not too short when it comes to wrapping particularly wide presents (such as a bottle of wine), since it can be hard to fold them neatly in the end.
3. Place your strip around one side of your gift and use tape or glue to secure it in place before folding the ends together like an envelope (in this case, with both edges facing up).
4. Fold down your flaps so that they form horizontal creases at equal distances from one another, then pull tightly on them until your present looks like a flat, rectangular box.
5. Fold the bottom flap upwards and secure it with adhesive tape, then do the same with both sides of your gift to complete the wrapping job.
So that's it for our Christmas gift wrapping ideas tutorial! Not too difficult was it?
Of course, if you're looking for some more creative techniques or different kinds of materials to use in order to better spruce up your presents, read on.
Best Christmas Gift Wrapping Ideas to Try in 2021
Now that you know how to wrap a present in one basic but effective way, let's see what you can do when taking inspiration from several different sources and putting together 35 unique Christmas gift wrapping ideas.
When we made this list, we first did our fair share of research online to look for some original ideas, and we focused on those gift-wrapping techniques that seemed atypical, looked amazing, and were fairly easy to replicate since we are a DIY-oriented website after all.
Without further ado, here are 35 of the most impressive gift wrapping ideas that you could try in 2021:
1. Christmas Wrapping Ideas – Festive Colors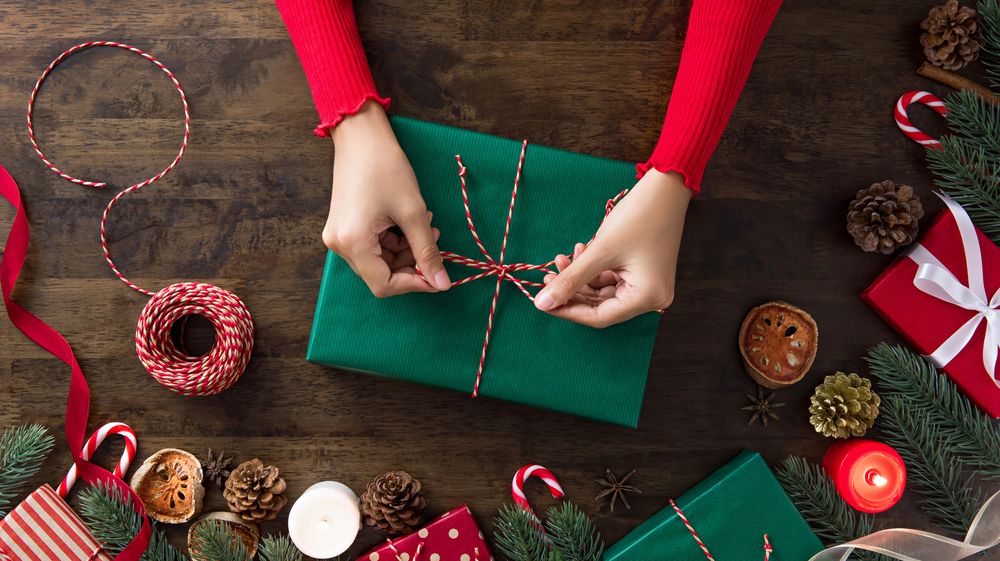 If you're the type of person that prefers elegant and subtle design over-elaborate decorations with lots of cutouts and confetti, then one of the simplest Christmas wrapping ideas is to simply use regular bows and wrapping paper in the colors of Christmas.
For example, if you look in the illustration above you'll notice that the present was wrapped in simple green paper with a matte finish, and it's all tied up in a bow using red and white string.
The end result is simple, it looks great, and it will surely go well with the natural colors of the Christmas tree, especially after you place them all under it.
However, because of the simplicity of these gifts, it can be very easy to mistake one for another, especially if most of the boxes are of a similar shape or size, so we recommend that you also add a Christmas gift tag to each present, just so you can be sure that everyone got the right gifts.
If you want to spice things up a bit, you could also try using metallic gift wrapping paper, and using a very wide ribbon to make the bows, which is especially good if you know some clever Christmas gift bow designs.
2. Christmas Wrapping Ideas – Same Theme Presents
If using festive colors seems too cliche, but you do like the idea of playing around with the chromatics of the wrapping and bows, then you could try using other colors than the typical green, red, and white, just as long as all of them are wrapped using the same theme (but not identical).
As you can see from the illustration above, all the gifts follow the same colors scheme: brown, navy blue, and white, however, while all 5 presents have the same colors, each of them use the colors in their own unique way.
Well, you could try something similar, especially if there are plenty of gifts involved, but if you're not all that crazy about our own example, there are other colors schemes that you could try, such as:
Black and gold – for a luxurious feel
Red and gold – for a traditional feel
Blue and silver – for a modern feel
Green and silver – for a rustic feel
Purple and gold – for a royal feel
Sure enough, the examples listed above are indeed the most popular, but you can go ahead and make your own combinations, just as long as all the colors used complete each other so that your gifts will look amazing.
3. How to Wrap a Christmas Gift – With Citruses
Christmas is all about creating a certain atmosphere, and one way to do so is to use all of the senses, including your smell.
That being said, if you want your guests to get into the Christmas spirit, here's how to wrap a Christmas gift with things that smell like Christmas: with citruses, cinnamon sticks, and other such elements.
For many of us, the smell of oranges, cinnamon, or mulled wine is an instant Christmas trigger, and as you can see from the picture above, a slice of dried orange also looks pretty neat from a visual point of view.
However, make sure that the dried orange isn't too dry, or else it can become brittle and will break off easily, but also make sure that enough of the moisture has been removed, otherwise it will be sticky.
Once you have your slice of orange, you can use other decorative elements as well, such as pine branches, cinnamon sticks, or even pour a few drops of essential oils to make the smell even more noticeable.
If you want to get extra creative, you can use candied oranges instead of simple dried ones, and your guests can have something to snack on while they're unwrapping their gifts.
4. Christmas Gifts – Rustic Pinecone
If you're crazy about rustic aesthetics, and you've decorated you're entire house in a very old-fashion style, then it would be a real eyesore to have Christmas gifts all wrapped up in glossy paper and ruining the whole decor.
So, if you want to give your presents a more traditional feel, try incorporating elements from nature, and using raw materials and colors, just like the gift wrapping suggestion illustrated above.
Simple brown wrapping paper was used to cover the gift and simple brown twine was used to tie the knots, while pinecones were added to be a sort of natural decorative element.
You can go ahead and use any type of pinecone you want, but we recommend that you use those very small ones that are closed up, since they are the most aesthetically pleasing, and are also the least likely to break in case you mishandle the presents or pile them one of top of the other.
Another thing you could add besides the pinecones, especially if you're crazy about that entire forest decor, is some acorns, since they're small, cute, compact, and the fact that they are naturally very shiny makes them look like tiny baubles.
5. Christmas Gift Ideas – Eco Burlap Wrapping
If you loved the previous entry, but you want to go even more down the rustic lane, the next step forward is to do something similar to what you see in the picture above: wrap your gift in an eco burlap bag!
The design looks nice, and it's the perfect gift wrapping idea if the present itself is also something that is either handmade or rustic, and the best part is that burlap sacks are available in all shapes and sizes, and you can easily find them in your everyday home improvement stores.
Once you've wrapped the gift in your burlap material, you can either tie all the corners in a single knot and a few decorations, like pinecones, acorns, or pine branches, or you can tie everything up with some twine like in the previous entries.
One advantage about this material is that if you're not too skilled with wrapping things, you can simply place the gifts in the bags just the way they are so that each gift looks like a miniature version of Santa's sack.
More so, this gift-wrapping idea is also eco-friendly, especially if you manage to buy burlap bags that are made from recycled materials, are biodegradable, or both.
Thus, you won't be doing just your loved ones a favor, you'll be helping Mother Nature as well!
More Ways to Make the Perfect Christmas Gift Wrap
The previous 5 entries were the most popular ones of 2021 that we managed to find when we did our research, but not everyone has the same tastes in decorations, so if none of them managed to spark your interest, go ahead and take a look at the other 30 entries.
They look just as nice, they're just as creative, and they're just as easy to make in the comfort of your own home.
6. Bay Leaves Christmas Gift Wrap
Daisyley shows us how to use easy materials and create a look that's surprising and beautiful too. Some baker's twine and bay leaves can make quite the organic, Christmas style.
7. Christmas Gift Wrap – Paper and Ribbons
Check out this gorgeous collection of gifts from Oh So Beautiful Paper and visit to find out how you can put your own spin on the family's gifts creating a cohesive style that pops!
8. Christmas Gift Wrapping Ideas – Gumdrop Garland
Start with some white paper and then highlight it with some classic gumdrop garland. You can even get the kids involved with making the garland for you! Thanks, DIY Network for the great idea!
9. Paper Flakes Christmas Gift Wrap
You may just need some red and white baker's twine and a paper snowflake cutout to get the look you're envisioning. Check this one out at Little Scandinavian.
10. Christmas Gift Wrapping Ideas – 3-D Accents
Homelife features these three-dimensional pieces of art that would be a wonderful addition to the Christmas gifts under the tree this year! And they can be used over again or kept as a fun keepsake.
11. Christmas Gift Ideas – Typography
Check out this easy typography idea from ManMade DIY. Use newspaper clippings to make each family member's name come to life on their gifts!
12. Christmas Gift Wrap – Snowmen
BHG gives us a tutorial on how to create these super charming snowmen toppers for the kids' presents. Then they can later be used as ornaments for the tree or stocking charms.
13. Paper Straws Snowflake Christmas Gift Wrap
Create a snowflake out of holiday-colored paper straws! It creates quite a grandiose look and tops off any and all gifts quite nicely. Get the details at Centsational Girl.
14. Christmas Gift Wrap with Bows
The Sweetest Occasion showcases three different ways to top your presents with grace, femininity and a bit of sparkle too! All are quite fashionable but still hold a bit of the season as well.
15. Candy Toppers Christmas Gift Wrap
Utilize some holiday candy for your Christmas wrapping this year. And use Good Housekeeping on how to incorporate them into the gifts' theme.
16. Glittered Snowflakes Christmas Gift Wrap
Paperie Boutique showcased this gorgeous, glittering snowflake idea that would really spruce up the Christmas spirit under the tree in a more modern and sophisticated way.
17. Christmas Gift Wrapping Ideas – Add a Wreath
Hop on over to Craftberry Bush to learn how to recreate these gorgeous wreath toppers for your own family's presents this year. They look great paired with Kraft paper but also printed ones as well.
18. Glammed Up Christmas Wrapping Idea
Check out this gorgeous collection of gifts over at Boxwood Clippings. Get the details on how to make your own glammed up presents for your family and use outside-the-box odds and ends to highlight.
19. Pine Tree Christmas Gift Wrap
You may just need some small pine tree branches to make a statement with your gifts this year. Just look at this refined, yet festive idea from Little Scandinavian.
20. Festive Envelopes – Christmas Wrapping ideas
DIY Network shows us how to make these adorable Christmas-inspired gift envelopes made from poster board! Just grab some ribbon as a topper.
21. Washi Tape Christmas Gift Wrapping Idea
Style Logistics features this idea that involves washi tape! You'd be surprised how much more fun and festive your packages will look with a bit of this adorning them.
22. Pink and Red Christmas Gift Wrap
Pink and red may not seem like the obvious Christmas color pairing but it sure looks festive when adorning a present. Check it out at Baby Center.
23. Reindeer Silhouette Christmas Gift Wrapping Idea
To recreate this look right at home Parties for Pennies found a reindeer outline online, printed it out and started cutting. It's really that easy, the kids may even want to help out with this one!
24. Printable Christmas Gift Wrap
DIY Candy allows you to print this worded wrapping paper for free! Decorate the presents under the tree in a unique way with the help of these printables.
25. Ornament Clusters – Christmas Gift Idea
Use some ornaments and create a small collage on your gifts. Oh Happy Day shows off how to recreate this stunning look after the jump.
26. Christmas Gift Wrapping Ideas – Santa's Belt
Create a package modeled after Santa's clothes – here we have his belt buckle that's quite easy to replicate. Baby Center has the details on this one too.
27. Family Tag Christmas Gift Wrap
Download and print the template for these adorable gift tags over at HGTV. Then personalized them yourself with a bit of glitter, tape or even a photo!
28. Winter Scene Christmas Gift Wrap
Design Sponge took beautiful winter scene prints and use them to compliment their Christmas gifts. We love the beauty, ease and simplicity this thoughtful idea holds.
29. Chalkboard Christmas Gift Wrap
We're kind of in love with this chalkboard gift wrapping from 13 Acres. Completely personalized and full of creativity, I'd love to use this idea for my own family!
30. Gold Stars Christmas Gift Wrapping Ideas
Little Scandinavian gives us another simple, easy idea when it comes to Christmas-esque wrapping ideas. Black and gold may not be the most festive but it sure feels right when put together like this!
31. Alphabet Soup Christmas Wrapping Idea
Yes, those adorable tags were made with some dried alphabet soup noodles, giving the packages a fun and youthful look. DIY Network gives us the details.
32. Nature-Inspired Christmas Gift Wrap
DIY Network shows us how to make an easy Christmastime topper with some pinecones, cranberries and cypress. All you need is some Kraft paper as foundation.
33. Salt Dough Christmas Gift Wrapping Idea
Stellaire used salt dough ornaments to wrap up these DIYed Christmas packages. We some hand dotting and handwriting these are personalized and sweet!
34. Christmas Wrapping Ideas – Parcels
Who wouldn't want to receive a parcel in the mail from Santa Claus himself? lmnop has all the details and know-how when it comes to creating some of these ourselves.
35. Striped Wax Paper Christmas Gift Wrap
Studio DIY gives us all a great last minute idea that's both festive and quite easy to recreate. All you need is some leftover wax paper and foil!
Best Christmas Gift Wrapping Ideas: Closing Thoughts
Now that you've gone through all of our 35 different Christmas gift wrapping ideas, it's time that you start wrapping you're own presents, because Christmas is just around the corner, so the clock is ticking.
However, we do hope that at least a few of our entries managed to inspire you and that you now know how you'd like your Christmas presents to look like.
Of course, don't forget that these entries of ours are merely suggestions, and you shouldn't follow them to the letter if you feel that you can do better, so go ahead and bring your own improvements wherever you see fit.
All in all, we just hope that you manage to have some fun this Christmas, give lots of presents to the people you care about, and make sure they know how special they are to you.
For more amazing Christmas articles, check out some of the other guides on our website, since we're written everything you could think of, from original Christmas dessert recipes to entire lists of gift ideas based on who the receiver is (husband, teacher, girlfriend, etc).
More so, you can help our website by leaving your own suggestions and feedback in the comments section below, and we'll be sure to update our guides accordingly!
That's all for 2021! Wish you good luck, everyone! Enjoy your life while it lasts! And don't forget… All together now… Merry Christmas!!!