34 Easy Paper Crafts For Kids That Are Fun to Make
Some of the best projects start out with the simplest of materials: paper. And if you have some paper lying around the house, you have the ability to flex your creative muscles.
Of course, it's not just paper itself, but pretty much anything paper-related – toilet paper rolls, paper plates, tissue paper, and so on. The possibilities are endless. Since your kids are supposed to be able to do at least part of these designs, they're pretty easy to make and won't take forever (unless you ask them to help cut the paper – then it will take two eternities).
Easy Paper Crafts for Kids
Let's get on and check out these 34 paper crafts for kids that are perfect for you to make as a family.
1. Toiler Paper Roll Rocket
Anytime you have empty toiler paper rolls made of cardboard, we suggest you stash them, so you have one whenever you need to make a craft. This time around, we're creating a pretty awesome rocket by adding in some colored cardboard, a lot of glue, and some ingenuity. Learn how to make your own toilet paper rocket in a few easy steps.
2. Toilet Paper Roll Cat
Cats are always adorable, and kids love them, so why not make a toilet paper roll cat? We know! It makes perfect sense! Mixing in a bit of some glue, a black marker, and some cute colored details will make your design pop! Go ahead and learn how you can make this adorable toilet paper roll cat. The design is easy enough, but depending on how old your kid is, you may get to do all the work.
3. Toilet Paper Roll Bee
Bees are essential for humanity, and they're also super cute to make, especially out of toilet paper rolls. You'll need some yellow paper, glue, and some black liner. The cool thing is that your kid will absolutely be able to draw those black lines on the bee's body, so you don't have to do all the work. Learn what you need and how to make it by following our tutorial on toilet paper roll bees.
4. Paper Plate Minion
Sure, Despicable Me is a great franchise, Gru is a cool character, and the girls are adorable, but everyone is obsessed with the Minions. Rightfully so, if you ask us. So, let's see how we can create a paper plate Minion for our little fans of the yellow creatures. You'll need a paper plate, some paint, paper, and some glue. With some patience and skill, you'll make a wonderful Minion for your kids to play with.
5. Cute Toilet Paper Roll Pumpkin
Ok, it's more of a cute pumpkin monster than a pumpkin per se, but it's absolutely adorable! You'll need some paint, colored paper, and a piece of ribbon. A couple of googly eyes will complete the look, and your kid can really help make this design, so they won't just be watching. Go ahead and read our tutorial on how to make a cute toilet paper roll pumpkin.
6. 3D Paper Apple Craft
If your kids like apples, then a paper one will certainly cheer them up. Plus, making them is super easy, and you just need some pretty paper, glue, and some scissors. It's all pretty straightforward, and we're sure it will look great as an element the next time they play supermarket. Learn how to make a paper apple craft in a few steps.
7. Polar Bear Corner Bookmark
If your kids love to read or loved to be read to, then you certainly have a ton of books, and bookmarks are something you easily lose. Well, when you have a cute polar bear guarding your next chapter, you may want to be more careful with the bookmarks, right? You can learn how to make an easy polar bear bookmark by reading our tutorial.
8. Paper Birds
Look how cute this paper bird is! The good news is that your kids can absolutely help you create this bird, even if their job is folding paper. It's a cute project that will keep them busy for a while and then even more as they play with the birds. Learn what you need to create paper birds and what steps to follow by reading our tutorial.
9. Yarn Wrapped Paper Heart
Do you have some red paper laying around? How about multiple yarns that you never want to throw out? We know we do! So, if you're like us, cut a heart shape out of paper and give your kid the yarn to wrap around it however they want. Learn how you can make one of these cute yarn wrapped paper hearts from our tutorial.
10. 3D Paper Apple Decor
Decor pieces can be super cute, and if your kid is helping make them, then they're going to make for great bonding time. With a small planter, some paper, and popsicle sticks, you'll make a cute decorative piece in just a few steps. Learn how to make a 3D paper apple decor from our tutorial.
11. Bee from Old Egg Carton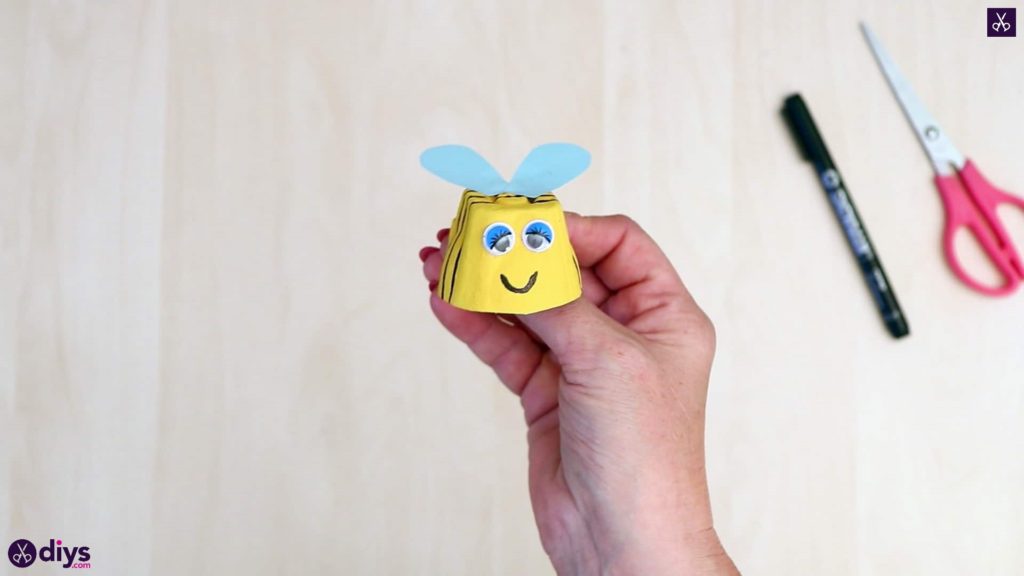 Perhaps one of the easiest designs we've seen thus far, bees made out of old egg cartons are also extremely cute. The best part is that you probably have all you need at home already, including an empty egg carton and some paint. Learn everything you need to know on how to make a bee from an old egg carton.
12. Paper Heart Butterfly
Simply by using colorful paper ribbons, you can make a cute butterfly! Even better, kids can also make these on their own, with minimal help from you, some paper, and glue. They'll certainly be proud of their creations! Get all the info on how to make a paper heart butterfly from our tutorial.
13. 3D Paper Dog Puppet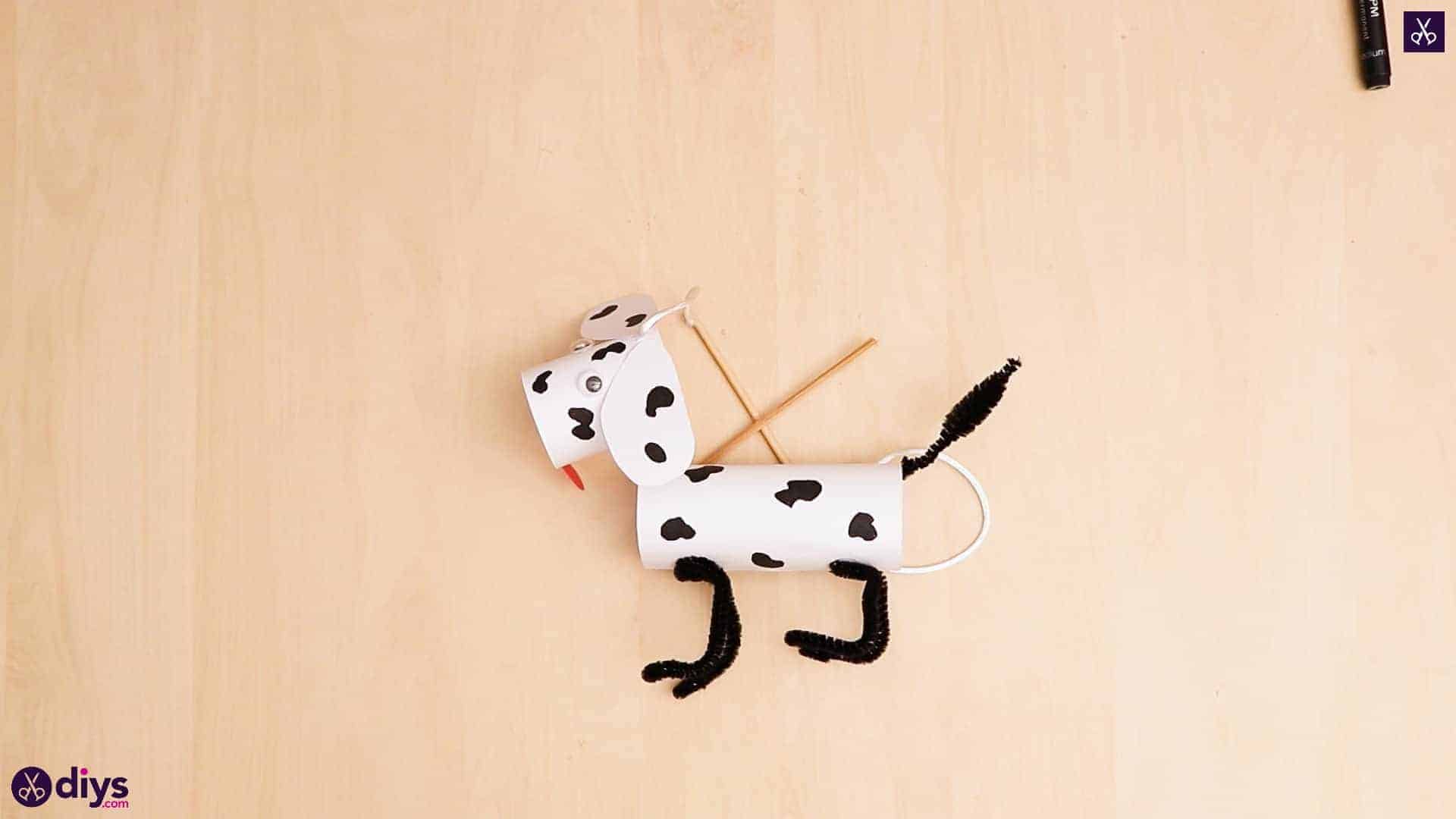 What kid wouldn't want to make one of these 3D paper dog puppets? Not only will they get to make it and personalize it to their liking, but they'll get to play with them afterwards. Make sure they make more than one so they can participate in some imaginative play for a while after the project is finished.
14. Birthday Card
One of the best ways to get your kiddos' busy using their creativity and check off one of your to-do lists? Have them create some DIY birthday cards, of course! We've got some easy ideas up our sleeves to spark their own ideas.
15. 3D Paper Flower
Here's another 3D craft that the kiddos will want to dive into. Make one for your loved ones or to decorate/top a gift. Or create an entire bouquet! Learn how to make a 3D paper flowerafter the jump!
16. Paper Roses
The little ones can whip up some paper rosestoo. You know there's an infinite amount of possibilities with this project as well. Essentially, you could decorate anything if you know how to make paper roses.
17. Paper Candle
You can make a paper candle on a startoo and add it to the tablescape for the holidays. Every part of this project, from the creasing of the paper, to the glueing, a little one can handle.
18. Paper Plate Tree Art
Paper plate tree art can be fun for everyone! And what's so great is that, in the end, everyone's will look completely different. Give the kids the tools and the materials and watch the art unfold.
19. Paper Frogs
We're swooning over these paper frogs, though, too. And we know the kids in the family will be down to make some of these. If you have leftover construction paper, you're good to go!
20. Paper Lantern Art
How awesome is this paper lantern art? Tweak the design to make it perfect as a Christmastime piece or leave it as it is for a wonderful addition to the Halloween landscape inside the house. Place a battery-operated votive inside for extra spook!
21. Paper Plate Bee Puppet
How adorable is this bee puppet? Grab your markers, grab the kiddos, and although it won't take too much time whipping this cutie up. The imaginative play that comes afterward will last all afternoon!
22. Patriotic Blower
This patriotic party piece can be whipped up with a toilet paper roll in just a few minutes. Hang it up, so it blows in the wind on the patio. In fact, make sure you save a few rolls so you can make several for your 4th of July shindig.
23. Grinch decor
When the holidays come to call, think of making this piece a part of the festive collection. Your Grinch Christmas decorisn't complete without a few of these cuties on the tree. The kiddos will love to help out with this project!
24. Scarecrow
Scarecrows fall under the umbrella of harvest decor for the fall, and we love it. A couple of these cuties would pair well with the pumpkins we see up at the top. They're also easy to personalize – so let everyone in the family "dress" their scarecrow to their hearts' desire.
25. Paper Santa Candy Holder
You could always start with a classic project like with this popsicle stick picture frame. There are so many different ways to decorate it, and the kids will easily be able to make one for themselves (although this is a great way for them to DIY their very own gift for Mom and Dad).
26. Paper Wreath
Check out this paper plate wreath! Have the kiddos whip up their own and then use them to decorate different doors around the house. They could even make one for their own bedroom and add some festivity to their own space.
27. Paper Plate Snowman Head
A paper plate snowman head is also really easy to make, and you have most of the materials already lying around the house. The best part? The kids will stay entertained for a while with this type of project. And no one's has to look the same!
28. Paper Plate Scarecrow
Just like with the snowman, you can make a face of a harvest-inspired character too. A paper plate scarecrowis a great activity to get the kids' to take part in when fall comes to call. And, again, no one's has to look the same!
29. Paper Angels
Aren't these paper angelsjust adorable? Whip these up and then create some garland out of them to decorate the mantle with. Or add a string to decorate the tree with the family's sweet creations.
30. Paper Star Ornament
Isn't this a beautiful design? Have the entire family make their own paper star ornamentand then add all of them to the tree. Just give everyone different paper so the tree gets a sprinkling of color.
31. Toiler Paper Roll Angel
What about making a few of these adorable toilet paper roll angels? They'd work well as Christmas ornaments or gifts from the kiddos to family memories. With a red or pink spin, they could even serve as sweet Valentine's Day accents.
32. Paper Sunflower
A paper sunflower is an easy craft for the family as well. Again, you can cut these out and use them to create a garland. And it's not too hard for the little ones to make it on their own as well.
33. Paper Cone Witch
Make a paper cone and then create apaper cone witch for Halloween! Whip them up in different colors and have a family of witches to display on the mantle this year. Channel your inner Sanderson Sisters, in fact!
34. Rainbow Paper Sun

Isn't this a sweet paper project? With some construction paper or colored tissue paper, you can create rainbow paper suns! Hang them up in the windows for springtime.
Get Crafting With Your Kids
Now that you have so many new cute crafting ideas, go ahead and gather your materials, your kids, and start making something nice together. We know that it can be rather stressful to try guiding them to build something like this, but it can be super rewarding when the project is done, boosting their self-esteem and creativity.
So, spend some creative time with your kids and see how your projects turned out! We'd love to hear back from you in the comments section and you can even share your projects with us over social media!