How to Make a Toilet Paper Roll Cat
Whether your kids are just plain animal lovers who adore cats more than anything else, or whether they're in the mood for cat themed things because Halloween is coming and it's the season of black cats, I have a feeling our most recent craft might pique your interest! I happen to know that our kids adore cats for both of the reasons I've listed, so I decided to teach them how to make little black cats out of empty toilet paper rolls, since those are so convenient to use in crafting. The idea was such a hit that I decided to make another one and outline the process in order to share it!
Just in case you'd like to learn how to make a cute or spooky little toilet paper roll cat as well, here are the full instructions complete with photos. If you'd rather follow along with a video tutorial, keep scrolling until the end of this post to find one!
For this project, you'll need:
Coloured paper (Green, white, pink, and blacl)
A white ribbon
A pencil
White paint
A glue stick
A black marker
A paint brush
Scissors
An empty toilet paper roll
Step 1:
Gather your materials!
Step 2:
Place your toilet roll down on your black sheet of paper with their top edges lining up and make a mark where the roll's bottom edge hits the page. Use this mark as a guide to cut a roll-sized strip of black paper.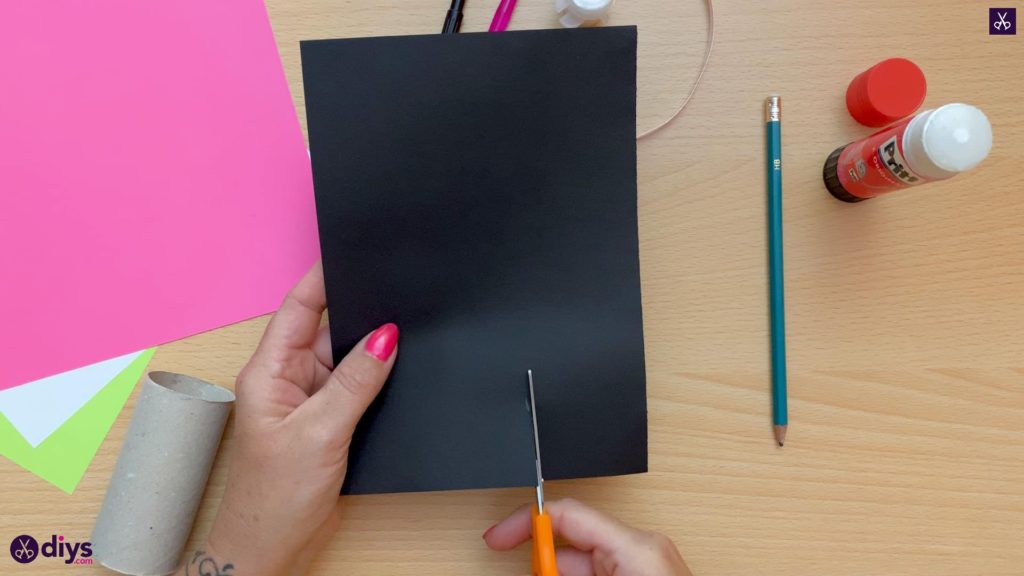 Step 3:
Apply glue down the full length of the toilet roll and press down one edge of the roll-sized strip you just cut from black paper. Wrap the strip around the roll so it covers the whole surface, trimming the excess once you've made your way back to the start and sticking that new edge down flush against the first one. Your roll should now be totally covered in black paper.