DIY Toilet Paper Roll Patriotic Blower
Where I come from, a little patriotism goes a long way. By that, I mean people take a lot of pride in showing off bits of Americana here and there around their homes that celebrate their country and the ideals of freedom that come with it! I've often incorporated that theme into my crafting but lately I've been looking for ways to get my kids in on the fun too so that we have new ideas to try around Independence Day. That's how I came up with these adorable patriotic blowers or wind socks made from empty toilet paper rolls!
I let the kids go wild with theirs while I made a nice, neat version so I could show other parents how we did it. Check out these step by step instructions complete with photos! If you'd rather follow along with a video tutorial instead of written words, scroll to the bottom of this post to find just what you're looking for.
For this project, you'll need:
An empty toilet paper roll
Blue paper
Scissors
A glue stick
White paint
A paintbrush
Crepe paper (white and red)
Step 1:
Gather your materials!

Step 2:
Line the bottom edge of your empty toilet roll up with the bottom edge of your blue construction paper in one corner, with the paper held landscape. Use your scissors to make a horizontal cut where the top edge meets the page to mark the height of the roll. Move the toll and cut all the way across the paper to get a rectangle the width of the page but the height of the roll,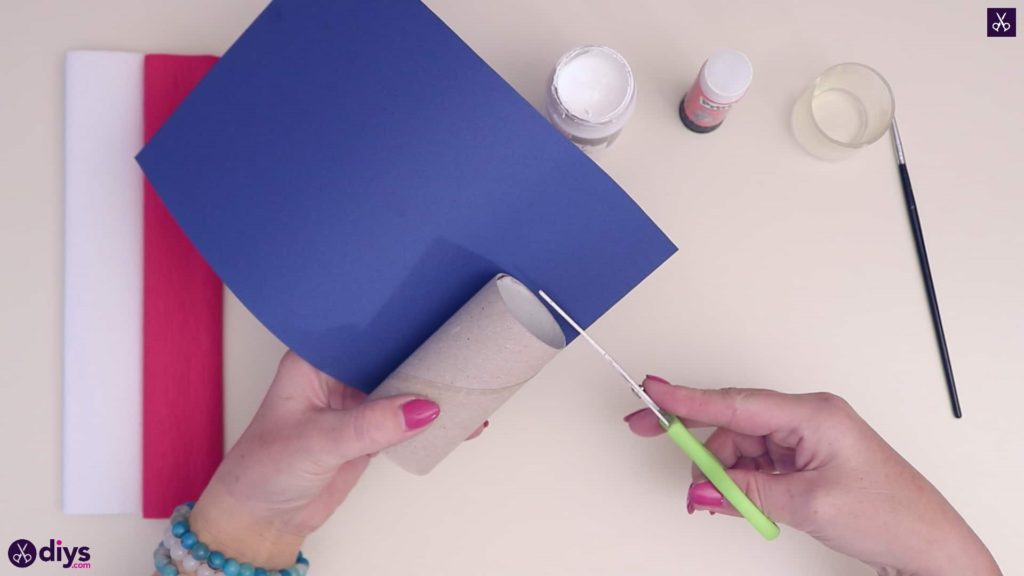 Step 3:
Apply glue down the length of the roll and stick down the shorter edge at one end of the blue paper rectangle. Wrap the paper all the way around the roll until it meets your end again. Trim the excess, leaving a little bit of overlap, then apply glue on top of the end you already glued down and stick your second end over it. Your whole toilet roll is now blue!