50 SPOOKtacular Halloween Treats To Whip Up For the Party!
Halloween is right around the corner. Count down the days with a variety of treats for the family to indulge in. Or, you can start you party menu planning a bit early. From sweet to savory, here are 50 SPOOKtacular Halloween treats to whip up for the party.
1. Poison Candy Apples
Country Living has a great recipe for some "poison" candy apples. They're great to pass around your Halloween party, to the kiddos in the neighborhood or as favors for your guests!
2. Halloween Candy Bark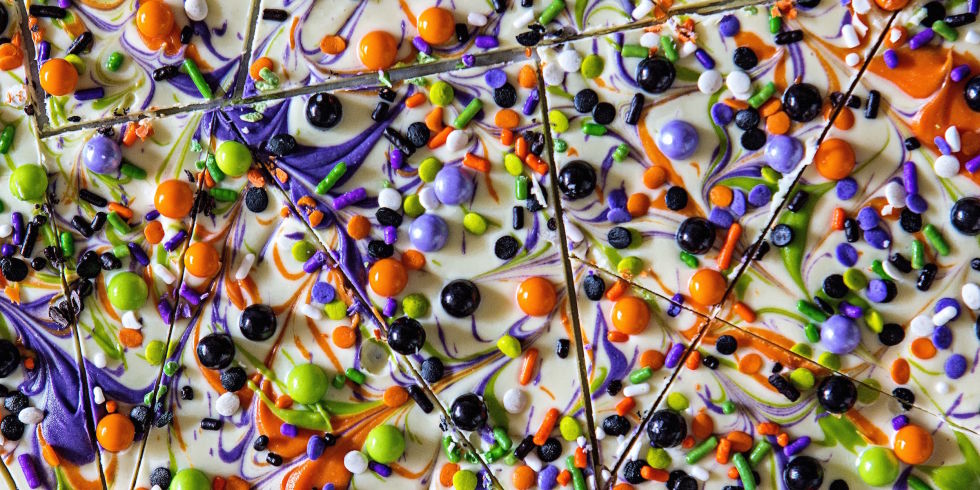 This is a great project to gets the kids involved in. Gather in the kitchen and whip up some of this fun candy bark with help from Delish!
3. Gooey Monster Eye Cookies
Lil Luna makes some green – and delicious – monster eye cookies from scratch! Dive right into this fun recipe and see the kiddos giggle with each and every bite.
4. Mummy Dogs
You need some hot dogs and some crescent rolls to make these delicious bites happen. Perfect for a festive dinner or to make in mini form as an appetizer. Catch the recipe at Logan Can.
5. Halloweeno Jalapeño Popper Mummies
Here's a fabulous Halloween-ized appetizer that we're craving. Look how adorable and yummy too these poppers from The Hopeless Housewife are.
6. Gum & Teeth
With some peanut butter, a few sliced apples and marshmallows, you'll have a fabulous after-school snack that pays homage to the upcoming holiday. Have fun with the kiddos and check out the details at Country Living. 
7. Pumpkin Torilla Chips & Eyeball Mash
Here's a great appetizer to serve up at the party. It's both festive and yummy too. Grab the details over at Good Housekeeping.
8. Cheese Witch Broomsticks
And here's yet another cheese-fixated Halloween-styled appetizer. With a pretzel too, you can create some appetizing witch's broomsticks in a pinch! Thanks Cakescottage!
9. Mini Pumpkin Ghost Cakes
Ashlee Marie gives us a great way to top off our Halloween-themed dinner party. Serve up one of these mini pumpkin ghost cakes to each of your guests!
10. Hairy Spider Cupcakes
We are absolutely loving this "hairy" spider cupcakes from Sweet C's Designs. Learn how to whip up a batch and have the entire family giggling and enjoying.
11. Frankenberry Rice Krispies
You'll want to whip up a batch of these to enjoy all month long! Stock up on the seasonal cereal and check out Cravings of a Lunatic to keep all the lunch boxes stocked with Halloween-style treats!
12. Ghost Cupcake Cones
You'll really be delighting the kiddos with these cuties. Confessions of a Cookbook Queen gives us all the ghostly details and instructions on concocting the sweeties.
13. Blood Drip Cupcakes
Delish goes all out with this Halloween-y recipe. Ignite the night – and the meal – by setting it off with one of these blood dripping cupcakes.
14. Trick or Treat Cake Sandwiches
Country Living does it again with these unique little bites. These sweet sandwiches can be such a fun way to add to the dessert table.
15. Brain Cheeseball
Have this brain cheeseball at the center of the party with help from eazy peazy mealz. It's delicious too which is needed for a party!
16. Edible Earwax
Here's another treat that the kiddos will love and giggle over. Edible earwax on a swab from Belly Full will be a lot of fun to whip up this Halloween season!
17. Avocado & Wasabi Deviled Eggs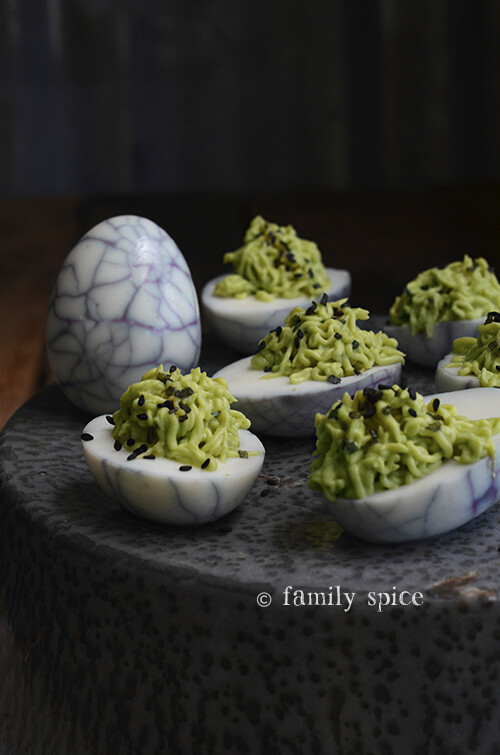 Go for something a bit outside-the-box for your Halloween party this year. A classic appetizer with a twist – and some color – these spider eggs will really set the food table on fire. Check it out at Family Spice.
18. Pretzel Pumpkins
These too you can whip up all season long and snack on with the family. Use them as an afternoon pick-me-up or an after-school treat. (via)
19. Pumpkin Sandwich Cookies
These pumpkin sandwich cookies from Pillsbury are a sure family favorite as well. Sweet and full of festivity, making them will become a fun afternoon in the kitchen.
20. Jack Skellington Cupcakes
Frugal Mom Eh shares her recipe for Jack Skellington Cupcakes. Learn how to design something based on one of your favorite Halloween characters.
21. Ghost Berries
Turn those yummy, chocolate-dipped strawberries into ghosts with an easy addition. The recipe can be grabbed over at Candiquik.
22. Candy Corn Pretzel Hugs
There are so many variation of this fun treat that we just how to share the one that coincides with this spooky season. Top your hugs with some candy corn! (via)
23. Halloween Chex Mix
This too can be made earlier in the month and enjoyed all season long. Check out this snack mix recipe over at Cupcake Diaries.
24. Chocolate Chip Spider Cookies
We're loving these chocolate chip spider cookies. Delicious and easier than you think to make, snatch up the yummy details on Lil Luna.
25. Mummy Pumpkin Cookies
If you're a fan of pumpkin you'll want to hop right over to OMG Chocolate Desserts right now! Learn how to wrap up these mummy cookies tonight!
26. Melted Witch Bark
Lil Luna makes some melted witch bark that would be perfect as a favor for the Halloween party! It's festive and fun, but edible and yummy too.
27. Spooky Cinnamon Sugar Tortillas
Simply Recipes has one of the more unique recipes on the list, but quite scrumptious. Learn how to make some batty cinnamon sugar tortillas bites!
28. Voodoo Doll Cookies
Check out Not Quite Nigella and learn how to make these clever voodoo doll cookies. They'll be a great way to get the entire family in the kitchen together too.
29. Candy Corn Cookies
These candy corn cookies from Country Living have a bit of chocolate at the edges and work perfectly for a treat any night of the week. Have it with a cup of coffee and enjoy a festive bite all month long.
30. Oreo Spider Web Cookies
These Oreo spider web cookies are not only delicious but they're quite pretty too! Grab the directions and recipe at Delish.
31. Bloody Truffles
Here's another great way to really throw a surprise into the party menu. These bloody truffles could be favors too! Grab the details for this one at about food.
32. Monster Mash Munch
Life with the Crust Cut Off has a fun snack mix for us to try out too! Halloween time is so much fun for experimenting in the kitchen and this is a great one to start with!
33. Candy Corn Cheesecake
Check out Wilton and this recipe for a candy corn-inspired cheesecake. This would be a great one to serve up any night of October!
34. Ghastly Candy Bark
The Simple, Sweet Life whipped up some of this ghastly candy bark and we love the artistry behind it. But mostly, we love any excuse to eat chocolate.
35. Skeleton Bones
The kids will grab a handful of these every time they pass the bowl. See how to dip your bones over at Penny Pinchin' Mom.
36. Ghostbusters Green Slimed Popcorn
Babble made some popcorn inspired by Ghostbusters and that infamous green slime. And it's actually quite delicious!
37. Donut Pumpkins
Again, the kiddos will dive right into these. Turn those mini donuts into pumpkins with some help from It's Always Autumn.
38. Meatball Mummies
Here's an appetizer that would be fun to serve up at the party. High Heels and Grills can help you make some meatball mummies quite easily!
39. No Bake Peanut Butter Pumpkin Bites
Not Quite Susie Homemaker gives us all the deets surrounding these no bake peanut butter pumpkin bites. They'll be a great treat all season long.
40. Vampire Floats
Your treats can be some sweet sips too and just as festive. This vampire float is full-on Halloween-ready and your family will love making these together. (via)
41. Witch's Brew Cauldron Cookie Cups
On Sugar Mountain presents us with these cauldron cookie cups and we're swooning for them. They're creative and they're perfect for the holiday!
42. Pumpkin Spice Cake Pops
We had to add a pumpkin spice recipe into the mix! These cake pops will definitely add to the season's festivity. Grab the recipe at Flour on my Face.
43. Popcorn Balls
Halloween is known for popcorn balls. They're great for passing out to trick-or-treaters and fun to make! You can learn how to make them at i heart eating.
44. PB&J Spiders
Here's something to send off with the kids to school! All of their friends will be jealous of this festive lunch. Welch's will show you how to do it right.
45. Bloody Good Cheesecake
Oh goodness, you'll get some oohs and ahhs out of this recipe. Snatch up the details as Sugar Dish Me and surprise all the guests!
46. Candy Corn Popcorn
Two Sisters Crafting made this candy corn popcorn and we're drooling over it. Turn your weekend treat into something even more festive!
47. Ghost Parfaits
Add a bit of extra sweetness and festivity to your fruit cups this season. With the help of Peeps, you'll be able to whip these up in 10 minutes.
48. Witch Finger Pretzel Rods
Check out these witch fingers from about food! You'll get a thrill serving up these treats at the party, just grab some pretzel rods to get started!
49. Mummy Pops
Wrap up some of your sweet treats like you see here at Delish. These mummy pops will go over well for the party guests and the kids out trick-or-treating.
50. Spice Chocolate Bat Cookies
Whip up a batch of these spiced chocolate bat cookies with the help of Country Living. You'll get an indulgent bite with an extra kick of the season.