70 Halloween Treats: Easy Halloween Treats for Your Party
People have a tendency to get overly excited when it comes to seasonal holidays, and Halloween is one of them, the proof is that you start seeing Halloween merchandise in stores and supermarkets as soon as the first leaves start falling.
Sure enough, Halloween is only on October 31st, but many prepare for it as if it were the 12 days of Christmas.
Some do so by creating their Halloween costumes, while others focus on decorating their house instead, but there are also those that like to bring a certain culinary touch to this spooky holiday.
If you're one of those seasonal Halloween cooks and are in dire need of some fresh new ideas, we've gone and created this list featuring some of the best Halloween treats that you can whip up in preparation for the scariest night of the year.
Here Are the Best Halloween Treats That You Should Try
1. Cute Halloween Treats – Spider Web Cupcakes
When it comes to party foods, the go-to choices are always those tiny little dishes that you can eat using your hands, also known as finger food, and one of the most iconic finger foods is the classic cupcake.
Of course, since we are talking about foods that are made during Halloween, the main focus of the dish will be the way you decorate it, as you can see for yourself with the spider web cupcakes.
While you could follow the recipe from scratch, those of you that already have some experience baking cupcakes will notice that these particular cupcakes have nothing special about them except for the spider web-themed glazing.
Thus, if you want to surprise your guests with a sweet dish that will remind them of the creepy crawlies of the night, there's no way you can go wrong with cupcakes.
2. Scary Halloween Pumpkin – Jack-o-Lantern Pumpkin Pies
No dessert reminds you of home like a good old pie, and during the Fall one of the most popular types is the pumpkin pie, especially around Thanksgiving.
Of course, since the whole pumpkin craze starts somewhere around mid-September, pumpkins will be easily available even on Halloween.
That being said, go ahead and try out this recipe that will teach you how to make 8 mini pumpkin pies with Jack-o-Lantern decorations, and you'll be sure to win over your guests.
However, we recommend that you make several batches since these are delicious and will be quick to disappear from your trays.
3. DIY Halloween Treats – Mini Pumpkin Pies
If you love to cook but are terrible at decorating, you can go ahead and skip the part where you decorate your mini pies and make regular mini pumpkin pies instead covered with some cream or custard.
However, just like with the previous recipe, keep in mind that these mini pies are quite small, and the listed ingredients are enough to make 12 of them, so it's very likely that you'll have to make at least 2 or 3 batches just to make sure everyone gets to taste at least one.
When served fresh they will be sweet, soft, and very moist, so your guests will definitely not mind if they aren't going to be decorated in a specific way, just as long as you keep them coming.
4. Trick or Treating Halloween Cakes – Pumpkin Layered Cake
We can all agree that Halloween is one of those holidays during which we all have to kiss our waistline goodbye since for a full 24 hours sweets become our main source of nutrients.
The pumpkin layered cake is the perfect example of why that's true, especially considering how it's covered in mascarpone, and sprinkled with sugared pecans, and your guests will talk about it for weeks to come if you follow this recipe and bake one.
It's delicious and full of all of the flavors that make Halloween so loved by many, and given how you can decorate it however you please, you can make it the centerpiece of your entire Halloween table.
5. Halloween Treats for Kids – Pumpkin Spice Granola
Granola is a go-to healthy breakfast choice for many, and since many nutritionists keep telling you that including grains and seeds in your diet, especially your children's, is important, it was only natural that we included a Fall-themed granola recipe.
Well, granola can come in many forms depending on what ingredients you use, but since this is Halloween we're talking about, we went for a pumpkin spice granola that you'll positively fall in love with.
Admittedly, this is a food that you can make all year round as long as you have a pumpkin and the pumpkin pie spice, so go ahead and bookmark this recipe for later, since chances are you'll need it outside of Halloween as well.
6. Homemade Halloween Treats – Pumpkin Dinner Rolls
Most of us probably know how alluring the smell of freshly baked bread is, and the same thing can be said about dinner rolls as well, and that's why we decided to include pumpkin dinner rolls in our list of Halloween treats.
These will be so soft and delicious, especially if you just removed them from the oven, that people may end up getting their fill with rolls before the actual meals get served, so we recommend that you serve them all at once.
The ingredients listed in the recipe above are enough for 12-15 rolls, so if you're expecting a lot of guests, be prepared to make several batches.
Easy DIY Halloween Treats
Some recipes are easier to make than others, so if you're particularly interested in recipes that require the least amount of time and work to create, the recipes from this next section are just what you are looking for.
7. Easy Halloween Treats – Lollipop Spiders
Since there's a high chance of you having trick-or-treaters knocking on your door, you better be prepared to have enough candy to serve them with.
Of course, if you feel like giving your candy a more personal touch, you can always choose to decorate them in a different way, just like we did with these Halloween lollipop spiders.
Without going into further details (that's what the dedicated article is for), the Halloween lollipop spiders are just regular old lollipops that we decorated using yarn, paper, googly eyes, and crafting pom-poms so that the packaging looks like cute little spiders.
While you could use this idea on pretty much any type of candy that has a wrapping, we went with lollipops because they have a stick that makes handling the spiders much easier.
Besides, the lollipop itself lasts for a long time, so if the kids decide to keep the spider as a toy, you don't have to worry about it getting spoiled too soon.
8. Halloween Snack DIY – Lollipop Ghosts
The Halloween lollipop spiders are fairly simple to make, but if you're looking for something that's even easier, then go ahead and try out the lollipop ghosts instead.
All you need is a lollipop and some crepe paper to cover the wrapping in, and you have your own ghost on a stick that you can play with and then eat.
You can enhance the look with googly eyes, or by using glow-in-the-dark markers or paper, and if you really want to make the sweet surprise worthwhile, you can check your local candy stores to see if they have giant jumbo lollipops so you can create giant jumbo lollipop ghosts.
9. Easy Halloween Treats – Marshmallow Monsters
Halloween and creepy campfire stories go together like peanut butter and jelly, and we all know that the best way to enjoy a campfire is to have some marshmallows at hand.
Well, since Halloween is here we figured that even the plain old fluffy white marshmallow could use a monstrous touch, and that's how we came up with this recipe for marshmallow monsters.
This recipe is pretty easy since you only need some marshmallows that you later decorate in whatever way you like, although you'd be amazed at what you can create with enough food dye and edible glitter.
Besides, these marshmallow monsters come with their own stick, so you can easily eat a dozen of them without getting your fingers all sticky, which is a big plus.
10. Halloween Treat Ideas – Witch's Brew Halloween Cocktail
When organizing a party, you have to prepare more than just food or snacks, since at one point or another your guests will become thirsty, and since everything on your table is already Halloween-themed, might as well do the same with the beverage.
As such, here's a great recipe for a witch's brew Halloween cocktail that will really stirrup the spirits and, if done right, will become the talk of the town for years to come.
Sure enough, the recipe does contain several types of alcohol, so it's not something that you should make if you have children at the party, but you can easily go ahead and swap the alcoholic ingredients for something else.
11. Trick or Treating Halloween Snacks – Witch Finger Cookies
Just like the aforementioned cupcakes, you can't have a party where you serve guests food without baking some cookies as well, but since it's Halloween, the traditional round-shaped chocolate-chip cookies just won't do.
Instead, we recommend that you try out this recipe for witch finger cookies, since they're not only crunchy and tasty, but they look so ghoulishly spooky that everyone will want a bit out of sheer curiosity.
As you can see from the recipe, these cookies are almost like your typical cookies, save for the red sauce that serves purely decorative purposes, so those of you already familiar with baking cookies will have no problem dealing with these as well.
Healthy Halloween Treats
Halloween is known to be one of those holidays where people will usually forget about any diet plans, instead opting to enjoy a collective cheat day.
Of course, this doesn't mean that the only thing on the Halloween menu is candy since there are plenty of healthier alternatives out there that won't completely ruin your waistline.
As such, the next section of our article is filled with several healthy dishes and snacks that work perfectly well if you're on a keto diet.
12. Healthy Halloween Treats – Pumpkin Cream Cheese Muffins
When it comes to foods that people will usually eat during the Fall, pumpkins are unanimously the number 1 pick, so it does without saying that our first recipe is pumpkin-based.
More so, if you're taking your keto diet plan seriously, then you most likely have a big stockpile of cheese in your house, so it shouldn't come as a surprise that the following recipe will combine both of these elements.
If you love eating muffins but hate feeling guilty about eating them, here's a recipe for some pumpkin cream cheese muffins, and the quantities listed will be enough for approximately 12 muffins.
Once you've created these delicious treats, you can use leftover ingredients to decorate them in a traditional Halloween style.
13. Healthy Halloween Treats – Sugar-Free Pumpkin Pie
We already showcased 2 recipes for pumpkin pies, and while we can't help but admit that we love them, the truth is that for all of their deliciousness, they're not exactly diet-friendly.
Thus, if you want all of the yummy benefits of a pumpkin pie, but without the post-meal guilt, go ahead and try out this recipe for a sugar-free pumpkin pie.
There's absolutely no added sugar in this pie, and the only source of sweetness is the natural pumpkin filling, as well as whatever artificial sweetener you decide to add to the crust.
From a caloric standpoint, this recipe can easily be included in any everyday diet, even outside of Halloween season, since a single serving only has around 250 calories, but these will be 250 of which you'll enjoy every single bite.
14. Healthy Halloween Treats – Crustless Pumpkin Pie With Custard
When it comes to pies, depending on what ingredients you're using for the filling, the crust itself may actually end up being the main source of calories for the entire recipe.
Thus, here's a recipe for a delicious crustless pumpkin pie with added custard for those of you that really want to pay attention to their weight gains while still being able to enjoy some delicious treats.
Just like our previous recipes, there's no added sugar, so the entire dish's sweetness relies on the natural flavor of the pumpkin filling, as well as whatever sweetener you decide to add, making this a keto-compatible dessert.
15. Healthy Halloween Treats – Keto Pumpkin Mug Cake
Mug cakes are great for parties since it's easy to make sure that everyone has the same size serving, it's hard to make a mess since you have a mug instead of a cup, and it's harder to accidentally drop the whole thing since you'll be holding the mug by the handle.
Thus, go ahead and try out this recipe for keto pumpkin mug cakes, since they are incredibly delicious and incredibly easy to make.
In fact, if you have the ingredients already prepared, then all you'll need is 2 minutes in the microwave to get from cake mix to fully-prepared mug cakes.
Not only that, but you can leave them all on the table, along with bowls or cans of cream, mascarpone, and spices, so that everyone can just take a mug cake and then add whatever toppings they like most.
16. Healthy Halloween Treats – Pumpkin Pie Fat Bombs
The essence of the keto diet is to eliminate carbohydrates as much as possible (to the point where they are eliminated entirely) and supplement the caloric deficit with protein and fat, although the latter seems to be more effective.
Well, that's precisely the principle behind the pumpkin pie fat bombs, since these Halloween favorites perfectly embody what it means to be on a ketogenic diet.
All you need is some canned pumpkin (although fresh pumpkin would be ideal since the canned stuff is usually drenched in sugary syrup), some cream cheese, butter, sweeteners, and spices.
The great thing about this particular recipe is that you can easily make it ideal for vegetarians as well, as you can swap out the cream cheese and the butter with coconut butter without worrying about ruining the consistency.
17. Healthy Halloween Treats – Keto Pumpkin Spice Latte
When autumn arrives, most coffee shops will usually stockpile pumpkin spice since they know everyone will be coming in to order the now-traditional pumpkin spice latte.
The only problem is that most of the time the store-bought products are so packed with sugar that they have more calories than an actual meal, meaning that if you're on a keto diet, they basically become off-limits.
Fortunately, there are ways several ways through which you can make your own keto pumpkin spice latte that is just as tasty (maybe even tastier depending on your preferences) than the commercial products but with only a fraction of the calories (~120 calories).
18. Healthy Halloween Treats – Keto Pumpkin Cheesecake
No one can say no to a cake, and the fact that there are cake recipes out there that can be incorporated into diets seems almost too good to be true, but it isn't.
For example, our keto pumpkin cheesecake recipe will be an ideal Halloween dessert, and once your guests will take a bite of it, they'll be asking for seconds as soon as possible.
The secret to making this cheesecake keto-compatible is to use almond flour instead of regular wheat flour, which also means that this cake is great for those with gluten intolerance.
Once you've baked the cake and let it cool down in the fridge, you'll have a delicious dessert that will feel very invigorating, and the best part is that you can eat as much as you want guilt-free.
Besides, you can go ahead and swap out the pumpkin for any other seasonal fruit and create a different flavored cheesecake all year round.
19. Healthy Halloween Treats – Keto Cheese Chips
Whenever you think of chips you probably imagine a 100g bag of potato chips that won't make you feel full but packs more calories than a 3-course meal.
Well, that doesn't have to be the case, since there are ways to make keto-friendly chips at home using some very common ingredients.
One such recipe is that of the keto cheese chips that you can make using nothing more than cheese and jalapenos, although the secret to turning the cheese into chips relies more on how you bake the cheese rather than what kind of cheese you choose.
These crunchy snacks will be delicious, and they go perfectly well with all traditional dips, including guacamole.
However, keep in mind that since 2 of the 3 ingredients are dairy products, these chips are not recommended if you or any of your guests suffer from lactose intolerance.
Halloween Treat Bags
20. Halloween Treat Bag Ideas – Pumpkin Seed Recipes
In many parts of the world, roasted pumpkin seeds are considered a very popular snack, like chips or cheesy puffs, and if you'll be cooking a lot of pumpkins during the Fall, chances are you'll be left with plenty of seeds laying around.
Instead of throwing them away, you can go ahead and roast them, since you'll be surprised at just how delicious they can be, and you can even go ahead and cover them in spices to enhance their taste.
Besides, one big advantage about roasted pumpkin seeds is that you can put them inside treat bags and give them away, making them ideal homemade treats for you to impress both guests and trick-or-treaters.
If this particular idea caught your attention, here's a list of 3 different roasted pumpkin seed recipes that you should try out.
Other Halloween Treats to Try
21. Poison Candy Apples Halloween Treats
Country Living has a great recipe for some "poison" candy apples. They're great to pass around your Halloween party, to the kiddos in the neighborhood or as favors for your guests!
22. Halloween Treats – Candy Bark
2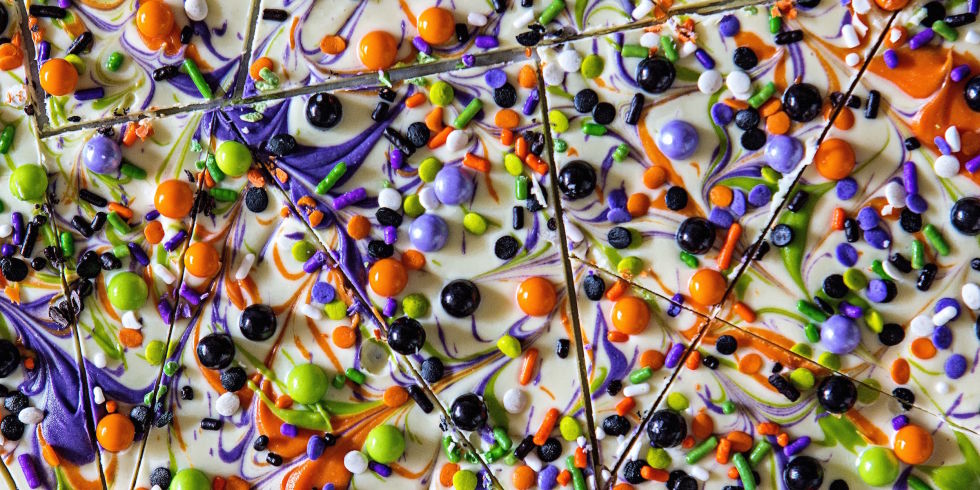 This is a great project to gets the kids involved in. Gather in the kitchen and whip up some of this fun candy bark with help from Delish!
23. Gooey Monster Eye Cookies Halloween Treat
Lil Luna makes some green – and delicious – monster eye cookies from scratch! Dive right into this fun recipe and see the kiddos giggle with each and every bite.
24. Halloween Treats Mummy Hot Dogs
You need some hot dogs and some crescent rolls to make these delicious bites happen. Perfect for a festive dinner or to make in mini form as an appetizer. Catch the recipe at Logan Can.
25. Halloween Snacks Jalapeño Popper Mummies
Here's a fabulous Halloween-ized appetizer that we're craving. Look how adorable and yummy too these poppers from The Hopeless Housewife are.
26. Gum & Teeth Halloween Snack
With some peanut butter, a few sliced apples and marshmallows, you'll have a fabulous after-school snack that pays homage to the upcoming holiday. Have fun with the kiddos and check out the details at Country Living.
27. Halloween Snacks – Pumpkin Torilla Chips & Eyeball Mash
Here's a great appetizer to serve up at the party. It's both festive and yummy too. Grab the details over at Good Housekeeping.
28. Cheese Witch Broomstick Halloween Treats
And here's yet another cheese-fixated Halloween-styled appetizer. With a pretzel too, you can create some appetizing witch's broomsticks in a pinch! Thanks Cakescottage!
29. Mini Pumpkin Ghost Cakes as Halloween Treats
Ashlee Marie gives us a great way to top off our Halloween-themed dinner party. Serve up one of these mini pumpkin ghost cakes to each of your guests!
30. Halloween Sweets Hairy Spider Cupcakes
We are absolutely loving this "hairy" spider cupcakes from Sweet C's Designs. Learn how to whip up a batch and have the entire family giggling and enjoying.
31. Frankenberry Rice Krispies Halloween Snack
You'll want to whip up a batch of these to enjoy all month long! Stock up on the seasonal cereal and check out Cravings of a Lunatic to keep all the lunch boxes stocked with Halloween-style treats!
32. Halloween Treats: Ghost Cupcake Cones
You'll really be delighting the kiddos with these cuties. Confessions of a Cookbook Queen gives us all the ghostly details and instructions on concocting the sweeties.
33. Halloween Cool Treats: Blood Drip Cupcakes
Delish goes all out with this Halloween-y recipe. Ignite the night – and the meal – by setting it off with one of these blood dripping cupcakes.
34. Halloween Trick or Treat Cake Sandwiches
Country Living does it again with these unique little bites. These sweet sandwiches can be such a fun way to add to the dessert table.
35. Halloween Themed Snack Brain Cheeseball
Have this brain cheeseball at the center of the party with help from eazy peazy mealz. It's delicious too which is needed for a party!
36. Halloween Treats – Edible Earwax
Here's another treat that the kiddos will love and giggle over. Edible earwax on a swab from Belly Full will be a lot of fun to whip up this Halloween season!
37. Avocado & Wasabi Deviled Eggs as a Halloween Appetizer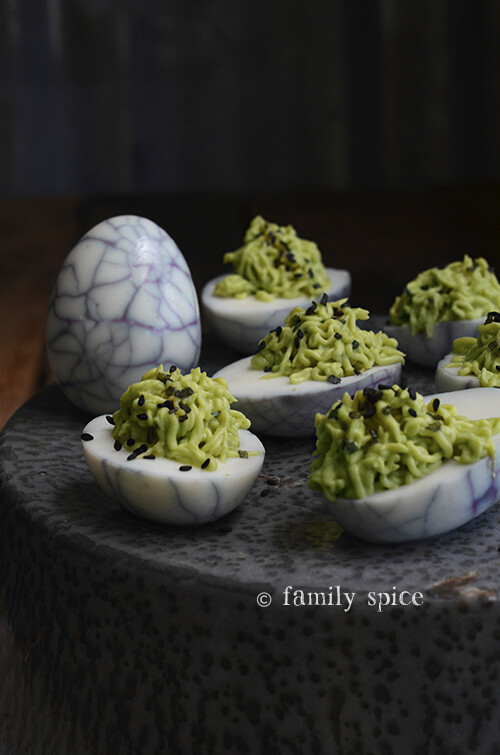 Go for something a bit outside-the-box for your Halloween party this year. A classic appetizer with a twist – and some color – these spider eggs will really set the food table on fire. Check it out at Family Spice.
38. Pretzel Pumpkin Halloween Snack
These too you can whip up all season long and snack on with the family. Use them as an afternoon pick-me-up or an after-school treat. (via)
39. Halloween Dessert – Pumpkin Sandwich Cookies
These pumpkin sandwich cookies from Pillsbury are a sure family favorite as well. Sweet and full of festivity, making them will become a fun afternoon in the kitchen.
40. Jack Skellington Halloween Cupcakes
Frugal Mom Eh shares her recipe for Jack Skellington Cupcakes. Learn how to design something based on one of your favorite Halloween characters.
41. Halloween Treats: Ghost Berries
Turn those yummy, chocolate-dipped strawberries into ghosts with an easy addition. The recipe can be grabbed over at Candiquik.
42. Halloween Treats: Candy Corn Pretzel Hugs
There are so many variation of this fun treat that we just how to share the one that coincides with this spooky season. Top your hugs with some candy corn! (via)
43. Halloween Snacks – Chex Mix
This too can be made earlier in the month and enjoyed all season long. Check out this snack mix recipe over at Cupcake Diaries.
44. Halloween Snacks: Chocolate Chip Spider Cookies
We're loving these chocolate chip spider cookies. Delicious and easier than you think to make, snatch up the yummy details on Lil Luna.
45. Mummy Pumpkin Cookies as Halloween Snack
If you're a fan of pumpkin you'll want to hop right over to OMG Chocolate Desserts right now! Learn how to wrap up these mummy cookies tonight!
46. Halloween Treats: Melted Witch Bark
Lil Luna makes some melted witch bark that would be perfect as a favor for the Halloween party! It's festiveand fun, but edible and yummy too.
47. Halloween Treats: Spooky Cinnamon Sugar Tortillas
Simply Recipes has one of the more unique recipes on the list, but quite scrumptious. Learn how to make some batty cinnamon sugar tortillas bites!
48. Voodoo Doll Cookies for Halloween Dessert
Check out Not Quite Nigellaand learn how to make these clever voodoo doll cookies. They'll be a great way to get the entire family in the kitchen together too.
49. Candy Corn Cookies Halloween Snacks
These candy corn cookies from Country Living have a bit of chocolate at the edges and work perfectly for a treat any night of the week. Have it with a cup of coffee and enjoy a festive bite all month long.
50. Oreo Spider Web Halloween Cookies
These Oreo spider web cookies are not only delicious but they're quite pretty too! Grab the directions and recipe at Delish.
51. Halloween Appetizers: Bloody Truffles
Here's another great way to really throw a surprise into the party menu. These bloody truffles could be favors too! Grab the details for this one at about food.
52. Easy Halloween Treats: Monster Mash Munch
Life with the Crust Cut Off has a fun snack mix for us to try out too! Halloween time is so much fun for experimenting in the kitchen and this is a great one to start with!
53. Halloween Treats to Make: Candy Corn Cheesecake
Check out Wilton and this recipe for a candy corn-inspired cheesecake. This would be a great one to serve up any night of October!
54. Spooky Halloween Treats: Ghastly Candy Bark
The Simple, Sweet Life whipped up some of this ghastly candy bark and we love the artistry behind it. But mostly, we love any excuse to eat chocolate.
55. Skeleton Bones Spooky Halloween Treat
The kids will grab a handful of these every time they pass the bowl. See how to dip your bones over at Penny Pinchin' Mom.
56. Ghostbusters Green Slimed Popcorn Halloween Treat
Babble made some popcorn inspired by Ghostbusters and that infamous green slime. And it's actually quite delicious!
57. Halloween Snacks Donut Pumpkins
Again, the kiddos will dive right into these. Turn those mini donuts into pumpkins with some help from It's Always Autumn.
58. Spooky Halloween Treats: Meatball Mummies
Here's an appetizer that would be fun to serve up at the party. High Heels and Grills can help you make some meatball mummies quite easily!
59. Halloween Treat Bag Idea: No-Bake Peanut Butter Pumpkin Bites
Not Quite Susie Homemaker gives us all the deets surrounding these no bake peanut butter pumpkin bites. They'll be a great treat all season long.
60. DIY Halloween Treats: Vampire Floats
Your treats can be some sweet sips too and just as festive. This vampire float is full-on Halloween-ready and your family will love making these together. (via)
61. Halloween Party Treats: Witch's Brew Cauldron Cookie Cups
On Sugar Mountain presents us with these cauldron cookie cups and we're swooning for them. They're creative and they're perfect for the holiday!
62. DIY Halloween Treats: Pumpkin Spice Cake Pops
We had to add a pumpkin spice recipe into the mix! These cake pops will definitely add to the season's festivity. Grab the recipe at Flour on my Face.
63. Halloween Snacks: Popcorn Balls
Halloween is known for popcorn balls. They're great for passing out to trick-or-treaters and fun to make! You can learn how to make them at i heart eating.
64. Easy Halloween Treats: PB&J Spiders
Here's something to send off with the kids to school! All of their friends will be jealous of this festive lunch. Welch's will show you how to do it right.
65. Halloween Party Treats: Bloody Good Cheesecake
Oh goodness, you'll get some oohs and ahhs out of this recipe. Snatch up the details as Sugar Dish Me and surprise all the guests!
66. Halloween Sweets: Candy Corn Popcorn
Two Sisters Crafting made this candy corn popcorn and we're drooling over it. Turn your weekend treat into something even more festive!
67. Halloween Treats: Ghost Parfaits
Add a bit of extra sweetness and festivity to your fruit cups this season. With the help of Peeps, you'll be able to whip these up in 10 minutes.
68. Witch Finger Pretzel Rods Easy Halloween Snack
Check out these witch fingers from about food! You'll get a thrill serving up these treats at the party, just grab some pretzel rods to get started!
69. Homemade Halloween Treats: Mummy Pops
Wrap up some of your sweet treats like you see here at Delish. These mummy pops will go over well for the party guests and the kids out trick-or-treating.
70. Halloween Snacks: Spice Chocolate Bat Cookies
Whip up a batch of these spiced chocolate bat cookies with the help of Country Living. You'll get an indulgent bite with an extra kick of the season.
SPOOKtacular Halloween Treats: Closing Thoughts
Our list has come to an end, and we hope that we've provided you with more than enough options to choose from.
However, keep in mind that cooking is an art form that is only limited by your imagination and skill, and while you could follow the recipes listed here to the letter, you're free to experiment with whatever variations you think will suit your tastes best.
The dishes, snacks, and beverages listed here were chosen based on their popularity, how much they are in tune with the overall Halloween spirit, and how easy they are to recreate since a lot of us know how much of a pain it is to lose several good hours in the kitchen.
If you want to read more articles on how to better get into the Halloween spirit, and we don't already happen to have it, go ahead and leave us your suggestions in the comments section below, and we'll go ahead and create an extensive article as soon as possible.