Fun DIY St Patrick's Day Cupcake Ideas
St. Patrick's Day decor is fun, festive, and easy to work with for DIY enthusiasts! Leprechauns, the colour green, and four leaf clovers are great for holiday themed decor, dress…and even baking! Check out these adorable St. Patrick's Day themed cupcakes!
1. Clover cut outs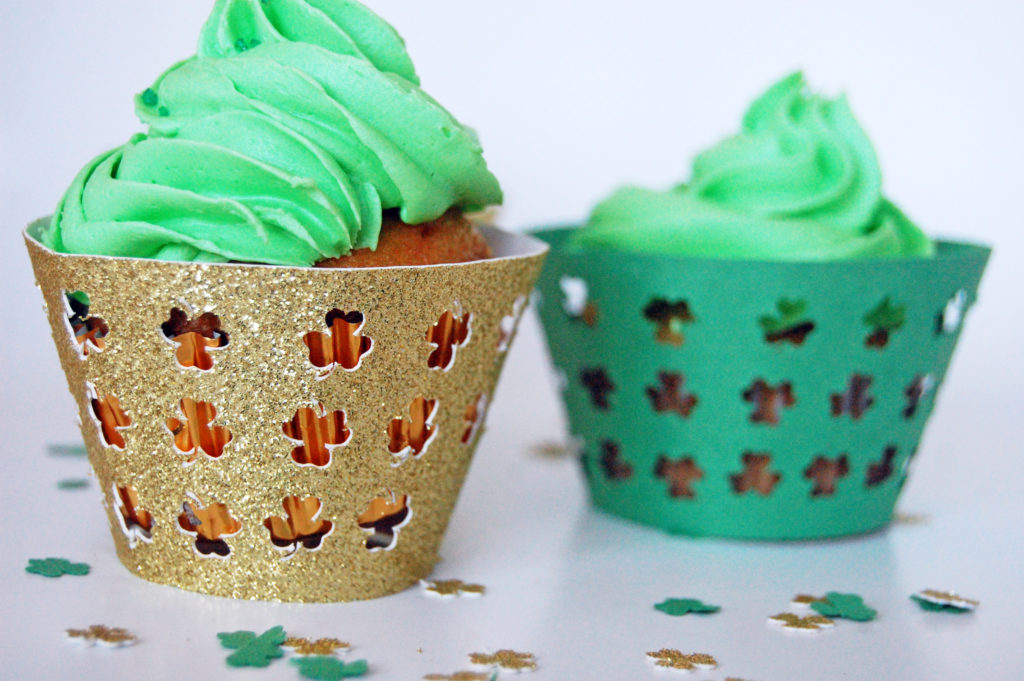 Free hand draw clovers on green and gold card and cut them out or buy a clover shaped hole punch. Curve cone shaped strips of the paper around each cupcake!(Source: The Party Girl)
2. Leprechaun hats
Cut and glue card or construction paper into the shape of a leprechaun hat and place a cupcake in the top. The cupcake becomes the top of the hat!(Source SVG Attic)
3. Ice cream cone leprechauns
Green ice cream cones are easy to find at your local grocery store. Turning one upside down on a fully ice cupcake makes it look like a hat! Customize with candy or more icing to give each leprechaun features.(Source: Hoosier Homemade)
4. Rainbows and pots of gold
Sour strip candies make the perfect rainbows for St. Patrick's Day cupcakes! Did you know you can also buy edible glitter? Gold glitter is perfect for making tiny pots of gold.(Source: About A Mom)
5. Lucky charms
Scattering lucky charms cereal on top of green icing makes for adorable St. Patrick's Day themed cupcakes.(Source: Food Ideas Recipes)
6. Shamrock cupcakes
Placing marbles between the cupcake liner and the side of the cupcake tray will make the cupcake bake in a cute shamrock shape!(Source: Her Family)
7. Hidden pots of gold
Baking gold sprinkles into the center of a cupcake gives your friends a fun surprise when they bite into it!(Source: Sweet Tooth Design)
8. Green cupcakes
A little bit of green food colouring will automatically transform your regular cupcakes into festive St. Patrick's Day cupcakes!(Source: Love From the Oven)
9. Smarties pot of gold
Cutting out the centre of the cupcake and filling it with yellow smarties gives your friends an extra treat inside their festive treat!(Source: White Lights on Wednesday)
10. Irish car bomb cupcakes
Add a little extra flavour to festive adult cupcakes! This recipe has Guiness, whiskey, and irish cream, just like Irish car bomb drinks.(Source: Brown Eyed Baker)
11. Pot of gold cake toppers
Creating cupcake toppers out of icing and candy gives the treats a little extra sweetness and also makes them even more festive. Check out these pot of gold toppers!(Source: Confessions of a Cook Book Queen)
12. Green ombre cupcakes
Separate your batter into three bowls. Leave one bowl white, add a tiny bit of green food colouring to the second for a light green, and add several drops for a darker green in the third bowl. Layer the three colours as you fill each cupcake liner to get an ombre effect!(Source: Gold Lining Girl)
13. Printable cupcake toppers
Sometimes it's nice to keep the decor simple! Choose your favourite kind of cupcake, add some festive sprinkles, and top them with St. Patrick's Day themed stickers or printables.(Source: Hoosier Handmade)
14. Horseshoe cupcakes
St. Patrick's Day is all about luck! If you've had enough of leprechauns and shamrocks, try other symbols of luck, like horseshoes made of chocolate! You can even add some festive green by crumbling pistachios on top.(Source: HGTV)
15. Chocolate coins and Bailey's Irish cream
Chocolate coins stuck in the top of the cupcake give people a little extra treat, while Bailey's Irish cream gives the flavour an adult appropriate kick!(Source: Serendipity Refined)
Do you have other recipes or decor ideas for St. Patrick's Day themed cupcakes? Tell us your ideas in the comments or link us to pictures of the treats you made last year!