Fun St. Patrick's Day Cupcakes: 25 St. Patrick's Day Cupcake Ideas to Bake
The 17th of March is closing in fast, and along with it comes Saint Patrick's Day, and in today's article, we will be showcasing some of the best Saint Patrick's Day cupcake ideas that you can try making for an even more festive holiday!
As with all of our holiday-themed recipe lists, we did some extensive research over the Internet to see which are the trendiest ideas to provide you with the best recipes possible.
---
What Is St. Patrick's Day?
Saint Patrick's Day is a day that celebrates the patron saint of Ireland. The celebration brings huge festivities globally, including everything from parades to festivals and much more! The most famous of these celebrations is the parade in Dublin, Ireland.
Saint Patrick's Day has become associated with alcohol and green attire; people tend to go all out with their outfit choices, wearing green clothing and even green wigs!
On this day, you can dance to traditional Irish tunes until your feet hurt or climb up the top of a mountain to take in views over the beautiful island of Ireland.
It can be whatever takes your fancy, but before you start celebrating, there are some handy tips for St. Patricks Day cupcakes that we'll share below.
Best St. Patrick's Day Cupcakes to Try This Year
When compiling our list of best St. Patrick's Day cupcake ideas, we did it with three criteria in mind:
They had to be easy– holidays are a very busy time of the year, so we ignored recipes that made you live in the kitchen.
They had to be tasty– this one is a no-brainer, especially if there's a St. Patrick's Day party involved and you plan on serving your cupcakes to all of the other guests.
They had to be festive– that means lots of green colors, some Irish pride, and with any luck, some leprechauns thrown in for good measure!
So without further ado, here are the best St Patrick's Day cupcake ideas that you can try out this year:
1. Green Cupcakes – Irish Cream Chocolate Cupcakes
The first entry on our list is a cupcake recipe that not only looks festive (just look at all that green and all those sprinkles), but once you take a bite out of them, you'll feel the Irish spirit (literally).
The secret behind these cupcakes is that they're made usingBaileys Irish Cream,which has 17% alcohol, so eating too many of these will liven up the atmosphere.
If you like the idea, then here's a list of ingredients that you'll need to prepare to make these Irish delights:
Vanilla extract
Softened butter
Powdered sugar
Green food coloring
Chocolate cupcakes
Green and white sprinkles
Baileys Irish Cream liqueur
Sure enough, if kids are attending the party, you can easily make it safe for them to eat by replacing the Baileys Irish Cream with someBailey's coffee creamersince you can tell the difference as far as taste is concerned.
If you want to read all the details on how to make these sweet green delights, head over toLife Family Funsince they wrotean entire articledetailing how it's done.
They even listed the exact ingredient quantities, all the steps on mixing them all, and they even added illustrations with each step to make things a lot easier.
2. Patty's Day Cupcakes – Pistachio Pudding Cupcakes
If you try to avoid making St. Patrick's Day cupcakes because you're afraid to use food dye to give them that vibrant green color, one workaround is to use naturally green ingredients.
In the case of cupcakes (or cookies or cakes or whatever other sweets you want), one great ingredient that you should try out is the all-favorite pistachio and these pistachio pudding cupcakes use them a lot.
If you want to make your batch of St. Patrick's Day pistachio cupcakes, you'll need the following ingredients:
Eggs
2% milk
Table salt
Canola oil
Vanilla extract
Baking powder
All-purpose flour
Granulated sugar
Cream cheese frosting
Instant pistachio pudding mix
Green food coloring and gold sprinkles (these are optional)
If you love pistachios, you can even use some actual crumbled pistachio nuts to sprinkle the cupcakes with, although make sure that nobody trying them has any severe nut allergy first.
The folks atTaste of Homedid an amazing job creatingan entire articledetailing how you can create these amazing cupcakes, so check it out if you want exact ingredient quantities, detailed instruction, illustrations, and even a video tutorial!
3. Patty's Cupcakes – Green Velvet Cupcakes
If you have a love for the finer things in life, including desserts, then you probably have a soft spot for velvet cakes, and if that's the case, then this next entry will make your mouth water:St. Patrick's Day green velvet cupcakes!
As you can see from the pictures above, there's no doubt that the recipe scores high marks in thefestivedepartment, but the taste and texture are the ones that will make you want to bake more.
Speaking of baking, you can't make them without the right ingredients, and here's what you'll need to make the green velvet cupcakes:
Cupcakes– Unsweetened cocoa powder, butter, green food coloring, all-purpose flour, baking powder, baking soda, corn starch, sour cream, vanilla extract, sugar, salt, and eggs
Frosting– heavy whipping cream or milk, powdered sugar, cream cheese, sprinkles, vanilla, butter
As you can see from the picture, the original recipe also uses chocolate gold coins for decorative purposes, and we recommend that you get your hands on a few, especially if you want your green cupcakes to look like actual pots of gold.
However, ensure that you wipe the foil properly since you'll be sticking the coins in the cupcake's frosting.
If you want to read the full recipe so you can make your batch of green velvet cupcakes, head over toGarnish and Glazeand readtheir full guide!
4. Saint Patrick's Day Cupcakes – Sour Power Rainbow Cupcakes
Rainbows are yet another important decorative element for St. Patrick's Day. With gummies and sprinkles available in all shapes and colors, it's easy to make your edible rainbows without needing Skittles or M&Ms.
That being said, take a look at this next entry, since it not only looks amazing, but the taste will surprise you:sower power rainbow cupcakes!
To make an entire batch of these sweet and delicious goodies, be prepared to have the following ingredients:
The cupcakes– white or yellow cake mix, all-purpose flour, sour cream, buttermilk, vegetable oil, eggs, red food coloring, almond extract, vanilla extract, vinegar, cocoa powder, instant vanilla pudding
The frosting– salted butter, vegetable shortening, confectioners sugar, vanilla extract, butter flavoring, and milk (or cream)
The decorations– the core of this cupcake recipe's decorations lies in the use ofSour Power candywhich is arched to look like an actual rainbow.
If you want the full guide to learn how to make these sweet mini-rainbow cups, head over toRose Bakes; everything you need is intheir dedicated article, including instructions, exact ingredient quantities, and even illustrations to help with the baking.
5. Leprechaun Cupcakes – Hat Cake
When we were small and would enter the kitchen and catch someone baking some dessert, our first urge was to go ahead and eat a bit of the batter, or the frosting, or even the dough, and let's face it, we still feel like doing it sometimes.
Well, this next recipe blends all the best things of a regular full-sized cake with the convenience of a small cupcake: the leprechaun hat cupcake cake.
To make a batch of these cupcakes, you'll need the following ingredients:
The cupcakes– yellow or white cake mix, water, vegetable oil, eggs, sour cream, instant vanilla pudding mix, peppermint extract, a few drops of green food coloring, and some mini chocolate chips
The frosting-vegetable shortening, softened butter, powdered sugar, milk, peppermint extract, green food coloring
The decorations– black modeling chocolate, candy clay, or fondant, and some edible gold luster dust
The core of the idea is that you arrange the cupcakes in the shape of a giant leprechaun tophat, and then you cover them all in a heavy layer of frosting so that it looks like one massive cave viewed from above.
To learn how you can make your own Leprechaun hat cupcake cake from A to Z, check out theextensive articlecreated byHungry Happeningssince you have all the details that you could ever need right there.
6. Patty Cake Cupcakes – Shamrock Cupcake Cake
If you like the previous idea with the cupcake cake that's shaped like a big leprechaun hat but are looking for something else to try alongside it, you could try this Shamrock cupcake cake.
This particular recipe may share the same core concept of arranging cupcakes to form a pattern and then covering them with frosting to make them look like one big cake, but the steps and ingredients are a bit different.
Speaking of which, here's what you'll need if you want to some this lucky shamrock cupcake cake:
The cupcakes– chocolate cake mix, instant chocolate pudding, vegetable oil, eggs, milk, peppermint extract, and some semi-sweet chocolate chips
The frosting– softened butter, peppermint extract, powdered sugar, milk, green food gel in 2 different hues, and some rainbow sprinkles.
We recommend that you make it as thick as possible when you make the frosting since you don't want it sagging in the spaces between the cupcakes, or else the entire image of the shamrock will be destroyed.
We certainly liked the design of this particular recipe, and we encourage you to head over toCookie Dough and Oven Mittto readtheir full guideif you want to make a shamrock cake of your own.
7. Patty's Cupcakes – Rainbow Buttercream Cupcakes
Vivid colors have always made anything look fresh, natural, and a lot more delicious, and that's why food coloring gel has become more and more popular.
Well, this next recipe spare's no expense, using all of the colors of the rainbow, and we mean that in the most literal sense possible.
Without further ado, we would like to showcase the original recipe fromMom Loves Bakingfor rainbow buttercream cupcakes!
As you can tell from the image above, this recipe probably scored the highest mark on our list so far as visuals are concerned, but don't believe that they sacrificed looks for taste for a single moment.
To make a batch of these chromatic wonders, you'll need the following ingredients:
The cupcakes– a box of cake mix of your choice
The frosting– softened unsalted butter, powdered sugar, heavy whipping cream, vanilla flavoring (preferably clear), and some food coloring gel in all the colors of the rainbow.
The trickiest part about the recipe is not making the cupcake mix or the frosting but the piping process.
As such, we recommend that you head over tothe original articleto read exactly how they managed to obtain that perfect rainbow swirl effect!
8. Patty's Cupcakes – Blimey Leprechaun Cupcakes
If Christmas has Santa Claus and Easter has the Easter bunny, then the official mascot of St. Patrick's Day is the leprechaun, and this next entry will make you feel like you're about to eat one of these little creatures: the leprechaun cupcakes!
As you can tell from the pictures, the entire recipe focuses more on the visuals than anything else, so if you don't have too much time to spare, we recommend using storebought cupcakes and using homemade frosting instead.
Speaking of which, here's what you'll need to make the ginger-haired frosting:
Buttercream
Marshmallow fondant
Black, orange, and green food coloring gel
To add some extra details, you can also use some gold luster dust, vodka, and a food-safe paintbrush, although these are completely optional and serve only to enrich the looks of the leprechaun cupcakes.
What we liked most about this recipe fromPete and Repeatis that it feels more like arts and crafts than actual cooking, so not only will you be creating delicious cupcakes, you'll also have loads of fun doing it as well!
For more details, head over and read the full article, where they explain everything there is to know about making these cupcakes!
9. St Patricks Cupcakes – Assorted Rainbow Cupcakes
While we already had some cupcake recipes that make use of the whole rainbow theme, this particular one is a bit different since each cupcake has a different color, but the tray as a whole has all the colors of the rainbow.
Hoosier Homemadedid an excellent job at showcasing this idea, and they did it by making a batch of 18 cupcakes in 6 different colors, three cupcakes each. You can read about the entire process in theirdedicated article.
Since the frosting is basically what makes this entire recipe work, you can save a bit of time and buy cupcakes from the supermarket and simply apply homemade frosting to them.
The best thing about this idea is that you can make each separate colored cupcake taste differently if you have enough time and patience. You can do it by using fruit juice or artificial flavoring so that your entire tray will have all the tastes of the rainbow.
For example, you can make the cupcakes with the red frosting taste like strawberries, while the yellow frosting can taste like vanilla or banana.
The only downside we can think of with this particular cupcake idea is that some flavors may be more popular than the others, so you might need to bake several batches so that everyone at your party can taste each flavor at least once.
10. Cupcakes with Green Icing – Lucky Shamrock Cupcakes
Shamrocks and St. Patrick's Day go together like Christmas and Santa Claus, and that's why they're the main attraction of the following cupcake recipe: the luck shamrock cupcakes!
We loved how Odlums managed to make the cupcakes turn out, and we just had to include them on our list since they look festive, yet they're simplistic at the same time.
To make a batch of the lucky goodies, you'll need the following ingredients:
The cupcake– Flour, butter or margarine, golden caster sugar, eggs, milk, vanilla essence
The frosting– butter, icing sugar, vanilla essence, green food coloring gel, ready-to-roll icing.
There's not much to say about these cupcakes as far as preparing them is concerned since most of the focus will be on making the decorations turn out ok.
Speaking of which, if you want to make the shamrock decorations look just like in the picture above but lack ready-to-roll icing, you can always just use marzipan instead.
However, if this is your first ever attempt at making cupcakes of any kind and you need full instructions from A to Z, we recommend that you check outthe full original articleand read their complete instruction.
---
More Amazing St. Patrick's Cupcakes
Everyone loves cupcakes, no matter what recipe you use to make them, so as far as taste alone is concerned, there's no need to worry about whether your guests will like them or not.
However, decorations are a whole different story since this usually goes with the trends. As far as trendiness is concerned, the previous ten cupcake ideas were the ones everyone was talking about this year.
However, if you don't care too much about that and all you want is something to inspire you for St. Patrick's Day, check out these other 15 entries since they look delicious and taste amazing s well.
11. St. Patrick's Day Cupcakes with Clover Cut-Outs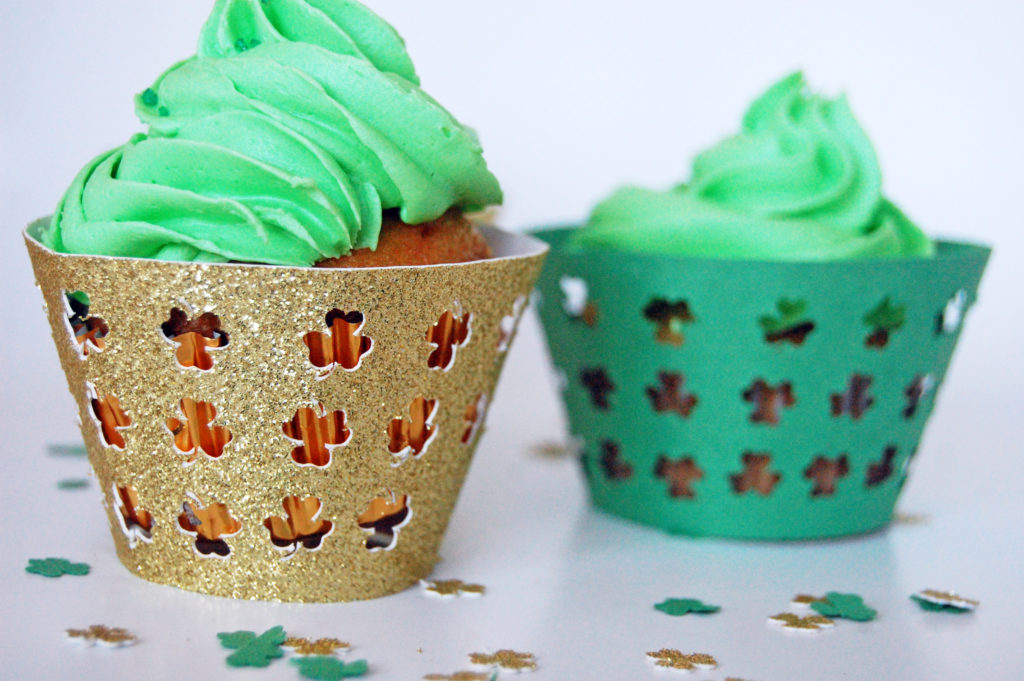 Freehand draw clovers on green and gold cards and cut them out or buy a clover-shaped hole punch. Curve cone-shaped strips of the paper around each cupcake!(Source: The Party Girl)
12. Green Cupcake Recipe – Leprechaun Hats
Cut and glue card or construction paper into the shape of a leprechaun hat and place a cupcake in the top. The cupcake becomes the top of the hat! (Source SVG Attic)
13. St. Patrick's Day Cupcakes – Ice Cream Cone Leprechauns
Green ice cream cones are easy to find at your local grocery store. Turning one upside down on a full ice cupcake makes it look like a hat! Customize with candy or more icing to give each leprechaun features. (Source: Hoosier Homemade)
14. St. Patrick's Day Cupcake – Rainbows and Pots of Gold
Sour strip candies make the perfect rainbows for St. Patrick's Day cupcakes! Did you know you can also buy edible glitter? Gold glitter is perfect for making tiny pots of gold. (Source: About A Mom)
15. St. Patrick's Day Cupcake – Lucky Charms
Scattering lucky charms cereal on top of green icing makes for adorable St. Patrick's Day-themed cupcakes.(Source: Food Ideas Recipes)
16. St. Patrick's Day Cupcake – Shamrocks
Placing marbles between the cupcake liner and the side of the cupcake tray will make the cupcake bake in a cute shamrock shape! (Source: Her Family)
17. St. Patrick's Day Cupcakes – Hidden Pots of Gold
Baking gold sprinkles into the center of a cupcake gives your friends a fun surprise when they bite into it! (Source: Sweet Tooth Design)
18. St. Patrick's Day Green Cupcakes
A little bit of green food coloring will automatically transform your regular cupcakes into festive St. Patrick's Day cupcakes! (Source: Love From the Oven)
19. St. Patrick's Day Cupcakes – Smarties Pot of Gold
Cutting out the center of the cupcake and filling it with yellow smarties gives your friends an extra treat inside their festive treat! (Source: White Lights on Wednesday)
20.St. Patrick's Day Cupcakes – Guinness, Whiskey & Irish Cream
Add a little extra flavor to festive adult cupcakes! This recipe has Guinness, whiskey, and Irish cream, just like Irish car bomb drinks. (Source: Brown Eyed Baker)
21. St. Patrick's Day Cupcakes with Gold Pots Cake Toppers
Creating cupcake toppers out of icing and candy gives the treats a little extra sweetness and also makes them even more festive. Check out these pot of gold toppers!(Source: Confessions of a Cook Book Queen)
22. St. Patrick's Day Green Ombre Cupcakes
Separate your batter into three bowls. Leave one bowl white, add a tiny bit of green food coloring to the second for a light green, and add several drops for a darker green in the third bowl. Layer the three colors as you fill each cupcake liner to get an ombre effect!(Source: Gold Lining Girl)
23. St. Patrick's Day Printable Cupcake Toppers
Sometimes it's nice to keep the decor simple! Choose your favorite kind of cupcake, add some festive sprinkles, and top them with St. Patrick's Day-themed stickers or printables. (Source: Hoosier Handmade)
24. St. Patrick's Day Horseshoe Cupcakes
St. Patrick's Day is all about luck! If you've had enough of leprechauns and shamrocks, try other symbols of luck, like horseshoes made of chocolate! You can even add some festive green by crumbling pistachios on top. (Source: HGTV)
25. St. Patrick's Day Cupcakes with Chocolate Coins and Bailey's Irish Cream
Chocolate coins stuck in the top of the cupcake give people a little extra treat, while Bailey's Irish cream gives the flavor an adult-appropriate kick!(Source: Serendipity Refined)
Do you have other recipes or decor ideas for St. Patrick's Day-themed cupcakes? Tell us your ideas in the comments or link us to pictures of the treats you made last year!
Best St. Patrick's Day Cupcake Ideas – Closing Thoughts
St. Patrick's Day is filled with symbolism, but in the end, it's about celebrating one's ancestors and their great deeds, which is why this holiday feels like a perfect occasion to try something new when baking for your loved ones.
The recipes mentioned in this article are some of the most festive cupcakes we've ever seen, so if you'd like to impress your family and friends with something completely original, feel free to try any of them.
If you liked this article and would like to read more about what you can do to make St. Patrick's Day feel all the more festive, we've written two other guides:
More so, you can let us know how we can make this guide better by leaving your feedback and even some suggestions in the comments section below, and we'll be sure to update our guide as soon as possible.
Happy St. Patrick's Day!