Valentine's Day Cupcakes That Your Loved Ones Will…Well…Love!
Cupcakes make the perfect treat for any special occasion. They're a good size and easy to easy to eat on the go. They're also a blast to decorate, especially for themed holidays! Show your valentines you appreciate them by giving them cupcakes they'll be able to see the love in, just like these ones.
Conversation heart cupcakes
Hoosier Handmade shows you how much fun even just the simplest Valentine's Day candy decor can be. Adding a conversation heart on top gives the cupcake a cute look and an extra sweet bite!
Warm and fuzzy cupcake balls
Do you know that warm, fuzzy feeling you get when someone makes you feel loved? These little guys are a cute interpretation of that! Make them out of cupcake batter as a treat in themselves, or create little versions and pop them on top of regular cupcakes! Hungry Happenings shows you how to do it.
Vanilla love cupcakes with white chocolate truffle centres
Even just the name of this cupcake is delicious! Lilikoi Joy shows you how to create these beautiful treats that will sweeten any valentine's day.
French vanilla cupcakes with maraschino swiss meringue buttercream
Sweet Revelations recipe for these utterly decadent cupcakes will make your valentines feel more than loved — they'll feel absolutely spoiled!
Dark chocolate and raspberry buttercream cupcakes with chocolate glaze
The contrast between the rich chocolate and the delicious berries will make your mouth water. Get the recipe on Sweetapolita!
Martini glass cupcakes
Are you spending Valentine's Day with your best friends? Try these martini glass shaped cupcakes instead of the classic kind for an especially fun treat! Hoosier handmade shows you how they're done.
Cookie letter cupcakes
As if making loved ones your favourite kind of cupcake isn't enough of a treat, spelling out cute Valentine's Day sayings in cookie letters will really amp up the sweetness! BHG shows you how.
Cherry chip cupcakes
Chocolate chips are classic, but cherry chips are a lot more festive for Valentine's Day! This extra delicious touch will bring in flavours and colours that your valentines will associate with the special day. Check out how Bakingdom used them.
Red velvet arrow cupcakes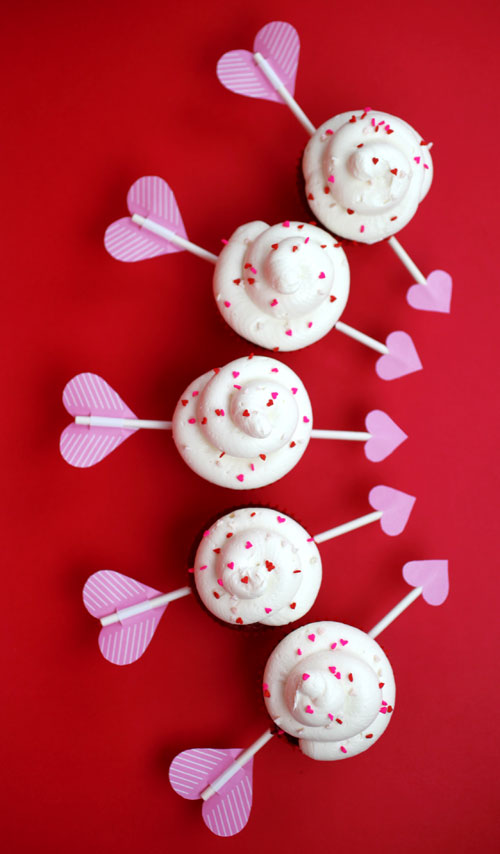 Red velvet cupcake are already pretty festive, but you can really tie in the Valentine's Day theme with some cute, campy little Cupid's arrows! Bakerella shows you how.
Gluten free vanilla raspberry swirl cupcakes
Raspberry and vanilla are an absolutely scrumptious combo, but that's not what makes these cupcakes special. Gluten Free Canteen's recipe is one that all of your friends, even those who can't eat the flour in regular cupcakes, can enjoy!
Pink velvet cupcakes in a jar
Sometimes one cupcake just isn't enough! Give your foavourite people a few mini cupcakes stack in a jar between layers of icing or whipped cream. Hoosier Homemade shows you how to do it with their delicious pink velvet recipe!
Gluten Free Vanilla Fun-fetti cupcakes
Are your gluten free friends not so fond of raspberries? Try Girl Cooks World's vanilla fun-fetti recipe instead! They're still gluten free and they're still delicious!
Powdered sugar heart brownie cupcakes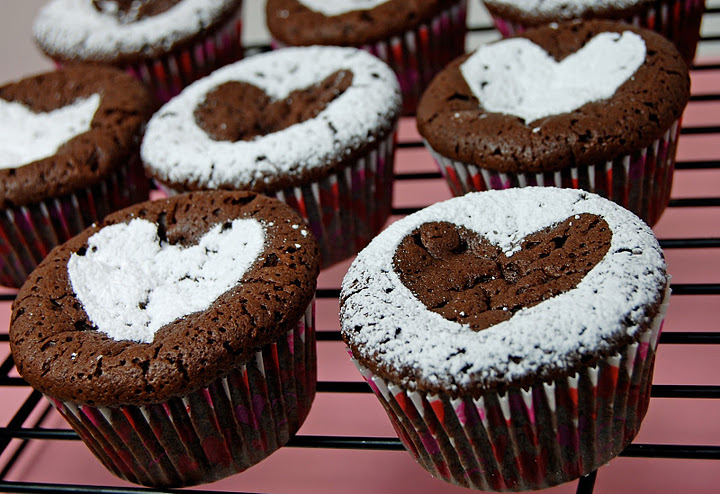 Instead of using cupcake batter, try making chocolate fudge brownies in cupcake tins! Get them into the Valentine's spirit by using a heart shaped cookie cutter to lightly powder inside or around. Rise and Shine Catering shows you theirs.
Heart shaped cupcakes
Sometimes it's not the flavour that makes the cupcake special for Valentine's Day… it's the shape! Make your favourite kind of cupcake like normal but pop a marble down the side of each cup outside the paper right before you put them in the oven. The marble will make an indent that looks like a heart as the cupcakes bake! Check out how it's done on Amanda's Cookin'.
Cupcakes with hearts
Hoosier Homemade shows you how to bake a cupcake with a heart inside of it, rather than on top! Your valentines will love these little surprises when they take a bite!