20 Valentine's Day Cupcakes That You'll Want to Share with Your Loved One
February is closing in fast, and along with it comes one of the most anticipated holidays ever: Valentine's Day. If you're looking to make this year's holiday feel just a little bit sweeter, then you should try your hand at baking some Valentine's Day cupcakes.
Sure enough, flowers, Valentine's Day cards, and sweets are what everyone has on their mind, but if you want to show that special someone in your life that you care about them, there's no better way than with cupcakes, since they fill both the heart and the stomach.
However, not everyone is a pastry chef, and if you're looking for some amazing Valentine's Day cupcake recipes to try out, then you've come to the right place since this article has 20 of them!
---
Best Valentine's Day Cupcake Ideas of 2022
Cupcakes are simple to make, or at least they are compared to more delicate desserts like soufflés, and since they're a type of finger food, they're very popular during social events, such as Valentine's Day parties.
Because they are so popular, choosing which cupcake recipes to include on our list was somewhat difficult, but we managed to narrow it down to some of the best, so have a look and see if there is anything you like:
One way to make cupcakes feel particularly special is to use fruits that aren't regularly available throughout the year, one perfect example being cherries.
Besides, cherry desserts are usually red or pink, and this is almost mandatory for anything that's Valentine's Day-themed.
The first Valentine's Day cupcake recipe to make our list is this one for Cherry Coke cupcakes, courtesy of Lemons for Lulu, because they're not only soft and moist but also made with real Cherry Coke.
The list of ingredients is pretty atypical, or at least it will feel that way for those who already have a batch or two of regular cupcakes.
The cupcakes:
Instant chocolate pudding mix

Maraschino cherry juice

Devils food cake mix

Cherry coke soda

Sour cream

Vegetable oil

Eggs
The glazing:
Cherry coke soda

Powdered sugar

Cocoa powder
The frosting:
Shortening

Softened butter

Powdered sugar

Cherry coke soda
Cherry Coke isn't available everywhere, so if you can't manage to find any, you can go ahead and use the regular kind, to which you can simply add some cherry extract.
As for the Devil's food cake mix, you can replace it with any other type of cake mix since this particular brand isn't mandatory, but the taste goes well with the rest of the recipe.
Many famous bakeries have special recipes that have contributed to their success, such as the Magnolia Bakery in Manhattan, New York.
Sure enough, there's no harm in replicating the recipes if you plan on enjoying them yourself, so the next entry is a perfect copy of the Magnolia Bakery's famous cupcakes.
Of course, before we start talking about what you need to do to make these cupcakes, you need to understand that these Magnolia Bakery cupcakes don't come in just one flavor and that it's a different style of baking cupcakes.
Because of that, you can make them in many different flavors by adding in your favorite extract or even bits and pieces of fresh fruit to the cupcakes to add some freshness to them.
To make the famous magnolia cupcakes, you'll need the following kitchen tools: a stand or hand mixer, a whisk, a large bowl, a measurement cup, a rubber spatula, a cupcake pan, and some cupcake liners.
As for the ingredients, you'll need cake flour, baking powder, baking soda, salt, whole milk, sour cream, unsalted butter, granulated sugar, vanilla extract, and some egg whites.
If you want the exact ingredient quantities, as well as how you can mix them all to make these famous cupcakes, check out this detailed article from Life Family Fun.
Suppose you liked our first entry and agree with us that seasonal spring fruits and pink coloring are what make a Valentine's Day dessert feel like a Valentine's Day dessert. In that case, you'll love this next entry, even if it's more on the traditional side: Strawberry cupcakes.
This particular entry is perfect for beginners since it doesn't require any complicated ingredients, nor do you need any special tools besides the typical ones needed for cupcakes.
That being said, you'll need cake flour, baking powder, creamed butter, sugar, buttermilk, vanilla extract, egg whites, and, of course, dried strawberries for the frosting, and fresh strawberries for the rest.
If you're looking for exact quantities, as well as a list of steps to create these cupcakes from scratch, check out this step-by-step tutorial from Lemons for Lulu.
If you do decide to go with this recipe, here are some tips on how to make the cupcakes better:
Use food coloring gel to get an attractive pink or red hue for your cupcakes

Take care folding the egg whites into the batter

Crumble the dried fruit down to tiny bits

Beat the egg whites until they're stiff

Always use fresh strawberries

Frozen ones work as well, but they're typically less sweet
By following these tips, not only will your strawberry cupcakes look delicious, but their texture will be perfect and fluffy, and they'll also be a wonder to take a bite out of.
With so much talk about cupcakes, it can be easy to go overboard on the calories that we'll be consuming on Valentine's Day (as well as the days that follow), and that's why we decided to include a dit-friendly option as well.
It comes in a recipe for keto chocolate cupcakes with buttercream frosting. Although they may sound like a fitness trainer's worst nightmare, they are extremely gentle with your waistline, especially since they are sugar-free and gluten-free.
The secret to what makes these cupcakes so healthy is the fact that the recipe replaces several typical cupcake ingredients with diet-friendly alternatives:
Almond flour or coconut flour instead of regular wheat flour

Xanthan gum or flax meal to replace the gluten missing from the flour
Besides these keto ingredients, the cupcakes also require eggs, heavy cream, cocoa powder. If you're particularly fond of very sweet tastes, you could use some artificial sweetener, such as xylitol.
If you want to learn more about how you can create these extremely healthy cupcakes for Valentine's Day, then go ahead and read up on the full original recipe from Green and Keto.
The cupcakes will taste amazing, even if you have to pay a little extra for some ingredients. You see, they may be a bit pricier than their regular non-keto counterparts, but you'll feel like it's a great investment once you notice how you can eat cupcakes and see low values on the scale at the same time!
If you're looking for a recipe for cupcakes that will be a real visual delight for anyone that lays their eyes on them, then you'll want to read up on this recipe for chocolate cupcakes with raspberry buttercream from Lemons for Lulu.
This amazing recipe from Lemons for Lulu calls for traditional cupcake ingredients. Making them isn't hard at all, and, as you can see for yourself in the picture above, the result is more than worth it.
To make the cupcakes themselves, you'll need Devil's Food cake mix, chocolate instant pudding, sour cream, canola oil, eggs, vanilla extract, and some water.
As for the creamy and extremely attractive frosting, you'll need softened butter, some shortening, powdered sugar, salt, vanilla extract, water, and, of course, raspberry extract and raspberry puree.
Unfortunately, raspberries aren't in season during Valentine's Day, so finding fresh ones will be a bit harder (thank goodness for greenhouses), but you can always go ahead and use the frozen kind instead.
Not only that, but frozen raspberries aren't as sweet, so you'll need to add a bit more sugar or artificial sweetener to mimic the same results.
More so, if you want the frosting to be even more colorful without exaggerating on the raspberry puree, you can go ahead and add a few drops of red or pink food gel (be careful how much you add, since it's pretty concentrated.
Speaking of the frosting, adding too much puree can mess up the consistency, so if you made it too mushy, add more powdered sugar, and if you made it too hard, just add a few tablespoons of water until everything is perfect.
---
More Amazing Valentine's Day Cupcake Recipes
Desserts are the favorite part of every meal, and pretty much any cupcake recipe in existence will manage to bring a smile to anyone's face, but trends are trends, and some recipes are more popular at certain times than others.
That being said, the previous five recipes were the most popular ones that we could find that people were talking about, but if none of them seem to fit your taste, then here are another 15 amazing recipes that you should consider:
6. Valentine's Day Cupcakes with Conversation Hearts
Hoosier Handmade shows you how much fun even just the simplest Valentine's Day candy decor can be. Adding a conversation heart on top gives the cupcake a cute look and an extra sweet bite!
7. Warm and Fuzzy Valentine's Day Cupcake Balls
Do you know that warm, fuzzy feeling you get when someone makes you feel loved? These little guys are a cute interpretation of that! Make them out of cupcake batter as a treat in themselves, or create little versions and pop them on top of regular cupcakes! Hungry Happenings shows you how to do it.
8. Vanilla Valentine's Day Cupcakes with White Chocolate Truffle Centres
Even just the name of this cupcake is delicious! Lilikoi Joy shows you how to create these beautiful treats that will sweeten any valentine's day.
9. French Vanilla Cupcakes with Maraschino Swiss Meringue Buttercream
Sweet Revelations recipe for these utterly decadent cupcakes will make your valentines feel more than loved — they'll feel absolutely spoiled!
10. Dark Chocolate and Raspberry Buttercream Valentine's Day Cupcakes with Chocolate Glaze
The contrast between the rich chocolate and the delicious berries will make your mouth water. Get the recipe on Sweetapolita!
11. Martini Glass Valentine's Day Cupcakes
Are you spending Valentine's Day with your best friends? Try these martini glass-shaped cupcakes instead of the classic kind for an especially fun treat! Hoosier handmade shows you how they're done.
12. Valentine's Day Cookie Letter Cupcakes
As if making loved ones your favourite kind of cupcake isn't enough of a treat, spelling out cute Valentine's Day sayings in cookie letters will really amp up the sweetness! BHG shows you how.
13. Cherry Chip Valentine's Day Cupcakes
Chocolate chips are classic, but cherry chips are a lot more festive for Valentine's Day! This extra delicious touch will bring in flavours and colours that your valentines will associate with the special day. Check out how Bakingdom used them.
14. Red Velvet Arrow Valentine's Day Cupcakes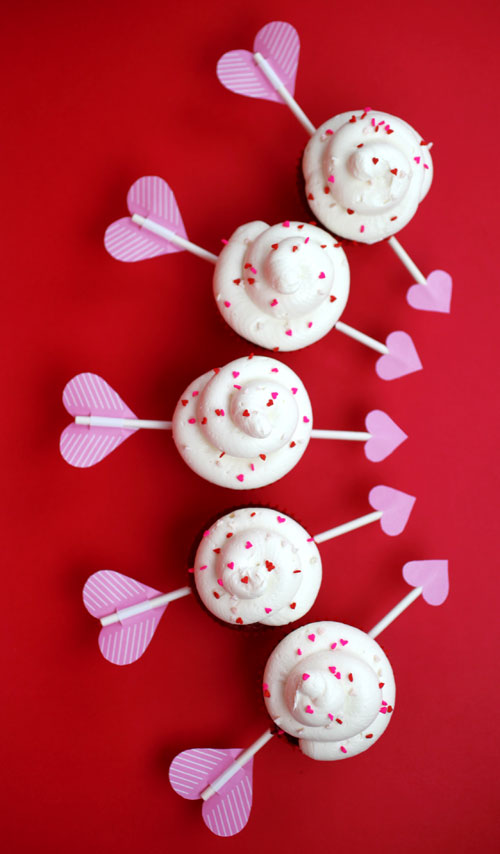 Red velvet cupcake are already pretty festive, but you can really tie in the Valentine's Day theme with some cute, campy little Cupid's arrows! Bakerella shows you how.
15. Gluten-free Vanilla Raspberry Swirl Valentine's Day Cupcakes
Raspberry and vanilla are an absolutely scrumptious combo, but that's not what makes these cupcakes special. Gluten Free Canteen's recipe is one that all of your friends, even those who can't eat the flour in regular cupcakes, can enjoy!
16. Pink Velvet Valentine's Day Cupcakes in a Jar
Sometimes one cupcake just isn't enough! Give your favorite people a few mini cupcakes stack in a jar between layers of icing or whipped cream. Hoosier Homemade shows you how to do it with their delicious pink velvet recipe!
17. Gluten Free Vanilla Fun-Fetti Valentine's Cupcakes
Are your gluten-free friends not so fond of raspberries? Try Girl Cooks World's vanilla fun-fetti recipe instead! They're still gluten-free and they're still delicious!
18. Powdered Sugar Heart Brownie Cupcakes for Valentine's Day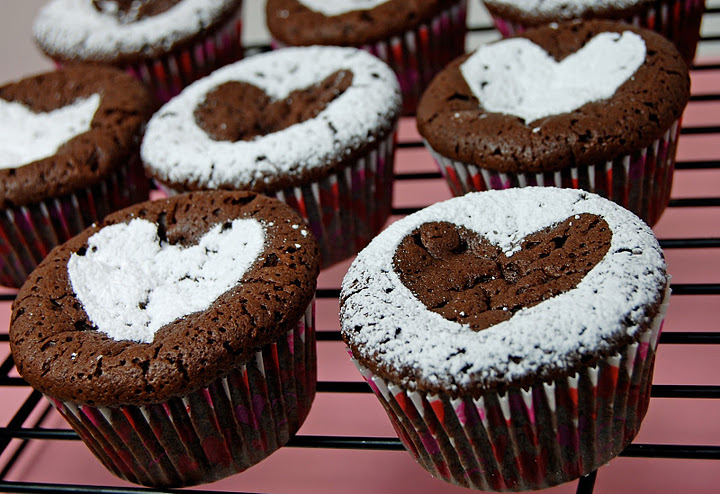 Instead of using cupcake batter, try making chocolate fudge brownies in cupcake tins! Get them into the Valentine's spirit by using a heart shaped cookie cutter to lightly powder inside or around. Rise and Shine Catering shows you theirs.
19. Heart-Shaped Valentine's Day Cupcakes
Sometimes it's not the flavour that makes the cupcake special for Valentine's Day… it's the shape! Make your favourite kind of cupcake like normal but pop a marble down the side of each cup outside the paper right before you put them in the oven. The marble will make an indent that looks like a heart as the cupcakes bake! Check out how it's done on Amanda's Cookin'.
20. Valentine's Day Cupcakes with Hearts
Hoosier Homemade shows you how to bake a cupcake with a heart inside of it, rather than on top! Your valentines will love these little surprises when they take a bite!
Best Valentine's Day Cupcake Ideas: Closing Thoughts
Out article has come to an end, not because we've listed all the best cupcake recipes in the world, but after talking so much about these delicious sweets, it's time for you to get started baking.
We hope that we managed to provide you with enough inspiration and that you take the time to try baking these cupcakes, and if you do make them, be sure to leave a comment letting people know how they turned out.
Not only that, but if you have plenty of experience baking cupcakes and know more recipes that would make for great Valentine's Day desserts, don't be afraid to let us know about it, and we'll update our list accordingly.
Last but not least, if you're looking for even more guides that will show you how you can make this Valentine's Day a more memorable one, then have a look below, where you'll find even more articles about the subject:
That's all from us for now, but we'll be back with another article soon. Until then, have a great day and enjoy your desserts!