25 Cupcake Recipes to Celebrate Spring in Style
Cupcakes are a perfect way to celebrate the warmer weather, and there are plenty of cupcake recipes for spring to choose from; the secret is to use seasonal ingredients.
For many of us, the kitchen is like an artist's studio. And cupcakes are little canvases you can decorate to create unique works of art.
If you need inspiration for springtime cupcake recipes, we've got you covered.
Scrumptious Cupcake Recipes to Try This Spring
Without further ado, let's take a look at some of the top cupcake recipes for spring that you'll love:
1. Colorful Spring Cupcake Recipes
If the cupcake recipe you're trying to put together doesn't have any seasonal ingredients, consider using colors and decorations to evoke the feeling of spring.
Well, that's precisely what the folks fromCraft Create Cook did. And we have to admit that we were amazed by how creative one can be with a bit of food coloring gel and icing since these cupcakes look like patches of grass with flowers.
Ingredients:
Granulated sugar
Softened butter
Vanilla extract
Flour
Milk
Eggs
White frosting
Baking powder
Candied flowers
Green gel food coloring
As for the tools, you'll need to know your way around using a piping bag and an icing tip. You'll also need a lot of imagination since you won't be creating exact copies of the image above.
For those of you wishing to save time, or if you don't have baking experience, stick to making the icing and applying it on store-bought cupcakes.
2. Easter Chocolate Cupcake Recipe
This next spring cupcake recipe is fromBBC Good Food; it's yet another example of how you can turn a typical cupcake into a themed recipe by playing around with the decorations.
These cupcakes have spring toppings like bunny feet, spring chicks, or spring lambs with marshmallow wool.
Ingredients:
Brown soft sugar
Self-raising flour
Cocoa powder
Baking powder
Vegetable oil
Eggs
Milk
For decorations:
Milk
Icing sugar
Cocoa powder
Softened unsalted butter
White mini marshmallows
Ready-rolled white fondant icing
Orange, yellow, pink, and black gel food colorings
It sounds like an arts and crafts class working with clay and paint. So if you plan to bake this year's cupcakes with your kids, know that you'll all have a lot of fun.
3. Spring Coconuts – Simple Cupcake Recipe
Coconuts are probably not the first fruit that pops into your mind when thinking about spring. But using coconut flakes can be a real gold mine for decorations.
Check out these cupcakes fromFriessinger-Muehle, for example. They are amazing, and the coconut gives them a fuzzy look that will make you wonder whether you should eat or pet them.
Ingredients:
Salt
Eggs
Sugar
Soft butter
Vanilla sugar
Cream cheese
Almond extract
Shredded coconut
Baking powder
Baking soda
Buttermilk
Küchenmeister Spelt Flour T630
These cupcakes have three variations that involve yellow candy, marshmallows, yellow food dye, edible glitter or candy pearls, and chocolate chips or candy eyes.
4. Butterfly Easy Cupcake Recipes for Spring
If you love the idea of foods and desserts that look like works of art, you'd probably feel bad about sinking your teeth into them. Still, you should check out this spring butterfly cupcake recipe from Thrifty Jinxy.
Ingredients:
Milk
Eggs
Vegetable oil
Softened butter
Powdered sugar
A box of cake mix
Edible Easter grass
Green food coloring
Easter M&M's
White chocolate-covered pretzels
5. Easy Cupcake Recipe – Spring Cupcakes with Egg Nest
Blooming flowers and hatched chicks are typically associated with rebirth and spring. We bet you saw plenty of flower cupcakes, but you probably haven't come across delicious-looking bird nests.
The folks at Gluten Free Club managed to pull it off nicely. And it's hard to believe that these adorable cupcakes look so good due to chocolate eggs and chocolate shavings.
Ingredients:
Chocolate curls (or shavings)
Egg-shaped candy
Chocolate icing
Since you'll be working with a lot of chocolate, it's best to decorate and store the cupcakes at room temperature or lower so that they maintain their firm look.
6. Chicks – Best Vanilla Cupcake Recipe for Spring
Nests are all fun and cute, but hatched and chirping chicks are more charming. Well, at least that's what the folks at Redpath Sugar think.
This recipe takes classic vanilla cupcakes and gives them a simple makeover to create adorable creamy spring chicks.
Ingredients:
Salt
Eggs
Butter
Cake flour
Buttermilk
Baking soda
Baking powder
Pure vanilla extract
Golden yellow sugar
We fell in love with the recipe as soon as we first saw the pictures. And we're pretty sure you did too, so go ahead and make a batch and let it hatch.
7. Spring Flower Cupcakes with Candies – Cupcake Frosting Recipe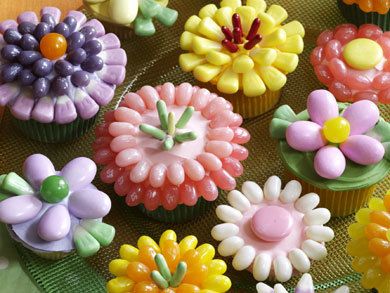 Not everyone is skilled with icing decorations. And if you're a perfectionist, you can decorate cupcakes with a spring theme without even touching a piping bag.
Check out these spring flower cupcakes made from hard candy from Mr. Food and notice how fantastic they look.
Ingredients:
Homemade or store-bought cupcakes
Assorted food coloring gels
Assorted jelly beans
Almonds
Licorice pastels
Vanilla frosting
Bunny corn
Fruit sours
Mint cremes
Let your imagination run wild and make unique candied flowers so that cupcake becomes an original piece of edible art.
8. Polka Dots – Unique Cupcake Recipes for Spring
Since many people decorate their cupcakes with floral designs for spring, it's understandable why others think it's a cliche.
If you prefer something original, try applying popular motifs used in clothing: polka dots. That's what Betty Crockerdid, and we have to say that the results are nothing short of adorable.
Ingredients:
Jell-O orange-flavored gelatin
White cake mix
Assorted food coloring gels
White baking chips
Powdered sugar
Softened butter
Vanilla extract
Vegetable oil
Water
Milk
You don't need any skills with baking or decorating cupcakes since you'll be using a boxed cake mix with straightforward instructions. And making the polka dot design using the cream and white baking chips will be easy since you just sprinkle them.
9. Unique Cupcake Decorating – Spring Flower Cupcakes
Most floral-themed cupcakes focus on turning the icing into the actual flower with buttercream petals, candied centers, and other similar decorations.
Well, the folks at Ricardo Cuisine wanted to try something different by turning the cupcakes into flowerpots and highlighting candied flowers.
Ingredients:
Small terracotta pots or brown cupcake holders
Strips of parchment paper (only if you use the terracotta pots)
Unbaked vanilla orchocolate cupcakes recipe
Vanilla buttercream or frosting recipe
Oreo cookiecrumbs
Fresh mint leaves
Colored food gel
Lollipops
Long story short, the cupcake will be made of two parts that you can eat separately: the lollipop flower and thedirtcupcake. Both are delicious.
We found this recipe amusing because, apart from baking the cupcakes and creating the lollipop flowers, the instructions sound like a garden planting guide.
10. Lavender Cupcake Recipes for Spring
This recipe doesn't just look like a piece of spring but also tastes like one. And the answer is: lavender.
We found this recipe atJust a Pinch, and it doesn't require any complicated ingredients or techniques.
Ingredients:
Eggs
Sugar
Whole milk
Baking powder
Softened butter
All-purpose flour
Dried lavender buds
Lavender sprigs (optional)
We love this recipe because it's perfect for those who want to make their cupcakes look extra fancy without too much effort.
In terms of flavor, these cupcakes are delicately floral with a subtle lavender taste in every bite, making them perfect for weddings, baby showers, or any other special event during the spring season.
11. Buttercream Daisy Cupcakes – Spring Cupcake Flavors
If you're an experienced baker who loves a challenge and enjoys a cute cupcake decoration idea for spring, check out I Am Baker. They made delicious cupcakes and topped them with stunning daisies made entirely of buttercream.
12. Pink Strawberry Cupcake Recipe
This delicious cupcake is perfect for any occasion. The pink strawberry frosting is so pretty and the cake is nice and moist. It's sure to be a hit with everyone who tries it. Go to Recipe Girlfor more info.
13. Sunflowers – Lemon Cupcakes Recipe
These sunflower lemon cupcakes are a fabulous spring dessert. They're light and fluffy, with a tart lemon flavor that will refresh your taste buds. Plus, they're super easy to make – just mix and bake. Visit Erica Sweet Tooth for more details.
14. Easter Basket – Cupcake Icing Recipe
We're in love with the decorative way that Baking A Moment turned simple cupcakes into charming Easter baskets using icing, sprinkles, and candy Easter eggs.
15. Butterflies – Chocolate Cupcake Recipe for Spring
If you enjoy practicing your skills at homemade chocolate treats, we think you're really going to love the way Oh Nuts made these tasty cupcakes and topped them with handmade chocolate butterflies for spring.
16. Garden Carrot Cake Cupcakes Recipe
Your Cup of Cake shows you how to make adorable icing cupcakes with candy stems and crushed Oreo dirt right on top. Read their in-depth tutorial to find out more.
17. Rose, Zinnia, and Hydrangea – Cupcake Flavors for Spring
Try something different with your desserts. The rose, zinnia, and hydrangea cupcakes are perfect for adding a touch of elegance to any occasion. You will surely impress your guests, so head over to Baked Bree to find out more.
18. Easter Chick – Spring Flavor Cupcakes
These are excellent cupcakes for your Easter celebrations. The delicious vanilla cupcakes are topped with cute chick icing, making them irresistible.
Whether you're hosting a festive party or just want to enjoy a tasty treat, these are sure to please. Discover more info at The Simple Sweet Life.
19. Flowerpots – Cute Spring Cupcakes
These springtime cupcakes come in a variety of fun and festive flavors, all inspired by the changing seasons. So why not show your loved ones how much you care with a dessert that's sweet in every sense of the word? Check outLittle Things for more details.
20. Spring Cupcakes with Sugared Flowers
If you wish to try something new and lovely for your family and friends, here's a suggestion from Martha Stewart. It shows how to top your cupcakes with real flowers.
21. Desert Bloom – Spring Cupcake Designs
If you're feeling intrigued by the idea of making plant-inspired springtime cupcakes, you should take a look at Woman's Day. They created a whole array of desert blooms by decorating their cupcakes to look like various little succulents and cacti.
22. Orange Zest Cupcake Recipes
These delicious orange almond cupcakes are the perfect way to celebrate any special occasion. Made with real oranges and topped with a fluffy almond frosting, they're sure to be a hit with your friends and family. Visit Martha Stewartfor more details.
23. Coconut Lemon Cupcake Recipe
Coconut and lemon are a classic pairing, and these cupcakes bring them together in perfect harmony. The delicate sweetness of coconut is balanced by the tartness of lemon, for a delicious result you'll love. Take a trip toI Heart Naptime to learn more.
24. Black Raspberry Cream – Best Cupcake Recipe for Spring
This black raspberry cream cupcake indulges any sweet tooth. The moist and fluffy cake is oozing with a delicious black raspberry filling, and it's all topped off with a generous dollop of whipped cream. It's an irresistible treat that will have you coming back for more, so check out the full recipe atEasy Baked.
25. Lemon Blueberry – Yellow Cupcake Recipe
Lemon blueberry cupcakes are way a fabulous way to show your loved ones how much you care. These delicious, fluffy treats are loaded with tart lemon flavor and bursts of sweet blueberry goodness.
Whether you're looking for a tasty snack or something special to celebrate a special occasion, these cupcakes are sure to hit the spot. Go to The Recipe Critic to learn more.
Closing Thoughts
Cupcakes are the perfect dessert for any season, and with a little bit of creativity, you can make them look and taste amazing.
Feel free to experiment with different flavors, decorations, and techniques until you find the perfect recipe for you.
Also, don't forget that there are plenty of ways to make this spring memorable by: