3 Easy Pumpkin Seed Recipes for Fall
Everyone wants that simple, small party favor you can give your guests during the Fall and holiday seasons. Food can sometimes be the best gift you can give. Try these three, easy, roasted pumpkin seed recipes that are perfect to give away at any Halloween, or Thanksgiving day party. So with the pumpkins you decorate with for Halloween, save the seeds for this yummy DIY.
If using them as favors, it's best to use a very small bottle or container. It'll seem like one pumpkin will yield a lot of servings, but you'll quickly find that they fill the bottle pretty fast. The seeds from one small pumpkin filled roughly three glass bottles purchased from my local craft store.
So, gather the biggest pumpkins you can find. Just like carving, cut the hole at the top and scoop the seeds out into a bowl. Yes, it's a little slimy, but don't be afraid to get your hands dirty.
How to roast pumpkin seeds
Be sure to rinse the seeds very well and pat dry with a paper towel before roasting.
To roast, the general idea for one recipe is the same for all. Soak the seeds in the wet ingredients for 15-30 minutes and then add the dry ingredients afterwards. Doing that really helps the flavor hold to the seed.
Preheat the oven to 300 degrees. Spray a baking pan with cooking spray and lay the seeds out on a single layer. I don't like my seeds too crunchy so I only bake mine for 30 minutes. For crunchier seeds, bake them to 30-45 minutes, checking them every 10 minutes. Toss the seeds every now and then while cooking to ensure they roast evenly. Make sure they don't come out charred by checking on them to see if they've lightly browned. When finished, let the seeds completely cool before putting them in the glass jars, or serve immediately warm to your guests.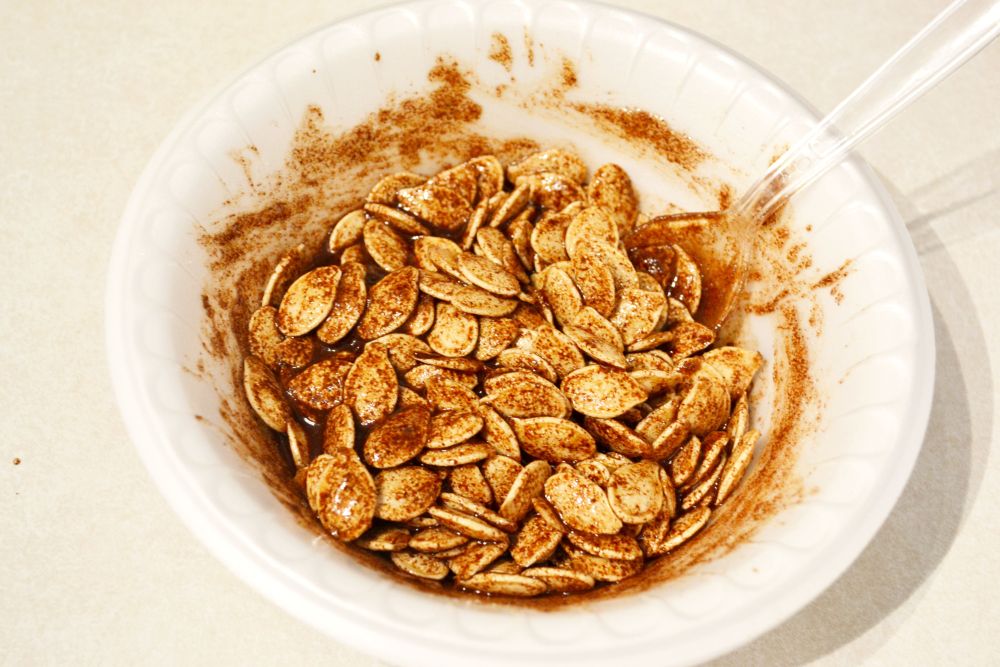 Recipe #1: The Savory Cinnamon-Sugar
For sticky, sweet seeds, soak 1 cup of seeds in 1/4 cup of melted butter for 30 minutes. Add 1 tablespoon of cinnamon and 1 tablespoon of white sugar. Mix all ingredients together and spread out on a greased cookie sheet. When finished cooking, sprinkle a little more white sugar to taste.
Recipe #2: The Original Salt & Pepper
For simple, salty seeds, soak 1 cup of seeds in 1/4 cup of melted butter or margarine for 15 minutes. Spread out on a baking sheet and top with a dash of salt and pepper to taste.
Recipe #3: The Old Bay Roasted
For the Maryland crab taste, after soaking 1 cup of seeds in 1/4 cup of melted butter, top with Old Bay Seasoning, or any seafood seasoning to taste.
Add a tag to complete the look. These seeds are so tasty. When you eat them, the roasted taste really brings out the flavors of the season. The Old Bay flavor is definitely my favorite. It's salty, but has that delicious seafood taste that I love here living in Maryland. So try these simple recipes out. The best part is that you can tweak the flavors to your liking. Add more salt, more sugar, or whatever seasonings you love. These roasted pumpkin seeds are warm, crunchy and a perfect addition to fall party!