29 Spooktacular Halloween Centerpieces
Whether you're throwing a spooky, Halloween shindig or just decorating the house for the family to enjoy, we're advocates for really digging into the decor and making some yourself! Check out these 29 spooktacular centerpieces that will spruce up the kitchen or dining room and create a focus to the holiday's madness!
1. Candy Corn Candles
Bulk some of these cuties together in a cluster on the dining room table. Give a subtle Halloween charm to your setup with this DIY from Simmworks.
2. Peeps Piece
Take this idea from Style Blueprint and get to work. All you need to get started are the right types of Halloween candy!
3. Mini Graveyard
Punk Wife created a miniature, spooky graveyard for her tables. Add a bit of creepy crawliness to your holiday decor with this idea!
4. Ruffled Spiders
Make some fluffy, ruffled spiders with this DIY from Clean Scentsible. Use them as festive pieces for the dining room centerpiece and build on that.
5. Spider Lights
Create some spooky spider lights with some help from Lady Behind the Curtain. We love the spooky, fun glow they make and agree the kiddos of the house will love them.
6. Black Skulls
This chic, black skull centerpiece would make for the perfect focus to your Halloween dinner party. Grab the instructions over at Eddie Ross.
7. Quoted Pumpkin
BHG gave us all the idea of creating a quoted pumpkin … but with string art! Learn how here and design a fun centerpiece around it.
8. Spooky Lace Vase
Think about creating something like this spooky lace vase from HGTV. It will help spark a classic "haunted house" theme around your own home!
9. Stacked Pumpkins
Discover how Busy Mommy make this easy stacked pumpkin centerpiece. We love it's fashion-forward energy but pure Halloween style.
10. Skeleton Bowl
Honey We're Home gave us some great ideas all the way around. This easy centerpiece is as simple as layering the different details!
11. Book Covers
Little House On The Corner shared this adorable idea and it can easily be made to use as a centerpiece for any table. And you can make the book covers yourself!
12. Poison Apples
Over at HGTV there are even more great ideas for Halloween-time. And this bucket of poisonous apples on display is no exception.
13. Sunken Pumpkin
Black Styrofoam balls are at the center of this easy, peasy centerpiece idea. A Day In My Life made this design for under $2!
14. Decorated Witch's Hat
Use a witch's hat as your centerpiece – but make sure you jazz it up a bit. Start with a clean foundation, like Tidy Mom did, and go from there!
15. B&W Pumpkin
This pumpkin is the perfect way to center a table. The black and white make for a chic style and the witch's theme make it perfect for Halloween. Thanks to A Pumpkin and A Princess!
16. Floral Skull
Add some feminine charm to your centerpiece with flowers surrounding your spooky skull. Get the instructions over at Honestly YUM.
17. Black Branches
Sometimes simplicity is best – even for the holidays. This Halloween-inspired centerpiece from Cupcakes and Cashmere is so easy to recreate for anyone's home!
18. Goosebump Tree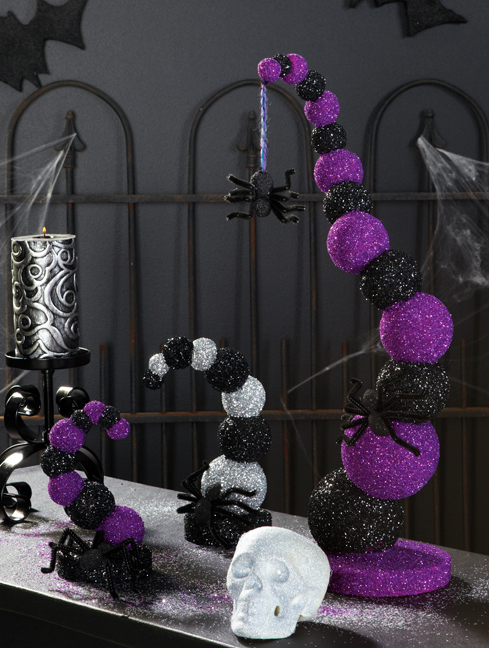 These topsy turvy creations from Make It Fun Crafts are so fun for the entire family to get together and make! Style a party's theme around them!
19. Dripping Candles
Learn how to recreate these creepy, dripping candles to go along with your Halloween centerpiece. Check them out at Paging Fun Mums.
20. Paper Pumpkin Cluster
Make some paper pumpkins with help from BHG. And then put them in a cluster for a light and family-friendly look on the tables.
21. Pumpkin Vase
We found this idea over at Shelterness and we're in love with the charm. Carve out a spooky face and use it as a vase for fresh flowers!
22. Layered Mini Pumpkins
Grab some mini pumpkins and layer them up! BHG lended us this simple idea that's full of festivity and fun for the family when it comes time to create the little faces.
23. Black Chalices
Grab some flea market glasses and dip them in black to start the creation of this centerpiece idea. It's at BHG now!
24. Pumpkin Cauldron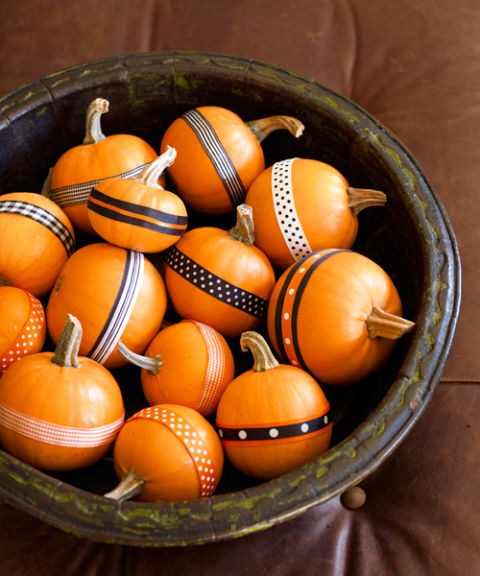 Fill a cauldron of sorts with some mini pumpkins – dressed up in Halloween style with some washi tape. Check out the original idea at Good Housekeeping.
25. No-Carve Pumpkin
This pumpkin design is quite striking, making it an artistic and funky choice for your centerpiece. Learn how to make it happen at Good Housekeeping.
26. Day of the Dead Skull
Sugar and Charm made this gorgeous skull centerpiece with a Day of the Dead theme in mind – and we're in love! You can really get creative with this one.
27. Candy Tray
The center of the table could be edible too! Just take a look at this gorgeous – and delicious – candy piece from A Beautiful Mess.
28. Tortured Candles
Here's another candle project but this one is a bit creepier and "scarier" for those that love the spook of Halloween. Learn how to make these spooky bits for your holiday centerpieces over at Family Chic.
29. Spider Vase
Craft Shack made this spider vase and we're in love with all of its details! Learn how to create one of your own by following the link!