50 Spooktacular Halloween Centerpieces
Halloween is the perfect occasion to put your creativity to the test and have a memorable evening with your friends and family. If you are organizing a special event at home, then you are surely looking into decoration ideas that will stun everyone and leave them wanting for more.
Table centerpieces are an essential element of any special event, and that includes Halloween. In fact, some may argue that it's the most important decoration element of the dining table, right after the delicious food, of course.
If you are looking for simple or more elaborate Halloween centerpieces ideas, we are here to guide you in the right direction. We did all the research and created a list of 50 Halloween centerpiece ideas that you can freely explore to find the best solution for your home.
Hurry up since Halloween is just around the corner! You don't want it to catch you unprepared.
50 Halloween Centerpieces Ideas for 2021
All these Halloween centerpiece ideas have a central theme, such as pumpkins, candles, flowers, skeletons, cake, cauldron, candy, spiders, and even a repurposed wreath. Here are the best ones:
1. Black and White Pumpkin Halloween Table Decor
Without a doubt, the pumpkin is an essential and unmissable item for Halloween. However, instead of having the same-old orange carved pumpkin on your dining table, you can take it to the next level by opting for a black and white design with patterns.
Find out how to easily create a black and white pattern pumpkin by following our 5 easy steps. You will need a white pumpkin, acrylic paint, adhesive letters, a black Sharpie marker, a blue painter's tape, and a foam craft brush.
To get exquisite results, we suggest making a large pumpkin and a bunch of smaller ones using different messages. It's an ensemble that works great as a Halloween table decor, and which will surely impress your guests.
2. Paper Maché Pumpkin DIY Centerpieces
If you prefer a simpler version to the black and white pumpkin and don't want to use an actual vegetable, you can stick to this version to design a paper maché pumpkin.
Besides, you will be able to reuse it at future Halloween events. And it's a really fun project for the entire family since you can ask your kids for help.
To put together a do-it-yourself paper maché pumpkin, you will need a balloon, flour, jute twine, scotch tape, scissors, a foam brush, acrylic paints, an old newspaper, a bowl, and a fork. It's a simple process that you can carry out in 6 steps.
To make your Halloween table centerpiece really stand out, we advise you to design multiple paper maché pumpkins of different sizes. You can also go with a two-color theme.
3. Mini Pumpkin Place Cards Halloween Centerpieces
If you are running low on time and can't design elaborate centerpieces for Halloween, we suggest going with a simple solution that your guests will find thoughtful: mini pumpkin place cards. And each guest will be able to take their place card home with them in order to remember that one special Halloween night they spent at your place.
Before buying the supplies, make a guest list and find out how many people will be joining you for Halloween. Then, you can get white mini pumpkins, gold metal floral wire, patterned scrapbook paper, coordinating solid colors of cardstock, white cardstock, a hole punch, round nose pliers, and glue.
If you happen to have a die-cutting machine, that will simplify your job and create awesome place cards with a clean finish. But you can also make due using a rectangle die or just a pair of scissors.
In this tutorial, we went with white mini pumpkins and gold metal wire. However, you can tweak it to fit your Halloween theme, whether you prefer black and white or something else. Once you have gathered all the supplies, you can follow out 7-step instructions to achieve the results quickly and painlessly.
And, when you arrange the dining table for Halloween, you can place the mini pumpkin place cards on the plate of each guest, depending on how they will be seated.
4. Paper Lantern Simple Centerpieces
If you are looking for a simple way to create a stunning centerpiece in just a few minutes, consider making a paper lantern. It's a fun and easy project to do with your kids using the materials you already have in your house.
To create black and white paper lantern art, you will need a white pencil, black paper, curved nail scissors, white vellum, and a glue stick. The DIY paper lantern art project can be easily accomplished in 6 easy steps by following our easy instructions. There's also a YouTube tutorial that you can check out.
Once you make the paper lantern art piece, you can place it on your living room table and then put a lantern inside to create an intimate setting. We don't recommend replacing an electronic lantern with a candle since it will become a fire hazard.
5. Evil Candle Centerpieces for Tables
If you are going with the black magic version of Halloween that involves pentagrams, necromancy, exorcism, ceremonial magic, and witchcraft, then your event would be incomplete without a table centerpiece of evil candles.
It's a project that doesn't really involve any do-it-yourself instructions since you just have to buy a bunch of candles of various dimensions, place them in candle holders, and light them up.
To create the evil effect, though, you should prepare this centerpiece in advance by letting the candles burn for several hours until wax drips on the candle holders. Just make sure to place a glass cover to protect the surface from burning wax.
Once you are satisfied with the results, you just need to relight the candles when your guests show up. We are sure they will immerse themselves in your little world of black magic.
6. Embroidery Hoop Cheap Halloween Decoration Ideas
If you don't want to spend a fortune on Halloween decorations, then you are probably interested in simple do-it-yourself projects that you can work with on a budget. When it comes to centerpieces for your dining table, consider creating a Halloween embroidery hoop. It works particularly well for those who have many wooden elements around the house since the hoop will blend in seamlessly.
To create a Halloween-themed embroidery hoop, you will need an embroidery hoop, thread, scissors, black glittery foam, and a needle. Cheap, isn't it? You will also need some minimal drawing skills to create bats or other spooky elements you prefer for Halloween.
But if you don't have any, you can print some simple designs from the Internet, cut out the shapes, and then use them as templates when cutting into the black glittery foam. You must also have a bit of patience to create the embroidery using a needle and thread, but it's really easy.
Just follow our easy 4-step instructions in the given tutorial, and you will create the project in no time. Once it's done, you can place it on your Halloween dining table and lean it against another object, like a tall bottle. To top off the centerpiece, you can add smaller decorative objects around the embroidery hoop – whatever goes well with the theme you have selected.
7. Fireplace Mantel for Halloween Table Decor Ideas
You don't actually have to have a fireplace with a mantel in order to design stunning mantel decor for Halloween. Since we are all trying to be creative here, think about placing the mantel design on the table as a table runner.
It's incredibly classy, but you have to make sure there's enough room on the table. Once you got that out of the way, it's time to gather the supplies: 3 small decorative pumpkins, a black feather boa, 5 gold mercury glass votives, 2 gold candlesticks, 3 or 4 artificial gold roses, spooky elements like a black hand and a raven, black yarn, and gold washi tape.
Once you have everything, check out our easy tutorial in 3 steps to get the job done quickly and with minimum effort. It goes without saying that you should build the mantel decor directly on the table since it would be difficult to move it later without messing it up.
8. Glamorous Beaded Pumpkin Halloween Table Centerpieces
The classical Halloween pumpkin has never looked more elegant than when fully covered in black beads. If it weren't for the stem that remains visible, you wouldn't even be able to tell that there's a pumpkin hiding there.
The beaded glamorous Halloween pumpkin is a simple way to spice up your table decorations by using a simple and cheap centerpiece that looks expensive. And, it's super easy to create this decoration element. You can also have your kids join in to help.
What you need for this project is an artificial pumpkin, two packages of black faceted beads, one package of small black seed beads, silver craft paint, a paintbrush, two packages of dressmaker pins, and a thimble.
Once you have everything, you can start by painting the pumpkin. We suggest painting it white since it contrasts with the black beads and will be subtly noticeable when your guests will take a closer look at your stunning Halloween centerpiece.
It's not the fastest project on this list since it will take a while to sew in each bead, depending on how large the beads and the pumpkin are. But it's a fun and relaxing activity that will pleasantly surprise you when it's finished. We suggest placing it on a cake stand to make it really stand out.
9. Whimsical Halloween Wreath DIY Centerpiece Ideas
We know that a wreath is not usually the type of item that you would use as a table centerpiece, but bear with us. It's a cool idea for people who love thinking outside the box since you can take an ordinary item that normally goes on your door and make it extraordinary by placing it on the table in a laid-down position.
To create a whimsical Halloween wreath, you will need styrofoam, round wreath, some strips of fabric, push pins, scissors, and any decorative Halloween elements that you would like to add, such as bats, skulls, or scary messages.
Check out our easy guide to find out the 9 step-by-step crafting instructions. After placing it on the table, you can put other practical or decorative objects inside it, like a vase or a bottle of wine.
10. Black and White Vine Wreath for Halloween Table
An awesome alternative to the whimsical Halloween wreath is the black and white vine wreath. It's a classier version for adults who prefer the black and white theme since the vine will give an elegant touch to your dining table.
To create a black and white vine wreath, you will need to take a trip to the local crafting store and buy a pre-made vine wreath, a faux blackbird (or any other preferred decor), black ribbon, black and white feathers, faux flowers and grass, along with black spray paint in a glossy finish. You will also need a hot glue gun with extra glue as well as wire cutters.
Follow our 4 easy steps to complete this project in no time. Of course, it's not mandatory to stick to the black and white theme since you can make it in any preferred color. Once it's done, you can place the vine wreath on your Halloween table and then put various objects inside it, like tall bottles or a vase of flowers.
11. Day of the Dead Wreath
Day of the Dead is a refreshing take to the classical Halloween decorations. So, if you are keen on going with the Dia De Los Muertos theme for your Halloween party, then you can't miss the Day of the Dead wreath. With some minor tweaks, it can easily become a stunning Halloween centerpiece for your dining table that all your friends will talk about.
To fulfill this project, you will need a clean (unpainted) resin skull, a picture frame without the glass (round or rectangle, it doesn't matter), a bit of black lace fabric, artificial flowers (black, white, gold, or whatever you prefer), a hot glue gun with extra glue, a pair of scissors, Sharpie markers, and pliable wire.
You start by decorating the skull using Sharpie markers. You can either follow the Day of the Dead skull patterns or get creative and come up with something more creative. After this step, you can decorate the picture frame with the skull and remaining elements.
Instead of hanging it on your door, you can place the wreath on your dining table. If it lies down, then you can put more decorative objects inside. Or, you can keep it in a vertical position by leaning the wreath against a tall object. Just make sure that it stays in place.
12. DIY Splatter Pumpkin Decor
The DIY splatter pumpkin decor isn't for everyone since the dirty-looking design might make some people feel uneasy. However, it's an affordable and easy solution for art lovers who want to add a bit of splash to their dining tables on Halloween.
Decorating a pumpkin with splatter paint is one of the easiest projects on this list. All you need is a small or medium pumpkin, white spray paint, black acrylic paint, and a brush.
Evidently, the choice of paint colors is entirely up to you, depending on which color palette you wish to adopt. You will also need some plastic cover to protect the surface from paint during the splattering process.
You start by covering the entire pumpkin in one color (white, in our case), including the stem. It might be necessary to apply several layers of paint to obtain a solid color.
Once the paint dries, make sure to place the pumpkin on the plastic cover, dip the brush in paint, and use your index finger to create random splatter patterns. More paint means bigger splatters.
As soon as the paint dries on the pumpkin, you can safely place it on your dining room table. To create a stunning centerpiece, you can decorate three or four pumpkins of various sizes with distinct splatter patterns.
13. Pumpkin Flower Arrangements
You don't have to go overboard with Halloween decorations when you can opt for a timeless centerpiece of tables: flower arrangements. To get into the Halloween spirit, though, you can put the bouquet of flowers inside the pumpkin instead of using a boring vase.
All you have to do is carve a pumpkin to make room for the flowers. You can stick with the natural orange or you can paint the pumpkin in any color or color pattern you prefer. Then, you gather a bouquet of flowers and stick it inside the pumpkin. If you want the flowers to last longer, you can hide a glass of water inside the pumpkin.
However, the flowers don't have to be natural since you can opt for the plastic version. This is the part where you can put your creative side to the test by creating a beautiful flower arrangement that will be surely appreciated by your guests. To further embellish your centerpiece, you can add ribbons or any other decorative elements.
14. Halloween Candelabra
Candelabras give out an eerie feeling since they belong to another century and were primarily used in mansions. Almost nobody uses a candelabra nowadays, but that doesn't mean you can't include this element in your Halloween family event and create an awesome centerpiece for your dining table.
First, you need to buy a candelabra. If you can't find it at your local antique store, make sure to run an Internet search since there are plenty of options to choose from. Once you get it, you can go with a simple design that means adding candles and letting them burn until the wax drips to create a spooky look (just as in the example with the evil candles).
Or, you can opt for the whimsical way, especially if you have children coming over. In the picture shown, the candelabra has been painted and embellished with a cute pumpkin. You don't even need to add candles and light them up if you fear that you would create a fire hazard. We just loved this version from @eddie_likes2shop on Insta.
15. Skeleton NewlyWeds
The wedding of the dead is a popular theme among Halloween enthusiasts, especially if we are talking about newlyweds who want to do something extra special for their friends and families.
You and your significant other can not only dress up and apply makeup as dead skeletons but also highlight it by placing a piece of decoration on the dining table and turning it into a Halloween centerpiece.
In the image above, you can notice a cute couple of a dead bride wearing a veil and a dead groom wearing a bow tie and a black hat. It's not exactly the type of project that requires a do-it-yourself approach, but you can find numerous models of whimsical skeleton newlyweds online. Once you do, you can set it up as the table centerpiece and add more elements such as withered flowers or candles.
16. Halloween Skulls
Since we are talking about dead things, you can go with a simple version for your living room table centerpiece: skulls. All you need is to buy two of three skulls from the store, place them on the table, and use a bit of fabric to create a fog effect.
If you are feeling particularly creative, you can paint the skulls to create shadows or even bloody eyes, as well as attach other Halloween elements to the fabric such as spiders or bats. You get bonus points if you also find skeleton hands like in the image above.
Once you have all the required elements, you can assemble them directly on your table to produce a spooky effect that will surely make your guests tremble. And, if you feel that something is missing, you can combine this idea with others from this list, like the Halloween candelabra or evil candles.
17. Wine Bottles with Candles
If you don't have enough time or money to go shopping for Halloween decorations, you can use a simple trick to create a stunning centerpiece for your dining table: wine bottles with candles.
Get some empty wine bottles and fill them with candles. The candle should be just the right size to fit on the bottle's neck. However, make sure that it doesn't fall inside.
To obtain the effect as shown in the image above, leave the candles burning for a few hours until the wax starts dripping and building up. Tall candles are required for this.
Once you are pleased with the design, you can relight the candles when your guests show up. Just make sure to cover the surface with non-plastic material (like glass) so that your table won't burn down.
18. Bleeding Monster Cake
Nothing screams horror more than taking a delicious-looking cake and filling it with what seems to be blood. To make it even scarier, you can stick a knife in the center of the cake, just like in the image above.
For this project, you can actually bake a cake and decorate it in style, provided that you have the necessary skills to make the blood splatter look real. This way, you will have a Halloween centerpiece that's also edible.
Otherwise, if you want to do the crafting version, you can cut out a cake shape from foam, paint it white, then use a brush to splatter red on top and on the sides. If the foam isn't thick enough, you can glue multiple sheets together and then be more generous with the white paint to make sure that you will obtain a solid color.
Top it off by sticking a real knife in the middle of the cake, and you will be good to go. After making it your Halloween centerpiece, make sure to keep it away from any candles since the foam is flammable.
18. Chocolate Cake with Spider Web
An alternative idea to the bleeding monster cake with a knife is a chocolate cake with a spider web. You can serve it on a cake stand and place it in the middle of the table to make it the most delicious Halloween centerpiece that your friends and family have ever seen.
However, this means baking the cake and decorating it with spider webs and spiders. Alternatively, you can have it ordered and delivered in time for Halloween. Crafting the chocolate cake isn't really an option, though, since it would be pretty difficult to obtain the chocolate texture. So we suggest sticking to baking and eating the whole thing.
19. Brain Cake
A zombie-themed Halloween party would be incomplete without a brain – the favorite food of the living dead. So you can put your baking skills to the test to create a zombie-shaped sponge cake with dripping strawberry sauce, which looks like a real human brain.
Alternatively, you can order this cake and make sure it gets delivered in time for Halloween. Place it on a cake stand and put it on your dining table for dessert as a centerpiece.
You will then see which of your guests is squeamish and which is brave enough to take a bite. It may look horrible (for a human brain), but we can assure you that it tastes extraordinary.
20. Cauldron with Zombie Boogers Popcorn
Continuing with the Zombie-themed Halloween party idea, you can easily spice up your dining table by placing a small cauldron as a centerpiece. Then, you can fill the cauldron with various items, such as regular candy that you put out for trick-or-treaters.
But we think that the image above describes an excellent idea: filling the cauldron with popcorn that looks like zombie boogers. Disgusting and inventive at the same time. The trick is to make the popcorn green, which you can easily do by adding green food coloring to popcorn kernels.
There's an entire recipe involved, which you can easily look up online. But we can assure you that anyone can do it. Once you obtain the not-so-delicious-looking popcorn, just add it to the cauldron and serve it to your guests. We are sure that this Halloween centerpiece idea will stay in everyone's mind long after Halloween is over.
21. Halloween Bouquet with Flowers
Take the boring-old flower vase and turn it into a showstopper by adding spider web, spiders, snakes, skeleton hands, and anything else scary that you can think of.
For this project, you can use either real or fake flowers. However, instead of using a flower vase, find a small bucket that you can paint over, just like in the image above.
You can use a bit of fabric to create the spider web effect and then stick your remaining horror elements. The trick here is to not overboard by adding too many items since the flowers should be the main event of your Halloween centerpiece. Also, the spiders, snakes, and hands should all be in the same color to avoid making it look cluttered.
29 More Halloween Centerpieces to Inspire You
While we absolutely loved the ones above, we thought that you might want even more ideas to make this next Halloween special. So, let's check them out!
22. Candy Corn Candles Halloween Table Decor
Bulk some of these cuties together in a cluster on the dining room table. Give a subtle Halloween charm to your setup with this DIY from Simmworks.
23. DIY Centerpieces with Halloween Candy
Take this idea from Style Blueprint and get to work. All you need to get started are the right types of Halloween candy!
24. Mini Graveyard Halloween Centerpiece
Punk Wife created a miniature, spooky graveyard for her tables. Add a bit of creepy crawliness to your holiday decor with this idea!
25. Ruffled Spiders Halloween Table Decor
Make some fluffy, ruffled spiders with this DIY from Clean Scentsible. Use them as festive pieces for the dining room centerpiece and build on that.
26. Spider Lights Halloween Centerpieces
Create some spooky spider lights with some help from Lady Behind the Curtain. We love the spooky, fun glow they make and agree the kiddos of the house will love them.
27. Black Skulls Simple Halloween Centerpieces
This chic, black skull centerpiece would make for the perfect focus for your Halloween dinner party. Grab the instructions over at Eddie Ross.
28. Quoted Pumpkin Halloween Table Decor
BHG gave us all the idea of creating a quoted pumpkin … but with string art! Learn how here and design a fun centerpiece around it.
29. Spooky Lace Vase DIY Halloween Centerpiece
Think about creating something like this spooky lace vase from HGTV. It will help spark a classic "haunted house" theme around your own home!
30. Stacked Pumpkins Halloween Table Decor
Discover how Busy Mommy makes this easy stacked pumpkin centerpiece. We love its fashion-forward energy but pure Halloween style.
31. Skeleton Bowl Halloween Table Decor
Honey We're Home gave us some great ideas all the way around. This easy centerpiece is as simple as layering the different details!
32. Book Covers Halloween Centerpiece
Little House On The Corner shared this adorable idea, and it can easily be made to use as a centerpiece for any table. And you can make the book covers yourself!
33. Poison Apples Halloween Centerpiece
Over at HGTV, there are even more great ideas for Halloween-time. And this bucket of poisonous apples on display is no exception.
34. Sunken Pumpkin Halloween Table Decor
Black Styrofoam balls are at the center of this easy, peasy centerpiece idea. A Day In My Life made this design for under $2!
35. Decorated Witch's Hat Halloween Table Centerpiece
Use a witch's hat as your centerpiece – but make sure you jazz it up a bit. Start with a clean foundation, like Tidy Mom did, and go from there!
36. B&W Pumpkin Halloween Centerpiece
This pumpkin is the perfect way to center a table. The black and white make for a chic style, and the witch's theme makes it perfect for Halloween. Thanks to A Pumpkin and A Princess!
16. Floral Skull Halloween Centerpiece
Add some feminine charm to your centerpiece with flowers surrounding your spooky skull. Get the instructions over at Honestly YUM.
38. Black Branches Halloween Table Centerpiece
Sometimes simplicity is best – even for the holidays. This Halloween-inspired centerpiece from Cupcakes and Cashmere is so easy to recreate for anyone's home!
39. DIY Halloween Table Centerpiece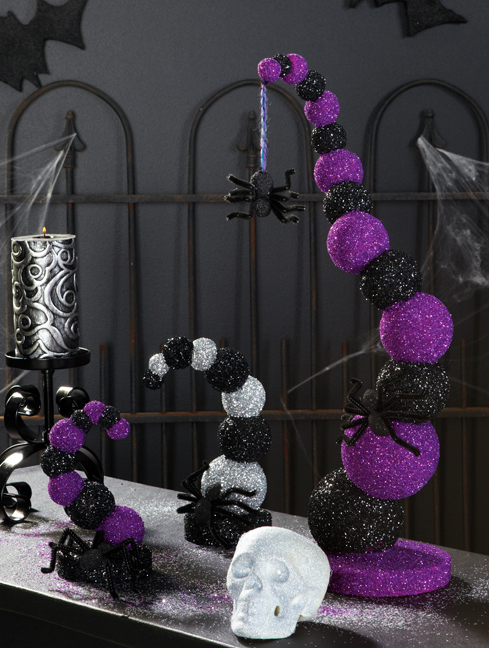 These topsy turvy creations from Make It Fun Crafts are so fun for the entire family to get together and make! Style a party's theme around them!
40. Dripping Candles Halloween Centerpiece
Learn how to recreate these creepy, dripping candles to go along with your Halloween centerpiece. Check them out at Paging Fun Mums.
41. Paper Pumpkin Cluster Halloween Centerpiece
Make some paper pumpkins with help from BHG. And then put them in a cluster for a light and family-friendly look on the tables.
42. Pumpkin Vase Halloween Centerpiece
We found this idea over at Shelterness, and we're in love with the charm. Carve out a spooky face and use it as a vase for fresh flowers!
43. Layered Mini Pumpkins Halloween Centerpiece
Grab some mini pumpkins and layer them up! BHG lent us this simple idea that's full of festivity and fun for the family when it comes time to create the little faces.
44. Black Chalices Halloween Centerpiece
Grab some flea market glasses and dip them in black to start the creation of this centerpiece idea. It's at BHGnow!
45. Pumpkin Cauldron Halloween Centerpiece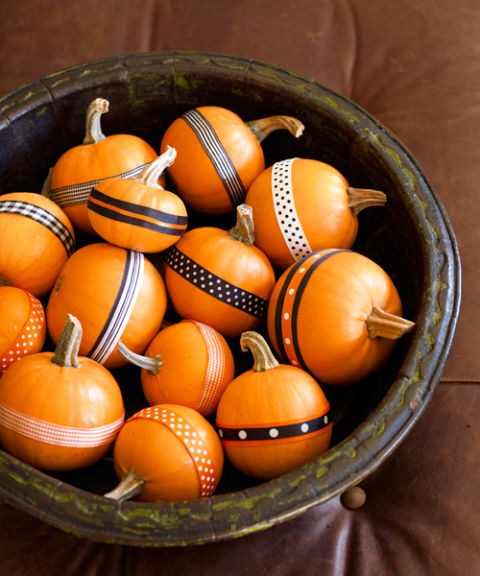 Fill a cauldron of sorts with some mini pumpkins – dressed up in Halloween style with some washi tape. Check out the original idea at Good Housekeeping.
46. No-Carve Pumpkin Halloween Centerpiece
This pumpkin design is quite striking, making it an artistic and funky choice for your centerpiece. Learn how to make it happen at Good Housekeeping.
47. Day of the Dead Skull Halloween Centerpiece
Sugar and Charm made this gorgeous skull centerpiece with a Day of the Dead theme in mind – and we're in love! You can really get creative with this one.
48. Candy Tray Halloween Centerpiece
The center of the table could be edible too! Just take a look at this gorgeous – and delicious – candy piece from A Beautiful Mess.
49. Tortured Candles Halloween Centerpiece
Here's another candle project, but this one is a bit creepier and "scarier" for those that love the spook of Halloween. Learn how to make these spooky bits for your holiday centerpieces over at Family Chic.
50. Spider Vase Halloween Centerpiece
Craft Shack made this spider vase, and we're in love with all of its details! Learn how to create one of your own by following the link!
Final Thoughts on Halloween Centerpieces
The sky's the limit when it comes to Halloween centerpieces. You can take a plain object like a vase to turn it into a centerpiece or use an unusual item like a fireplace mantel and turn it into a table runner.
It depends on how much time you have on your hand, how much you are willing to spend on Halloween decorations, and what do-it-yourself skills you have.
Regardless of which Halloween centerpiece you end up choosing, be sure to return to this page and post a photo in the comment section below. Or, if you have more ideas that you would like to share with the rest of the world, feel free to do so.