30 DIY Spring Wreath and Window Flower Box Ideas to Spruce Up Your Home
Catch the last of the cool weather and prep your garden for spring with these DIY projects. Window boxes full of vibrant flowers and early-blooming bulbs are a welcoming sight after a long winter. At the same time, you can transform your front door with a seasonal wreath.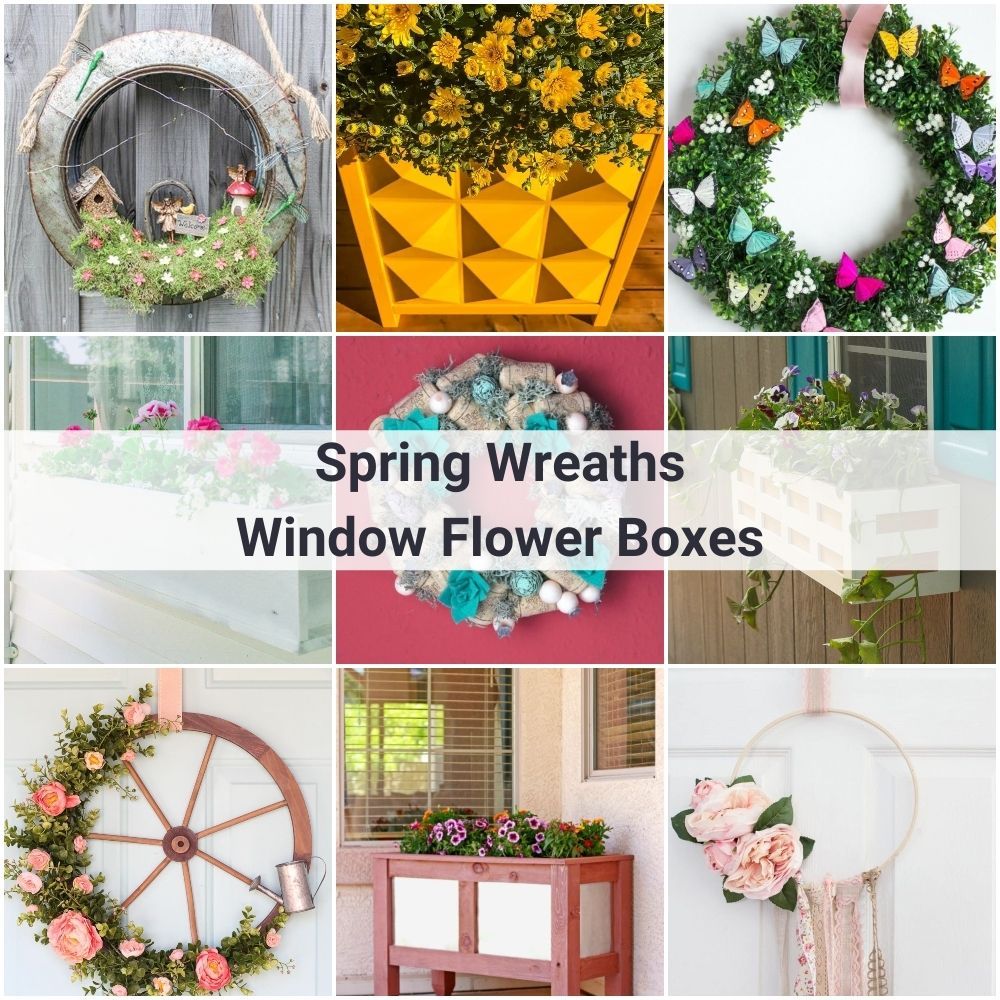 Gardeners and homeowners will love this collection of easy-to-make spring wreaths and window flower boxes. With just a few supplies, you can add a touch of spring to your home decor.
These projects are perfect for adding a splash of color to dreary winterscapes. So get creative and bring some life to your outdoor spaces.
Gorgeous DIY Spring Wreath and Window Flower Box Ideas to Instantly Add Curb Appeal
Check out the best ideas when it comes to spring wreaths and window flower boxes:
1. Paper Flowers – DIY Spring Wreath Ideas
Topping off our list of best spring wreaths is a design of our own. We're teaching you how to craft a colorful paper flower wreath.
Supplies:
Colored paper (we used yellow, blue, green, and pink)
A pair of scissors
Silk ribbon
Cardboard
A glue gun
A pencil
This wreath is made up of nothing but folded paper. And it's a cheap option if you want to add some color and life to your home without spending too much time or money.
Since this wreath is made from paper flowers, it will last for weeks with no problems. And you can even change the colors and designs to match the season or your current decor.
2. Doily – Handmade Spring Wreath Ideas
When you think of a spring wreath, you probably imagine something brightly colored with plenty of greenery or fresh flowers.
However, we would like to showcase the doily wreath, which fits the whole spring vibe perfectly.
Supplies:
A polystyrene wreath
Lace paper doilies
A pair of scissors
Artificial flowers
Sheer ribbon
A glue gun
In total, this project will cost you less than $10 to complete, and it only takes around 30 minutes from start to finish.
Besides, you'll be amazed at how great the wreath looks, despite being made mainly out of something typically used in food service presentations or for clothing.
3. Wine Corks – Unique Spring Wreath Ideas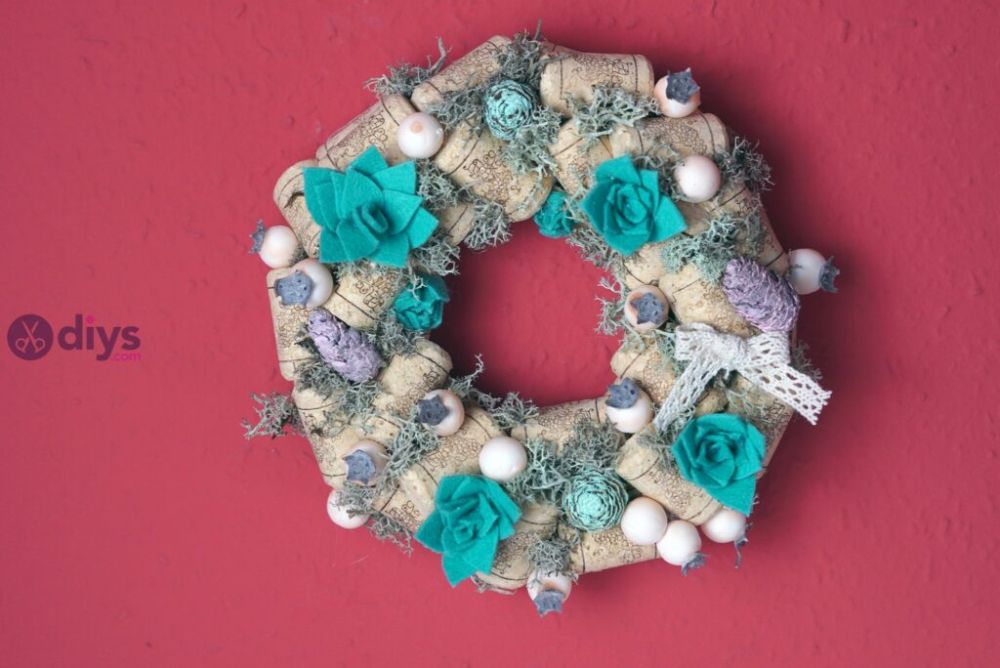 A wine cork wreath. is an excellent choice if you're looking for unique designs. And crafting it will be a real piece of cake.
Supplies:
Wine corks
Paper
Moss
A knife
A pencil
A glue gun
Lace ribbon
Straw wreath
Colored cones
Some green felt
Artificial berries
A pair of scissors
If you don't have an impressive stash of hoarded corks, you could always use other materials like buttons, beads, or small pinecones to create a similar look.
4. Fairy Garden – Front Door Spring Wreath Ideas
The idea of spring being a magical time of the year when everything comes to life has been captured in this fairy garden wreath.
Create Craft Love made this design, and it combines unusual elements that we've never seen used in wreath crafting before, particularly the galvanized metal tire hanger.
Supplies:
Miniature decorative houses, snails, and mushrooms
A miniature welcome sign stake
Galvanized metal tire hanger
Some scrapbooking flowers
An all-purpose moss mat
Decorative dragonflies
A miniature birdhouse
Bronze fairy figurines
Brown limb arbor
LED string lights
A foam wreath
A hot glue gun
The result is quite charming and would look great in any home, whether it's modern, traditional, or even a little bit eclectic.
5. Wagon Wheel – DIY Flower Wreath Tutorial
Try this wagon wheel wreath from Lydi Out Loud deserves your attention if you prefer the industrial look with a more rustic appeal.
Supplies:
Eucalyptus and beach basswood bush
Mini galvanized metal watering can
E6000 industrial adhesive
Wagon wheel wood wall decor
Two peach Ranunculus stems
Glue gun with glue sticks
Peach Ranunculus bush
Wire cutters
Blush ribbon
It's a wreath that fits in well with rustic house settings, like mountain cabins or farmhouses, and it would be a great way to show your country pride.
6. Butterfly – How to Make Spring Wreaths for Front Door
To combine originality with the traditional style, you can replace the wreath with something as creative as butterflies, like Fun365 did.
Supplies:
Wreath frame (a styrofoam one will also work)
Fresh or artificial flowers and greenery
Side cutters
Boxwood garland
Feather butterflies
Satin ribbon
Glue gun
It shouldn't take you more than an hour to complete this project. But you should know that the author tagged it with the intermediate level, probably because more effort is involved in reshaping the wreath frame and garland.
7. Floral Boho Hoop – DIY Spring Wreaths for Front Door
Most wreaths are big, fluffy, and full of flowers. But this floral boho spring hoop wreath designed by Homemade Lovely looks like a piece of art.
Supplies:
A selection of colored ribbons
Your favorite fake flowers
Embroidery hoop
Glue gun and glue
Scissors
Scrap cardboard
Out of all wreaths we showcased so far, this one has the most unusual design. But you can't deny its elegance. Plus, you can use it both outside and inside the house. For instance, you can craft a pink wreath for a girl's room.
8. Wooden Flower Boxes
If you like having flowers close to your house to effortlessly water and tend to them without going outside, you need a window flower box.
We found an amazing design for a wooden window planter box by Family Handyman, which even the novice carpenter can put together.
Supplies:
Wooden boards
Exterior screws
Clay pots
You need to know your way around power tools, but don't let that discourage you since it's a beginner-level craft. So if you're looking for a window planter that will make your neighbors green with envy, definitely check out this design.
9. Wood and Metal Window Flower Boxes DIY
If you like garden furniture that looks and feels solid, take a look at this wood and metal planter box designed by Pneumatic Addict. It hasa rustic look, perfect for a country or urban home.
Supplies:
Cedar or redwood posts, fence pickets, and balusters
Pocket hole screws
Sheet metal screws
Aluminum flashing
Tin snips
Wood glue
The project may seemintimidating for inexperienced woodworkers, but rest assured that it's easier than it sounds.
10. Modern Deck Flower Box Outdoor
Modern designs are all the rage these days, and this modern outdoor planter box from The Handyman's Daughter is no exception. You can also download the building plans.
It looks like nothing else on this list. And, although the geometric shapes require a lot of attention during the crafting phase, we think the result is well worth it.
Supplies:
Wood glue
Wooden boards
PVC wall panels
Pocket hole screws
Cedar fence pickets
Wood paint or stain suitable for outdoors
Admittedly, as far as difficulty is concerned, this DIY modern outdoor planter box is indeed the most challenging one featured in this article. But it has to do with patience and finesse, not necessarily experience.
11. Wooden Flower Boxes for Windows
You can brighten up your window space by building a simple wooden flower box, like this easy DIY project from Katusha Henderson.
It's perfect for gardeners of all levels and only takes a few simple steps. Plus, you can paint it to match or contrast the outside of your home.
12. Self-Watering Flower Planter Boxes
Window boxes are a great way to add a splash of color to your home. Traditional watering methods can be cumbersome and time-consuming.
But with a self-watering window box system, you can water your plants automatically. She Holds Dearly teaches you how to build and set it up.
13. Indoor Hanging Flower Box
If you love flowers but don't have a lot of space for a garden, indoor hanging flower boxes might be the perfect solution. They add a touch of color and life to any room and can be tailored to fit any style.
Plus, they're relatively easy to care for, which is always a bonus. Learn how to build one by visiting Grandma's House DIY.
14. White Window Planter Box
A white planter is a fantastic choice for brightening up any space, and it will also help reflect light into your home. Plus, when paired with the right plants, it can really make a statement and show off your plants against a contrasting background. Visit Remodelaholic for more information.
15. Rustic Cedar DIY Planter Box for Windows
Build your own rustic cedar window flower box to spruce up your home's exterior and add instant curb appeal to your house. Besides, it's a fantastic way to showcase your green thumb.
Best of all, it's relatively inexpensive and can be completed in just a few hours. Read the tutorial from Serendipity Redfined for step-by-step instructions.
16. Twisted Branch Wreath with Side Flowers – Spring Wreaths Ideas
This might sound predictable because it's so common. But twisting pliable branches into a ring is our favorite way to make spring-themed door wreaths. Besides, there are endless possibilities for adding flowers.
And we adore the way Afloral used peach and pink blossoms on a base of leaves to cover half of the wreath, leaving the other half clear for contrast.
17. Twisted Branches with Flowers Filling the Lower Half – Spring Wreath Door Ideas
On a warm day in early spring, it's tempting to start opening windows and spend time outside. But even if the weather isn't quite there yet, you can get a little bit of springtime cheer by making this easy DIY flower wreath. Besides, it's a fun project to do with kids or friends, and you can customize it to suit your style. Visit Live Love DIY for complete instructions.
18. Dual-Colored Tulips – Spring Door Wreaths
Half floral and half branch wreaths are beautiful. But if you want to decorate the entire wreath, this idea from Home Stastrophere might be more up your alley. We love the way they picked white and yellow tulips to add depth – a color combination that practically screams spring.
19. Basket and Bird's Nest – DIY Spring Wreath for Door
Here's a unique idea: a charming spring basket with a bird's nest. Check out how Your Cozy Home filled it with moss, pussy willows, pansies, and a tiny faux bird's nest with a feathered mama sitting on one of the branches.
20. Pink and White Tulips with Leaves – Outdoor Spring Wreath Craft
One of the best ways to add a touch of spring to your home is by decorating a wreath with pink and white tulips, together with fresh green leaves for more color. It's perfect for welcoming guests during the warmer months and a fantastic way to show off your tulips in all their glory. Head over to The DIY Village for the complete instructions.
21. Embroidery Hoop and Pale Pink Spring Wreath for Front Door
Here's a project idea for embroidery and cross-stitching fans: a delicate-looking wreath made by using an embroidery hoop as a base for the beautiful spray of roses and leaves. Affixing your flowers to something a little smaller and thinner gives the whole project a whimsical feel. Go to Jenna Kate at Home for more details.
22. Boxwood Butterfly – Spring Summer Wreaths for Front Door
With the days growing warmer and flowers starting to bloom, it's the perfect time to add some spring cheer to your door with a wreath. This easy project can be completed in just a few steps using materials you may already have around your home. Plus, adding butterflies or other insects helps make your wreath interactive and fun. Visit Fun 365 for more info.
23. Yarn-Wrapped – Door Wreaths for Spring and Summer
If you're looking for a fun spring project, try making a yarn-wrapped floral wreath with a nautical theme. This easy tutorial provided by Ark and Thread shows you how to create a beautiful, personalized wreath in just a few simple steps. It works with any budget.
24. Spring Wooden Planter Box DIY
Few things welcome springtime visitors like a beautiful planter at the front door. Even if you don't have a green thumb or you're short on time, you can build an easy DIY spring planter and welcome box with just a few supplies and basic gardening skills.
This way, you can create a stunning display that will make your home look its best. Visit Giggles Galore for more info.
25. Cedar Planter Box
A planter box makes it easy to organize your plants and keep them in one place, while also adding a splash of color to your yard, garden, or front porch.
If you're looking for an easy way to make your own cedar planter box from rough cut lumber using basic carpentry skills, visit The Vanderveen House and check out the full instructions.
26. Felt Spring Flower Box
If you already have a rustic box, you can get creative and dress it up to design a felt flower planter box. This way, you can make your own flowers and place them anywhere inside or outside your home. We can't get over how adorable this project crafted by The Gold Jellybean is, especially with the little springtime bunting made from decorative paper and string.
27. Lattice Windows Flower Box
Check out this gorgeous project from Angie's List for building a lattice window flower box. It's a quick and easy gardening project that requires power tools, and you can customize it to your liking. Besides, growing your own flowers in a beautiful box is a satisfying way to enjoy your gardening skills.
28. Rustic Wood and Metal Bracket Planter Box
Building an easy DIY rustic wood planter box is a simple and stylish way to spruce up your garden or patio. We love this project from Make Life Lovely, which uses only five pieces of reclaimed wood and simple wooden brackets with screws, so be sure to check it out.
29. Pallet Planter Box for Cascading Flowers
Cascading flowers bring a touch of elegance to any home or garden. But store-bought planters can be expensive, and this is where a DIY pallet planter box comes in handy. You can make one yourself for a fraction of the cost, and it's really easy to do. Get the full instructions from Her Tool Belt.
30. Fence Top Flower Boxes
If you're looking for a way to add color and life to windows, consider building, personalizing, and installing a flower by using simple supplies. Not only will it add beauty to your home, but it'll also provide extra insulation during the winter. Find out how from Make It Love It.
Closing Thoughts
Your garden is a really important part of your home, and it's the perfect place to show off your creative side. All projects showcased in this article are perfect for that role and for getting into the spring spirit. You can also build DIY garden boxes.
We would also love to know how your projects turned out, so please feel free to share your stories with us in the comments section below.
Happy crafting!