Easy DIY Halloween Wreath
It's hard to believe that Halloween is coming, but it's right around the corner… which means that it's time to start making some festive decorations! Today we're sharing a classy black and white wreath that's just a bit spooky – enough to show your Halloween spirit without going over the top.
Here's what you'll need to make your own:
Pre-made vine wreath from your local craft store
Black spray paint in a glossy finish
A hot glue gun with extra glue
A faux blackbird
Black ribbon
Black and white feathers
Black and white faux flowers and grasses
Wire cutters (not pictured)
First, spray paint your wreath with the glossy black spray paint. My was red before, so I decided to leave some red showing through to give it a more dramatic feel.
Once the paint dries, begin gluing your faux flowers and feathers to the wreath, starting from the bottom right and radiating outward. Start with the smaller pieces in the back, and leave any large flowers off until the end. You'll probably need to trim the stems off of the faux flowers using wire cutters.
Now it will look something like this… in other words, pretty messy! But that's okay, because next you will wrap the back ribbon around this center point to hide all of the globs of glue. Glue the ribbon in place on the back of the wreath so you can't see the ends. Remove any glue strings that may still be visible.
Now is the time to glue any larger flowers on top of the ribbon. Clip the stems off with your wire cutter and then use a large blob of glue to make sure their weight is supported. Lastly, glue the black bird on – but don't be quite as liberal with the glue here because now it won't have anywhere to hide.
And that's all! You're finished! Now go hang it on your front door and you'll be ready to face Halloween in style.
You could also substitute in some orange flowers or feathers if you prefer a bit more color. Or you could even spray paint the pre-made vine wreath orange.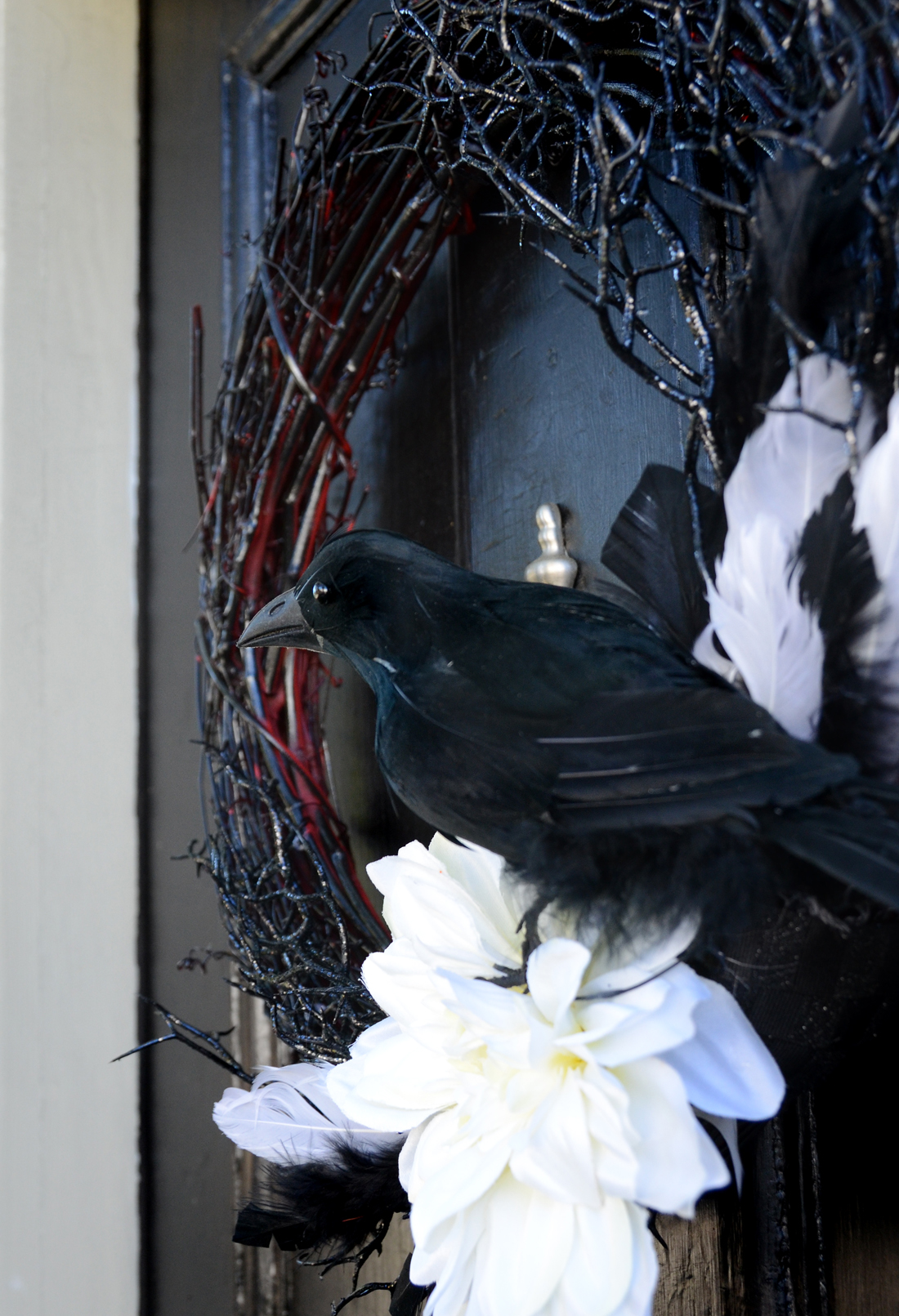 Happy crafting everyone, and happy Halloween!