25 DIY Teacher Christmas Gifts You'll Want to Make
Christmas is closing in and kids everywhere, from kindergarten students to college students, are all excited about the winter holidays that they'll be enjoying.
Of course, while it's fun to know that you won't be going to school or attending any classes for a few weeks, Christmas is also the perfect time to let your teacher know that you're grateful for the education that they're giving you day by day, and gift them something.
However, if you really want to make a good impression at school, but are currently lacking any kind of idea, then go ahead and read this here article, as it lists together 25 different gift ideas that you can try!
Best Teacher Christmas Gifts to Get In 2021
When creating our article, we went ahead and did a bit of research on blogs and social media platforms to see exactly what's trending, and together we managed to compile a list of 10 entries that were particularly popular this year.
All of the entries were chosen based on five main criteria:
How unique they are
Their overall usefulness
How affordable they are
The cost-to-benefit ratio
How easy they are to make (for the DIY gifts)
If you're ready to find out which items made it into this top 10 (or if you want to quickly jump over to our full list of 25 great Christmas gift ideas after checking out just one item), then feel free to read on!
1. Teacher Christmas Gift Ideas – A Personalized Wine Bottle
Everyone likes to unwind after a long day at work, including teachers, and if you want to gift them something this year that will certainly make their Christmas more enjoyable, you could try a personalized wine bottle.
Finding out what wine they like is pretty easy because we all know how each teacher likes to sidetrack during class and talk about things unrelated to school, so the secret is to somehow make them spill out what wine they prefer.
Once you found out what they like, it's all a matter of buying a bottle of that specific brand, removing the label, and then replacing it with one that's personalized.
Of course, if you happen to have a vineyard in your family, then you're very lucky and can skip this step and simply use some wine of your own making.
As far as the label is concerned, there are plenty of gift stores that make custom bottle labels, and you can make your own if you happen to have a printer that can print on glossy paper, and some good glue to stick the label on the bottle firmly.
Once you have the wine all bottled and labeled, you can go ahead and wrap a nice fancy ribbon around the neck of the bottle, and then gift it to your teacher together with a nice Christmas card!
2. DIY Teacher Christmas Gifts – A Personalized Mug
While we're talking about making personalized gifts, one of the most popular DIY teacher Christmas gifts is arguably the personalized mug, especially since all teachers drink tea or coffee either in class or in the teacher's lounge.
Finding out your teacher's preferred mug size can actually be done in much the same way that you find their preferred wine; by listening in whenever they talk about how much coffee or tea they drink, and what time of day they usually drink it.
Once you found out their mug size, it's just a matter of buying a blank mug (if you manage to find one in their favorite color even better), and then taking a permanent marker to write their name on it.
Of course, if you're really good with calligraphy pens, then go ahead and use them since teachers will love anything that shows an extra level of effort has been put into making the gift.
Another thing you could do is write a message on the mug, and you can try some of the following:
"Thank you for being the best teacher in the world!"
"Happy holidays from [your name]!"
"Have a blessed Christmas!"
First of all, teachers love knowing their students think they're the best, and second of all, you can never go wrong with a nice thank you message either.
3. Christmas Gifts – Personalized Coasters
If your teacher already has enough mugs, then the one thing they're probably missing is enough coasters for all of them, so if you know that your teacher is a heave coffee or tea drinker, then a set of DIY coasters will make for some excellent Christmas gifts.
Coasters themselves are pretty easy to make since you only need some cork sheets and a marker, but finding out what the preferred coaster size is isn't that easy.
Ideally, you would want to get some of their old coasters and get a better idea since it's highly unlikely that they'll give away any of their favorite coasters anytime soon.
As far as decorating the coasters is concerned, you could write some text with a marker, or give the teacher an entire set of white coasters, each of which has the signature of one student from the class.
If you're looking for something more decorative, find out what hobbies or passions your teacher has (favorite TV shows, movies, books, etc), and use a heat press to print out some images on vinyl which you can later glue on the coasters.
Your teacher will love the coasters, and even if you didn't manage to get the designs right, you'll still be giving him a set of very practical gifts, so it's a win-win!
4. Daycare Teacher Christmas Gifts – A Journal for Student Quotes
One of the funniest parts of being a daycare teacher is hearing all the silly things some of the kids have to say, and the truth is that many of those things are so funny that they are worth writing down and remembering for later.
That being the case, a perfect daycare teacher Christmas gift would be to gift them a personalized journal where they can write down all of the hilarious things their students said.
To make the journal, you'll have to have a regular journal and simply customize the cover, which is pretty easy to do given that there are so many gift shops now that can personalize pretty much anything.
Thus, get yourself a high-quality journal that uses high-grade paper for its pages, take it to such a gift shop and ask them to redo the cover, or even make you a book cover.
As for what exactly you can write down on the book cover, here are some ideas:
1001 silly student quotes
Funny things my students said
Memorable quotes from my memorable students
The things you hear in class as a daycare teacher
All in all, what you write on the cover of the journal is completely up to you, but the bottom line is that your teacher will love the idea, even if most of the time he'll be quoting you in the journal.
5. Preschool Teacher Christmas Gifts – DIY Keychain
Gifts don't have to be big and flashy to mean something, and besides, when you're in preschool, your DIY abilities are pretty limited, so if you want to help your child with their preschool teacher gifts, one way to do so is with a DIY keychain.
You could try a felt and fabric keychain like the one in the image above, or you can also go for other materials as well, such as a plywood keychain shaped like a car or a house (although we recommend that you do the plywood cutting and not your child).
Another type of keychain that you can make is a simple one that just features the school name as the main thing, along with a cute couple of keys dangling from it.
For any material you choose though, this is a great DIY keychain because, first off, preschool teachers will totally appreciate having a special custom keychain for their keys to make them stand out from everyone else's keys in the teacher's lounge.
On top of that, they will also adore having a practical yet thoughtful gift from you and your child because the fact that you took the time to make it means that you care about them and because they'll be less likely to misplace their keys.
6. Teacher Gifts – Personalized Bookmarks
Teachers became who they are by studying hundreds of pages of books from a wide variety of domains, but just because they started teaching others doesn't mean that they have stopped studying themselves.
On the contrary, teachers read even more because they have to stay up to date regarding the latest information in their field of work, but it's easy to get lost among so many pages of books.
Thus, if you're looking for some very practical teacher gifts, then a bookmark is the way to go, and if you also manage to make it yourself and add a personal twist to it, even better!
Bookmarks can be made from anything, from cardboard to fabric, and if you want to make it personal, then the only thing you need is a permanent marker and your teacher's name.
The design of the bookmark can be anything, whether it has some sort of quotes from the chosen book or any inspirational message that you think your teacher will like.
Ideally, don't simply focus on making bookmarks that are already pre-designed on paper, but also try creating them yourself since that'll really tell your teacher just how much effort and care have been put into this gift.
7. Teacher Gift Ideas – A Diploma
You finish 4 years of school just so you can receive a diploma, but that doesn't mean that things can't go the other way around, so this Christmas we recommend that you show the teacher that you have a sense of humor by gifting him a personalized diploma!
Making the diploma is pretty easy since there are plenty of blank diploma templates to download online, but those of you that are good at working with graphics editing software can create your own diploma from scratch.
As for what you can write on your teacher's diploma, here's a neat idea:
"We the Class of [your class name] award Mr/Mrs. [teacher's name] the award for outstanding achievements in the field of education, and not flunking us on our tests even though we may have deserved"
Both you and the teachers will have a laugh, and you can even frame it like an actual diploma or award so that they can hang it in their office and remember you by.
That being said, the bottom line is that even if you don't have any fancy graphics editing skills or other design skills for that matter, all it takes to make a great gift is some creativity and hard work.
8. Best Teacher Gifts – Personalized Gingerbread Cookies
If your teacher is known to have a sweet tooth, the best Christmas gift that you can give them is something that's also within the spirit of the season, like some gingerbread figurines shaped like elements from their field of study.
For example, if they're a math teacher, you can make the gingerbread shaped like pluses, minuses, or digits, and if they're your P.E. teacher, you can shape the cookies into basketballs and baseballs.
Thanks to the abundance of online recipes and cooking tutorials, figuring out how to make the gingerbread mixture will be a piece of cake, so the only real thing you'll have to worry about is figuring out how you'll shape them, and how you'll glaze them to decorate them in a very unique way.
A simpler thing to do is to make simple gingerbread cookies and write words and short messaging using the glaze, such as:
#1 Teacher
Merry X-Mas
You're the best!
Once again, it's a very simple gift that you can make on your own and bring to class on the day of the Christmas party.
9. Christmas Gift Ideas – A Poinsettia
In many languages, the poinsettia is also called the "Christmas Star", and it's always been a go-to gift for horticulturists, so if you happen to be growing a few in your house, you could go ahead and gift one to your teacher!
The plant itself looks amazing, but if you want to give it a bit of extra personality, you can go ahead and decorate the plant pot a certain way, and write some things yourself, such as the names of all the students in the class, or even a few funny messages like:
"Raise me like your raise your students"
"Make me bloom and you'll ace botany!"
"I know you're good at nurturing"
The teacher will really like the gift, especially if the plant is in bloom, and even if it isn't, the blood-red leaves alone will still make the whole gift look amazing.
Besides, you can even use the plant as a small Christmas decoration for your teacher's office, so it will always be a reminder of you well after you and your entire class have graduated!
10. Christmas Gift Baskets – Christmas Goodies
If you're out of luck finding any particular gift idea that your teacher would like, the go-to plan B has always been the gift basket, which is basically one big gift that contains several smaller gifts.
Thus, if you want to make your teacher feel special these holidays, you can go ahead and make them a gift basket filled with all kinds of homemade goodies that you've made, from homemade chocolate to homemade skincare products, soap, or even honey.
Once you've gathered everything, it's time for the tricky part: the weaving of the wicker basket!
Sure enough, weaving a basket isn't all that easy since whicker is easy to find at any home improvement or home supplies store, and there are plenty of tutorials online that can teach you different weaving styles.
However, if you lack the time, you could always buy a wicker basket and place your homemade products inside, because your teacher will surely appreciate the time and effort you put into filling the basket.
More Amazing Teacher Christmas Gift Ideas
Of the 25 teacher Christmas gifts ideas presented on our list, the 10 described so far were the most popular in 2021, but that doesn't mean that our list is already finished!
On the contrary, if you keep reading down below, we'll present to you 15 more teacher-inspired gift ideas that are also well worth checking out.
It's just that, even though our previous 10 entries were all pretty great in their own way, but if they weren't exactly what you were looking for, or if they just didn't seem like something that your teacher would like, then go ahead and check out these other 15 entries!
11. Homemade Treats Box – Teacher Christmas Gifts
Are you also a huge fan of making homemade snacks and treats the moment the holidays arrive? Well, so long as you know their allergies and can account for those safely, we think you might get along well with this sectioned homemade treat box gift idea outlined step by step onOne Creative Housewife!
12. Seasonal Essential Oils Air Freshener Christmas Gift for Teachers
Making your very own scents for natural air fresheners that are allergy and sensitivity-friendly using essential oils is actually a lot easier than it sounds.
Check out howPet Scribblesmade this homemade freshener that makes the classroom smell pleasant and Christmassy when it's sprayed around the room! It's a blend of gentle scents like cinnamon and fir trees.
13. "Thanks a Latte" Coffee Teacher Christmas Gift
Maybe you'd rather buy something for your kids' teachers that you know they'll really appreciate and actually use but you'd still like to get crafty with how you present it?
Well, if Teacher is a java lover, then maybe this adorable Starbucks gift card idea fromMandie Starkey, which features a cute play on words, will be right up your alley!
14. Reusable Cup DIY Gift Pack – Teacher Christmas Gifts
Perhaps you've found a cute water tumbler or reusable water cup with a lid that would make the perfect gift to Teacher but you can't help but feel that that's notquite enough for the holidays?
Then perhaps you'd do well following inStretching a Buck's footsteps and filling the inside of the new cup with delicious Christmas goodies!
15. DIY Peppermint Sugar Scrub – Teacher Christmas Gift Idea
Do you happen to think that hardworking teachers deserve a bit more pampering than usual on the holidays to reward them for getting halfway through the school year?
Then maybe this wonderful homemade sugar scrub outlined onMommy Musingsis the best gift you can give them! It smells like peppermints and is wonderfully refreshing, leaving the skin smooth and soft.
16. DIY Pin Cushion and Sewing Kit – Best Teacher Gifts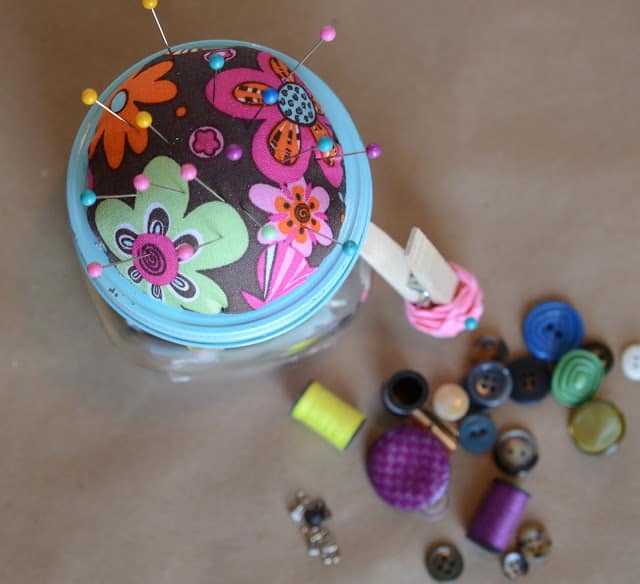 Maybe you know your kids' teachers well enough to know their hobbies? Perhaps the childrens' favorite teacher is actually their home economics teacher because they love how hands-on the class is.
Well, either way, we think you might be rather intrigued by the miniature mason jar sewing kit that features a pin cushion built into the lid. Get the full details onBless This Mess.
17. Teacher Christmas Gifts – Simple DIY Dry Erase Board
Maybe you'd prefer to make something your kids can actually help you decorateand that their teacher might actually use?
Then we'ddefinitely suggest taking a look at howCreative Green Livingmade this fantastic dry erase note board by framing decorative paper in an upcycled photo frame, decorating the edges, and gifting the proper kind of marker along with it!
18. DIY Embellished Clothespins for Notes – DIY Teacher Christmas Gift
We've always loved the idea of transforming clothespins into note holders because we are absolutely the kind of people who leave little sticky notes and bits of paper with reminders all over the place.
Help your kids' teachers manage their random notes and reminders a little better by making them a set of holiday pins using paint and wrapping paper! Rosyscriptionshows you how it's done. We love the idea of sticking a bit of magnetic strip on the back so the pins will stick to the classroom whiteboard.
19. DIY Pedicure Kit – Teacher Christmas Gift
Just in case you loved the idea of putting together some kind of gift that will pamper your kids' teachers but you don't have time to make a sugar scrub from scratch, here's an equally nice idea that you can buy the pieces for and simply assemble with a bit of crafty presentation!
Check out the guide onTouchet Soireeto learn more about how these cute DIY pedicure kits were made.
20. DIY Back to School Emergency Kit – DIY Teacher Christmas Gifts
We love this DIY back-to-school "emergency kit" because you can make it part gag gift and part practical present! It's also a great thing for going back for a new term all stocked up and prepared.
The 36th Avenue suggests putting in a couple of funny elements for the teacher themselves, like chocolate and gift cards, but also some things that might actually be useful in a classroom setting, like spare Bandaids.
21. Snow Day Survival Kit – Teacher Christmas Gift Idea
Maybe you'rereally digging the idea of making these little kit-type gifts because you love putting together whole collections of things for people to enjoy, but you're just not sure you want to make one that centers around school when the teachers are supposed to be taking a holiday?
Then we think you'll get along a little better with something like this "snow day survival kit" fromThe DIY Mommy that includes all kinds of winter treats one might enjoy during their chilly downtime over the holidays!
22. Terra Cotta Apple Pot – Teacher Christmas Gifts
Just in case you're looking for a teacher gift that's slightly less holiday-specific in its theme (after all, not every teacher in the world personally celebrates Christmas, even if your family does), then we'd definitely suggest taking a look at howInspiration Made Simplemade this adorable apple motif terra cotta pot that's great for storing candy!
This is an especially good idea if you or your kids love hand painting things.
23. DIY S'more Making Kit – Daycare Teacher Christmas Gifts
Just in case you're still intent on making a kit of some kind but you have a lot more teachers to think of and want to create something smaller, here's a simplified idea that's completely delicious!
My Crazy Blessed Lifeshows you how to put together DIY baggies that provide everything one needs to make S'mores.
24. DIY Caramel Apple Kits – DIY Teacher Christmas Gifts
Did wereally catch your attention when we started talking about DIY kit ideas that involve food because you love treats but you also adore helping the people around you get crafty in the kitchen?
Well, if you'd like to help them make something a little more holiday-specific than S'mores, we'd definitely suggest taking a look at howRandom Thoughts of a Supermommade these mouthwatering caramel apple kits!
25. DIY Reusable Lunch Sack Teacher Christmas Gift
Maybe you know the teacher you're thinking of gifts for quite well and you'd like to make them something really special that takes a little more effort so they can use it every single day?
Then here's an idea for the seamstresses and sewing enthusiasts out there!If Only They Would Napguides you step by step through the process of making a lovely lunch sack from scratch.
Best Teacher Christmas Gift Ideas: Closing Thoughts
We've reached the end of our article, and we hope that our 25 teacher Christmas gift ideas managed to inspire you enough to figure out exactly what you should buy or make this year!
Keep in mind that this article is meant to be a list of gift ideas and not a ranking, so all of these items should be considered great Christmas gifts for your teacher, no matter what position they hold on our list.
We know that different teachers might have different interests, but generally speaking, all of these gifts are designed to make life easier (or better) for them while they're teaching their students and doing their job every day!
That's pretty much everything we had to say about our article, and we hope you found it useful!
If that's the case, then don't forget to share it with anyone else who might be confused about what to buy their teachers this Christmas, and see you next time!