DIY Teacher's Gifts for Christmas
When we were young, we adored our teachers. We were the kinds of lucky kids who always had grade school teachers that cared a lot about their students and made learning fun. That's why we were always set on showing our appreciation by giving them nice holiday presents. Being the craft kids we were, we naturally made them ourselves whenever we could. Now, we help our own kids do the same for their teachers!
Just in case the idea of making adorable, useful, and appropriate holiday gifts for school teachers appeals to you just as much as it did to us, if not more, here are 15 fantastic designs, ideas, and tutorials that we've bookmarked for consideration this holiday season.
1. Homemade Christmas treats box
Are you also a huge fan of making homemade snacks and treats the moment the holidays arrive? Well, so long as you know their allergies and can account for those safely, we think you might get along well with this sectioned homemade treat box gift idea outlined step by step on One Creative Housewife!
2. Seasonal essential oils air freshener
Making your very own scents for natural air fresheners that are allergy and sensitivity friendly using essential oils is actually a lot easier than it sounds. Check out how Pet Scribbles made this homemade freshener that makes the classroom smell pleasant and Christmassy when it's sprayed around the room! It's a blend of gentle scents like cinnamon and fir trees.
3. "Thanks a Latte" coffee gift
Maybe you'd rather buy something for your kids' teachers that you know they'll really appreciate and actually use but you'd still like to get crafty with how you present it? Well, if Teacher is a java lover, then maybe this adorable Starbucks gift card idea from Mandie Starkey, which features a cute play on words, will be right up your alley!
4. Reusable cup DIY gift pack
Perhaps you've found a cute water tumbler or reusable water cup with a lid that would make the perfect gift to Teacher but you can't help but feel that that's not quite enough for the holidays? Then perhaps you'd do well following in Stretching a Buck's footsteps and filling the inside of the new cup with delicious Christmas goodies!
5. DIY peppermint sugar scrub
Do you happen to think that hardworking teachers deserve a bit more pampering than usual on the holidays to reward them for getting halfway through the school year? Then maybe this wonderful homemade sugar scrub outlined on Mommy Musings is the best gift you can give them! It smells like peppermints and is wonderfully refreshing, leaving the skin smooth and soft.
6. DIY pin cushion and sewing kit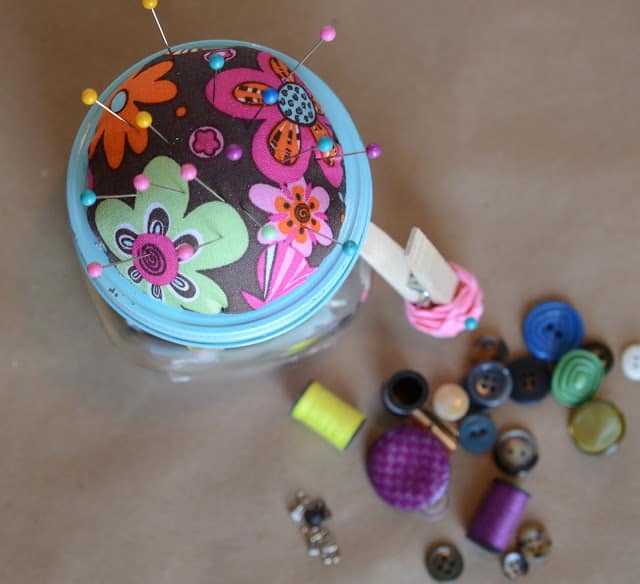 Maybe you know your kids' teachers well enough to know their hobbies? Perhaps the childrens' favourite teacher is actually their home economic teacher because they love how hands-on the class is. Well, either way, we think you might be rather intrigued by the miniature mason jar sewing kit that features a pin cushion built into the lid. Get the full details on Bless This Mess.
7. Simple DIY dry erase board
Maybe you'd prefer to make something your kids can actually help you decorate and that their teacher might actually use? Then we'd definitely suggest taking a look at how Creative Green Living made this fantastic dry erase note board by framing decorative paper in an upcycled photo frame, decorating the edges, and gifting the proper kind of marker along with it!
8. DIY embellished clothespins for notes
We've always loved the idea of transforming clothespins into note holders because we are absolutely the kind of people who leave little sticky notes and bits of paper with reminders all over the place. Help your kids's teachers manage their random notes and reminders a little better by making them a set of holiday pins using paint and wrapping paper! Rosyscription shows you how it's done. We love the idea of sticking a bit of magnetic strip on the back so the pins will stick to the classroom whiteboard.
9. DIY pedicure kit
Just in case you loved the idea of putting together some kind of gift that will pamper your kids' teachers but you don't have time to make a sugar scrub from scratch, here's an equally nice idea that you can buy the pieces for and simply assemble with a bit of crafty presentation! Check out the guide on Touchet Soiree to learn more about how these cute DIY pedicure kits were made.
10. DIY back to school emergency kit
We love this DIY back to school "emergency kit" because you can make it part gag gift and part practical present! It's also a great thing for going back for a new term all stocked up and prepared. The 36th Avenue suggest putting in a couple funny elements for the teacher themselves, like chocolate and gift cards, but also some things that might actually be useful in a classroom setting, like spare Bandaids.
11. Snow day survival kit
Maybe you're really digging the idea of making these little kit type gifts because you love putting together whole collections of things for people to enjoy, but you're just not sure you want to make one that centres around school when the teachers are supposed to be taking a holiday? Then we think you'll get along a little better with something like this "snow day survival kit" from The DIY Mommy that includes all kind of winter treats one might enjoy during their chilly downtime over the holidays!
12. Terra cotta apple pot
Just in case you're looking for a teacher gift that's slightly less holiday specific in its theme (after all, not every teacher in the world personally celebrates Christmas, even if your family does), then we'd definitely suggest taking a look at how Inspiration Made Simple made this adorable apple motif terra cotta pot that's great for storing candy! These is an especially good idea if you or your kids love hand painting things.
13. DIY S'more making kit
Just in case you're still intent on making a kit of some kind but you have a lot more teachers to think of and want to create something smaller, here's a simplified idea that's completely delicious! My Crazy Blessed Life shows you how to put together DIY baggies that provide everything one needs to make S'mores.
14. DIY caramel apple kits
Did we really catch your attention when we started talking about DIY kit ideas that involve food because you love treats but you also adore helping the people around you get crafty in the kitchen? Well, if you'd like to help them make something a little more holiday specific than S'mores, we'd definitely suggest taking a look at how Random Thoughts of a Supermom made these mouthwatering caramel apple kits!
15. DIY reusable lunch sack
Maybe you know the teacher you'r thinking of gifts for quite well and you'd like to make them something really special that takes a little more effort so they can use it every single day? Then here's an idea for the seamstresses and sewing enthusiasts out there! If Only They Would Nap guides you step by step through the process of making a lovely lunch sack from scratch.
Have you made other kinds of adorable, appropriate holiday gifts for your kids' teachers before (or maybe even teachers you had yourself in the past) that went over wonderfully but that you don't see here on our list? Tell us all about what you created and how you did it in the comments section!