50 Easy Christmas Crafts For Everyone In The Family To Enjoy
It's time to start planning for Christmas. From menus to gift lists, it's easy to get stressed but there are so many wonderful nooks and crannies of the holidays to enjoy too. Grab the kids and get creative. Decorate the house or make keepsakes to remember the moment with, and these 50 easy christmas crafts for everyone in the family will help you do just that.
1. Snow Globe Cookie Jar
Country Living shows us how to make the most beautiful cookie jar around! Give the gift of edibles and style with this beauty.
2. Rustic Snowflakes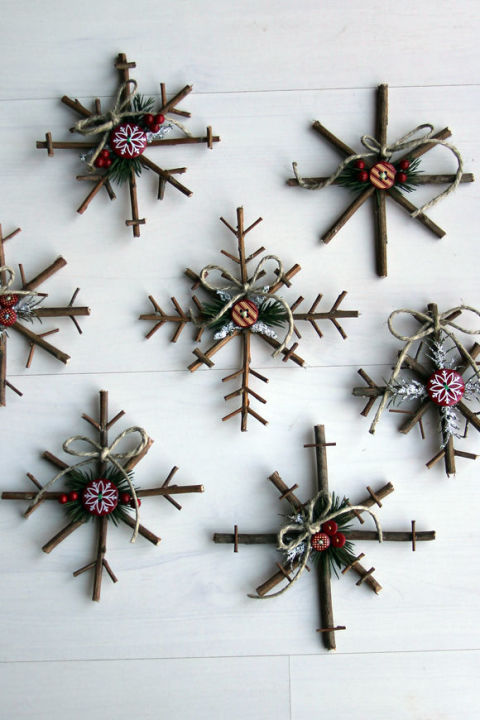 Visit Country Living again to grab the tutorial for these rustic snowflakes. If this is more your style when it comes to Christmas decorating, take the jump!
3. Wood-Burned Snowflake Ornament
Cherished Bliss shows us how to use a bit of our wood burning skills with this DIY. Check out how to make some more rustic snowflakes in a slightly different way.
4. Photo Transfer Ornaments
Over at Landeelu, you'll find out how to take your favorite family pictures and turn them into ornaments! Relive those moments for years to come!
5. Popsicle Christmas Trees
The kiddos will love to dive into this one. Check out One Little Project and learn how to make up these adorable little trees with the family.
6. Tiny Snowman
You can whip up your own little family of snowman with your own family. Set the scene on the windowsill or on one of the side tables around the house. (via)
7. Mini Birdhouse Ornaments
BHG shows us how to put together one of these tiny birdhouses and turn them into an ornament. Everyone can style and personalize their own!
8. Reindeer Thumbprint Ornaments
Little Bit Funky shows us how to utilize all of the little fingers in the house. Turn them into reindeer!
9. Pom Pom Pinecone Christmas Trees
Using some pom poms and some pinecones you too can make these colorful little beauties. Grab all of the details over at One Little Project.
10. Christmas Tree Centerpiece with Kisses
It All Started With Paint used some Hershey Kisses to get their festive centerpiece started. Learn how to whip up these trees after the jump.
11. Ornament Trio
Earnest Home Co makes a classic trio of ornaments that we're really loving too. If this seems more your style, start crafting tonight!
12. Cut-Out Christmas Tree Cards
We're loving these chic modern paper deigns. Learn how to cut them out and whip up some easy Christmas cards in an afternoon. (via)
13. Glitter-Dropped Ornaments
By Stephanie Lynn shows us how to drop ornaments in some glitter to make something brand new and sparkling. Plant these all over your tree for something pretty and festive.
14. Fabric Christmas Tree Cones
Here's a fun craft to start on this weekend. Check out The Creativity Exchange and learn how to make these fabric-covered cones to decorate the living room or foyer with this holiday season.
15. Glam Wreath
Miss Kris makes a super glam wreath to dress the house for the holidays with. And it's so simple to recreate at home!
16. Baking Pan Countdown
Parents has a ton of great ideas for you and the kids to get involved in this Christmas. And that includes this easy-to-make holiday countdown you can make with the help of a simple baking pan!
17. Gingerbread Soap
Oh, The Things We'll Make teaches us how to make some gingerbread soap. Have these in all the bathrooms of the house or gift them throughout the season to family and friends!
18. Merry Christmas Garland
Every home needs a garland to celebrate the season with, especially when there are kiddos inside. Learn how to make this one with the help of Vicky Barone.
19. Sparkling Birch Centerpiece
The Sweet Escape makes this gorgeous centerpiece and we're swooning over it. If you love it as much as we do, take the leap and learn how to recreate it!
20. Clay Ornaments
Clay ornaments can be a lot of fun to work with. Check out Say Yes and follow along with their tutorial.
21. Cinnamon Applesauce Gingerbread Garland
Lovely Little Things holds one of our favorite tutorials on the list! Cinnamon applesauce gingerbread men can make some beautiful and delicious-smelling garland to decorate the house with.
22. Sparkle Winter Branches
If you like a bit of sparkle to decorate with throughout the holidays, check out this idea from In My Own Style. Sparkling branches can frame any space around your home.
23. Jingle All The Way Wall Art
Kerri Bradford makes some Jingle Bell wall art that we love too! This one can be used for years to come as well.
24. Felt Ornaments
There are so many patterns that you can snatch up around the Internet and create some little felt ornaments with. And we're really loving these Christmas lights! (via)
25. Peppermint Soap
Happiness is Homemade knows how to make some peppermint soap. And whether you want to make it as a DIY gift or to add some festive flavor to the bathrooms, it's a great tutorial to try!
26. Washi Tape Wreath
Emerald + Ella took some washi tape and made a special wreath for the season. Whether it's on the front door or the back, it'll do its job well.
27. Chocolate-Covered Strawberry Christmas Tree
Lovely Little Kitchen took Christmas crafts to an entirely new level because this one is edible! Serve these up to the family on Christmas Eve!
28. Fabric Wreath
Woman's Day took fabric and used it to concoct the most perfect and festive Christmas wreath. Of course, you can use any kind of colors or prints that inspire you.
29. Flameless Fire Pit
We're freaking out over this fabulous DIY from Free People! Have this warming up the bedroom and adding a bit of coziness to your holiday break!
30. Wine Cork Reindeers
Who knew wine corks could be so adorable? You can even turn these little decorations into ornaments for the tree. (via)
31. Thumbtack Ornaments
Sarah Hearts grabbed a box of thumbtacks and got to work. They make quite the chic and contemporary design, don't you think?
32. Icicle Ornaments
This craft is both stylish and inexpensive to make! Check out Mad in Crafts for all the major details!
33. Jingle Bell Elves
Nalle's House made some adorable little elves out of jingle bells and we're loving all the ways you could utilize the finished product. On side tables, on mantles, as ornaments or stuffed inside a stocking!
34. Christmas Tree Soap
Essentially Eclectic made some Christmastime soap too! And this time, you'll learn how to fit a tree right inside.
35. Ski Ornaments
It's hard not to love these little ski ornaments from 21 Rosemary Lane. Take the leap and learn how to make them tonight.
36. Ribbon Candy Ornaments
BHG shows us how to make some gorgeous ribbon candy ornaments. It's a classic way to decorate the tree and we're loving it!
37. Oh Deer Christmas Sign
The 36th Avenue shows us how to make some chic wall art for the holidays. This would be a great DIY gift idea as well.
38. Winter Tree Wall Art
Here's another modern piece of wall art that you'll want to learn how to make. Hello Glow will give you all the details.
39. Christmas Pallet Tree
The Pinning Mama makes a special bit of art as well. And this time, you'll be using some wooden pallets to get it all started.
40. Polar Bear Paper Scene
Starting with some paper, learn how to whip up this scene in no time. It's a great way to get the kvia
41. Snow Globe Ornament
Shelterness makes some adorable snow globe ornaments that we're dying to try our hands at. These are easily personalized too!
42. Cinnamon Stick Reindeer Ornaments
Here's a classic Christmas craft that every family will need to try. Creative Homemaking will show you how it's done.
43. Christmas Napkin Rings
You could even have some fun dressing up the tables. Make Christmas dinner a bit more festive with this DIY. (via)
44. Sweater Snowman
Betz White makes a sweater snowman that becomes a warm and cozy way to dress up any door. And you can personalize him any way you'd want!
45. Bauble
Twinkly Spangle makes a funky bauble ornament that we'd love to try out too! Colorful or just sparkly, it's easy to sprinkle your tree with!
46. Etched Coffee Mugs
By Stephanie Lynn shows us how to make some etched coffee mugs in Christmastime style. These are great for your own kitchen or to gift away!
47. Gift Toppers
Country Living shows us how to jazz up our family's presents. There are so many wonderful ways to do it too!
48. Mason Jar Lid Ornaments
Clean and Scentsible took mason jar lids and turned them into something special. Decorate the tree with some extra creativity this year.
49. Felt Christmas Tree Ornaments
We love the softness and rusticism behind this ornament design. Visit This Heart of Mine to learn how to make it.
50. Mini Snow Globes
No Biggie made mini snow globe ornaments that we love too! If you want some extra-small, check this one out!