DIY Christmas Lawn Decorations
Call us crazy but when it comes to the holidays, we firmly believe that the outside of our house is basically just another opportunity to decorate our spaces just as festively, if not more so, as the inside is! That's why we've become a little bit obsessed with the idea of making awesome pieces and displays that will help our lawn (and also the porch, as well as perhaps the trees) look totally awesome for the holidays. We can't help wanting to provide the entire street with a little extra cheer when they days are short and the temperatures are low!
Just in case you love the idea of making your very own Christmas lawn decor just as much as we do, if not more, here are 15 of the very best designs, ideas, and tutorials that we've come across so far.
1. Milk jug Christmas porch lanterns
Do you have a yard that's very far from the street and sidewalk and you find that the Christmas lights you put up each year simply don't glow as far as you'd like them to so passersby can really see them? Then we have a feeling you'll get along very well indeed with this fantastic water and milk just trick! Thrifty 101 shows you how the water magnifies the light for a bit more glow.
2. Giant Christmas ornaments from plastic balls
Perhaps we've caught your attention with the idea of making things bigger and brighter so they can be seen from the street, but it's not your lights you're concerned with? Well, if what you'd really like to make is something in impressive jumbo size, we'd definitely suggest taking a look at how DIY n' Crafts used plastic toy balls and metal buckets to make DIY jumbo tree ornaments to hang from their porch overhang!
3. Jumbo lawn lollipops
We've always been huge candy lovers who adore lollipops all year round. There's just something about having them at Christmas, however, that seems a little extra festive. We're sure you can imagine, then, just how pleased we were when we came across this tutorial from The Seasonal Home that teaches you how to make your very own jumbo lollipops in Christmas colours to stand in your garden!
4. Spiralled pathway lollipops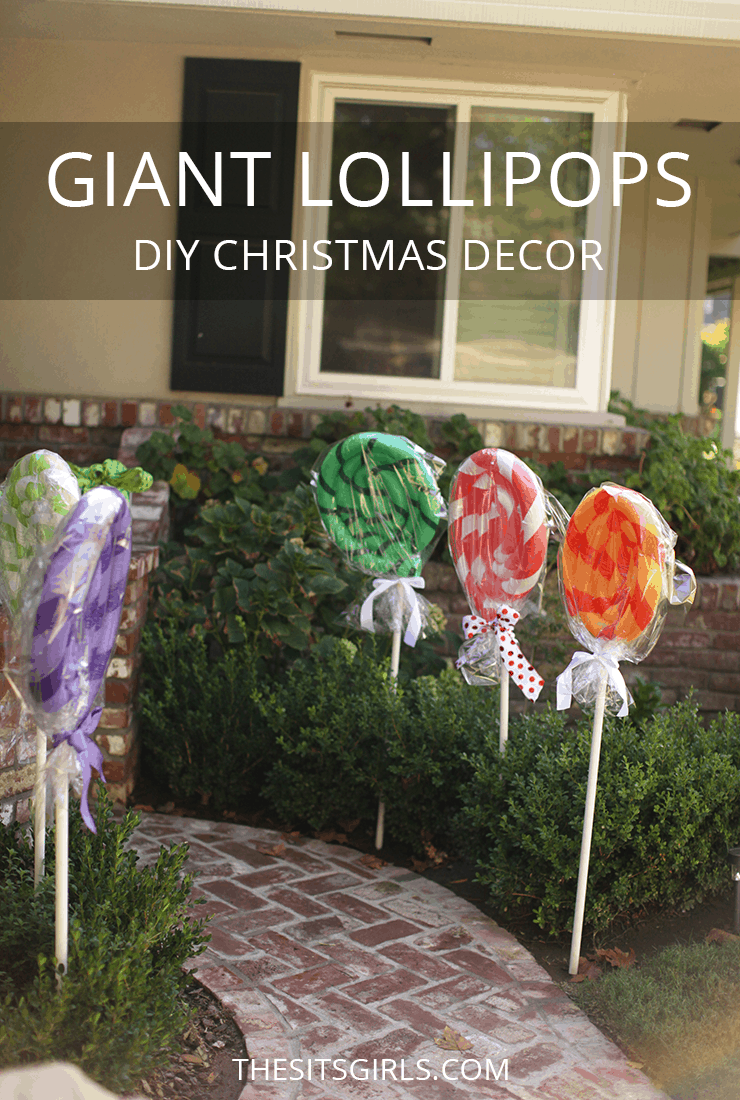 Did we actually really catch your attention with the lollipops idea but you can't help wishing they were the more classic homemade kind that spiral out from the centre because you've always enjoyed eating or making old fashioned peppermint ones around the holidays? Then you'll find precisely what you're looking for in this jumbo pathway lollipop tutorial from The Sway!